Some posts contain compensated links. Please read this disclaimer for more info.
What to eat in Croatia. The Fabulous 5 +1!
This is a guest post written by travel writer Corrine, from Reflections Enroute.
We traveled to the southern European country of Croatia to see the famous fortresses, spectacular coastline, and the awe-inspiring Plitvice Lakes. Always thinking about food, we also wanted to explore Croatian cuisine.
Croatia is a beautiful country in a temperate climate with kilometers and kilometers of coastline, and Croatians seem to have it all as far as fresh produce and seafood go—homey, healthy, and delicious. Having been part of various empires through its tumultuous history, we weren't surprised to find as much variety as we did; Ottoman, Hungarian, and even Venetian plates were on the menus. Our palates danced and our belts groaned as we did our best to try them all.
Here are five suggestions on what to eat in Croatia, plus one specialty that everyone should try!
Fresh Produce of All Kinds
With such a warm and primarily dry climate, Croatia is ideally situated to have high yields of fresh produce. It was early spring in Croatia, and the lemons were in full bloom, figs were starting to mature, wild asparagus was sold along all the roads, and I'm sure with each season there is more and more to choose from.
The markets were full to bursting with fresh greens, fruits, and carrots. There are markets in every city, so whether or not you just want a few snacks or you can cook your own meals, don't miss the markets. Each meal offered a salad complete with shredded cabbage, lettuce, and tomatoes with locally grown, virgin cold-pressed olive oil as the dressing. From farm to market is a short ride in Croatia, and it is very cheap to eat the freshest and tastiest fruits and vegetables.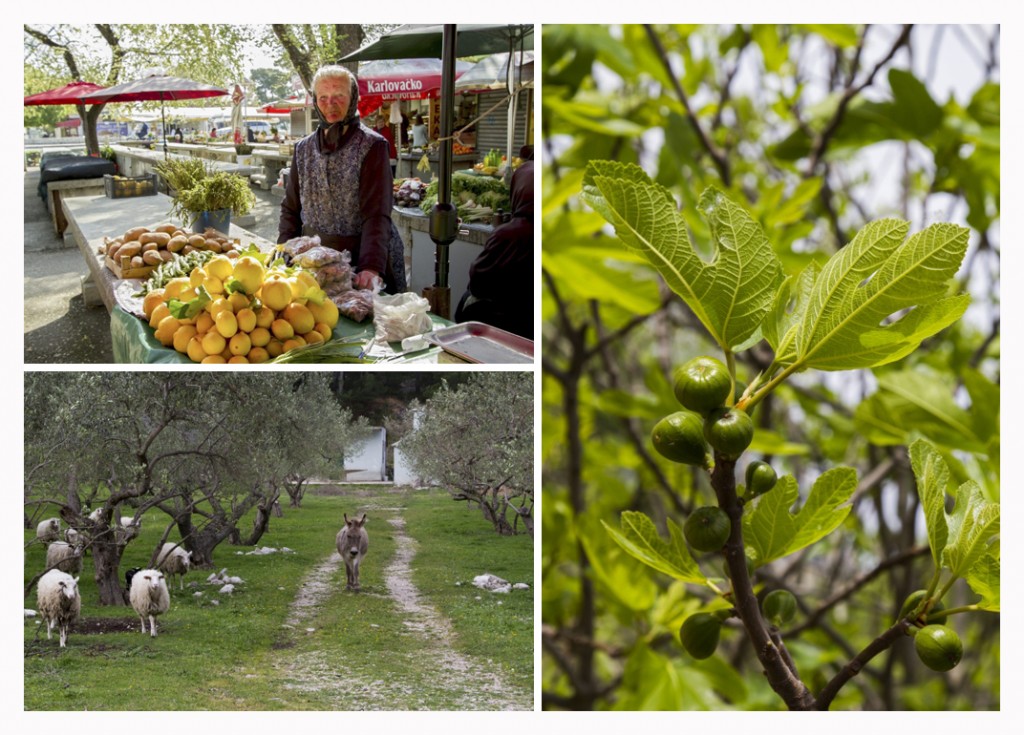 Straight from the Sea
Alongside the produce, markets are the ubiquitous fish markets touting everything from halibut to snapper, squid, and octopus. One fish we saw everywhere were sardines. People were buying them fresh or salted. They were selling them right off the boat as well as out of the backs of their cars. Handfuls of them flashing in the sun put smiles on everyone's faces.
During our trip, we stayed primarily along the coast and had ample opportunity to try as many different seafood dishes as we could. From fresh sardines in oil as an appetizer to seafood pasta and risotto, not a meal passed without us delving into the fruits of the sea. It was fresh; it was delicious.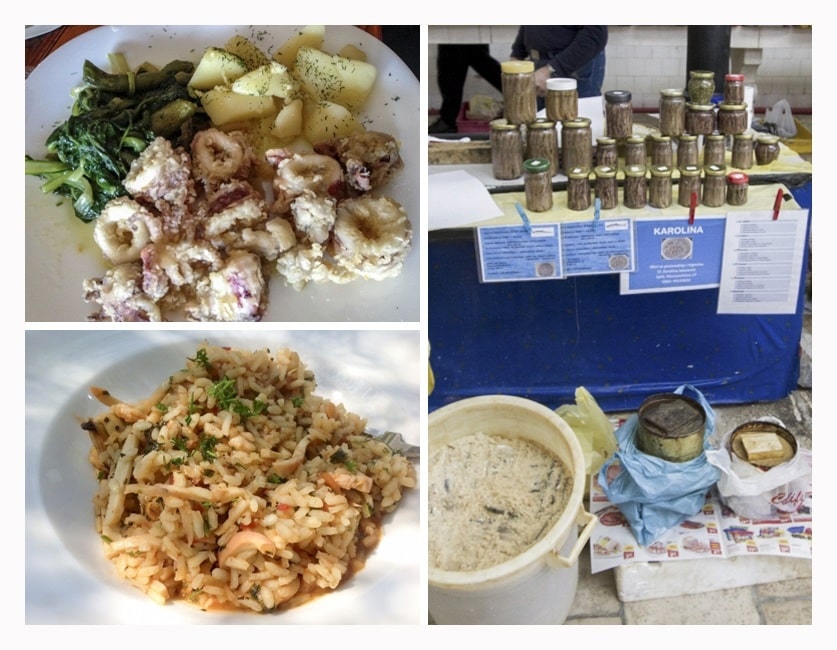 Pasta, Cheese, and Ham
Possibly thanks to being part of Ancient Venice, or maybe just being situated right next door to Italy, we were surprised to see how many dishes mirrored Italian staples such as pasta, hard cheese, and even cured ham, known as prsut. The cheeses were amazing. We were told over and over to try Paski Sir, cheese from the island of Pag. Windblown and treeless, purportedly Pag produces the best sheep, which in turn produces the best sheep's milk, which again, in turn, produces the saltiest, most delicious hard cheese. We ordered it almost every day. It definitely has a tanginess that you don't often find, and it paired so well with the prusut that are also found all over the country.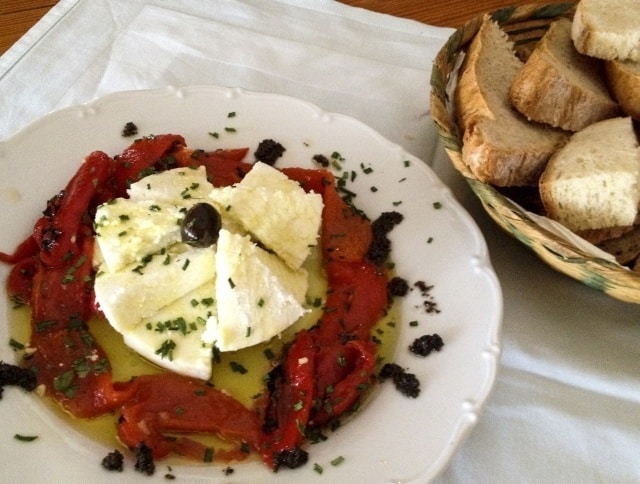 Meat, Meat, And More Meat
Even though I love fish of all kinds, I am definitely a meat-eater! Thankfully, Croatia not only has meat – but oh is it good! Our very first day in the country, we came upon restaurant after restaurant using outdoor spits and fires to roast suckling pigs and lamb. We saw free-range chickens and herds of sheep many, many places. Also, cevapi – a skinless meat sausage (originally from Bosnia).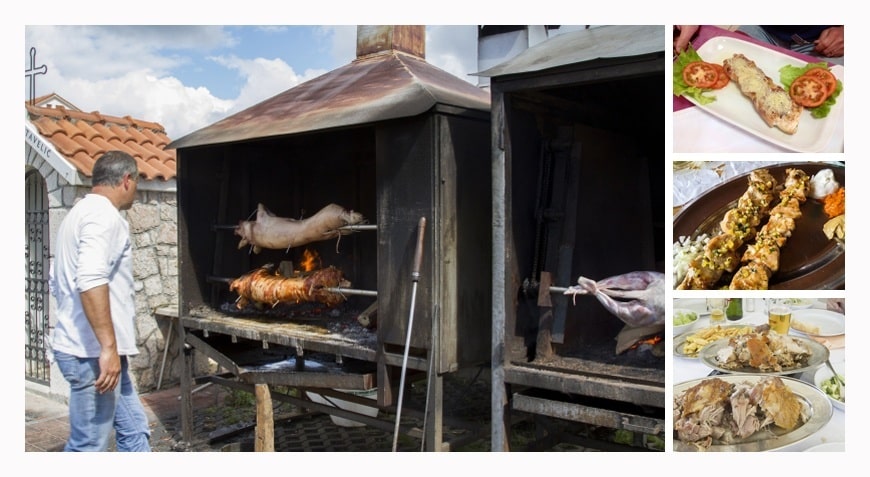 A Pekarna or Bakery Life
Most of the places we stayed while in Croatia did not offer breakfast, and luckily every little village has at least one or two bakeries where you can find a myriad of baked goods, sweet and savory. At least one case was dedicated to one of my favorite dishes, burek. I had had Turkish borek and was looking forward to trying the Croatian variety. Burek is made with a light pastry and the first bakery, or Pekarna, we entered had the baker right there stretching and re-stretching his dough. Again, my favorite was one that highlighted that delicious salty cheese, but there were others that were just as tasty. Some had ground meat, while others even had fruit in them. Burek wasn't the only thing we tried, of course. There were plenty of delicious breads and pastries as well. Don't go to Croatia without hitting the bakeries as we did at least once a day.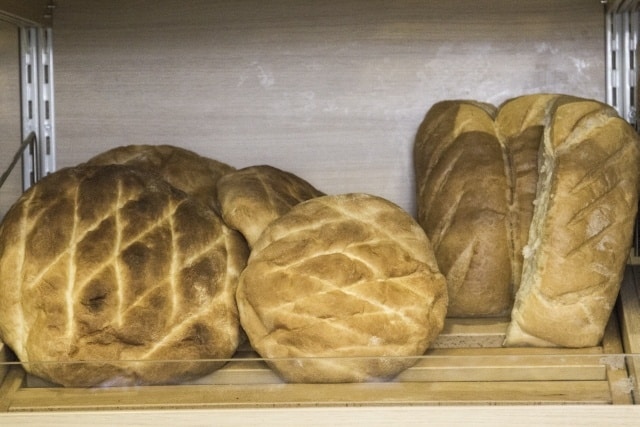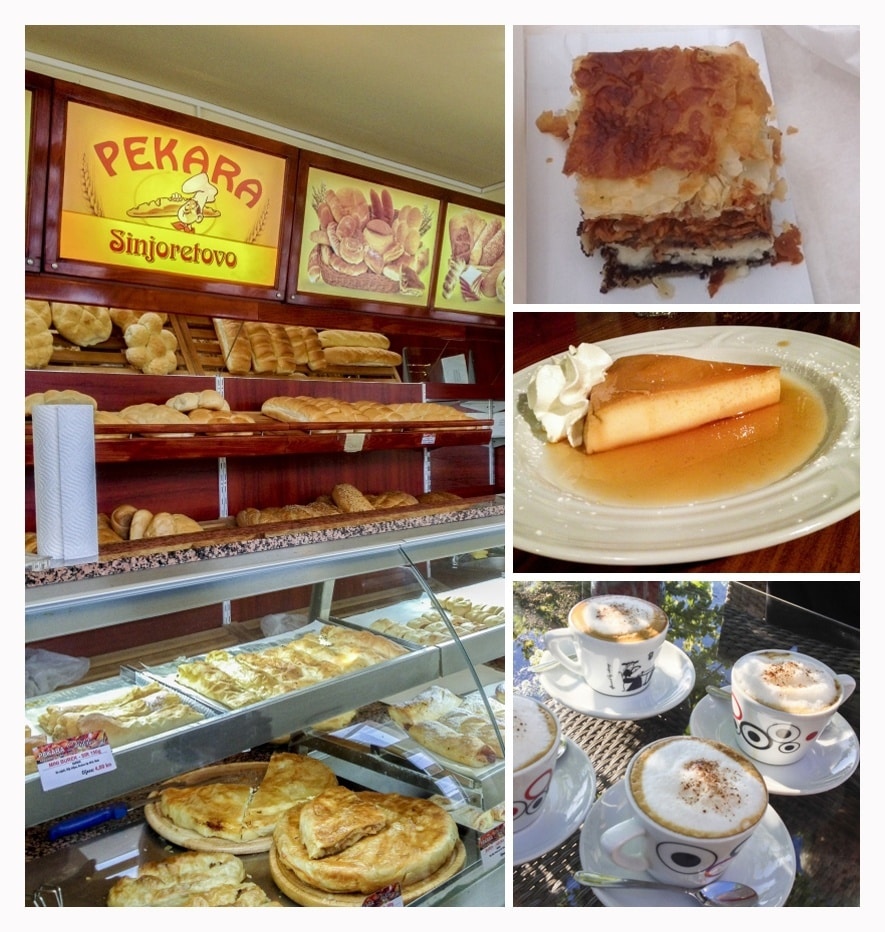 And One for the Road – Ajvar
A paste made out of red peppers, ajvar (pronounced "ay-var") is a hearty reddish bread spread found everywhere. We found its consistency very similar to many of the spreads found in Turkish or Ottoman mezes, but the taste was uniquely Croatian. Entering a grocery store, there are full walls dedicated to it, and we were repeatedly told that it is as common in Croatian houses as peanut butter in the United States. Talking to a restaurant owner one afternoon, I asked if the ajvar was made in house, and I was told that it really is a lengthy and challenging process and just buying it was really the way to go.
All in all, Croatian food, even that found in restaurants, is mostly homemade, fresh, and delicious. My advice? Try it all! You won't be sorry.
Have you ever tried Croatian food? What was your favorite?
Share