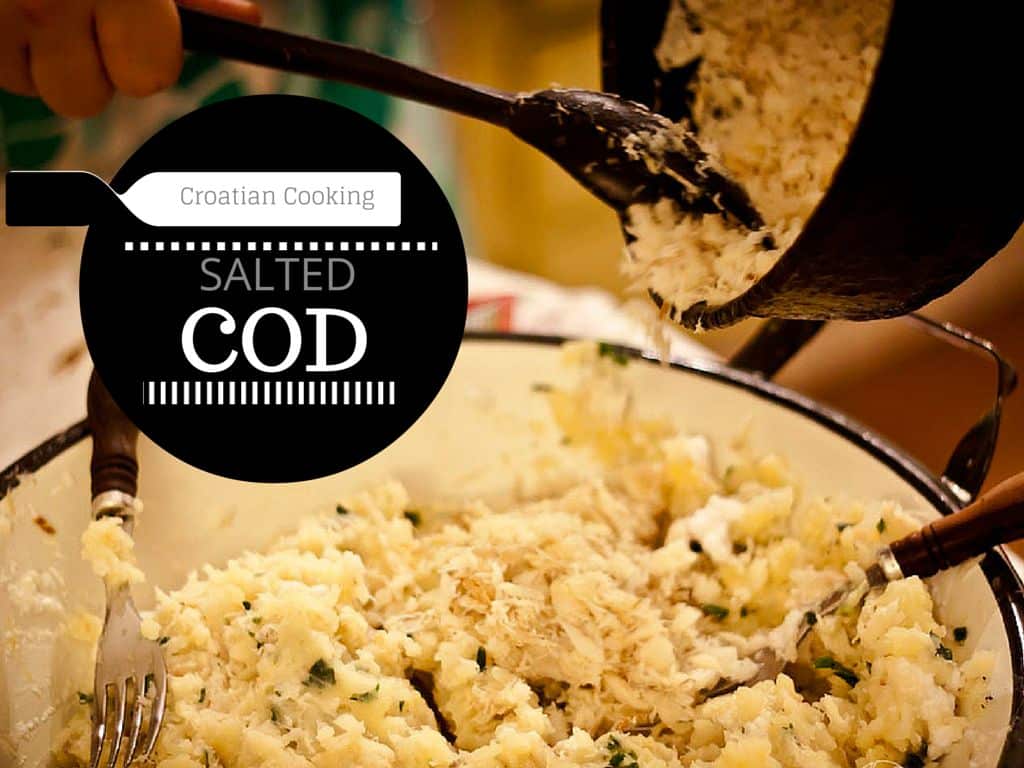 Croatian Cooking: Bakalar – Salted Cod Recipe
Bakalar, as it's known in Croatian, is a salted cod delicacy and is the must-eat traditional dish in our family for Christmas Eve. Eaten across Croatia, and in many parts of South America and Europe, this cod recipe can be adapted to suit your taste. Add more garlic if you like, or change the ratio of bakalar to potatoes that suit your family. Just remember that you'll need to start preparing the bakalar at least three days before you want to eat this dish – so set a little reminder in your calendar now so you do not forget.
Atlantic Cod is a fish species from the Northern Atlantic and is high in essential fatty acids. It's very popular around the world as it has a mild flavour and dense flakey white flesh.  Salted cod has been produced for over 500 years, since the time of the European discoveries of the New World. Before refrigeration, there was a need to preserve the cod; which led people to drying and salting techniques to preserve the cod. This is how the Bakalar recipe was born and generations later we are still eating it.

Where to Buy Salted Cod Fish?
Where you live determines where you can buy dried salted cod. In Europe, you can get it at most supermarkets, like Interspar. In the US is less readily available but you can get it from European deli's and other food specialty stores.
How to Cook Salted Cod?
Salted cod recipe ingredients. Serves 4-6
1 dried salt cod – soak the cod in cold water for two-three days before you want to eat it. Be sure to change the water daily.

12 medium washed and peeled whole potatoes (add more potatoes if you have more guests)
4 cloves of finely chopped garlic
Salted cod recipe method
Place the bakalar in a large bucket or tub with cold water. Change the water daily for three days
After soaking the bakalar in water for three days, take the bakalar and beat it with a mallet. The idea is to soften it before you boil it. So give it a good red-hot bash
Once beaten, slice in half or into thirds and place into a saucepan and cover with cold water
Allow to boil, cook for until tender. This varies from one to two and a half hours
Once the bakalar is tender, add the potatoes and boil until they can are soft but not falling apart
Drain the pot, and separate the bakalar from the potatoes into two bowls
Take the bakalar and remove all bones and as much skin as possible. Note: have a bowl of warm water handy, this process gets very sticky and I find rinsing my fingers helps
Once cleaned, break the bakalar into small bite-sized pieces and combine it with the potatoes
With a wooden spoon, mix the bakalar and potatoes until it's the consistency that suits you. Our family likes to mix it until the potatoes are like mash potatoes. Other families we know use a blender while others like the potatoes much more whole
Season with salt, pepper, parsley and garlic and stir in adding in small amounts of olive oil as you go
There are so many variations of salted cod recipes from all around the world. This is our Croatian Bakalar recipe from our part of Croatia. Try it out and let us know if you like it.
Merry Christmas from my family to yours
Did you know?
Dried cod and the dishes made from it are known by many different names, many of them derived from the root bacal. They are: bacalhau (Portuguese), bacalao (Spanish), bakaiļao (Basque), bacallà (Catalan), μπακαλιάρος, bakaliáros (Greek),baccalà (Italian), bakalar (Croatian), bakkeljauw (Dutch), "makayabu" (Central and East Africa). Other names includeráktoguolli/goikeguolli (Sami), tørfisk/klippfisk/clipfish (Scandinavian), stokvis/klipvis (Dutch), saltfiskur (Icelandic), morue(French), saltfish (Caribbean), toe rag (UK), bakaljaw (Maltese), "labardan" (Russian).
Christmas in Croatia Traditions and Christmas Markets
Planning holidays in Croatia around Christmas time? Then you'll need to know about:
Have you eaten salted cod before? Do you have a suggestion for my salted cod recipe? I'd love to hear from you in the comments below.
More Tasty Croatian Recipes
Ready to Pin!