We may earn commission from affiliate links →
Croatian Čvarkuše Recipe (Croatian Pork Crackling Biscuits)
In the past, pork cracklings used to be used in cooking, just not to throw away excess pork fat – but nowadays you'll see pork cracking used in many ways – and it's considered to be a true delicacy.
For example, in crackling pork biscuits (Čvarkuše), which are typical for the continental part of Croatia and especially for eastern regions of Slavonia and Baranja. Of course, as with lots of Croatian recipes, there are few different ways of making them – each one a little different. You can find very thin ones which are just more like chips and other ones which are much bigger and much greasier. You can also find Čvarkuše recipes with other differences, like the types of spices added, some people make them just with salt, but on the other hand, some people and hot paprika, so they become spicy.
To be honest, I'm in love with this Čvarkuše recipe – which is spicier, for me, it's true magic when they melt in my mouth.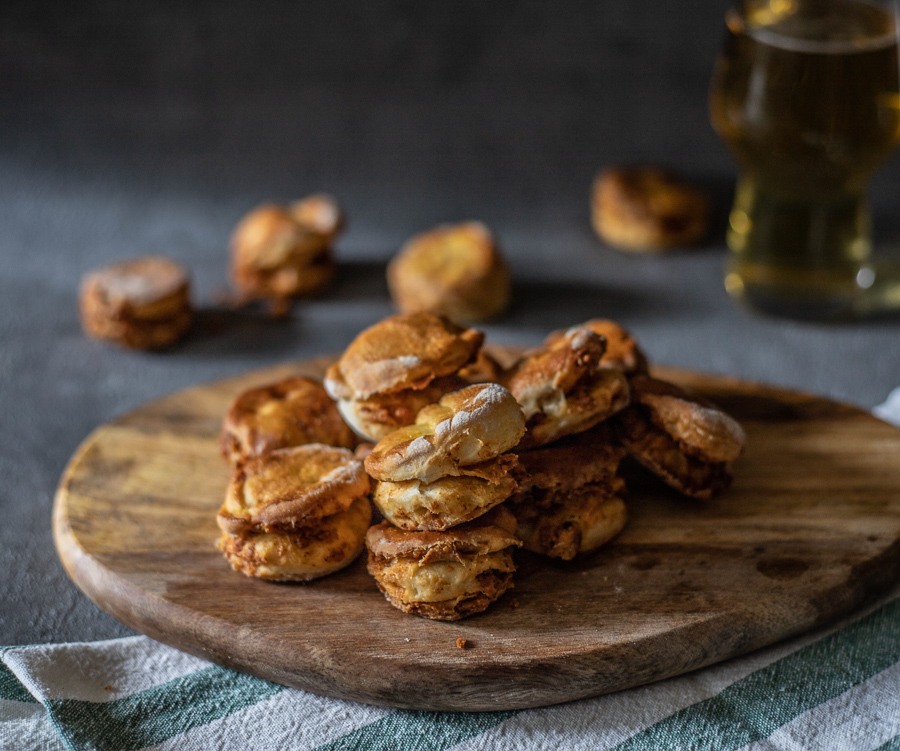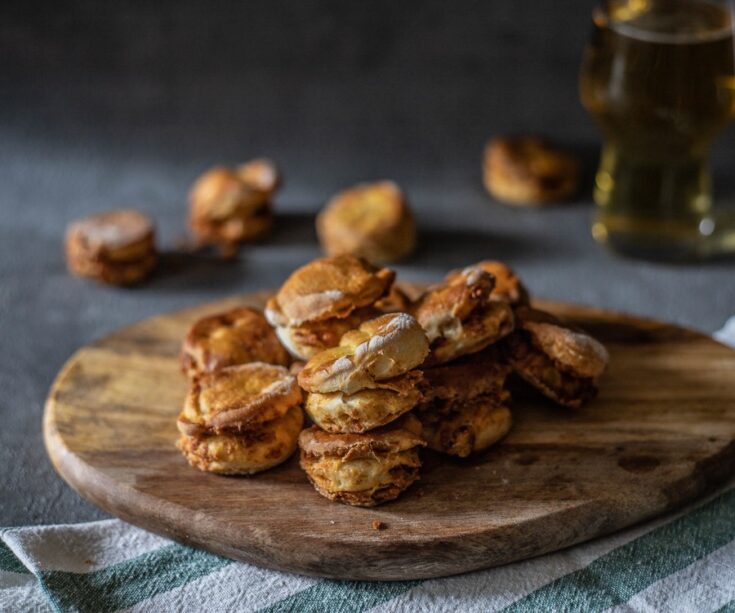 Croatian Čvarkuše Recipe (Croatian Pork Crackling Biscuits)
Here is how to make Croatian čvarkuše, a recipe you can make at home with ease.
Ingredients
500 g all-purpose flour (3 1/2 cups)
1 40 g cube fresh yeast (4 1/2 tsp)
1 tablespoon sugar
300 ml milk (1 1/4 cups), warmed
1.5 teaspoon salt
1 teaspoon pepper
1 egg
1 tablespoon pork fat
250 g pork crackings, known as čvarci (8.8 oz)
Extra:
1 egg for coating the biscuits
Course salt
Instructions
Grind the pork cracklings in a food processor, or use a sharp knife and cut them into small pieces. Set aside
In a glass bowl, mix together the yeast with 1/2 of the warm milk and sugar and leave it for 10 minutes to activate (it needs to foam or bubble)
Mix the flour with the salt and pepper
Add to the flor the yeast mixture, pork fat, an egg and the rest of the warmed milk to make a dough
Knead until you get a soft dough, cover it with a kitchen towel and leave to rest for 45 minutes in a warm place until it doubles it size
Roll out the dough into a thin layer (approx 1 cm/0.3 inch) and on one half spread the one-third of the crackling mixture. Cover them with the other half of the dough, and roll the dough out again in the same way
Repeat step 6 for another two times until you use up all the crackling mix. Now roll out the dough to 1.5 cm thickness and with a round mold (or a glass) punch out the biscuits
Put the biscuits on a lined baking tray sprinkled with some pork fat or butter, cover them with an egg wash and sprinkle over with coarse salt
Bake in a pre-heated oven at 180°C (350°F) for 25-30 minutes
Serve while still hot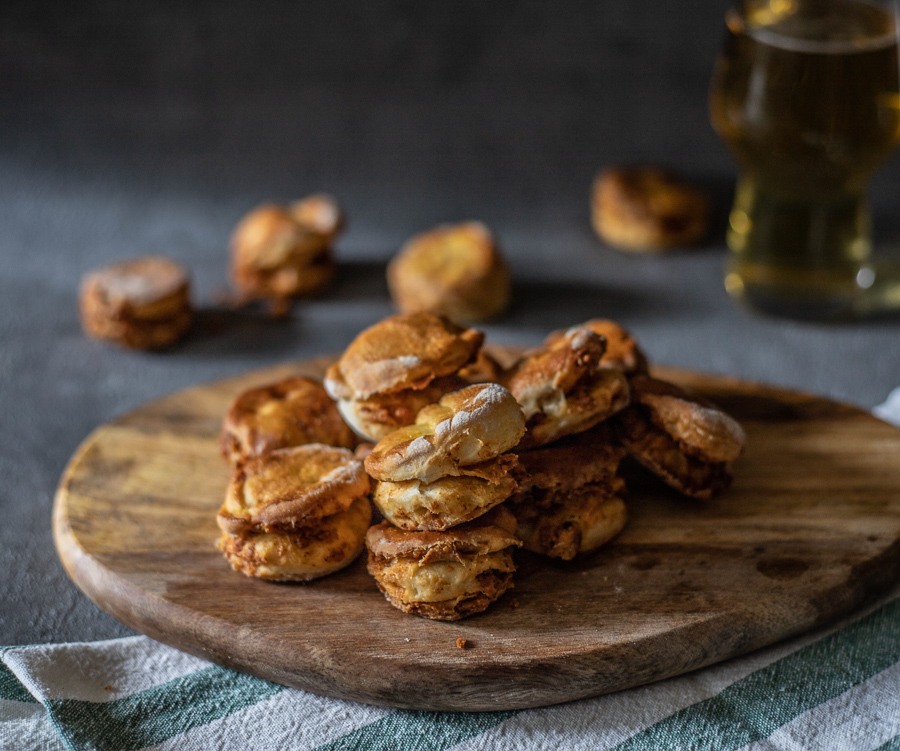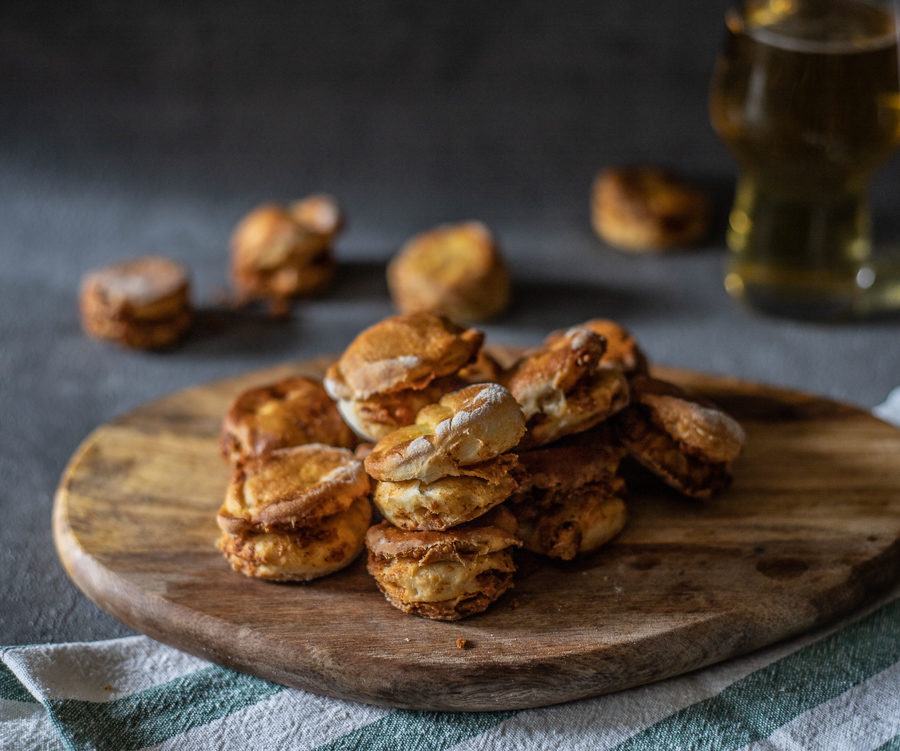 Other Tasty Croatian Recipes
PLAN AHEAD TO GET THE BEST DEALS
Share