Some posts contain compensated links. Please read this disclaimer for more info.
Croatian Recipe: How To Sun Dry Figs (Smokve)
Soon the sweet smell figs will fill Dalmatia and many other parts of Croatia.
When the trees are full and many figs have fallen onto the ground, you know, it's time to start drying figs ready for winter. Another vital sign is when you see passers-by eating the plump figs being eaten directly from the trees as they talk an afternoon wander.
A fig (known as smokva in Croatia.) can be eaten all year round. Fresh from the trees in summer, and if you forward plan and dry your figs, you can eat them in autumn, winter, and in spring.

Back home in Australia, I do not know of a single Croatian, who does not have a fig tree – or at least know of someone who does. For me, whenever I think about a fig tree, it always reminds me of Croatia. It also reminds me of the thing that you help you do number 2's. Figs you see are HIGH in fiber, so please don't eat too many. That is unless, of course, you need to… if you get my drift.
There are loads of different species, and in our family, each person has their favorite one. Some like the sweet ones, and others, the more tart. Either way, from the month of May right through until September, you can snack on a fresh fig till your heart is content. But, in August you must start to dry them ready for other times of the year.
Figs, like many things here in Croatia, serve more than one purpose. If you have a sore throat, the cure? Eat a fig. You're tired from a hard days work, the cure? Eat a fig. You have a skin irritation, the cure? Rub a fig on it. Who needs a pharmacy when you have Croatian cures?
They don't look pretty as they dry and shrivel up, but many agree that they taste damn good when complete.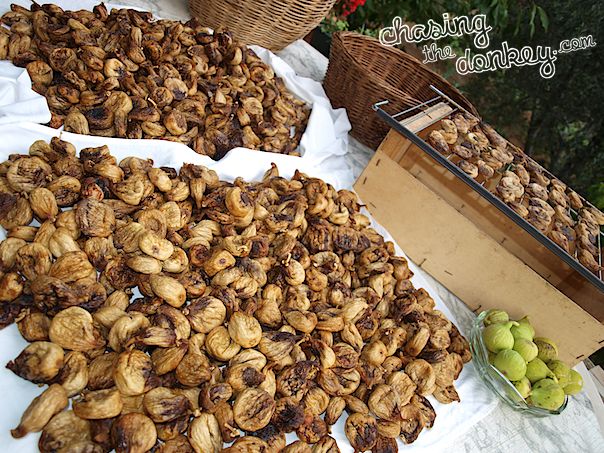 Alternatively, you can make fig jam and spreads or make a fresh fig tart. I am looking for an excellent fig recipe, do you have one?
How to dry figs
Step 1 – Pick and wash your figs (leave the stems on)
Step 2 – Place your figs on a wooden or wire rack in the Dalmatian sunshine (actually any sunshine will do). Be sure that the figs have airflow from above and below. This is critical.
Step 3 – Turn your figs daily until they have dried to a gorgeous golden color. Be sure to move them to remain in the sunshine at all times; the shade will cause them to spoil.
Step 4 – Once the figs are 100% dry, and they are no longer sticky, add them together with bay leaves in freezer bags and place in the deep freeze.
Step 5 – Enjoy as many as you like. But not too many… if you recall my earlier comment with regards to the fiber content.
Step 6 – Once dried, figs can be placed in a beautiful bag or box and become a homemade gift.
Do you like dried figs? Do you have a fig recipe you care to share? Let me know in the comments below; I'd love to hear from you.
More Tasty Croatian Recipes
Share