Privacy & disclaimers →
Cheese Crescent Rolls Recipe – Kiflice Sa Sirom
There is no table across the Balkans that does not have some crescent roll like this on the menu at parties. In Croatia, where I live, and in Serbia, where I have traveled, cheese crescent rolls are called "kiflice sa sirom," and in my house, these do not last very long at all. These get gobbled by my kids and husband…okay, and me; I am guilty of chowing down on them also.
This cheese crescent rolls recipe uses yeast, so you must factor in the dough rising wait time. Once the dough has risen, the cheesy filling is easy to make, and the rolling is straightforward.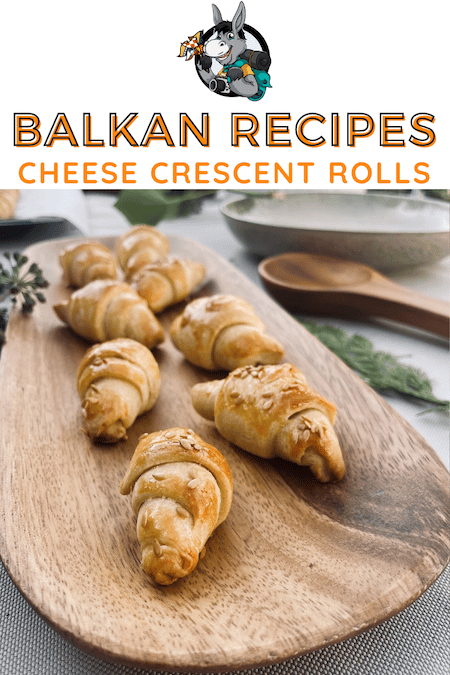 You can also skip making these with cheese – instead, use jam (like these kiflice), chocolate spread, or even add in some ham pieces and cheddar cheese. I like to add seeds to my feta cheese-stuffed crescent rolls as they look nicer, but you can omit them if you're not a fan.
Throughout the western Balkans, you'll find all kinds of variations of these kiflice sa sirom; let me know how you make yours in the comments. I'd love to try them.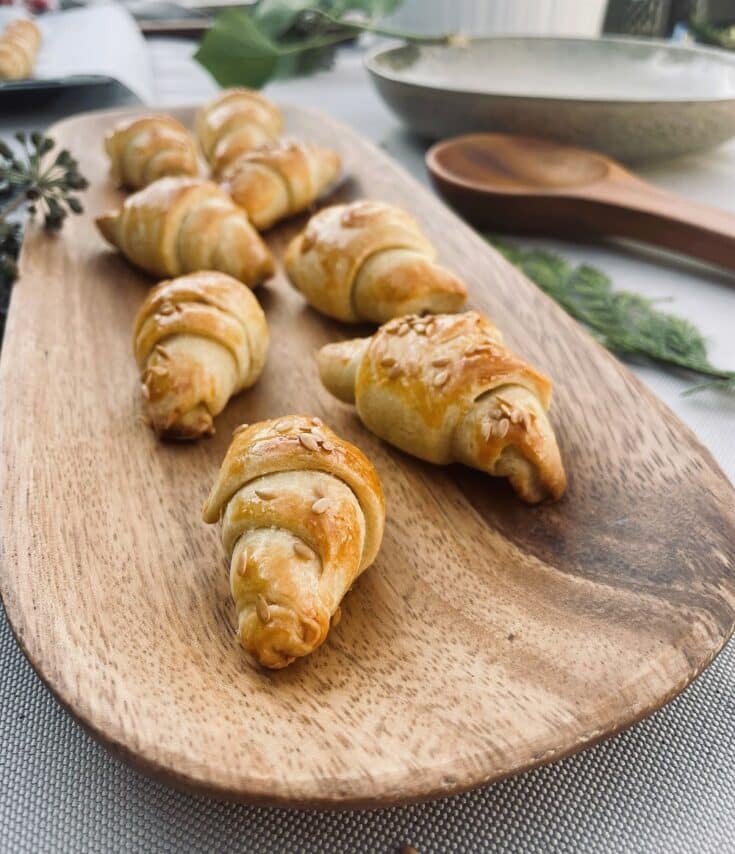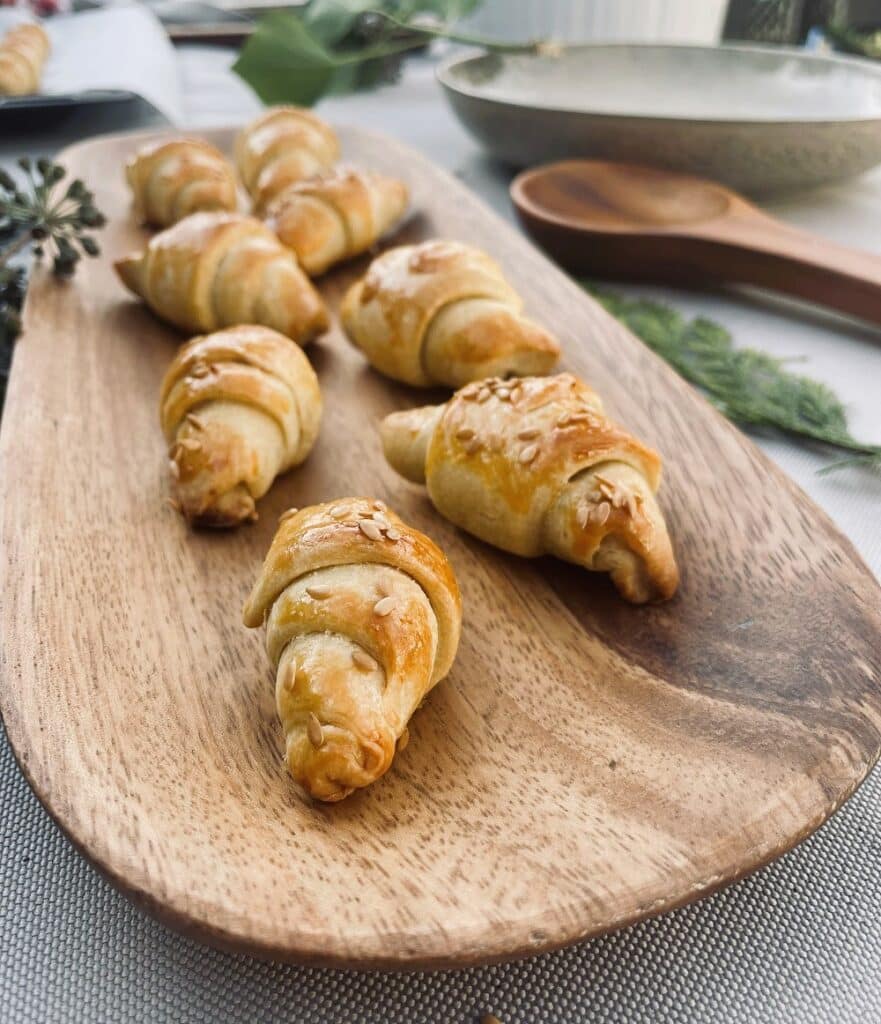 Feta Cheese Crescent Rolls Recipe- Kiflice Sa Sirom
Here is how to make cheesy crescent rolls. In Serbia and Croatia, these are called "kiflice sa sirom" and are loved by young and old. You can also instead fill them with chocolate or jam for something sweet.
Ingredients
Dough
1 tbsp dry yeast
1 tbsp white sugar
500 ml (2 cups) warmed milk
4 room-temperature eggs (large)
1 1/3 cups of vegetable oil
1 tsp table salt
1 kg (8 cups) of all-purpose flour
Cheesy Filling
3 large room-temperature eggs
500-600 grams of feta cheese (approx 4 cups)
Topping
Sesame seeds (optional)
3 egg yolks, beaten slightly
2 tbsp. milk
Pinch of salt
Instructions
Place 3/4 of a cup of warm milk in a ceramic bowl and stir in the yeast and sugar. Cover with plastic wrap and set aside in a warm area. After about ten minutes, it should activate - you will know when it's activated when it is foamy
In a large bowl, beat the eggs, then whisk in the oil until it becomes thick and darkens
Add the eggs, remaining milk, salt, and the activated yeast mixture into the bowl.
Stir to combine, and then, using a wooden spoon, fold in the flour
After some stirring, a dough will begin to form; at this point, start kneading the dough with your hands - you may have to add more flour if the dough is sticky. Do so in tiny increments. The dough will be done when it no longer sticks to your hands
Place a lid or plastic wrap over your bowl with plastic and set aside for around 30 minutes or until it doubles in size
Preheat your oven to 175°C (350 °F)
For the cheesy filling, crumble the cheese and beat the eggs; combine the two and stir together
Once the dough has doubled, flip the dough onto a well-floured surface. Knead it once more and roll it into a long roll
Using a pizza cutter, slice the roll into five even-sized portions
Wrap 4 portions in plastic wrap to prevent the dough from drying out
Line a baking sheet with baking paper
As shown in the photo above, roll out one portion into a circle onto a floured surface, and slice it into triangles. Note: We cut ours into 16 triangles and made 80 crescent rolls. You can do them two or even three times as big if you prefer
Place some of the cheesy filling on each of the large end of the triangles and roll. To roll, start with the large end, and roll down to the smallest end
Roll all the crescents from the other four pieces of dough, and wait 20-30 minutes to allow them to rise. I like to roll them all and leave them on my lightly flour-dusted kitchen bench. You can also place them on baking paper-lined trays or similar
When they have risen, use a pastry brush to brush them with an egg wash (egg yolks, milk and pinch of salt) and sprinkle on as many sesame seeds as you like
Place the baking tray into the oven, bake until golden brown, remove from the oven, place on a cooling rack, and cover with a kitchen towel. Once cooled, store them in an air-tight container to prevent them from going stale
Notes
You can also fill the crescents with other types of cheese, jam, or even chocolate spread for something the kids will for sure love. If you do, simply make less of the cheese and egg filling.