Traveling to Europe with kids can be challenging. Family holidays abroad can be fantastic if you ensure everyone's expectations are met. It might be fun for you to roam cobblestone streets in Dubrovnik, eat white truffles in Istria, take pictures of ancient sites, and check off every item on your Croatia bucket list. Nevertheless, I'm sure your children would beg to stay home with their grandparents.
Am I right?
If I am right, then you may want to take a few pointers from all the things to do in Croatia with the kids' suggestions we have. My recommendations will help you mix the kid-friendly activities vs. the activities with the kiddies rolling their eyes at you. Croatia with kids can be loads of fun, and most importantly, if you're wondering, "is Croatia good for kids?" Croatia is super-kid-friendly.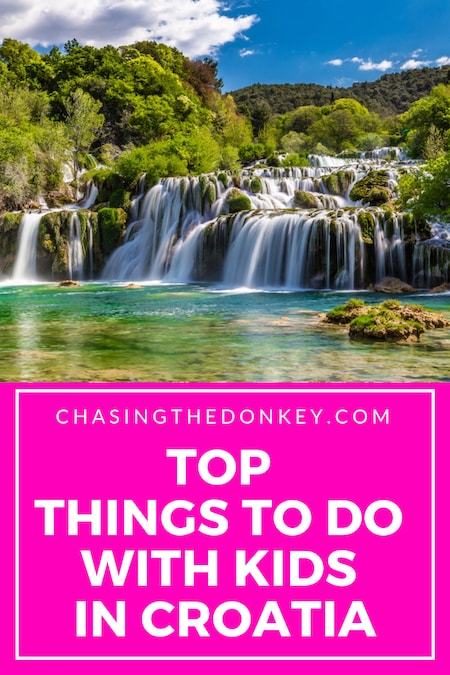 Kid-Friendly Caves
No matter how old your children are, they will love heading underground and checking out what lies beneath! Biserujka Cave in Krk and Festinsko Kraljevstvo in Zminj are ideal for families and safe for young children.
Biserujka Cave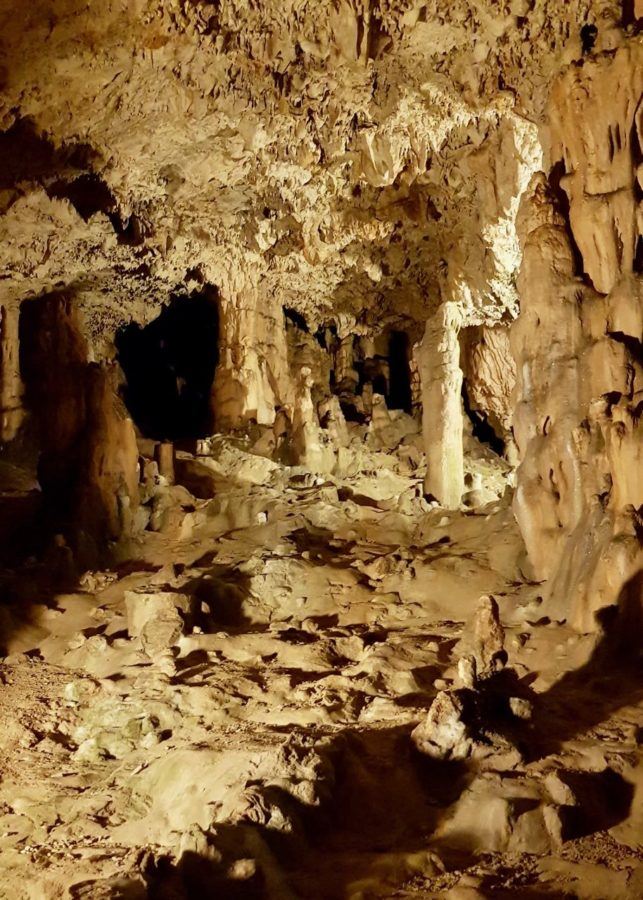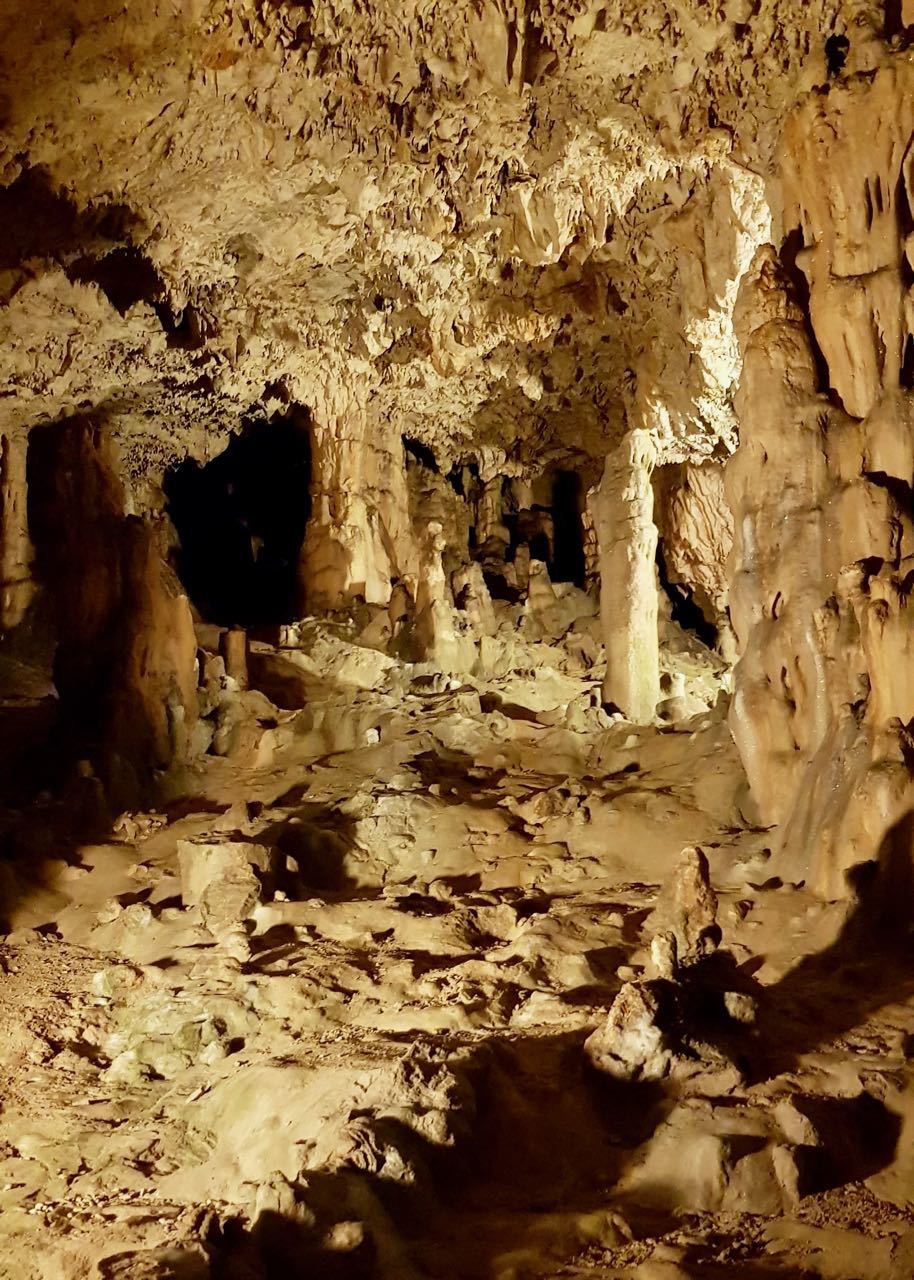 Biserujka Cave is located close to Rudine Village on the island of Krk, and you'll find a range of different stalagmites and stalactites in several different sections of the cave. An education trail links this cave to another smaller one in the area, which takes about half an hour to walk through beautiful scenery.
Children under five can go into the cave for free, with children up to 12 years costing 20HKN and adults at 30HKN.
Festinsko Kraljevstvo
Zminj's Festinsko Kraljevstvo is located in Festini, Istria. The beauty around the caves is stunning, and kids will love wandering around the open spaces. When you reach the cave, you'll see various sculptures made naturally out of rocks, the cave itself, and a children's park, mini farm, and bar just outside.
You can only visit this cave in the summertime without prior permission, with children under five going free, other children up to 15 years at 25HKN, and adults at 40HKN.
Kid-Friendly Festivals
Oprtalj Kestenjada (Chestnut Festival)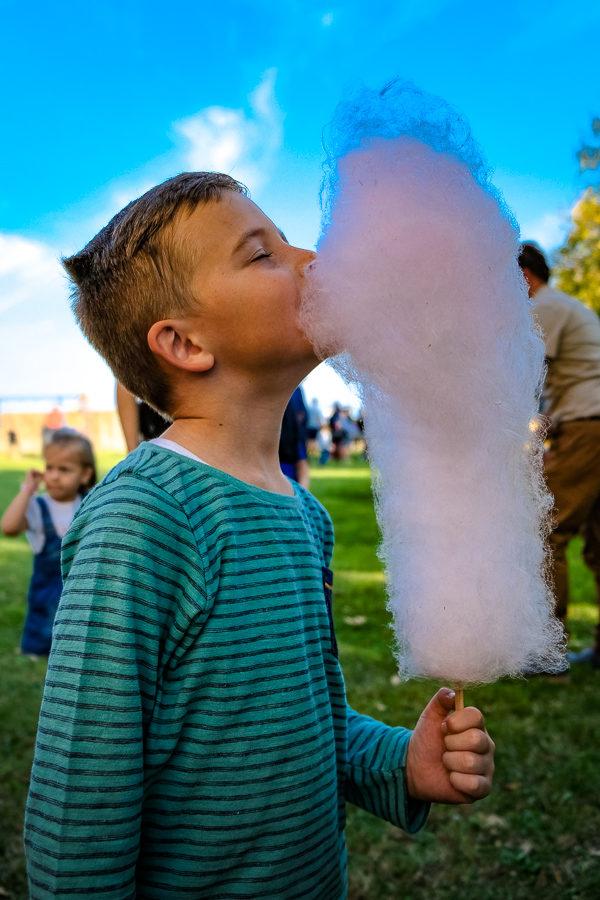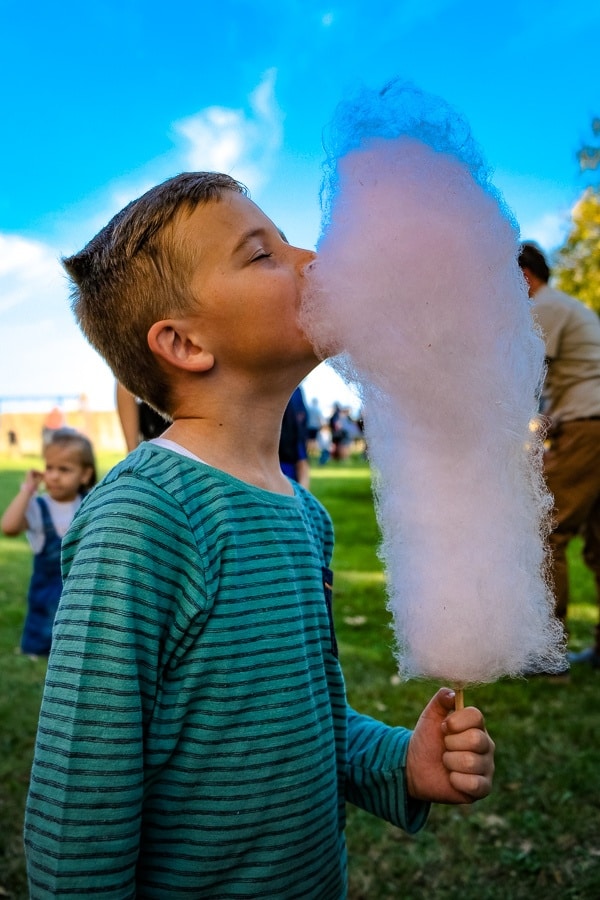 If you think there aren't many things you can do with a chestnut, think again! Every October, the Chestnut Festival takes place in Oprtalj, Istria, and it is a fun-filled day out for all the family.
This is a great day out with a difference in music, games, competitions, tasting different chestnut-related foods, and discussing how many other products are made.
We spent hours here with friends, and all our kids ran about having a blast without complaining. We ate and drank and had a fabulous day!
Špancirfest In Varaždin
Almost two decades ago, the first street festival in Croatia occurred, which is still happening today! In the heart of Varazdin, every year, you will find Spancirfest, which lasts for ten days and is an entire festival of fun and frolic. Usually, the festival has games, creative arts and crafts, dancing, workshops, street theatre, musical performances, and a lively and fun atmosphere in August.
Check out the exact days before you travel to ensure you don't miss out. Kids will love the lively and fun feel of the area, and there are so many workshops and exhibitions every ten days that there will be something for everyone within the family.
Šibenik's International Children's Festival
Every June, Sibenik plays host to the International Children's Festival, which spans several days of fun-filled activities for all the family. This two-week event has been happening for over 50 years and is a firm favorite in the area.
Children can meet other children, play, enjoy creative workshops and crafts, play games, and enjoy the vibe. There are three main programs on offer, all of which have an educational feel but disguise it well, firmly in the direction of fun! The whole idea is to bring cultural awareness to children but to do it creatively. So, if you're trying to figure out what to do with kids in Croatia, this is a great option.
Diocletian Days In Split
Teaching kids about history is a must-do, but it's even better if they can get immersive with it. Every May, Split plays host to Diocletian Days. This event in Split shows children what it would have been like during Roman times, with Emperor Diocletian' walking through the city' (in a carriage, of course) and creating an atmospheric step back in time. Even you will feel like you've jumped into a time machine!
Alongside the general merriment, there will be music from the Roman period, dance exhibitions, and gastronomical delights.
Kid-Friendly Tours
Walking Tour In Split
There aren't too many children-friendly tours in Split, but this is one. It can be hard to get kids excited about walking around an old city; that's something all parents have experience with. On this tour, an expert guide (a father himself!) will take you and your family on a trip through Split, during which you'll learn about the city's legends, walk through Split's ancient gates, and even visit Split's oldest pastry shop.
Truffle Hunting In Motovun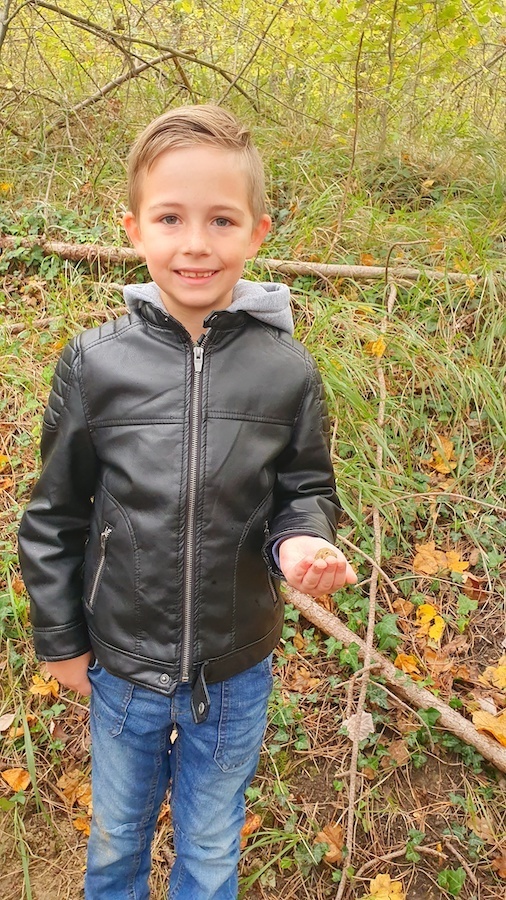 Istria's Motovun region is famous for its truffles, so it makes sense to go truffle hunting. Kids will love the guided truffle hunt, as dogs accompany you out into the forest, sniffing out the truffles, with a hands-on guide to show you how the process happens.
The two dogs, Bela and Nera, are friendly but professional, and once the walk is over, you can go into the shop and buy products from what you have just found in the forest itself.
This is a great day out with a difference, and the kids will love accompanying the dogs out into the natural forests.
Photo Jeep Safari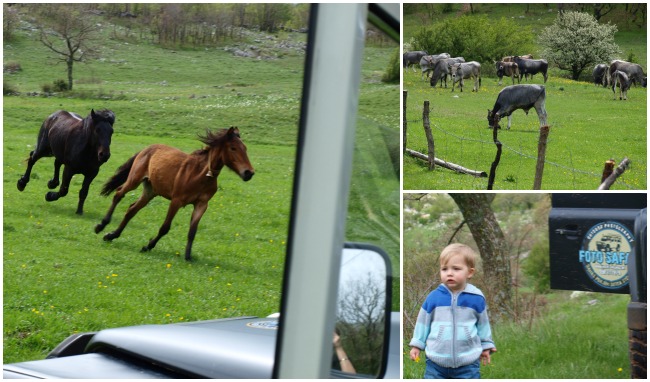 Perfect for little legs is to hop in a jeep and head off or up high and explore. We took out then 18-month old on a photo jeep safari in Starigrad Paklenica. He (and us) had a fabulous time.
If you plan to travel to Croatia with a baby, this activity will suit you as they provide a baby seat for the jeep, or alternatively, you can bring your own.
Croatian National Park Tours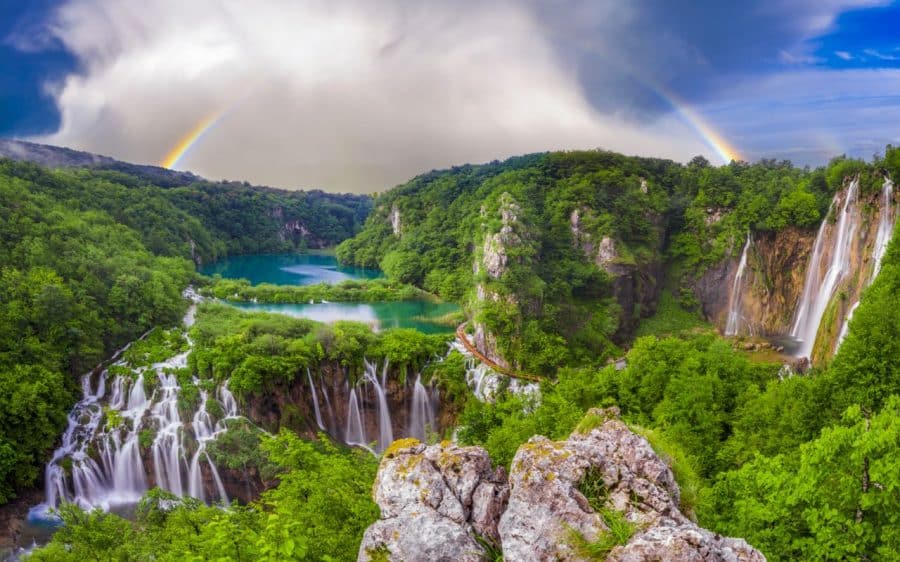 You've made sandcastles and been swimming in the waterfalls at Krka National Park; the next item to cap off your family adventure holidays is to….. take a walk and boat ride through Plitvice Lakes, rent kayaks, or climb a mountain at Mljet National Park.
Local Tip: If you have kids under six or children who don't like to walk for very long, then Plitvice Lakes should be avoided. It's not designed for tiny kids (though my four-year-old loved it). Pushing a pram is impossible, and you'll need at least two hours in the park. That said, you can make a great day hiking, taking wildly astounding photos, enjoy lunch, and a boat ride for anyone willing to put on tennis shoes and get active. Here is an excellent travel report about kids and Plitvice to help you plan a fantastic Plitvice day trip.
TRAVEL COMPANIES WE USE AND TRUST
Kid-Friendly Beach & River Activities
Gacka River Canoeing
A little more adrenaline is coming your way with this suggestion! The River Gacka is an excellent spot for canoeing or kayaking, and it's great for families because there are no rapids, rough currents, or waterfalls.
The main river route lasts around 8 km, and it will take about three hours to get around. There is beautiful scenery no matter where you turn, and the kids will love that you're getting to see nature differently. Several companies run tours and trips along the river, so shop around. You can expect to pay around 110HRK per person.
Sandcastles & Beach Volleyball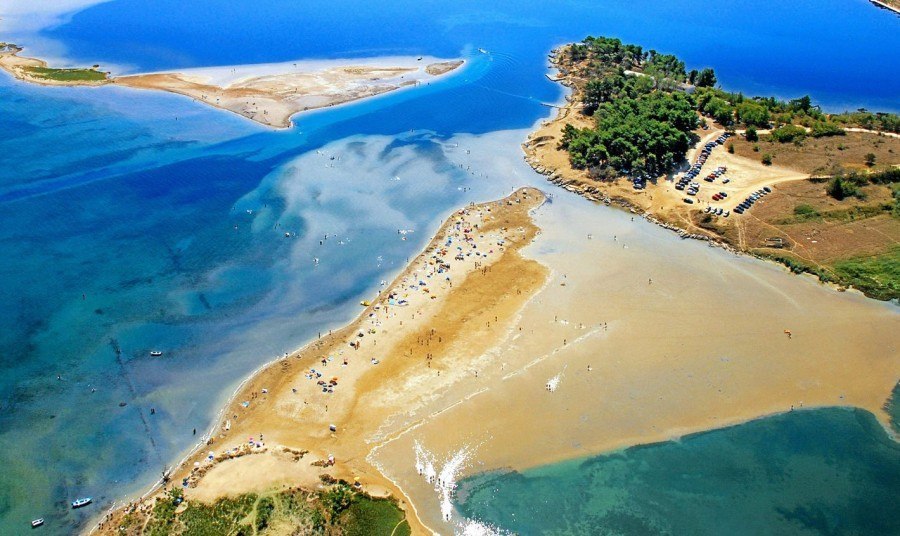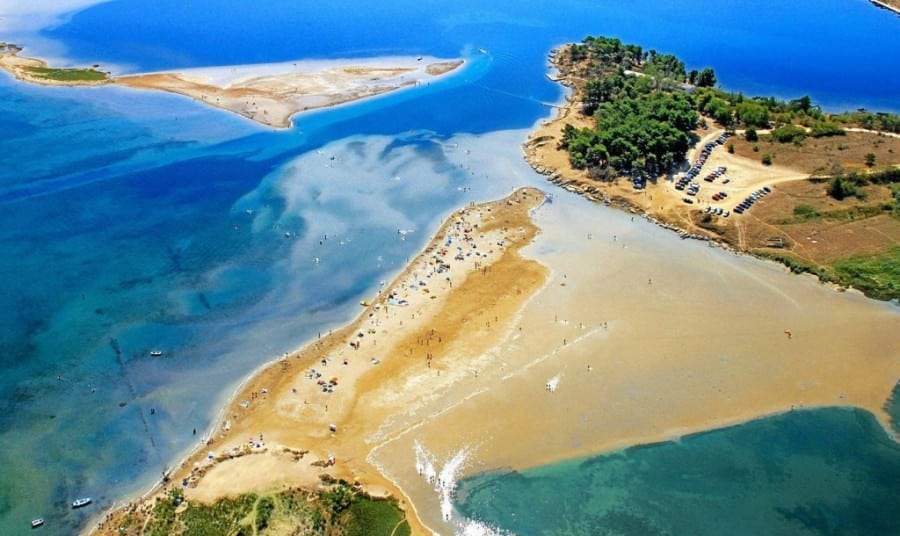 Yes, it is possible. I am sure you've heard about the need to pack your water shoes
and brace yourself for the pebbly beaches of Croatia's coast, but we do have sandy beaches in Croatia, too – here is a list.
Sandy beaches in Croatia are a little trickier to find but sprinkled all over the country. If building a sandcastle is high on your wish list of things to do in Croatia with children, ask the locals where to find one close to where you are staying.
OUR FAVORITE SANDY BEACHES IN CROATIA
Other places include The Pelješac Peninsula, Murter Island, Baska Beach on Krk Island, the Dubrovnik Riviera has several, Palmizana on Hvar Island, Island of Cres, or head to any of these seven family-friendly islands in the Zadar region.
Raft Grade 2-3 Whitewater Rapids On The Cetina River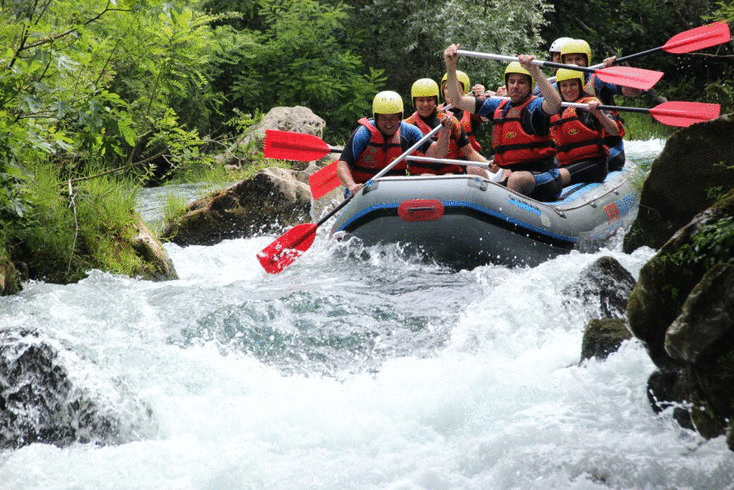 After you have finished your hiking, it's time to check off item #2 on the family adventure holidays list. Rafting! Children over nine can climb into a raft with you and whitewater raft down the Cetina River, close to Omiš, 25kms south of Split.
Lasting from 8 am to 2 pm, rafting in Croatia is the ultimate outdoor adventure for little travelers. The rafting tour in Croatia that we took came with pre-raft snacks, equipment hire, an experienced guide, and post rafting snacks. Having your kids smiling from ear to ear is safe and guaranteed.
Snorkeling In Croatia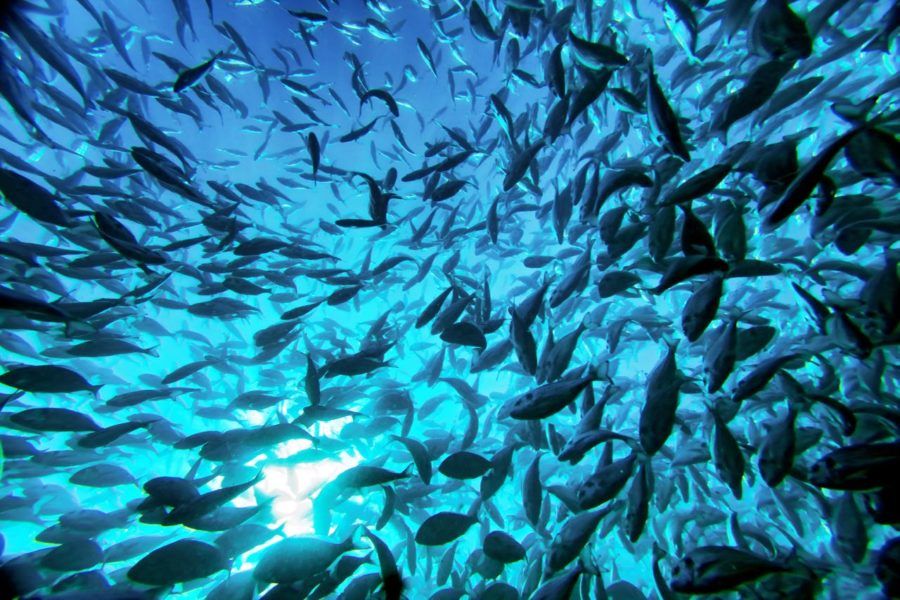 Your kids will love snorkeling here in Croatia as the waters are so very calm. While the most exciting thing they will see is likely to be small fish, sea cucumbers, and urchins, snorkeling in Croatia is an excellent place for your kids to get started and practice how to put their head underwater.
Water Activities On The River Zrmanja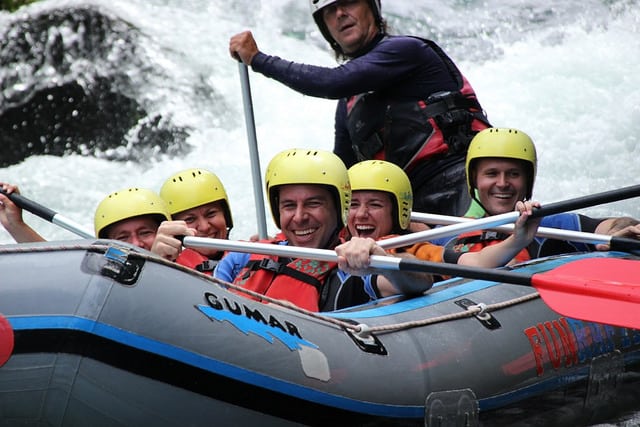 Rafting trips also take place on the River Zrmanja from Spring to Autumn. If you're looking for something a little less adventurous for your Croatian vacation with kids, you can still enjoy the Zrmanja on a kayak or canoe during the low water level periods of summer. Or, if you have tiny children, you can take boat trips that start at Starigrad Paklenica along the Zrmanja River mouth, all the way to Obrovac, including lunch.
Kid-Friendly Outdoor Adventures
Swim Under A Waterfall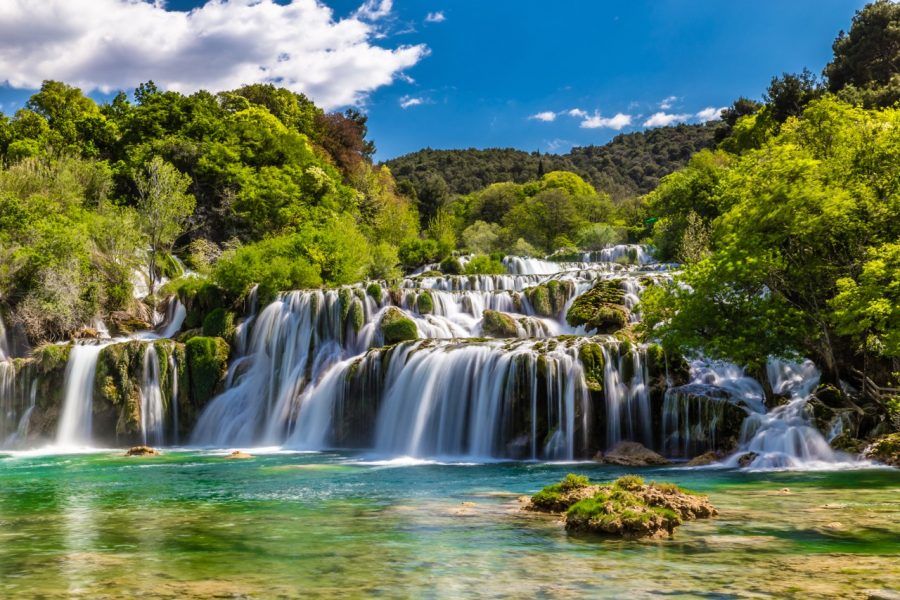 Those epic teal, turquoise, and deep blue waterfalls that you've seen on many travel brochures, websites, and travel blogs are probably those of Plitvice Lakes. While Plitvice Lakes is a top tourist attraction in Croatia due to the compassionate environment, you can't swim there.
Instead, enjoy a family boat ride to Krka National Park via Skradinski Buk beginning at Skradin. Krka National Park is more than just the waterfalls, so be sure to look around the whole park.

Local Tip: Take with you a picnic lunch; it makes a fun, great family day – you can talk to your Croatia Transfers experts (us) about how to do that.
Go Windsurfing To Get Your Teenagers Off Their Smartphones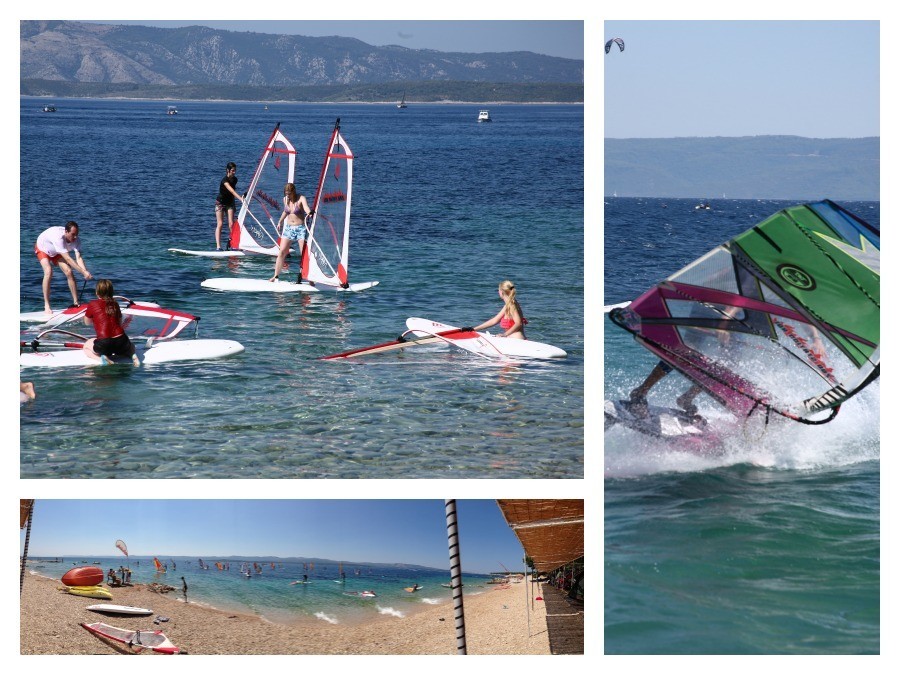 I can think of at least a dozen great windsurfing locations, including Nin, Viganj, Savudrija, and Bol on Brač Island. iPad's down and sails up. Even if your children have never windsurfed before, they can give it a go; there are some windsurfing schools along Croatia's coast, and lots of places have equipment hire.
Take A Ferry Ride Or Go Sailing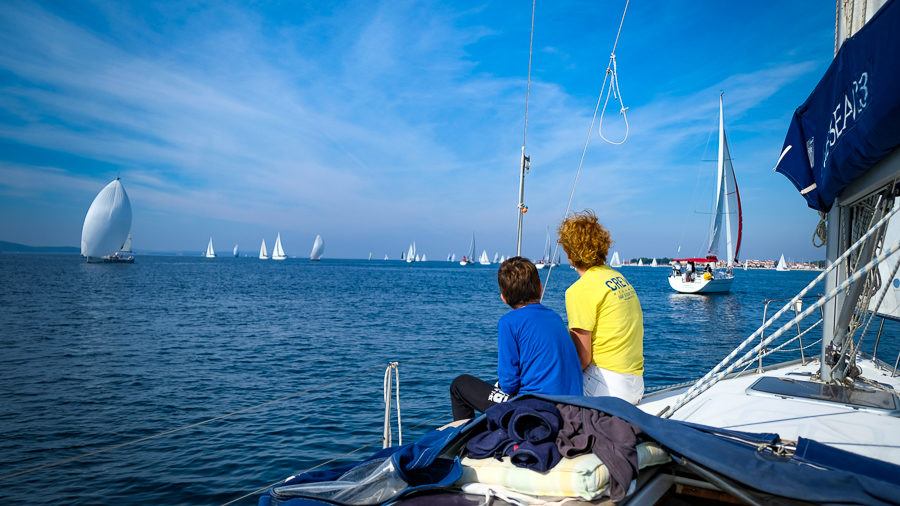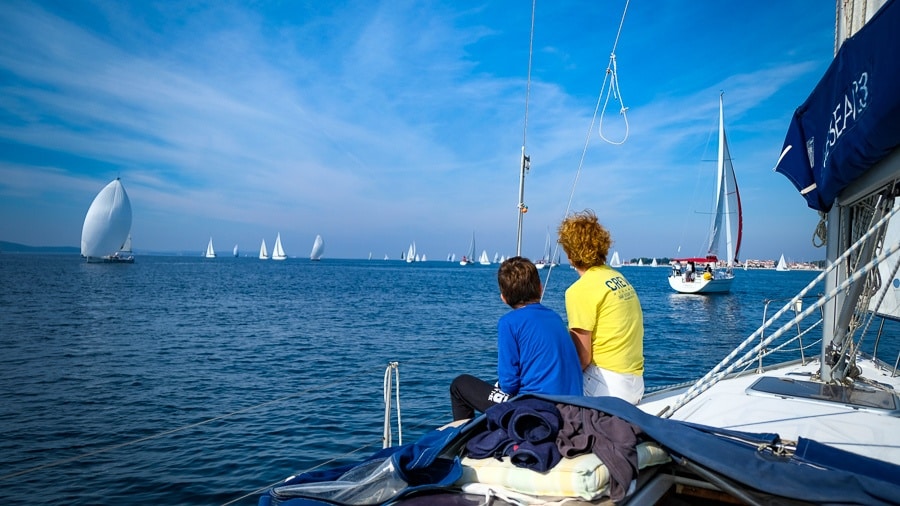 The best time to set sail in Croatia is between April and November. Navigating your way around the many islands choosing where to stop and explore makes sailing Croatia for great European family holidays. Pull-up in quiet bays for a morning swim and spend the afternoon exploring a busy village. Or visa-versa, you choose!
We've sailed Croatia several times and wrote a Sailing Croatia holiday guide to help families choose how best to plan and enjoy a sailing vacation in Croatia.
If you're short on time, then you can Island hop along Croatia's long and indented coastline via ferry. Thrifty Travel Mama spoke about how her three boys loved taking ferry rides on their Croatian vacation. Booking and planning ferries in Croatia is complicated as there are some companies, not all of which offer online bookings. Things to consider are:
Car ferry vs. Catamaran. Not all services allow you to take your vehicle, and there are limited spaces. Book your tickets at the local office as soon as you know when you'd like to go.
Non-peak season timetables. Between June & September, there are dozens of lines operating, although you may need to find overnight accommodation on the island for your outbound connection outside of those periods.
Let The Kids Roam Free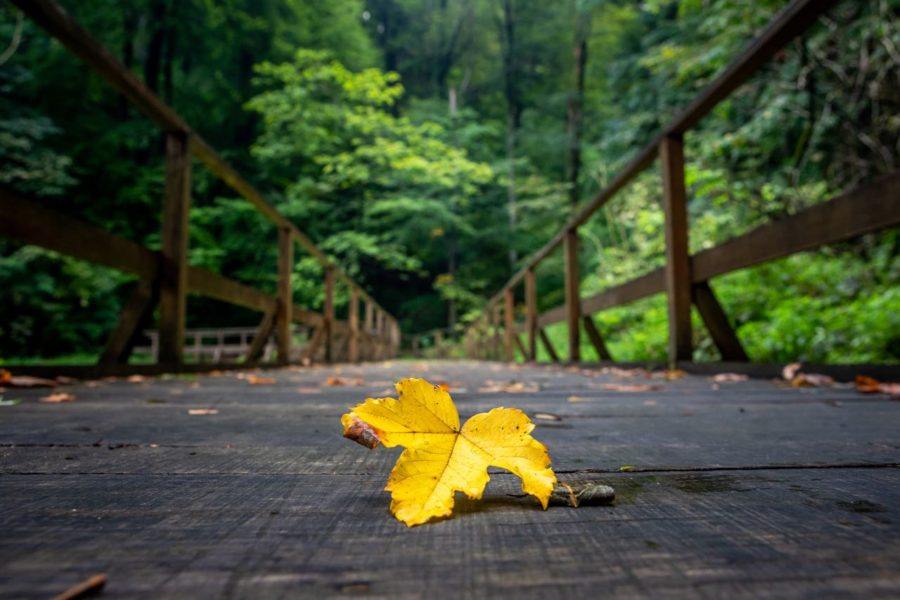 Every town and village has some kind of wide-open space for your family to run about FOR FREE. Many of the parks & playgrounds in Croatia also have coffee shops very close by. You can find cafe bars that will set up super fun trampolines during summer, provide toys or have and swings to help ease boredom while enjoying your brew.
Kids can also run free for a meager entry fee into many of our nature parks, like Papuk. For a few Euros, the whole family can relax in nature.
Horse Club Trajbar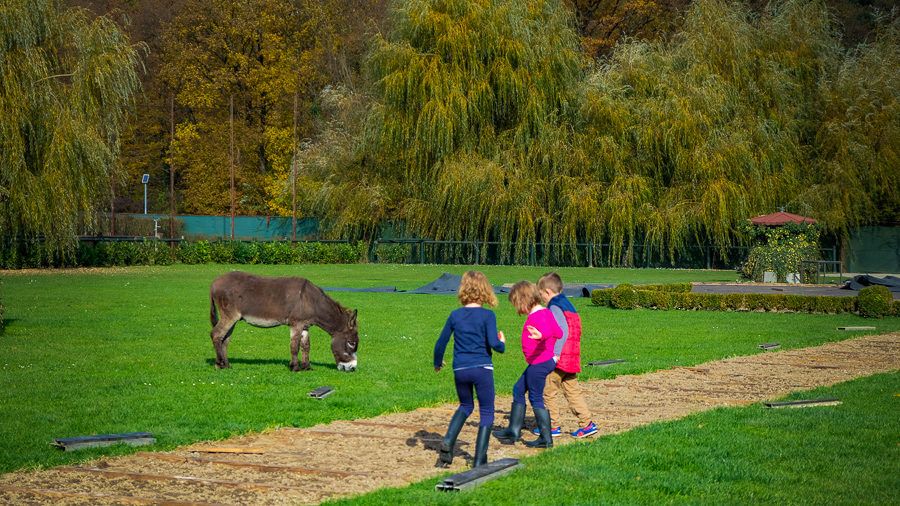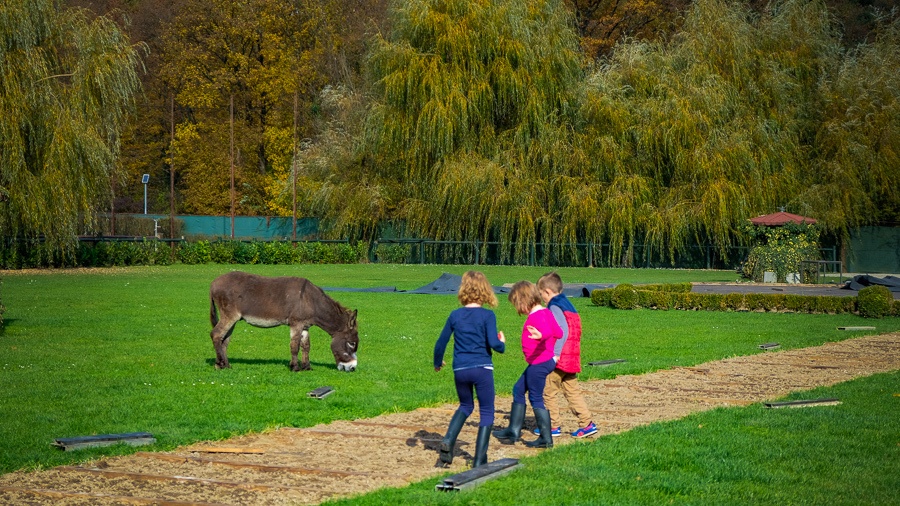 Whether you have keen riders in your midst or not, the Horse Club Trajbar is a great place to take the kids. Not only can children interact with the horses, watch them in action, and 'ooh' and 'ahh' over them, but there is also an excellent cafe bar on site, which everyone will enjoy.
There is plenty of space for the kids to run; my two enjoyed the place for four solid hours! Oh, and on the terrace means everyone can soak up the sun while enjoying a cold drink or ice cream on the hot summer days. Pets are welcome here too!
Several resident horses at the Horse Club, including Bonnie, Elf, and Piana, and the whole vibe are totally outdoorsy and full of fresh air. By the time you get back to your hotel, the little ones are sure to be half asleep – job done!
Horse Club Trajbar is located in Zapresic, close to the border with Slovenia. The cafe bar is open every day from 9 am until 11 pm.
Zoom Along Croatia's Fastest Zip Lines… Weeeeeee!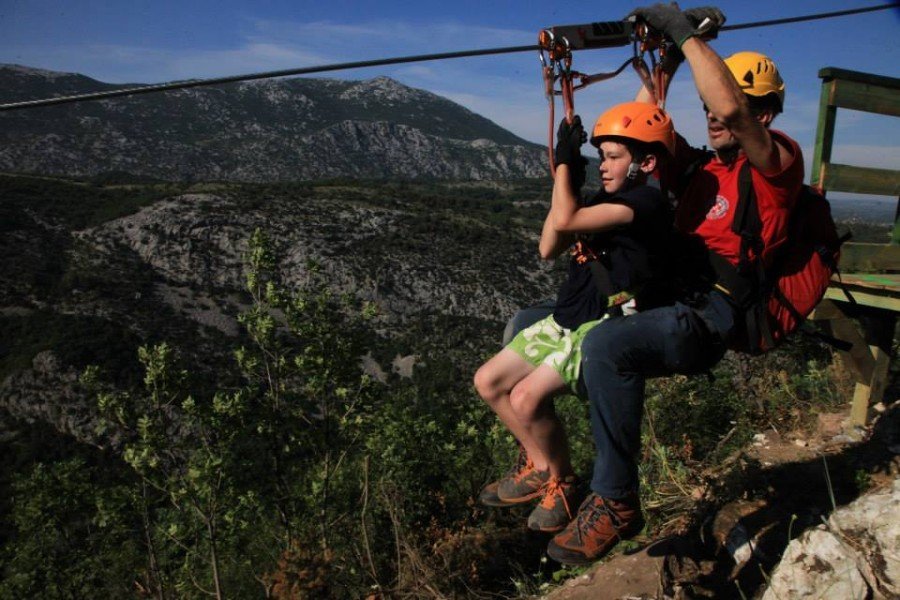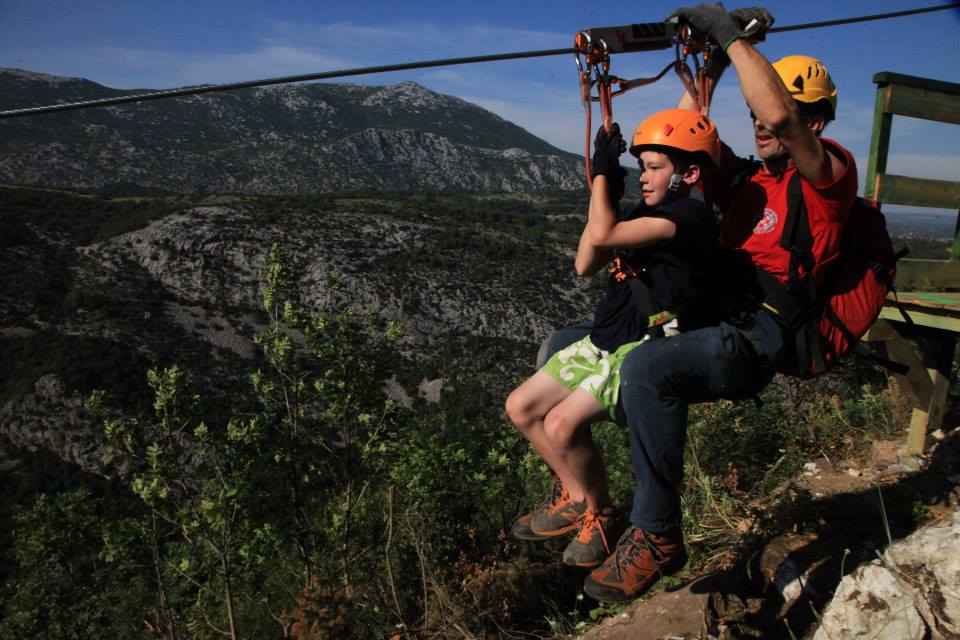 Mr. Chasing the Donkey is a safety freak – and he not only endorses these, but he also loved a few of them so much he wants to go back and do them all again. Some have a minimum age or weight limit to take part, but the good news for you is that there is no maximum age.
Several new ziplines are undoubtedly worth a visit for any family who loves adrenaline! Here are some of our favorites:
CROATIA ZIPLINES FOR FAMILIES
Several new ziplines are undoubtedly worth a visit for any family who loves adrenaline! Here are some of our favorites:
Omiš Zipline
Read all about the eight zip lines, costs, and details in this Zipline Omiš article.
Sibenik Zipline
You can head off on your own steam or go on a guided tour into the National Park, close to the famous Skradinski Buk waterfall. Here you'll find a 14km long zipline, which reaches speeds of 70km/h.
There are three lines, one at 250m, 500m, and 650m in length, and you get to see the impressive Cikola River Canyon right way up high.
Pazinska Jama – Pazin Zipline
Pazin is home to a thrilling ziplining adventure that the kids will love. There are four lines; the first two are 80m long and then move towards the larger lines, crossing over the vast canyon below. The next line reaches 200m, and you'll reach speeds of up to 50km/h, at 100m high. The fourth line is the longest, at 280m, and the view below is stunning, including being able to spot a medieval castle.
The whole experience takes just under one hour and costs around 160HRK per person.
Krk Island Zipline
Close to the Glagolitic Trail on Krk Island, you'll find a new ziplining adventure that will show you stunning scenery and get your adrenaline pumping. The kids will love it! The top section of the biplane will show you the entire island, and the overall experience takes about two hours along several different ziplines.
The day starts with a canopy tour, and you also have the usual safety demonstrations. From there, there are eight lines, reaching maximum speeds of up to 80 km/h! Prices vary but are usually around the 390HKN mark, with everything included.
Lika Zipline
Lika is home to the fastest and longest zipline in Europe! The lines opened in April 2017, and there are 20 lines in total, making this a must-do if you have a family of adrenaline junkies! The longest line is 1700m and reaches speeds of up to 100km/h.
You can expect to pay around 240HRK, but this is one for the ziplining fans out there for sure. There is also a cafe, golf, cycling, and climbing facilities on-site, so you could easily make a whole day of it.
Kuterevo's Bear Sanctuary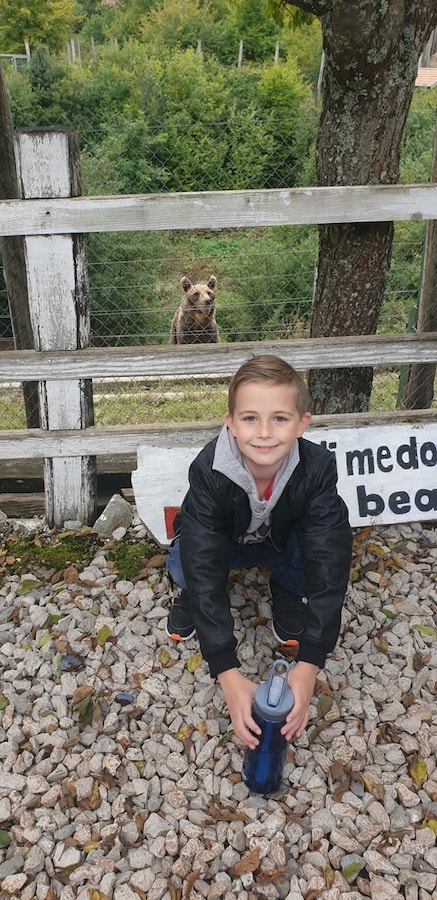 This is a must-do, but you'll probably want to bring one home! In Lika, you will find the Bear Sanctuary, where volunteers work to look after the orphaned bears which call the forest home. It requires a long drive into the countryside, but the kids will love this day out.
Remember, Croatia is a natural home to around 1000 brown bears, but they are at extreme risk due to hunting and other natural issues that are occurring in our world today. This sanctuary does some fantastic work, looking after injured and orphaned bears, and you can see them for yourself and learn more about them from the volunteers themselves.
Golubinjak Forest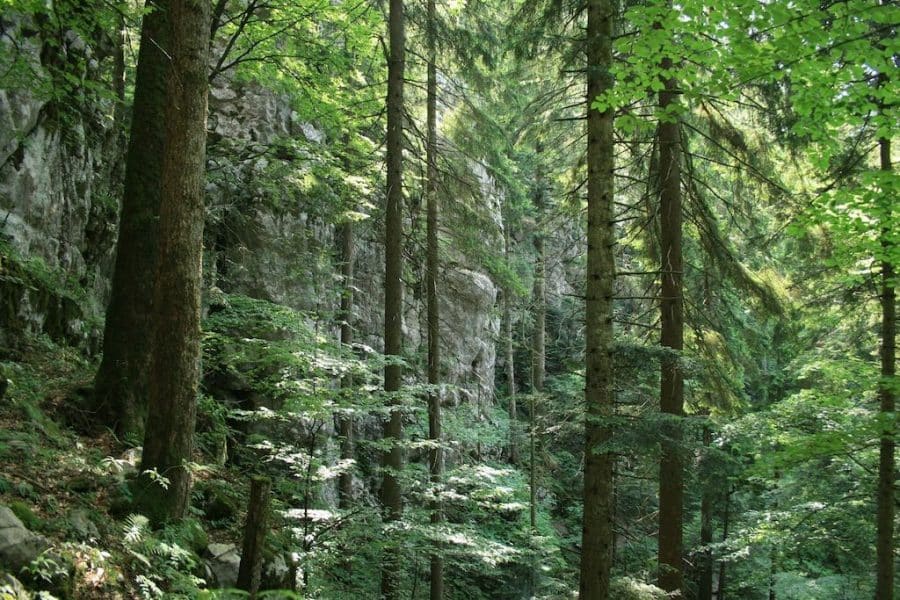 For those looking for where to go in Croatia to be at one with nature, one of the best places is, without a doubt, Golubinja Forest.
This place feels like a million miles away from the hustle and bustle of daily life, away from the tourism of major towns, and allows you to sit back and enjoy nature at its finest. Mother Nature did well here!
Golubinjak Forest is home to huge, unbelievable trees that seem to rise high above the cliffs surrounding them. The forest spanned a whopping 51 hectares and was declared a protected area in 1955.
The main entrance into the forest is through a gorgeous, fresh meadow, and you can sit and enjoy a bite to eat here before or after you venture into the forest. There is a children's playground around the forest if the kids need to burn some energy, and there is also a BBQ area if you want to eat al fresco. Walkers will enjoy the many paths to follow, and you'll pass by the famous 'Queen of the Forest,' as well as sculptures in the rocks and the numerous ice caves – yes, even in the summer months!
Lokrum Island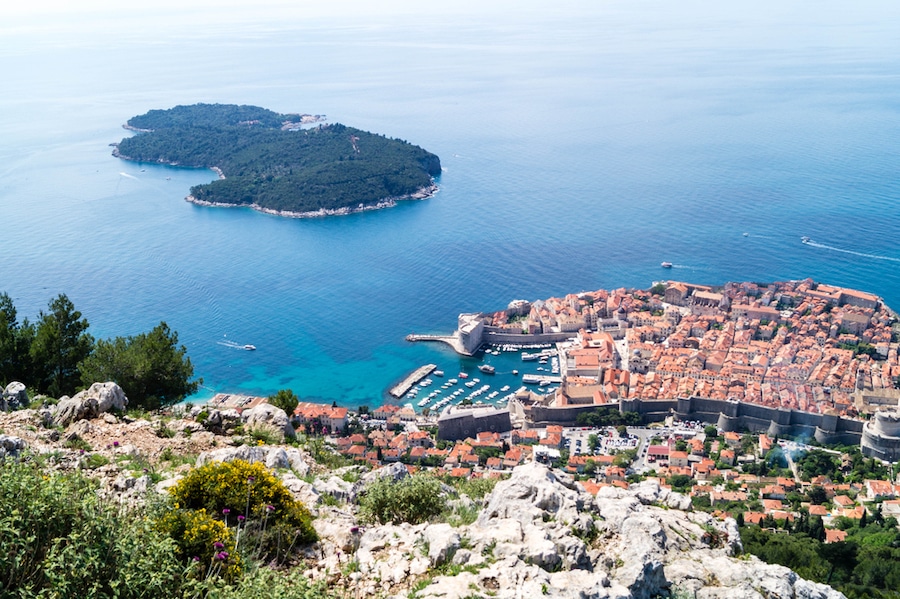 Clearly visible from the top of Mt. Srd, the end of the Dubrovnik Cable Car, Lokrum Island, is accessible by boat from the Old Town. This lush Mediterranean island is only 600 meters from the Dalmatian mainland, yet the bustling Dubrovnik city center is a world away. It's a fantastic day trip to take in Croatia with kids.
An easy ferry connection between Lokrum Island and the Old Town harbor is a scenic ride that doesn't last longer than 15 minutes. On this beautiful island, you can explore trails that run through fragrant forests and along rocky beaches. There's also a historic monastery and botanic garden, a children's playground, a small inland salt lake, and a snack bar.
Oh, and Mom's and Dad's, it's here you can sit on the Game Of Thrones, THRONE!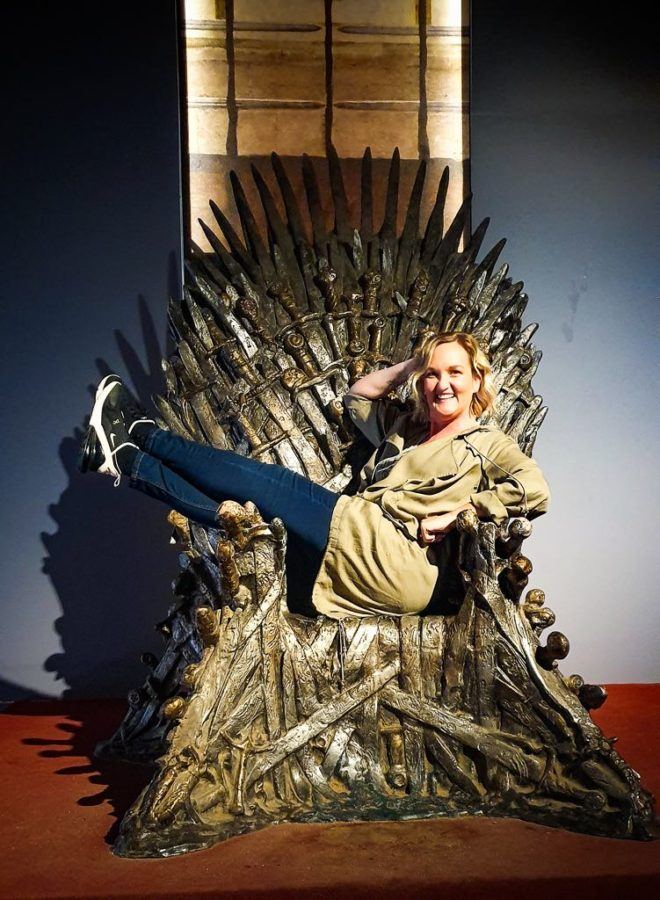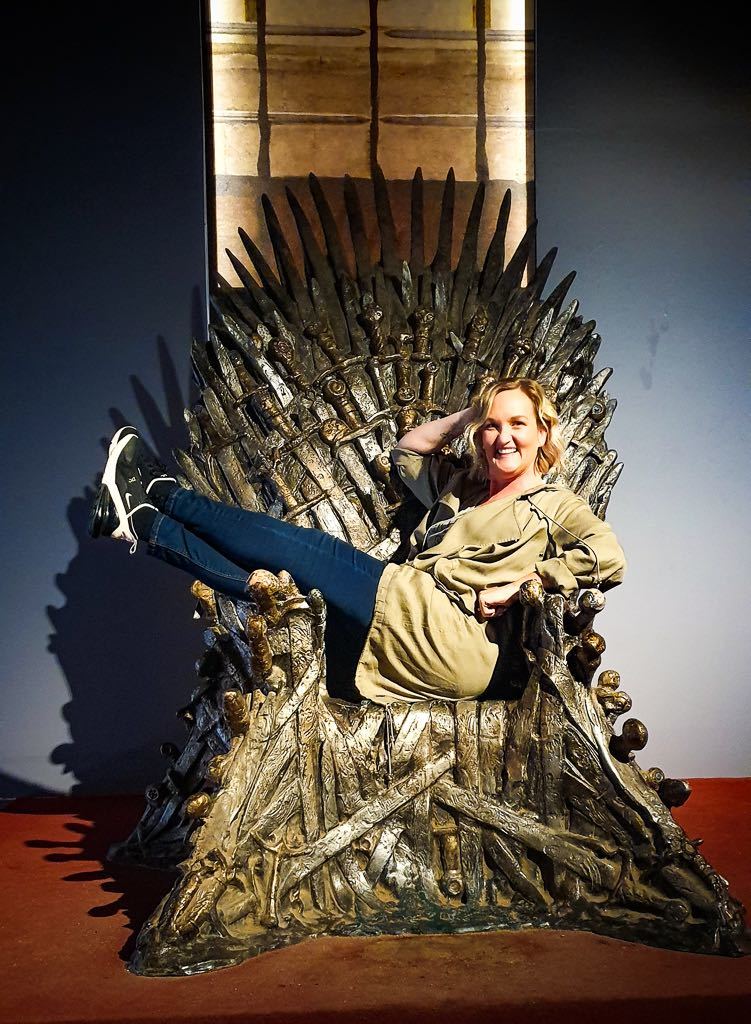 So, if your vacation in Croatia with the family includes a visit to Dubrovnik, we highly recommend going on a day trip to Lokrum Island.
Šibenik Falconry Centre
When traveling along the Dalmatia coast and looking for fun activities in Croatia for children, consider a visit to the Šibenik Falconry Centre. This is Croatia's only bird of prey center, located in the pine forests of Dubrava less than 10 km from the city center.
Here, kids can get up close to various amazing birds of prey, such as hawks, owls, kestrels, and falcons. The center also rehabilitates sick or injured birds and is the only registered veterinary service for birds of prey in Croatia.
Kid-Friendly City Adventures
Nikola Tesla Technical Museum Zagreb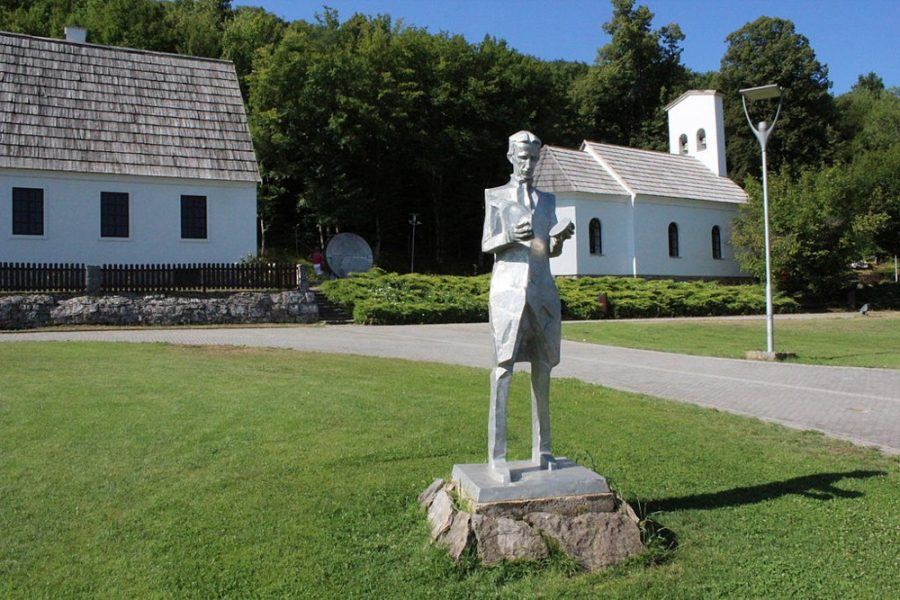 Science and education go hand in hand, but there's plenty of fun to be had here at too! Zagreb is home to the Nikola Tesla Technical Museum, which has been in operation since 1954 and is actually located in some historic and protected buildings which were initially owned by the Zagreb Fair. Fun fact!
Inside the museum, you'll find thousands of artifacts and items related to science and technology throughout history, dating back to the industrial era in the 19th century. There are also daily talks and presentations, including workshops and hands-on, interactive fun. Just be sure to look a the timetable as we missed them.
The Planetarium is also a fun spot to visit. Throughout the year, various events occur, such as the Science Festival, so check out whether there is anything special close to your time of visiting. This is an excellent activity in Croatia for kids, especially if they love science and especially on a rainy day.
Dance In The Dark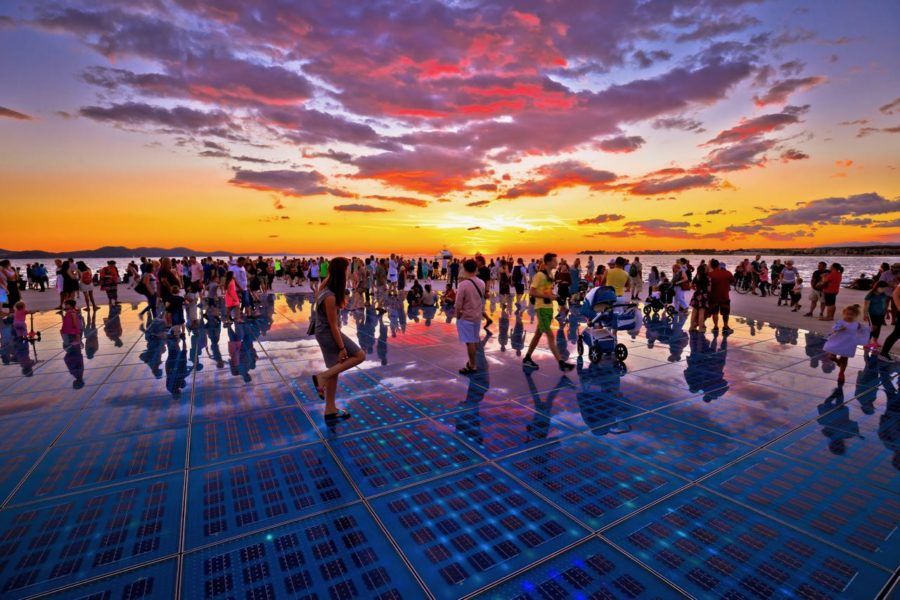 Absorbing the sunlight during the day, the Greeting to the Sun in Zadar lights up at night. Let your kids rock out to the incredible music show.
Town Of Bale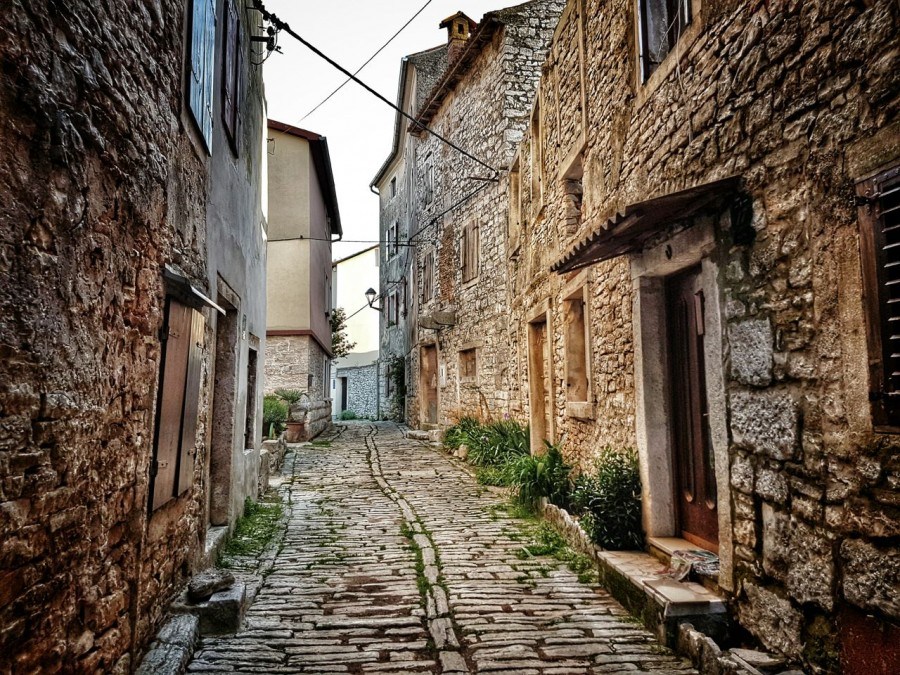 Picturesque Bale is a small town made entirely of stone. It reminds me very much of one of the sets from Game of Thrones. Located in the southwestern part of Istria, just 20km away from the city of Pula, is where you will find one of my newest favorite Croatian towns – a town that is made up of 48% Italians and is officially bilingual.
Once in Bale, the kids will love Bale, the maze of cobblestone streets is perfect for kids to explore, and the neatly restored houses are a treat. Best of all, Bale is just 7km from the Adriatic Sea, so you can go for a swim after exploring.
Travel Scavenger Hunt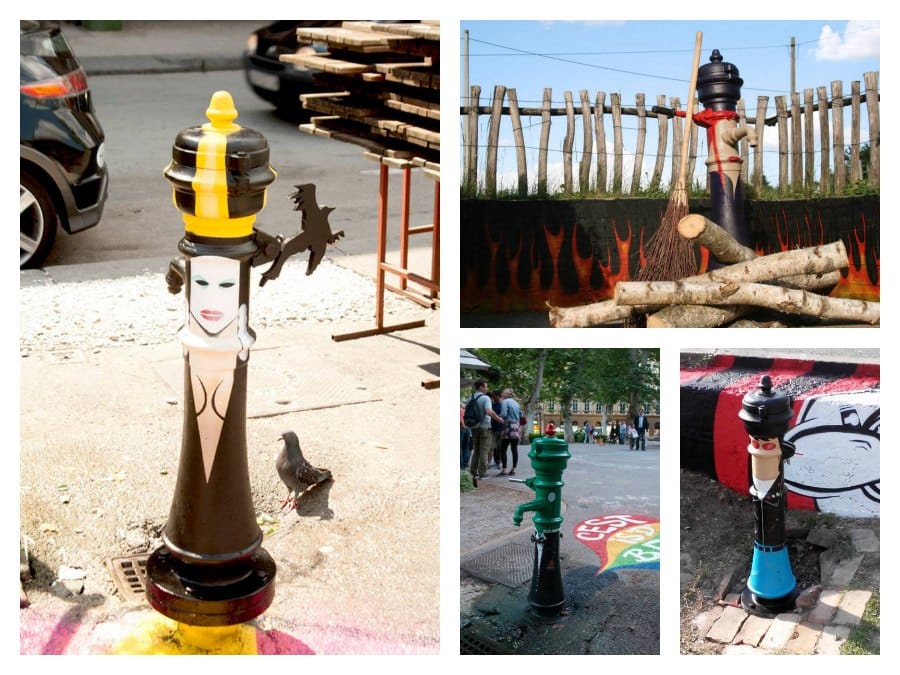 There are so many sites to be found across Croatia; why not make a fun game out of looking for them with the kids? One suggestion would be to find as many water pumps in Zagreb as possible. Sounds dull? No way, look at these pumps that have been transformed by the Pimp My Pump Zagreb crew. You may want to get involved in Geocaching, the real-world outdoor treasure-hunting game where you use your GPS device to hunt down a cache.
Jadera Secrets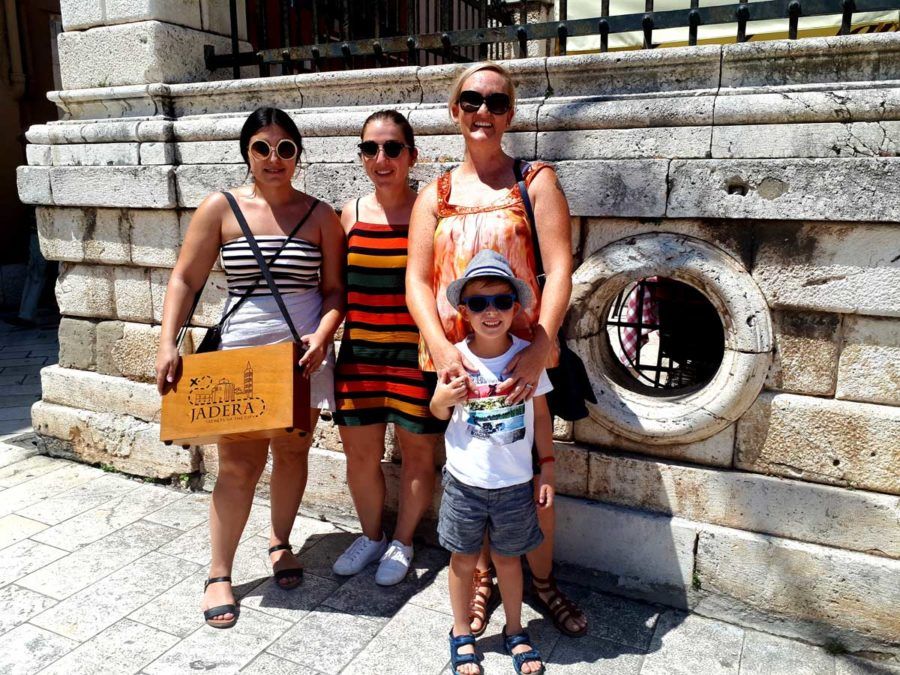 Another great interactive experience is Jadera Secrets in Zadar. Complete challenges together as a family as you learn about and walk through Zadar's Old Town.
Dubrovnik Cable Car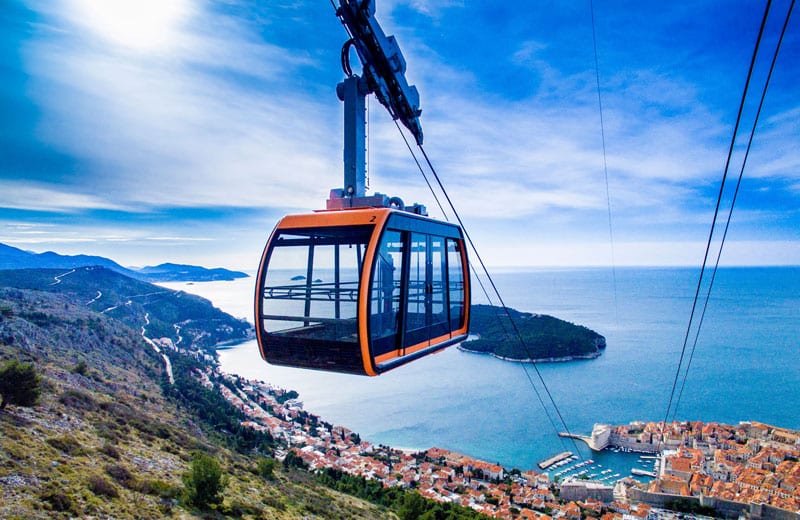 The iconic Cable Car is one of the absolute top tourist attractions in Dubrovnik. Soaring high above the city's famed red rooftops, it runs from the Old Town to the summit of Mt. Srd, home to the historic Imperial Fortress. This is easily one of the best things to do in Croatia with kids if you're exploring the Dalmatian coast.
The views from the top are arguably the best in the entire region. After the short and fun ride with the Dubrovnik Cable Car, you can gaze out over the shimmering Adriatic Sea and its numerous islands while the picturesque Old Town sits below. A restaurant and bar overlook the coast, offering respite to hungry and thirsty visitors.
You and the kids can also explore hiking trails, visit the fascinating Dubrovnik Homeland War Museum, and shop for souvenirs at the Coin Blacksmithing Shop and Ohrid Pearl Shop.
Kid-Friendly Adventure & Water Parks
WEBSITE ADDRESSES OF ALL OF THE ADVENTURE & WATER PARKS
Adamovec – Adamovec Aquapark (www.aquaparkadamovec.hr/)
Bale-Valle – Bale Aqua and Paleo Park (www.bale-valle.com/en/what-to-do/aquaparks/bale-aqua-and-paleo-park/38)
Biograd na moru – Fun Park Biograd (www.funparkbiograd.com)
Biograd na moru – Adventure Park Biograd (www.adventure-park.hr/)
Brtonigla – Aquapark Istralandia (www.istralandia.hr/en/)
Daruvar – Aquae Balissae (www.aquae-balissae.hr/en)
Fažana – Jangalooz Fažana (www.jangalooz.com/en/adventure-park/jangalooz-fazana)
Funtana – Dinopark Funtana (www.dinopark.hr/en/family-trip-istria/)
Igrišće – Party Land (www.party-land.eu/)
Konavle – Sveta Ana Adrenalin Park (web nejde, Facebook posledný príspevok 2020)
Krapinske Toplice – Aquae Vivae (www.aquae-vivae.hr/en)
Mali Lošinj – Aquapark Čikat (https://www.camp-cikat.com/aquapark-in-cikat.aspx)
Medulin – Family Park by Aquamarin (www.aquamarin.hr/index.php/hr/family-park)
Njivice – Sport and Fun Park Njivice (www.sportmar.hr/en/sport-fun-park-njivice-2/)
Poreč – Aquacolors (www.aquacolors.eu/en/)
Poreč – Adventure park sky fox (www.skyfox-porec.com/en/)
Pula – Adventure Park Pula (www.facebook.com/adventureparkpula)
Pomer – Jangalooz Pomer (www.jangalooz.com/en/adventure-park/jangalooz-pomer)
Punat – Underwater park Punat (www.podvodni-park-punat.business.site/)
Svetvincenat – Medieval Theme Park – Sanc. Micheal (www.facebook.com/MTPsanchmichael)
Šibenik – Solaris Aquapark Dalmatia (www.aquapark-dalmatia.com/)
Umag – Jangalooz Umag (www.jangalooz.com/en/adventure-park/jangalooz-umag)
Toplice Sveti Martin – Aquapark MartiLandia (www.termesvetimartin.com/en/martilandia-en/)
Tuheljske Toplice – Water Planet (www.terme-tuhelj.hr/en/wellness/water-planet)
Vrsi – Buffalo Bill city (www.buffalobillcity.com/en)
Zadar – Adventure Park Zadar (www.adventure-park.hr/)
Zagreb – Amazinga Trampolínový svet (www.amazinga.fun/)
Amazinga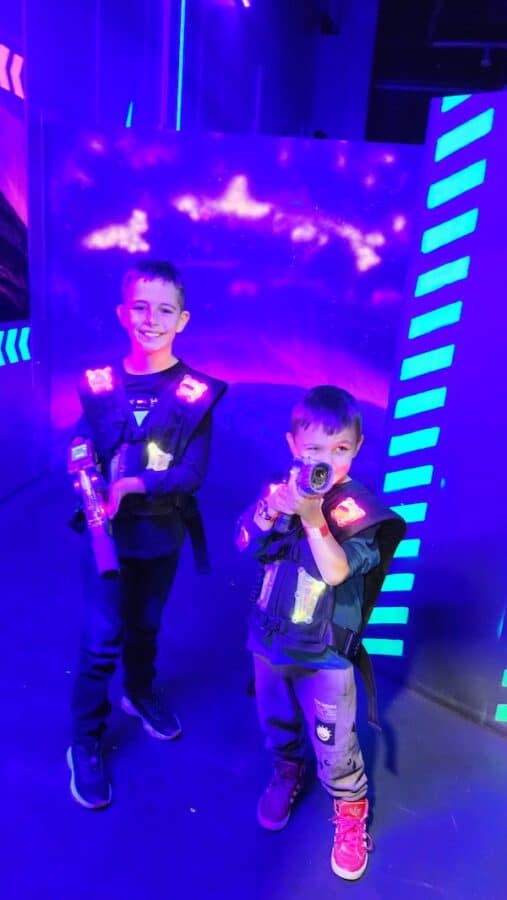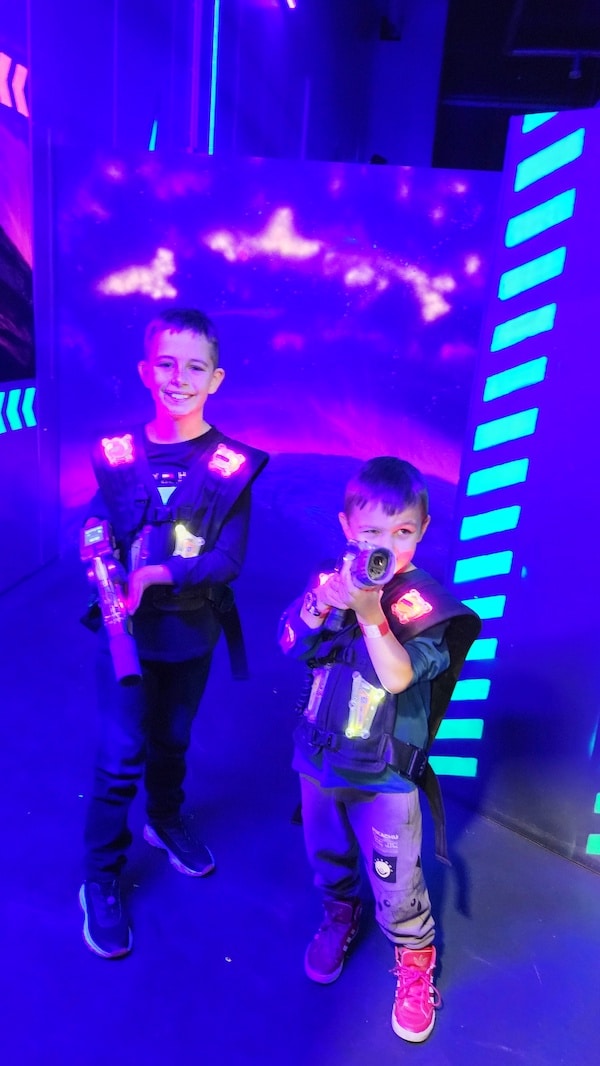 This indoor adventure park in Zagreb is a must for families who need to get some energy out. The park offers trampolines, go-karting, laser tag, a rope course, a climbing wall, arcade games, bumper cars, a virtual reality park, and even a soft play area for smaller kids. Grab snacks or lunch at the restaurant on site and make a day of it. There's something to enjoy for all ages at Amazinga!
Zaton Adventure Park
Located in Zaton, this is a place kids will be able to run free and run off plenty of steam. This is a great place to go if you stay in the Zaton Camping grounds (that resort has a swimming pool complex, a beach section, several playgrounds, and an activity park dedicated to smaller children). This adventure park is just minutes from the resort.
Skip The Beach, And Hit A Water Park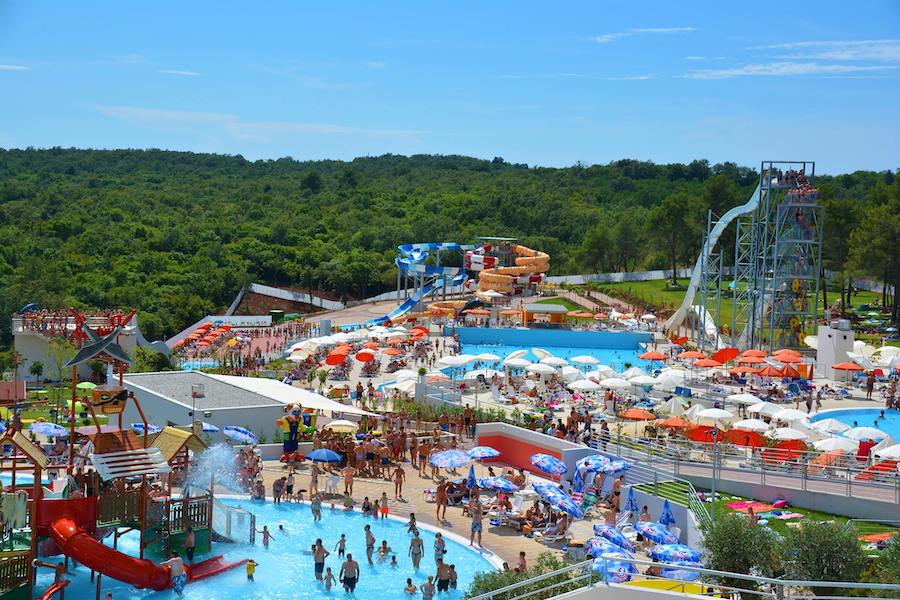 If you're taking a Croatia family holiday, you need to add this to the fun things to do on Croatia holidays with kids list. Aquapark Istralandia. Located in Istria, north-west Croatia, Istralandia is just 15 mins from Novigrad. Packed with over 1.2km of slides, various-sized swimming pools, volleyball & badminton courts, an amphitheater, and five restaurants, Aquapark Istralandia is sure to make the whole family happy.
This water park is less than three years old, and being so new, it's no surprise the designers went above and beyond and created Croatia's tallest water slide, which is a whopping 27 meters up in the air. Wowzers. Don't tell me that the kids, and you, won't love that.
If the tallest water slide in Croatia is too much for you, ahem, I mean the kids, check out the family rafting slide. Get cozy on one big raft and cheer with delight as a family ride all the way to the bottom.
The aquapark has all of the conveniences a family needs for a stress-free day out, including lockers, ATMs & first-aid, and for those teenagers who don't want to be seen dead with you – they can laze about using the park's free wi-fi.
Traveling to Croatia can be fun for the entire family. Have you been inspired? Let us know your thoughts on this list of things to do in Croatia with kids.
Bonus Kids Travel Tips
Traveling with toddlers, babies, kids, and heck, even teenagers can seem daunting – but it need not be.
Despite being excited about the place you're going to, the thought of travel can bring anxiety and stress. If you're traveling with kids, there's even more chance for stress. But all you need to do is plan ahead to avoid the added stress of traveling with a little one. Try a few of these:
OUR TOP KID TRAVEL TIPS
Always plan for safety first and foremost. Do you have a proper child seat? Is it installed correctly? Do you have a first aid kit, necessary medications, and sunscreen?
Plan and pack accordingly. It would be best to start planning and packing well in advance whenever possible so you don't feel rushed and forget anything.
Bring along games and toys your kids will love. For example, pack little "travel kits" with crayons and paper and other travel items to keep your toddler from getting bored.
Plan around your child's sleep schedule when possible. If you are going for a long drive, you can plan part of the drive when your children are expected to sleep. Less whinging is always a bonus.
Plan where your youngest kids can sleep safely. Find the infant/toddler travel bed that works for you!
MORE TRAVEL TO CROATIA WITH KIDS BLOGS