Some posts contain compensated links. Please read this disclaimer for more info.
Your Guide To Choosing A Sailing Route In Croatia
Planning to Sail Croatia? One of the first steps in planning your sailing Croatia holiday is choosing the route that is right for you.
It's been long known that Croatia is a cruising paradise, perfect for sailing. Croatia boasts 5835 kilometers of spectacular coastline, which includes over 1000 islands, making it hard to decide where to go. This guide to sailing Croatia will help you decide the best charter area for you.
Beginning in the North-East of Croatia, close to Rovinj or in Croatia's 'Pearl of the Adriatic' also known as Dubrovnik you're blessed with a big range of choice as to where to sail in Croatia, and where to stop along the way.
Popular Sailing Routes In Croatia
Three of the most prominent destinations for those on sailing charters in Croatia are the areas surrounding Kornati, Split & Dubrovnik, each offering you something different.
Sailing Kornati Islands
This part of the Adriatic Coast of Croatia has the biggest concentration of marinas to choose from. It's a favorite choice for those wishing to sail Croatia, thanks to the particularly indented coastline, the many islands & perfect wind conditions. Along the Kornati islands sailing route, you can make several stops taking in the rich history of Croatia.
Islands
Pašman, Pag Ugljan, Dugi Otok, Ist, Iž, Murter, to name a few…
National Parks
Kornati Islands National park and Plitvice Lakes National Park
Closest Towns
Zadar has a history dating back 3000 years, with a huge open Roman forum.
Šibenik, a historical town, listed on UNESCO World Heritage List. Known for its cathedral and an excellent location next to the Kornati Islands.
Long and bare island Pag, known for its tasty sheeps' cheese & Hotel Boskinac, which was visited by Anthony Bourdain. As well as a history of lace making and incredible beaches, including Zrce.
Sailing Split
Tourists flock to Split each year, as it offers many hidden bays & islands. Must-see destination are:
Islands
Islands to consider in the area of Split, are Hvar, Vis, and Brač. Each offers a range of beach types, water sports & summer festivals.
UNESCO Sites
A short bus ride from Split is Trogir, which is protected by UNESCO.
Split plays a vital role in the region, as the second biggest city (after Zagreb), Split evolved from the palace of the Roman emperor Diocletian. The Palace remains are protected by UNESCO, described as being one of the best-preserved Roman architectural structures in the world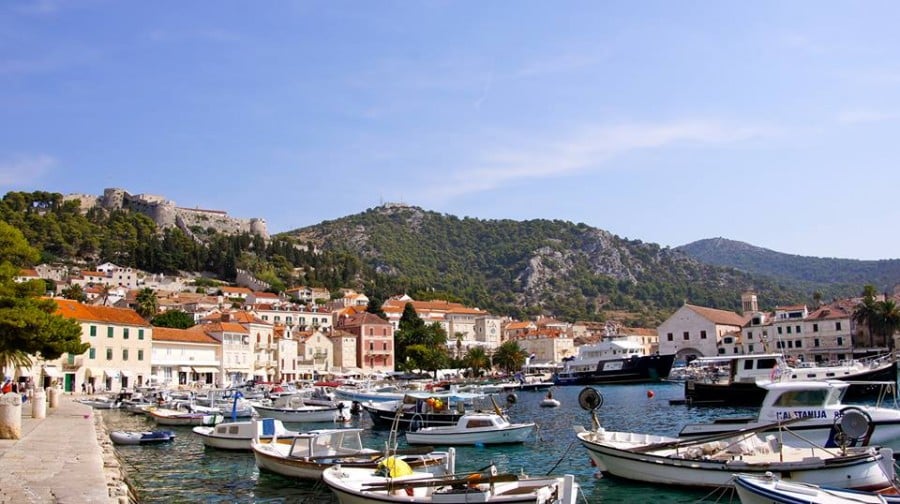 Sailing Dubrovnik
Well known as one of Croatia's most popular destinations is Dubrovnik. Its located in the South of Dalmatia and is sure to capture your heart. Things to see
Islands
Elafiti Islands, a group of mostly uninhabited islands in front of Dubrovnik, particularly attractive for yachting and excursions
The town of Korčula, on the island of the same name, is known for its regularly shaped layout, historical architecture and the knight's game of Moreška
UNESCO
Dubrovnik, a Mediterranean pearl where liberty and democracy had always been highly appreciated. Today, Dubrovnik town core is protected by UNESCO, and the town is an elegant and mandatory stopping point for everyone visiting the Mediterranean
Food and Culture
Pelješac, a long and narrow peninsula, particularly diverse because of its shape; some of the finest Croatian wines come from the Pelješac Peninsular.
Mali Ston, a gastronome center of the region and the town with the longest town walls in Europe; Veliki Ston, famous for salt production
National Parks
National Park island Mljet, and Nature Park Lastovo archipelago
Charter Bases And Marinas In Croatia
Croatia has 50 marinas on the coast with over thirteen thousand moorings in the sea & many thousand more on the mainland. These are available all year; however only a select number of marinas are charter bases. You can start and end your Croatian sailing adventure in, Pula, Rovinj, Losinj, Zadar, Sukosan, Biograd, Sibenik, Primosten, Trogir, Kastela, Split, or Dubrovnik. All of these Marinas have good road & airport access.
Istria region: ACI Rovinj – ACI Umag – ACI Pula – ACI Pomer
Kvarner region: ACI Opatija – ACI Cres – ACI Supetarska Draga – ACI Rab – ACI Šimuni
Northern Dalmatia: ACI Žut – ACI Piškera – ACI Jezera – ACI Vodice – ACI Skradin
Central Dalmatia: ACI Trogir – ACI Split – ACI Milna Brač island – ACI Vrboska Hvar island – ACI Palmižana
Southern Dalmatia: ACI Korčula – ACI Slano – ACI Dubrovnik
Sailing Croatia Itinerary Option 1: Split To Dubrovnik:
Discover the Southern Adriatic in 7 days
The Croatian coast offers a full package for travelers, known for its Mediterranean tradition, well-indented coastline, and a trove of biological, cultural and culinary delights. Southern Dalmatia has well-established Adriatic holiday hotspots, like the UNESCO-listed city of Dubrovnik, but one of the charms of sailing Croatia is that you have the opportunity to explore more than just one famous city. Use the opportunity, while sailing, to visit some of the lesser-known spots on offer in the Southern Adriatic. Set sail this year from Split to Dubrovnik and discover a route with some really intriguing locations.
Split – Drvenik Veli – Šolta
Drvenik Veli is perfect for the start of your trip. A small island northwest from Šolta, it is well indented with numerous inlets and anchorages with enchanting sand and pebble beaches for you to enjoy. In addition to this natural wealth, you can also explore the traditional stone architecture of the island. These stone buildings of Drvenik are protected as a cultural monument, and they often attract architecture enthusiasts.
On your way south you can find a safe harbor in Maslinica and explore the impressive offer of Šolta. Brimming with wildlife, Šolta is well known for its wide variety of bird species. Šolta offers religious architecture and art from various time periods, some as early as the 6th century.
Šolta – Pakleni Islands
Sailing further along the southern Adriatic make a stop at Pakleni Islands. Named after pine resin, these islands are one of the best spots for soaking up the Adriatic suns rays while be shaded by fragrant Mediterranean pines. Pakleni Islands have many beautiful beaches, some of them are naturalist (nudist) resorts, so make sure to pick an anchorage you're comfortable with. You can berth in Palmižana, a touristic favorite in the area and grab a bite in one of the charming and cozy seaside restaurants.
Pakleni Islands – Korčula
On your way to Korčula, consider dropping anchor near the island of Šćedro for a while. This little island in the southern Adriatic is located right next to Hvar prides itself with an unusually favorable climate and scented lavender fields. For three centuries, it was home to Dominican monks and is known as one of the most idyllic Mediterranean islands. Humans are not the only ones seeking relaxation here; Šćedro is also a common sighting spot for one of the most elusive tenants of the Adriatic, the bottlenose dolphin.
Korčula Island abounds with beautiful anchorages, and if you want to nestle in a harbor safely, Korčula Town has a marina providing 159 berths and all the necessary facilities. Make sure to explore the place that many Croatian's believe to be the hometown of Marko Polo and enjoy the scenic cobblestone ambiance.
Korčula – Mljet
Mljet can genuinely be called the Emerald of the Adriatic. Recognized as one of the most forested islands of the area, this gem is also one of Croatia's eight national parks, this one known for mud, and salt lakes. Even though the island itself is a true natural paradise, the waters around it hide dark secrets of ancient shipwrecks.
Drop your anchor in the bay Prožura (approach it from the west side of Planjak to avoid the dangerous shoals on the east) where you can find an undisturbed village that formed through the 15th century around a Benedictine church and monastery. Find out what charm drew Dubrovnik's aristocracy to make this location a preferred 17th-century-holiday spot and appreciate the exquisite architecture they left behind.
Mljet – Elafiti Islands
Steer towards Šipan the largest in the chain of Elafiti islands. An island with numerous anchorages, unsullied nature, and unavoidable 16th-century villas, it is every Roman emperor's dream brimming with all kinds of Mediterranean fruits like almonds, citrus fruits, carob, olives, and figs.
Elafiti Islands – Dubrovnik
Dubrovnik is a true sensation of the Adriatic coast. Under the protection of Saint Blaise and its impressive fortification walls, this city prides itself with an eventful history marked by numerous cultural and historic sites. Thanks to this, however, it is always brimming with crowds of people, so if you're not a fan of large groups of tourists make sure to plan your visit accordingly.
The sailing boat is a perfect vessel for exploring the vibrant area of the southern Adriatic, allowing you to explore every nook of the coastline. Choose the boat that will allow you to make the most out of your trip, and if you have any uncertainties, you can let a quality yacht charter agency help you out or book a Sailing trip where all the hard work is done for you.
Keep your eye on the sirocco and savor all the tastes of the Croatian coast. Smooth sailing!
Sailing Croatia Itinerary Option 2:

7-Day Itinerary From Split

We're looking at sailing Croatia options for this summer. So many route choices. So little time. When chartering a vessel in Croatia, you are usually required to book the vessel for a week. Seven glorious days sailing the Adriatic Coast. Bliss. But first, you have to choose where to go. Here is one of the many options that we've been considering.

Seven days departing & returning to Split. It is suited to those who want to avoid the partying and clubs and instead enjoy the cultural sites.
Sailing Croatia Day 1 – Split – šOlta
Maslinica is the only settlement on the island of Šolta's western coast. Known for its mini-archipelago of seven isles, it's the perfect place to dive and fish.
Sailing Croatia Day 2: šOlta – Zlarin
Continue diving and fishing on the mostly uninhabited island of Zlarin, located in the Šibenik archipelago.
Sailing Croatia Day 3: Zlarin – Skradin
Skradin is a city with a historical city located close to the famous Krka National Park, popular for its waterfalls.
Sailing Croatia Day 4: Skradin – šIbenik – Tribunj
Head to Šibenik, where you'll find the UNESCO-listed Cathedral of St. James in Šibenik. The Cathedral is a magnificent example of a blend of architectural heritage from northern Italy, Tuscany, and Dalmatia. The most significant of architectural Renaissance monuments in Croatia, the Cathedral of St. James stands majestically over its many visitors. Tribunj is a town 15km from Šibenik, known for its summer donkey race. Be there as people race stubborn donkeys, and also enjoy the quiet beach near the town of Sovje.
Sailing Croatia Day 5: Tribunj – Primošten
Pull up anchor in one of the 400 berths at the Kremik marina, said to be one of the safest places to anchor in the Adriatic and enjoy the azure sea – and perhaps a few glasses of wine. Primošten is filled with stone houses and would make a great place to spend the day wandering the cobblestone streets.
Sailing Croatia Day 6: PrimošTen – Trogir
Trogir is a city-museum, the castle, and the tower, surrounded by stone walls, contain the old core of Trogir. Home to one of the best structures of medieval architecture in Europe, it boasts the best-preserved Roman-Gothic complex in Central Europe. Enrolled as a UNESCO World Heritage Site in 1997 due to its unparalleled beauty and cultural value.
Sailing Croatia Day 7: Trogir – Uvala KrknjašI (Veli Drvenik) – Split
Veli Drvenik is an island in the Split Riviera, close to Trogir where you'll find the Uvala Krknjaši cove. There is a small resort in the bay which offers accommodation and fabulous kayaking options.
How does these sailing Croatia itineraries sound to you? All you have to do is to decide which Croatian sailing route to choose. What cliffs, beaches, caves & striking bays in Croatia are best suited to you?
More Posts About Sailing In Croatia
Share