Saranda—also known as Sarandë—is a popular coastal town in southern Albania.
It's one of the main tourist destinations on the Albanian Riviera, nestled peacefully in a wide gulf and enjoying no fewer than 300 sunny days yearly, and this guide shows you what to while there!
It's no surprise that it's grown from a once-sleepy fishing village into a thriving city, a bustling summer vacation destination. This post will explore the area in depth and discuss the many things to do in Saranda and its surroundings.
There's plenty of fun to be had here, and rest assured those memories from your holidays in Saranda will last a lifetime. From the best beaches in Saranda to Saranda nightlife, historic sites, and restaurants, we'll cover it all in this elaborate blog post. Read on, and then get cracking to plan your visit to Saranda!
Brief History Of Saranda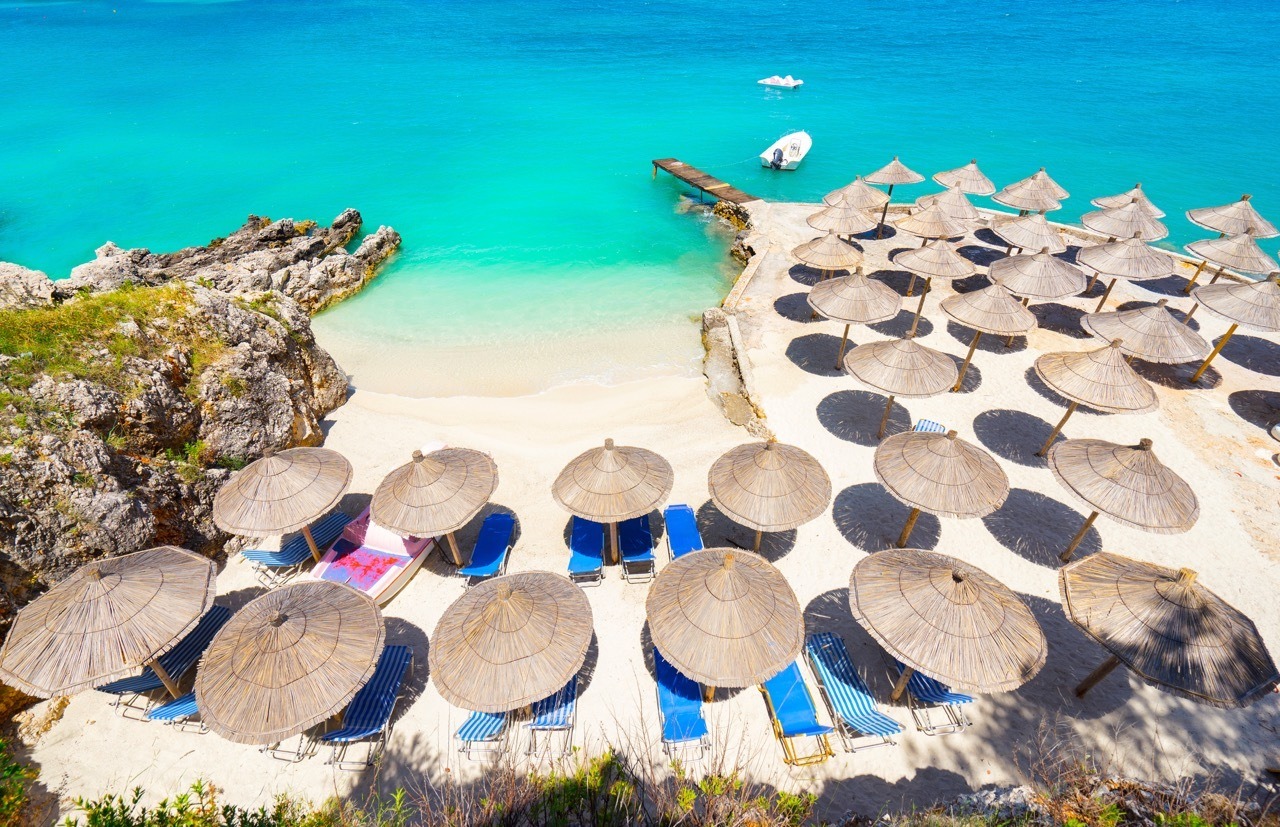 First, though, let's start with some historical background. Knowing the history and origins of a destination always helps you put things into context when you see, do, or visit them.
Saranda's recorded history goes back to Ancient Epirus, a Greek state between roughly the 4th and 2nd centuries B.C.
In antiquity, the town was known as Onchesmus (or Onchesmos). It was an important port town at the time of Cicero. Later, it fell under the control of the Byzantine and, subsequently, the Ottoman Empire. It was later occupied by Italy and Greece as well.
This millennia-long history and many different foreign influences have left their marks on the Saranda of today. Numerous fascinating archaeological sites dot the area, while Saranda still has a significant Greek population.
In fact, it's one of the two Greek minority centers in Albania.
You'll see Greek influences all over the place. This is also due to its location near the popular Greek island of Corfu, with which it has a direct ferry connection. We'll get to that specifically later in this post.
Top Things To Do In Saranda, Albania

If you have already booked your flight to Albania, you'll probably want to know what to do in Saranda. Well, lucky for you, below are more than 15 things to do in Saranda and the nearby area.
There's plenty to keep you busy for days on end here. They include attractions within the city and day trips from Saranda in Albania. So, it's highly recommended that you set aside at least three days for your visit to Saranda.
Stroll The Hasan Tahsini Boulevard
One of the first things you should do in Saranda is go for a stroll on Hasan Tahsini Boulevard. This beautiful pedestrian seaside walkway lies on the north shore of the little bay of Saranda.
The boulevard offers beach access, while many bars and cafes serve various drinks and snacks. There are also fun markets to explore in summer, which are exceptional places to find souvenirs. This makes for a top-notch first impression of the city.
Explore The Ancient Synagogue Complex
Historically, a relatively large Jewish community has called Saranda and southern Albania home for centuries. One of the best places to visit in Saranda to explore this fascinating heritage is the old Synagogue Complex near the City Hall like this.
This ancient building complex dates from the 5th century and includes a school, community center, and various religious structures. After being destroyed by an earthquake, the synagogue was rebuilt as a basilica in the 6th century.
Enjoy The Views From The 40 Saints Monastery
Arguably the most significant Saranda tourism highlights are the 40 Saints Monastery. This 6th-century monastery is literally how the city got its name—Saranda means 40 in Greek. It was modified extensively over the following centuries, though.
According to the legend, the monastery was built in honor of forty Roman martyrs who wouldn't renounce their Christian faith and were banished.
Because of the remaining war damage, the monastery isn't in a particularly great state, but just because of its historical importance and wonderful views of Saranda, it's still worth visiting. You can enter the surviving crypt if you ask permission from Saranda's city hall.
Feel Like You're In Paradise In Ksamil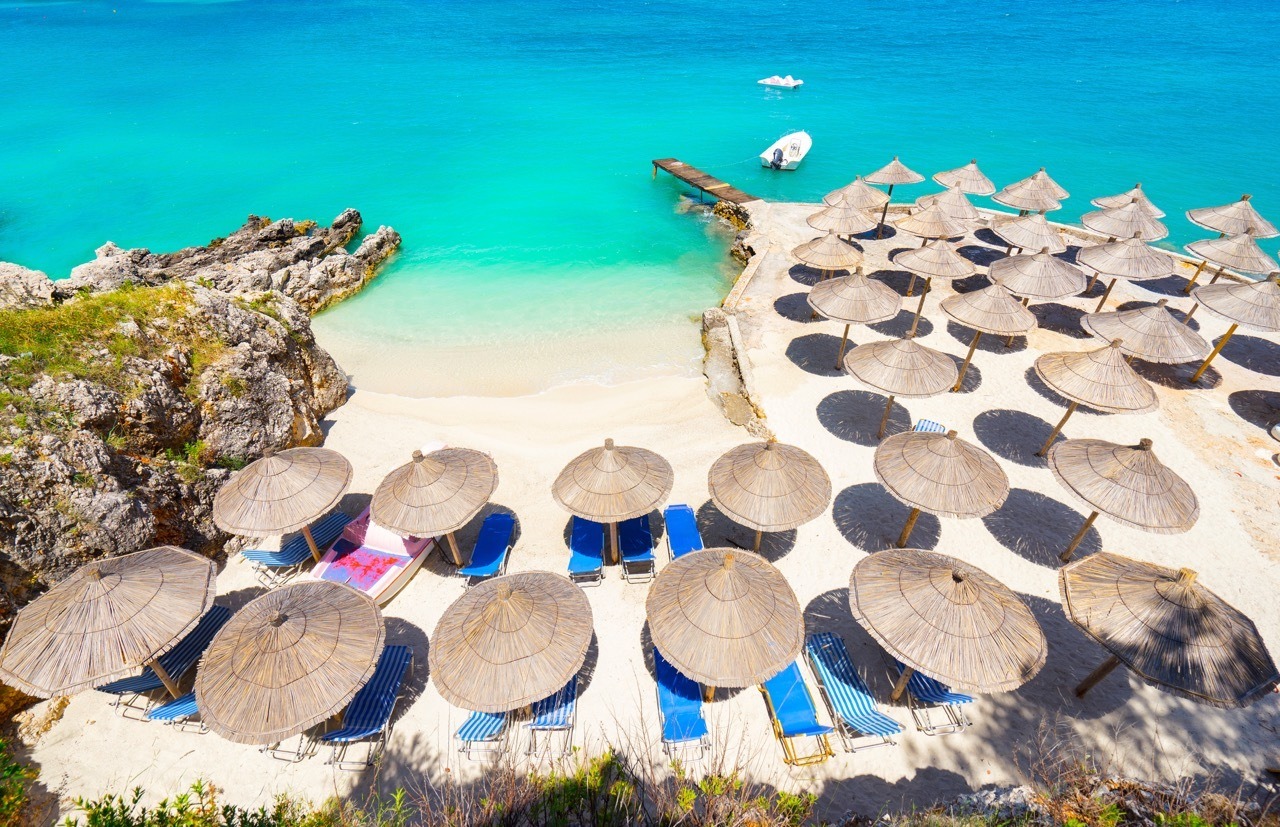 One of the most popular destinations in the Albanian Riviera, Ksamil, lies just south of Saranda. It's home to one of the best beaches in Saranda, filled with beach chairs and bustling bars and restaurants.
It's a super-busy spot in summer, yet there are still pockets where you can find more peace and quiet. Known as the "Ionian Pearl," Ksamil is also famous for its crystal-clear water and a handful of islands, a couple of which you can swim to.
If you're looking for a great Saranda beach, you'll find a seashore paradise right here. Getting from Saranda to Ksamil is a piece of cake. You could either rent a car in Saranda yourself—giving you the freedom to explore the region—or hop on a direct bus between the two towns.
Sunbathe On Mirror Beach
Located just before Ksamil, Mirror Beach is a relatively secluded beach that offers excellent snorkeling opportunities and is pretty quiet. However, the question is how long that will remain this way since this beach is continuously mentioned in overviews of the best beaches in Saranda, Albania. Yes, that includes this post, too!
That being said, Mirror Beach does get crowded in summer, though. And because the road in and out is small and bumpy, you're advised to leave early.
Visit Dhermi Village and Dhermi Beach
Just north of Saranda, you'll find the village of Dhermi, built on the seaward slopes of the Ceraunian Mountains. This small town is home to one of the most incredible beaches on the Albanian Riviera.
Additionally, experiencing its nightlife is regarded as one of the top things to do in Albania by the youth of Albania. Even though it's home to a glorious Saranda beach, this is a small village though, so it will never be too overwhelmingly busy.
Get Stuffed On Fresh Fish And Seafood
A real Saranda travel experience is incomplete without indulging in the city's delicious fish and seafood. After all, this is a rather large coastal city, and its fleet of fishing boats brings in loads of freshly caught fish daily.
You can head to the fishing harbor and directly buy fish and seafood from the fishermen. Alternatively, you can find an abundance of fish dishes adorning Saranda restaurant menus.
Drive Llogara Pass
If you like to visit Albania's national parks, there are some great options near Saranda. Llogara National Park is an incredible coastal mountain park about two hours drive north of the city. This scenic park lies just north of Dhermi, by the way, so it makes for an enjoyable combination for a day trip from Saranda.
Llogara National Park features gorgeous mountain and forest scenery, but its most notable feature is the Llogara Pass. This scenic drive actually retraces—more or less—the route taken by none other than Julius Caesar himself when he chased General Pompey in 48 B.C. It's a beautiful little drive up from Dhermi and offers spectacular views of the Albanian Riviera below.
Swim At The Longest Beach On The Ionian Sea Coast
Borsh Beach is the longest beach on the Ionia Sea coast, seven kilometers long. It's considered one of Albania's best places for sunbathers and beach-goers, surrounded by beautiful hills and trees.
Because it's so long, you'll find stretches with plenty of people and sections that offer ultimate privacy, so whether you're feeling like part of a crowd or basking in solitude, this fantastic beach has it all.
Visit Lekuresi Castle
Located on a strategic hilltop overlooking Saranda, the Ksamil Islands, the Albanian Riviera, and Corfu, Lekuresi Castle is a significant tourist attraction in the Saranda area.
Dating from the mid-16th century, it's the perfect destination if you'd like to get out of town for a couple of hours. Nowadays, the castle houses a restaurant. You can get there by either hiking up for 30-45 minutes or getting a taxi from the city.
Tip: these sunsets up here are extra special!
Spend The Afternoon In Butrint National Park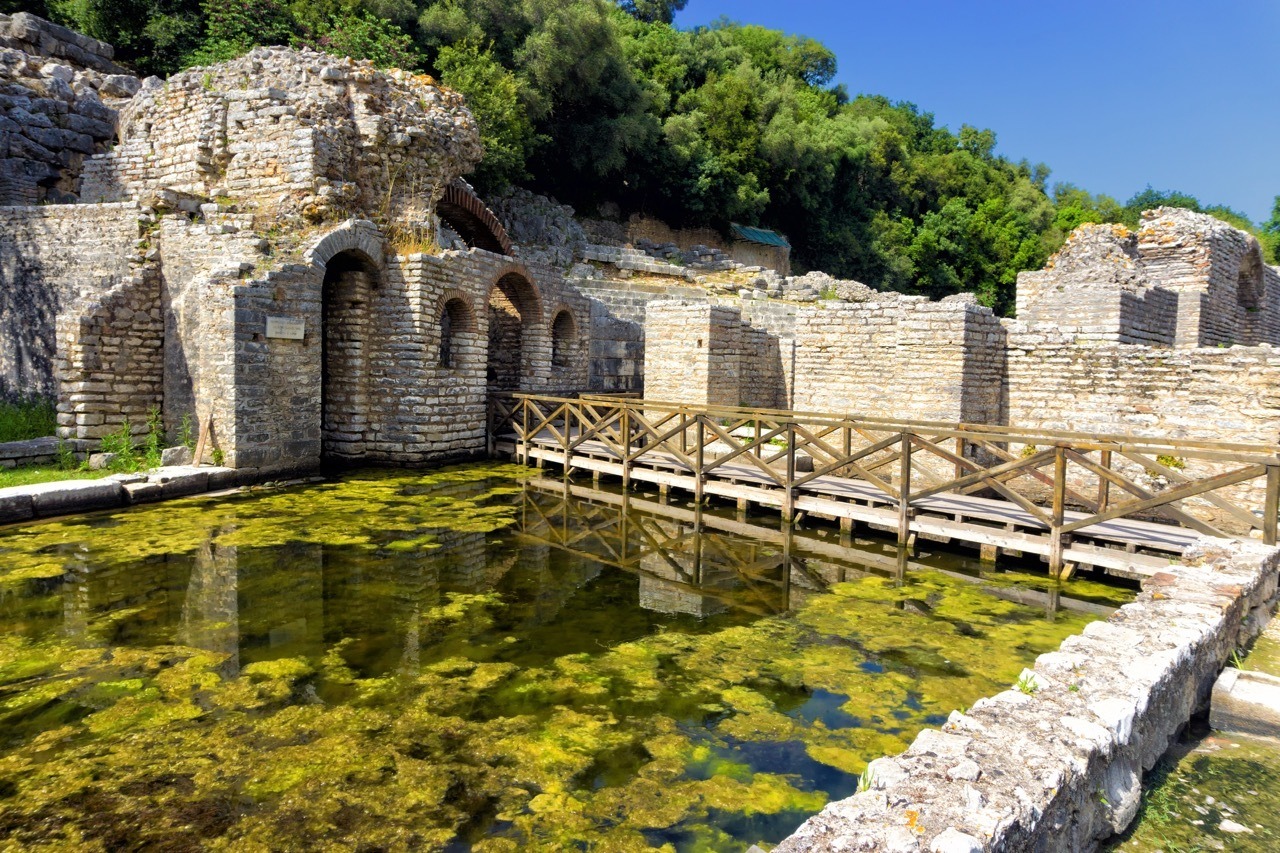 It's fair to say that when you visit Saranda, you also have to visit Butrint National Park. One of the dozen-plus national parks in Albania, Butrint is one of Albania's absolute must-see places. It is designated a World Heritage by UNESCO and features a wide range of highlights.
This marvelous collection of ruins represents human history in the region better than anything else. It includes sites that date from the 4th century B.C. all the way through 19th-century Ottoman fortifications. Its main claim to fame is the ancient city of Butrint, which is situated within the park.
In addition to this tremendous historical significance, Butrint National Park is also home to many wildlife. It's the only place in the country where tortoises and Balkan wall lizards can be seen. Dolphins frolic in the waters while wolves roam the hillsides.
A visit to Butrint, a highlight of both Saranda and Albania tourism, should absolutely be on your itinerary if you're spending time on the Albanian Riviera. It's one of the top Albania tourist attractions.
Don't Miss Ali Pasha Castle
This beautiful site is sometimes overlooked by tourists visiting Butrint National Park from Saranda. Don't make that mistake! About a minute before you reach Butrint, you'll see a turnout with a parking lot and viewing platform.
From here, there's a view of Ali Pasha Castle in the distance, sitting on its own small island. It's not the most imposing castle, but its location, surrounded by water, is what sets it apart from other Albania attractions.
This fine castle dates from either the 15th or 16th century. Built by the Venetians on Corfu, it later became one of Ali Pasha's residences of Tepelenë until 1820.
See Syri I Kalter – The Blue Eye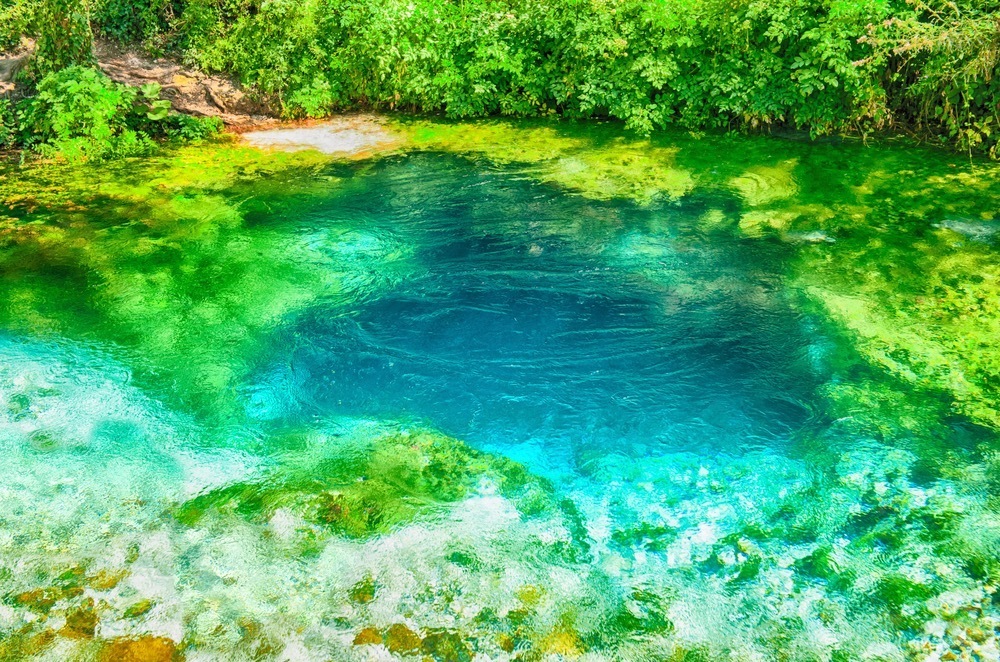 One of Albania's most popular tourist attractions, Syri I Kalter, is a famous freshwater spring about 22 kilometers inland from downtown Saranda. This stunning natural phenomenon is extraordinary because its crystal-clear blue water bubbles up from a spring at the bottom of a karst pool more than 50 meters deep (no one knows how deep it is).
Known in English as the "Blue Eye"—its bright blue water and round shape make it look like a colossal iris—this is unquestionably one of the most fantastic Saranda tourism attractions and a fabulous place to visit with kids.
Go On A Day Trip To Gjirokaster
Choosing one of the numerous Saranda hotels as a base to explore southern Albania is a brilliant idea. There are plenty of fun day trips in the region. One of the best is the drive to Gjirokaster, which by the way, takes you right by the Blue Eye as well—an excellent combination.
This ancient town center is a UNESCO World Heritage Site because of its remarkable Ottoman architecture built by large-estate farmers. Nicknamed the "City of Stone," it's a famous destination near Saranda for an afternoon of cultural and historical exploration.
Gjirokaster Fortress towers above the old town center, which is a site that's not to be missed. It's both the birthplace of Enver Hoxha, former communist leader of Albania, and the location of the annual Gjirokaster National Folklore Festival.
Explore The St. George Monastery
Less famous than Saranda's 40 Saints Monastery, the St. George Monastery is worth visiting, too, if you're into history and/or architecture. Located about halfway between Saranda and Ksamil, you can get there on the bus to Butrint—ask the driver to drop you off on the road to the monastery! Look for a sign saying "Manastiri I Shën Gjergjit" and walk up the hill.
This historic monastery features a reconstructed 14th-century church surrounded by the monastery complex walls. Perched atop Dema Hill, it offers spectacular views of the Ionian Sea and Butrint Lake. Don't forget to check out Monastery Beach, just down the hill, which is arguably one of the best beaches in Saranda.
Snorkel Or Scuba Dive In Karaburun-Sazan National Marine Park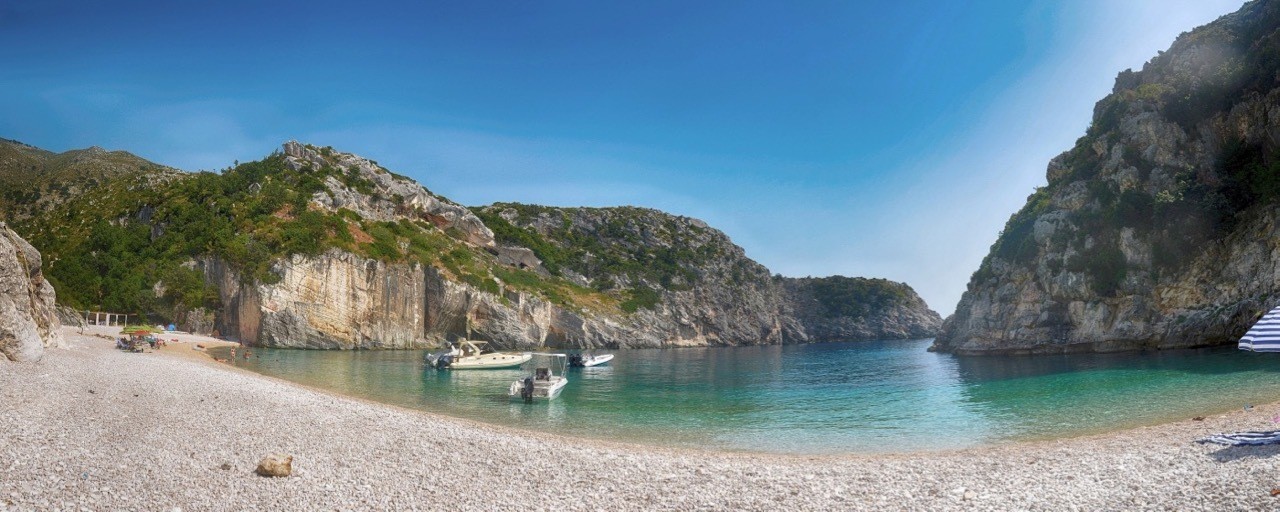 Karaburun-Sazan National Marine Park is the only marine national park in Albania. This magnificent coastal nature park occupies the Karaburun Peninsula and Sazan Island, Albania's largest island, located between Saranda and Vlore. It protects an area of water that's almost 2 kilometers wide.
Suppose you like snorkeling, swimming, and even scuba diving; this is one of the best places to visit near Saranda for you. Under the surface of the southern Adriatic, you'll find numerous shipwrecks dating from as far back as Greek and Roman times but also from World War II.
On your (under)water exploration, you might also come across marine life like sea turtles, various corrals, and even dolphins. It's genuinely a little coastal paradise for anyone who loves pristine nature.
Visit Phoenice Archaeological Park
One of the best things to do in Saranda for history buffs is a day trip to Phoenice Archaeological Park. Also known as Finiq Archaeological Park, this site is only 12 km from the Saranda city center. The park has ruins that span over 1,000 years, from the 5th century B.C. to the 6th century A.D., from the Ancient Macedonians and Greeks to the Roman and Byzantine Empires.
There's hardly any public transportation to this fascinating park, so we recommend renting a car for the day and driving up there yourself. (The only kind of public transportation is taking a mini-bus to the village of Finiq and walking 2 km up the steep hill.) Guided tours and taxis are available, too.
At Phoenice Archaeological Park, you can see a wealth of ruins. Notable individual sites include the Ancient City Wall and Entrance, the Great Bastion, the Paleo-Christian Basilica, the "Thesaurus" Hellenistic Temple, and the House With Two Peristyles. Arguably the park's star attraction is the Theatre, the remains of a semi-circular amphitheater set on a terrace on a hillside.
Kristiano Wine Bar
Roosted on the hill, near the monastery of the 40 saints, is a kick-ass wine bar. As well as swilling top Albanian wines, you can get a majestic view of the city below.
Go To Greece
One of the most fun things to do in Saranda is going on a day trip to Corfu. One of Greece's most famous vacation islands, Corfu, is an ancient island strongly intertwined with Greek history and mythology. This sizeable Greek island is only a quick and direct ferry ride away.
Numerous fascinating historic sites dot the island, including the island's namesake town of Corfu, a UNESCO World Heritage Site. Additionally, Corfu has more than its fair share of breathtaking beaches, bays, and hills.
Albania Saranda FAQs
Now that you know the best things to do in Saranda, let's dive into some other practical questions you may have.
Where Is Saranda Located?
Saranda lies in Albania's far southern tip, near the border with Greece and the Greek island of Corfu. The nearest major city to the north is Vlore, while Delvina and Gjirokaster are to the east.
Its geography comprises the Saranda hills and coastal mountains stretching between Borsh and Ftelia Bay. Those slopes descend toward the Ionian Sea, ending as a series of beaches, cliffs, bays, and inlets. This is known as the Albanian Riviera, one of the best places to see in Albania if you're looking for beach vacation destinations.
How To Get To Saranda?
The easiest way to get to Saranda is by renting a car and driving yourself. Driving in Albania is not tricky, and the network of highways is dense and convenient. However, remember that many roads have at least some sections winding through mountainous terrain and are a bit slower.
Take your time when driving across Albania. For example, the drive from Tirana to Saranda is about 280 kilometers and takes a minimum of 4.5 hours. You're also encouraged to take the scenic SH8 highway, which runs from Vlore to Saranda along the southern Albanian coast.
You can also do that if you'd like to use public transportation. There are several direct bus lines to Saranda from other cities in Albania and locations in surrounding countries. One of the most popular is the Tirana to Saranda bus route, a super-convenient way to get from the country's main airport to its premier beach destination.
Additionally, you can also get to Saranda from Corfu, Greece, via a direct ferry. The Corfu to Saranda ferry ride only takes about 30 minutes.
What Is The Weather In Saranda Like?
Saranda weather is the epitome of typical Mediterranean weather. The city enjoys warm to hot summers—cooled off a bit by a refreshing sea breeze—and mild winters. It's the perfect example of what the Mediterranean climate is like.
Saranda is an exceptionally sunny place, blessed with an incredible 300+ days of sunshine annually. Temperature very rarely drops below freezing in these parts. Summers are super-dry, too, and the wettest time of the year is in November and December.
What Is The Best Time To Go To Saranda?
As pointed out above, summers can get hot in Saranda. They're also swamped, attracting a crowd of beach-goers composed of Albanians and foreign tourists.
Therefore, for the most comfortable and relaxing beach holiday in Saranda, it's best to visit May-June or September-October. These shoulder seasons come with delightful weather and temperatures. There are also fewer other tourists and often slightly lower Saranda accommodation prices than in the peak summer months.
What To Eat In Saranda?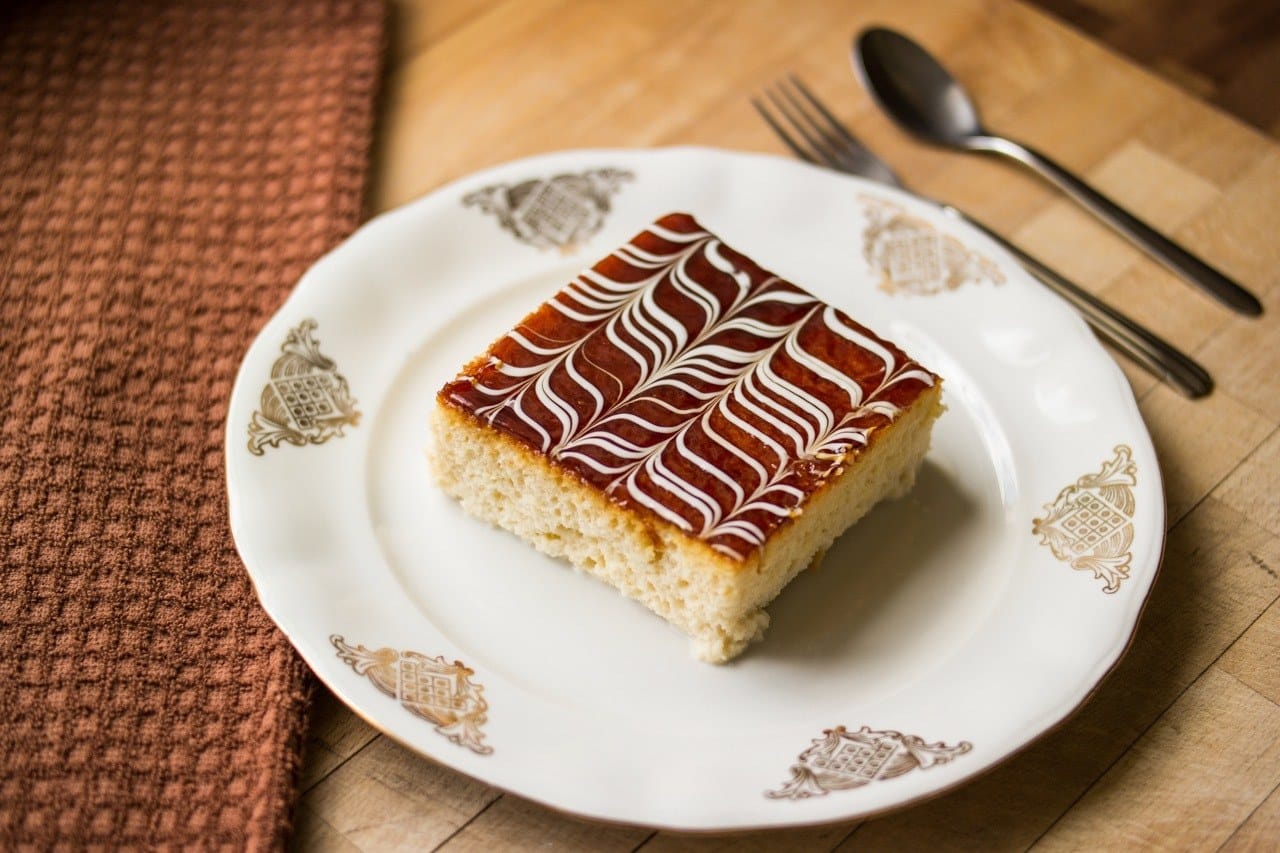 You'll find the most typical Albanian food served in restaurants in Saranda. However, as a coastal city in the Mediterranean, Saranda has a thriving fish and seafood scene. The pleasant climate of southern Albania also lends itself perfectly to the cultivation of produce like olives and citrus fruits. You'll notice that these ingredients are used liberally in local dishes. Dairy and meat are also quite popular here.
Some typical dishes in Saranda and Albania you might want to try during your Saranda vacation are:
Tarator – Eaten as either a cold soup or a dip, tarator is strained yogurt mixed with cucumber, olive oil, garlic, salt, and herbs such as dill, parsley, and/or mint. This dish is known as tzatziki across the border in Greece.
Kaçkavall – A yellow cheese that's popular all over Albania and served as a snack, appetizer, or side dish. You can find it in a raw or fried version.
Qifqi – These tiny balls of eggs, boiled rice, herbs, salt and pepper, and sometimes cheese are the traditional dish of Gjirokaster and are challenging to find anywhere else. Definitely try this authentic food during your day trip from Saranda to Gjirokaster.
Grilled fish and seafood – Albanians like grilling their food. You'll find grilled dishes all over the country, but grilled fish is extremely popular along the coast. Common types of fish and seafood include sea bass, eel, carp, trout, prawn, calamari, and octopus.
Trileçe – There are plenty of mouthwatering desserts typical to Albania. A delicious one is trileçe, the Albanian version of the well-known Spanish "tres leches" sponge cake. Traditionally, trileçe is made with three different types of milk—goat, cow, and water buffalo milk—but the most common mix you'll find today is cream and cow's milk.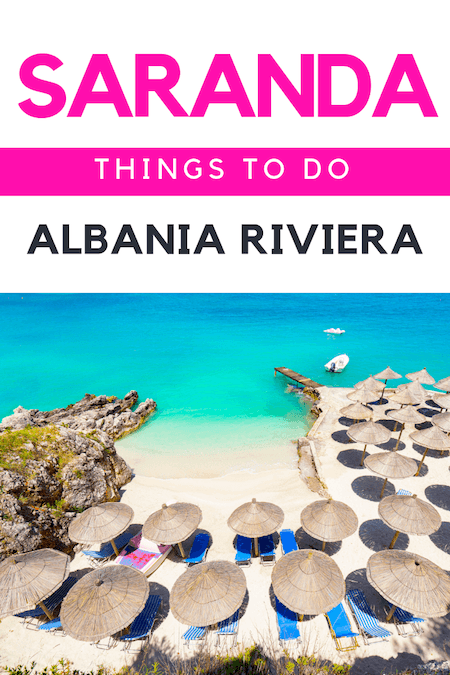 Best Places To Eat & Drink In Saranda
There's definitely no lack of excellent Saranda restaurants, bars, and cafés. Check out the following selections.
Best Saranda Restaurants
Sunset Saranda Restaurant – A welcoming and popular restaurant set right on the beach and waterfront in the northwestern part of Saranda.
Mare Nostrum Cuisine – One of the top-rated restaurants in Saranda, Mare Nostrum serves outstanding pasta and seafood dishes at a venue that overlooks the beautiful bay.
Haxhi – Located a bit more in the city's interior, Haxhi is a respected restaurant offering a variety of food, from seafood and Mediterranean to grilled and vegetarian dishes.
La Petite – People rave about how cozy, romantic, and charming this place is, while the elaborate and varied menu, including Mediterranean and Central European dishes, attracts all kinds of customers.
Seaside Artist Terrace Bar Restaurant – A higher-end rooftop restaurant in Saranda that offers stunning sea views and is renowned for its fish and seafood dishes.
Best Saranda Bars
Jericho Cocktail Bar – Arguably the number one bar in Saranda, Jericho boasts a phenomenal waterfront location and is famous for its tasty cocktails.
ROX Café Bar – A cozy venue, fabulous staff, and fun music makes this a popular place for casual cocktails, beers, or other beverages.
Terrace Cocktail Bar – This bar and club feature a superb location overlooking Saranda's palm tree-lined and sun-soaked bay, refined modern décor, and a comprehensive selection of cold drinks.
21 Bar – A modern and much-visited bar serving everything from coffee to cocktails in the very heart of Saranda.
View Bar Terrace – Its location higher up on the slopes provides this well-rated bar with sensational city views—entertaining at night.
Beer House Saranda – Beer enthusiasts will not be disappointed when visiting Beer House, well-known for its luxurious atmosphere and extensive beer selection, from local brews to imports.
Are you ready to head to Saranda? Or, if you have already been, please tell us below what else we should add to this epic Saranda attractions guide.