We may earn commission from affiliate links →
3 Unique Experiences We Loved While Making the Short Film 'Discover Humanity: Bulgaria'
by Denéa Buckingham and Manos Mitikas, Co-Directors of 'Discover Humanity'
Creating short films from every country in the world to open minds and raise global awareness about foreign cultures. This is the goal of the project 'Discover Humanity.'
In every film for Discover Humanity, we share messages from local people to the rest of the world because we believe that taking the time to listen to one another can break down a great deal of the prejudices that we have for others. These messages come from a diverse range of people of all economic and social levels, backgrounds, and walks of life and gives viewers the chance to connect deeper with the people of the country.
Bulgaria was the 7th country on this global journey, and along with our Bulgarian producer Peter, we planned a jam-packed filming schedule that would take us across the country (twice) to experience many different ways of life and aspects of Bulgarian culture.
In Bulgaria, we met incredible hospitality, fascinating culture, and some very moving traditions that we not only included in our short film 'Discover Humanity: Bulgaria' that you can watch for free on YouTube now (embedded below) but that we'd like to tell you more about exclusively here on Chasing the Donkey!
We explored and filmed many amazing, popular places in Bulgaria – too many to feature in this article!
The ancient beauty of Plovdiv and its incredible Old Town, Assen's Fortress towering above the Bulgarian forest, the beautiful, historical communities of Sozopol and Nessebar, the Black Sea coastal city of Burgas, Sofia's metro-side Roman remains of Serdica and much more.
Despite being impressed by the popular touristic sites, it was our experiences with the people of Bulgaria that really stole our hearts.
So, here are three unique experiences we loved while making the short film 'Discover Humanity: Bulgaria':
Food, Gaida, And Easter In Momchilovtsi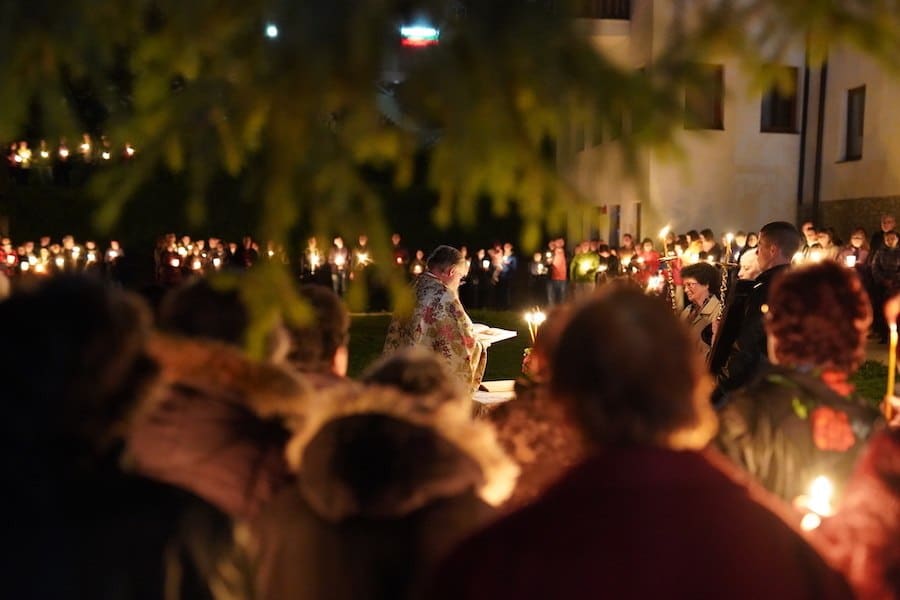 Discover Humanity's films aim to give some insights into life and culture in each country, so we film in various locations, including big cities, small towns, and unique cultural locations. We traveled to the culturally rich town of Momchilovtsi, where we were met with famous Bulgarian hospitality.
Maria Tsvetkova, the tourism director of Momchilovtsi Secret and Vitality Traditions, welcomed us into her restaurant Momchilovtsi Secret and taught us about the rich, delicious cuisine that is traditional in Bulgaria, about the 'ayran' sour milk drink, and culinary specialties of Easter.
In this small but beautiful town, which has three restaurants on Google Maps and five hotels, we were surprised to see street signs written in Bulgarian and also…Chinese! It turns out that 'ayran,' Bulgaria's famous sour milk drink, has gained such popularity in China that every year tourists come all the way to Momchilovtsi from China to see the source of the drink, and how it's made. A key to long life (and curing hangovers), Maria explained the process of watering down yogurt, adding a little salt, and letting the Bulgarian-discovered Lactobacillus bulgaricus bacteria work its healthy magic.
Another unique and exceptional experience in Momchilovtsi was spending the day with traditional gaida player Lazar Kermedchiev. On Easter, Saturday, Lazar and several cousins picked us up in their lime green Lada, and we drove up to one of the illuminated crosses that perches on a cliff overlooking Momchilovtsi. We filmed Lazar while he played the gaida, and afterward, he shared his message to the rest of the world that you can see in 'Discover Humanity: Bulgaria'. Later that night, we joined the Easter celebrations where Lazar and other local musicians played traditional Bulgarian music, and the whole town danced until 8 am the next morning.
Joining the people of Momchilovtsi in their religious Easter customs outside the town's oldest church was especially significant for us; lighting candles and listening to the traditional Orthodox Easter mass.
The Malashevtsi Flea Market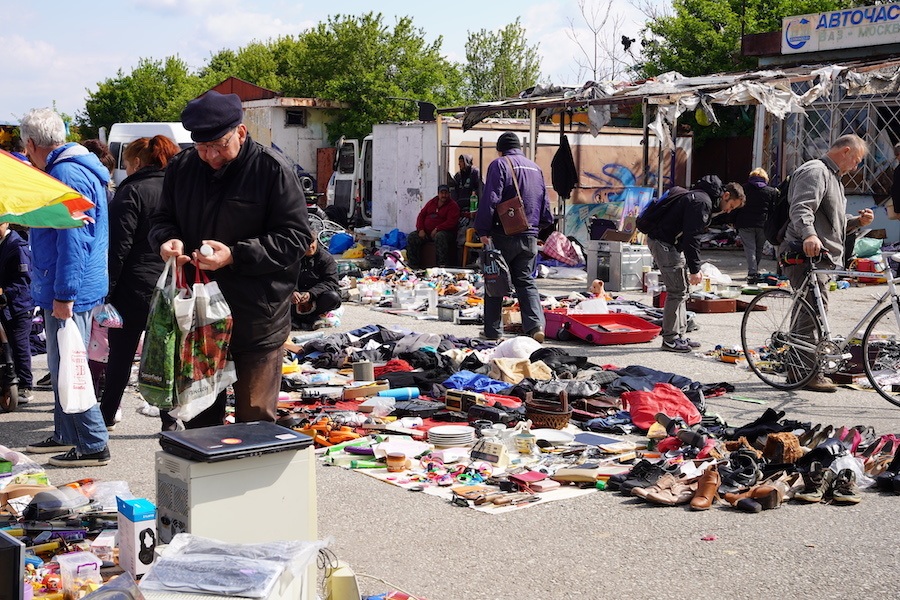 In each country, we visit local markets as they are a hub for different cultural aspects.
Sofia has several periodical markets, and we filmed different examples such as the Sunday markets outside the Alexander Nevsky Cathedral and one which stood out to us as a very unique experience…the Malashevtsi flea market.
Driving to the outskirts of Sofia, towards the airport, we slowed down as we started to pass blankets set up on the roadside piled high with a range of seemingly random things – books, keys, clothing hangers, toys…and then we pulled into the parking lot of Malashevtsi flea market.
Walking inside this huge flea market's 'official' section, we looked out over a 20,000 square meter carpark arranged in an off-kilter checkerboard pattern of blankets, each filled with a selection of different things for sale, and staffed by someone shouting at you to buy them.
Chessboards, books, toys, old phones, statues, art, jewelry, and so, so much more was everywhere. Our favorite was the Soviet-era signs and cultural antiques that punctuated this unique retail landscape.
While some vendors asked not to be filmed, others welcomed it, like 'Simo,' the joyful market seller you see in our film.
Along with a delicious barbecued sandwich lunch, the day we spent at Malashevtsi market – both the walled 'official' part and the 'unofficial' area down the street and outside by the river – was a unique and unforgettable part of our filming time in Bulgaria.
An Unexpected Welcome In The Village Of Yavrovo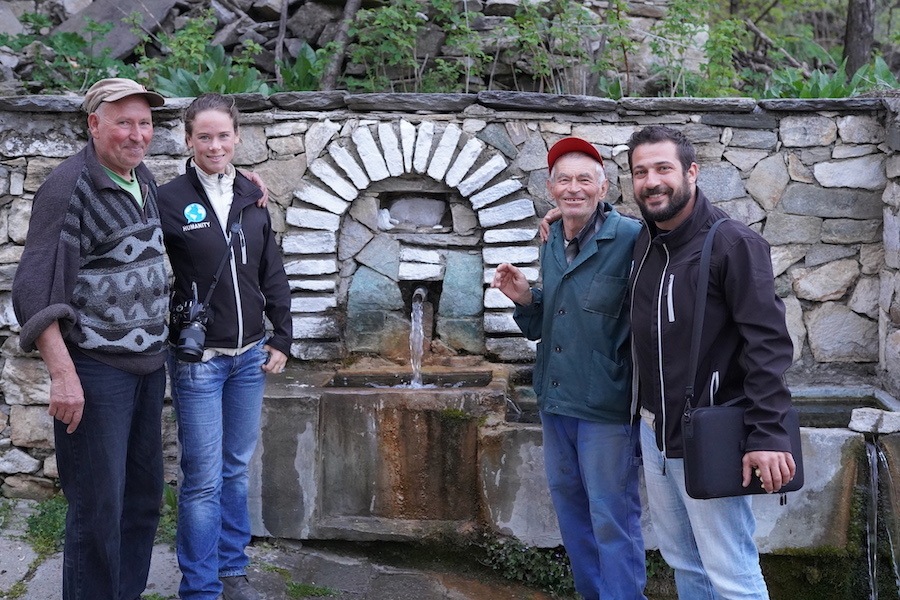 Walking along the quiet, cobblestone streets of a tiny village in the Rhodopian mountains, the air was crisp and cool, and aside from a watchful street cat, we wondered at the still, calm of this place and the beauty of the surrounding Bulgarian forests.
Along the street came an older man; his destination was one of Yavrovo's many fountains, constantly flowing with fresh, delicious spring water.
As normal in small towns, he and our producer struck up a conversation and soon realized that the man knew Peter's father! Immediately we went from being strangers met on the street to being welcomed as family, and with huge, enthusiastic smiles, we were ushered back down the hill and up the steps of his wooden family home.
Sitting around the table with the black log-burning furnace, making the small room toasty warm, rakia quickly found its way into our glasses, and we spent the next hours laughing, talking, and sharing stories.
In Bulgaria, we met incredible people, experienced unique traditions, tasted fabulous food, and were impressed and inspired by the messages we heard from the people we interviewed. The hospitality and kindness of the Bulgarian people helped us not only to make a beautiful film but introduced us to many wonderful new friends.
We could go on much longer about the amazing places we went, things we saw, and especially people we met in Bulgaria. But instead, you can watch our film below!
You can follow the Discover Humanity below:
Website: https://www.discoverhumanity.online
Facebook: https://www.facebook.com/discoverhumanity.online
Instagram: https://www.instagram.com/discover.humanity
Share