Some posts contain compensated links. Please read this disclaimer for more info.
The Cost Of A Week Sailing Croatia With Busabout
Written by Travel Writer Sammi from Wanderlustin
I panicked a little at the thought of writing this post. The one thing I didn't want to think about was how much I'd spent on sailing Croatia, especially since my credit card bill hasn't come in yet. Then I realized that actually sailing Croatia is, for most people, a once-in-a-lifetime experience. Something I, or anyone who goes, will never forget.
So, What's Included When You Book?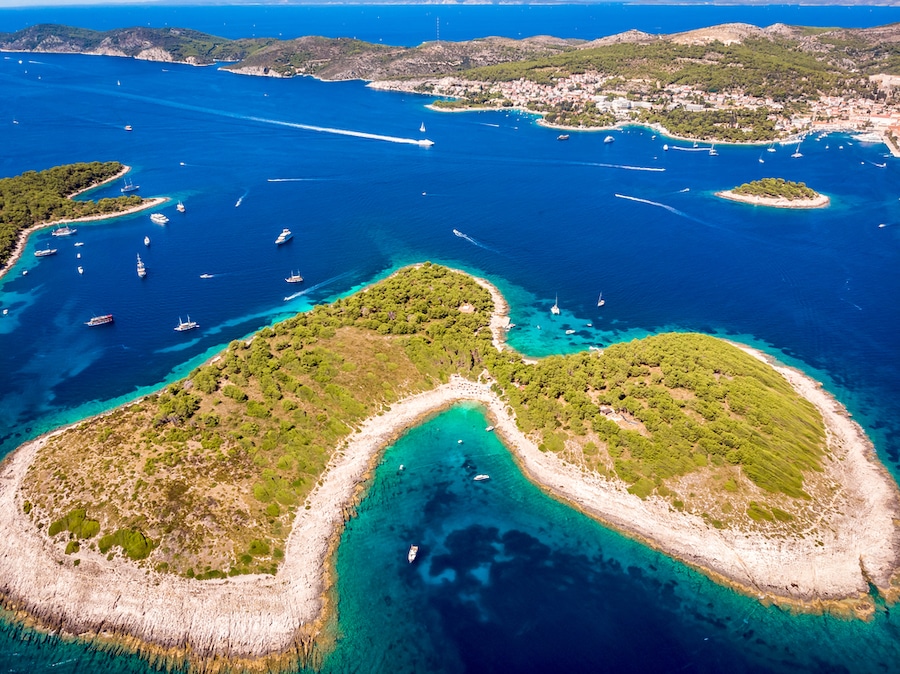 The trip I booked was the week-long Busabout Island Hopper tour starting and ending in Split costing £535 /5,175.87 HRK / 874 USD (including an early booking discount). Along the way we would visit Hvar, Korcula, Dubrovnik, Mljet, Makarska, Brač & Omiš.
Note: HRK is the Croatian currency called Kuna.
Included in the price of my peak season trip was all accommodation, as you slept in the cabins of the boat, all breakfasts, and all lunches. Onboard the boat, you have the crew, including a chef and a bartender. You are expected to tip these guys at the end of the week (and so you should, they work damn hard to keep you safe, fed, and drunk), we were recommended to tip 100-200kn between them (I tipped a bit more after one crew member went above and beyond the call of duty while I was suffering seasickness; much appreciated, Marijo).
The bar can be pretty dangerous to your wallet, as you pay your tabs at the end of the week. Included in your bar tab are port taxes and the optional meals taken on the boat. On my trip, that was the Captain's Dinner on Pirate Party night and the barbecue at Mljet. My bar tab ended up coming in at around 1000kn, which actually didn't seem that bad for a week.
Boat costs for one week: 1,250 HRK / $210 USD
What You Do

Sailing Croatia With Busabout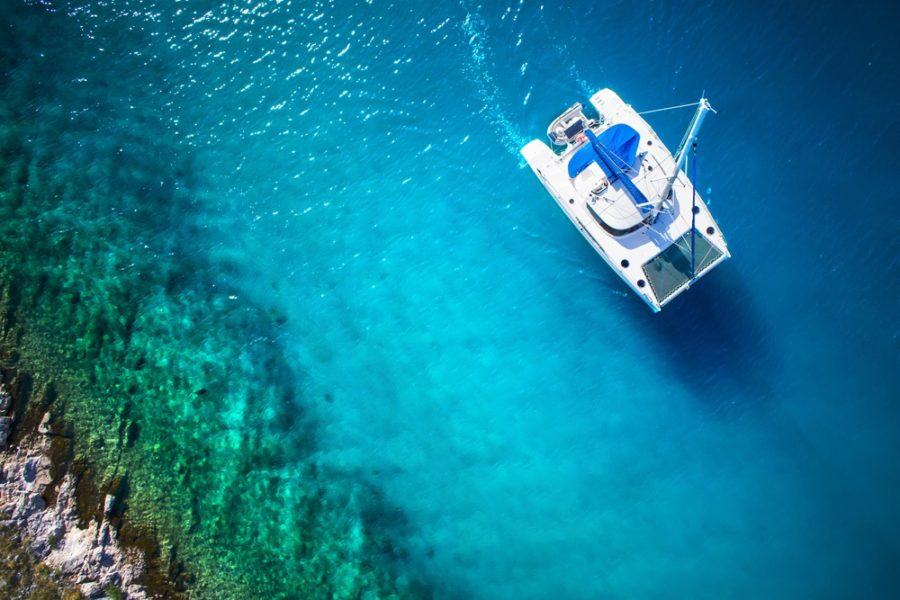 Each day had a similar pattern; the boat left the port early (usually around 6 am) to start heading to its destination for the day. A couple of hours later, we'd *attempt* to surface for breakfast & spend the morning sunbathing on the top deck. Then there would be a swim stop somewhere stunning with a little snorkeling, followed by lunch & more sunbathing. It sounds like the perfect wind down, relaxing holiday right?
WRONG, you see where I said *attempt* to surface for breakfast? Well, after a hard day of sunbathing and swim stops, you'd spend your nights eating meals in all the new towns you visited & partying the nights away (there is a 5 am curfew, so you don't miss the boat!)- this is where your money disappears. Literally.
The meals weren't too bad; depending on where you were, you could eat for around 80- 90kn plus your drink and a tip, bringing it up to say, 120kn.
It's the partying afterward because who doesn't want to spend 250kn on four shots of tequila? Oh yes, thank you, Dubrovnik, for relieving me of that ever so weighty wallet I was carrying around!
Food costs for one week: 840 HRK / USD 140
In Hvar, our first night, we partied hard. Starting at Kiva, which is still probably one of my favorite places we went to. Our guide had told us about something extraordinary as we headed into the dock at Hvar's harbor; on one of the islets, just a short ferry ride away, was a nightclub. Now I don't know about you, but I have never been to a nightclub that I have had to get a ferry to. I had to go… despite its 150kn price tag.
It was a similar story on for almost every evening. In Korcula, we ended the night in Boogie Jungle (or, some of us did, others were busy fighting off seasickness).
In Dubrovnik, we partied until sunrise in the fortress club Revelin (with free entrance thanks to the tour company we traveled with), and in Makarska, we reveled in a club that used to be a WWII weapon depot, now Club Deep, also known as the Rave Cave. I'd say for each night out; I averaged around 500kn for drinks. Party hard or stay home, and all that jazz,
Drinks total for one week: 3,500 HRK / USD 590
What About When You'Re Not Sailing Or Partying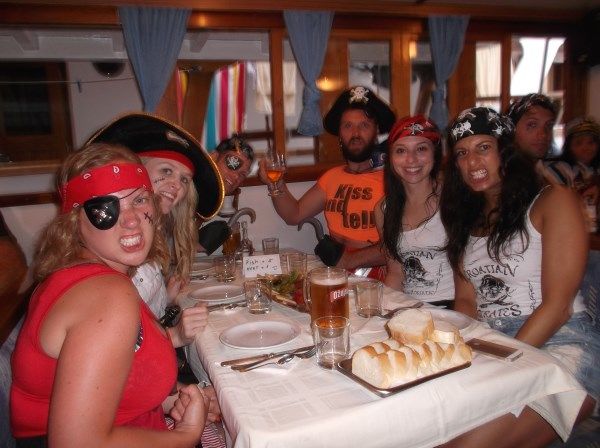 Believe it or not, after all that hard-partying, you do actually get to spend a little time in some of the places we stayed. Everywhere we stopped, our guide would take us on an orientation walk, telling us stories about the history of places like Dubrovnik and Split, showing us boats of the rich in Hvar! Optional excursion choices included:
Walking the City Walls of Dubrovnik – 100 HRK

Audio Guide of Dubrovnik* – 70 HRK

Mljet National Park entry – 90 HRK

One day bike hire at Mljet – 50 HRK

Inflatable Aqua Park Makarska* – 40 HRK

Omis Fortress – 15 HRK
* These extra's weren't offered by our tour company they were simply things we chose to do that I absolutely recommend!
Excursions total for the week: 355 HRK / USD 60
Personal Highlights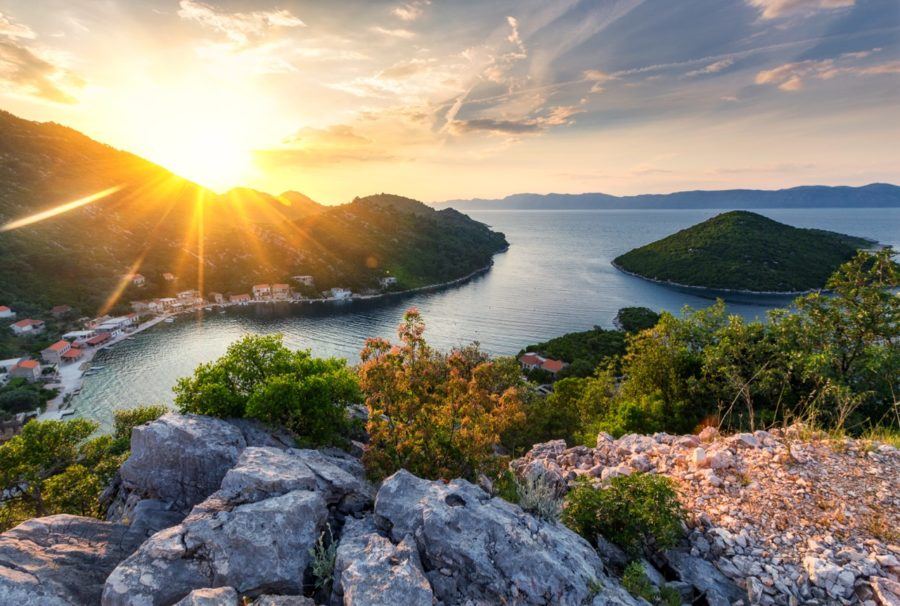 As places to visit go, Lake Mljet was beautiful. Having visited Plitvice Lakes National Park last summer, I was fascinated that we got to swim in the lake! We followed the trail around on our bikes first and went for a dip at the end to cool off. It took half an hour to cycle each way, and it's mostly flat. If you've not cycled for a long time, then be careful by the edge of the trail as it can be slippery.
I'm always a fan of those nights that are supposed to be quiet but turn into a riot, and that's how Pirate Party went down. In the quiet town, we were in, with the tiny bar housing several hundred other passengers who were sailing Croatia from various companies & we got back around 4,30am.
Our last night was spectacular, in Split partying at Inbox right by the harbor. One of my favorite places to drink; yeah, it can be expensive, but the bartenders at the cocktail bar are probably some of Split's hottest attractions. And who doesn't want to drink liters of cocktails with oversized straws? The atmosphere is chilled, and everyone dances the night away.
So *Gulp* How Much Did I Spend Sailing Croatia For The Week?
Total cost for sailing Croatia: 11,120 HRK / $ 1875 USD
Can You Do It Cheaper?
Yeah, sure, here are some tips to save money sailing Croatia.
Go outside of peak season and pay a bit less than I did, to begin with

Eat more at lunchtime & not spend so much on food during the evenings

Drink less alcohol

Skip some / all of the optional excursions. I didn't actually go to Omiš fortress, for example.
No one is going to force you to do anything, but you're only going to do this once in your lifetime. I guess it all boils down to what you want to remember, a good time, or your credit card statement?
Share