These fun things to do in Tirana are a great example of how modern city life has swiftly replaced stagnant communist formalism in Albania.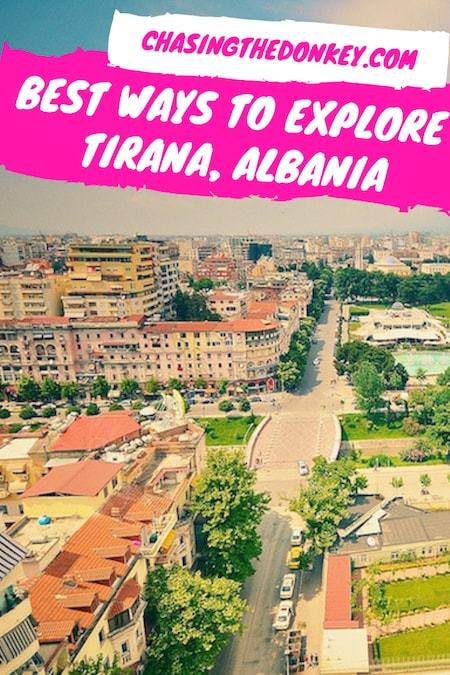 Albania's capital and most populous city, Tirana, is the usual starting point for visits to one of Southern Europe's most underrated and overlooked countries.
The current abundance of things to do in Tirana is the perfect example of how vibrant modern city life has swiftly replaced stagnant communist formalism in this part of Europe. In this city, old and new collide.
Since shaking off its communist cloak in the early 1990s, Tirana has become an entirely different city.
It transformed from gray, functional architecture and other unexciting urban characteristics into a city filled with lively pedestrian streets, lively festivals, colorful buildings, excellent museums, and beautiful green parks. It finally became alive, if you will, and discovered its potential and personality.
Now, let's get to it and answer your question on what to do in Tirana and help you find the best places to visit in Tirana.
What To Do In Tirana: 15+ Tirana Tourist Attractions
Nowadays, Tirana is as mesmerizing a city as you'll find anywhere in the Balkans. Sightseeing in Tirana includes everything from Ottoman and communist relics to contemporary museums and incredible café culture. For first-time visitors, there are numerous not-to-miss places to visit in Tirana, as this blog post will undoubtedly show.
1. Go To The Enver Hoxha Pyramid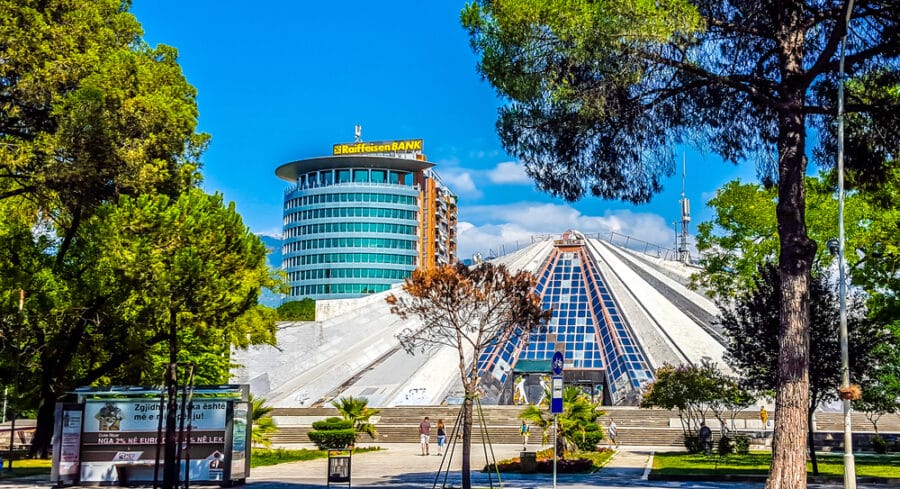 A Tirana sightseeing journey should include visiting the Pyramid of Tirana, also known as the Enver Hoxa Pyramid or, locally, simply as the Piramida. Although this might not be the most spectacular architectural landmark in the city, its historical significance is enormous.
Located in the heart of the city, on the main road between the Presidential Palace and Skanderbeg Square, the building was opened in 1988 as the Enver Hoxha Museum. Originally meant to be dedicated to Enver Hoxha, the communist leader who ruled Albania from the end of World War II to 1985, the fall of communism in 1991 resulted in a logical repurposing and rebranding.
Since then, the Pyramid has served as an exhibition and conference center, a base of humanitarian aid during the 1999 Kosovo War, and even a media broadcasting center.
It remains a topic of fierce debate about what to do with it in the future. Some people want to make it a historical monument, while others want to see it demolished. In the meantime, it is unused, except by graffiti artists and skaters.
2. Walk Across The Tanners' Bridge
When deciding what to see in Tirana, we suggest a fun little landmark in central Tirana – Tanners' Bridge, which dates from the 18th-century Ottoman time. It's one of the few remaining Ottoman structures in Tirana. Constructed near the Tanners' Mosque, it used to be part of the much-used St. George Road, the link between the city and the highlands to the east.
Originally spanning the Lanë River, the bridge was kept as a monument after the river was redirected. Plus, you can still walk across it! It's a beautiful historic highlight in a city modernizing at a lightning pace.
3. Explore Skanderbeg Square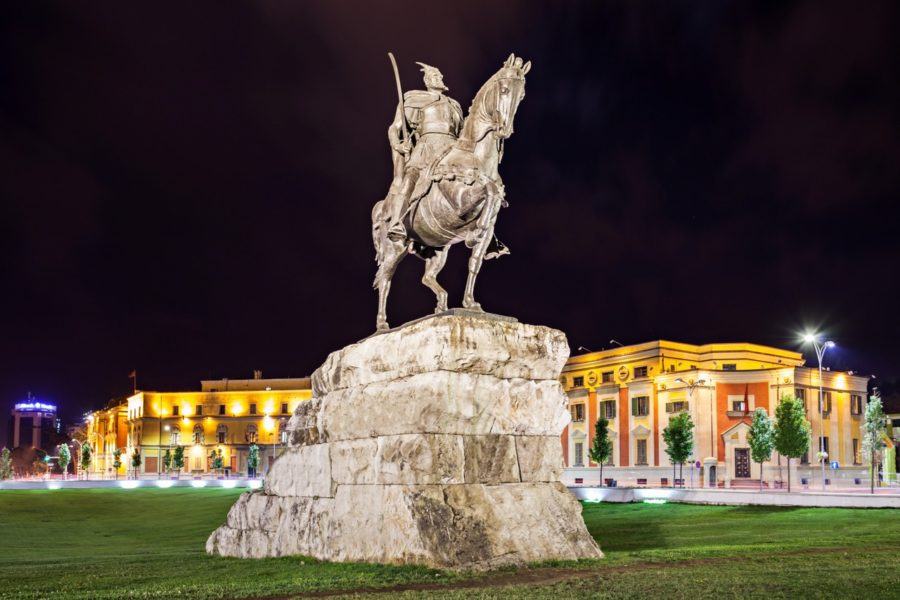 Skanderbeg Square's central plaza in the city center is a large open space home to many of Tirana's best places to see. It's a vibrant meeting place, a major tourist attraction, and an important historical landmark.
The square is the main celebration venue in Tirana and Albania, featuring a large lawn, rows of stately trees, and colorful flowerbeds. Named after national hero Georg Kastriot Skanderbeg, who helped stop the advance of the Ottoman Empire into Eastern Europe, the square is dominated by the Skanderbeg Monument. That monument symbolically occupies the very spot where a Josef Stalin statue once stood.
Around Skanderbeg Square, you'll find major Tirana attractions like the National Historical Museum, the Palace of Culture, the Et'hem Bey Mosque, the Clock Tower, the National Library, and various ministries.
4. Eat At An International Chain Across From The Former Headquarters Of Communism's Reign
Enver Hoxha is perhaps one of the most famous communist leaders — a man who has isolated the whole country of Albania for over 41 years.
From 1944 to 1985, Albania was probably the most isolated country in Europe and one of the scariest to live in the world. Citizens had strict restrictions against them, such as Albanians could not travel abroad. At its peak, 75% of the population thought the authorities were spying on them, and Hoxha was eventually declared an enemy of capitalism.
Ironically, the only international fast-food chain in Albania, Kentucky Fried Chicken, opened its doors directly across from Hoxha's former residence.
Unfortunately, the house is now closed to the public, but at least you can put it to Hoxha, who is probably cringing at the thought of the KFC in his grave.
5. Have A Local Food Experience
6. Learn Some Things At The National History Museum
The National History Museum is the largest museum in Albania, where more than 4,750 works and artifacts from the Paleolithic and communist periods are kept.
Even before entering the building, you can learn a lot about the history of Albania because the facade has a sizeable recognizable mosaic that illustrates the different periods of the country's history.
7. Spend Time In The Last Indie Library Of Tirana
Tirana exploded after the fall of communism with the introduction of Western shopping malls. Still, Adrion bookstore in Skanderbeg Square and across the street from the National Opera is one of the most famous old establishments to have survived these changes.
Adrion, which currently has several offices in the city center and international airport, is the most famous and well-equipped store in the city and offers translations of a long list of Albanian dramas and documentaries and tourist guides and maps to help you plan your trip.
8. Try The Local Beer In The Old Warehouse
City Art is a modern and lively bar and restaurant full of young people who come for happy hour after a long day at work. But it's also great to have a coffee and meet the locals.
The walls are decorated colorfully and chic with concrete floors and expansive windows looking out to the terrace overlooking the street.
There are D.J.s, big-screen T.V.s for football matches, and an extensive menu including sushi, delicacies, and local beer. Don't be shy; you will always be welcomed with smiling faces.
9. Ride The Dajti Ekspres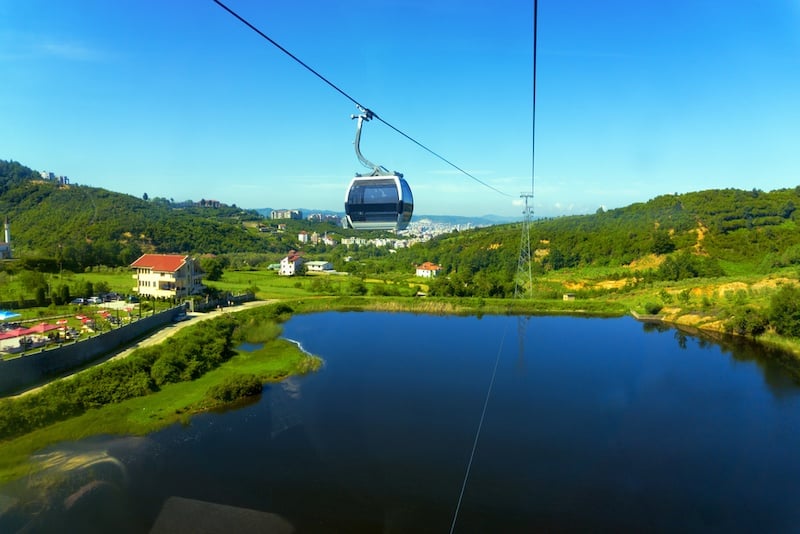 Without question, one of the best things to do in Tirana is riding the Dajti Ekspres. The ride takes about 15 minutes and is a kilometer long, making this the longest cable car ride in the Balkans. You'll rise over 800 meters from the city center to Mount Dajti in that time.
A tourism complex with restaurants and hotels awaits at the top of this iconic mountain. This is called the "Balcony of Tirana" for a good reason. It doesn't need to be mentioned that the views are nothing short of sensational.
If you're afraid of heights or don't want to ride the cable car for whatever reason, you can drive up to the top by car. That journey takes an hour or more.
10. Learn About Albanian History At The National Historical Museum
Opened to the public in 1981, the Albanian National Historical Museum is a massive museum about, as you might have guessed, the entire history of Albania. It's split into several pavilions, including Antiquity, the Middle Ages, the Renaissance, Independence, the National Liberation Fascist War, and Communist Terror.
If you'd like to get some historical context, there's no better place to go in Tirana than this comprehensive institution. After a visit, you'll be able to look at many other landmarks in the city and in Albania with more understanding. It'll also give you a better grasp of the best places to visit in Tirana and the top attractions in Albania.
11. Admire The Et'hem Bey Mosque's Design And Décor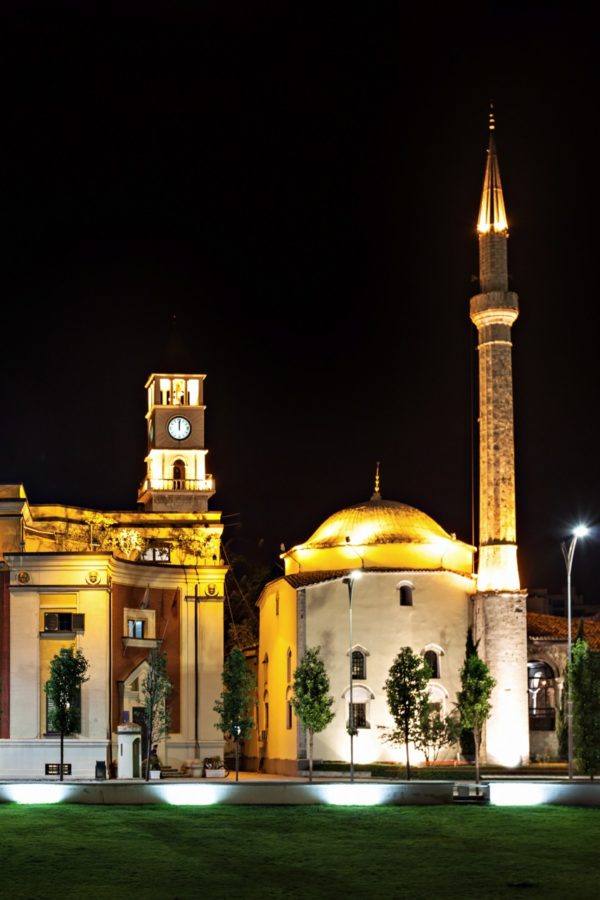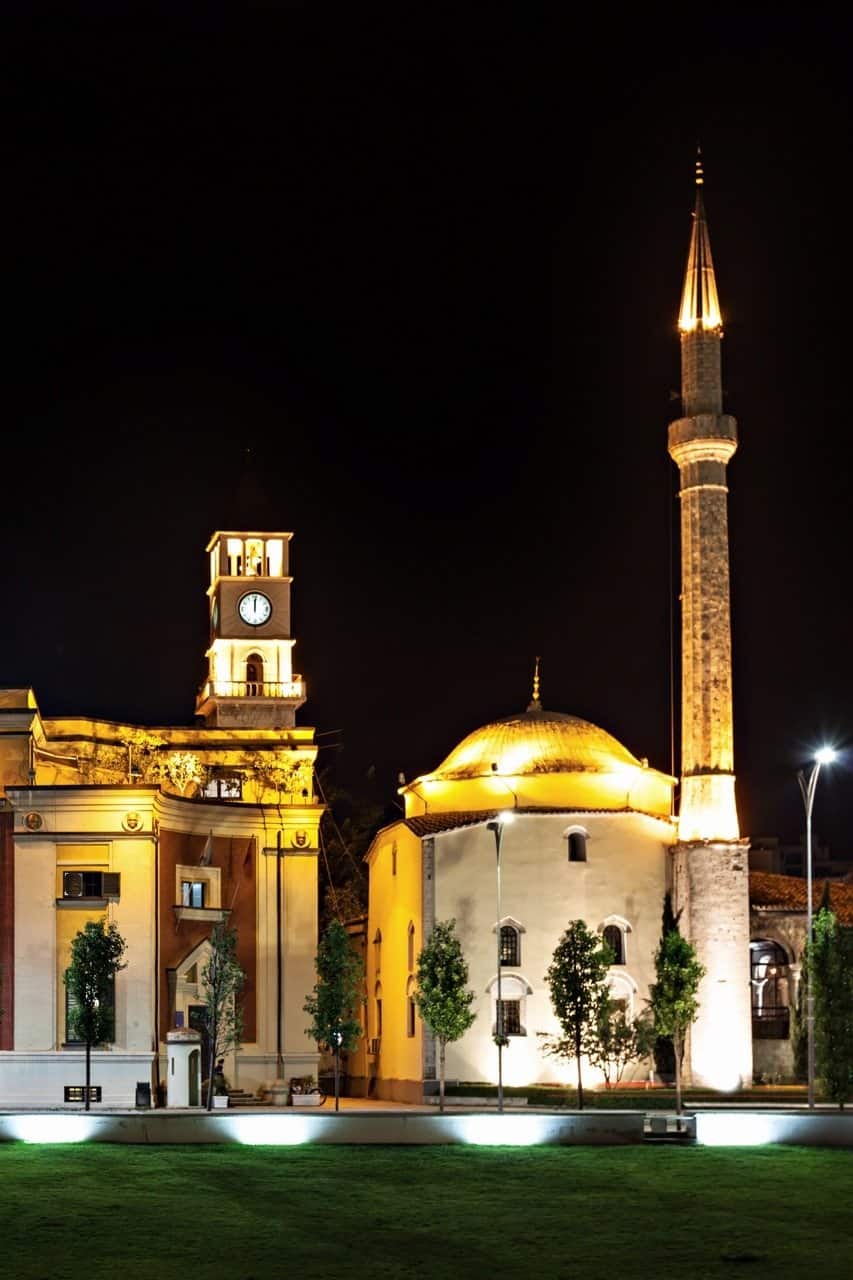 Located on one side of Skanderbeg Square, the iconic Et'hem Bey Mosque dates from the 18th century and is one of the top things to see in Tirana. It was closed under communist rule as it prohibited all religious practices but reopened as a place of worship in 1991.
This mosque is particularly noteworthy for its elaborate frescoes depicting waterfalls, bridges, and trees, which are a rarity in Islamic art.
12. Shop Local
In Tirana, you can find a diverse mix of handmade jewelry, cloth bags, tapestries, and other items representing fantastic gifts as souvenirs for loved ones back home. You'll have no trouble finding trinkets that are small and fit in your travel luggage.
13. Climb The Clock Tower
Another major landmark in Skanderbeg Square is the 35-meter-high Clock Tower. Built in 1822, it was designed by Etëhem Bey Mollaj, a poet who was also responsible for the Et'hem Bey Mosque next door.
You can climb the narrow spiral staircase in the tower for free and enjoy great views over the Tirana city center from the top. The Clock Tower is also incredibly photogenic at night when it's lit up.
14. Go For A Hike In Mount Dajti National Park
However, traveling up Mount Dajti—whether by cable car, driving, or even hiking—will bring you to Mount Dajti National Park. This is one of the most accessible national parks in the Balkans, if not in all of Europe.
Spend a day wandering out into the mountain range just beyond Tirana's eastern edge. Various hiking trails meander out into the forests and along ridges, offering phenomenal vistas, excellent wildlife watching, and a great escape from the busy city life below.
15. Stroll Along Rruga Murat Toptani
If mountain hikes are not your cup of tea, you can opt to go for a walk along Rruga Murat Toptani instead. A pedestrian street lined with trees, shops, and restaurants, it's a great place to spend a hot summer afternoon. In winter, on the other hand, this is the location of an atmospheric Christmas market.
16. Experience Bunk'Art – Art In A Military Bunker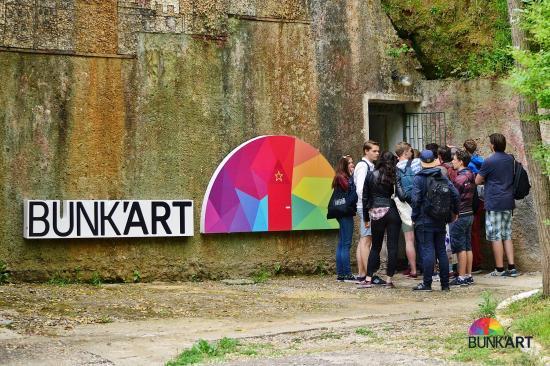 In the 1980s, fewer than 170,000 bunkers dotted the Albanian countryside and towns. Nowadays, most of the remaining ones are Albania attractions, monuments, and historic landmarks, but one particular one has become a museum.
The Bunk'Art Museum is one of the top things to do in Tirana. Located near the Deshmoret, a Kombit Boulevard, at the base of Mount Dajti, this mixed art and history museum showcases the troubling communist past of Albania. Exhibits show the daily life of Albanians under the communist regime, while other displays combine the country's more recent history with contemporary works of art.
17. Experience Cosmopolitan Tirana In The Ish-Blloku District
A restricted residential area for elitist Albanians in southwest Tirana during communism, the Ish-Blloku District underwent an epic transformation in recent decades. Also known simply as the Block, this small-ish area is now one of Tirana's trendiest, hippest, and most vibrant neighborhoods.
If you're wondering what to visit in Tirana, the Block should make it onto your sightseeing list. Easily accessible from other parts of the city, the Block is where you'll find countless bars, nightclubs, pubs, restaurants, cafés, and boutiques. It's where ex-pats living in Tirana and Tirana's youth mingle, creating a cosmopolitan vibe unlike anywhere else in the city.
18. Wander Through Grand Park
Grand Park lies in southern Tirana, just south of the Block. Also called the Park on the Artificial Lake, it's one of the best places in Tirana to escape the crowds. This 289-hectare park features a large artificial lake and landmarks like the Presidential Palace, the St. Procopius Church, the Botanical Garden, and the Zoo. Additionally, you'll see several memorials to notable Albanian citizens, including writers and politicians.
It's a beautiful area for a stroll and a few hours of reading in the shade of a tree. Swimming in the lake is popular in summer, while the amphitheater hosts various cultural events.
19. Buy Groceries At Pazari I Ri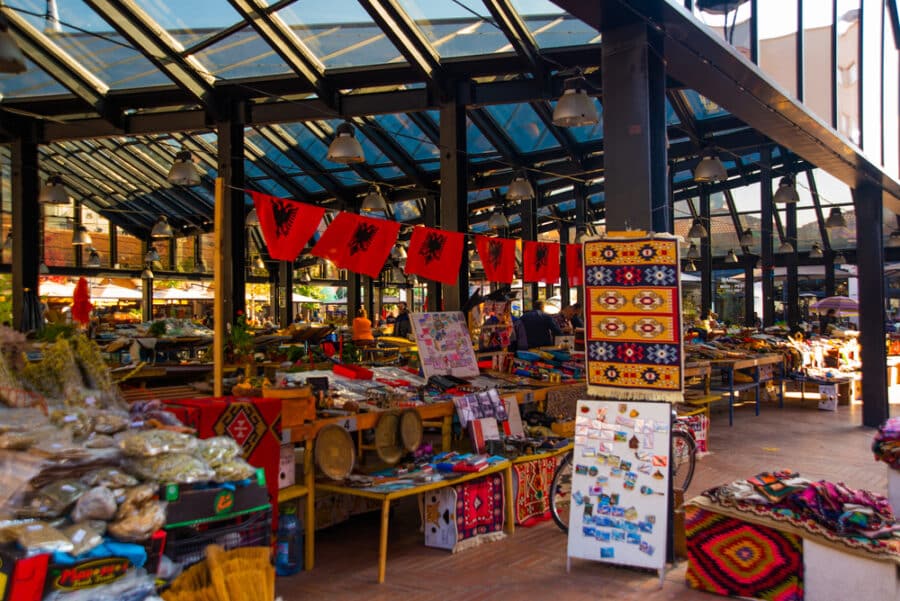 The Pazari i Ri, known in English as the New Bazaar, is one of the best places in Tirana for grocery shopping. Its name comes from the grocery market that has been held in this area for decades. It's one of the oldest parts of the city. Even if you're not looking to stock up the fridge in your Tirana apartment, it's still worth coming here simply for the lively atmosphere or to grab a cheap lunch.
After the 2016 reconstruction, visiting the New Bazaar is one of the most incredible things to do in Tirana at the moment. The market buildings boast substantial glass windows and roofs, allowing as much light as possible and making the various stands more vibrant than ever. This also means that the market is open on rainy days, too, now.
Go here for fresh fruit, veggies, fish, meats, raki, and regional Albanian wine. Around the market, you'll find bakeries, coffee shops, and restaurants where you can sample delicious, traditional Albanian cuisine.
20. Have A Drink At Radio Bar
Even if it took a while to find, the search was well worth it. It is very well hidden in the street, though; this place was buzzing. They serve strong cocktails and provide a friendly atmosphere for even the shyest travelers.
21. Enjoy Panoramic Views From Sky Hotel Panoramic Bar & Restaurant
One of the best hotels in Tirana, Sky Hotel Tirana, also houses one of the absolute best restaurants in Tirana. The Sky Restaurant is on the 16th floor of Sky Tower, serving breakfast, lunch, and dinner, accompanied by incredible views.
On the level above the restaurant is the Sky Panoramic Bar, a fantastic 360-degree bar offering epic sunset and nighttime views of Tirana. On top of that, the bar slowly rotates, so you don't have to walk around to see the entire city. Just grab a drink and a seat and watch until the bar spins you around.
If your time in Tirana has almost ended, is there a better way to say goodbye to the city (for now, of course) than spending a leisurely evening in one of the best bars in Tirana? That's right; we didn't think so either!
22. Visit Krujë Castle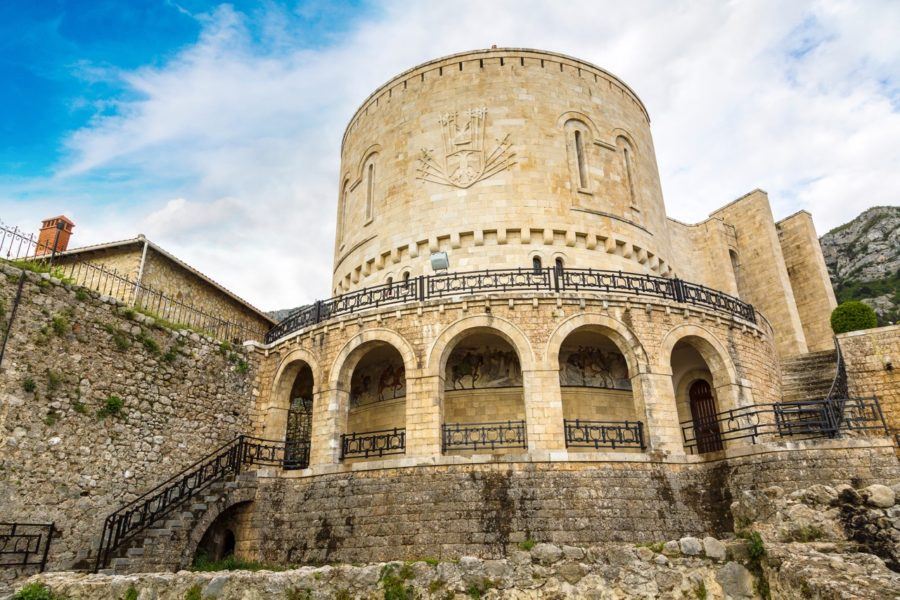 If you like epic tales of war, a visit to Krujë Castle should definitely make its way into your itinerary. Constructed as early as the 5th or 6th century, it was the headquarters of Georg Kastriot during the Ottoman sieges, which began in 1444.
From this small elliptical castle with no more than 3,000 men, Kastriot effectively repelled multiple attacks and severely dented the Ottoman Empire's expansion into Central Europe. His enemies, the Ottomans, called him Iskender Bey. This means as much as Lord or Leader Alexander and is considered a comparison to Alexander the Great himself. The English translation of his name is Skanderbeg.
He justifiably became a national hero in Albania, nicknamed the "Dragon of Albania." Nowadays, a monument dedicated to Georg Kastriot Skanderbeg dominates Skanderbeg Square in central Tirana.
Krujë Castle lies a short drive north of Tirana and makes for a great day trip. The castle complex now houses the Skanderbeg Museum and the Ethnographic Museum. Additionally, the hills around the castle are home to several wineries—if you like wine, stopping by one is mandatory.
23. Go For A Day Trip To Dürres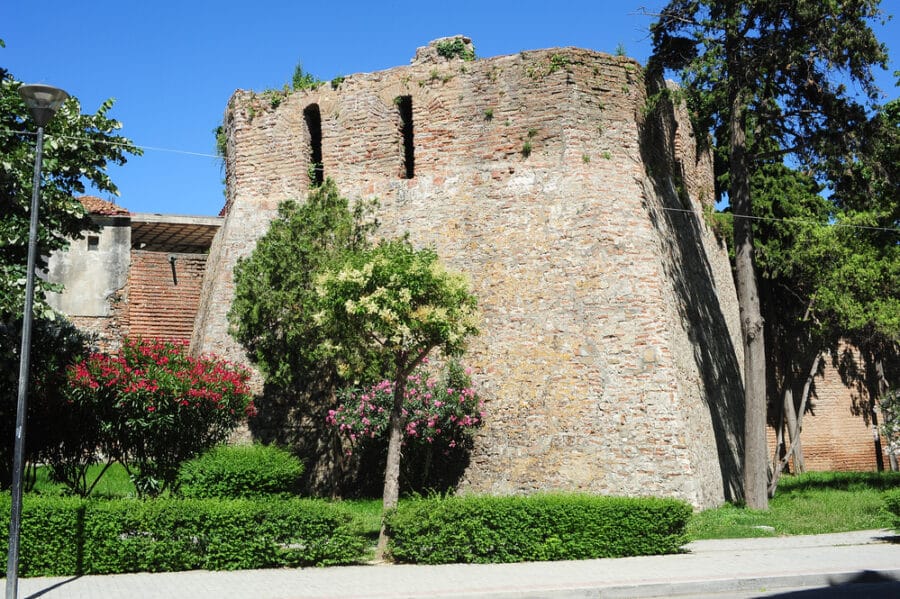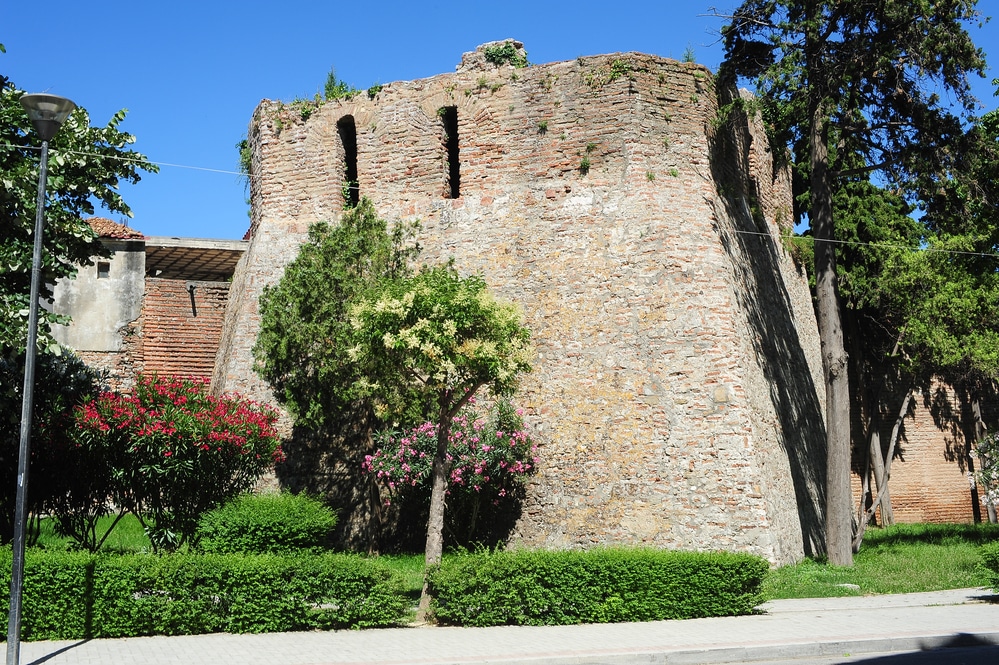 Another fantastic day trip from Albania is to the coast. Rent a car or take a bus to the Adriatic port city of Dürres. One of Albania's largest and oldest cities, it's also a hugely popular destination for sun-soaked Albania holidays.
Don't miss the Roman amphitheater, the largest surviving one in the Balkans, with a former capacity of 20,000 spectators. Founded by Greek colonists in the 7th century B.C., it is now home to tons of Roman and Byzantine heritage. Other major attractions include the Byzantine city walls and the Dürres Archaeological Museum, Albania's largest of its kind.
A day trip to Dürres should also involve some downtime on one of the beaches of Albania's southern Adriatic coast. Dürres Beach, for example, lies just south of the city center and is no less than 10 kilometers long. Countless hotels and other tourist facilities line this beach, the most visited beach and one of Albania's most popular tourist attractions.
24. Drink Rakija At Komiteti
In a city full of hipster coffee cafes, Komiteti was one of our favorites. Fully equipped with objects and furniture from Albania's long and complex history, it serves as a place where people meet, discover artifacts from the past, and wonder what it means to be Albanian.
Komiteti, whose owner, Arber Zepani, combined his extensive collection of more than 17,000 antiques with a bar to create a hybrid coffee museum, is a unique space full of educational antiques and vintage furniture timeless treasures, and clothing from all eras and parts of Albania.
25. Join A Jazzy Evening At Tirana Ekspress
The owners of Tirana Ekspress have created a community where people can create and experience art together, and you can also bring a glass of some local drink (of course, Rakija – what else?).
Tirana Ekspress operates as a cafe, bar, and alternative art space near Pazari i Ri (New Bazaar). It hosts exhibitions, live music, film screenings, jazz evenings, theater performances, DJs, and political debates.
Sit back, relax, have an espresso or alcoholic drink, and meet new artists and musicians from Tirana and elsewhere. Whether you are a tourist or local, Tirana Ekspress invites anyone who wants to support the arts and be a part of a supportive community.
26. Find The Most Unusual Reflexology Massage
This one is a unique thing to do in Tirana, for sure.
A traditional Chinese reflexology massage is probably the last thing you should consider getting in Albania. But there's a well-known master of reflexology who owns a massage studio tucked away in a back alley of Tirana. How he ended up in Albania – we have no idea. Unless you can speak Mandarin or Albanian, you probably won't learn much about him. But he gives one hell of a massage, and you will leave happy. That is guaranteed.
Reflexology massages start with a warm foot bath and an hour-long relaxing and refreshing full-body massage. Interestingly, traditional Chinese reflexology believes that all the energy passages of the body are in your legs and correspond to your body's different systems and organs.
27. Don't Miss The Albanian Wine Region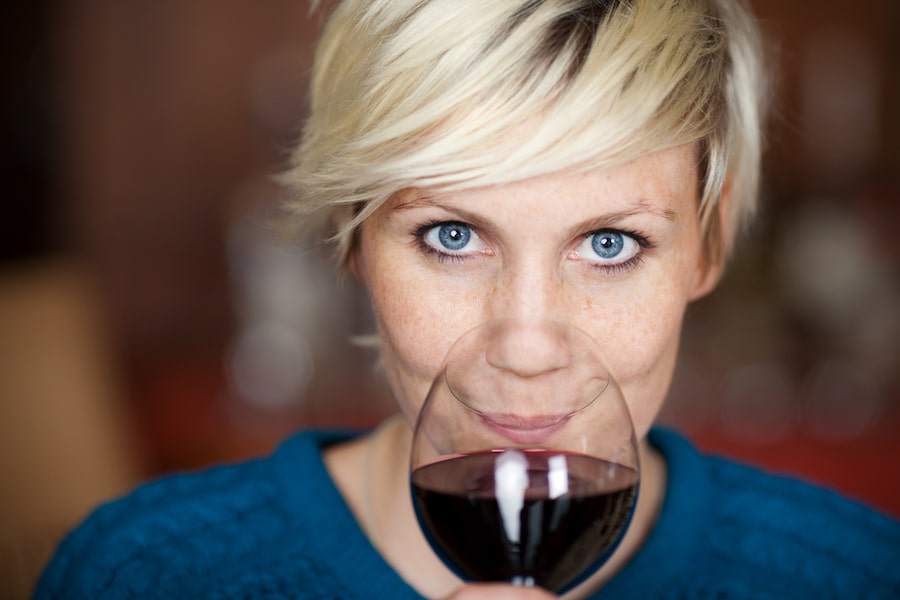 We know, we know. This one sounds weird.
While Albania is not very well known as an important wine region, the product might surprise you. Visit the Uka Winery on the outskirts of Tirana, where you can try Merlot and Kallmet – of course, made of local Balkan grapes). The outdoor restaurant also serves excellent traditional grilled meats, which pair perfectly with their surprisingly tasty wines.
28. Enjoy The Slow Train Out Of Town
The beauty of the Albanian railways is in their tranquil pace and challenges for adventurers. You can forget the new-age fast trains and turbo trains and whatever other adjectives you want to use for it.
The wagons are simple, with little comfort and seating, and the slow train, but adventurous travelers enjoy beautiful countryside views, including farmland with livestock, fruit trees, and small villages. There is no food or drink onboard, so take yours with you.
Albania's railway network is ancient and now considered inconvenient, but it used to be a primary mode of transport for all locals in the capital city. Few people today travel by train and prefer their own car or minibus, which are ultimately faster, and if you are on a schedule, it is no wonder why. To catch a train, find a timetable and get to the Kashar station on the outskirts of Tirana.
29. Shopping At The Medieval Market
Kruja Castle is located an hour's drive from Tirana and is known as the residence of Skanderbeg, known for his leadership in the country's resistance to the Ottoman Empire. The castle saw many of the most critical battles in the country's history and is now a place for Albanians to pay tribute to their national hero.
After visiting, head to the 15th-century medieval bazaar at the foot of the castle.
Local artisans have brought this market to life, selling trinkets, traditional clothes, carpets, paintings, and souvenirs for those you care about back home. However, the best experience for us was to walk along the old streets, where an original wall that has stood the test of time remains.
TRAVEL COMPANIES WE USE AND TRUST
Weather In Tirana
After deciding what to see in Tirana, you must know what to pack. With just enough precipitation in summer to fall outside the Mediterranean climate category, Tirana officially has a humid subtropical climate. The city generally has wet and cool winters, while summers are hot, relatively dry, and humid. You can expect to see snow every winter, which typically melts quickly.
Average winter lows are between 1.8˚C (35.2˚F) in January and 3.2˚C (37.8˚F) in December. In winter, every day out of two, on average, sees rain or snow. Summers have average high temperatures that range between 27.3˚C (81.1˚F) in September and 30.7˚C (87.3˚F) in July and August. Precipitation only occurs four to six days a month in summer.
Regarding sunshine, few cities in Europe are more blessed than Tirana. In fact, its 2,544 hours of sunlight per year make it Europe's 8th sunniest city.
Best Time To Go To Tirana
Every time of the year, it has plenty in store for visitors to Tirana. Each month has fun festivals and live events, so you'll never get bored, no matter when you go there.
In terms of weather, as noted above, winters can get rather wet, even snowy. However, the latter may allow fun winter sports activities in the surrounding mountains and perfect Christmas market conditions.
Generally speaking, though, it's summer when you'll want to visit Tirana. Many of the best things to do in Tirana are most fun from June through September. We recommend June and September, with much smaller tourist crowds, comfy temps, and low precipitation.
How To Get To Tirana
As the rest of Europe and the world slowly become aware of its fantastic tourist potential, finding cheap flights to Albania gets easier every year. There are, for example, cheap flights to Albania from London, one of the largest air travel hubs on Earth, provided by low-cost airlines. The Mother Teresa Airport lies only 17 kilometers from the city center, offering convenient connections to the rest of the world.
Greece is the most convenient starting point if you travel to Tirana by bus. There are daily international bus services from cities like Thessaloniki and Athens, from which it's also possible to get to other cities in Albania. Additionally, you can get to Tirana by bus from Skopje, Macedonia, and a couple from all other major towns in the country.
Alternatively, you can also get to Albania via ferry from Bari, Italy, Corfu, Greece, to Dürres and Saranda. From those cities, it's a short bus ride to the capital.
If you'd like to drive to Tirana, you can do that, too, but you should expect long queues at the border crossings no matter which country you're entering from. If you have a rental car, you should check with the rental agency if you can legally take the vehicle across international borders.
Now that you have a list of things to see in Tirana, we hope you enjoy all the Tirana attractions you choose.
MORE ALBANIA TRAVEL BLOGS FOR YOUR TRIP