Some posts contain compensated links. Please read this disclaimer for more info.
Where The Mountain Greets The Sea: Starigrad Paklenica
Starigrad Paklenica has been on my things to do in Croatia list since I first heard how close it was to where we live. As we drove closer and closer toward Starigrad Paklenica, the Velebit mountain which happens to be the largest mountain range in Croatia grew larger and larger, I could hear the theme song to Star Wars, and it felt like we were going to be enveloped by the mountain range ahead.
Starigrad Paklenica is a town that sits at the base of the towering Velebit mountains, in northern Dalmatia, just 40km from Zadar. Mother nature blessed Croatia when it comes to nature, and she gave Starigrad Paklenica an extra blessing by sitting the Paklenica National Park right next door.
The Velebit mountain range is a part of the Dinaric Alps & runs through Slovenia, Montenegro, Serbia, Kosovo, Albania, Macedonia, and reaches its highest point in Bosnia and Herzegovina. The are two National Parks in the mountain range, the National Park Sjeverni Velebit which is in the north and the Paklenica National Park, which is in the South. On a clear day, the Velebit could almost be compared to a Hollywood backdrop, with the mountains looking as though they've been painted below the sky.
Once we arrived in Starigrad Paklenica, we were in complete awe of the mountains rising sharply up from the sea.
Staring up towards the sky, I felt dwarfed by this immense giant, like a mere speck at its feet.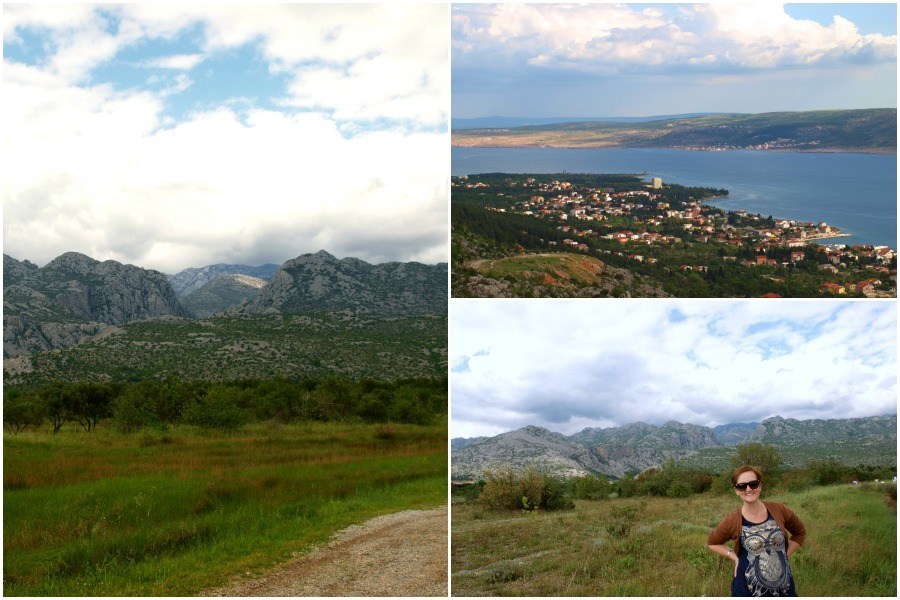 What To Do In Starigrad Paklenica?
The best time to visit Starigrad Paklenica is from early spring all the way through to late autumn; it's the ultimate place for nature lovers. The area has much to keep you busy and is located in an excellent position to make take day trips to neighboring national parks and towns.
Starigrad offers real diversity, where the magnificent mountains and the swirling sea meet with the town of Starigrad sandwiched between them. The area is most well known for adventure vacationers and although we're not climbers, hikers or bikers, we spent three days at Paklenica and had more fun than we thought we would – and best of all it's so close to our home we can go back again and again.
The main attraction is, of course, the Paklenica National Park, yet there is much more to enjoy in Starigrad than I had ever thought…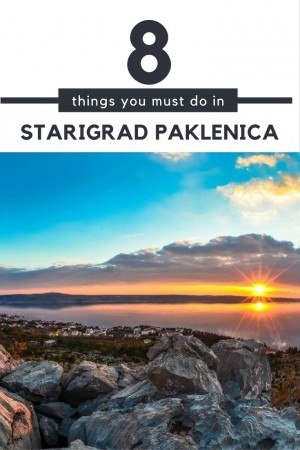 Paklenica National Park
Paklenica National Park was established in 1949 and is Croatia's second oldest national park behind Plitvice Lakes in Northern Dalmatia. Croatia is home to 8 stunning national parks, all worth a visit.
Paklenica National Park is 95 km2 and lies within Croatia's largest mountain range, the Velebit. The park consists of two dolomite limestone canyons called Velika (big) Paklenica & Mala (small) Paklenica.
The park has around 150km of hiking trails, which if you have the legs for it, will ultimately take you up to the highest peak of Vaganski Vrh at 1,757m. The mountain rises sharply from the sea, and while the park initially looks very rocky, you'll be surprised to find that 75% of the national park is in fact forest, primarily Beech and Black Pine.
If you are into adventure sports, then Paklenica National Park is undoubtedly calling your name.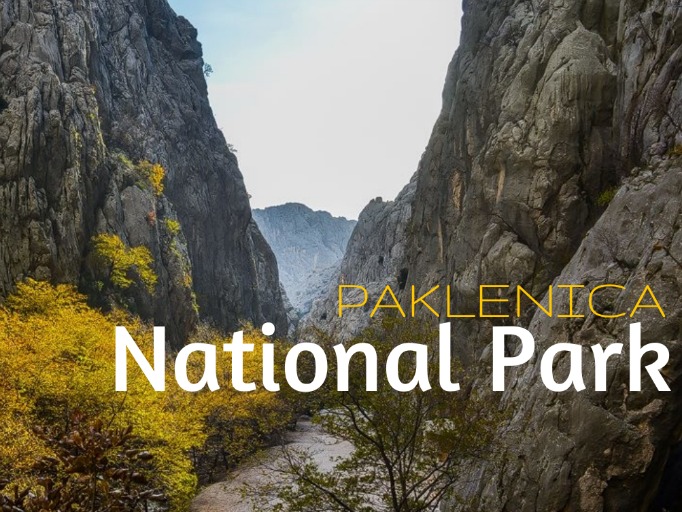 Hike, Climb, And Cycle
Paklenica National Park is the largest climbing site in Southeast Europe and by far the most popular in Croatia. Each year there is an annual Big Wall Speed Climbing event held in May, where local and international climbers race up the smooth limestone walls with prowess and agility. The current record for the 160-meter climb is a staggering 15 minutes and 16 seconds, by Croatians Jurica and Perica Levatić who have held the record for three years in a row. If you're feeling inspired by Jurica and Perica, you can take pre-arranged climbing lessons here.
Paklenica has over 150km of hiking trails, with routes taking from just a few hours, up to an entire day. On one side, you have the towering Velebit, and on the other, you have the mesmerizing Paklenica beaches.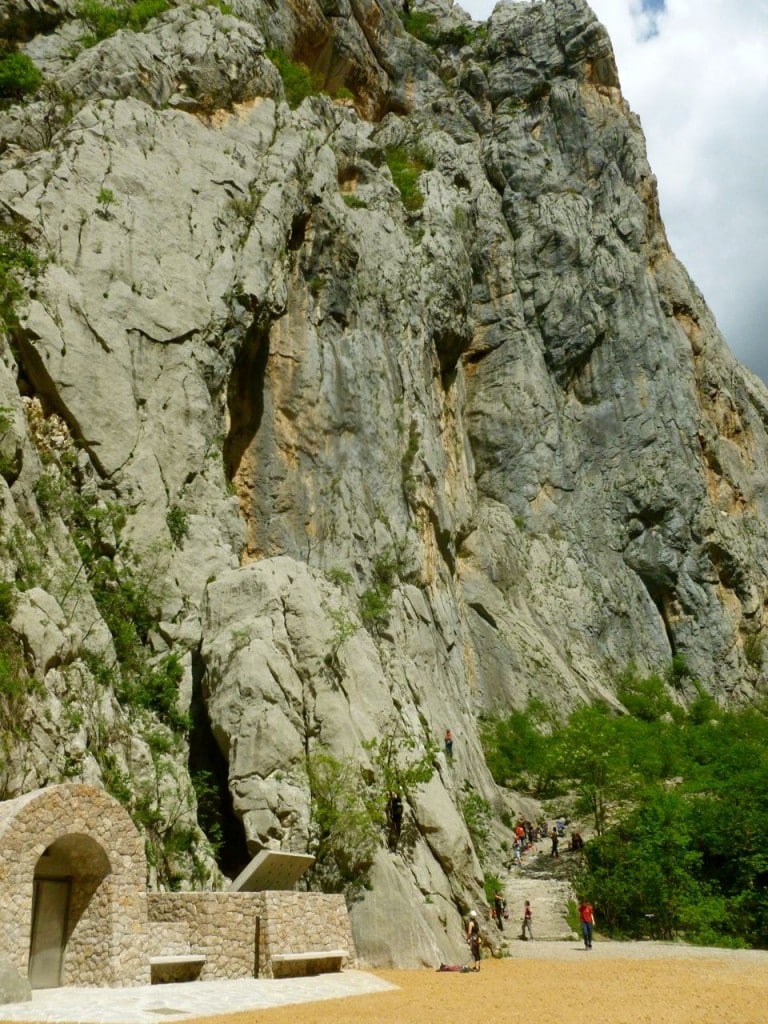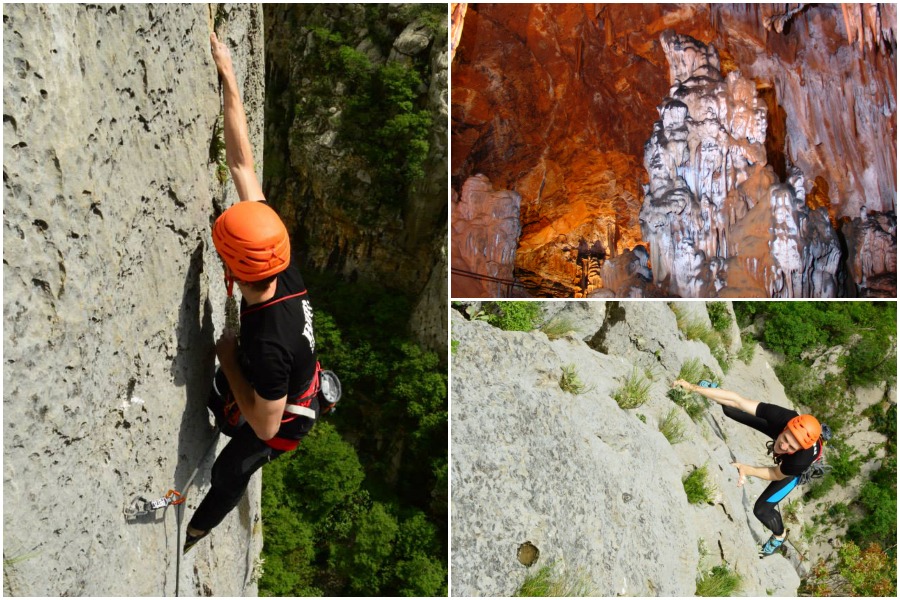 Pack your bike or hire one in town and cycle through Paklenica National Park along one of the many suggested cycling path routes. The routes vary from 10-30km. Download the Starigrad Paklenica Cycle Paths guide and see which one takes your fancy.
If you love trekking, then you'll love the Velebit Ultra Trail competition. Held every year since 2003, with four categories: 16 km, 27 km, 47 km, and, of course, for the toughest Velebit 100 km with a 6500-meter ascent. Registrations close early June each year.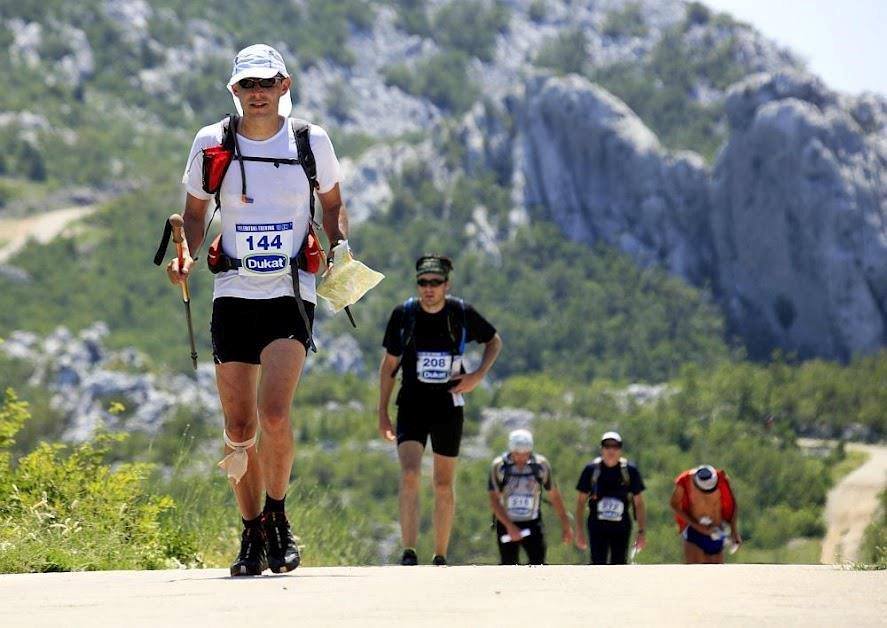 Local Tip: The locals tell me that you would need a week to be able to cover the entire stretch of trails, so pack your comfiest hiking boots!
Photo Jeep Safari
You can't be in Starigrad and not be captivated by the Velebit mountains – it's commanding. To appreciate the mountain you need to get up close and personal, so we jumped in a Landrover Defender and headed up, up and up into the mountain for a thrilling off-road adventure.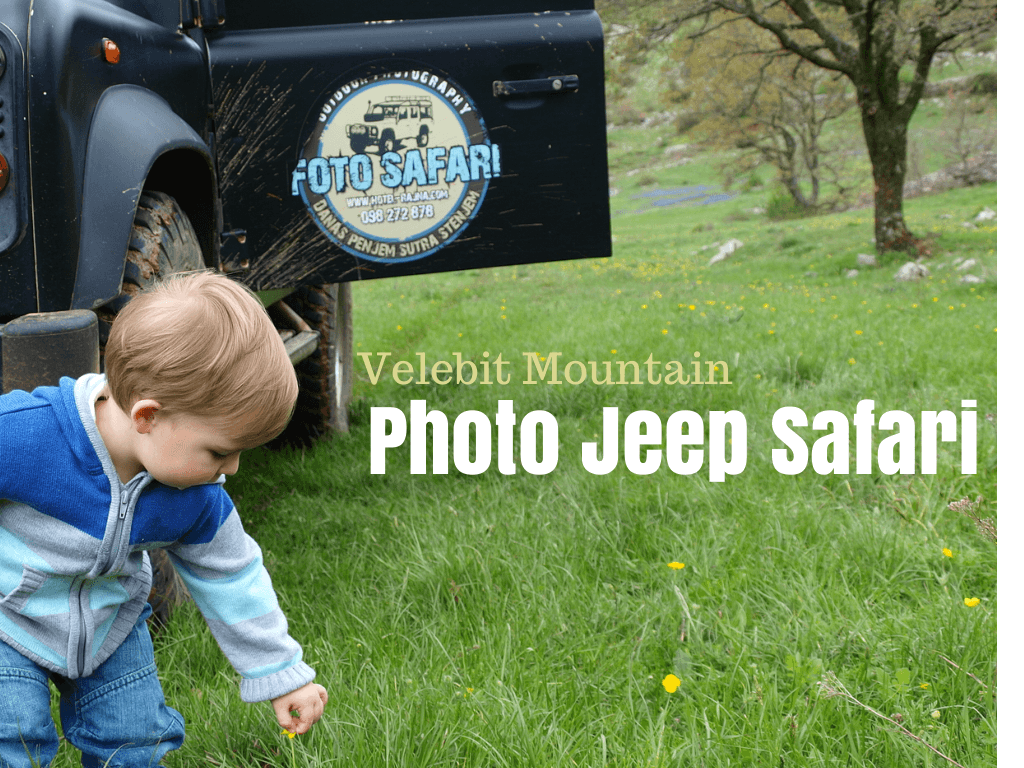 Thanks to the efforts of men 200 years ago who painstakingly created the roads through the Karst landscape in the Velebit Mountains, we were able to spend 5 hours driving, stopping every 20-30 mins for photos and to be in awe of the view, breathing in the crisp mountain air.
As we came around the bend on one corner, down below in the distance, the rocky view changed to a luscious green pasture. With my window rolled down to take a photo, I noticed some movement in the far corner. Our guide said this area was known for wild horses and that owners of properties kept some cattle here. As we wound slowly down the road, it became clear that the black and brown blurs were, in fact, a herd of galloping wild horses.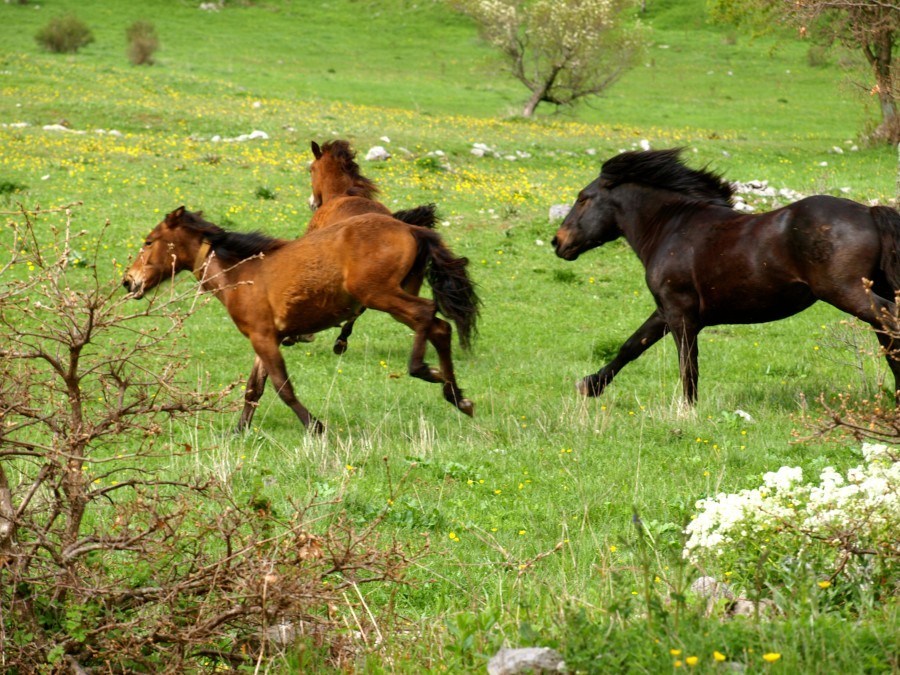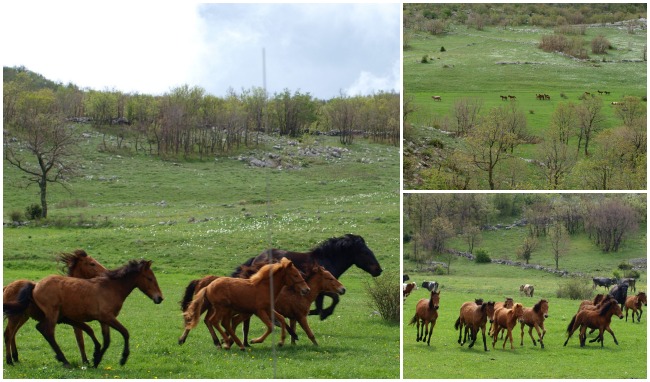 I frantically began clicking on my camera, but with all of the bumping, I was unable to get a clear shot. We continued and came to a stop just meters from the herd. Out of the corner of our eyes, we saw a striking black stallion chasing a much smaller brown horse. Click, click, click went my camera, but I had the long lens on, which I needed to change to another. As I did the stallion circled our Jeep in laps, nipping and biting at a young brown horse. Our guide said in his years of doing the tours he has never seen such an impressive sight, and it's an up-close moment I won't soon forget.
During the safari, you'll reach the edge of the arid Dalmatian side of the Velebit mountain and within two turns reach the Lika side, where neon green trees and moss stretch along the roadside. In summer the jeep safari makes a pit stop to swim in the Zrmanja (zer-marn-ja) River.
Tip: Pack tissues for your photo jeep safari. There are no toilets in the Velebit, and so you'll need to use nature's toilet behind a big rock. Also pack a warm coat, as even on the sunniest of days, the Velebit mountain can serve up a whipping icy wind, known as the Bura.
Bonus: This tour is kid friendly! Our jeep was pre-fitted with a child restraint, or you can supply your own.
Get Out On The Water
Rafting trips take place on Zrmanja River starting in early spring up to summer and then start again at the end of summer through to late autumn. During the low water level periods of summer, you can still enjoy the Zrmanja on a kayak or canoe.
If you're like me and the thought of doing all that sounds too exhausting, you can take boat trips from Starigrad for the day. The family-friendly boat excursion start at Starigrad along the Zrmanja River mouth, all the way to Obrovac, and includes lunch.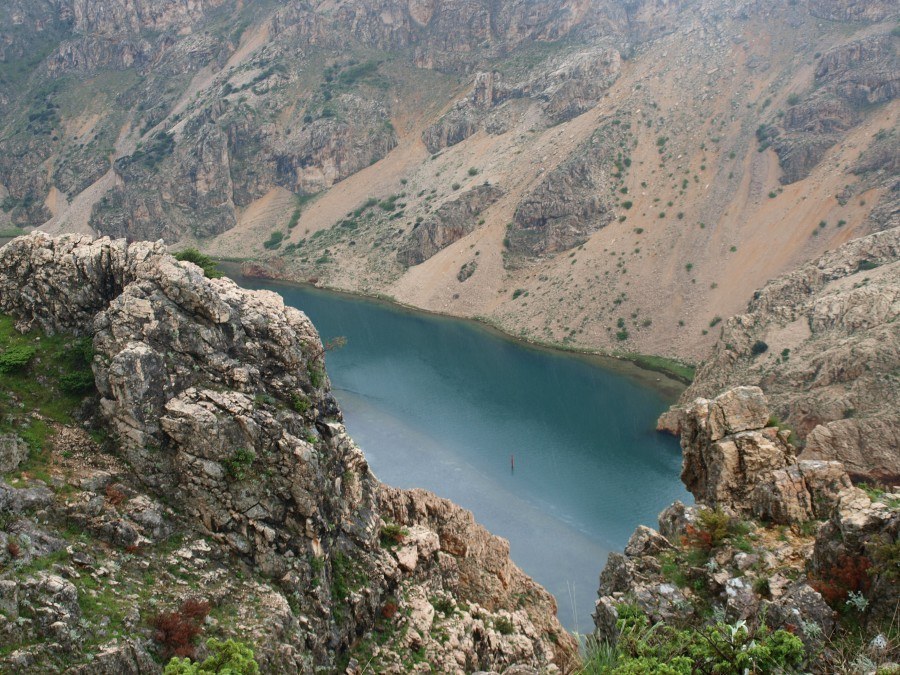 Laze About On The Starigrad Beaches And Drive To Ancient Sites
Yes, beaches! I was so excited to see just how close they are to the Velebit mountain. The crystal clear waters of the beaches of Starigrad Paklenica are lined with rounded pebbles, making it the ideal place to both enjoy an outdoor adventure holiday and to relax. The best beach we found was Kulina, right next to Večka Kula Tower, but you should also check out;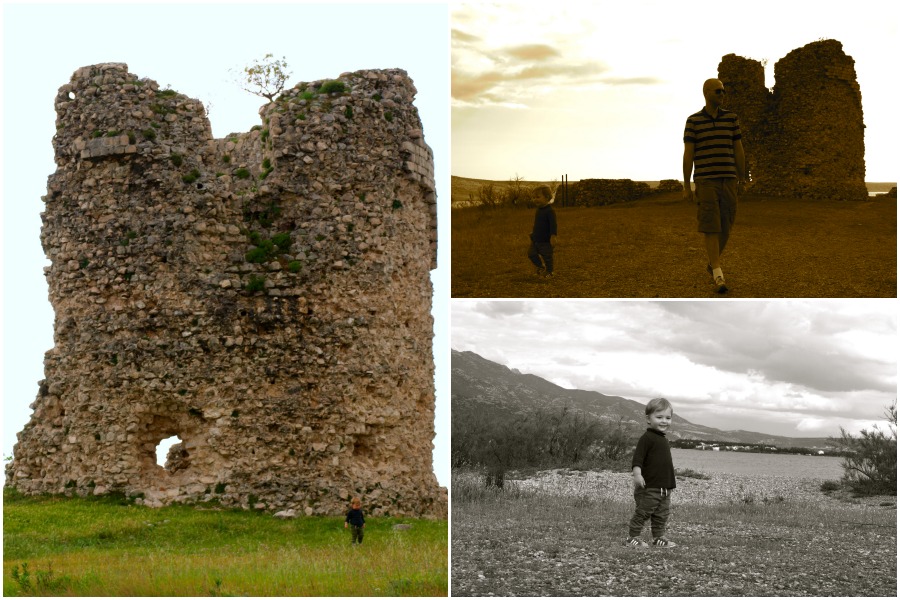 Head To The Wellness Spa
After a hard day hiking, cycling or even a tough day lazing by the beach, you should make use of the spa in town. Located in the Bluesun Alan, you don't need to be a hotel guest to make a booking and enjoy the divine treatments on offer. The Wellness Centre is over 900 m2 and has seven treatment rooms available.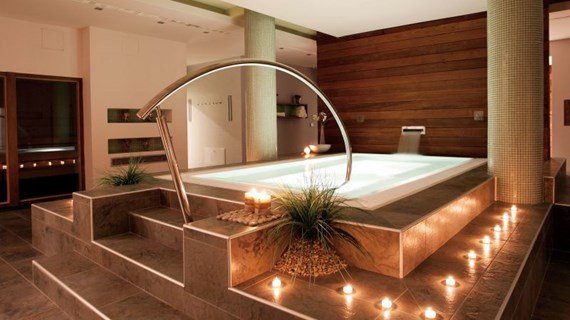 We spent a few hours here and thoroughly enjoyed the massages and facials. The spa has received an award for being an authentic Croatian wellness spa. If you only have time for one treatment, I recommend their specialty – the Mount Velebit aromatherapy treatment, which comes in two parts. First, a blend of St John's Wort, calendula and thyme oils, which form a body scrub, are massaged onto your body, then after a quick shower, you'll receive an hour-long relaxing massage. Total heaven. Just ask Mr. Chasing the Donkey, who also loved it.
Book the spa:
E-Mail:
[email protected]
Tel. +385 23209050
Take A Day Trip… Or Four
There are many day trips that can be taken from Paklenica. Our suggestions are: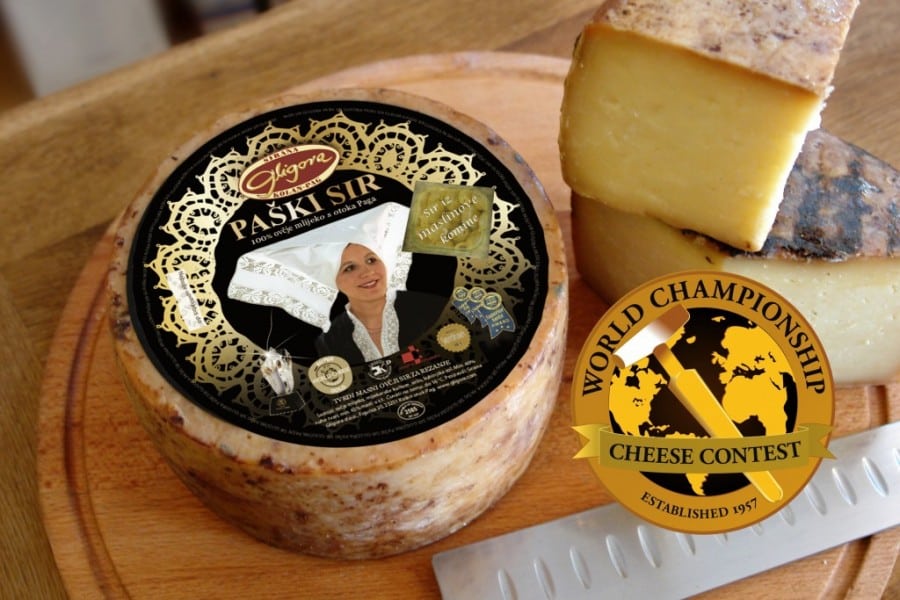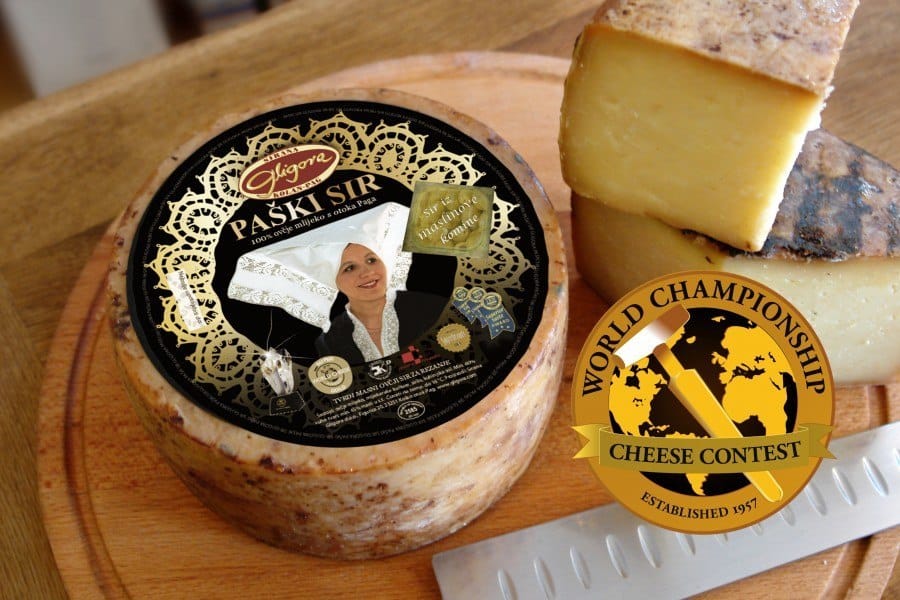 Enjoy The Iridescent Sunsets In Starigrad Paklenica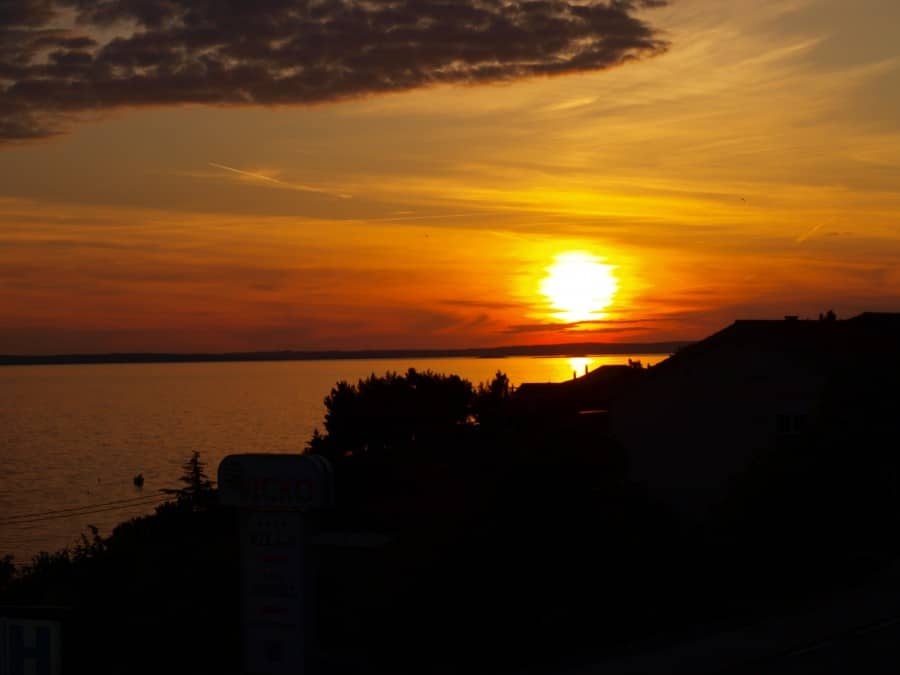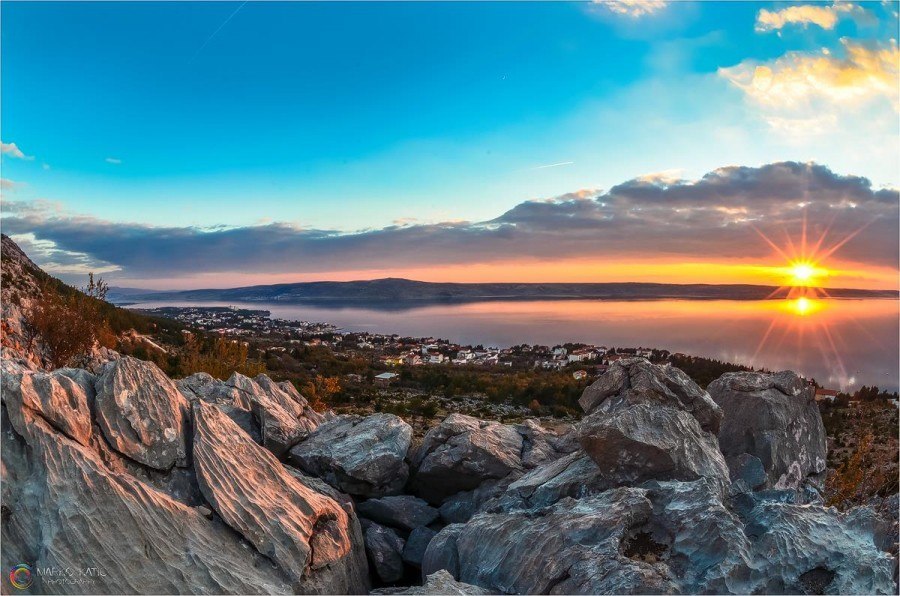 Fun Facts About Starigrad Paklenica
Where To Stay In Starigrad Paklenica
We stayed at the Bluesun Hotel Alan, where we spent several nights as their guest while we toured the sites of Starigrad. The hotel is located just 20m from the beach, and a few minutes drive to the Paklenica National Park. The hotel offers an in-house travel agency service to help you plan your local day trips. In addition to a range of hotel room types, they also offer villas and camping facilities, so it's suited to every budget.
Starigrad Paklenica For Families
As you can see Starigrad Paklenica is a delightful choice for families. With so many outdoor activities your kids will have the time of their life. To help you decide if Paklenica and other places in Croatia are right for your family refer to this guide to Croatia for families.
Accommodation In Starigrad Paklenica
There are some accommodation options close to the national park. Including private apartments, small and family run hotels but the biggest hotel in the area is the Bluesun Hotel Alan, where we spent several nights. The hotel is located just 20 meters from the beach, and a few minutes drive to the national park entrance. In addition to the 139 hotel room, they also offer 24 villas & camping facilities.
Best of all the Hotel Alan has a wellness center, which offers full-service spa facilities at very affordable rates – the perfect way to end the day after hiking or climbing.
Another great option is Hotel Vicko, it's family run, and very close to the National Park, you can read what we thought here.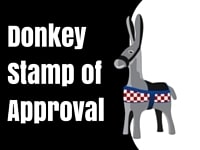 Hotel Vicko Starigrad
Our Choice for Accommodation in Starigrad
How To Get To Starigrad Paklenica
It's an effortless to get to Starigrad Paklenica. It's located just 40km from Zadar, 260km from Zagreb, and 170km from Split. Starigrad Paklenica can be reached by the A1 Highway which stretches from Zagreb to Split. Take the Maslenica exit and then join the D8 state road, and follow the signs to Starigrad.
View Starigrad in a larger map
So, what do you want to try on your first visit to Starigrad Paklenica?
We want you to know: Our stay at Bluesun and the activities were a part of a sponsored trip. All thoughts and opinions are given honestly and without bias.
What Is There To Do In Near Starigrad Paklenica?
There are 6 Croatian national parks accessible for day trips, all you have to do is decide if you want to raft, hike, go mountaineering, explore caves, waterfalls or head out on your mountain bike.
There are several beach spots within easy walking distance. Hotel Vicko provides complimentary beach chairs and towels for use during your stay. Also, bikes are available for rent so that you can head to some of the beaches a little further away.
Share