Romania might not be the first country to pop into your mind when you're considering a beach break, but you might be surprised to learn that this historic and rather beautiful country has some jaw-dropping beaches and beach resorts to call its own!
You're probably more likely to have a mental picture of mysterious Transylvania, with its thick forests and legends of blood-thirsty vampires, or the culture and history in Bucharest. Still, the south-eastern portion of the country is lapped by the Black Sea's idyllic waters, making it a fantastic summer destination.
Most people tend to venture towards neighboring Bulgaria when looking for a beach break in this particular part of Europe, but why not opt for something a little different and explore Romania and its beaches instead?
Of course, you're going to need quite a long holiday to be able to visit them all, so to help you out, let's look at some of the best beaches in Romania to help you decide the best beach for you.
Which beach will you head to first?
Plaja Vadu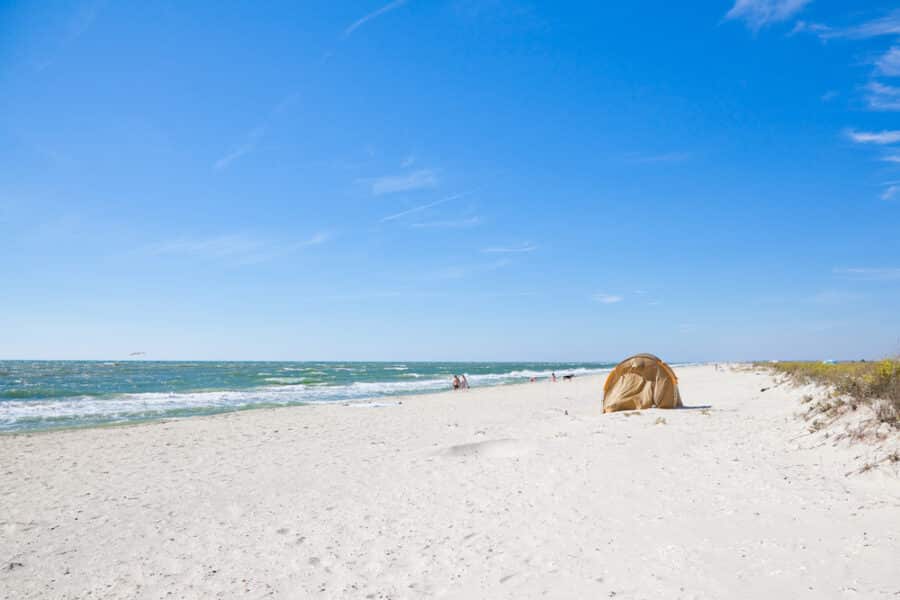 If you like your beaches chilled out, undeveloped, and as natural as possible to get, then Plaja Vadu is your must-visit beach.
White sands, water so blue it will leave you mesmerized, and hopefully not a cloud in the sky! The beach is backed by beautiful greenery, and there are even vibrantly colored poppy fields close by. All of this screams Insta-worthy photos, with a color contrast you'll struggle to find anywhere else.
This is a long, sweeping beach, so you're never going to have to fight for space, but the reason is that a resort or a town doesn't back it, and you're going to have to drive to get there.
Please make sure you bring supplies for the day, but this is the ideal spot for those who want to get away from tourism and enjoy nature as it is meant to be enjoyed.
TRAVEL COMPANIES WE USE AND TRUST
Plaja Gostinu
In keeping with the chilled-out vibe, Plaja Gostinu is a little different from the other beaches on the list because it's not a Black Sea beach; it's actually on the shores of the famous Danube River instead.
The plus point of heading to this beach, aside from the lack of crowds, is that it's quite close to the capital, Bucharest, so you can easily enjoy a city break and drive out for a few hours enjoying the sun and sand.
The beach is relatively thin, but as before, it's never going to be hugely crowded, as most people prefer to venture to the coastline and enjoy the Black Sea beaches.
However, they're missing out as this is a very pretty and chilled spot ideal for nature lovers. Bring your binoculars if you're a bird watcher, as you'll find plenty of different spaces around here while enjoying a dip in the calm waters.

Plaja Corbu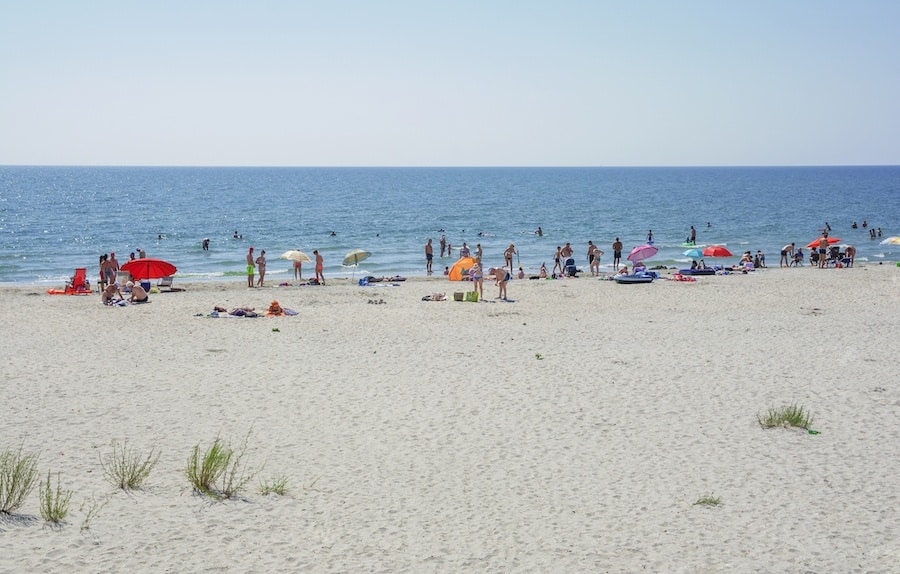 One of the most popular beaches in Romania is, without a doubt, Plaja Corbu, but that doesn't mean it's a crowded beach!
Plaja Corbu is a beach which the locals head to, and tourists tend to flock to the other beaches around it, probably because it's somewhat of a hidden gem. As a result, you can enjoy relative peace and quiet while loving the surroundings.
If you're a marine-life fan, the waters around here are packed with brightly colored fish, and you can easily enjoy a spot of snorkeling with fantastic visibility.
The waters are safe for swimming, and the beach is quite broad, so plenty of space for children to run around and burn some energy. When you're tired of the beach (impossible), you could head off for a walk and explore the local ruins.
Plaja Venus
One of many beach resorts named after Greek gods (or planets), Plaja Venus is a bit less popular than its busier neighbor, but this offers more peace and quiet.
Although it's not the biggest Romania beach resort, it comes with an extra dose of charm and super-nice sand and water. The beach has numerous loungers and parasols, but you could also easily throw down your own towel and claim a spot.

Plaja Sfantu Gheorge
You cannot go to Romania without visiting the Danube Delta, and Plaja Sfantu Gheorge is located right in the middle of it!
The Danube Delta is a UNESCO World Heritage Site, thanks to the biodiversity and natural beauty. This is one of the largest deltas on the planet, and it's home to countless different species of birds and other wildlife. You'll undoubtedly pack your camera memory card here!
The beach, however, is ideal for chilling out and watching wildlife at the same time. The nearby town is also very picturesque and packed with natural beauty so that you could venture after that you've enjoyed a little time on the sand and after a dip in the water!
This is a must-visit for wildlife fans!
Plaja Mamaia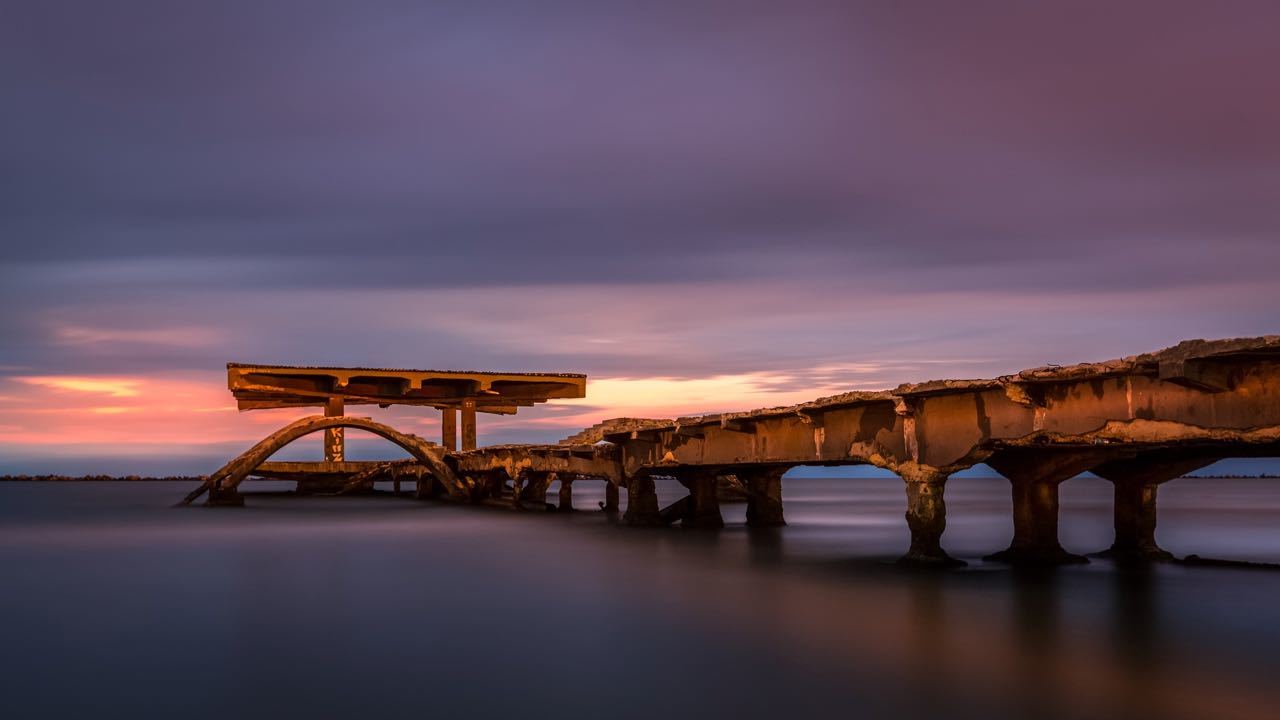 This beach has something for everyone. If you want to chill out, you're covered, if you're going to enjoy water-sports, there's something for you, if you're going to play beach sports, again there's plenty to choose from, and if you want to party at night, you'll find more than enough opportunity to do just that!
Plaja Mamaia is surrounded by some high-quality accommodation options, which explains why it is so popular with all different types of travelers. Still, it's also an excellent spot for families, as there is more than enough to keep the little ones occupied.
Plaja Agigea
This is another must-visit for anyone who loves snorkeling, as the visibility here is fantastic and the marine life plentiful.
The beach itself has a relaxed vibe, and If you love seafood, this is somewhere you'll adore as Agigea village is home to some of the best in the country!
There isn't much shade on Plaja Agigea, so this is something to bear in mind during the peak summer months, but all you need to do is remember to pack an umbrella, and away you go! This is also a good option for families, as the beach is wide and allows children to run around in relatively uncrowded surroundings.
Plaja Eforie Nord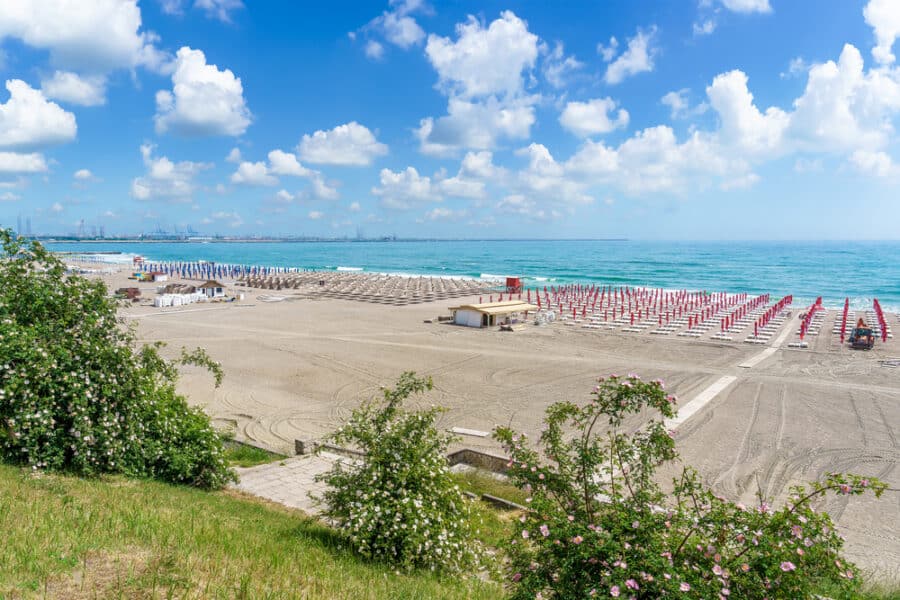 Situated in the Black Sea beach town of Eforie, Plaja Eforie Nord is one of the best beaches in Romania for families. It lacks the party crowds of many other Romanian beaches, so you'll see many more families with kids here. It's a pretty crowded beach and, sometimes, quite noisy, but there are plenty of facilities and services in the area, too.
Plaja Sulina
Even though Plaja Sulina is a stone's throw away from the city center, it's a tranquil spot and the ideal place for a bit of R&R! This beach is under UNESCO protection. When you see the almost untouched beauty of it, you'll understand why!
The beach is long, although not especially wide, but it's a great place to head for families, as the waters are safe, making a safe environment for the little ones. The fact you're close to the city center also means that you can head off for dinner or refreshments afterward, without having to travel too far.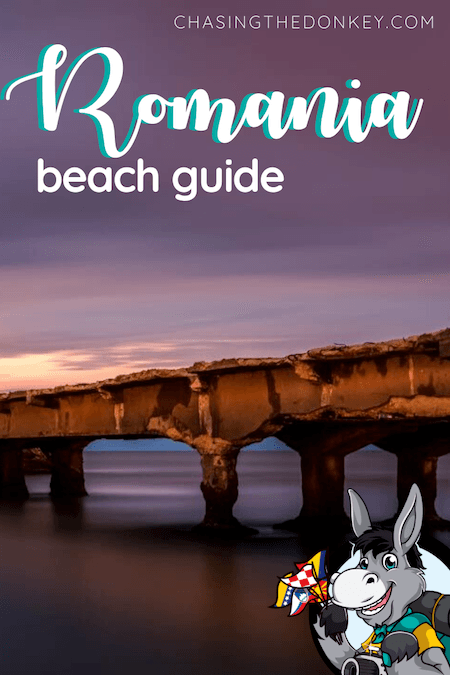 Plaja Vama Veche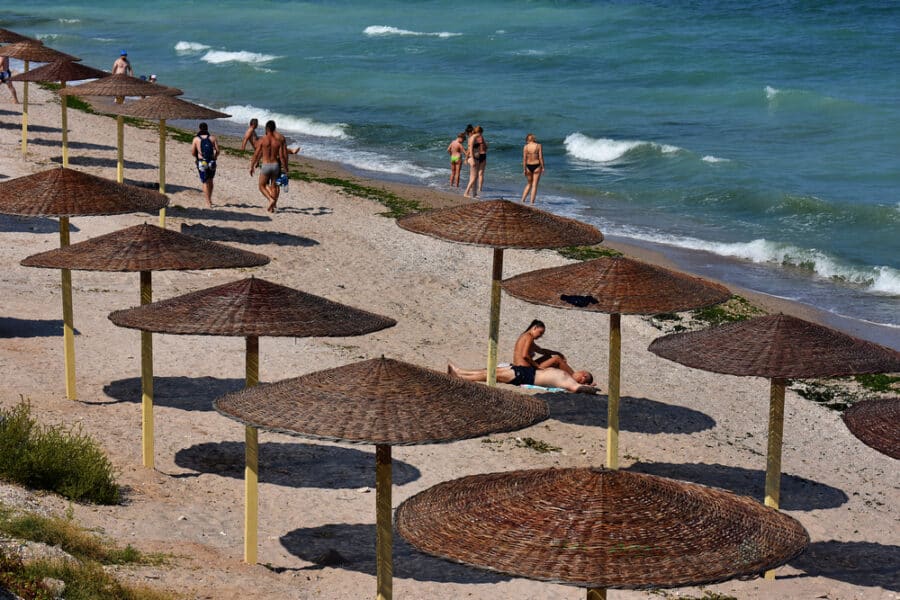 Up to now, we've covered chilled-out, idyllic beaches where you can relax and enjoy the view. Plaja Vama Veche is a stunning beach, but it's not the most chilled-out option, as it's the perfect place to head if you want to enjoy nightlife and a slightly more vibrant feel to your beach break!
This is a very popular place within Romania overall, and it's pretty busy during the summer months. Make sure you head to the beach early to grab the best spot and sure to enjoy some of the local nightlife, which may see you sleeping off your evening's excesses on the beach itself!
Plaja Costinesti
Plaja Costinesti, also known as Costinesti Beach, is (in)famous as one of the top beaches in Romania for parties. It's extremely popular among students and younger people, who fill up the pubs, bars and party hotspots in this part of the Romanian seaside.
Additionally, Costinesti Beach also features a well-known shipwreck, which can be reachable from the beach by swimming.
Plaja Gura Portitei
We're now going back to a slower pace of life from busy and eclectic, and it doesn't get slower than Plaja Gura Portitei! If you want total peace and quiet, this is the ideal place, as it's a real hidden gem.
The beach is undeveloped and totally unspoiled and sits next to a small fishing village with a huge amount of charm.
If you want somewhere romantic, somewhere relaxing to take the kids, or somewhere to head for total relaxation, this beach is the must-see spot in Romania for you.
So tell us, which of these top Romanian beaches will you head to first?