Where To Stay In Bucharest, Romania (Best Hotels In Bucharest Included!)
Once famous as Little Paris, Bucharest is a melding of traditional Romania and modern Romania. As the capital, Bucharest is a must-visit on your Balkan travel list.
Where To Stay In Bucharest?
Where is Bucharest? Bucharest is situated in the South East of Romania on the banks of the Dambovita River. It's the center of culture, media, and art and became the capital in 1862.
Where to stay in Bucharest for the first time? Try the Old Town
What is the coolest place to stay in Bucharest? Check out Floreasca
Best neighborhood in Bucharest for families? Take the kids to Tineretului
The best area to stay in Bucharest for the best nightlife? Party on in Lipscani
Where to stay in Bucharest on a budget? That has to be Piata Unirii
There are so many good places to stay in Bucharest that are close to all of the best things to do in Bucharest. Below we chose the best Bucharest luxury hotels that boast elegance and splendor all the way to cheap Bucharest hotels that go easy on your pocket. Enjoy.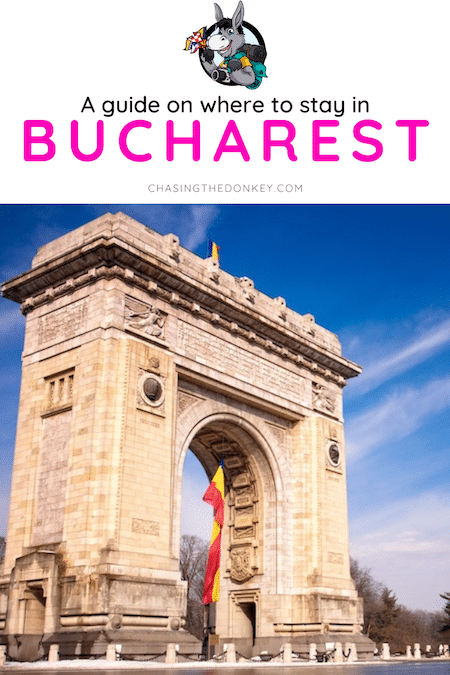 Places To Stay In Bucharest Map
5-Star Luxury Hotels In Bucharest
Athenee Palace Hotel Bucharest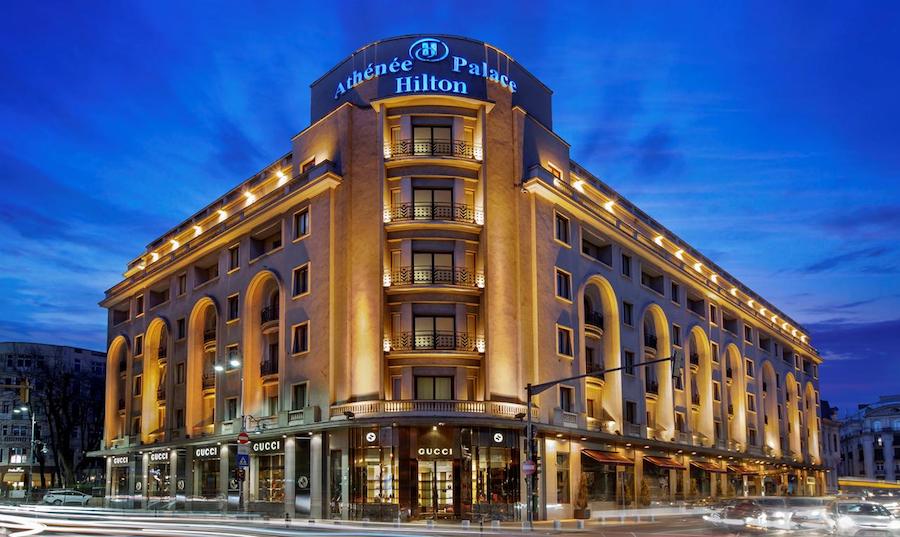 One of the best 5-star hotels in Bucharest, the historic Athenee Palace Hotel is smack in the city's heart and features a landmark lobby – Les Colonnades – showcasing Belle Epoque architecture. It is a stone's throw from the casinos, Romanian Atheneum, National Museum Of Romanian Literature, National Museum Of Art Of Romania, Museum Of Art Collections, Cismigiu Gardens, Bucharest National Theater TNB, Stavropoleos Church, and the Romanian National Opera. Private parking is available onsite at EUR 25.85 per day.
Large spacious rooms and suites ranging from 33 m² to 84 m² in size include all amenities, including free WiFi, coffee-making equipment, minibars, safes, satellite TVs, and more. The Junior Suite, Courtyard Suite, Presidential Suite, and Diplomat Suite include separate seating and dining areas.
Suite guests also get access to the Executive Lounge overlooking Revolution Square, which serves complimentary snacks and beverages at set hours. Onsite restaurants give a taste of different cultures; Café Athénée for French food, Roberto's for Italian, The English Bar for select whiskeys, and the La Strada terrace for summer delights.
Athenee Palace Hotel is one of the best places to stay in Bucharest! The hotel boasts a well-equipped fitness and luxurious spa with an indoor pool, sauna, steam bath, and hot tub. Pets are allowed at a charge.
Grand Hotel Continental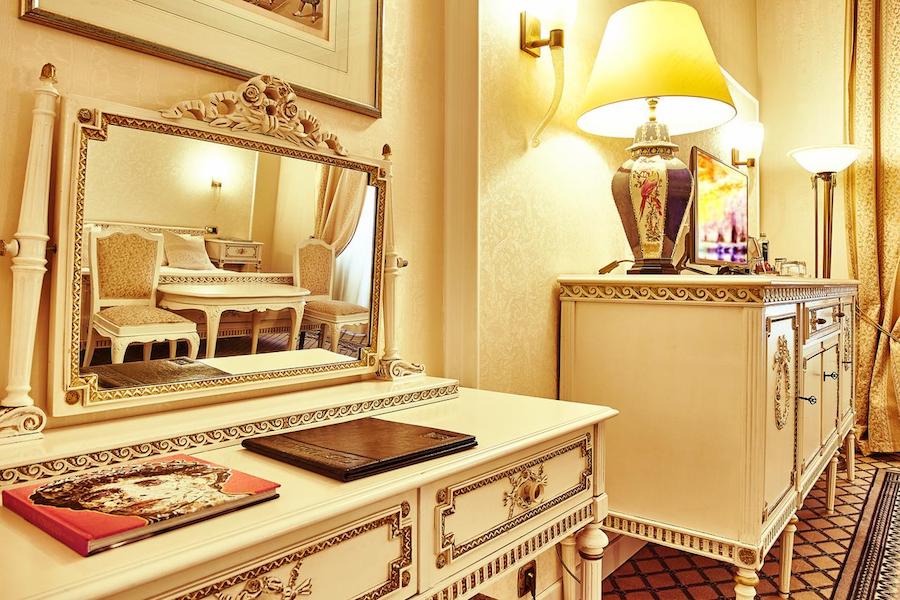 Grand Hotel Continental is the best area to stay in Bucharest on Calea Victoriei, just steps from the National Art Museum. Most of the major Bucharest attractions are less than 200 meters away, while supermarkets and restaurants are at your door.
Rooms and suites are elegantly designed in a vintage style and feature glass-encased showers and bathtubs. The Junior Suite includes two satellite TVs, one in the bedroom and one in the living room. Free WiFi is available throughout the hotel. Guests also have access to free saunas, hot tubs, and the Eden Spa gym, while massages cost extra. Victoria Club in the lobby serves a range of over 100 spirits, while the two restaurants delight guests with Balkan, Romanian, and international cuisine.
Private parking is available onsite at RON 63 per day (13-14 EUR), and Henri Coanda Airport is a short 25-minute drive away. You'll love staying here at one of the best five-star hotels in Bucharest!
Conacul Coroanei Luxury Boutique Hotel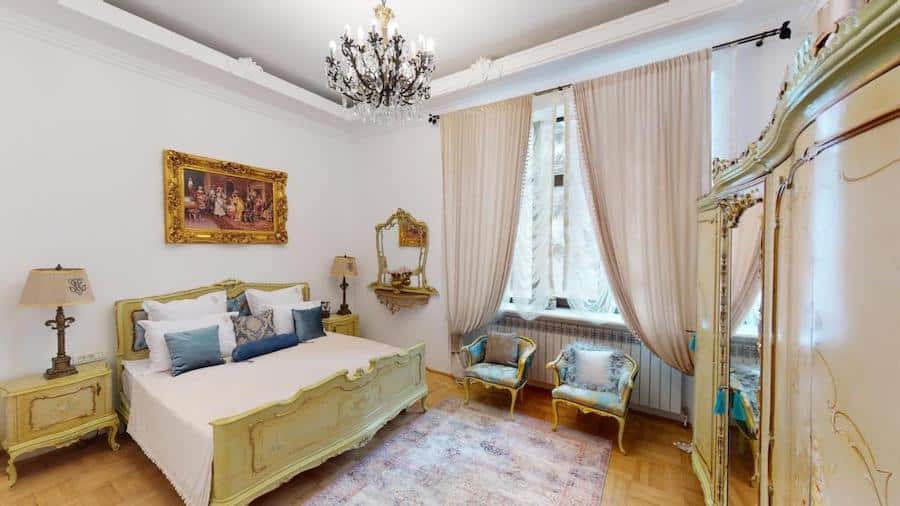 Just under 1.5km from the Old Town, this beautiful boutique hotel will take you back in time while giving you all the mod-cons you need. The building itself has old architecture, while rooms are decorated in French and Venetian style. However, you still have everything you need, including a huge, comfortable bed, TV, and large bathroom.
The hotel is just a few minutes away from the National Theatre, and the restaurant offers international and local meals onsite.
Suter Palace Heritage Boutique Hotel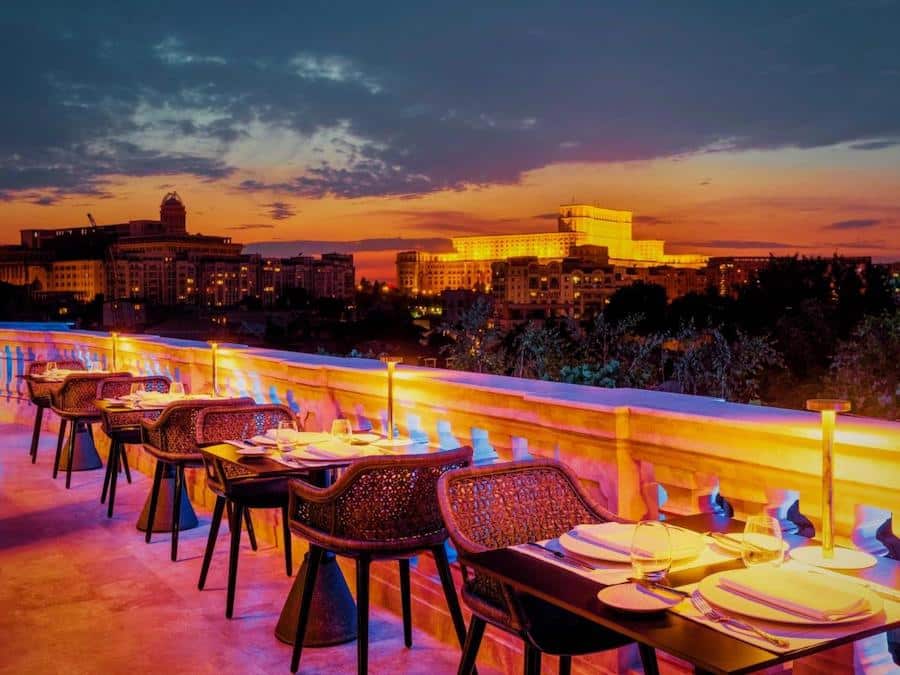 If you're looking for a very central hotel with stunning views, look no further. This hotel is five stars and has 24 large rooms with private bathrooms and a bath. The décor is grand and opulent, and downstairs you'll find an a la carte restaurant, terrace, and garden.
This hotel is a few minutes from the city center and is just 1km away from the Palace of the Parliament.
Epoque Hotel – Relais & Chateaux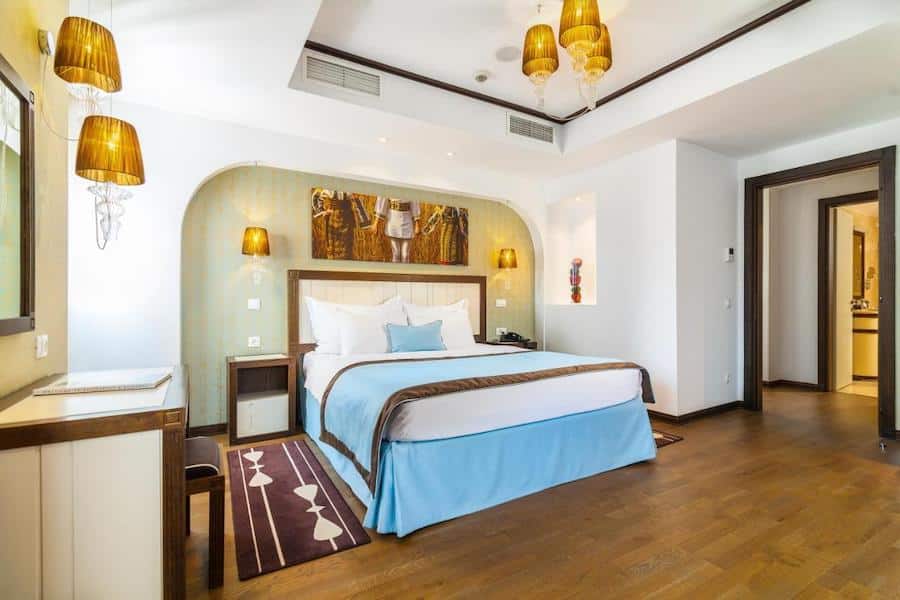 This hotel is located very close to Cismigiu Central Park and in a quieter area, guaranteeing a good night's sleep. The hotel is very stylish and offers large rooms with air conditioning and free WiFi. Rooms are decorated opulent yet comfortable in style and contain flat-screen TVs, sofas, and desks.
You'll also find a sauna, hot tub, pool, and fitness center onsite. There are two restaurants on site, serving local and international dishes.
JW Marriott Bucharest Grand Hotel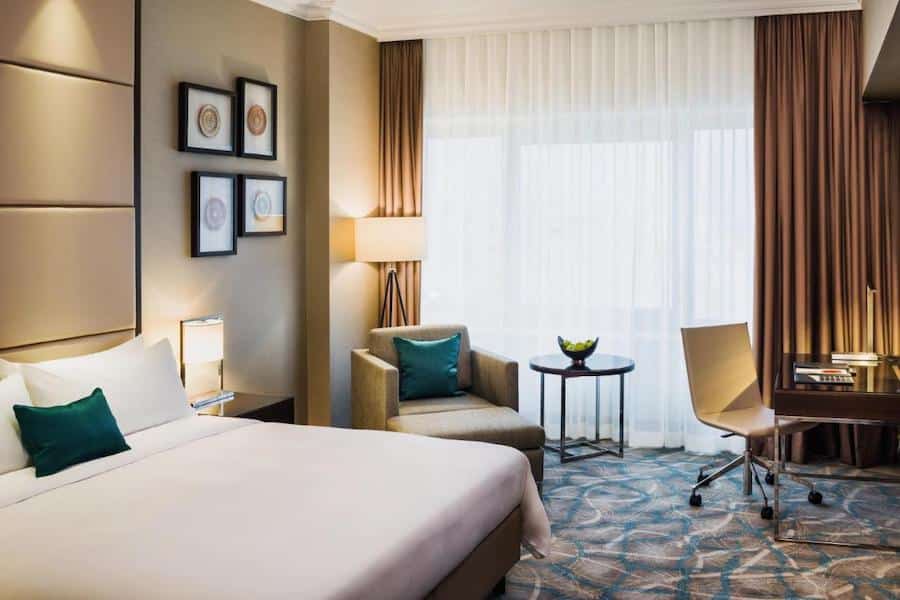 You know you're getting quality from a Marriott hotel! There are 402 rooms decorated in a luxurious style and offer all mod-cons for a comfortable night's sleep. This is an elegant choice and will certainly be memorable for all the right reasons.
There are six restaurants on site, a health club, a spa, a shopping area, and a casino. Room service is available, and mini-fridges are in all rooms. Rooms include flatscreen TVs, private bathrooms, and complimentary toiletries.
The hotel is also next door to Parliament Palace.
Marshal Garden Hotel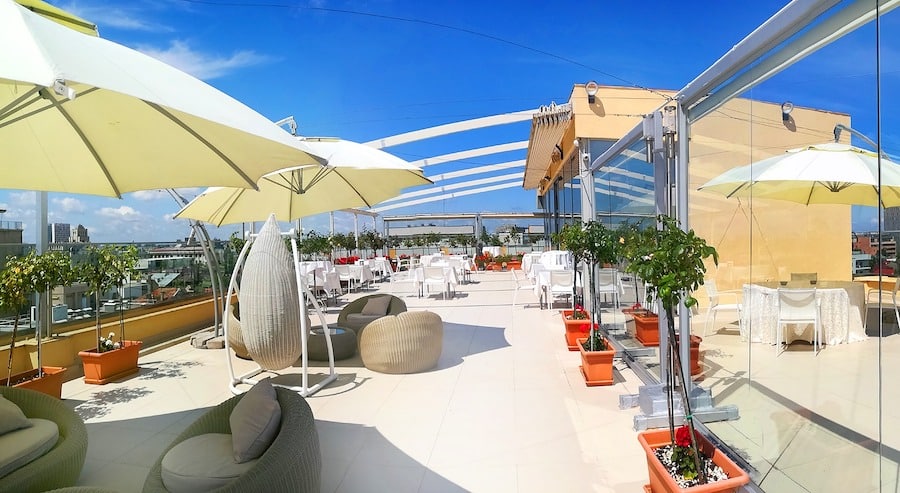 This hotel is ideal if you prefer to stay in a residential area, away from the busy spots, and offer a better night's sleep. The hotel is located on Dorobanti, just 500 meters from the nearest Metro station.
The hotel is comfortable and stylishly decorated. Rooms are large and bright, with free WiFi, flat-screen TVs, king-sized beds, and a minibar. Rooms have a balcony and private bathroom.
There is a restaurant on site for breakfast, with a terrace where you can enjoy the sun during the warmer months. There is also room service available and a heated terrace on the 6th floor, which offers excellent evening entertainment and gastronomy.
TRAVEL COMPANIES WE USE AND TRUST
4-Star & Boutique Hotels In Bucharest
Hilton Garden Inn Bucharest
Situated right in the Old Town, easily one of the best neighborhoods in Bucharest for tourists, the luxurious Hilton Garden Inn Bucharest is a superb base camp for sightseeing. It is a short walk from iconic landmarks like the Bucharest National Theater, the Cismigiu Gardens, the National Museum of Art, and the Romanian Atheneum.
At this excellent hotel in Bucharest, you can relax at the shared lounge, fuel up at the buffet breakfast, dine at the onsite restaurant, and/or work out at the state-of-the-art fitness center. Its modern rooms include a private bathroom with a bath or shower, a 40-inch HD TV, an ergonomic desk chair, and a super-comfortable bed. Complimentary WiFi is available.
Le Boutique Hotel Moxa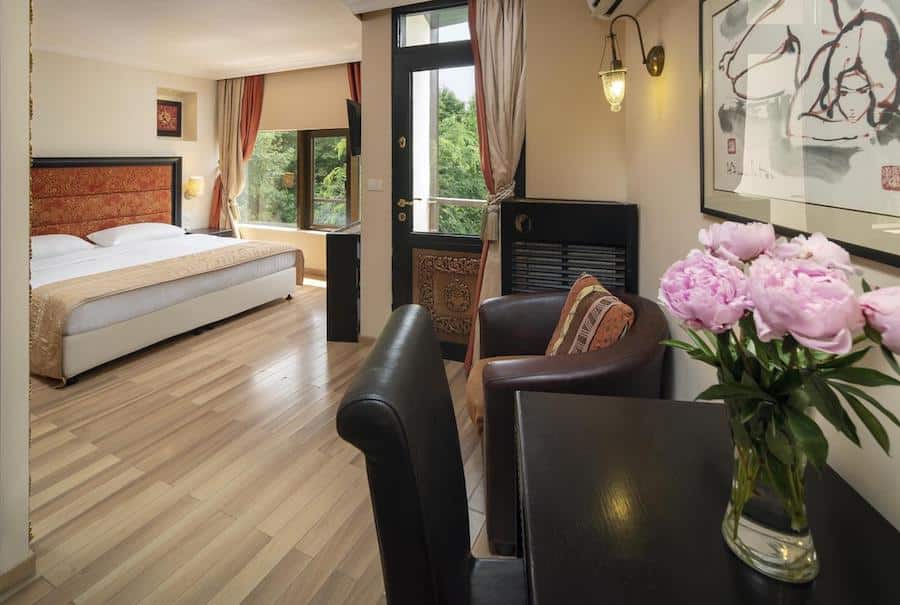 If you're trying to figure out where to stay in Bucharest, that's close to top attractions, check out Le Boutique Hotel Moca. Located on Calea Victoriei Boulevard, this fabulous hotel is within walking distance of Bucharest, Romania's tourist spots. It also features lush gardens, a spa and fitness center with a sauna, free onsite parking, free WiFi, and an onsite restaurant and bar.
The elegant Boutique Hotel Moxa is an excellent choice for both business travelers and tourists! Room walls and floors are decorated in lovely shades of sandy beige. The executive double room also consists of a kitchenette with a refrigerator, microwave, coffee machine, and kitchenware. The compact, soundproofed rooms include all amenities and minibars, free WiFi, clock radios, ironing facilities, and hypoallergenic linen. The Yeshoah Tova Synagogue is 851 meters away, and the Henri Coanda Airport is 20-minutes away by transport.
Park Inn by Radisson Bucharest Hotel 7 Residence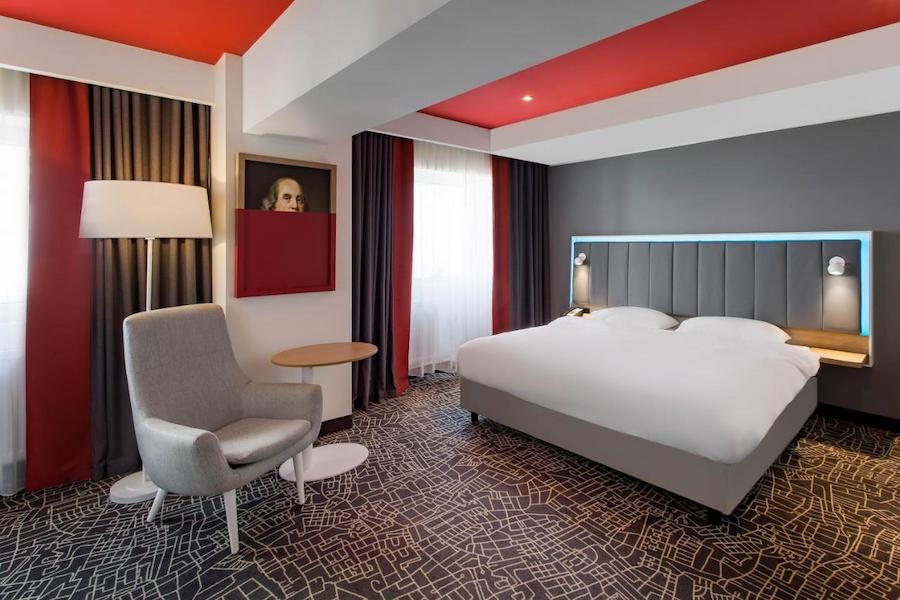 One of the best 4-star hotels in Bucharest, the Park Inn, is centrally located within walking distance of important Bucharest attractions. Guests can choose standard rooms, luxurious suites, or furnished apartments. Soundproofed rooms feature hardwood or parquet flooring, air conditioning, heating, flatscreen TVs with cable, safes, dryers, ironing facilities, tea/coffee makers, hypoallergenic linen, and free WiFi. Suites and rooms also include seating areas, dining tables, and a kitchenette with a microwave, refrigerator, and kitchenware.
Guests at the Park Hotel Bucharest can sample drinks in the lobby bar or enjoy Mediterranean meals at the onsite restaurant Shakira. Special meals are available on request. Guests also have access to the World Class Health Academy, including hot tubs, fitness equipment, and an indoor swimming pool. Outdoor hot tubs and access to the outdoor swimming pool are charged.
Onsite parking costs RON 70 or EUR 15 per day. If you're looking for a comfortable stay in an excellent location, this is one of the top places to stay in Bucharest!
Residence Villa Barrio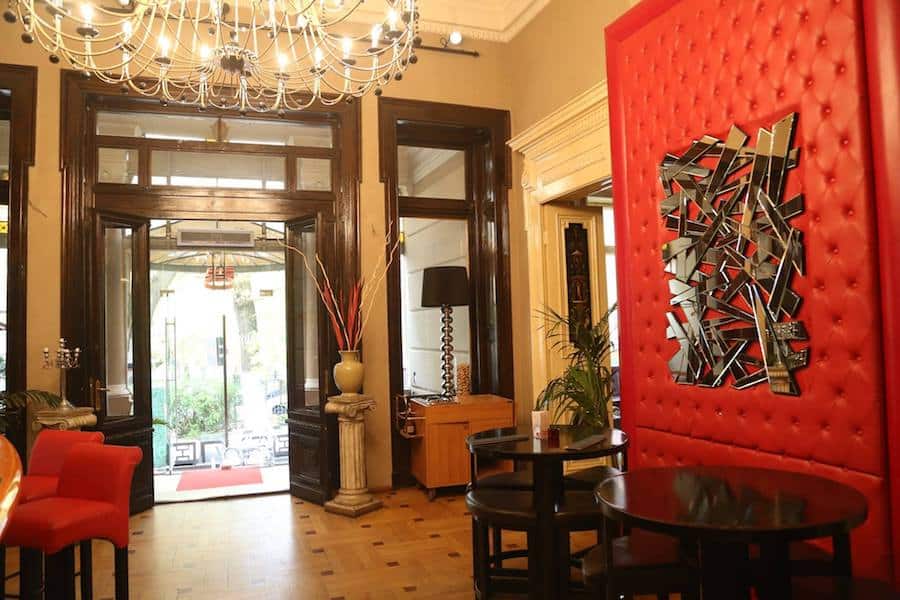 Once the aristocratic Catargius family's residence, the Villa Barrio is now one of the most beautiful 4-star hotels in Bucharest near Romana Square, with Revolution Square just 700 meters away. The art deco interior welcomes guests, while the restaurant connected to the hotel serves Greek, Italian, and European dishes.
If you're looking for the best hotels in Bucharest that are reminiscent of days long past, the Residence Villa Bario is your ideal choice! Stylish air-conditioned rooms feature satellite TVs, refrigerators, hairdryers, free WiFi, ironing facilities, and electric kettles. Suites also include a seating area and a walk-in closet. Family rooms are also available.
Hotel Lido By Phoenicia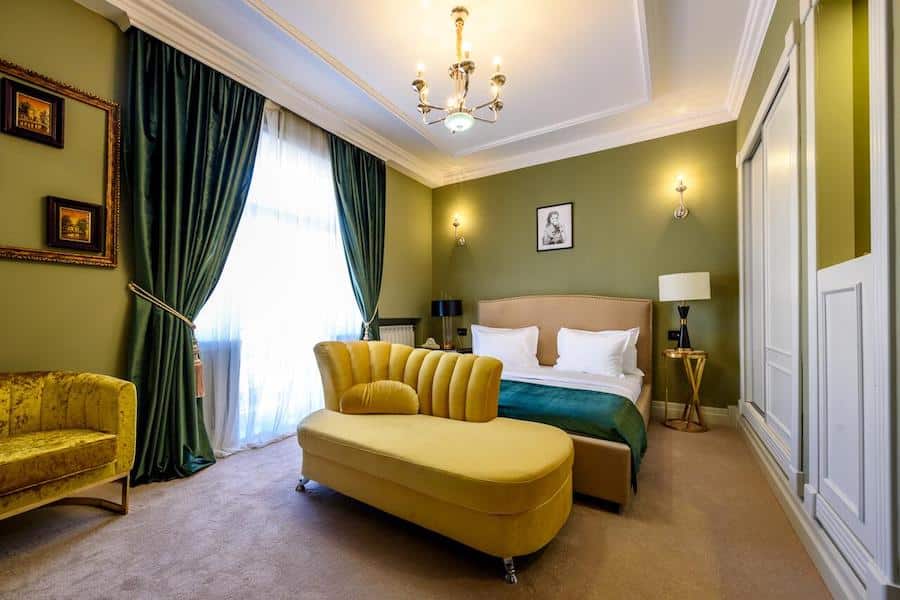 Situated in the very heart of the city, Hotel Lido By Phoenicia is a fantastic historic place to stay in Bucharest. Designed by renowned architect Ernest Dorneaud, this historic Bucharest hotel dates from 1930 and has an interwar modernist style with some Art Deco features.
It is a short walk from the Old Town of Bucharest and only minutes from the Romanian Atheneum and the National Museum of Art. In terms of Bucharest accommodation, you will stay in luxuriously furnished rooms, which are also soundproof and quite spacious. Each room has a private bathroom, flatscreen TV, desk, and minibar.
This excellent hotel arguably has the best location to stay in Bucharest for travelers looking to explore the inner city and Old Town. Communal amenities are stylish and beautifully appointed, too, and range from two conference rooms, a spa, and a fitness center to a terrace, an onsite restaurant, a brasserie, and a bar. Free WiFi is available throughout the entire property.
Casa Comana Boutique Hotel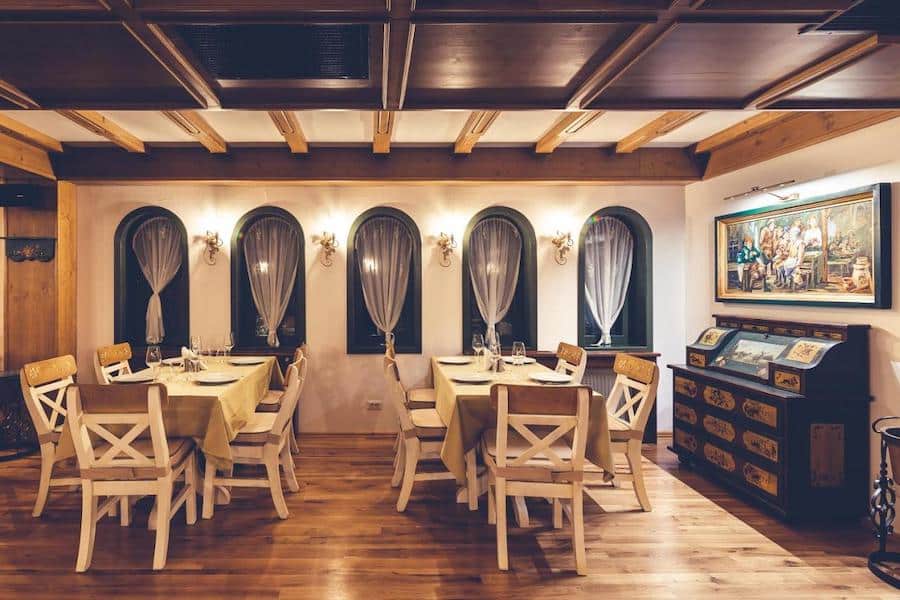 This is a stylish option located right in the city's heart. It is a four-star choice with a 24-hour reception desk. All rooms have a flat screen TV, private bathroom, desk, and large bed.
There is a breakfast restaurant on site where you can enjoy a buffet or continental breakfast. There are many restaurants within a stone's throw of the hotel, too, particularly for evening meals.
Scala Boutique Hotel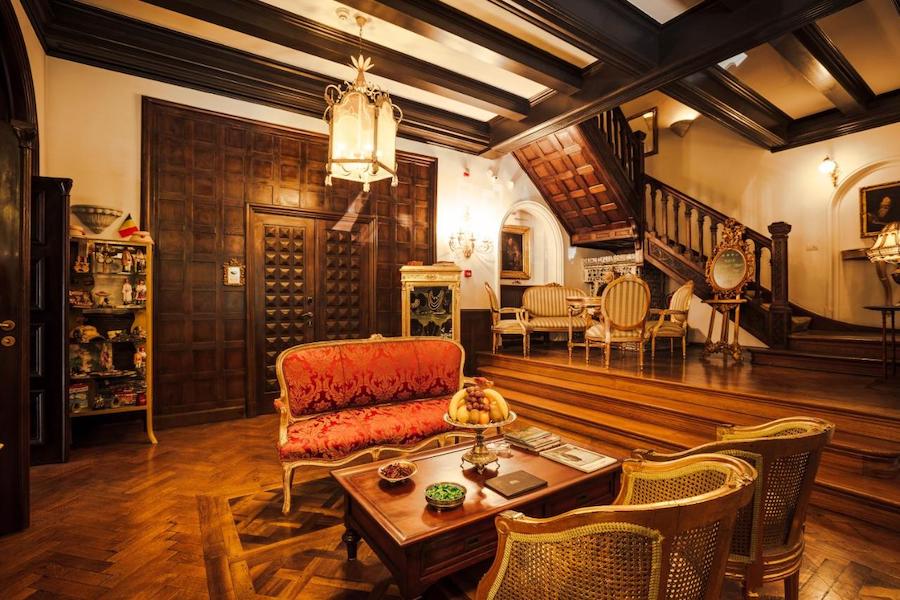 Located just a few minutes on foot away from the Royal Palace, this hotel is a great choice and offers you a historic place to lay your head. All rooms are decorated in classic style, with modern touches, thanks to free WIFI throughout and flat screen TVs. All rooms have private bathrooms and minibars. Some rooms also feature work desks and kitchenettes.
There is an international-style restaurant on site that has regular live music, and many other special events take place throughout the year, including concerts and exhibitions.
Pergola Boutique Hotel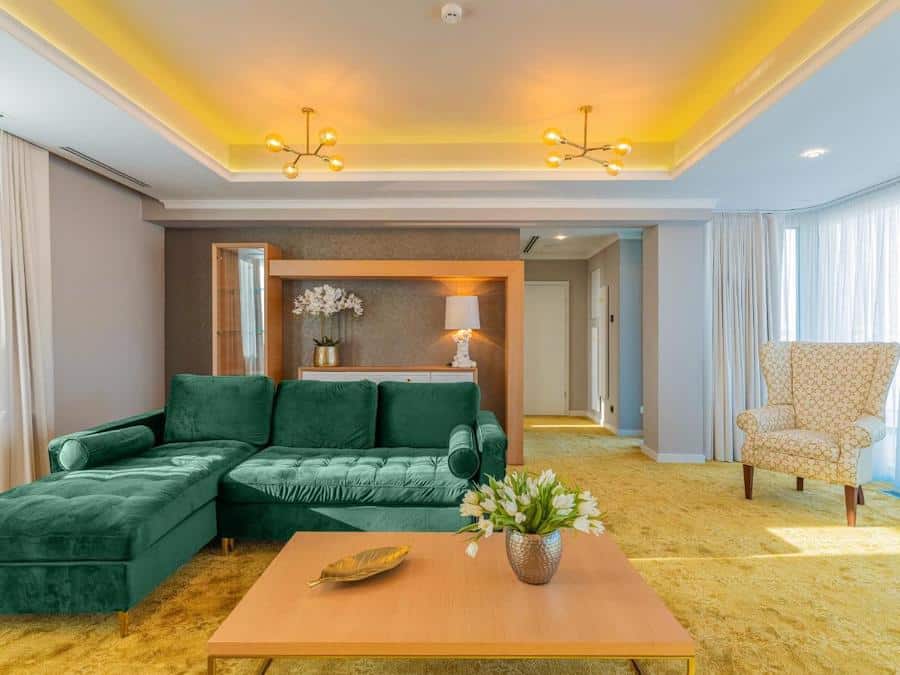 This relatively new hotel has everything you could possibly need on-site. The hotel is located in the center of the city and has a bar, garden area, and restaurant.
All rooms are large and feature a private bathroom, flat screen TV, air conditioning, and a seating area is available in some rooms. There is also an outdoor terrace where you can enjoy an a la carte breakfast.
JN Boutique House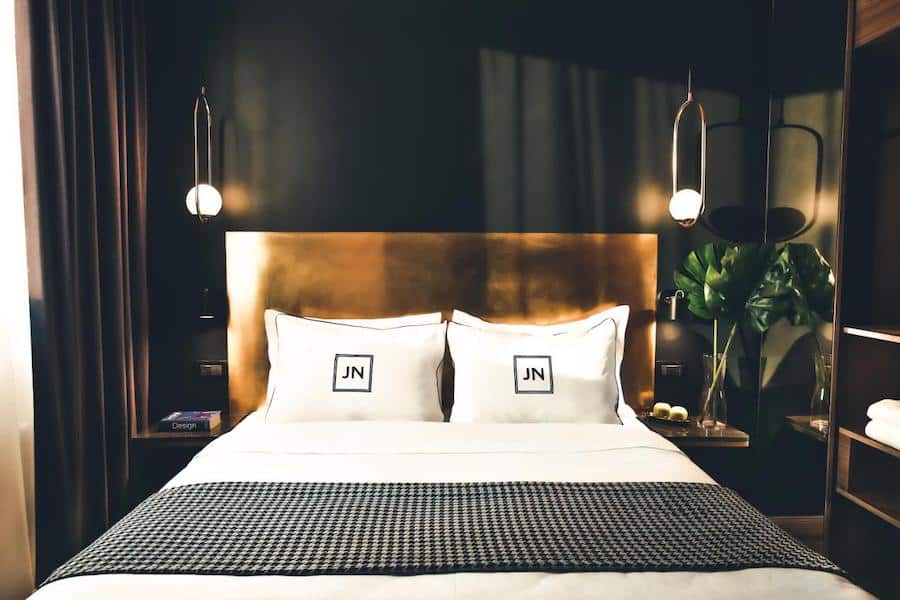 This is another new hotel which only recently opened its doors. The hotel is just 1.5km from the Palace of the Parliament and offers a quiet yet central place to stay. The hotel is 4-star and has large rooms with private bathrooms, free WIFI, and flat-screen TVs with cable channels. There is a shared lounge available too.
This hotel offers family rooms on request, and all rooms have tea and coffee making facilities available.
Christina Hotel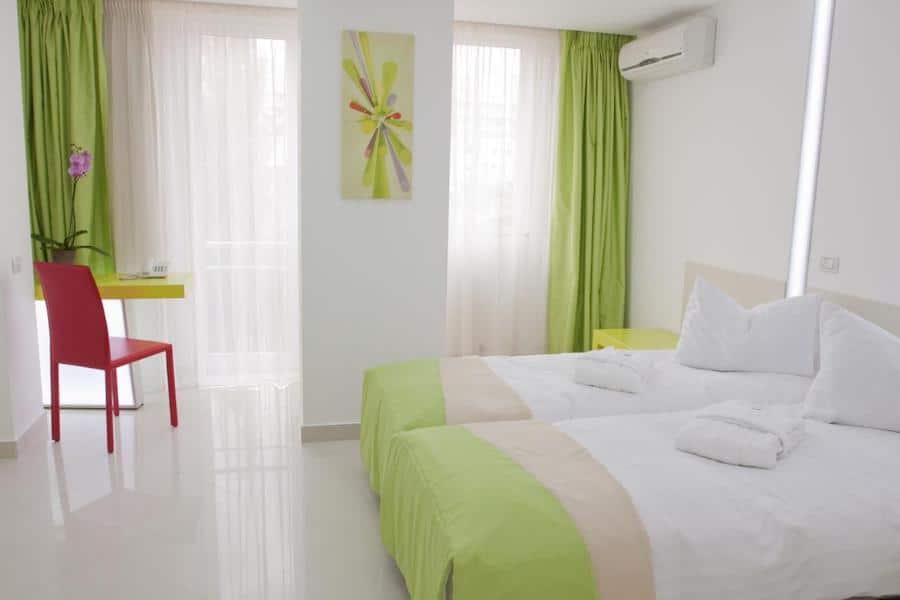 This is a great value 4-star hotel in the center of the city, which means you're only 5 minutes away from the central bus station and 10 minutes from the Palace of Parliament.
All rooms feature standard air conditioning, tea and coffee making facilities, and WiFi. There are TVs in each room, a fridge, a large bed with anti-allergenic bedding, and private bathrooms. Parking is also available for free onsite.
The hotel offers breakfast on site, and there are many bars and restaurants within the local area.
3-Star Budget Hotels In Bucharest
Pension Casa Mica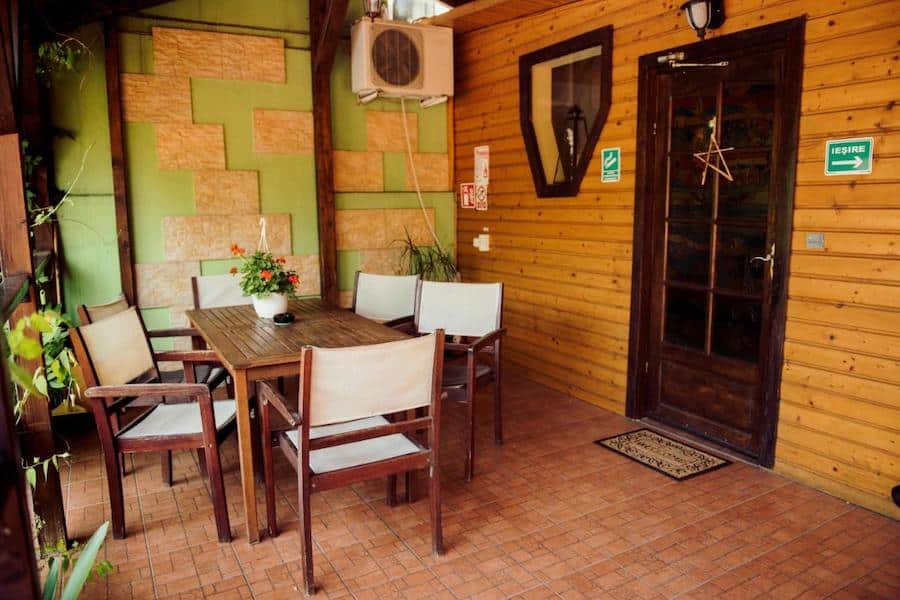 Several traditional Bucharest villas in the residential areas have been turned into hotels. Pension Casa Mica is one such Bucharest hotel. Located 2.5 km from the city, it offers guests a chance to enjoy peace and greenery when they visit Bucharest. Free onsite parking is available.
Pension Casa Mica is family-friendly and oozes character! Decorated with traditional yellows and dark-wood furniture, the compact rooms feature air conditioning, flatscreen cable TVs, mosquito nets, hairdryers, seating areas, and free WiFi. A seasonal outdoor pool is present, and a barbecue can be arranged in the yard. Crangasi Metro Station is 400 meters away, and Lacul Morii Lake is 3 km away.
Rembrandt Hotel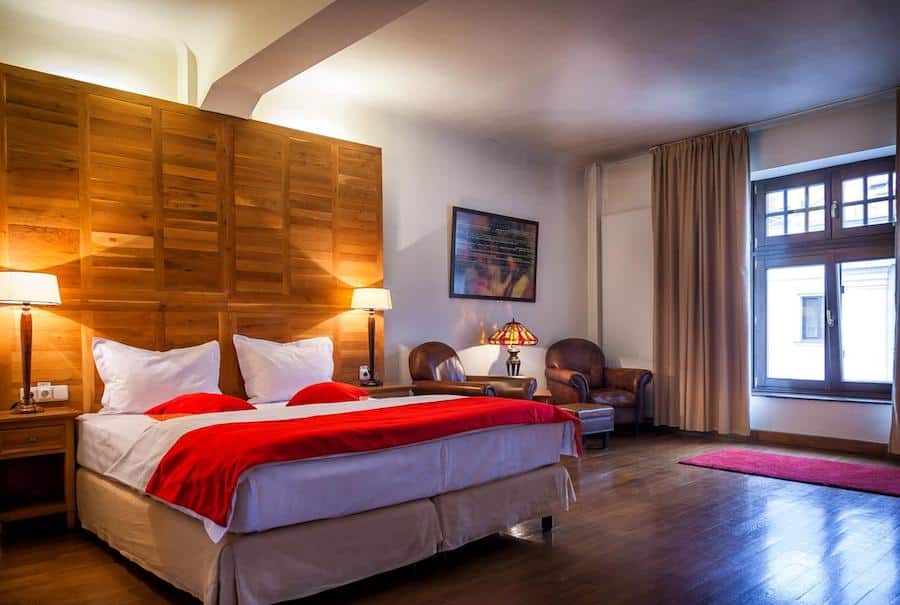 For an affordable stay in Bucharest, stay at the Rembrandt Hotel, set in a building from 1925 in the historic city center. Stavropoleos Church is less than 100 meters away, and most of the top things to do in Bucharest are within a km of this Bucharest hotel.
If you want easy access to the best restaurants in Bucharest, Romania, and to enjoy a taste of the nightlife, the Rembrandt Hotel is the perfect place to stay! Sixteen rooms and suites spread over seven floors welcome guests with their wooden floors, furnishings, and oversized wooden beds. , Guests can enjoy a rich buffet breakfast at Cafe Klein on the mezzanine floor. Rooms include all necessary amenities, mosquito nets, and free WiFi.
Private Accommodation In Bucharest
Gabriela's Apartment In The Old Town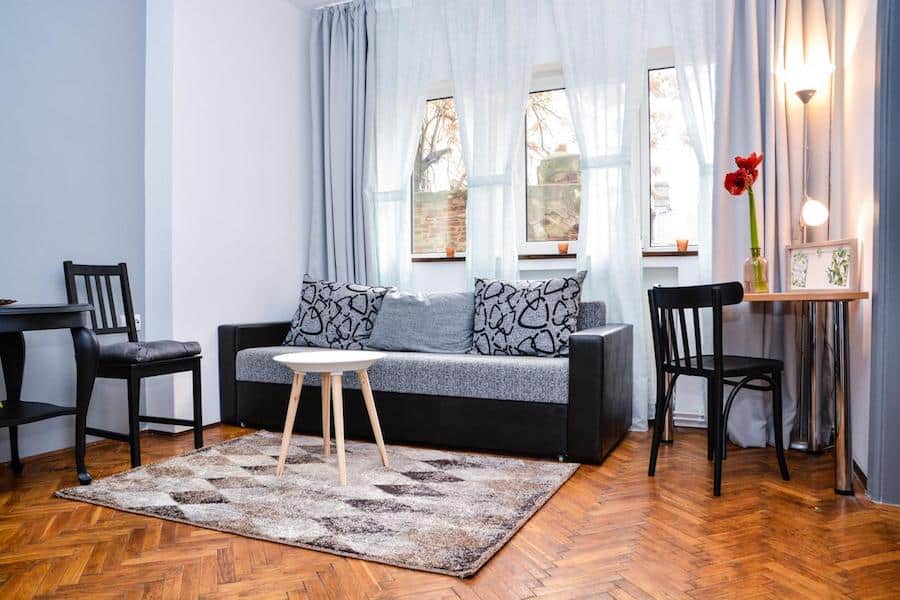 This Bucharest accommodation is right in the heart of Old Town Bucharest, within walking distance of most attractions. The 37 m² apartment includes a bedroom, living room, well-equipped kitchenette, and a bathroom. The kitchenette has a microwave, fridge, washing machine, coffeemaker, stove, kettle, plates, and cutlery. It is also stocked with coffee and tea bags and cleaning products. The air-conditioned apartment includes free WiFi and a TV with cable channels.
If you're looking for value-for-money accommodation in Bucharest, this 1-bedroom apartment in the Old Town is a great choice! Revolution Square is a 15-minute walk, while Unirii Metro Station is a 5-minute walk from the apartment. Several restaurants, bars, clubs, supermarkets, theatres, and concert halls are in the neighboring area, while the Argentine Restaurant is on the ground floor of the same building.
Korona Centre Ville Suites
Korona Centre Ville Suites' central Bucharest apartments include a 29 m² Junior suite in Old Town, a 50 m² 1-bedroom condo, and a 100 m² 2-bedroom apartment. They are within walking distance of the metro station Universitate and all the Old Town Bucharest attractions.
If you're looking for spacious private accommodation in Bucharest that's classy, clean, functional, and affordable, you'll love this cheap accommodation in Bucharest! The air-conditioned units include free WiFi, cable, irons, and hairdryers, as well as a fully equipped kitchen with a refrigerator, electric kettle, stovetop, tea/coffee maker, toaster, and microwave. The larger apartments also include a washing machine, drying rack, seating areas, dining table, and balcony.
Orhideea Residence & Spa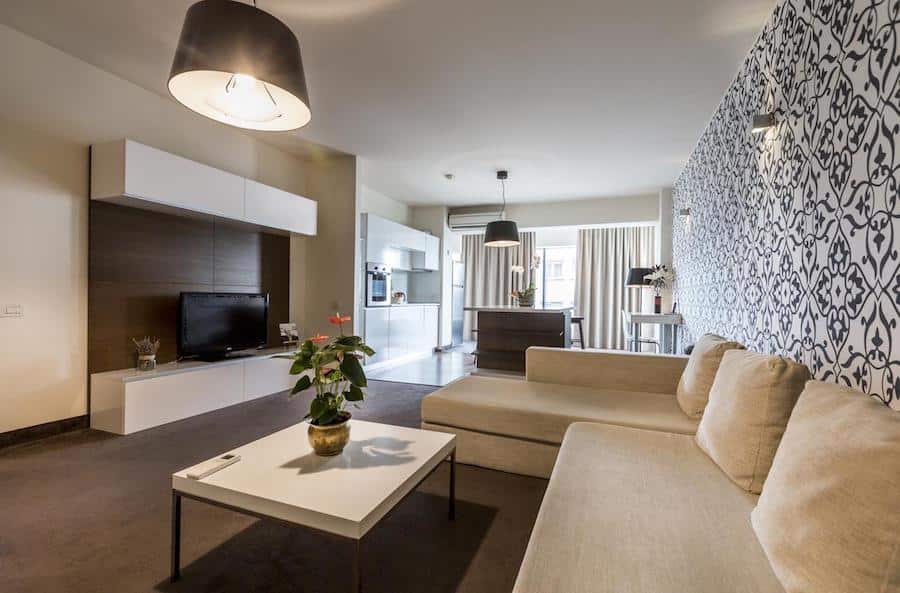 The top-rated Orhideea Residence & Spa will be of interest to people looking for cool places in Bucharest to stay at. This eco-friendly accommodation in Bucharest has spacious suites and apartments, ideal for visitors who want their own space to get back to after a day of sightseeing. These modern units feature one or more bedrooms, a living room with a working desk, a well-equipped kitchen with a fridge, and one or more bathrooms. Free WiFi is available, as is private onsite parking.
In addition to those excellent in-room amenities, you can enjoy a daily breakfast on the upper floor, providing a nice view of the city. The property charges a small surcharge to use the spa facilities, including a hammam, indoor pool, fitness center, saunas, and hot tub.
For trips to the Old Town attractions, it's a 5-minute walk to the metro station or a 15-minute drive by car. This is a fantastic option if you are looking for the best place to stay in Bucharest that offers lots of space and privacy.
Cheap Hostels In Bucharest
Bread&Breakfast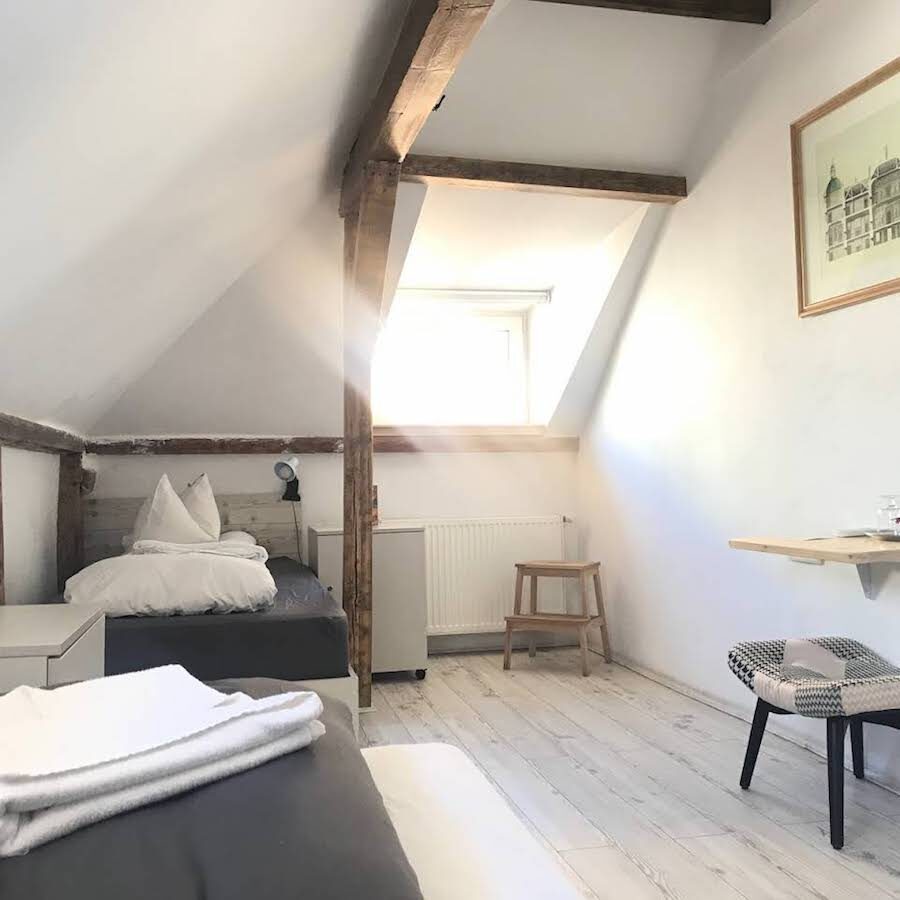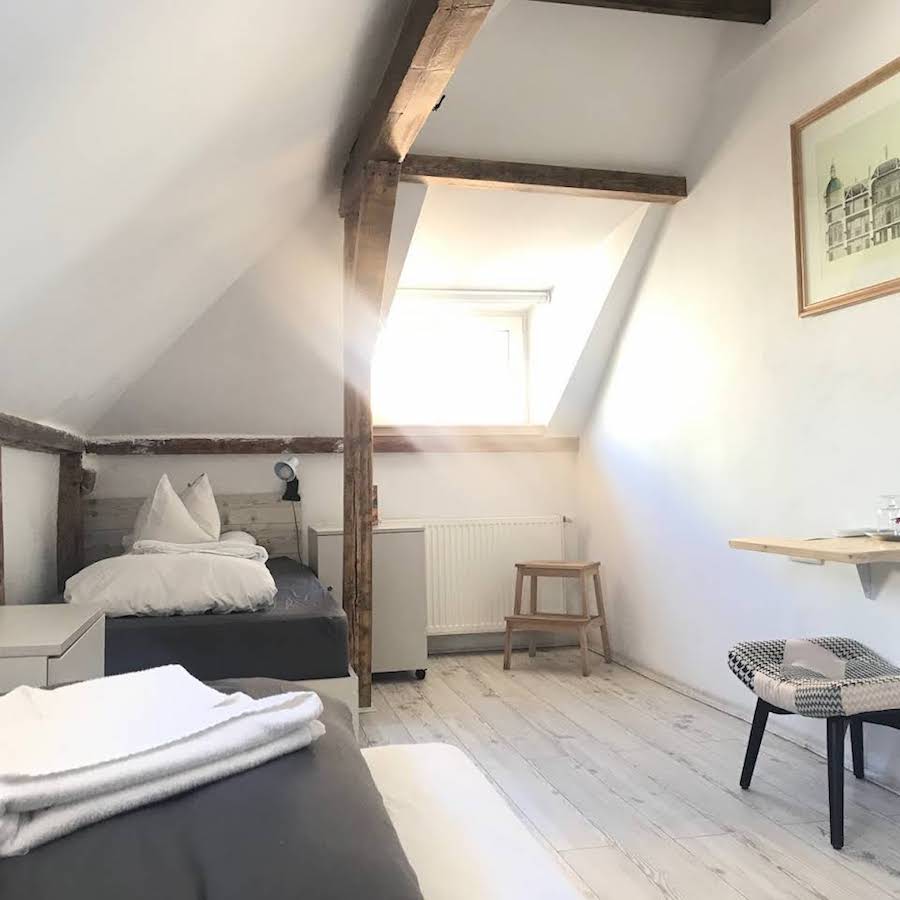 Bed and breakfast is the best place to stay in Bucharest when you're on a budget. And the simple Bread&Breakfast is the best bed and breakfast there is! The places to visit in Bucharest are within 500 meters to 2 km of this cheap accommodation in Bucharest. But cafes, bars, markets, and supermarkets are all within walking distance.
These simple rooms include free WiFi, free public parking nearby, and access to shared bathrooms and a common kitchen. The shared bathroom is cleaned after every visit, and the shared kitchen is clean too! Guests here love the helpful staff and the projects dedicated to helping disadvantaged youth. WiFi is strong throughout the bed and breakfast. For a pocket-friendly stay in Bucharest, choose this B&B!
Hostel Eminescu
Colorfully decorated, the Hostel Eminescu offers single rooms or beds in 4-bed or 6-bed dormitories with shared bathrooms and kitchens and access to safety deposit boxes and free luggage storage. Economy quadruple rooms and family rooms are also available. Simple and easy on the pocket, the beds are comfy, the staff friendly, and the rates are easy on your pocket!
Hotel Eminescu is a 10-minute walk from Romana Square and the other attractions in Bucharest. A tram stop and supermarket are nearby and connect the hostel to theatres, parks, and the metro station. Kid books, DVDs, games, and outdoor play equipment are available onsite! Henri Coanda Airport is 14.1 km away.
Top Things To Do In Bucharest
Are you wondering what to do in Bucharest on your upcoming holiday? Here are our favorite places to visit in Bucharest, the capital of Romania.
TOP THINGS TO DO IN BUCHAREST
Visit the world-famous Revolution Square
Ride a rowboat or hike through the Herastrau Park
See the magnificent Palace of the Parliament
Visit the "Arcul de Triumf," a replica of the Arc de Triomphe in Paris, France.
Hike in King Michael 1 Park
Strolling through the historic streets of the Old Town is a must on the what-to-see in Bucharest list.
Visit the lush Spring Palace called Palatul Primăverii
Visit the Romanian Athenaeum
See old architecture in the Dimitri Gusti National Museum
Marvel of the facade of the Stavrapoleos Church
Walk the 17th Century Victory Way or Calea Victoriei
Walkthrough the Cismigiu Gardens
These are our favorite places to stay in Romania while on holiday in Bucharest. Which Bucharest hotels have caught your fancy, and which ones are you planning to stay at soon? Comment and let us know!
OTHER ROMANIA TRAVEL BLOGS FOR YOU
Chasing the Donkey - Balkan travel blog includes affiliate links. If you decide to make a purchase through these links, we receive a commission without any additional cost to you. We appreciate your support helping to keep this site free. Find our disclaimer & privacy policy here.