Written by Nina, from Lemons and Luggage.
Are you thinking about spending two days in Bucharest? This Eastern European city is not on many people's radar. The capital of Romania may have been a popular destination in the period between the world wars. But decades of life under a dictatorship have transformed "the Paris of the East."
There are so many things to see and do if you have two days in Bucharest. So keep on reading! Because you may be surprised at the variety of activities in the city.
The various architectural styles will grab your attention as much as the fascinating museums. And those who want to experience a lively nightlife will not be disappointed either.
This is a general post for things to see and do in Bucharest for the weekend. But, if you are headed here with your girls, then you should check out this guide: ladies' weekend in Bucharest.
Read on to find out how to spend two days in Bucharest, Romania.
Two Days in Bucharest – Day 1
Morning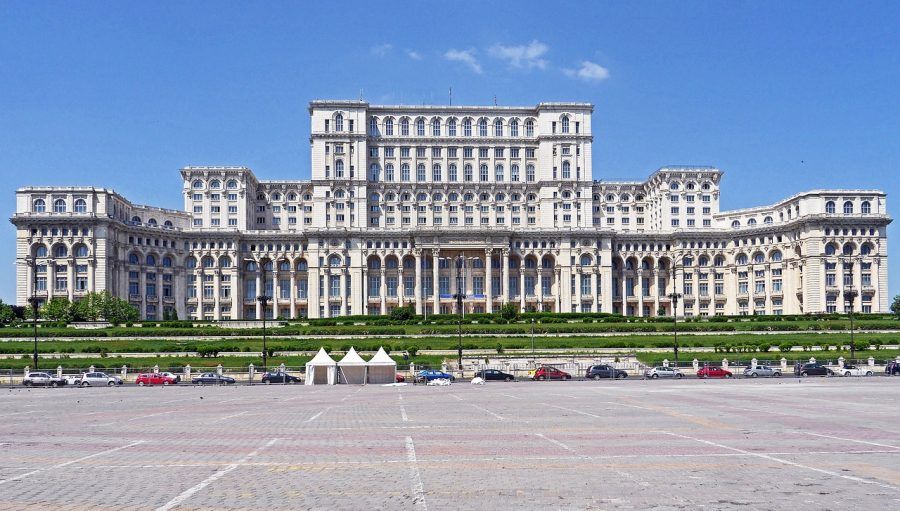 Start your two days in Bucharest at the Palace of the Parliament. The world's second-largest building is the most famous of dictator Ceaușescu's plans to restructure the entire city. This gigantic building is the heaviest globally and uses as much heat and electricity as a medium-sized city! Guided tours are available in English and take less than two hours.
From the Palace of the Parliament, take a walk towards the Old Town. Visiting the Old Town during the day allows you to marvel at the gorgeous buildings and the cobblestone alleys. In the Old Town, you will see Stavropoleos Church, originally built as a monastery by a Greek monk. It's a stunning little gem with fantastic frescoes and beautifully carved windows and doors. As one of the smallest churches in Bucharest, it's also one of the city's most fascinating landmarks.
Another highlight in Bucharest's Old Town is Cărturești Carusel, one of the world's most beautiful bookstores. A lot of care was taken to renovate the 19th-century building that houses the bookstore. And you are sure to fall in love with its spiral staircases. Cărturești Carusel has a decent selection of foreign-language books. Buy a book and take it straight up to the bookstore's own café. What's better than reading a good book while enjoying a cup of tea?
By now, you will probably be hungry. Luckily, there are a lot of restaurants in Bucharest's Old Town. And while Romanian food is very meat-heavy, it's entirely possible to survive as a vegan in Bucharest.
Since Romania is a relatively cheap country, you can have a decent lunch for as little as 30 lei. But if you want to splurge, Bucharest has higher-budget options as well.
Afternoon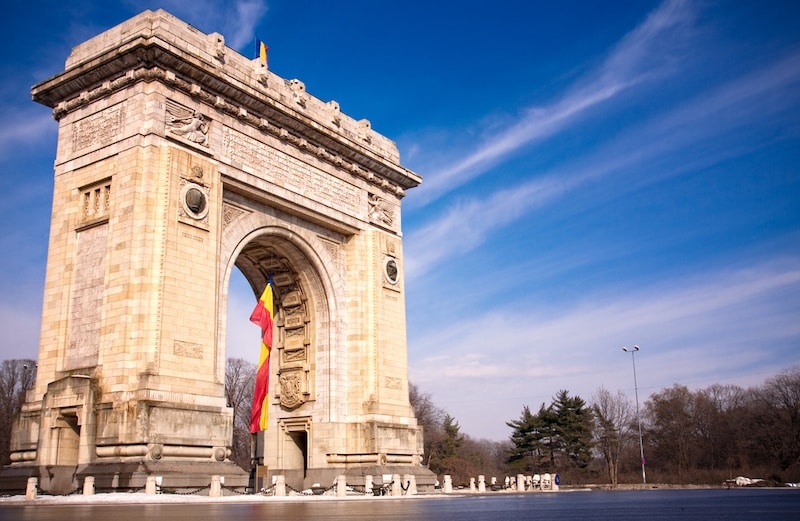 After indulging in some delicious lunch in the Old Town, it's time to head to the north of Bucharest. Bucharest's own Arch of Triumph is only three metro stops from the city's Old Town. But you will still need to walk for about 15 minutes.
This big monument was built to commemorate the victory in World War II. There were similar buildings in the same spot before, but the current building is from 1936. Bucharest's Arch of Triumph is quite similar to the one in Paris and is also located on a roundabout.
From here, keep on walking for another 15 minutes to reach the Village Museum entrance. This open-air museum showcases about 300 traditional buildings from all over Romania. From homes and barns to churches and mills, the museum has it all. You will feel like you're walking through a miniature version of Romania. The museum shop is a great place to buy high-quality souvenirs.
The Village Museum is located in Herăstrău Park, so you should definitely use this opportunity to go for a walk in Bucharest's largest park. The park surrounds the artificial Herăstrău Lake on the Colentina River and houses an open-air theater and an amusement park. Herăstrău Park showcases gorgeous flowers and beautiful bridges all year long. In the summer, you can rent a boat and see the park from a different perspective.
The north of Bucharest is an excellent area to go for a stroll and admire the breathtaking mansions. You could easily get lost here for many hours.
Evening
Head back to the Old Town to end your first day in Bucharest with a delicious dinner. But before you choose a place to eat, you should briefly take a look at Hanul Lui Manuc. Manuc's Inn is Bucharest's oldest hotel. Its original Armenian owner Emanuel Mirzayan (known in Romania as Manuc Bei), was considered the Balkans' wealthiest man. The Ottoman influence is very noticeable in the Inn's architecture. The building played a great role in Bucharest's history, where the Treaty of Bucharest was signed. It has also served as the city hall and a theater.
After dinner, experience the Old Town's legendary nightlife. The area is perfect for bar-hopping, so don't miss out on this experience during your two days in Bucharest. Some bars cater more to male foreign tourists and stag parties. But there are also tons of places that locals enjoy. There's something for everyone here.
TRAVEL COMPANIES WE USE AND TRUST
Two Days in Bucharest – Day 2
Morning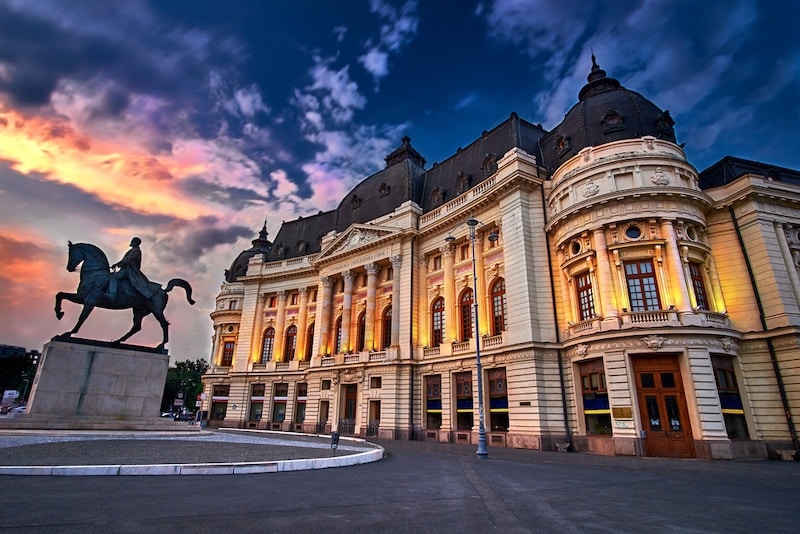 Start the second of your two days in Bucharest by admiring the gorgeous Romanian Athenaeum, home of the George Enescu Philharmonic. Concerts take place here regularly and would allow you to see the stunning inside and beautiful fresco. But even looking at the incredible exterior on a beautiful morning will be a lovely experience. From here, walk to Revolution Square to see the site of the Romanian Revolution of 1989.
Now you're in the perfect spot to head over to Calea Victoriei, arguably Bucharest's most beautiful and elegant street. You could spend your entire two days in Bucharest exploring the palaces, churches, boutiques, and museums on Calea Victoriei. You can choose between the National Art Museum in the Royal Palace, the National History Museum, the Ştirbei Palace, the Cantacuzino Palace, the Kretzulescu Church, and an English-language bookstore, among others.
From Cala, Victoriei, make your way to Cişmigiu Garden, Bucharest's oldest park and one of the prettiest. But on your way there, make a stop at Bohemia Tea House, a cozy spot very popular with young Romanians. You can get different types of tea and snacks here and relax on floor cushions. There's a big tea culture in Romania, which is particularly enjoyable on those cold winter days.
Once you arrive at Cişmigiu Garden, take in the sophisticated atmosphere and enjoy your stroll. In the summer, you can rent a boat for a romantic time on the lake. And in the winter you can ice skate, and people watch.
Just a few steps from the north of the park, you should take a moment to admire the Kretzulescu Palace. The Kretzulescu Palace is not open to the public, but you have to see this beautiful piece of Romanian architecture.
Afternoon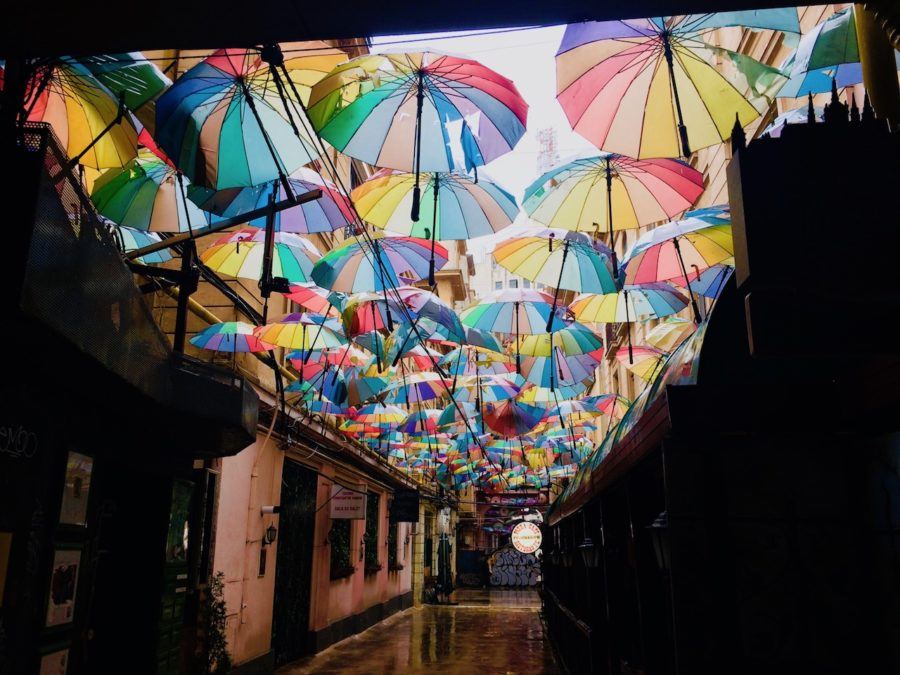 Spend your afternoon walking through one of Bucharest's most picturesque neighborhoods, Cotroceni. The impressive architecture in Cotroceni consists of mansions, a gorgeous cathedral, and the Cotroceni Palace. The palace is the official residence of the Romanian president. But it also houses a museum where you can see the Romanian royal family's stunning rooms and thousands of Romanian art objects.
Cotroceni also houses the beautiful Botanical Gardens. As you will surely see during your two days in Bucharest, the city is very green with lots of parks and plenty of opportunities to relax. For this reason, Bucharest is wonderful to visit on warm and sunny days. But the Botanical Gardens still display unusual plants in the colder season as well.
Evening
After all that exploring during your two days in Bucharest, it's time to relax. Pack your bathing suit and get a taxi to Therme București, the largest thermal bath complex in Europe. No matter whether you visit Bucharest in the summer or winter, temperatures in the spa will be around 29/30°C with water temperatures of 33°C. In other words, it's the ideal place to relax!
But Therme București also houses Romania's most extensive botanical garden with hundreds of thousands of plants. The exotic plants make you feel like you are in a tropical paradise. And whether you prefer to relax in one of the six saunas or four wet saunas or have fun on the 16 water slides, you're sure to have an astounding time at this spa outside of Bucharest.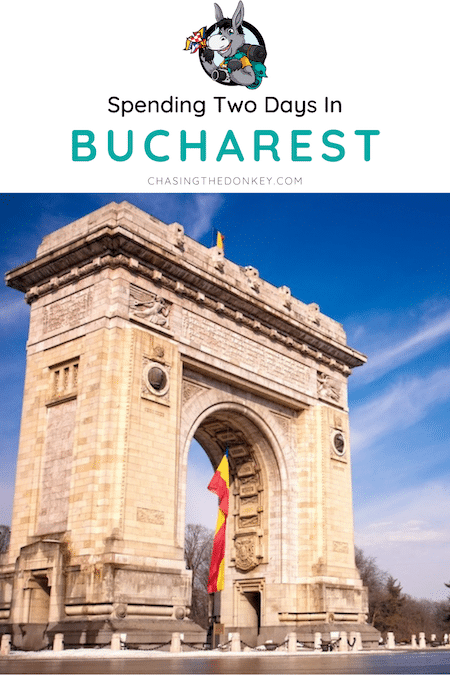 Are You Now Ready For Two Days in Bucharest?
Bucharest may not be the most popular tourist destination in Europe. But that doesn't mean there isn't enough to see and do for two days in Bucharest.
As you can see, Romania's capital is a city of contrasts. You can find beautiful nature, one of the world's biggest buildings, a charming old town, and bustling nightlife. Whether you want to party all night or relax, you can spend your two days in Bucharest in many different ways.
And the city is an excellent base for exploring the south of Romania or even the north of Bulgaria. So if you have more time in the area, why not add a few more days to your trip?
Other Romania Travel Blogs You Should Read