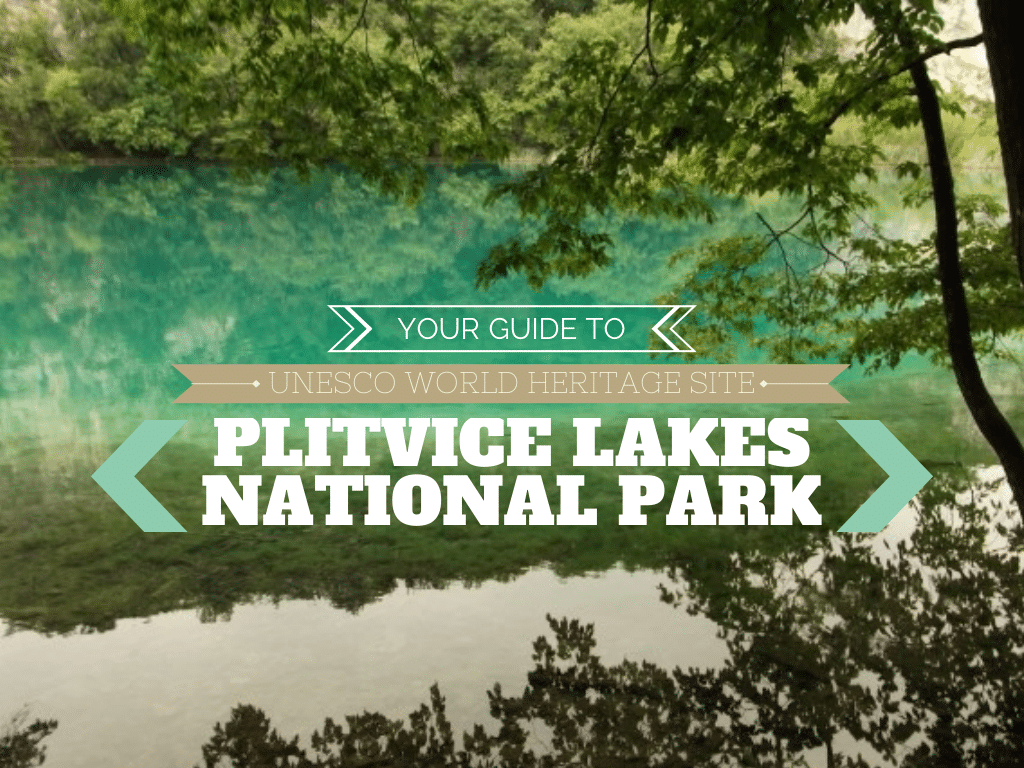 Travel Croatia: Plitvice Lakes National Park UNESCO Site
Written by travel writer Sammi.
I was lucky enough to visit Plitvice National Park, a UNESCO site, in Croatia during summer 2013, though on arrival I didn't think I was so lucky. My visit to this amazing UNESCO site was as part of a package tour.
We stayed at a campsite, in bungalows, the night before heading to the park the following morning. We travelled eleven hours, by bus, to reach our campsite. As soon we arrived, a huge black cloud that had been following us for last hour of our journey opened. The torrential rain and loud claps of thunder kept us on the bus for almost another hour before we could get settled into our accommodation in Croatia.
Our accommodation for the night were incredibly cute wooden huts with little stone pathways between them, sleeping two people. Our tour group spent the evening having a barbecue. It was the type of place that reminded me of something out of a Disney Movie – rain and all!
Plitvice National Park or Nacionalni Plitvička Jezera became a UNESCO world heritage site in 1979. The UNESCO site has sixteen lakes linked together with a series of waterfalls. The lakes are famous for their stunning colours, often changing from shades of teal, turquoise and deep blues to greys. The shades change due to the quantity of minerals or organisms in the water.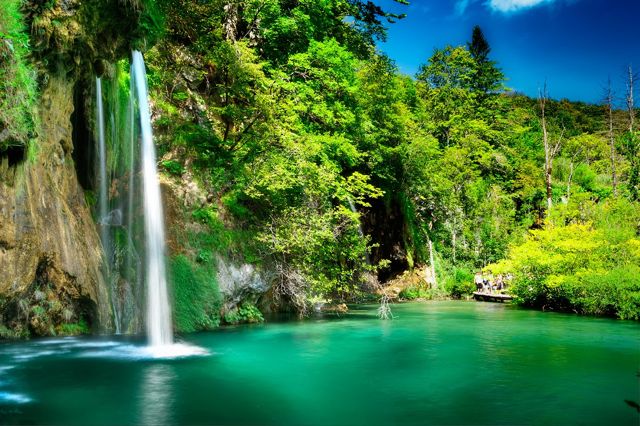 In the park, wooden footbridges and pathways go across the edges of lakes, over rumbling water and the pathways come very close to the waterfalls. The total distance of the UNESCO site is a whopping 18 kilometres and it felt great in the summer sunshine to get some of the spray from the waterfall hitting your face.
I'd recommend you start your day at the park really early, to beat the summer crowds, as we did. Aim to be at the park by 9am.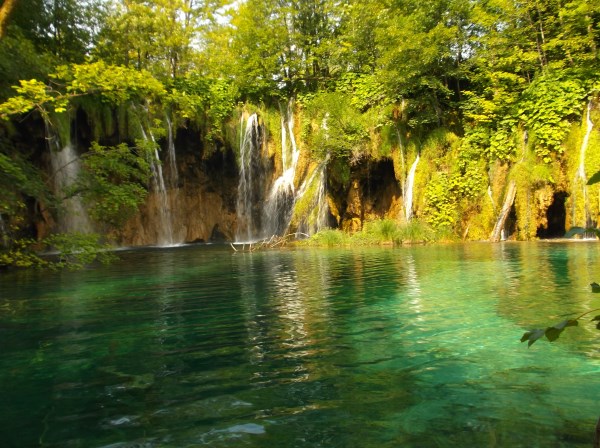 Feeling incredibly grateful that the rain was holding off, we started at entrance number two and left to make our way around the park in a three hour self guided tour. Winding our way around Kaluderovac Lake and up to the Veliki Slap Waterfall, the highest waterfall in Croatia –  a 78 metre drop. We continued our way past the beautiful cliffs of Gavanovac Lake, and we took in the amazing emerald colours of Milanovac Lake.
At every turn there was a new photo opportunity, the colours just warranted so many pictures, the colours were so surreal that they just didn't feel real. They made you want to do the one thing that wasn't allowed, stick your hands in and feel it! Eventually we made our way to the electric boat which takes you across Kozjak Lake –  the biggest lake at some 4kms in  length. The rest aboard the boat was welcomed, having already spent a couple of hours walking through the park. We had taken less time than expected, but not enough time to hire boats; we made our way to Gradinsko Lake, where we saw ducks swimming against the current before heading back towards then entrances.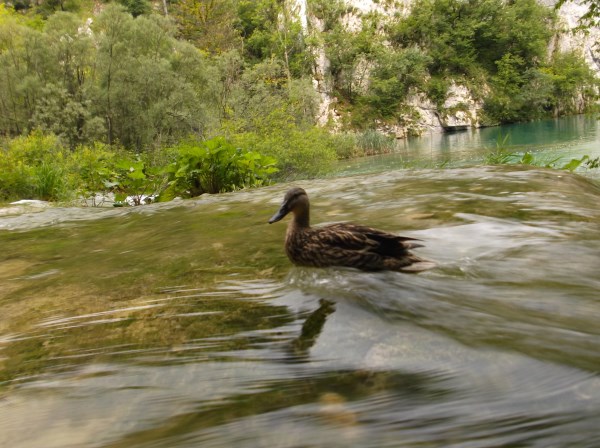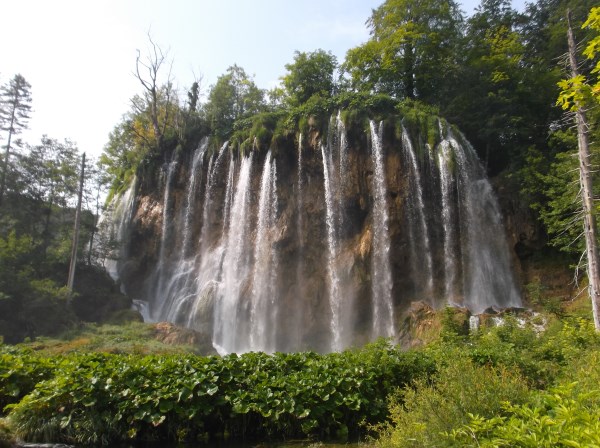 Even in the summer, the ground can be damp from the waterfall's spray, and also from storms that bounce around the mountains so it's a good idea to wear closed in shoes. Most of the walk was pretty relaxed and we managed to spend the few hours we were there ambling around looking at the beautiful lakes. The one downside to this beautiful park is that the water looks so inviting, but no swimming is allowed, as our bodies might mess up the minerals in the water.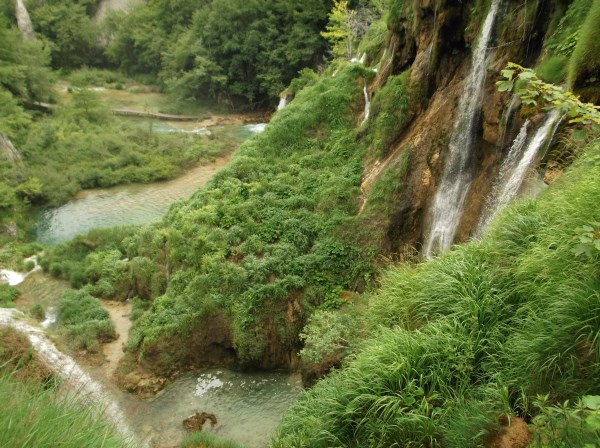 Getting to Plitvice National Park
For those not arriving via a tour like mine, Plitvice lies roughly midway between Zadar and Zagreb. Buses are available from the main bus station from either towns.  From Zadar it takes 2hrs and from Zagreb it takes 2hrs 20 minutes. It is recommended that if you're coming from elsewhere in Croatia that you get buses to one of these towns first. There are direct buses from Dubrovnik , however the buses arrives very early in the morning and takes a massive 9hrs to get there.
If you're planning to drive from Plitvice, the route is easy to find and is approx 155 kms from Zadar, 130 kms from Zagreb, 280 kms from Split and around 465 kms from Dubrovnik.
Tips while at Plitvice Lakes National Park
If I were to go again, I would like to spend an entire day there, not just a few hours. My recommendation to you, would be to arrive early, which you can do by spending a night in either the Hotel Jezero or one of the other accommodation offers nearby. This way you would not have to rush and have the opportunity for rowing your own rented boat, which costs just 50 kuna per hour. And if you know where to look, you could even have time to spot some brown bears known to live in the park!

Entrance to  Plitvice Lakes National Park
The entrance fee to this magical UNESCO site cost just 70 kuna, as we were in a group of more than 15. In peak season it can cost up to 110 kuna per adult with children getting a discounted rate, and under 7's free. It is also possible to purchase a 2 day pass if you don't think you can fit everything in during one day. Information on seasonal opening times and fees can be found on the parks site.
How much does it cost to enter Plitvice Lakes National Park
The price includes electric boat rides on Lake Kozjak and panoramic train rides, visitor insurance and VAT. The tickets need not be booked in advance for single visitors. Booking is recommended for groups.
Visitor category
  Period – price per person in Kuna (HRK)
1 Jan – 31 Mar and
1 Nov – 31 Dec **
1 Apr – 30 Jun and
1 Sep – 31 Oct
  1 Jul – 31 Aug
Adults
55,00
110,00
180,00
Adults – GROUPS*
50,00
100,00
160,00
Students
45,00
80,00
110,00
Students – GROUPS*
40,00
70,00
100,00
Children and teenagers 7 – 18 years
35,00
55,00
80,00
Children and teenagers 7 – 18 years – GROUPS*
30,00
50,00
70,00
Children below 7 years of age
FREE
FREE
FREE
Have you ever been to this UNESCO site? Plitvice Lakes National Park is also stunning outside of summer, would you consider going in winter?
You can find more info about Sammi over at Wanderlustin'. Plus you can also keep up with her travel adventures on Facebook and Twitter.
Beyond the beauty of this park there is also a wonderful collection of intangible items on the UNESCO's Intangible Cultural Heritage list worth looking at.
Pin it for later!