Written by Tea Gudek Šnajdar from Culture Tourist.
Have you ever been to Gorski Kotar? Known also as the 'green heart of Croatia,' it's home to some of the most beautiful nature in the country. Filled with beautiful forests, mountains, and fantastic wildlife, it's part of Croatia still overlooked by many tourists.
How To Get To Gorski Kotar
Gorski Kotar is located in the western part of Croatia, between Karlovac and Rijeka, and just next to the border with Slovenia. It's very well connected with the capital of Croatia, Zagreb. You can reach it by car from there within less than two hours.
However, if you prefer to travel slow, you can take a ride on an old Lujzijana road. It was built between 1803 and 1808 during the French rule over Croatia. And it was named by Napoleon's second wife, Marie Louise. The road is surrounded by some fantastic nature. And besides enjoying some beautiful scenery, you can also spot some of the old 19th-century milestones along the way.
You can visit Gorski Kotar on a day or weekend trip from Istria or Kvarner. It could offer a gentle breeze of fresh air during the hot summer months.
Driving Around Gorski Kotar
Although roads in Gorski Kotar are generally in good condition, you should consider some things before your trip there. There could be a lot of snow during the winter months in Gorski Kotar, so be sure to have the winter tires and equipment with you.
Although the main towns are connected with a highway, driving on smaller local roads will take you through some fantastic nature. However, be prepared for the mountain roads, many curves, and some narrow passages. But often with no other traffic at all.
What And Where To Eat In Gorski Kotar
Food in Gorski Kotar is quite unique and different from the rest of Croatia. Stew is a very popular dish there. And don't be surprised to find some wild animals on the menu, like bears, wild boars, or deer.
If you visit the towns of Lokve or Fužine, a local delicacy, there are frogs legs. Because of the mountains it's surrounded by, you'll find a variety of freshwater fish, mushrooms, and forest fruit in the region. Speaking of the last one, be sure to try some blackberry strudel while in Gorski Kotar.
The region is also well known for its honey production. The product you should definitely try while there is 'medica,' a honey liqueur.
The best restaurants in Gorski kotar are:
Hotel Bitoraj in Fužine

Hotel Risnjak in Delnice

Bijela Ruža in Ravna Gora.
TRAVEL COMPANIES WE USE AND TRUST
Where To Stay In Gorski Kotar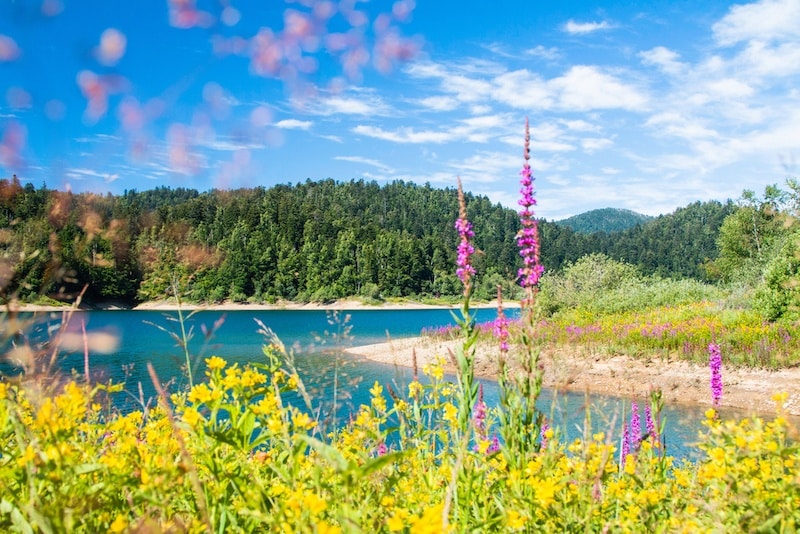 Gorski Kotar has so many beautiful places; it could be hard to choose where to stay. However, here is a little guide for you on where to stay in Gorski Kotar.
The largest town in the region is Delnice. So, if you'd like to have cafes, restaurants, and a supermarket close by, this could be a good choice. Hotel Risnjak is located right in the city center, but you'll find much smaller accommodation there, as well.
Fužine is a picturesque little town located just next to Lake Bajer. It offers quite a lot of accommodation, with Hotel Bitoraj being the largest and famous for its excellent restaurant.
You'll also find many holiday homes and houses for rent located more in nature. So, if you'd like to enjoy the peace and quiet and have a gorgeous mountain view, be sure to look for some of those.
Exploring The Nature Of Gorski Kotar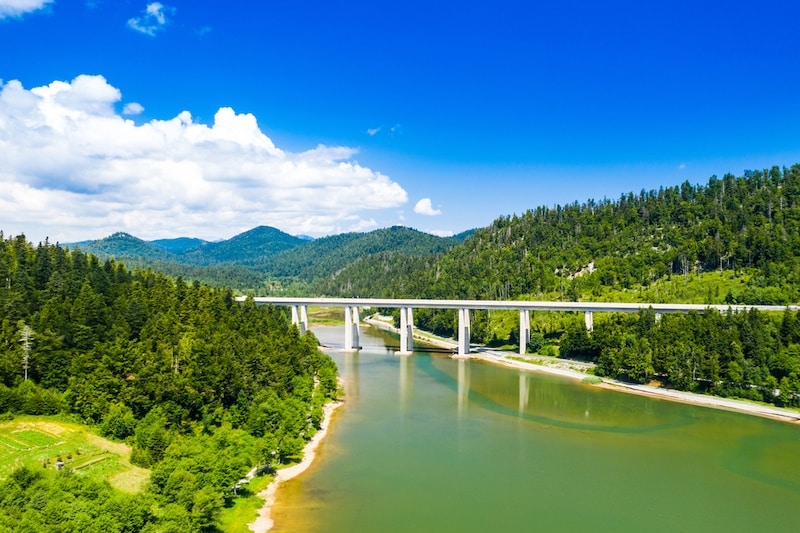 Gorski Kotar is famous for its fantastic nature, and you should definitely focus on it while visiting that part of Croatia. From mountaineering, trekking, or kayaking, Gorski Kotar has it all. Here are some of the best places in Gorski Kotar you should visit.
Risnjak
With its 1528 meters, Risnjak is among the highest mountains in Croatia and one of its most beautiful national parks. Drive to Crni Lug and follow the signs to Risnjak National Park from there. At the entrance to the national park, you'll find a restaurant with some of the best blackberry strudels in Gorski Kotar.
From there, you can either take a walk along the Leska path. It's an educational path along which you'll learn more about flora and fauna living on Risnjak.
If you're more adventurous, you can hike and get to the peak of the mountain. You'll find a mountain house there where you can refresh yourself with a nice meal. The view from Risnjak is genuinely impressive, spanning from the Alps in Slovenia to the Adriatic sea and Croatian coastline.
Zeleni Vir
One of the most beautiful waterfalls of Gorski Kotar – Zeleni vir is located close to a town called Skrad. Although surrounded by a deep forest, it's pretty easy to get there.
However, even more, beautiful than the waterfall itself is the 800 meters long canyon leading to it. It's called Vražji prolaz, which in Croatian literary means 'The Devil's Passage.' You'll walk next to the rocks and at some places through the waterfall itself.
At the end of the path, a 200 meters deep cave called Muževa hižica is located. And it's definitely one of the most beautiful sights in Gorski Kotar that shouldn't be missed.
Kamačnik
Another place to see waterfalls, although on a much smaller scale, is Kamačnik. The best time to visit it is in the early spring, when it's filled with water from the melting snow. While walking alongside the waterway, you can enjoy observing the water, seeing all the little waterfalls and nature surrounding it.
Kupa River Spring
A place where you can see some of the most beautiful nature in Gorski Kotar is around the spring of the Kupa River. It's located at the Risnjak National park, close to the village called Razloge. You'll need around 30 minutes to walk from Razloge to the spring. And because of the steep terrain, an hour to come back. The spring looks like a clear turquoise lake surrounded by a deep forest.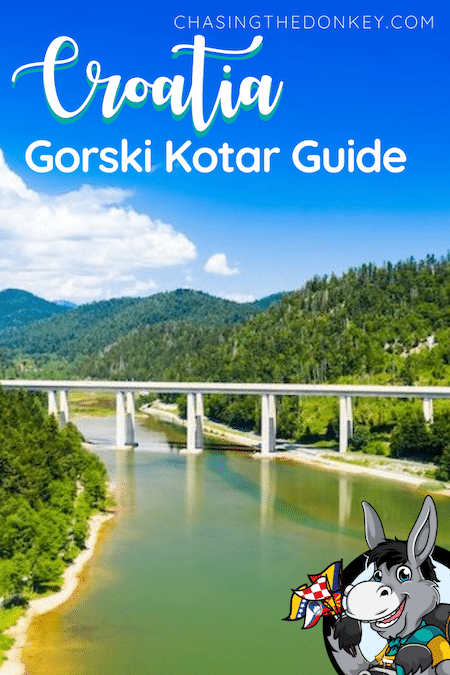 Towns You Should Visit In Gorski Kotar
Delnice
With some 4,500 inhabitants, Delnice is the largest town of Gorski Kotar. Surrounded by beautiful mountains and forests, it's a picturesque place that's great to visit all year round. You'll find a lovely park with an ice-skating rink and a children's playground right in the city center. Just a few steps away, a beautiful small zoo with deers is. From there, you can take a walk through the Japlenški vrh forest park and enjoy some beautiful nature.
If you'd like to learn about the local history and culture, visit the Klobučar – Rački House built back in the 17th century. Inside of it, you'll have a chance to see how the old houses and everyday life in the region of Gorski Kotar looked like 250 years ago.
Another cultural sight in Delnice is Popović Mill. The construction of this electric mill started in 1924. It was one of the first properties in Delnice to receive electricity. It was in use until 1960. Completely preserved today in its original form, it's an interesting sight that shouldn't be missed during your visit to Gorski Kotar.
If you'd like to enjoy a great view of Delnice, take a short car or bicycle ride to the mountaineering center Petehovac. You can walk alongside some of the more accessible walking trails there. The terrain is mostly even, so it's quite easy to walk there.
After it, be sure to have a blueberry strudel, a nice cup of tea or some 'medica' at a restaurant there. However, don't forget to walk behind the restaurant to enjoy a magnificent panoramic view of Delnice and the nature surrounding it.
Fužine
Probably the most picturesque town in Gorski Kotar, Fužine, is a place you shouldn't miss while visiting Gorski Kotar. It's located next to Bajer Lake and is surrounded by mountains. A beautiful walking path goes around the lake, and taking a walk alongside it is something you shouldn't miss while in Fužine.
Cave Vrelo is one of the best-preserved caves in Croatia. Three hundred meters long, you can explore it all the way through on a guided tour. It's not steep, and there are no stairs inside of it, so it's effortless to visit with children.
Many hiking and walking trails are perfect for exploring the nature surrounding this lovely town during the warmer months. However, one of the most unique events is organized each December in Fužine. On December 31st, precisely at noon, the people of Fužine, together with its visitors, are saying goodbye to the old year. They are doing that twelve hours earlier than the rest of the world.
Lokve
A small town of Lokve is among the most exciting places in Gorski Kotar because of its tradition of the Frog-catcher's Night. Like many other places in Gorski Kotar, it's surrounded by some fantastic nature. Lokvarsko Lake is a lovely place to spend a day on a boat. Or to just wander around it or spend a day sunbathing. Lokvarka, the largest cave open to visitors in Croatia, is located close by, as well.
If you'd like to learn more about special animals linked to this town, be sure to visit the Museum of Frogs in Lokve. Or join one of the annual Frog-catcher's nights organized each year in April.
Historical Sights In Gorski Kotar
Although a bit isolated because of all the mountains it's surrounded by, Gorski Kotar has been populated since Prehistory. Close to the town called Prezid, you can see the remains of the old Roman wall protecting this part of their empire.
The two most important Croatian noble families had their properties there, as well. And you can still find some of their castles around Gorski Kotar. Zrinski – Frankopan castle in Severin na Kupi from the 16th century, Zrinski castle in Brod na Kupi from the 17th century, Petar Zrinski castle in Čabar from the 17th century, and medieval Stara Sušica castle rebuilt in the 19th century are the most interesting ones.
The westernmost Orthodox monastery in Europe is also located in Gorski Kotar. Gomirje Monastery was established in 1600, and it's still in use today.
There are so many beautiful places you can visit in Gorski Kotar. With its fantastic nature and still mainly being undiscovered by many tourists, be sure to spend a few days in Gorski Kotar on your next trip to Croatia.
More Croatia Travel Blogs