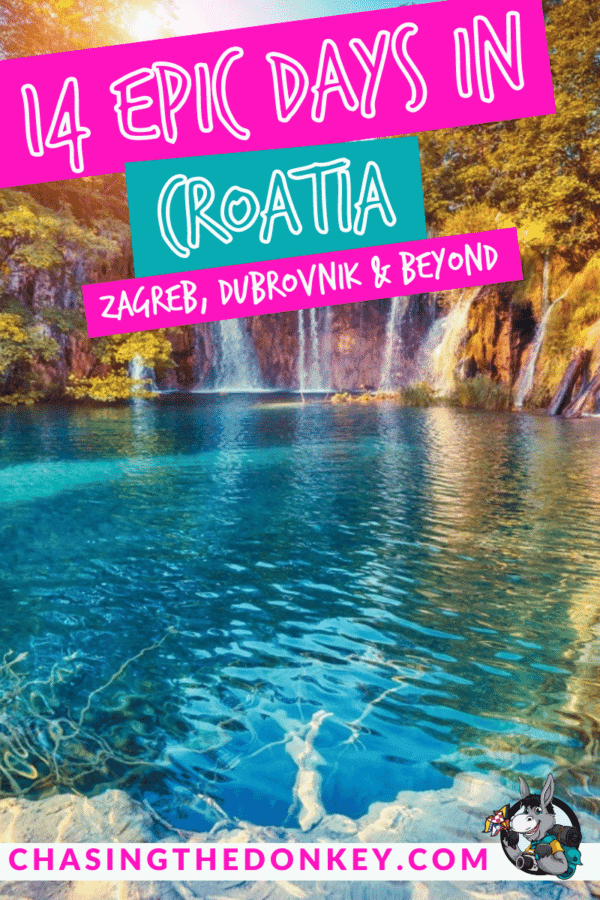 To some, Croatia might seem like a relatively small country. However, this area is rich in culture, history, and natural beauty. From the Slavonic plains, over the hills of Zagorje and the Dinarid mountains, all the way to the crystal-clear Adriatic Sea and its rugged coastline – Croatia is the perfect destination for a trip of any length. However, it's small enough to cover much of it in 14 days.
There are multiple routes you can take through Croatia in two weeks, and it all depends on your preference. Roughly speaking, you could divide Croatia into continental and the Mediterranean part. We'll share one 2-week Croatia itinerary that'll take you throughout most of Croatia so you can experience its diversity and an additional one focused on the less visited inland part of Croatia.
How To Get To Croatia
There are various options for traveling to Croatia. The first one is by plane – there are eight different airports. The busiest airport is the Zagreb one. This is the best choice for those traveling to continental Croatia or visiting the main city, Zagreb. This will also be the starting point for our "must-see tour," the good news is that the cheapest plane option, Ryanair, flies to this airport.
The highways leading to Croatia are in good shape, so a road trip in Croatia will be a comfortable ride. Those that prefer road trips can get to Zagreb by bus. It's well connected with all large European cities.
Another option for traveling to Croatia is by train. This means a longer ride but also a picturesque one. If you prefer the comfort of train travel, you can incorporate Croatia into cheaper train arrangements such as Interrail.
Finally, you can always travel by car. A car is helpful in getting to less popular places in Croatia and small coastal towns. Since this country has a lot of natural beauty, which you can't get by bus, a car is your best option if you'd like to truly explore Croatia.
14-day tours made for you!
🏰 Zadar, Trogir, Vis, Korcula, Mljet, Dubrovnik, Cavtat – Lesser-Known Croatia
🏖️ Split, Vis, Hvar, Korcula, Mljet, Dubrovnik – Croatian Islands Delight
🏛️ Zagreb, Rovinj, Zadar, Split, Korcula, Dubrovnik – Gourmet Tour of Croatia
TRAVEL COMPANIES WE USE AND TRUST
14-Day Croatia Itinerary Option – Popular Route
Although Croatia has much to offer and no place is less valuable than others, there are some places you should definitely visit if you want the true experience.
First of all, you should start in Zagreb. It's the central city of Croatia and has a rich cultural life. There is always some festival, whether a movie, food, or music festival. Zagreb also has a rich nightlife, and everyone will find something for themselves. There are many parks where you can rest from the urban lifestyle and many fascinating museums, such as the Museum of Broken Relationships, or traditional ones, like The Archaeological Museum.
Once you've explored Zagreb, you can continue to one of the most popular destinations in Croatia – the Plitvice Lakes.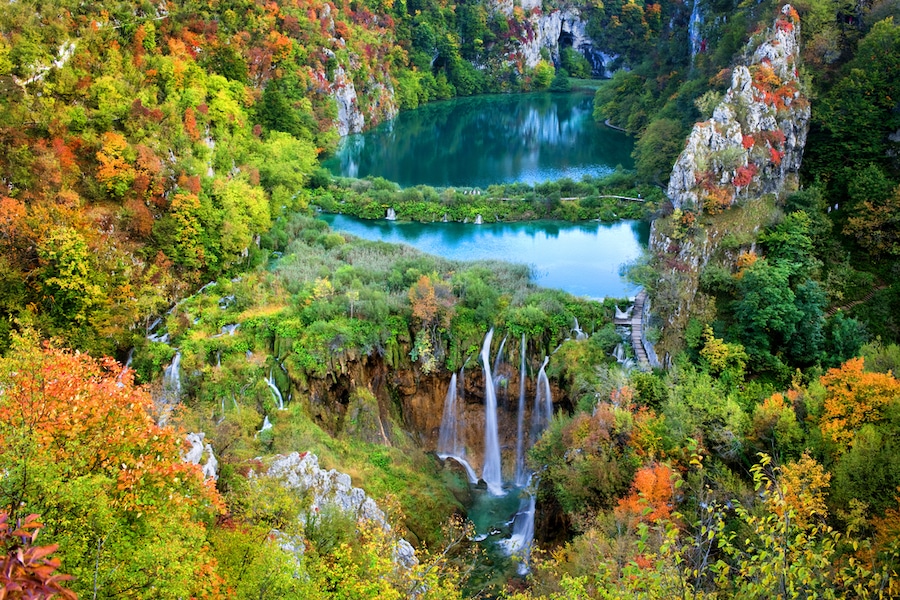 Thousands of people visit Plitvice every year; although it gets crowded, it's worth it. Beautiful waterfalls and rivers immersed in the forest are a memorable experience and one you shouldn't miss.
From Plitvice, you should continue to the coast. The first stop is Pula in the region of Istria. These destinations won't be included in the second itinerary.
This municipality is famous for great wine, tasty food, and internationally acclaimed olive oil. Here's where you'll discover authentic Mediterranean cuisine. Visit the ancient amphitheater of Pula and discover charming villages throughout Istria – make sure to stop in local taverns and enjoy.
After Pula, it's time to head to Dalmatia, to which the majority of the Croatian coast belongs. The first city in Dalmatia should be Šibenik with its beautiful archipelago.
This city is famous for its fortification system and offers beautiful viewpoints. You can discover various architectural styles from its rich history. When in Šibenik, make sure to visit some of the islands near it, such as Zlarin or Murter. If you'd like to explore nature, make sure to visit the Krka national park, which you can travel by boat or bus.
Another Dalmatian city you can't skip is Split. Home to the Diocletian's Palace, it's filled with Roman architecture and ruins.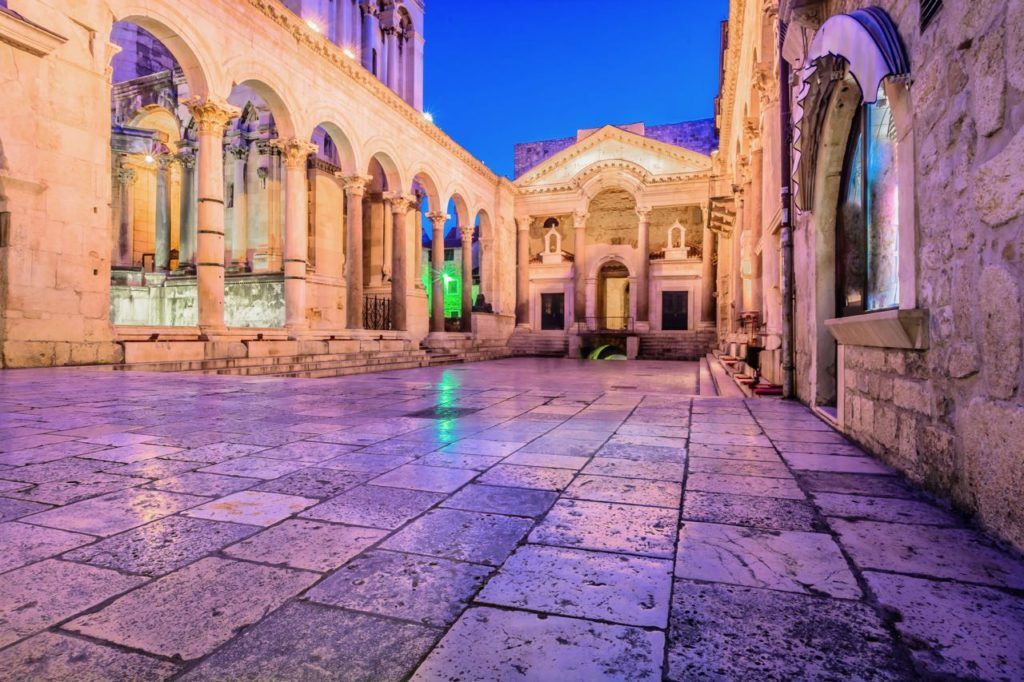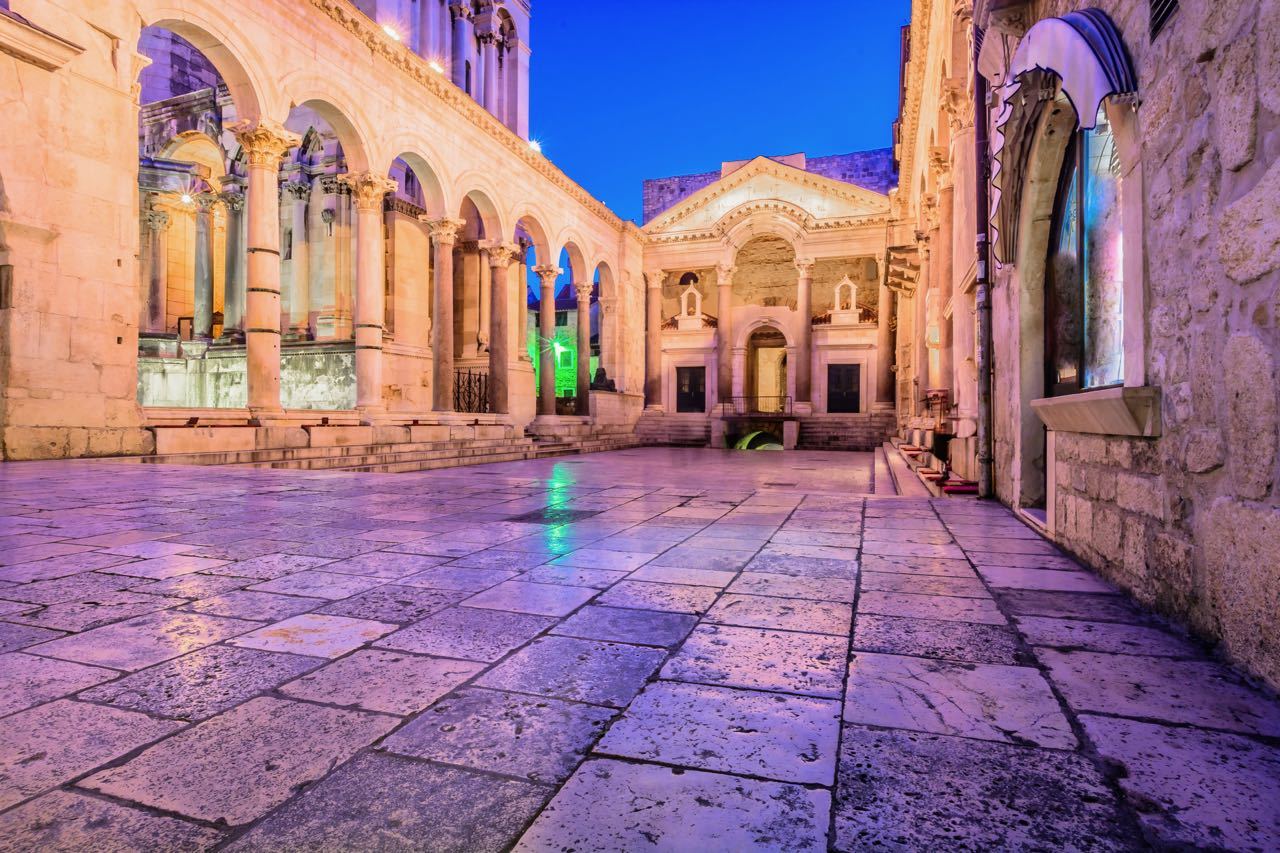 Not only are there incredible historical and cultural sights in Split, but the nature surrounding it is also unique. Make a one-day trip to the river Cetina in Omiš or visit the Mosor Observatory in the hinterland of Split. You'll feel like you've traveled in time to the ancient Rome.
From Split, you can travel to Dubrovnik, the most popular destination in this part of Croatia. You'll recognize it from famous TV shows and movies – it's become exceptionally popular due to its beautiful old town core. Every Croatia itinerary plan lists Dubrovnik; here is why.
Don't miss on beautiful beaches and crystal-clear sea in this region and discover smaller neighboring towns on your way from one larger destination to another. Dubrovnik has an airport, so you can travel back home without going back to Zagreb.
In short, this is what your 14 day Croatia itinerary could look like:
Day 1-3: Zagreb
Day 4: Plitvice Lakes
Days 5 and 6: Pula and Istria
Day 7-9: Šibenik
Day 10-12: Split
Day 13 and 14: Dubrovnik
14-day tours made for you!
🏰 Zadar, Trogir, Vis, Korcula, Mljet, Dubrovnik, Cavtat – Lesser-Known Croatia
🏖️ Split, Vis, Hvar, Korcula, Mljet, Dubrovnik – Croatian Islands Delight
🏛️ Zagreb, Rovinj, Zadar, Split, Korcula, Dubrovnik – Gourmet Tour of Croatia
14-Day Croatia Itinerary Option – Continental Croatia
Croatia is the most known for its coastal cities and the Adriatic Sea, but you could spend 2 weeks in Croatia and many valuable things in other areas as well. This area of Croatia has a geographical variety and ranges from plains and hills to the Dinarid mountains. The main characteristic of its geology is karst which is good news for those that enjoy cave tourism and speleology.
This alternative summary of your 2 weeks in Croatia can look something like this:
Day 1-3: Zagreb
Day 4-5: Zagorje (and castles)
Day 6: Rastoke
Days 7 and 8: Lonja field
Days 9 and 10: Kopački rit
Days 11 and 12: Risnjak
Day 13: Plitvice Lakes
Day 14: Zagreb
There are great hiking destinations throughout Croatia as well as amazing national and nature parks. One worth mentioning is the Lonja field. It's the largest protected wetland area in this part of Europe and has much to offer. Visiting the Lonja field is the best on bicycles so that you can follow the river Lonja.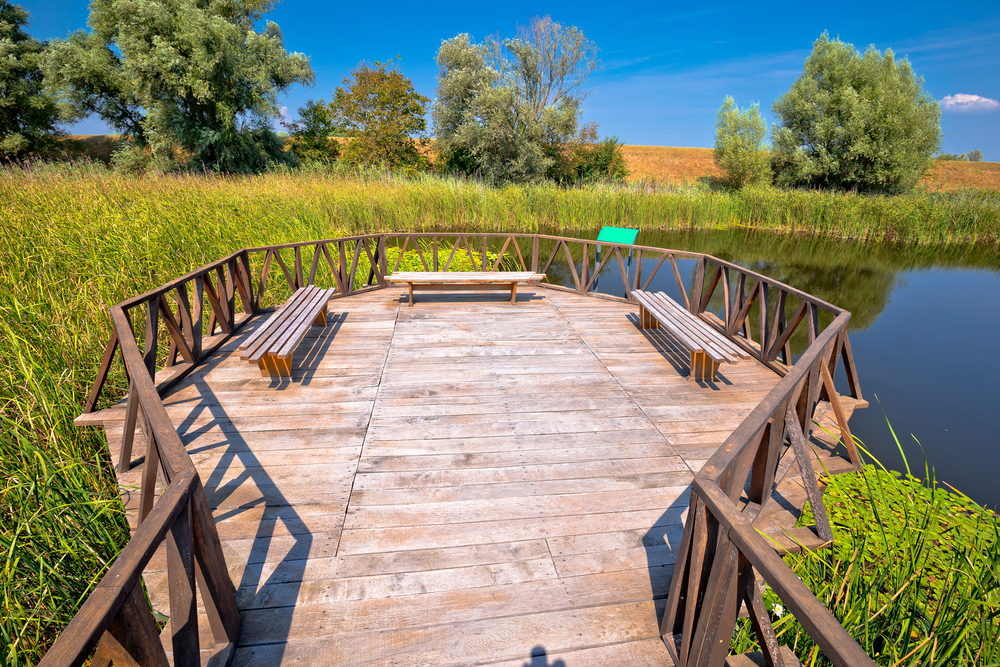 Another nature park you should add to your 2 week Croatia itinerary is Kopački rit, a complex of ponds and lakes in eastern Croatia. It's filled with interesting flora and fauna, so you'll meet some wild animals. One part of it is a designated zoological reserve with high animal diversity.
Continental Croatia has a lot of castles from various periods of history, and any one of them will amaze you. One of the most popular is the Trakošćan Castle, but there are many less visited ones all over the mainland.
If you'd like to discover some freshwater habitats, Rastoke is the perfect place. It's not so crowded, and you'll enjoy several crystal-clear streams, small waterfalls, and rivers.
Moving away from the plains and crossing over to hiking locations, we can't forget to mention Risnjak, a national park filled with great hiking trails and amazing wildlife. It's one of the beloved destinations for locals so you can get an authentic experience.
Some other hiking destinations include various hills all over Zagorje – a region near the central city of Zagreb. Its main characteristics are numerous hills and forests, making anyone fall in love with inland Croatia. This part of Croatia is known for its great continental food and wine. The people are cheerful and friendly, so you're bound to fall in love with it. As mentioned earlier, many of the castles are located in Zagorje.
For great music and food festivals, visit Karlovac, the city on the four rivers. You can travel to it by train from Zagreb, and there you'll discover many historical monuments and a modern aquarium, one of the biggest freshwater ones in Europe.
14 DAYS IN CROATIA FAQs
Are two weeks in Croatia enough?
Croatia in 2 weeks is great. It can give you reasonable time to explore and enjoy many of the country's attractions. Croatia offers diverse experiences, from historic cities to stunning coastlines and beautiful national parks. However, the specific itinerary and interests can vary from person to person.
What places can I see in 14 days in Croatia?
Within two weeks, you can visit popular destinations such as Dubrovnik, Split, Zagreb, Plitvice Lakes National Park, and the islands of Hvar or Korčula. You'll have enough time to explore the highlights of these places, soak up the local culture, and enjoy the natural beauty Croatia offers.
You can also consider adding some off-the-beaten-path destinations or spending more time in specific regions, depending on your interests.
Is it hard to travel around Croatia?
No, not at all. Though it's worth noting that travel times between destinations can vary, especially if you plan to visit islands, travel by ferry, or visit in the peak season (July to August). Therefore, planning your itinerary accordingly and considering transportation logistics is essential.
What kind of transport options are best in Croatia?
All means of transport that can get you to Croatia are also valid for traveling through it. As we mentioned, it's best to travel by car, whether personal or rented. This will allow you to be more flexible and discover some less-known places.
You can get to any larger town in Croatia by bus. There are various organized bus tours if you're into guided tours and regular buses that will get you to your destination. However, the bus is also a great option if you plan on visiting larger cities.
There is also a railway in Croatia, but it's much less flexible when organizing a tour through Croatia, and you'll probably have to combine it with a bus.
Can I road trip in Croatia?
Yes, road-tripping in Croatia is a fantastic way to explore the country. Croatia has a well-developed road network, and driving allows you the flexibility to visit multiple destinations and discover hidden gems along the way. You can rent a car and embark on a road trip adventure, enjoying scenic drives through coastal roads, mountainous regions, and charming villages. Just be sure to familiarize yourself with local driving regulations and plan your route accordingly.
Two Weeks In Croatia Wrap Up
Croatia is the perfect destination for a 14-day trip. It has a lot to offer but can also be explored quickly. It's filled with charming small towns, amazing nature, and historical sights. This country has numerous places to visit, but we can't go through them all. Because of this, we've compiled these two itineraries for traveling through Croatia. The best advice we can give you is to make stops on your travels from one place to another, to get the real Croatian experience.
You can gravitate more to coastal or continental Croatia, depending on your preference. The crowds are usually bigger on the coast, especially in summer, but there genuinely are some places you can't skip when visiting Croatia and the Adriatic Sea. However, inland Croatia offers large geological and natural diversity, so it's filled with different landscapes and nature parks. A good guide for choosing what to visit is whether you'll focus on nature or urban landscapes. Larger cities are ideal destinations if you want to discover the architecture and culture, while small cities are perfect for exploring nature. This doesn't always need to be the case, but it's a good guideline.
If you're wondering if you should visit Croatia, the answer is definitely yes, and as you can see in these 14 day Croatia itinerary options, two weeks in Croatia is the perfect time frame for getting a sense of what this country is like. Beautiful, diverse, and full of life.