Slovenia Travel Blog: 45 Fascinating Facts About Slovenia
When it comes to planning a trip to Europe, the usual suspects i.e. United Kingdom, Spain, France, and Italy, are what often pop up on most peoples travel radar. But if you ask me, the modern day traveler is looking for more these days, looking to travel down a less known path to discover the world on their own. If you're looking to tread your own path and experience another side of Europe, Slovenia is your destination.
We dare you not to book your ticket to Slovenia after reading these fascinating facts about the country.
Slovenian Facts You May be Shocked to Learn
Bled's famous cream slice known as the Bled Kremšnita has been made at Hotel Park in Bled since 1953. And, over that time they have sold 12 million of them. Whilst they can be purchased all around the country, Bled is where you'll find the best Kremšnita.
The highest mountain in Slovenia is Mount Triglav at 2864m. You will also find it on the Slovenian National Flag.
Davo Karničar, a Slovene was the first man to ski down Mount Everest. He was also the first man in the world to ski the highest peaks of all seven continents.

Julian Alps, Bohinj. Photo Credit: Bram Reusen

The Sečovlje Salina Nature Park is the only Slovenian wetland area on the UNESCO list.
The country uses the Euro as currency, but there's a huge price difference when compared to its expensive neighbors such as Italy.
The tallest cliff (80 meters) on the Adriatic coast sits on the Strunjan Peninsula, Slovenia
If you're not afraid of heights, you're in luck. The world's largest ski jump is in Slovenia. It has been the site of 60 world record jumps.
The first married couple to hike Mount Everest was from Slovenia.
There are 24,000 animal species in Slovenia.
4,000 years ago the Ljubljansko Barje Nature Park was a lake that was home to pile-dwellers
What's not to love about a castle built into a cliff? The Predjama Castle in Slovenia is one of the most iconic scenes in the country and is insanely impressive in person. Do check it out!

Predjama Castle. Photo Credit: Lorenzo Magnis

Just two million people live in Slovenia.
The world's longest stone-arch railway bridge (219.7 meters long and a span of 85 meters) is the Solkan Bridge on the Bohinj line, Slovenia.
Traces from the Triassic period, (200 million years ago) can be seen on Zalarjev Vrh near Idrija.
Slovenia is a small country but has loads to offer. You may even wonder how can so much fit into such a small place. It is jam packed with activities, culture and picturesque scenery.
For wine lovers, Slovenia is paradise. It is full of vineyards! 216 km² to be exact.
Maribor is home to the oldest vine in the world. At four hundred years old, its Žametna Črnina grapes produces 25 liters of wine every year.
Slovenia is all about nature. 60% of the country is covered with lush green forest.

Photo Credit: Bernd Thaller

You can see two other countries from Slovenia's coast. On the right, you can see Italy and to the left, Croatia.
Slovenia is set in an ideal location, in the middle of everything: Austria, Italy, Croatia, and Hungary. With the purchase of a Eurail Pass, you can easily travel to and from these countries.
Want to make that fairytale real? Slovenia is a land of castles. With castles scattered throughout the landscape, it is indeed an inspiration for all fairytales.
The country is home to 260 waterfalls, of which Boka is the highest.

Savica waterfall. Photo Credit: Bram Reusen

Areas along the coast get a Mediterranean warm climate while those in the mountainous regions to the north have rainy summers and cold winters. In the capital, Ljubljana, the climate is more moderate with cold winters and warm to hot summers.
The Slovenian language is one of the few languages in the world that uses dual form.
Slovenia has a staggering number of caves – more than 8,000!
The Vilenica Cave has been open to tourists since 1633.
Slovenia has almost 27,000 kilometers of rivers, streams, and other water courses.
The Freising Manuscripts are the oldest surviving document written in Slovene, the Slovenian language can be found in Munich Germany.
The capital city of Slovenia is Ljubljana. It is translated as "the loved one."

Ljubljana, Slovenia. Photo Credit: Lorenzo Magnis

Two important national symbols of Slovenia are the Chamois and Linden tree.
In Koroška, there is a Najevnik Linden tree which is more than 780 years old.
It is said that the dragon at the Dragon Bridge shakes its tail every time a virgin lady passes by. Why not check it out yourself?
The Etruscan shrew, the smallest mammal in the world lives in Slovenia.
As the country is 60% covered in forest, there are over 500 bears hiding out in Slovenia.
Filmmakers love Slovenia. Chronicles of Narnia: Prince Caspian was shot here in Slovenia's Soca Valley.
Lake Bled is one of the most visited places in Slovenia and should be on everyones bucket list.

Lake Bled. Photo Credit: Joe Parks

Prove your love. If couples marry each other at the Bled Island Church, the local customs is that the groom carries the bride up the 99 steps.
Slovenians are generally happy people and so are their festivals. They have many food festivals: Cabbage Festival, Bean Day, Chestnut Sunday and Salt Makers Festival.
You can pay to live in a former military prison in Slovenia at Hostel Celica.
The country boasts 3000 chapels, churches, and religious monuments. Slovenia is one of the countries with the largest number of religious buildings in Europe.

Church of St. John the Baptist

Potica is a typical festive Slovenian dish and is suitable for all festive occasions. It is a traditional pastry that is made by spreading nuts finely chopped, cinnamon, butter, raisins and honey into a yeast bread rolled in a spiral shape and baked. Yum!
The first Slovenian book was written in 1550
Every year Slovenia plant over 1,200,000 trees
Like horses? Well, Slovenia's Lipizzaner horses have been bread at the Lipica stud farm since its foundation in 1580
Handball is a very popular Slovenian sport, especially with women.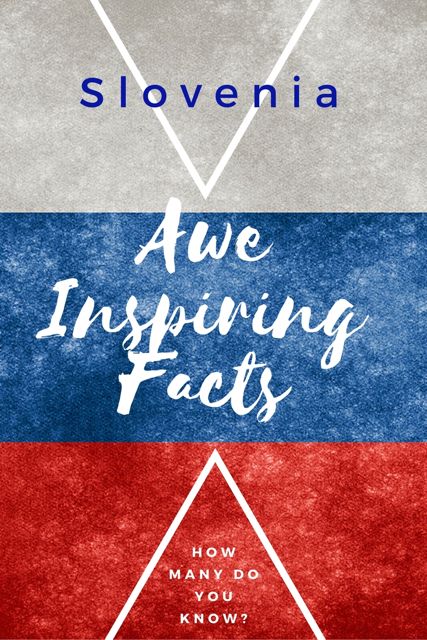 If you have any facts about Slovenia we should add, let us know in the comments below.
Main image credit: Nicolas Raymod
More Fun Country Facts