What To See & Do In Vardzia: A Weekend Itinerary
Visiting the fascinating village of Vardzia – even if for just the weekend – will leave you transfixed.
You'll be in awe as you stand on the outside of the famous caves of Vardzia, looking up at the intricate and impressive cliff-side excavations of Erusheti Mountain. Your gaze will shift to the neighboring village with a beautiful mountain backdrop and a gushing Mtkvari (Kura) River.
Along the only road leading into the village are time-tried steeples and centuries-old fortresses which continue to stand with stories to tell.
I spent one weekend in the village of Vardzia, Georgis (which is all you need), though, I wouldn't have minded staying longer had my itinerary been more free, or if I had more time. Unfortunately – or fortunately – there was much more to see and do in Georgia and I did not want to miss all it had to offer.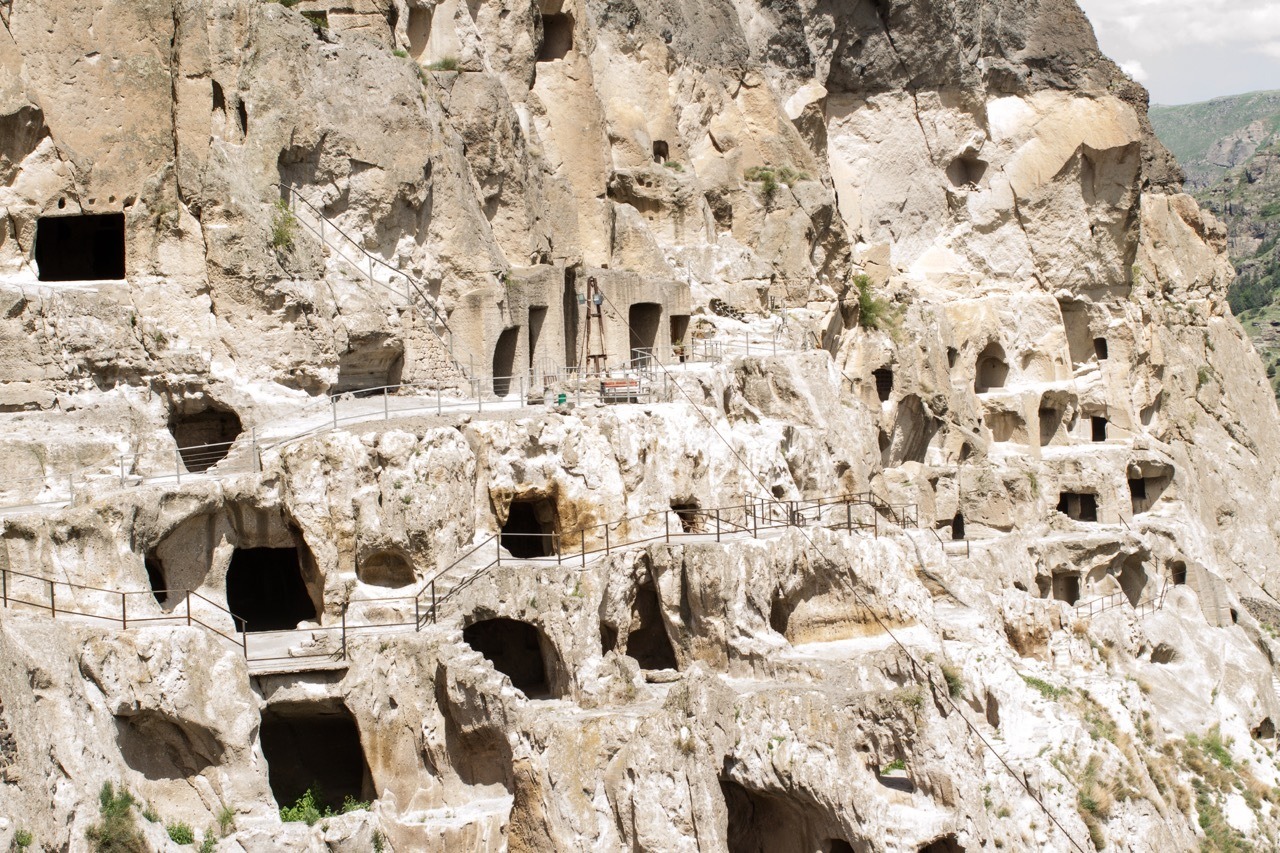 Vardzia is a small village in the country of Georgia – a town which is steeped in history and remarkable feats. It is best known for its unfathomable 12th Century cave and tunnel system which stretches along the cliff for some five hundred meters and nearly nineteen tiers. But that's not all this small town has to offer which you will soon find out!
Despite Georgia being a small country tucked away on the border of Europe and Asia, Georgia packs a punch for any tourist willing to go off the beaten path with beautiful nature, history, and welcoming people.
Georgia is a country which has received a bad reputation for its recently dangerous history. However, I can vouch, nothing seemed out of the usual for visitors as far as safety goes in Georgia.
In this guide, we will go over all you need to know for a weekend itinerary to this lesser-known but small town which is not lacking in gorgeous appeal for all visitors.
How To Get To Vardzia, Georgia
Honestly, depending on your budget, Vardzia may not be the most convenient place to visit. There are regular buses but the buses aren't very consistent and difficult to find information about since their schedules are constantly changing.
The preferred method of traveling to Vardzia would be to rent a vehicle and drive there yourself. Though, at around $25 USD per day, renting a car could be out of some travelers budgets. You should also know that it can be hard to arrange a car rental if you plan on starting and ending your Georgian experience in different cities.
Taxis are a cheap option if you are traveling with a group. In my experience, a taxi to Vardzia (from the capital, Tbilisi) cost us about $30 USD.
However, if you are traveling alone and on a strict budget, your best bet is to deal with the relatively stressful busing company in Georgia. These buses are 12-15 seat vehicles which generally will only leave when all seats are filled. The public bus ride is about four hours to Vardzia and is under $10 USD. The bus generally stops once in the mountains along the way for a stretch and bathroom break (when I went there was a blizzard in the middle of April up there) and also once for some local bread (this depends on the driver).
TRAVEL COMPANIES WE USE AND TRUST
Where To Stay In Vardzia, Georgia
I was vastly misinformed about accommodation in Vardzia. Doing little research, I imagined a tourist village with many homestays and hotel offerings. Be warned: this is not the case.
I arrived with a group of five and we were thrown for a loop at the lack of accommodation options. Luckily, our taxi driver "had a friend" as most drivers do in Georgia whenever you are looking for food, accommodation, or anything else.
We were able to stay with local villagers at their makeshift guest homes, and although it was an unforgettable stay, I don't believe they are regular hosts.
If you're traveling by taxi, ask your driver if he has any contacts within the village just in case! It always provides a more unique and traditional experience to stay with locals (read more about the experience below).
There is the Vardzia Resort which will run you nearly $100 USD a night (far exceeding normal Georgian accommodation prices). Though it is probably the most comfortable housing in Vardzia, it is definitely not an option for backpackers on a tight budget. It may be the only accommodation available to reserve in advance for the structured traveler type.
Other than that, there are a few guest homes on the opposite side of the river near the caves. These are convenient options for those wanting to maximize their time wandering the impressive cave system which is the main attraction in Vardzia.
Guest homes run around $35-$50/night in Vardzia, though, if you're splitting it between you and another traveler(s), it can be relatively cheap. In addition, guest homestays usually provide the opportunity to interact with villagers and try some homemade food and drink included in the price.
Things To Do In Vardzia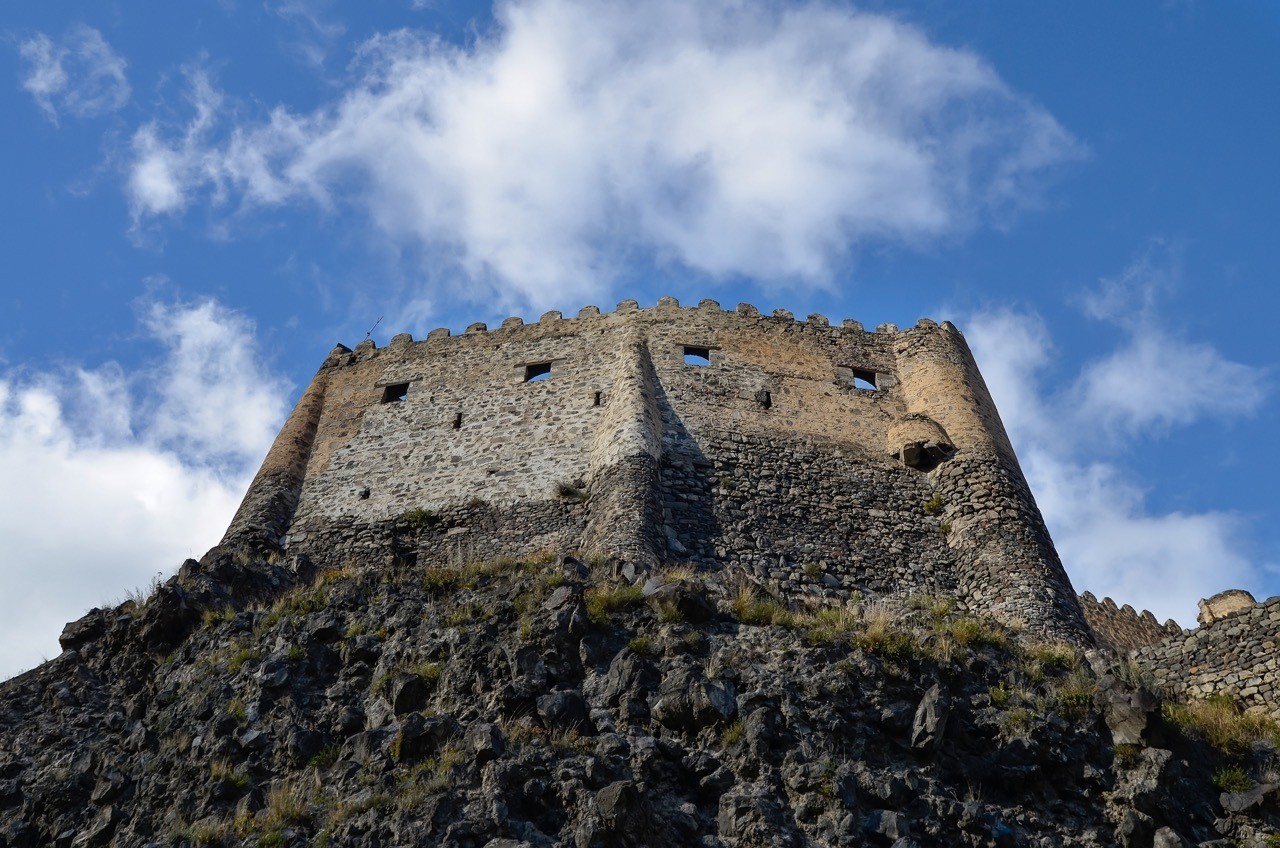 Assuming you leave from the capital city in the early morning on a Friday, it will put you in Vardzia by mid-afternoon.
Cliffs
Upon arriving, get checked-in to your accommodation and take a local taxi (bus/carpool) to the cliffs. Ask your host to call the taxi for you – it shouldn't be a problem as everyone knows someone with a car.
You will want to walk around the caves for an hour or two. Admission is no more than $5 USD but you will feel like you can't even cover a portion of the massive tunnel system even after an hour. Remember, it extends up to nineteen stories high! It is hard to imagine its sheer size until the caves are in front of you.
Eat
Grab a bite to eat at the restaurant along the river inside the park – below I have some great food tips!
After, find a ride back to your accommodation. You might find out your host has prepared you a meal on your return. Make sure you communicate with them so you don't end up full with a table full of food in front of you like what happened to me.
Hot Springs
There are local hot springs that you can't find a lot of information about online. Even while writing this piece, I did my own research to be reminded of their names. They might not have names as they are very local secrets. Ask your hosts about them and they will be happy to find you a driver or take you themselves.
If they don't already recommend it, request to go to these springs after sundown as the stars hang overhead. Vardzia has brilliant stars and it'd be a shame not to experience them while enjoying the natural hot springs.
There are several springs within the village. Some are open-aired, some have had roofs put over them. Opt to go open-aired if at all possible. Stay there as long as you want – if you're paying a taxi driver, they are usually more than welcome to wait as long as you want to stay in order to take you home.
But don't get too comfortable. You couldn't imagine what might await you at home.
Drink!
Wine, wine, vodka, and more wine!
Georgians love to drink and they are proud of their homemade wines and vodka. If your host offers, it is rude to refuse. This tradition did me in well while visiting in Vardzia. Everyone in the village wants to drink with tourists.
Breakfast
The next morning, enjoy a local breakfast prepared by your hosts and head out for day 2 in the village. If you haven't had your fix at the caves, feel free to re-visit and explore the parts of the tunnel system you haven't yet. It is truly a once in a lifetime experience.
Monasteries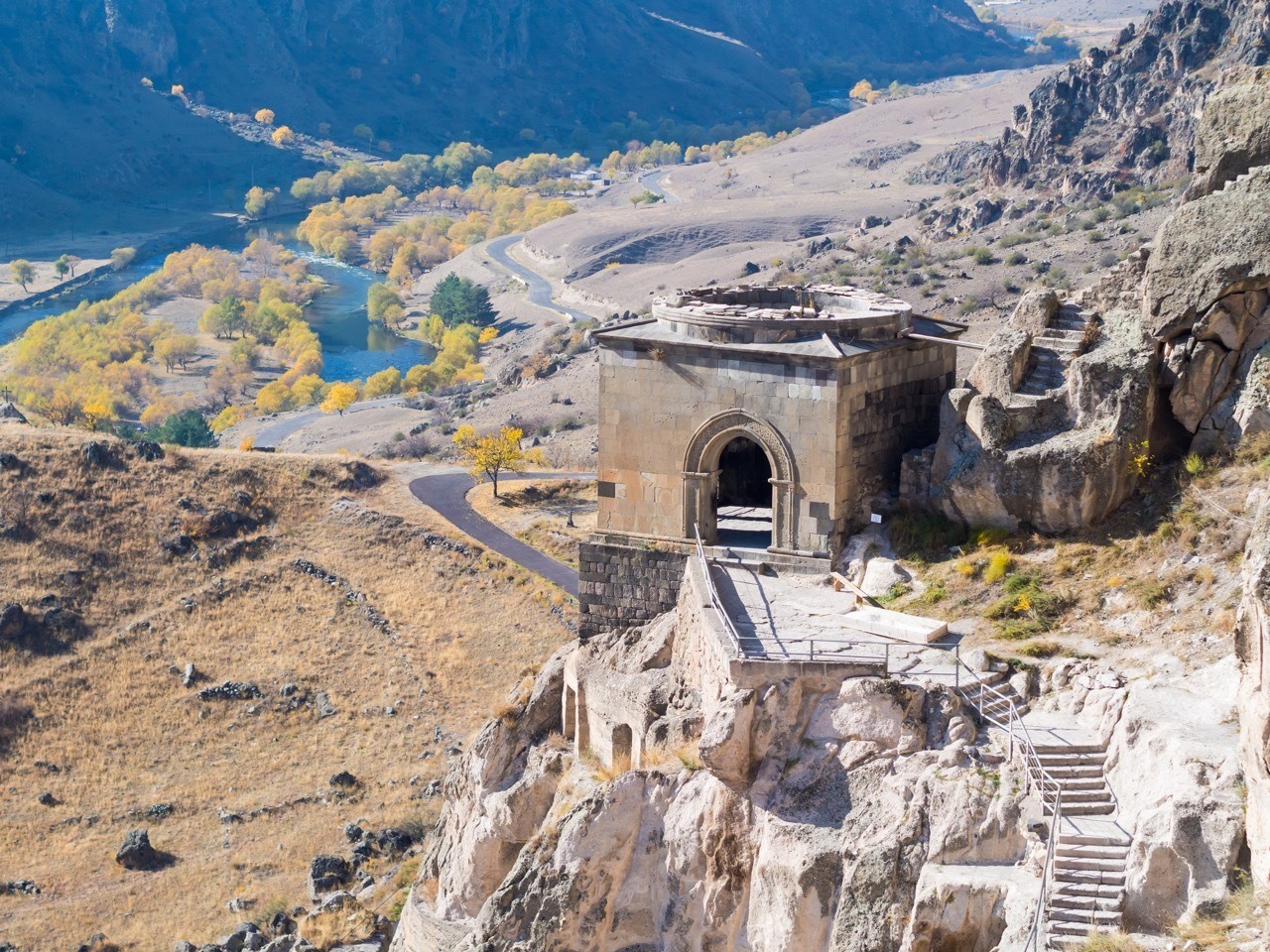 Next, there are a few must-see monasteries in and around Vardzia that should be on your itinerary.
About a mile before reaching Vardzia there is a road (more like a track) which heads nearly 1,000-feet up to Vanis Qvabebi; a cave monastery that predates Vardzia by nearly 500 years. Vardzia itself is astonishing but when you see how old this monastery is, it will put things in further perspective.
Khertvisi Fortress
After that, head to Khertvisi Fortress (about 7 to 8 miles outside of Vardzia) which dates back to between the 10th and 14th Century. It's perched atop a rocky platform at the meeting of the Paravani and Mtkvari Rivers.
Tmogvi Castle
Next, get to Tmogvi Castle toward Vardzia, atop a mountainous-looking hill on the opposite side of the river. What you see which remains dates back at least to the 9th Century although it is debated on its actual construction period. Though you can't see much left, the sheer history will leave you breathless.
Sightseeing those few fortresses and monasteries should take a majority of your day. Hiring a taxi to chauffeur is probably the most reasonable mode of transportation and shouldn't cost you more than $30 for the whole day (total).
Feel free to head to another one of the secret hot springs if you've still got some energy come nightfall.
Find out when the bus leaves the next day. You may have to take a taxi to the neighboring city of Akhalkaliki as sometimes the buses are too lazy to make it all the way to the village without passengers who are being dropped off in Vardzia.
If you are heading the west to Batumi to continue your Georgia trip, Vardzia is conveniently located about halfway between Tbilisi and Batumi on the west coast. Plus, there are sights to see on the way!
Interaction With The People Of Vardzia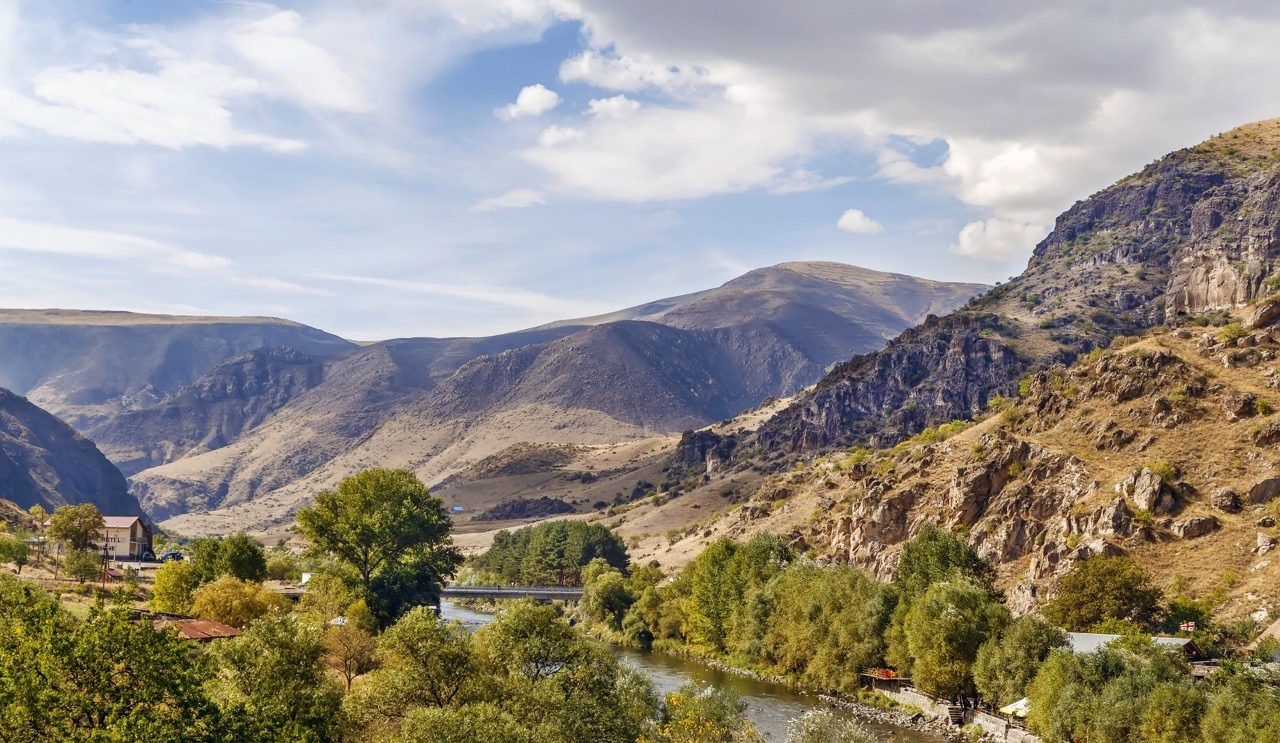 I had the greatest time in the village of Vardzia. Upon arriving, we were treated like royalty and shown the best hospitality I've ever experienced while traveling.
We stayed with an older couple, certainly beyond retirement, but both still worked from home tending to the family cow and chickens (and bee farm)!
The man fetched fresh milk from the cow the two mornings we stayed with them. The woman showed us around the bee farm and gave us a demonstration of how they'd harvest from the honeycombs. Neither could speak a lick of English, however.
Luckily, I was traveling with a few people who were fluent in Russian and most Georgians can speak Russian as a second language. Through extensive and tiresome translating, I was able to converse with our hosts and many people from the village.
On the day we arrived, our hosts quickly shuffled us onto the caves in order to maximize our time before sundown. Upon our return to the home, the entire village (or at least most of it) was gathered around the table at their house.
From then on, we shared stories about Georgia and our own countries, drank wine and vodka, and I even made a toast which was not received particularly well in its translated script.
What To Eat In Vardzia
Georgia offers a little something for everyone as most of their culinary products are derived from ideas brought along the Silk Road by foreigners.
Georgians take pride in there cheeses and wines. Going to the vineyards along the Georgian border with Russia is a must!
Matter of fact, Georgia is known to be the birthplace of wine over 8,000 years ago. That's reason enough to indulge in a glass or two.
Khinkali
Khinkali are Georgians favorite little dumplings and they are delicious and affordable by everyone's budget. I made many meals out of these things.
Khachapuri
Khachapuri (or cheese boats) as they are known to the outside world are also a staple in the local cuisine.
Lobio
Lobio is a special bean soup that you will almost undoubtedly be offered by one of the hospitable Georgians you come across.
Chakapuli
Chakapuli is a lamb stew which is to die for flavored with onions, tkemali, white wine, and many herbs.
The food scene in Georgia is one of the most underrated in the world!
My Observations On Culture And Customs In Georgia
Old men sat and jawed while dinner was being prepared, the younger generation stood around the table and were expected to behave and listen to adult conversation, and women were generally cooking, cleaning, and gossiping in the kitchen
Though it's an old school culture, there seemed to be no complaints as it has become a way of life in Georgia
As we, the tourists/Westerners, arrived, we were immediately given seats at the table as folks twice my age were forced to stand. Trying to be chivalrous, I offered to let them stay seated, but I was told it is an insult if I didn't take their seat
I even tried to help women in the kitchen but my offer was received with laughs telling me that's not what I'm supposed to do as a male
Georgians are very religious and you will often see them do a quick prayer for things like driving over a bridge or along a narrow mountain road
As previously stated, Georgians drink like there is no tomorrow and it's courteous to take a drink if offered. So, prepare yourself!
Tips aren't required but often appreciated
Smoking cigarettes in public places (even indoors) is still a thing in Georgia. If you don't like it, you may have trouble finding restaurants that don't have smoke swirling around in the air
Nearby To Vardzia
There are many things to see in Georgia. Below is a list of other must-sees on your Georgian itinerary to help you before and after your stay in Vardzia:
Tbilisi: the capital city. You'll end up staying longer than your planned reservation. Trust me. Between the cheap food, amazing vistas, natural sulfur baths, and beautiful architecture, this city is a contender for most underappreciated in all of Europe
Batumi: An excellent destination to head to after Vardzia. A laid back beach city along the Black Sea. Also some great wind-surfing there! Read a guide on what to do in Batumi here
Kutaisi: Many Georgian trips start here as most affordable flights from Western Europe will fly into the Kutaisi international airport
Borjomi-Kharaguali National Park: you should visit here solely because it is on your way between Vardzia and Batumi. I wouldn't travel too far out of your way to visit
Mtskheta: home to a very beautiful hillside monastery and quaint tourist village. A short taxi drive from the capital
Mount Kazbegi: many Georgia travelers make it a point to stay several nights atop Georgia's tallest, most beautiful mountain. There are many all-inclusive tours to Kazbegi but these tend to be on the expensive side for Georgian tourism
Note: Yes, Georgia is considered a European country. Although, ask many Georgians and you will get a split answer between it being a part of Europe and Asia as it is right along the Eurasia boundary line.
You'll see so much more to and from Vardzia, that a side trip to Vardzia is certainly worth your time even if you had not planned to make it a stop.
What else would you add to this weekend guide to Vardzia? Let us know in the comments below.