Some posts contain compensated links. Please read this disclaimer for more info.
The Best Restaurants In Skopje You Have To Eat At
Just like most capitals in the world, Skopje has a rich food scene and a lot of interesting restaurants that are worth visiting. You just have to know where to look.
Macedonia is a country famous for its finger-licking-good food and in this list, we'll feature some of the best restaurants that serve traditional Macedonian food but also restaurants with unique concepts and unusual and exotic dishes.
So, if you're traveling to Skopje and wondering where to eat, here are the finest restaurants in Macedonia's capital that will satisfy even the pickiest of eaters.
Vodenica Mulino, For A Romantic Date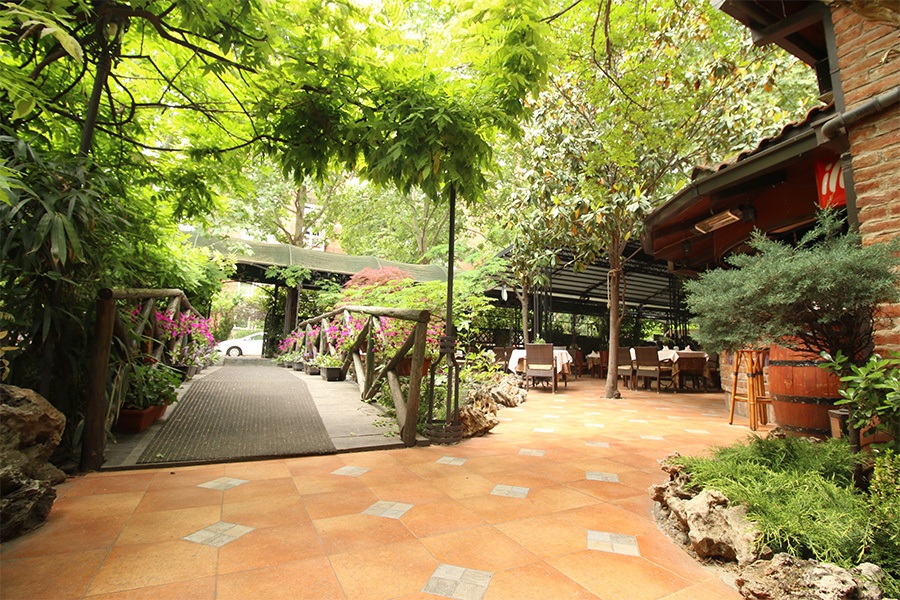 If you're looking for a restaurant for a romantic dinner in Skopje, it doesn't get much better than Vodenica Mulino. The restaurant is the perfect mix of vintage charm and classy elegance and this translates to both, the food and the ambient. Vodenica Mulino is famous among Skopje locals for its rich wine cellar that's always equipped with the finest wines from around the world.
Address: Mitropolit Teodosij Gologanov 69, Skopje, 1000
Makedonsko Selo, For A Slice Of Tradition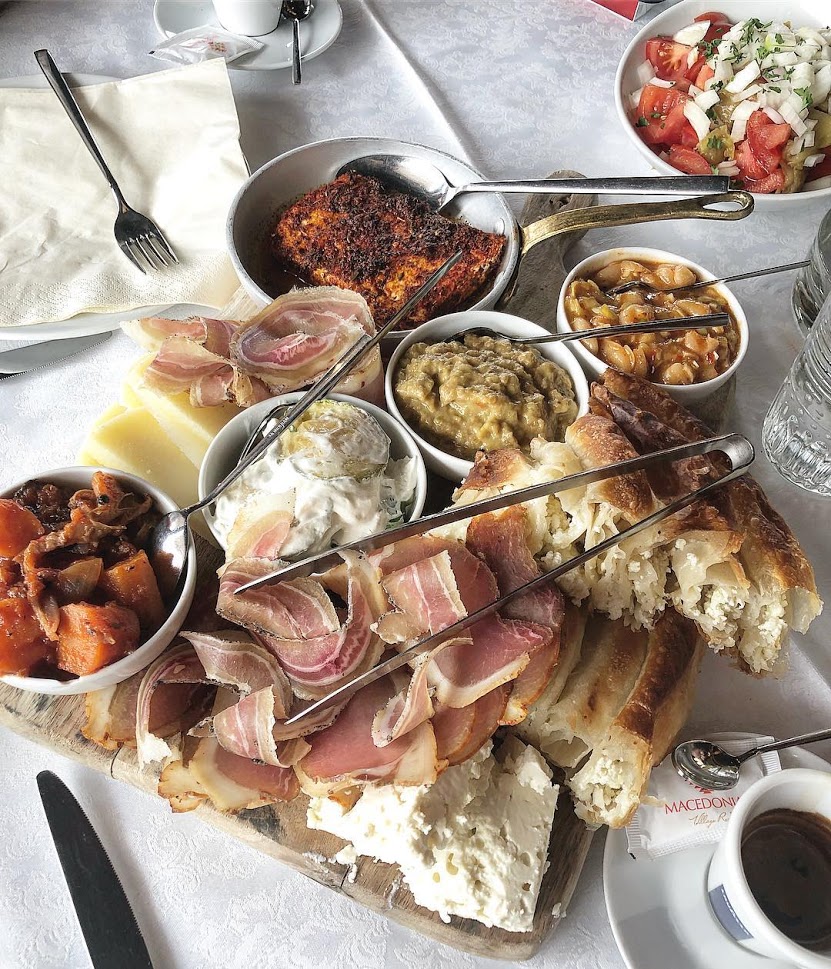 Located on the road to Pantelejmon Monastery on Mt. Vodno, Makedonsko Selo (Macedonian Village) is a large museum/hotel/restaurant complex. There are accommodation facilities, an outdoor museum, and a restaurant, all decorated in traditional, 18th-century style. The complex is surrounded by the forests of Mt. Vodno, making it a perfect stopover destination for people who want to explore the other side of Mt. Vodno. Additionally, you can also see and learn about the different architecture styles from around the country.
Address: Gorno Nerezi (on the road to St. Pantelejmon Monastery), Skopje, 1000
Oreov Lad, For Enjoying Nature While Dining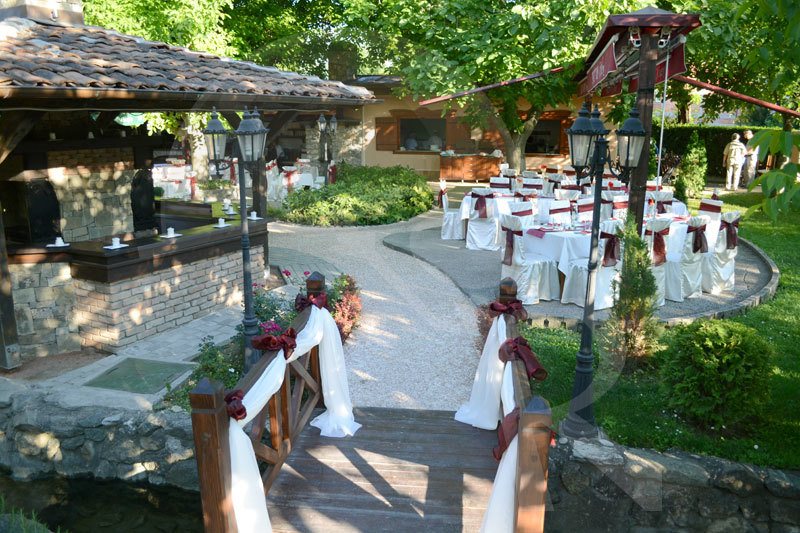 Located in the city outskirts near the highway that that connects Skopje to Tetovo, Oreov Lad is one of the oldest restaurants in Skopje. What started off as a small family restaurant is today a go-to choice for people who want to have their celebrations and parties away from the busy streets of Skopje. And just like every other great family restaurant, all recipes for the menu items on the list have been passed from one generation to the next.
Address: Sarajska 1, Saraj, Skopje, 1000
Fitness House, For Healthy Meals
The name is rather self-explanatory; Fitness House is the go-to choice for locals and tourists alike who want to eat healthy food. If you thought healthy and delicious don't go together, you'll probably change your mind after visiting this place. They make the best chicken steak in town and there are a lot of options for vegetarians and vegans as well.
Address: Boulevard Partizanski Odredi Br. 40, Skopje, 1000
Rock Kafana Rustikana, For Combining The Incompatible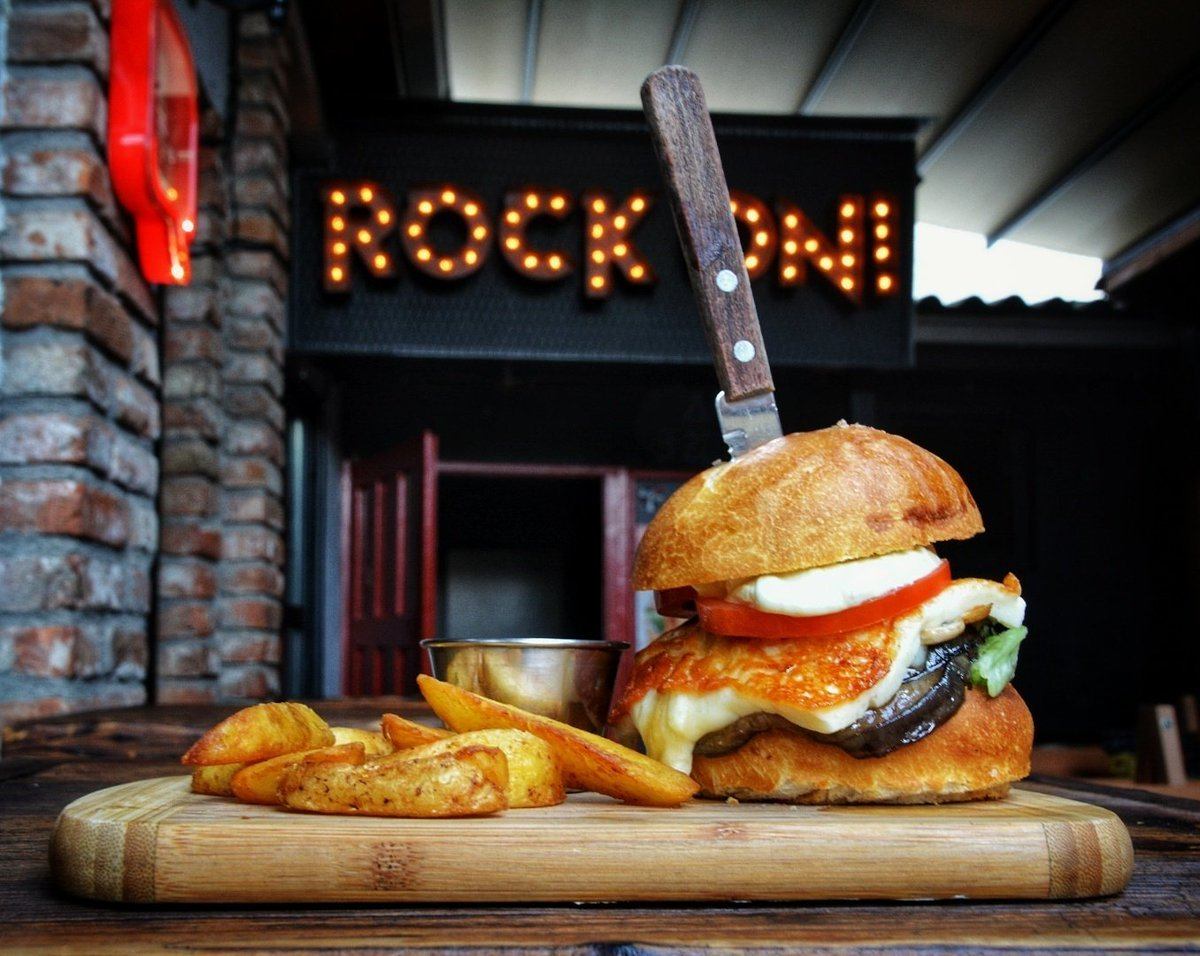 If you ever visited a kafana in some of the other countries in the Balkans, you're familiar with the concept and you know what kind of music you can expect in these places. Kafanas usually serve barbecue or traditional food and can expect either turbo folk music or local traditional music. Well, Rock Kafana Rustikana is basically a kafana that serves food you would usually find in a kafana (just much better) and has live music but mostly local rock bands.
Address: MK, Boulevard Ilinden 94, Skopje, 1000
Pelister, For The Best Mix Of Macedonian & Mediterranean
Located in the heart of Macedonian Square, Pelister is a hotel/restaurant that's popular among locals and tourists alike. If you're passing by in the area, you'll inevitably notice it because it's always filled with people and there's a good reason for it. Pelister's menu features a great mix of traditional Macedonian and Mediterranean cuisine. The restaurant's interior is very classy, decorated with expensive furniture and delightful chandelier, while the outside seating area overlooks the Vardar River and gives a great view of the Old Bazaar.
Address: Boulevard Macedonia, Skopje, 1000
Čardak, For The Best Pie In Skopje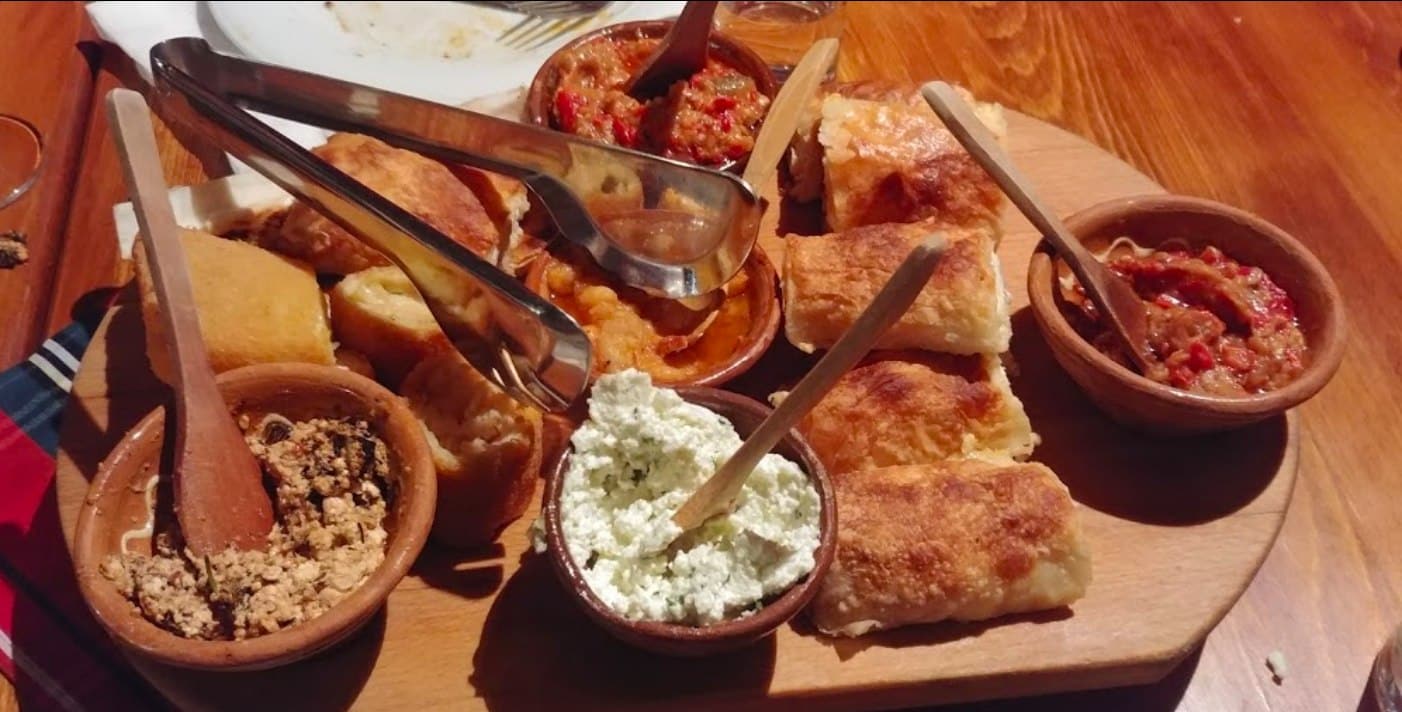 Čardak is so busy on Fridays and Saturdays that waiters have to run a marathon to make sure everyone has their orders on time. Similarly like Skopski Merak and Lyra, Čardak has live music and amazing barbecue too but they're famous among locals for their amazing traditional pie recipe.
Address: Gjorgji Peshkov, Skopje, 1000
Makedonska Kukja, The Locals' Favorite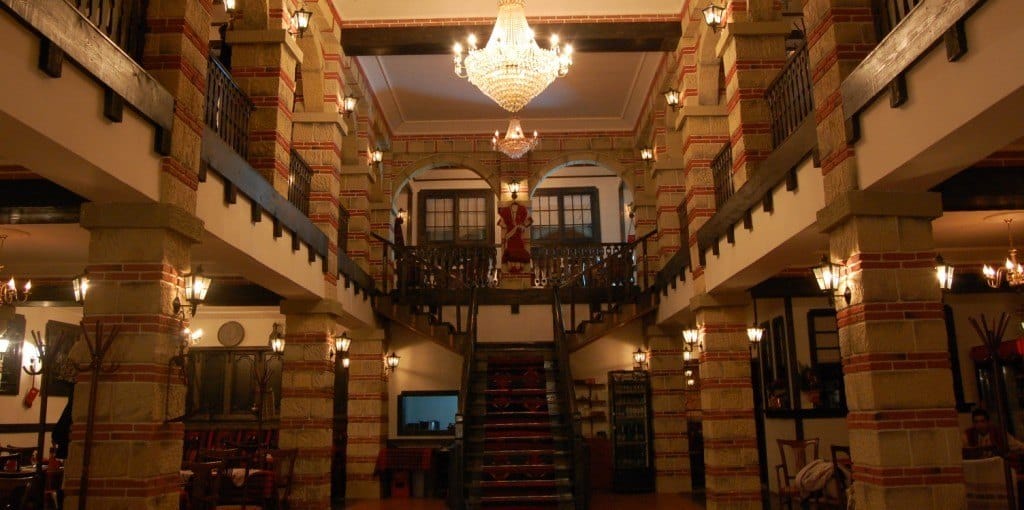 There's a good reason why Makedonska Kukja has been favorite among locals for years. Sure, the restaurant serves amazing food and they have nice music every night but what makes this restaurant special it's the interior. In fact, there are so many artefacts, one can actually argue that Makedonska Kukja is a museum as much as it is a restaurant. It's no wonder it has been declared as the best traditional restaurant in the country on numerous occasions.
Address: Teodosie Gologanov no 63 nearby Alumina, Skopje, 1000
Stara Gradska Kukja, For A Piece Of History
Stara Gradska Kukja (meaning Old City House) is located in the building in which the first restaurant in Skopje was opened in 1836. Throughout the years, this old house went through a restoration and today is home to one of the best traditional Macedonian restaurants in town. Stara Gradska Kukja probably has the most beautiful courtyard out of all restaurants on this list which makes it perfect for big celebrations and for guests with kids.
Address: Boulevard Phillip the Second of Macedon 14, Skopje, 1000
Skopski Merak, For Live Music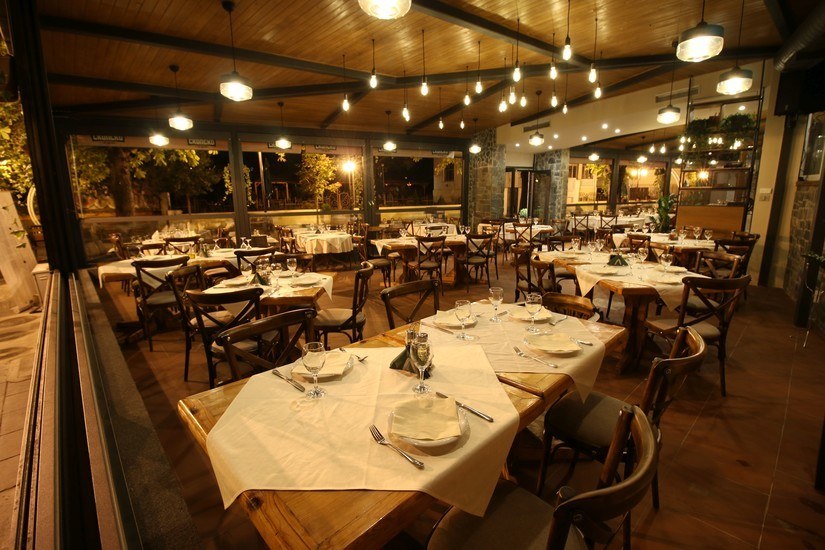 Debar Maalo is home to some of the best restaurants in Skopje but still only a few come close to Skopski Merak; a traditional Macedonian restaurant where food is prepared in a wooden oven. To add to the atmosphere, the restaurant has live music every night. If you're a meat lover, you'll absolutely love this place but they have a lot of vegetarian options too. While you're there also try pastramajlija.
Address: Debarca St. 51, Skopje, 1000
Lyra, For A Piece Of Skopje's Bohemian Spirit
There's a good reason why Lyra is always full and you need to book a table before going there. The food is absolutely amazing and there's live music every night playing some of the best old Macedonian songs. If you decide to dine here, their most popular dish is the Macedonian Casserote which includes veal, pork, and mixed vegetables.
Address: Nikola Tesla 11, Skopje, 1000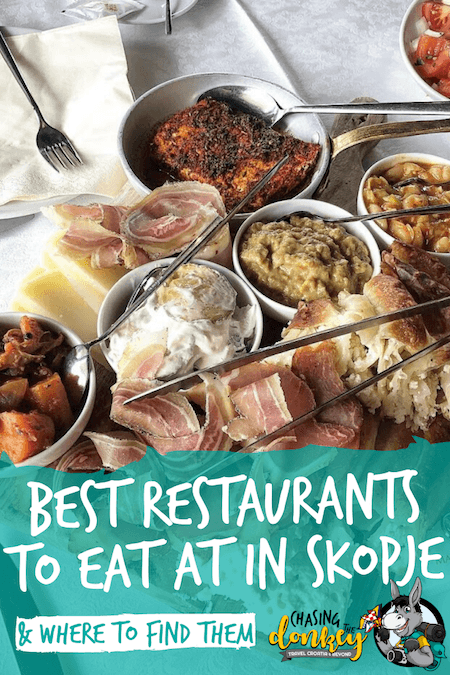 Korner Baba Cana, For The Best Barbecue
Baba Cana started off as a small restaurant in the city of Kumanovo but it became so popular that they had to open one in Skopje too. It's one of the most affordable restaurants on this list and if you decide to dine here you'll see why people used to drive 100 kilometers just to taste their amazing food (before the restaurant in Skopje was open). Since the restaurant is located on the road that leads to Vodno Mountain, you can combine dining at Baba Cana with visiting the top of Mount Vodno.
Address: Partenija Zografski 34, Skopje, 1000
Amigo's, For The Best Mexican Food
Located in the heart of Skopje, Amigo's is the place to be for people who are into Mexican food. During the summer, you can enjoy the beautiful outdoor setting but the interior is very interesting too. It's decorated in a traditional Mexican style and most people go to Amigo's taste the amazing tacos, burritos, enchiladas, and guacamole but people also go there to drink some of their tasty sangria and different kinds of tequila.
Address: Macedonia 11, Skopje, 1000
Peking Garden, For The Best Asian Food In Town
When you're walking around Maksim Gorki Street, close to the square, you'll notice a Chinese restaurant with a small terrace that looks rather modest. However, once you step inside, you'll forget that you're in Skopje and will feel like you're somewhere in China. The owners did an amazing job in creating an authentic, traditional Chinese atmosphere with a lot of unique decorations and artefacts. The restaurant is very spacious, which might come as a surprise if you compare it to the terrace at the entrance, and if you're a fan of Asian food, this will quickly become your favorite restaurant in Skopje.
Address: Maxim Gorky, 3, Skopje, 1000
Veneto, For The Best Italian Food In Town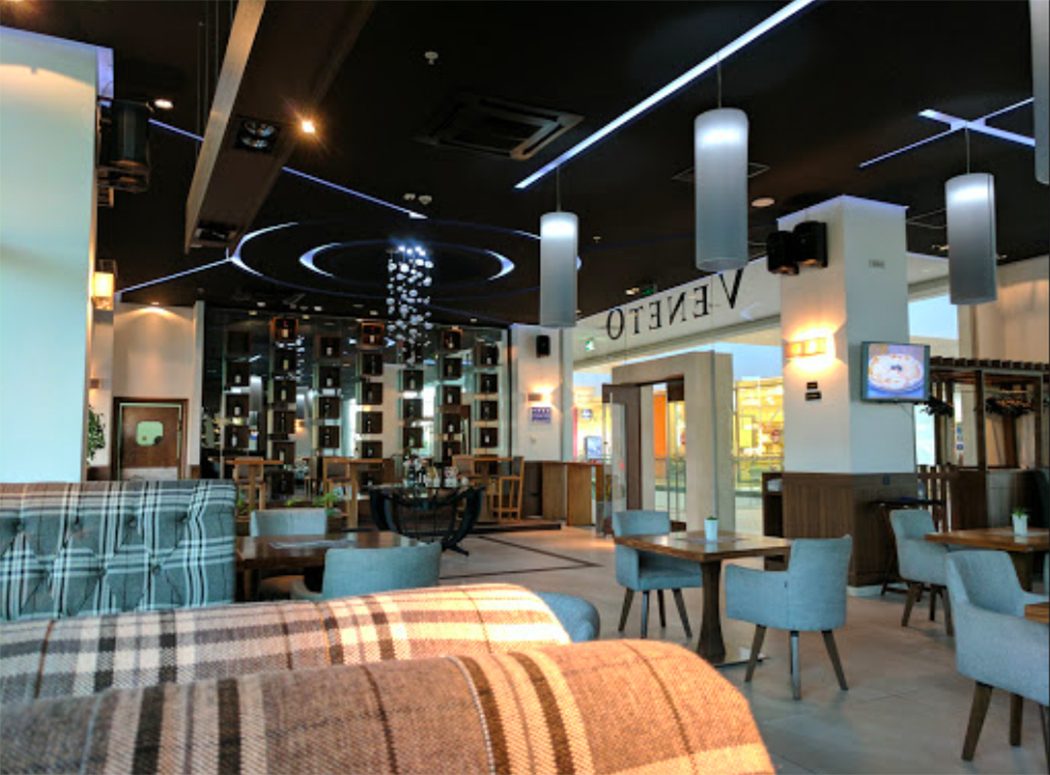 Located in Skopje's newest and biggest mall, Veneto is the best Italian restaurant in Skopje. The food is absolutely amazing and the customer service- one of the best ones in town. Most of the dishes on the menu are Italian but they also serve some continental food as well as barbecue.
Address: Ljubljanska 4, Skopje, 1000 (inside the City Mall)
Enriko, For The Best Pizza
There are a lot of Italian restaurants in Skopje, but none of them can compare with the pizza at Enriko. Not only do they have the best pizza in Skopje but it's also one of the favorite brunch spots for local youngsters. Some other notable things you have to try besides the pizza are the Enriko omelete and a Macedonian Panzarotti.
Address: T.C. Leptokarija, Bulevar Partizanski Odredi, Skopje, 1000
Martini, For The Best Waffles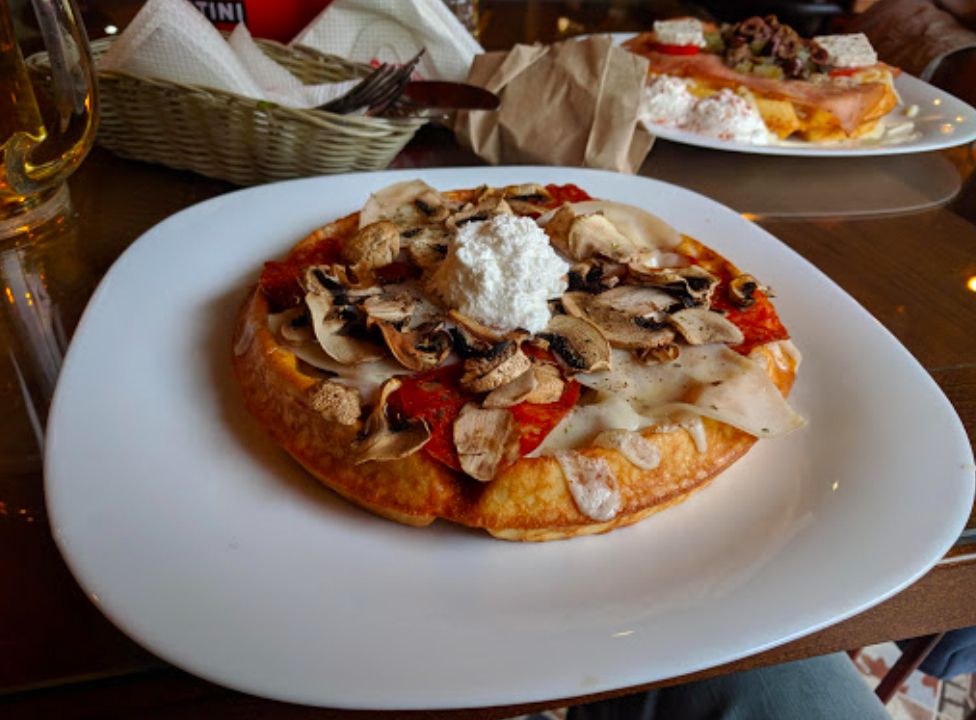 Martini is located close to Enriko, making it a perfect place to stop by for some waffles after the brunch. They have some other menu items too but waffles is what Martini is famous for. So, if you love Belgian waffles, Martini is the place for you; they have sweet waffles, salty waffles, spicy waffles, sandwich waffles, fish waffle, omelette waffle, waffle salad… You get the point.
Address: bul.Partizanski Odredi, T.C. Leptokarija sec.5, lok.2, Skopje, 1000
Chateau Kamnik Winery, For Wine Lovers
Even though Chateau Kamnik is actually a winery, there's a posh restaurant onsite with a cozy ambient and a beautiful garden. The food in the restaurant is delicious but most people visit because of the wine. Some of the wines produced here are served in very worldwide famous restaurants, including a few Micheline Star-rated restaurants in Europe. You can also join a guided tour and learn more about the wine production methods in Kamnik and even try some of the wines produced in the winery.
Address: Kamnik bb, Skopje, 1000
Fast Food Sedmica, For The Best Burger In Town
Even though it's technically not a restaurant, Fast Food Sedmica deserves an honourable mention on this list. If you ask most locals what's the best place to have a burger, most of them will advise you to go to Sedmica. Their French fries and secret-recipe sauces taste amazing and the burgers are huge, so make sure you have enough room before coming here.
Address 1: TC Tri Bisera, Boulevard Jane Sandanski bb, Skopje, 1000
Address 2: Borka Talevski 5, Skopje, 1000
Address 3: Leptokarija Mall, Skopje, 1000
Which one of these restaurants in Skopje was your favorite? If you travel to Skopje, which one would you visit first? Let us know in the comments!
More Ideas For Macedonia Travel
Share