Best Places To Visit In Georgia (The Country)
Georgia has high altitude mountains, enthusiastic people, and a history that dates back centuries upon centuries. When considering the abundance and beauty of all places to visit in Georgia, it is no wonder why this country is hot on everyone's travel list. Oh, and did we mention it is the birthplace of wine?
Standing at the ledge of the Vardzia cave monastery, you can look out and see for miles. Mountains, river valleys, even small villages, but it seems no tourists are in sight. How can it be possible? Vardzia is one of the most amazing feats in the history of humankind. Surely, more people are dwelling down below. You look once more, but to your astonishment, you are alone.
Georgia is a country of diverse landscapes and natural wine bars in the South Caucasus region of Europe bordered by the magnificent Black Sea along with four other countries which sit on the dividing line of the two continents just as Georgia does.
Turkey, Armenia, Azerbaijan, and, believe it or not, Russia all share a border with Georgia. It is no wonder why Georgia has seen the most visitors of the region in recent years.
Few people in the world would be able to locate the country of Georgia on the map (no, not the U.S. state). However, for those who visit or have visited, it becomes a sort of secret which captures your heart and takes it away. With the hospitality of the lovely Georgians, its eclectic architecture, mountainside monasteries in several towns, and numerous other Georgia tourist attractions, Georgia is quickly becoming a place you can't miss.
Take a peek at our all-inclusive guide to visiting Georgia and the small towns and places to visit in Georgia that make this such a special country.
Georgia Travel: Know Before You Go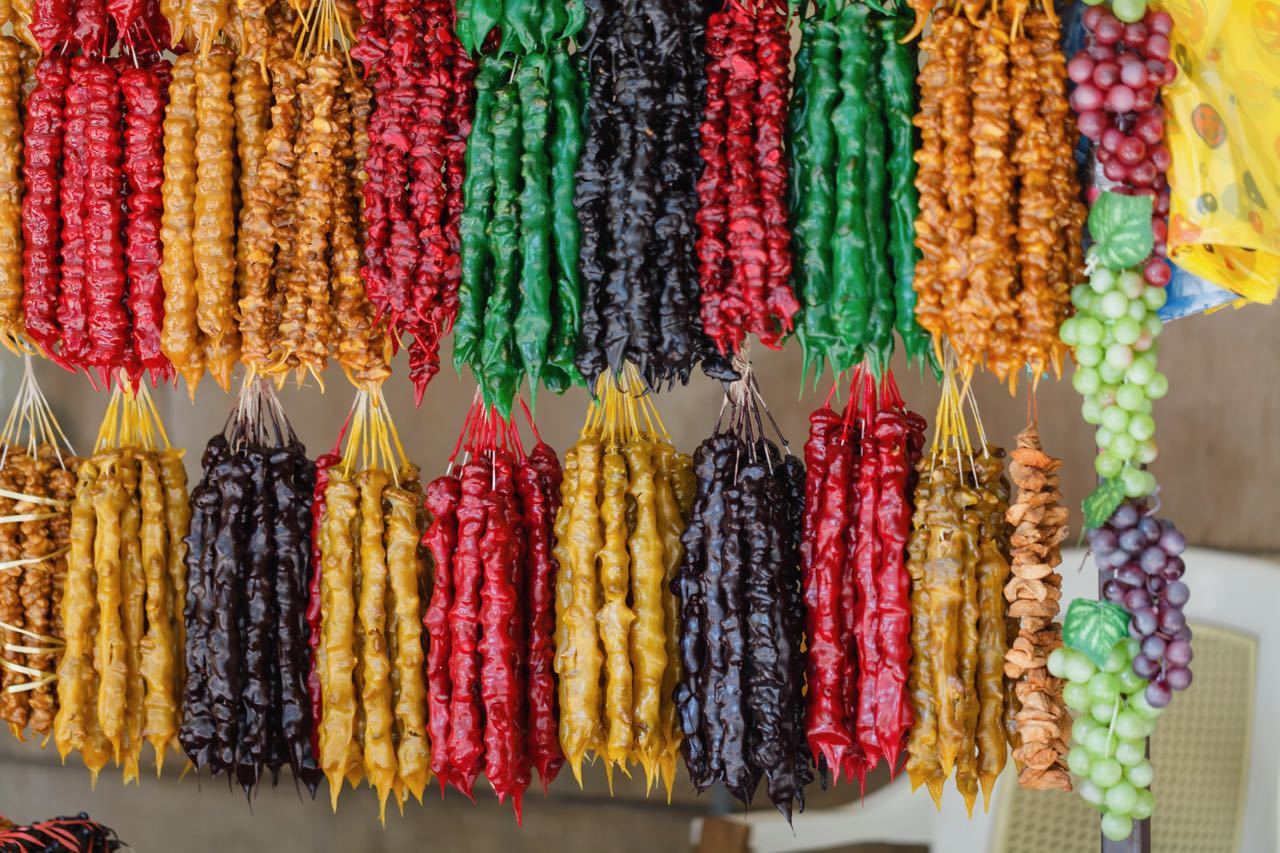 Georgia is a country with more to it than what meets the eye. Make sure you have a grip on the country and what you will encounter before you go. Allow us to help you with planning a budget and wetting your chops with imagery.
Transportation In Georgia
Trips to Georgia are amazingly scenic, but it requires some know-how before you ever catch a ride.
First, you must know there are buses, mini-buses, taxis, a metro, a railway, and a roadway that's quite challenging to navigate without any knowledge of the Georgian language.
The railway is the most cost-efficient and easiest to use when sightseeing in Georgia, Europe. Though there are only two routes, so it is not very convenient. A 90-minute ride will cost you less than $0.50.
Buses are also cheap but perhaps not as time-efficient as driving your own vehicle. They will take you to the outskirts of Tbilisi and close enough to our first small town, Mtskheta. There are also cross-country buses, but locals prefer not to use them, so we advise you to follow suit.
Mini-buses are incredibly affordable and most frequented by locals. They are called marshrutkas in the local language. Long-distance marshrutkas will wait until the entire van is full to ride. If you see your bus (they are numbered), simply wave your hands at the driver until he stops. They will pick you up and drop you off anywhere you are.
Taxis are cheap, and if you are traveling with a group, it is often affordable to hire a taxi driver for the day, even on long-distance journeys. Simply find one in town and negotiate a price (this may be easier to do in Russian if you know it).
There are trains in Georgia that run between the big cities but also have stops in small towns. The schedule at the train stop in most places in Georgia doesn't have English translations, so you'll probably have to ask for help. Trains run their routes twice a day.
Renting a car isn't exactly cheap in Georgia, which is why we would suggest the marshrutkas or trains. If traveling with a group, your best bet is a taxi.
Other Expenses
Accommodation in Georgia is cheap. You can stay at a budget hotel or boutique guesthouse for as little as $10, and hostels are even cheaper than that. Keep in mind that you will get what you pay for, so check reviews if booking online.
Georgian cuisine is unique to itself but also carries influences from the entire Caucasus region, Eastern Europe, and some Middle East flavors, as well. You must try the Khinkali!
You can generally try delicacies at Georgia restaurants for less than $1 per dish. Still, you may need to order a sampling table of many different delicacies in order to fill up. If you were to order a proper meal, it would run you around $6-7.
TRAVEL COMPANIES WE USE AND TRUST
Georgia Weekend Itineraries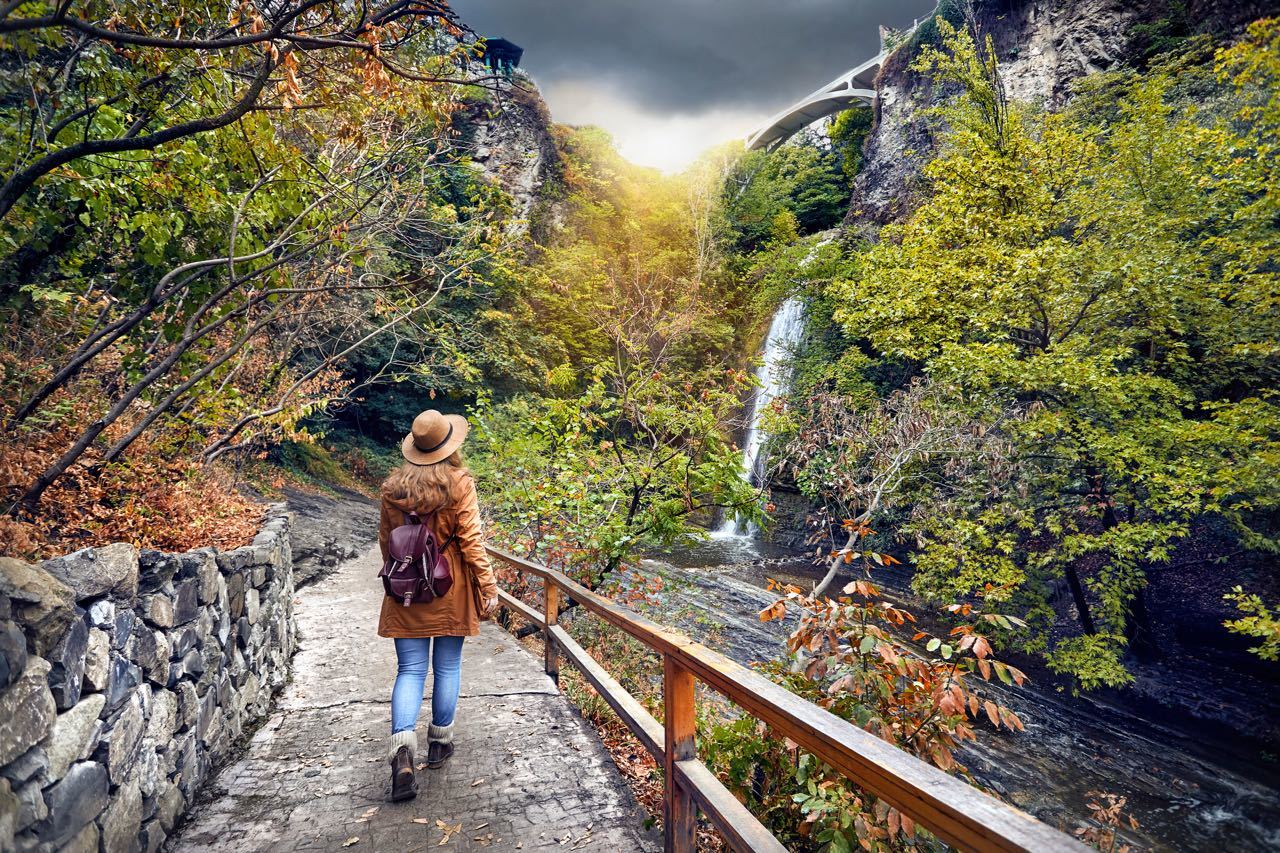 Here are a few examples of Georgia weekend itineraries, taking in many of the best places to visit in Georgia. We tried our best to make fit all different kinds of travelers and trip lengths, so you could visit at least a few of the top tourist destinations in Georgia.
2 or 3-days: Fly into the capital city, Tbilisi, one of the must-visit cities in Georgia. Visit Mtskheta while staying in Tbilisi. Drive onto Gori if you wish, but Tbilisi has a small-ish atmosphere you may appreciate, too.
4-5 days: Start in Tbilisi. Visit Mtskheta before heading onto Gori, where you will spend the night. The next day, drive onto Borjomi and spend a day there. Travel further west and spend a day in the ancient city of Vardzia, one of the most amazing Georgia sites, before heading back to Tbilisi.
7 days: Start in Tbilisi. Visit Mtskheta before heading onto Gori, where you will spend the night. The next day, drive onto Borjomi and spend a day there. Travel further west and spend a day in the ancient city of Vardzia before heading on east to Batumi to spend the rest of your trip in this Black Sea coastal city, one of the myriad cool places to visit in Georgia.
Best Time To Visit Georgia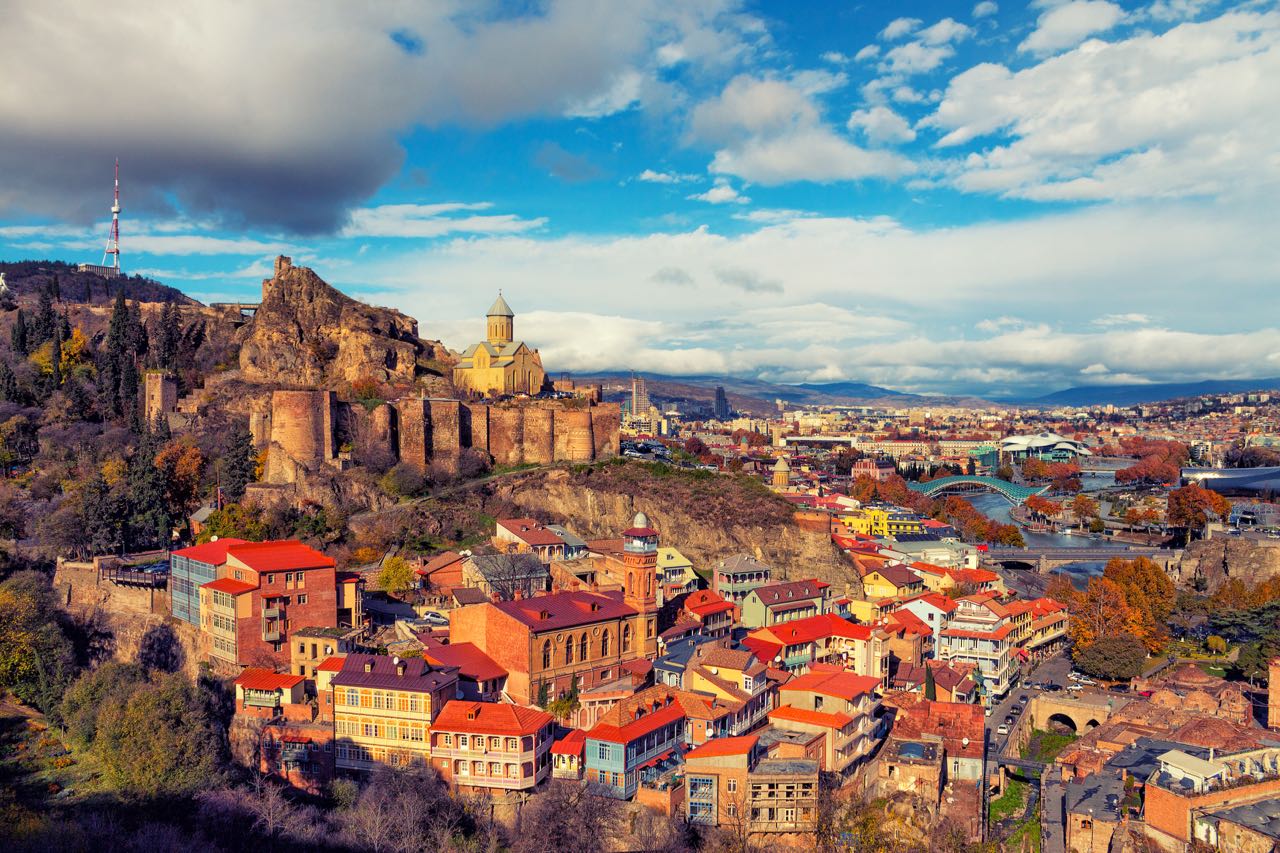 The best time to visit Georgia (especially when not visiting the mountains) is in the months of May, June, and September. You will avoid the heat of summer and not get hit with the brunt of the winter, which can get very snowy.
If you are coming to ski, which is one of the top things to do in Georgia country, you can go pretty much any time after November and be guaranteed some good runs.
Hiking, though you want to stay cool, is really best to wait until the slush has dried and the earth is not so wet. June and September are the perfect times for hiking in the most beautiful natural places to visit in Georgia.
However, there is really no wrong time to visit Georgia. We visited in early March and still had the time of our lives.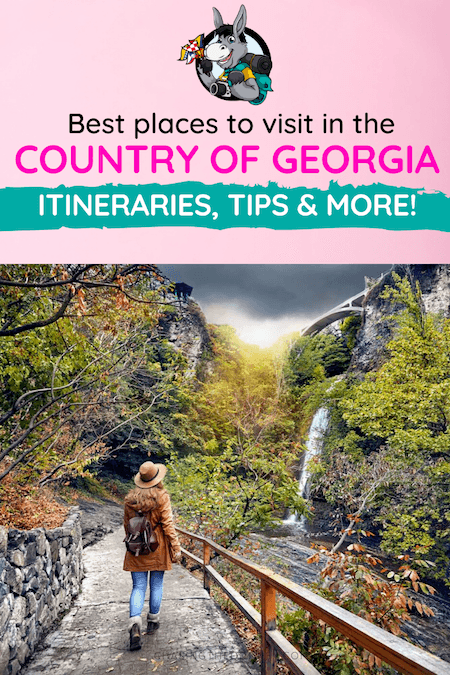 Best Places To Visit In Georgia, The Country
If you're wondering what to visit in Georgia, here are a few of the small towns in Georgia that make this place so special. It would be a shame if you didn't get to check at least a few of them out for yourself; they're some of the prettiest places in Georgia!
Mtskheta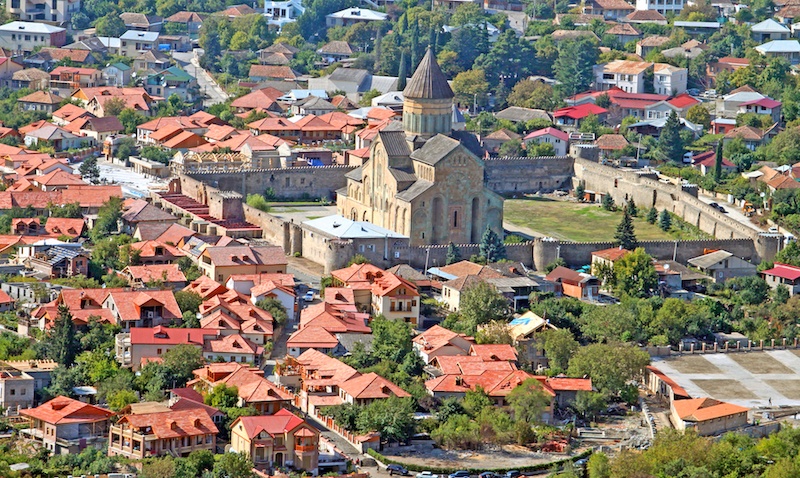 Mtskheta is smaller than you probably imagine a small town being. It is the old capital of Georgia and only twenty minutes from the current capital, Tbilisi.
Start your road trip off right with a quick stop in this ancient village. You don't need more than a few hours to tour it thoroughly. The main highlight is the incredible Svetitskhoveli Cathedral, which was built over 3,000 years ago and is one of the greatest sites to see in Georgia. It is believed to be the burial site of Christ's mantle. So, there is a lot of history buried in this small town.
The streets are beautiful; everything seems to be made from stone and kept immaculately clean. It is the first place a Georgian in Tbilisi will recommend you visit. It's one of the favorite places to go in Georgia, the country, among Georgians themselves.
If you don't have your own ride, you can usually find a cheap taxi, and if you're splitting the cost with others, it won't be expensive at all to hire a driver to take you around all day before returning to Tbilisi. However, if you have the chance, rent a car so you can continue your road trip without heading back to the peaceful capital.
Mtskheta is a quaint little village. However, it is nothing more than a day trip from Tbilisi — and a short one at that. Stay in Tbilisi if you don't have enough time to make it to the next city on the itinerary. Here are a few accommodation options in the capital city:
Pushkin 10
Tiflis Hills
Silver Hotel
Gori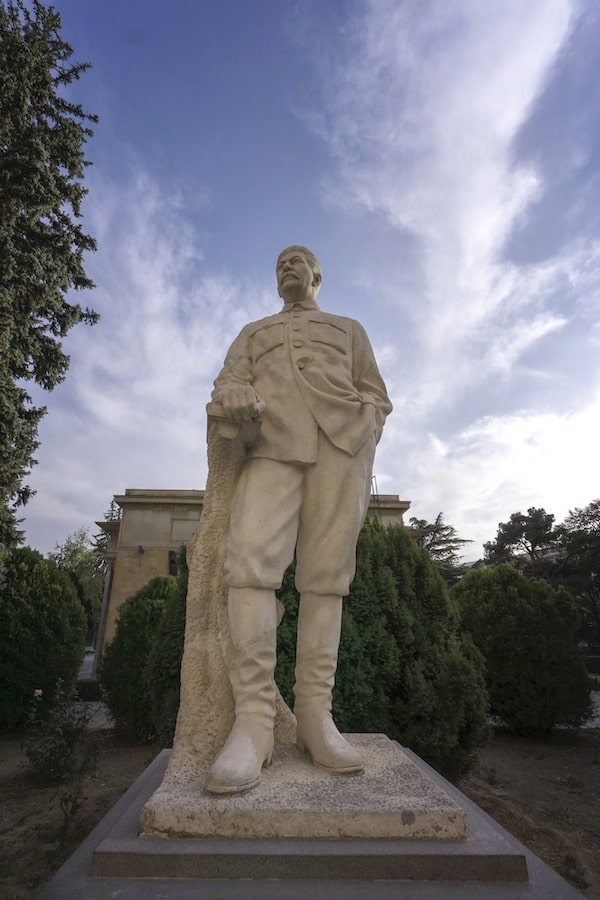 Gori is another small town, well-located in terms of traveling from the capital and on the main highway connecting the western and eastern parts of the country.
Gori's claim to fame is as the birthplace of the notorious Soviet leader, Joseph Stalin. Whether it is something to be proud of or not, it still brings in flocks of tourists to visit Stalin's childhood home and get aboard his family's private railway car. For this reason, this is certainly one of the top Georgia sights to see.
In a more positive tone, Gori has written itself in stone as Georgia's capital of fashion. All trendy wardrobe styles are started in this young atmosphere. This contrast makes Gori one of the most interesting places to visit in Georgia, for sure.
With only 50,000 people, the town is not usually busy; however, according to Georgian standards, there are still a lot of things going on.
In Georgian, "gori" means hill, which is appropriate as the town is set in the valley of beautiful hills. It is a town these Georgians are proud to show off, and its kindred spirit will blow you away.
If someone doesn't invite you to stay in their home, here are a few good options to consider for accommodation:
Sadmeli Winery
Chateau Dio
Glamping Georgia, Krihki
Stepantsminda
Located nearly a hundred miles north of the capital city of Tbilisi, Stepantsminda sits on the border with its Russian neighbors on the other side of the mountain range.
It is about a two-and-a-half-hour drive from Tbilisi, so a very do-able day trip. We do, however, have a feeling once you see this mountainous region, you will want to stay for a few days. Arriving in Stepantsminda, you will feel as though you have stepped into a new world completely different from what you saw in Tbilisi. If you're wondering where to go in Georgia for spectacular natural scenery, this is it!
The town sits more than 5,000 feet above sea level, which might not seem too high but you will definitely feel even more dwarfed in-between giant peaks and ranges like in Stepantsminda.
Tourists generally enjoy the ride into town and immediately visit Gergeti Trinity Church, which is famous for being the base of Mount Kazbegi, the renowned mountain most tourists come to see. This gorgeous mountainous region is one of those incredibly scenic places in Georgia that make the country such a great destination.
In fact, if you're an avid hiker, you'll be thrilled to that hiking is one of the top things to do in Georgia, especially in beautiful landscapes like those in Stepantsminda.
With only 1,500 residents, the place is pretty quiet, and you may have to come up with your own entertainment if you are acclimating for the hike.
Stepantsminda has a lot of options for sleeping, being that it is at the base of Kazbegi, and much of the country's tourism runs through this magnificent mountain. Here are some of your best budget-friendly options in Stepantsminda:
Hotel Stancia Kazbegi
Chemodann Hotel Kazbegi
HQ of Nove Sujashvili
Borjomi
Situated just over two hours west of Tbilisi, Borjomi is another popular place for tourists who are traveling from the east to the west of Georgia.
As a matter of fact, Borjomi is known for its lavish tourist resorts and also its famed spring water. The bottled version is much different than what it tastes like out of the spring. The original taste is warm and salty and has a smell of sulfur.
However, when it goes through its processing, which Georgians say is natural, it's said to be an excellent hangover remedy for when you wake up from your resort bender.
Obviously, spring water can't entertain you for hours on end, so you can also visit the nearby Borjomi-Kharagauli National Park and walk through the lush green forests that make the Georgia country landscape of Borjomi so pretty.
Besides whatever party is on at the resorts, Borjomi stays pretty quiet. Only 11,000 people call this townhome, but they are very friendly with visitors. Most are curious enough to start a conversation with strangers.
As one of the most beautiful places to visit in Georgia, Borjomi has everything you could want in a day trip location. Here are a few of our favorite accommodation options you can consider staying the night at:
Crowne Plaza Borjomi
Borjomi Palace Hotel
Paradise Borjomi
Vardzia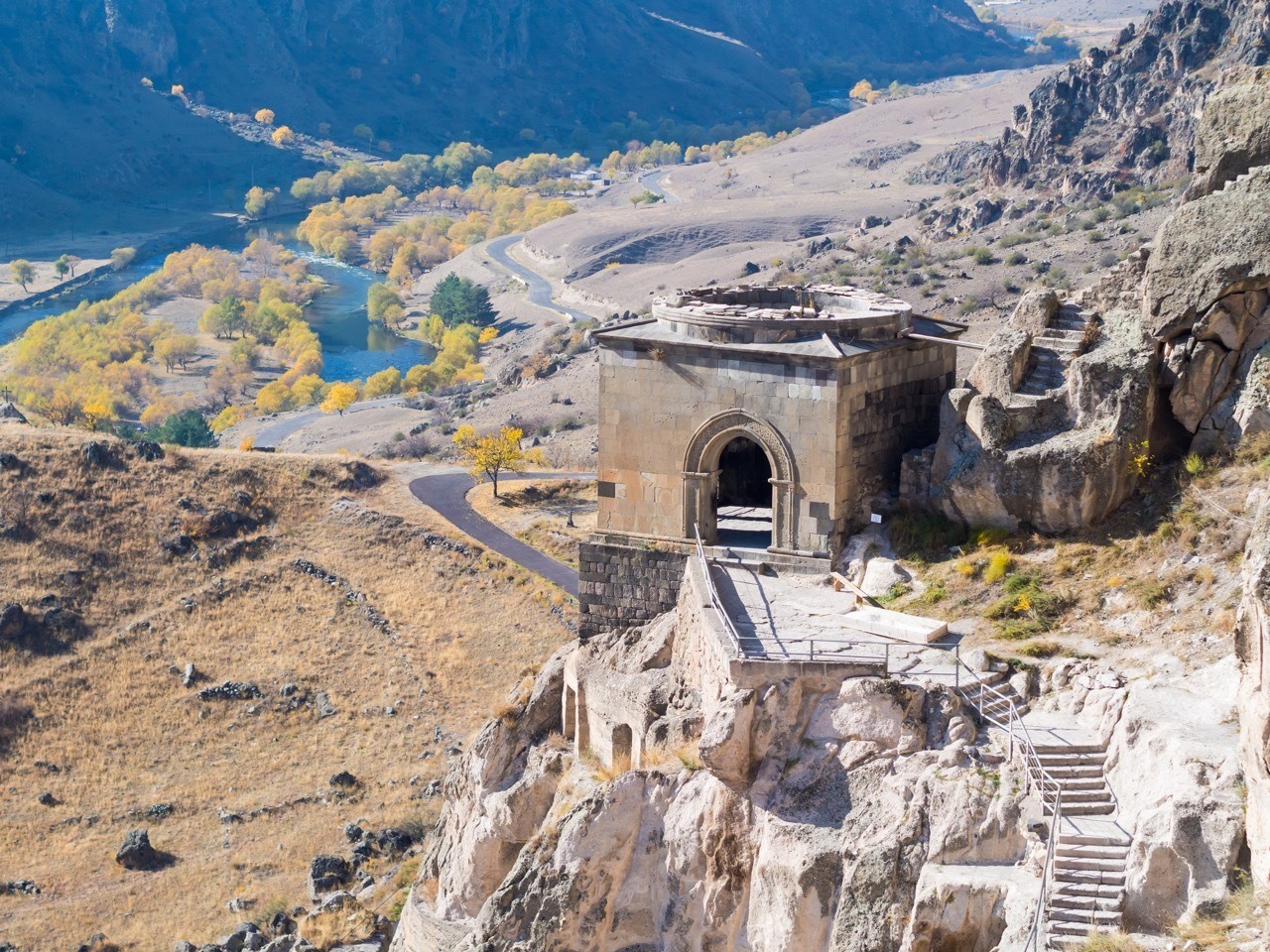 Continuing from Borjomi to the southwest for a few more hours will land you in an ancient cavern city, Vardzia. This gem is impressive and baffling on all accounts, often listed as one of the major attractions in Georgia, the country.
Standing in the window of one of the caves carved into the mountainside in Vardzia, your mind will escape you, and you will immediately be put in the shoes of a slave of the 12th century, wondering how such a feat was conquered so long ago without the technological advances we have today.
As you walk the pathway on the edge of the mountain face, your mind will return to the 12th century, trying to imagine the challenge you would have to face after the sun goes down with no electricity, guiding yourself by candlelight.
The impressive caves and tunnel system sits on the banks of the Kura River, stretching 500 meters long and 19-stories up. It is one of the most incredible things we have ever seen, and UNESCO must have thought the same; submitting it as a World Heritage Site applicant, an achievement it will undoubtedly claim in the coming years and further putting it on the map of must-see places in Georgia.
Vardzia is as small-town as it gets. As a matter of fact, it would be better to call this a village. There are only a few options, but we recommend the first one here:
Guesthouse Zedafoni
Baia's Wine
Tabakini Hotel Resort
Batumi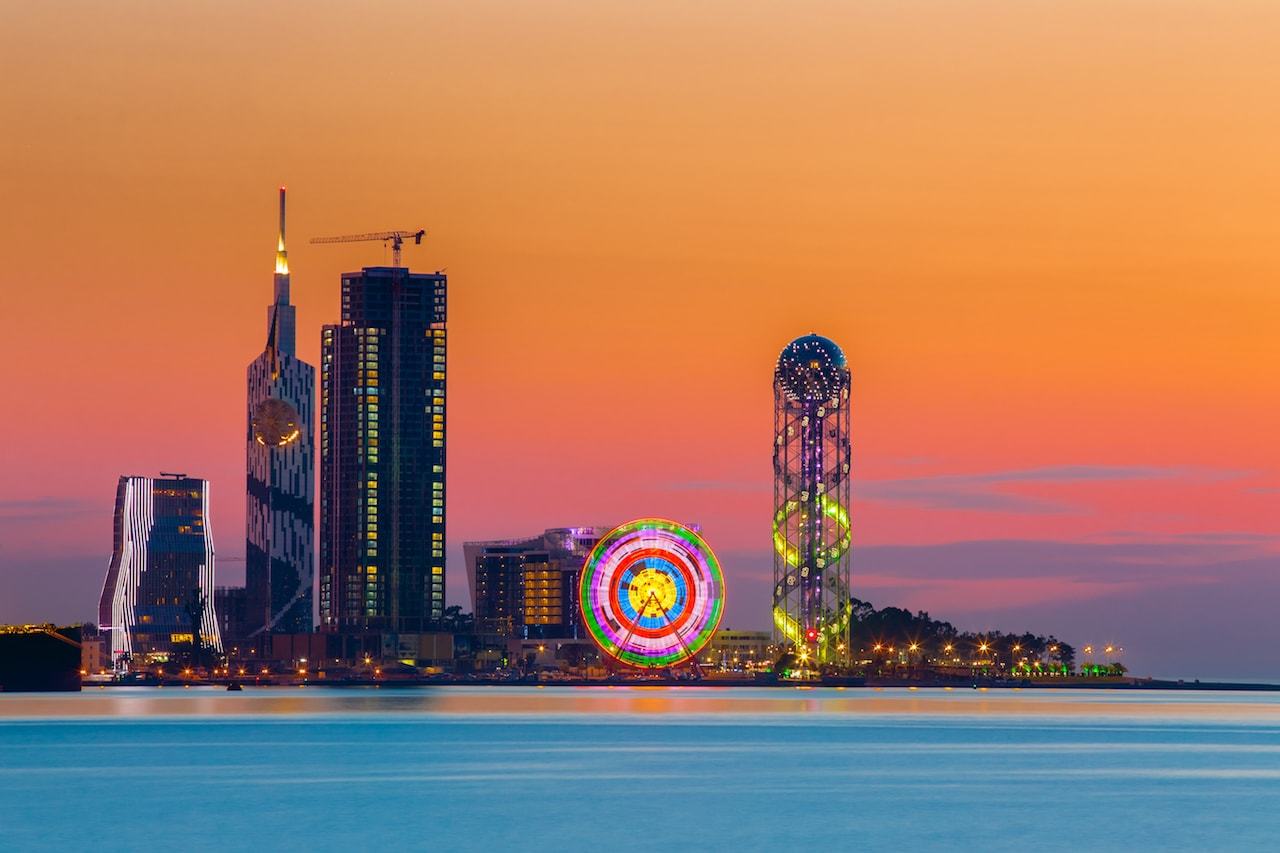 From Vardzia, a nine-hour drive will take you all the way to the coast of the Black Sea. With a population of over 160,000, it is true Batumi doesn't exactly fit the description of a small town, but we wanted to add a city on the Black Sea to your itinerary, and Batumi stands out.
There are so many things to do on the Black Sea, but most people choose to take up some sort of action water sport such as windsurfing.
It might be nice to be back in the bright lights of a larger city such as Batumi, but it certainly doesn't feel like a big city atmosphere. It is a place with charisma, and the people are proud of their city.
The Old Town is nothing short of small-town-feel if the rush gets to be too much for you. But as you lounge on the coast of the Black Sea, we kind of doubt you will ever get bored with this city since there are numerous Batumi Georgia tourist attractions.
Batumi is a larger city than the other cities in Georgia on this itinerary. You will find options such as the Hilton in Batumi, which makes it questionable for a small town itinerary. However, it is the best place on the Georgian Black Sea. Here are our favorite options in Batumi:
Batumi Luxury Apartments
Batumi Palm Hotel
Silk Road Sea Towers Batumi Apart Hotel
Conclusion
Georgia is a wild, wild country filled with some of the most generous people you will ever meet. Although it may be hard to communicate with most people, their smiles prevail.
With its diversification of Caucasus mountains, its unselfish Black Sea coast, astonishingly eclectic culture, and a vibe to it that screams hipster-backpacker, Georgia is the perfect country to take a weekend road trip. There are so many beautiful places to visit in Georgia and things to see and do in Georgia; you could spend weeks traveling around this underrated country.
If you have any questions concerning Georgia or the Balkans, do not hesitate to reach out, and we will see if we can help.
Other Interesting Georgia Travel Ideas