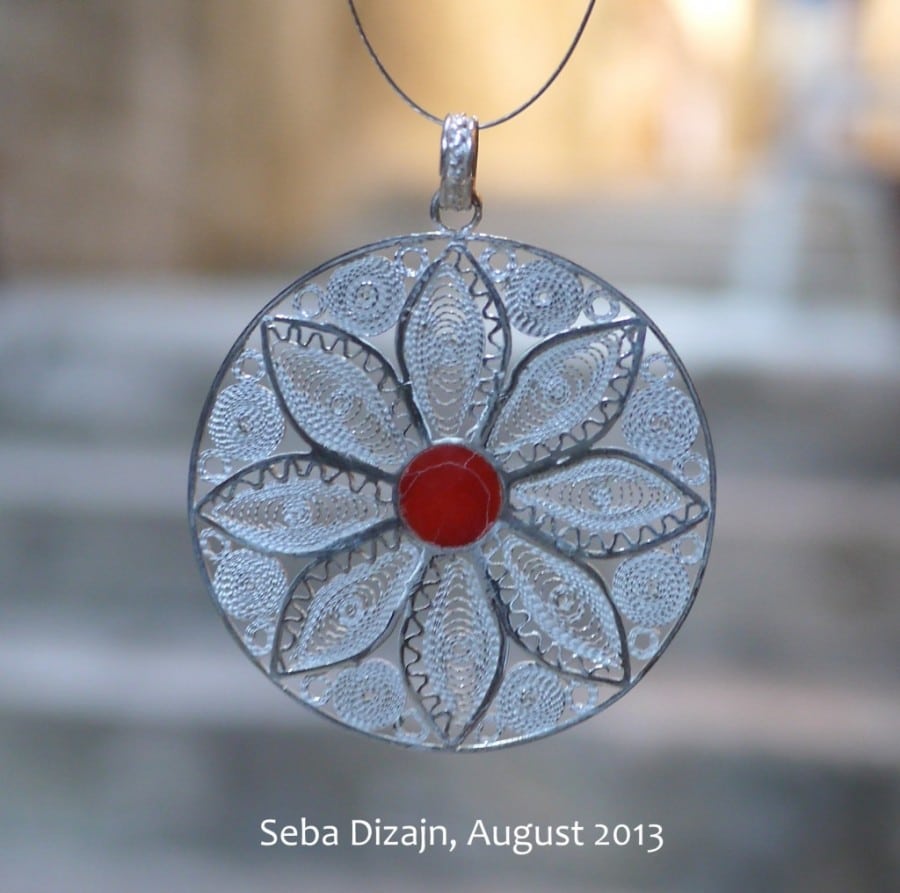 Seba Dizajn and their scintillating filigree earrings in Korčula
When visiting Croatia, there are a few places that tourists flock to, one of those places is Korčula. It's an island off the Dalmatian Coast and its one of the most populated islands in Croatia.
I was too intoxicated to recall my quick stop over in Korcula back in 2010, but now I have something very special from the island. Something that was handmade by a local, something that is almost too pretty to wear. I said almost, but I'll be wearing them often.
My very own pair of filigree earrings, hand crafted and gifted to me by Seba Dizajn. It's hard to imagine, but the artist whose name is Doka learnt the art of filigree from his father Gjovalin Seba and the Seba family have a connection with filigree that stretches back 500+ years. Doka and his father work together in their studio in Korcula.
The earrings are simply stunning. This photos and the gazillion that I tried to take, simply do not do them any justice. When I opened the box they were presented in, I was honestly surprised at how shiny the earings were. When I wore them, I received so many compliments I started to get embaressed.
These are not earrings I can wear every day as my darling Baby Donkey, loves to tug at all of my jewellery, but this pair will certainly be on high rotation in my earring collection. I have them already paired up with a dress to wear for a fancy dinner we have planned next month.
How did I get these earrings you might ask? Well it's a great story of yet another social media friendship. Ruth who is Doka's wife, I met on Twitter. Ruth is a fellow expat, born in New Zealand, who met Doka in Croatia while she was on vacation from her then job in Scotland in 2008.
I interviewed Ruth, so you could meet them and enjoy their fine crafts. When I asked Ruth how long after this holiday romance she moved to Korcula she explained that:
After several visits, a meeting in Rome, Scotland (where I was living before moving here), and numerous phone calls, text messages and letters!! We got married in Korcula in January 2010 and moved here in March 2010.
I love Ruth's story, because just like the story of the Englishman in Dubrovnik, it's one that inspires me. After all, Ruth moved to Croatia without being able to speak Croatian, nor did she know anyone. Yet Ruth left her life in Scotland, which she said was just too cold, and took a chance to open and run a successful business. They knew that there were tourists visiting during the summer months, and that they could use the winter time for production.
Ruth & Doka are not alone, because Doka grew up in Korcula and his parents and brother live close by.  Ruth says that, the family connection and support are invaluable and important to both of us.
I was curious about what Ruth did in the business, and I was surprised that she does so much. Ruth explained that:
There are so many steps involved with creating each of our pieces and I am happy to help where I can, filing, polishing, making some of the small filigree patterns and I aim to learn a lot more this winter – which is our main production time.
Seba Dizaijn is a hard working business like any other, and they both work full time in their small store and really enjoy meeting customers and visitors as they come in. Seba Dizajn invite you to come into the store, where they have a work table set up which is a fabulous chance to watch and learn how filigree jewellery is created.  Many customers have read about their shop before they come to Korcula and the Seba's love meeting the friends from their Facebook page, which Ruth manages as part of her job of social media guru. In a modern world of technology, social media really is valuable addition in marketing, their hand made jewellery.  Ironic in some ways, don't you think?
Now that winter is approaching, Ruth and Doka are planning a few short breaks & are also looking forward to turning off the morning alarm after working every day for over 6 months. Now that' s a long season!
Work continues for them, as the cooler months will have them focused on the production of new stock for 2014, which you can see by liking the Seba facebook page. Ruth posts stunning photos of Korcula, the new designs and the design process.
If you are lucky enough to be visiting Korcula you can meet Ruth & Doka in their store, and take home a stunning souvenir with you.
Seba Dizajn
Ulica de Polo
beside the Marco Polo Tower.  
Not coming to Croatia soon enough? Then you can head over to the Seba Dizajn online store where you can see a wide range of filigree Jewellery ready to be shipped to your door.
If you are inspired to make the move to Croatia, Ruth has kindly answered the same question people ask me often. Perhaps her answer may help you along your way to joining us here in Croatia.
What are the biggest challenges you faced during your moving process and how can other people thinking of moving to Croatia avoid/minimise them?
The visa process, the ever changing rules and misunderstanding the rules the first time round. I could have applied for a different type of visa initially if we had known about the options. My advice to you would be to ask others who have moved to Croatia recently, stay friendly with your local MUP and ask about rule changes – these seem to be frequent, especially surrounding changes with the EU.
I know you want something made, which is it? Earrings? Pendant or that charming cuff? Tell me in the comments below.
Note: We want you to know that this post may contain affiliate links, which means that at no extra cost to you, if you make a booking, we may receive a small commission.