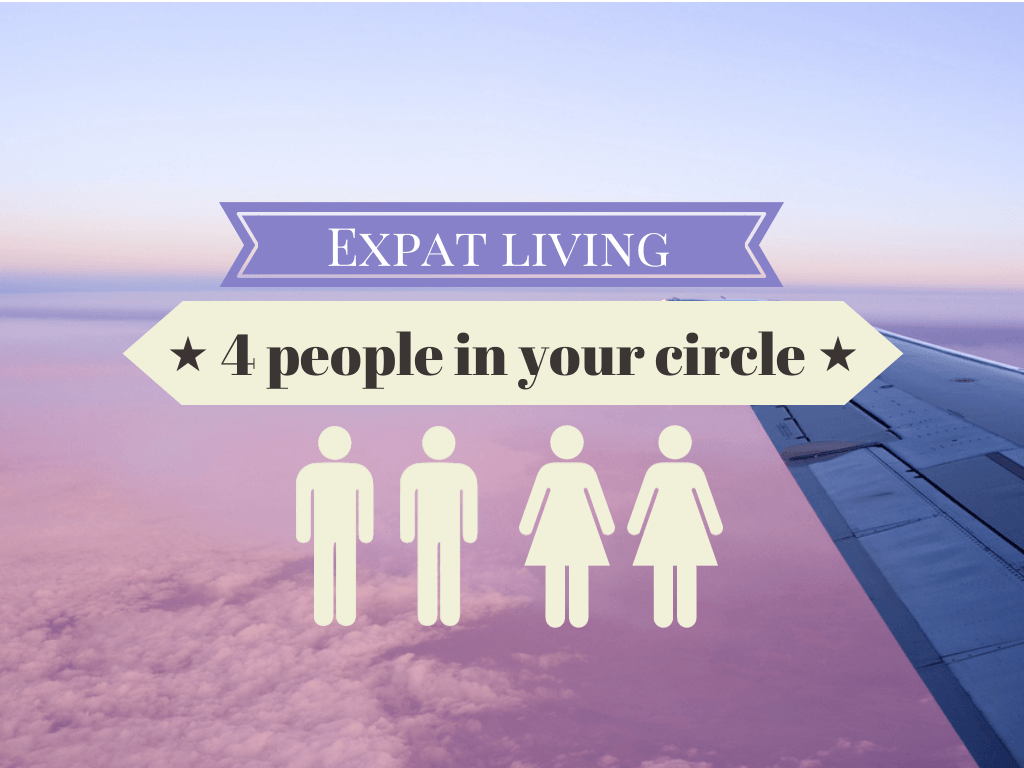 What You'll Find On This Page
Expat Living: Do you have these 4 people in your circle?
Expat living has it's challenges, you essential have two homes (sometimes more) and when you travel between one and the other you find yourself explaining your life.
In this guest post by my dear friend Ace, who is an American expat, who blogs over at Life in Dutch, she talks about family and friends reactions to your expat life after a trip back home.
I've been living as an expat for a year and a half now, and I've had the good fortune to be able to go back to the United States twice in that time. It's not always easy to return "home" while living abroad, and getting back can be an interesting experience in itself. Sure, the reverse culture shock is a real thing that will momentarily jam your brain – especially when you accidentally start speaking the "wrong" language to a cashier – but those moments are relatively fleeting. What surprises me more often are the 4 themes that seem to now dominate my conversations with my fellow countrymen during my trips back home.
The Complete Unbeliever
The Complete Unbeliever is really totally shocked at the idea of encountering a "native" that lives abroad. The Complete Unbeliever is usually a stranger, such as someone standing in a queue with you, with whom you find yourself making small talk when you reveal your current location. They may think you are playing a joke because there is no way you could possibly live somewhere else and be standing directly in front of them at the same time. Sometimes the conversation ends abruptly, but more likely, the Complete Unbeliever will ask several questions to figure out the authenticity of your tale. Since this person will be a total stranger you will likely never see again, assure them that it really is true and you're just home on a visit and share a few insights on your new country or experiences as an expat. And if that doesn't convince them, you can always throw details from movie plots into your life story and see if they notice. Either way, you can have an interesting conversation.
The Unyielding Patriot
There's nothing wrong with having love for your country of origin – after all, it's a significant part of what shapes us as people – but occasionally as an expat returning home you will encounter those that have no intention of ever leaving and those who would question your sanity for ever doing so. Encountering this Unyielding Patriot can lead to some uncomfortable conversations. They may ask leading questions designed to expose all the shortcomings of your new home or they may be insistent that you start planning "when" you will permanently return to your home country. Fortunately, the Unyielding Patriot is few and far between and you may never encounter one. But if you do, it's best to just continue to keep your end of the conversation polite and remember that what you say will probably not change their opinions – and you won't have to hear their opinions once you've returned to the country they have no intention of ever visiting.

 The Curious Enthusiast
The Curious Enthusiast wants to know everything about your new life, and may probe you on every detail from food and language to how you get around or watch television. The Curious Enthusiast may or may not have traveled widely, but may wonder why on earth you would ever return "home," especially with all the new experiences and great travel opportunities you have living abroad. Sometimes the Curious Enthusiast thinks your life is only full of travel and the exotic and exciting – but you can remind them that work, laundry, school, and regular life still happen in your new home, but that you do them around some of the more extraordinary things (and maybe in another language).
The Supportive
By far, I encounter the Supportive more than any other. Family and friends are happy for you and share in the joy of your new life but will also lend a sympathetic ear during the more difficult experiences of expat life. They're usually up on your latest news, so going home to visit is comforting – you pick up where you last left off without too much pressure to "catch up." My family and friends have been great, and have already made some great efforts to visit us in our new home. And even those that can't (understandably) travel to us have been in touch regularly through all the wonderful modern conveniences of technology. The Supportive are really the best part of when you get to go home.
Returning home to expat living can be a little daunting, but knowing that the normal interactions with your countrymen will have changed helps lessen the surprise once you do get home. Be prepared for the 4 conversational themes when you return home. Some interactions will certainly be better than others, but having that Supportive group of friends and family more than makes up for any negative experiences and always make the journey worth it.
You can catch more of Ace, on her expat living blog, Life in Dutch, Facebook and you can also follow her on BlogLovin. Ace shares honest stories about raising a bilingual son, learning dutch & travelling. Ace is a Super Mama who is also crafty, check out her Etsy Store.