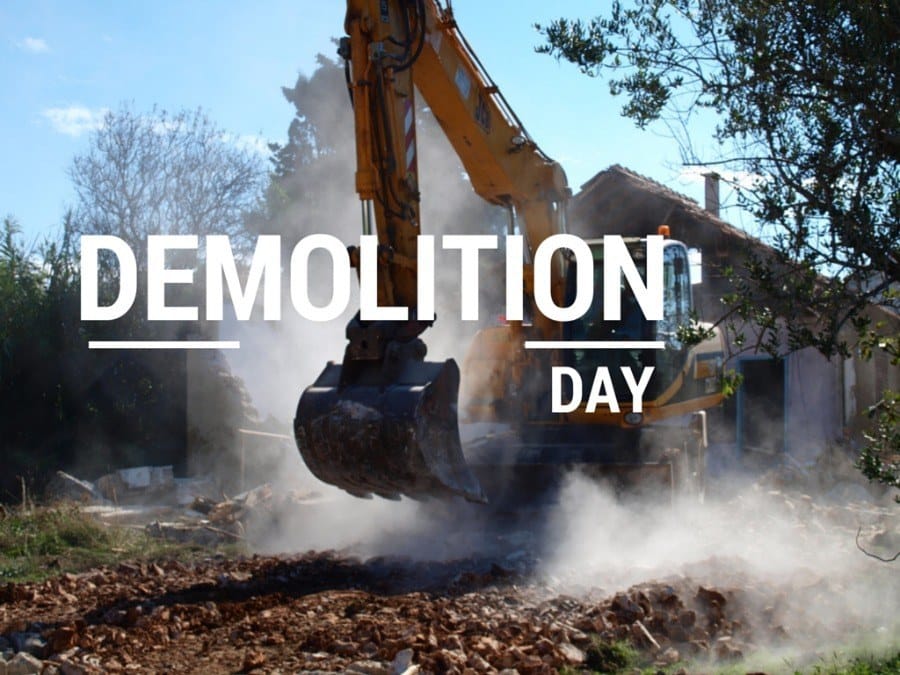 Dream house: Demolition day and a koala bear
My heart was heavy, my eyes filled with salty tears and my hands were trembling. The engine started and with a creaking of the arm, the digger struck.
Work had finally begun on the dream house in Croatia. 
With the digger in action, so too was my camera. Click, click, click. Through squinted eyes, I did my best to capture the end of an era and the start of a new chapter. The demolition of Dido's house was bittersweet. Dido built the house himself, using every dollar he had. He and his wife (Baba) worked the land, devoting all of their time to working, saving and building. The house served the family for many years, however after becoming vacant after Baba passed away and Dido moved into his daughter's house to be cared for, the house was left to the elements.
Dido's old house was passed down to his son, my father-in-law, who had plans to renovate it and one day live in it during his retirement years. I recall sitting outside the old house 13 years ago as my father-in-law cooked a spit roast on an old manual rażanj. We sat, as my mother-in-law told me how she had to pee in a pot late at night – as the house had no flushing toilet, and she was too afraid to go outdoors.
She did not care. She was happy to see her husband happy, enjoying his vacation in Croatia. The four of us had travelled from Australia to visit Dido for his 90th Birthday, and there was talk then of the house being used as a holiday home for us to return to years down the line.
Sadly tragedy stuck before his dreams could come to fruition. Once home back in Australia my father-in-law became ill and died rather suddenly. It was a dark period for my husband and his family. A great man had been taken from this earth far, far too early.
There was no talk of Dido's house for a long time. Who could think of such things? As time went by, things resumed to some kind of normalcy. Dido's house sat empty and uncared for. With my mother-in-law grief struck and her children without the necessary funds to make repairs, the house withered away. Sadly it became so bad that it was beyond saving by the time we moved to Croatia.
So how did we end up here in Croatia, with possession of the house you may wonder?
Let's go back in time (skip ahead if you have read this before)
A year after my father-in-law passed away, my husband become ill. Mr. Chasing the Donkey was diagnosed with cancer. It was a crippling time in our lives. With the exception of a brief time of remission, together we fought that wretched disease for almost 2 years until he was cancer free, and well.
During that time, my husband reflected on what he wanted out of life, and a plan was set in motion to sell-up and travel. It was during that year traveling Europe that we spent time here in our tiny village and agreed to come back one day with a family and renovate Dido's house.
We've now been living  in Croatia for 16 months, trying to get project 'dream house' which we dreamed up four years ago underway.
Demolition day
I wrote about my cynicism about the start of the project last week, and now have to eat my words. It did in fact start as planned, and I have to say the day was nothing like I had imagined.
Of course there was the digger, the truck and the work crew. All working together to bring down Dido's old house and carry off the dusty contents.
As I have suspected, there was mixed emotions. The melancholy set in as the knocking down a home that meant so much to so many began. There too was an emptiness in my heart. I ached for our families and our friends abroad. The three of us stood together, and I cried. Again. Damn those tears.
I wish we had our family here, and we were not alone
The morning sun was beaming down overhead as the baby donkey sat playing with his toy digger. I remarked to Mr. CtD that I longed for company that morning, I missed my sisters. My best friends and the laughter of his family. It's the toughest part of being abroad, there is a part of me that just does seem whole without those people standing by my side. 
Alone, we stood as load after load of Dido's hard work was carried off to the dump. The clearing of the plot meant that the new house, the dream house could finally get underway. With beers purchased, and Krafne in hand we watched and smiled at the start of our new chapter.
Thank goodness for the blog
Hello, are you Chasing the Donkey?
I turned around to see who was asking me that question. A man with an American accent sat in a car just metres from my soon to be driveway. Yes, I am, I answered puzzled. He explained he was a reader of the blog who was also an expat in Croatia. He lived with his Croatian wife just kilometres from us and came by to wish us well.
The kindness of his visit warmed my slightly broken heart.
We spoke for a short time and then agreed to keep in touch. How nice. A friendly neighbour to add to my future housewarming party.
With a successful day of demolition, several visits from local family and a surprise visit from a new friend, you may think the story ends here. But the story is far from over.  In fact, the story gets better.
The kindness of strangers and more tears
What? More tears. Sheesh, stop crying already I hear you muttering under your breath.
We returned to the demolition site after we went to our apartment for coffee while the workers took marenda (morning tea) to a sight I'll never forget. The remaining house had been flattened while we were gone. We were too late to catch it on film, and for that I was sad. But then across the way, I saw four sets of frantic arms waving to us.
We waved back. After all, it's the polite thing to do.
The arms continued waving, gesturing us to come over to them. They were all smiles and giggles. A very welcoming bunch greeted us. They came bearing gifts, like the three wise men. Only better.
After a round of kissing they handed us glasses, and a bottle of champagne.   
Before you knew it, we were popping open a bottle of bubbles, and drinking with four people we had never met. Having driven up from the south for the day, these four wanted to wish us well on our new adventure.
Known only to us by a few emails and comments via the blog, they parked their car and waited for us to return and celebrate with us. We were gifted a potted plant, adorned with a koala as a housewarming gift.
As my eyes welled up and the salt and the mascara stung my eyes. I was in shock. How can four people really be so kind to drive two hours each way, just to say congratulations and share in such a huge moment in your life?
We stood drinking the full-flavored champagne and got to know one another as the trees surrounding the property were cleared by the work crew.
My heart was full. The kindness of strangers had made a wonderful day EXTRAORDINARY.
Today was an overwhelming success. I feel renewed and like the start of a new exciting part of my life is about to take shape.
Have you built your dream house? Have you ever been moved to tears by strangers? Let us know in the comments below, we love to hear from you.