Some posts contain compensated links. Please read this disclaimer for more info.
Things To Do In Bucharest For Every Type Of Traveler
The largest city in Romania and the country's center of culture, finance, art, and industry, Bucharest is the beating heart of Romania. Many imposing buildings and monuments dot the city center, while green spaces offer urbanites and visitors alike the chance to find some peace away from the city bustle. Once known as "little Paris" for its sophistication and stylish architecture, Bucharest is still a major city in Eastern Europe—arguably the most underrated one in that part of the continent, in fact.
It's also among the least known capital cities in the Balkans and Europe in general, much less famous than nearby Budapest. Needless to say, a large city like this—the 6th largest in the EU—must be chock-full of attractions and landmarks. And indeed, there are numerous places to visit in Bucharest and things to do in Bucharest, the best of which are listed below, along with awesome places to eat and drink!
Best Things To Do In Bucharest
Nearly all major things to do in Bucharest are found well within the city center. Although this is a large city, getting around is a piece of cake. The Bucharest public transportation network is one of Europe's largest cities, consisting of buses, light rail, trolleys, and trams. You'll be able to travel between all Bucharest's top attractions without any fuss.
Just because everything is so accessible, even if you want to visit all the best places in Bucharest, you can do so in the timespan of just a day or two. This makes the city a fantastic destination for a weekend break. Alternatively, if you have more time at your disposal, there are several fascinating day trips from Bucharest you can take, too.
Palace Of The Parliament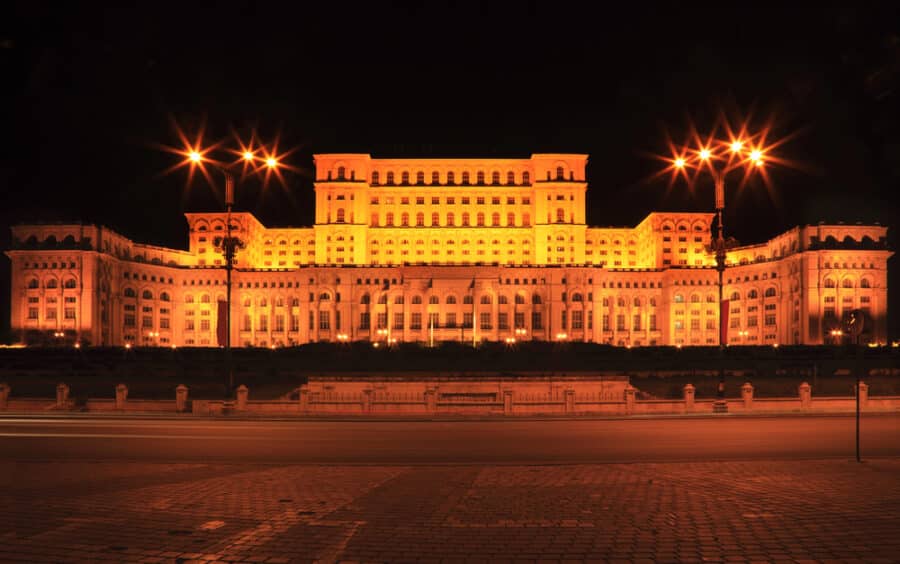 One of the most imposing buildings in Bucharest, the majestic Palace of the Parliament, is—as its name implies—the seat of the Romanian Parliament. This massive structure is located in central Bucharest. Besides the Senate, Chamber, and a convention center, it houses the National Museum of Contemporary Art, the Museum of the Palace, and the Museum of Communist Totalitarianism.
It's the world's second-largest administrative building (after the Pentagon in the USA) and, made of stone and concrete, also the heaviest building on earth. If you're looking for the best things to see in Bucharest, the Palace of the Parliament should top your list.
Revolution Square
World-famous as the setting of the Romanian Revolution of December 1989, which resulted in the fleeing of Nicolae Ceaucescu, Revolution Square is home to a few visit-worthy buildings. As a whole, it's without question one of the most incredible places to visit in Bucharest. Actually, this is unquestionably one of the most famous things in Romania in general!
Arguably the most striking structure on the square is the former Royal Palace, which now houses the highly recommended National Art Museum. In this incredible museum, you can see various works of art, from medieval and modern Romanian art to art from Western Europe, East Asia, and the Islamic world.
Another landmark on Revolution Square is the Romanian Athenaeum. Completed in 1888 and designed by French architect Albert Galleron, the building was almost entirely financed by public donations. This magnificent concert hall boasts a ring of pink marble columns, gorgeous curved balconies, arches with brass lanterns, and frescoed ceilings. This is the premier concert hall in Romania, the home of the renowned George Enescu Philharmonic Orchestra.
Less spectacular than the two buildings mentioned above, the Kretzulescu Church still makes for a nice place to visit. A small orthodox church made with red bricks; this is a charming building featuring beautiful interior frescoes.
Dimitrie Gusti National Village Museum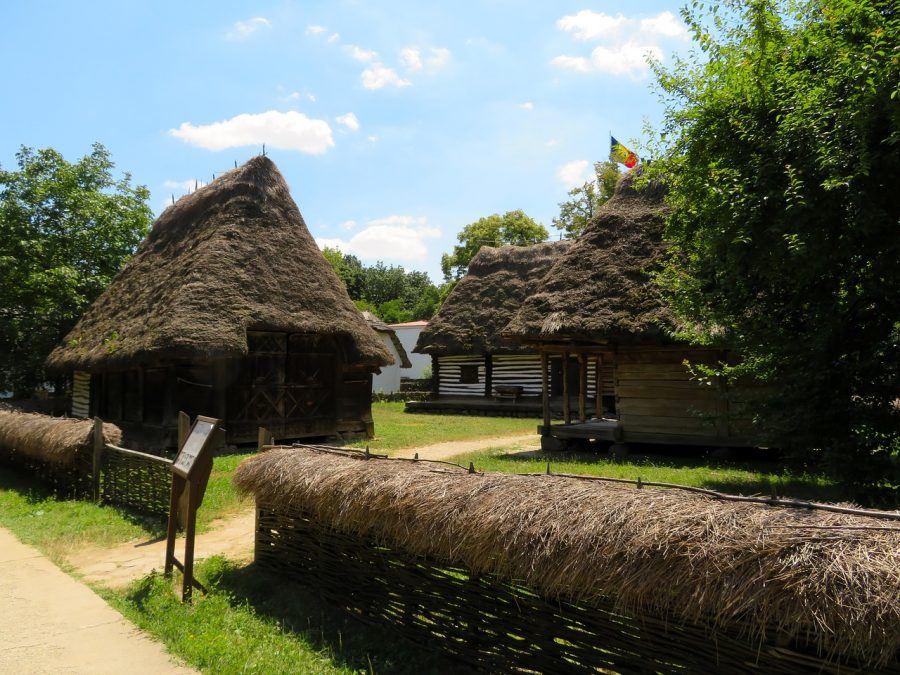 One of the largest open-air museums in Europe, the Dimitrie Gusti National Village Museum showcases village life in Romania. Situated in Herastrau Park, this sprawling museum features more than 250 buildings representing rural architecture in Romania, from farm buildings and peasant houses to churches, watermills, and thatched barns.
Cismigiu Gardens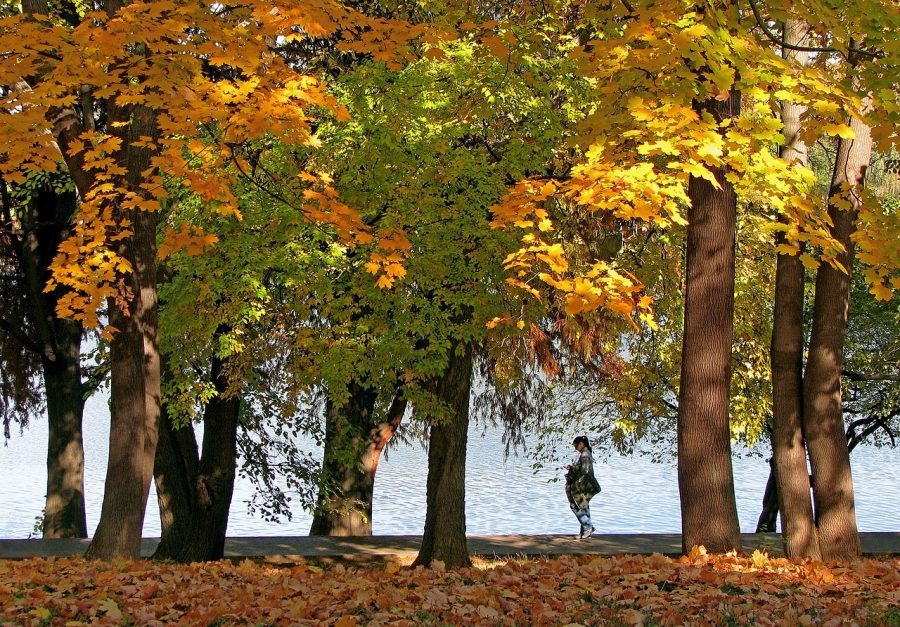 If you'd like to escape the bustling inner city, head to Cismigiu Gardens, a vast green oasis opened to the public in 1860. It is the oldest public park in Bucharest.
There's a lot to do there, from renting a rowboat on the lake and play amateur chess to people-watching from a well-positioned bench and stroll the botanic garden. Beer lovers will undoubtedly relish the opportunity to visit the historic Gambrinus Brewery.
Herastrau Park
Besides housing the National Village Museum, Herastrau Park is a fun attraction in its own right as well. Surrounding Lake Herastrau, this 400-acre park has boat rentals, an old fairground, tennis courts, walking trails, ferry rides, gardens, and cafes and restaurants. Also, make sure to explore the area around the park, boasting a variety of beautiful houses, from 19th-century Neoclassical homes to Art Nouveau buildings and modern villas.
University Square
One of Bucharest's busiest meeting spots is University Square, an area that buzzes with activity from dusk to well into the night. This square is where you'll find some more iconic Bucharest attractions.
A busy traffic intersection, all four corners have their own architectural and cultural landmark. First of all, there's the appropriate School of Architecture at the University of Bucharest. Then, there's the Bucharest National Theater.
Other landmarks are Neoclassical Coltea Hospital and church and the astounding Sutu Palace, which houses the Bucharest History Museum.
In terms of things to do in Bucharest, University Square is one of the main areas in the city.
The Arch Of Triumph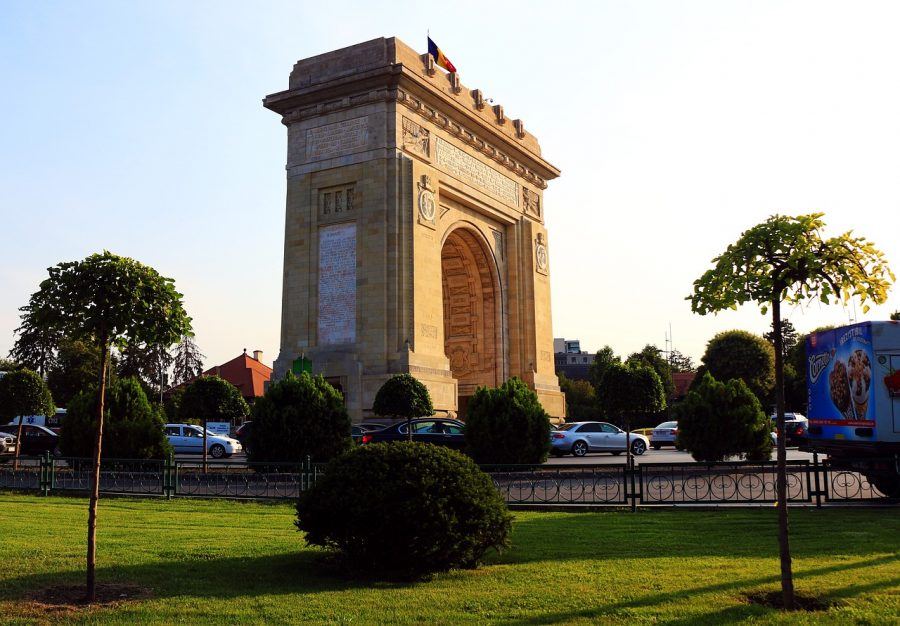 The first "Arcul de Triumf" was built in 1878 and made of wood, honoring the soldiers who fought and won the Romanian War of Independence. Later on, it was renovated and decorated again, this time in honor of WWI troops. You can climb the interior staircase to the top for fantastic views over the city.
Calea Victoriei
Dating from the late-17th century, the Victory Way was meant to Mogosoaia Palace and Old Princely Court. Originally built with oak beams, the street's name was changed to Calea Victoriei in 1878 after Romania gained independence.
This is one of the oldest and most atmospheric streets in Bucharest. When it comes to things to do in Bucharest, a stroll along this historic street is indeed a must.
Old Princely Court & Church
In the heart of the historic city center lie the remains of the Old Princely Court. Constructed in the 1400s by orders of Vlad Tepes (infamously known as Vlad Dracula), this building is said to have housed dungeons where Vlad kept his prisoners.
Now, the remains consist of tombstones, a couple of walls, and a Corinthian column. Visit the Old Court Museum to learn more about this fascinating building.
Also, don't skip the adjacent Old Court Church, which dates from 1559. It is widely regarded as the oldest church in the city. Walk inside and see some of the remaining 16th-century frescoes.
Old Town Bucharest
The most charming district in the entire city of Bucharest is the Old Town. Flanked by the Calea Victoriei, the area is known as the Lipscani Area. This maze of historic streets originated in the 15th century when craftspeople and merchants from all over the region set up shop. Many different nationalities have lived there throughout the centuries, a combination of cultures that resulted in various architectural styles.
Visit the art galleries, nightclubs, restaurants, antique stores, and cafes. It's a vivacious area, still bustling with outgoing shopkeepers who try to entice passers-by to visit their stores. It's the perfect place to try some of Romania's classic dishes.
Stavropoleos Church
Dating back to the 18th century, this stunning eastern orthodox monastery is a must-visit place in Bucharest. The church is built in a Brancovenesc architecture and Michael and Gabriel are the archangels associated with the building.
The church might be small but it's truly beautiful and will definitely give you some Insta-worthy snaps. Dating back to 1724, the church used to be one of the most opulent in central Bucharest and now sits in pride of place. Having been restored several times, following earthquake damage.
Pasajul Victoriei
If you're looking for places to take fantastic photos, then Pasajul Victoriei is a great starting point. Located in the centre of the city, look up and you'll see colourful umbrellas shielding you from the weather, be it sun or rain! There are also many small coffee shops and vintage book shops to check out. Simply wandering through the narrow passageway will make you feel a thousand miles away from the hustle and bustle, even though in reality, you're in the heart of a busy city!
Villacrosse Passage
This is another passageway in the centre of Bucharest which is packed with history and things to see and do. The passage is shaped like a horse-shoe and it has yellow glass covering with beautiful architecture overhead.
Back in the day, this was the most opulent mall in the city, where the rich often used to go to purchase their clothes and accessories. Nowadays, it's a top spot for coffee and cake, the perfect place to peoplewatch. If you're a fan of shisha, you can also partake here, while watching the world go by.
Saint George Church
Built during Constantin Brancoveanu's reign during 1705, Saint George Church is situated on the ruins of an older church. Restored a few times throughout history due to earthquake damage, the church is a beautiful example of architecture and a serene place to enjoy a little peace and quiet during a day sightseeing in Bucharest.
These days, the church as a beautiful porch area and has 10 arches in total with large and ornate columns. Inside the church, the fine architecture just gets better. Surrounded by gardens and trees, this is a shady spot in the summer and a stunning sight during the winter snow.
Ateneul Român
This stunning concert hall is located right in the heart of the city and is a place to visit, even if you're not intending to catch a show. Founded in 1888, the beautiful domed ceilings are truly breathtaking and it's dominating position in the city shows how important it is to Bucharest as a symbol of its culture.
Ateneul Roman is also the official home of the George Enescu Philharmonic and if you can catch a show while you're in the city, you won't be disappointed.
Athenee Palace Hilton Bucharest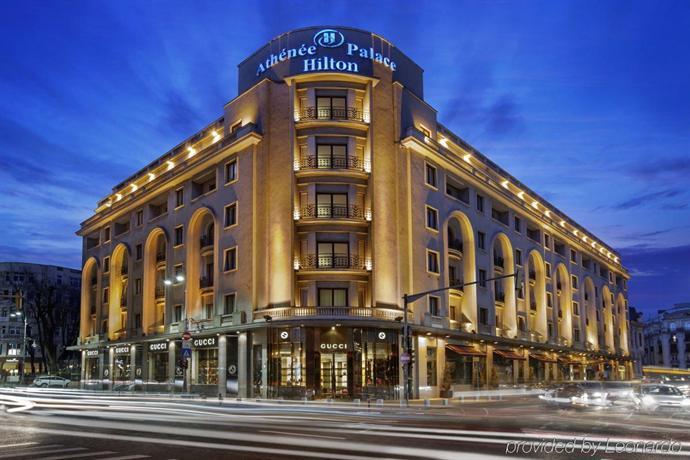 You might wonder what is so special about a Hilton Hotel, but this is no ordinary branch of the famous chain! Located next door to the beautiful Athanaeum, the central location is one position but aside from that, you have history, gastronomy, and a great place to stop and take some photos, such is the building's beauty.
The lobby is beautifully built with marble columns and huge glass chandeliers. It's all very typical of architecture in the Belle Époque niche. The ballroom, Le Diplomate Ballroom, is a heritage monument and the Cafe Athenee is the best place to try delicious French and Italian dishes. There's also an English Bar inside. It's a great place to stay!
Carturesti Carusel (Bookshop/G
iftshop

/Cafe)

There is something special about old book shops. The history, the smell of the old books, and basically a feel of culture in the air. Carturesti Carusel is a top spot for book lovers but also for anyone interested in the history of Bucharest. Located on Lapscani 55 Street in the Old Town section of the city, the building was originally owned by the Crissoveloni banker family in the 20th century. At that time is was the main bank office but it was changed into a shop, cafe, and bookstore in the 1990s. For a coffee, buying books, or a few gifts to take the wonder of Bucharest back home with you, this is a top spot.
Union Square With The Fountains
One of the biggest squares in the heart of the city, this is the best place to sit and people watch, while enjoying the huge fountain show that goes on throughout the day and early evening.
This square is where locals arrange to meet and people mill around with a takeaway coffee and nothing much else to do. It's also historic as it was built during the communist era and is a symbol of the Romanian Revolution too. If you need to catch any form of public transport, you will also find they all connect at Union Square.
Museum Of Senses
This isn't your ordinary museum! Visit the Museum of Senses as a great day out for all the family. Packed with science and illusions, there are 40 different things to check out and your kids will learn without even realising. It's a little wacky and strange at times but it's fascinating and a great spot to spend a few hours.
Best Places To Eat & Drink In Bucharest
French Revolution Eclairs
If you're an eclair lover, you're going to be in your element in Bucharest. Put simply, this is THE place for eclairs, and French Revolution eclairs are simply the best. Think of all the flavours you can think of and you're not far off the mark. Where does the French Revolution come into it? It's a cafe and the eclairs here are made with mille-feuille fondant icing, and the finest ingredients available.
The cafe makes up to 500 eclairs on a daily basis and if you're into large portions, you're in luck because these are twice as big as a regular eclair!
Caru' cu Bere
If you want to eat traditional Romanian food and you want to do it in a place that's packed with history, you won't go far wrong with Caru' cu Bere. The name means 'The Beer Wagon' and the restaurant has over 130 years of history, having ben founded by the famous Mirceal brothers. The restaurant aims to keep alive the old spirit of the city and to serve the very best local dishes, with the freshest produce.
Be sure to try sarmale, a type of Romanian cabbage leaf sarma which is stuffed with juicy mince meat; it's also available in other flavours too. You should also make cod roe salad a priority too although the menu is so extensive you won't struggle to find something to suit your tastes. This restaurant does get pretty busy at weekends so you may need to book your table ahead of time.
Pancakes At CLATeatARIE Food Truck
Let's be honest, who doesn't love pancakes? Great prices, a huge range of toppings, and the most delicious fluffy base around, this is a must visit for anyone with a sweet tooth. Located in the heart of the city, be sure to grab some as a dessert, or simply because you fancy something sweet!
Hanul Lui Manuc
Romanian food is delicious but you need to be sure that you're going to the right place to sample the best dishes. Haul Lui Manuc is a great spot and it's also the oldest inn in the whole of Europe! With delicious, traditional food, there is regular traditional music nights and the surroundings are chilled out yet opulent at the same time.
Choosing what to eat could be a problem however, as there are countless dishes on offer. Check out mici, which is a meat roll with delicious spices, or papanasi, a fried pastry with sour cream and jam – the perfect dessert!
Linea / Closer To The Moon Rooftop Bar
For your evening's entertainment, head to Linea, also known as the Closer to The Moon Rooftop Bar. As the name suggests, this is a stunning rooftop bar with amazing views over the entire city. It is open from 5pm and has a huge menu, so you won't struggle to find something to enjoy. It also has some of the best cocktails in Bucharest, all with that amazing view before you. The sunset is particularly impressive.
Open from 5pm, head to Strada Lipscani and you'll see a light sign that takes you towards the elevator. You'll certainly be closer to the moon in more ways than one!
Bacania Veche / Romana / Delicatese & Gradina
Sometimes you just want to grab something simple yet amazing on the go, and when you're sightseeing in Bucharest, the best place to do that is Bacania Veche. Located in an old-style deli shop, you'll find lots of fresh produce here and you can purchase jams, spices, wines and cheeses here too.
If you're a cake lover, there is a huge range of freshly baked choices for you to have a go at, and you can also enjoy the Tastes of Romania testing menu, so you can try small pieces of different dishes and decide what you like best.
Casa Capsa
Be it a restaurant or now a hotel, Casa Capsa has always been known for luxury. Having first been opened in 1852 as a fine-dining restaurant, the building is now a very special 5 star hotel, packed with huge, sparkling chandeliers and total luxury for those who choose to stay there.
You can still eat in the original restaurant and try amazing pastries and local foods. The restaurant is also well-placed for sightseeing.
These are the top things to see and places to eat in Bucharest. All these places characterize the city, its culture, and its history. Make them the cornerstones of your itinerary.
MORE ROMANIA TRAVEL BLOGS
Share