If you've heard of the Danube Delta, Transylvania, and Bucharest, to name just three locations, you've heard of Romania.
Romania is an affordable, beautiful, and highly cultural country that everyone must visit at least once. But when is the best time to visit Romania? Let me explain in detail so you can plan your vacation.
When to visit Romania depends very heavily on what you want and where you plan on going.
You see, Romania is large enough to have very different climates across its regions. During the summer, the south and east lowlands experience very high temperatures, so it's no surprise that most people flock to the beach in July and August!
The Danube Delta is a spring-like affair with fantastic nature and wildlife for hiking expeditions. At the same time, the Carpathian Mountains are fantastic skiing spots during the winter months.
So, if you're unsure where to go and when, let's look at Romania in more detail to help you solve your problem.
What Is The Weather In Romania Like
There are three different climate zones across Romania, making it very hard to tell you precisely what the weather will be like as a whole!
Nevertheless, we can talk about climate.
If you visit the area just west of the Carpathian mountains, you're looking at hot summers with high humidity and mild winters. There will be very little rain or snow. The country's east has a continental climate, so there are very definite summers and winters. Summers are sweltering, and winters are frigid, with quite a high chance of plentiful rain and snow.
The Black Sea coast and the south of the country are typically Mediterranean, so you're getting warm to hot summers and mild winters, although it can rain during winter. Winter temperatures in this popular area hover around 5 degrees Celcius while hitting mid to high 20s during the summer months.
Overall, if you want high temperatures and a good chance of a sun tan, May to September is an excellent option to aim for. However, this is when crowds will be higher. If you visit during April or October, you will still see very warm temperatures and lower crowds, but there is a chance of rain.
Of course, if you're keen to experience Transylvania's dark and spooky effects, then October is the ideal time for you. With all the spookiness of Halloween in the home of Dracula, you're looking at cold, dark, and probably quite wet weather – very atmospheric!
TRAVEL COMPANIES WE USE AND TRUST
Festivals & Events In Romania Not To Be Missed
Many festivals and events occur across the year, and it's a good idea to head online and check which options are available during your planned visit time. Festivals and events all crop up, but here are some notable ones you might want to take advantage of.
Revino Wine Show
Are you a wine fan? In that case, head to Bucharest in May to revel in everything wine-related!
The Traditional Crafts Fair – Bucharest
The Village Museum in Bucharest hosts June's Traditional Crafts Fair. This is a great chance to pick up some traditional souvenirs to take home and learn how different items are made, including rugs, textiles, pottery, glass items, and many others.
Maidens' Fair
This traditional festival takes place during the third weekend in July in Transylvania's Alba County. It's an old tradition of match-making, and villages are seen walking up to the Gaina Mountain Plateau all in traditional dress. You'll experience dancing, food, and music and might find The One!
Sighisoara Festival of Medieval Arts and Crafts
Mures County in Transylvania hosts this medieval arts festival on the last weekend in July. You'll learn more about the area's music, crafts, and arts of medieval times, and it's a very cultural time to visit!
George Enescu Classical Music Festival
September is a musical month in Bucharest, with classical music everywhere you look and hear! Some of the world's best classical musicians flock to the city, and it's a true festival for the ears.
Revino Gourmet Show
If you're in Bucharest at the end of October, sure to drop in on the Revino Gourmet Show. You'll be able to sample and buy local fares, such as cheese, wine, and meats.
Transylvania's Halloween Celebrations
Halloween is one of the best times to visit Transylvania, which puts on a real show around the famous castle of Count Dracula. It's a dark, spooky, and truly memorable experience!
Christmas Markets In Romania
All major towns and cities across Romania have Christmas markets throughout December, with Bucharest holding one of the largest. It's a true celebration and a great chance to pick up last-minute gifts!
What to Pack For Romania – Season-By-Season
What to pack for your visit to Bucharest really depends upon where you're going and when. Generally speaking, if you're visiting the coastal regions from July to the end of September, you can get away with full-on summer clothing and definitely need your swimwear. You might need a light jacket or cardigan if you visit in April, early May, and September.
Outside of those months, layers are your friend. If you're visiting the central parts of the country, Transylvania, and the mountainous areas, you'll need full winter clothing from November to February.
Best Time To Travel In Romania Area-By-Area
Because it's so hard to pinpoint when to go because of the different climates, and especially what to pack, let's take a look at the other regions in detail.
Northern Romania
The northern part of the country includes Transylvania, as well as the Hoia Forest, and Simion Barnutiu Central Park. The best time to visit this region is between May and September. The weather will be pleasant without being too hot or too cold, and the crowds will be less. Temperatures are around 25-28 degrees Celcius during July.
Eastern Romania
The east of the country includes Lasi, Tulcea, and Galati. May to September are great months to visit this region; June and August will give you the highest temperatures, often hitting the high 20s. Despite that, rain can happen anytime, albeit less likely during the summer months.
Southern Romania
The south of Romania is home to the capital, Bucharest, Constanta, and Craiova. The best time to visit this region is July and August. This is when the chance of rain is at its lowest and temperatures are around the high 20s to low 30s. August is the hottest month. July is the sunniest. January is cold in this region but still beautiful, with a chance of snow.
Western Romania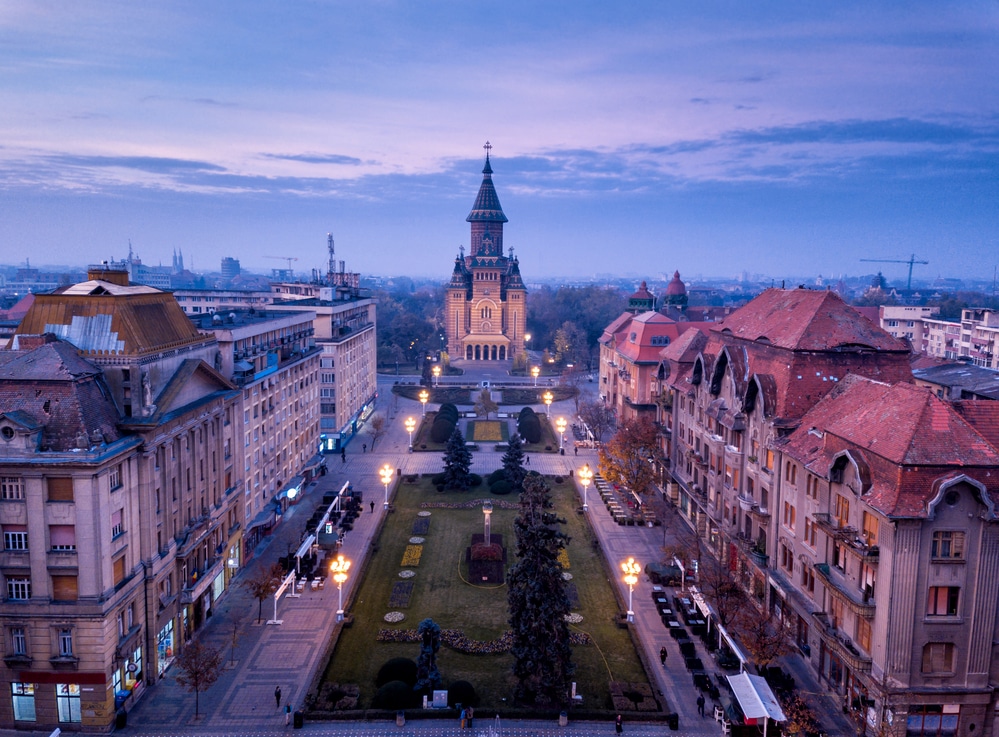 Between April and October is the best time to visit Timisoara in the country's west. At this time, you can expect temperatures of around 30 degrees Celcius with plenty of sunshine, compared to about 6 degrees Celcius and rain in December. Between May and June give you the highest chance of precipitation.
Central Romania
This is one of the country's most famous and most visited parts, including Bran, Brasov, and Sinaia, to name just three. It's a good idea to see the center of the country between August and September. It can often rain between May and July; temperatures will be slightly cooler, making it a bit more comfortable. Between December to March, you can expect cold and wet weather.
Our Favorite Cities To Visit In Romania
Romania is a beautiful country with a rich history, diverse landscapes, and vibrant cities. Here are the top 10 best cities to visit in Romania for tourists: