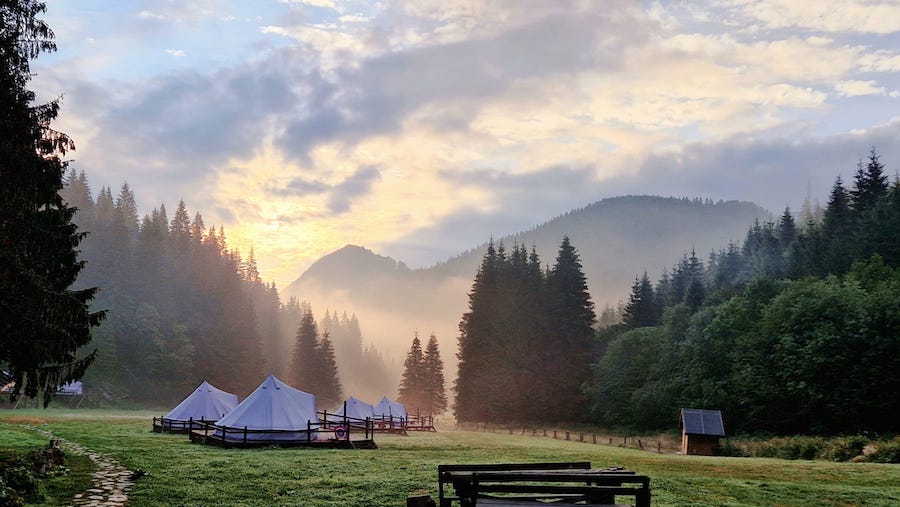 Glamping Romania – Where To Stay For The Best Experiences
If you're a fan of camping, why not take the sophistication up a notch and try glamping instead? Basically, it's a glam version of camping, hence the name, and it means you're more likely to enjoy the comforts of home while also being right in the heart of the most beautiful countryside around.
Romania is home to some of the most picturesque scenery you'll ever lay your eyes on; think of those picture-perfect views of Transylvania, and you can imagine waking up to that scene while holding a cup of coffee in your hand.
Perfect, right?
So, if you're considering glamping for the first time, Romania is the ideal starting spot. But what do you need to know?
Glamping is seriously up and coming in Romania, and there are many top-rated sites to choose from. It's a good idea to opt for the best-rated ones, not only because you can be sure of a comfortable and enjoyable time, but because these tend to be in the best spots, i.e., the most picturesque.
To help you out, let's look at 5 of the best glamping spots in Romania and what you need to know about each one.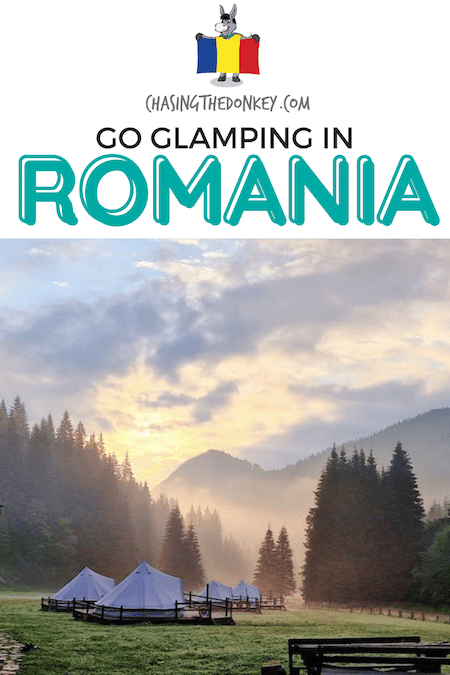 Top 5 Glamping Resorts In Romania
Of course, everyone has their preferences in terms of what they want in a glamping resort, but these five spots are some of the best-rated in the country and are often revisited repeatedly.
Green Camp, Vadu Oii, Buzau County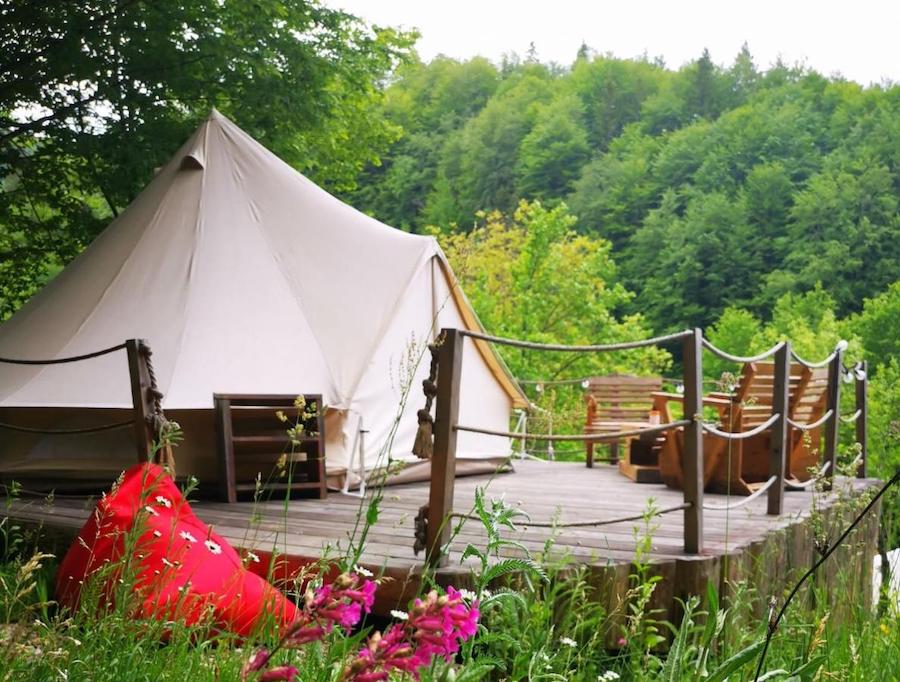 Green Camp is a top glamping site in Buzau County, which has a capacity for 40 people and is close to Penteleu Massif. You can expect incredible views. This is also a top spot for excellent local food, and there are many things to do on-site and in the surrounding countryside.
If you're looking for peace, this is it.
Fain, Luca Bradului, Mures County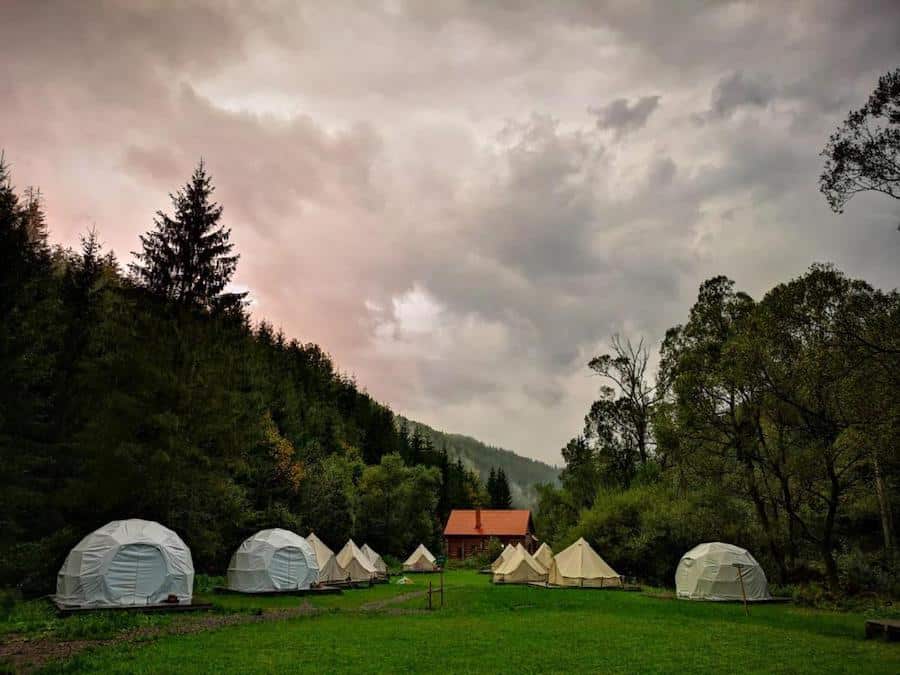 Another top glamping spot is Fain, although this is a smaller affair with a capacity for 36 people. There is also an adjacent camping area which has space for ten tents.
You can rent two different types of tents here, a dome or canvas, or bring your own tent into the regular camping area. But we're looking at sophistication here, so you'll definitely want to enjoy the rented versions, with heating, Jacuzzis, and incredible views.
This glamping site also has many different events going on throughout the year, and of course, it's sat in the middle of the stunning countryside.
The Hobbit House Glamping, Cozia National Park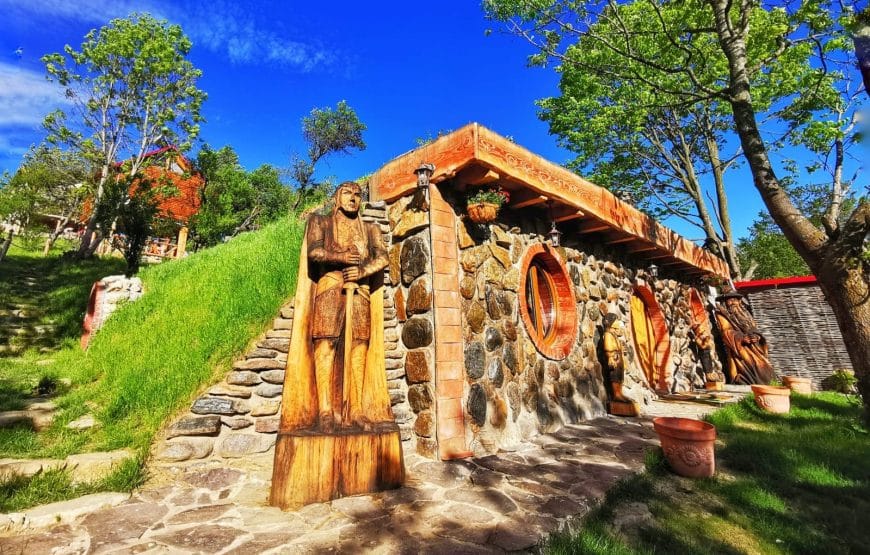 Are you a Hobbit or Lord of the Rings fan? If so, you must visit this fantastic glamping site with small huts that resemble hobbit houses! The site only has four houses, so you need to book well in advance, and each has a shower, tub, sauna, and private toilets. The site has also been set up to look as idyllic as The Shire in the book.
There are food cooking facilities outdoors so that you can enjoy a wooden fire-cooked meal or a BBQ.
Ursa Mica Glamping Resort, Transylvania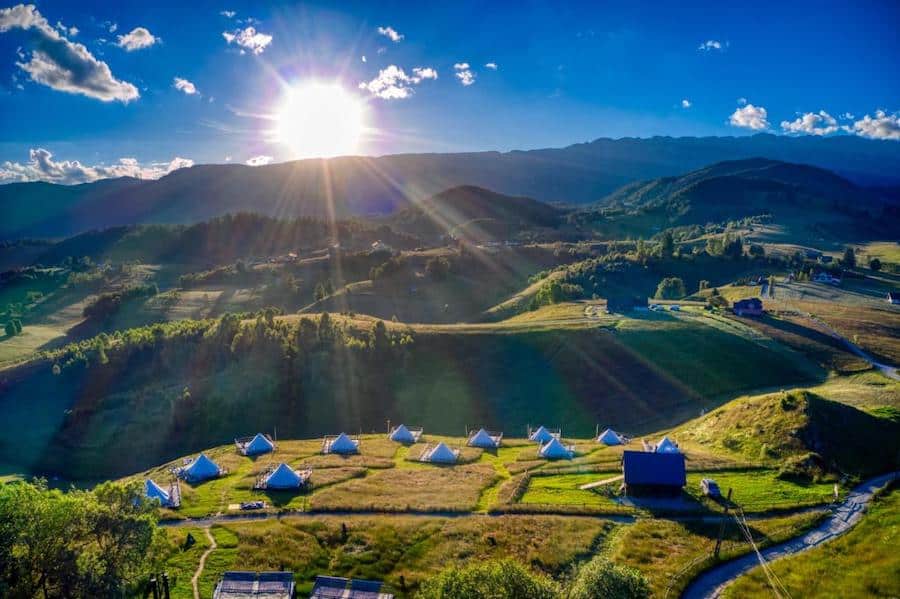 The great thing about Ursa Mica Glamping Resort is its height, which means stunning views across that amazing Transylvanian countryside. The tents are also so luxurious that you'll feel like you're in an imposing hotel.
Each tent has a large bed, furniture, stove, and a platform where you can chill out outdoors to enjoy the views.
Camping Valea Iarului, Hunedoara County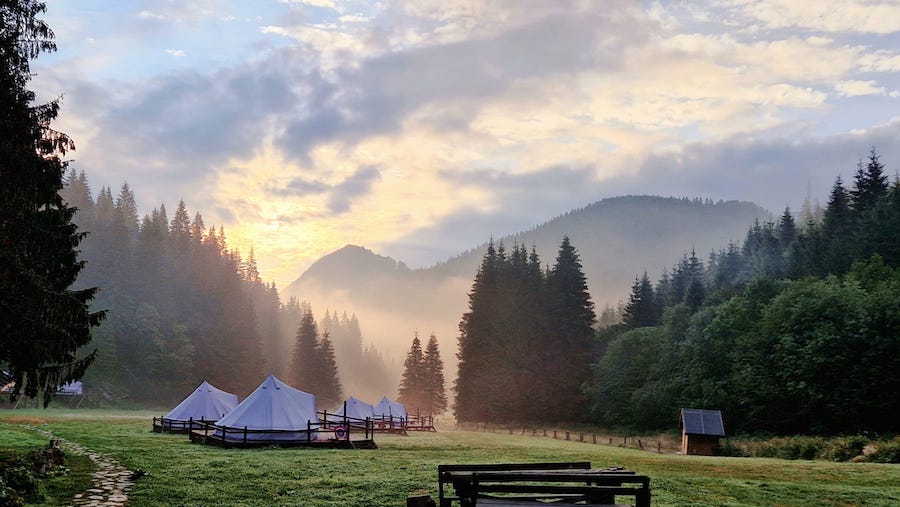 This small but very luxurious glamping site is the perfect choice for anyone who loves nature and those who've never been glamping before. There is a capacity for 21 people, and all tents have a small wooden terrace to enjoy views. There is also a small kitchen on site, so you can make your own meals and chill out in total peace and serenity.
The surrounding area is the perfect spot for hiking, and you can head out to Retezat National Park and enjoy the mountain trails.
Maybe you should skip your regular hotel-based break this year and try glamping instead.
MORE ROMANIA TRAVEL BLOGS FOR YOU
Chasing the Donkey - Balkan travel blog includes affiliate links. If you decide to make a purchase through these links, we receive a commission without any additional cost to you. We appreciate your support helping to keep this site free. Find our disclaimer & privacy policy here.