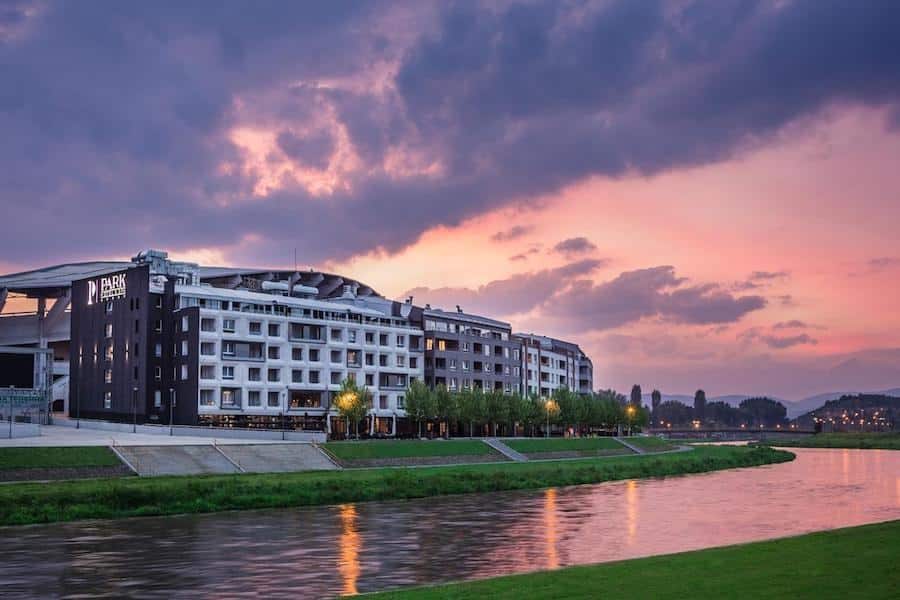 15 Luxury Hotels In Macedonia
Macedonia doesn't get enough credit in tourism circles around the Balkans. The region has recently seen a spike in tourism as Europeans are discovering beauty and untouched culture to explore at a fraction of the cost of Western Europe.
We hope to give you an idea of where to stay at all the great hotels Macedonia has to offer, put this wonderful country on your travel map, and make it easier to plan your holidays in Macedonia. Below, we have outlined some of the highest quality places to stay for every budget throughout the country.
These hotels in Macedonia are sure you get the best bang for your buck and make those vacation dollars last longer.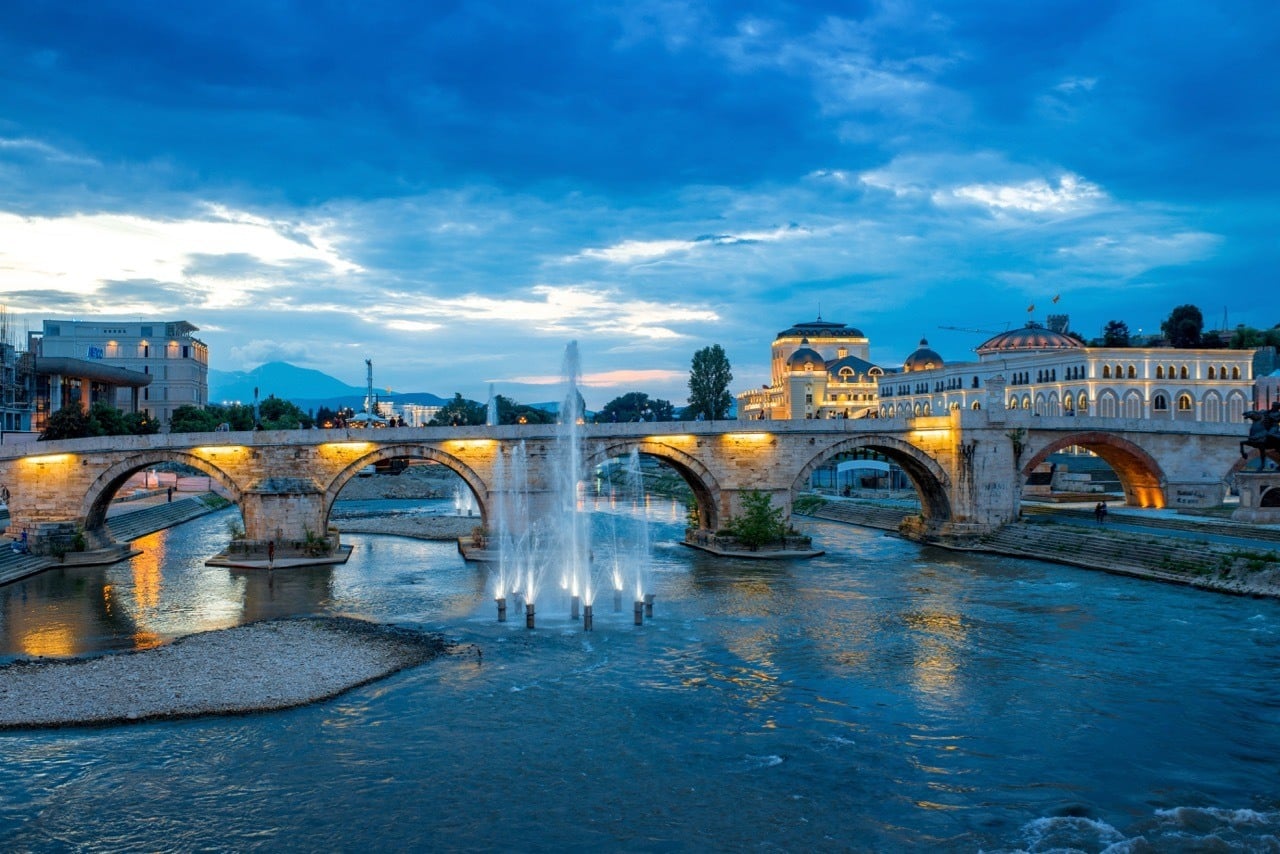 Without further ado, we bring you our favorite hotels in all areas of Macedonia for your vacation:
Hotel Panoramika Design & Spa
Hotel Panoramika Design is located in Skopje, 1.8 kilometers from the Stone Bridge. It is just a 20-minute walk from Macedonia Square. It is 2.1 kilometers from the Kale Fortress and 2.6 kilometers from Luna Park Skopje.
All rooms are air-conditioned and have a flat-screen cable TV, minibar, coffee maker, bathroom or shower, and wardrobe. The rooms are equipped with a private bathroom with free toiletries and Wi-Fi included. Some rooms have mountain views, and all rooms have a seating area.
A continental breakfast is served each morning, and the hotel also has an a la carte restaurant, which is open daily until late. The hotel staff is available 24 hours a day at the reception, and the hotel is centrally located – only 3.4 kilometers from Stadium Karposh.
Park Hotel & Spa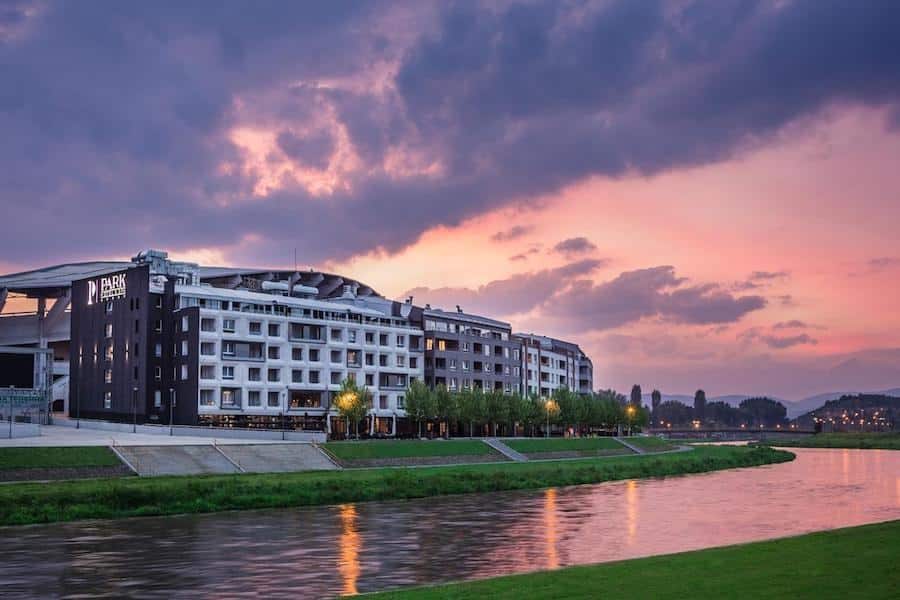 Park Hotel & Spa is located in Skopje, one kilometer from the center of the city, and surrounded by the green of the City Park. Rooms feature a sunny terrace overlooking the Vardar River, a wellness center, and a well-equipped professional gym, which you will have full access to. You will also be able to eat and drink at the hotel restaurant and bar.
The rooms are equipped with a flat-screen satellite TV. Some rooms have a seating area where you can relax with free WiFi throughout the hotel. Also, morning people will appreciate the coffee maker in the lounge.
Park Hotel offers free private parking, plus bicycles can be rented on site. In addition, a shuttle service is available at a minimal extra cost.
Kale Fortress is a 5-minute drive from the Park Hotel & Spa and Macedonian Square, a 20-minute walk away. The nearest airport is Alexander the Great International Airport in Skopje, which is 26 kilometers away.
TRAVEL COMPANIES WE USE AND TRUST
Aleksandar Palace Hotel & Spa
Hotel Alexander Palace is the perfect choice for families, especially those traveling with children. Actually, it is an excellent choice for any type of traveler.
The Alexander Palace Hotel offers a wide range of amenities, including a flat-screen TV, air conditioning, and refrigerator, as well as free Wi-Fi throughout the hotel. Not to mention the room service and concierge services that will make your visit even more enjoyable. The hotel also has a swimming pool and breakfast. Plus free parking for those arriving by car.
Church of St. Clement of Ohrid (2.2 kilometers) and Kale Fortress (2.3 kilometers) make the Alexander Palace Hotel an ideal place to visit Skopje and be centrally located to all the main attractions.
There are multiple delicious restaurants nearby, including Skopski Merak, Gostilnica Dukat, or the Old House. Skopje is also famous for its magnificent monuments and statues, such as the Millennium Cross, the Horse Slayer, and various other statues are all within walking distance to the Alexander Palace Hotel. It offers the best of Skopje, and we highly recommend your stay there.
Bushi Resort & Spa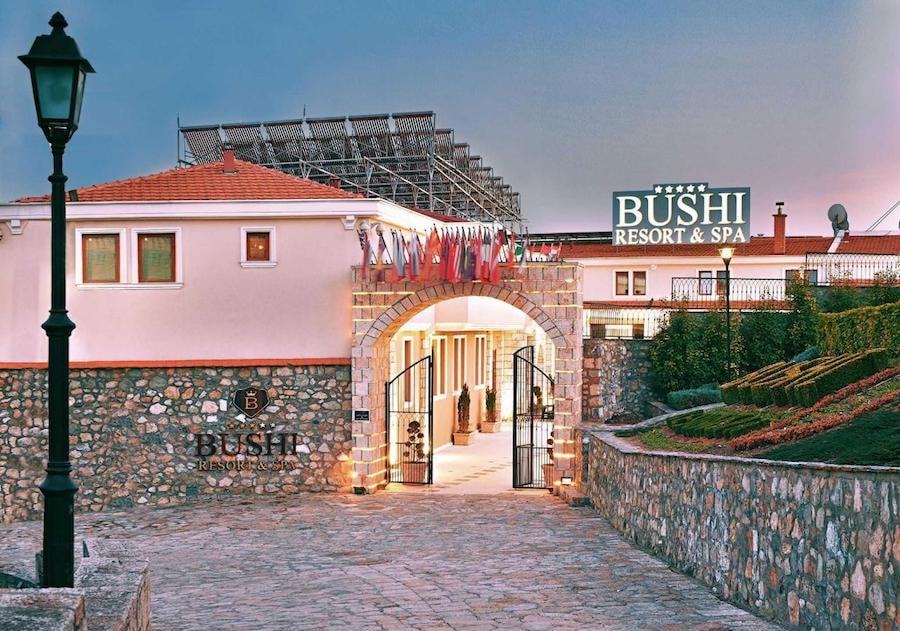 Enjoy a wonderful location in the heart of the city of Skopje; this exclusive 5-star spa resort Skopje Bushi Resort & Spa, is located close to the most famous attractions of the city, such as the Old Bazaar, the National Museum, and a few steps from embassies, government agencies, and commercial buildings – truly in the heart of the city.
Hotel Mirror
Hotel Mirror is located in Skopje, 20 kilometers from the Stone Bridge. It offers rooms with a hotel restaurant, free parking, an outdoor pool, and a quaint bar.
The 4-star hotel offers air-conditioned rooms, each with a terrace and free Wi-Fi. Plus, the reception is open 24 hours a day, and you can enjoy a complimentary continental buffet each morning.
Kale Castle is 20 kilometers from the Mirror Hotel, and Macedonia Square is 21 kilometers away. Both can easily be reached via a taxi or by renting a car and driving yourself.
Solun Hotel & Spa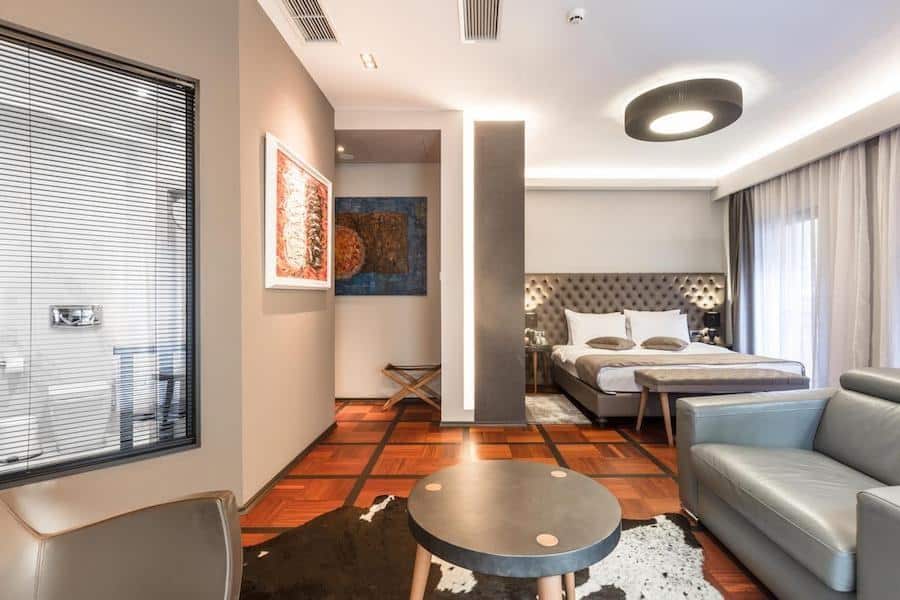 The Solun Hotel is the first luxury hotel in the Balkans that offers its guests a unique experience and ensures that they are delighted with all aspects of their visit, both professional and private. They genuinely love art, design, and the beauty of simplicity. This quality can be found in every corner of the hotel, and the wellness center is no exception to that.
The Solun is located in Skopje's city center. Based on eco-friendly designs with modern rooms, an elegant a la carte restaurant, and a gallery bar with a beautiful terrace, you will feel like you have stepped into a life of luxury.
Each of the elegant rooms and suites is equipped with a flat-screen TV and safe. The bathroom has an Italian shower, hairdryer, and provided slippers.
The wellness center offers a sauna, steam room, Himalayan salt room, aromatherapy shower, and a heated relaxation bed. The heated indoor swimming pool with its waterfall and aquarium is provided free of charge. The hotel also has a fitness center with ten different massages, including hot stone, Swedish, and sports massages.
Skopje Railway and Bus Station is 1.5 kilometers from the Solun Hotel, and the nearest shopping center is just a 1-minute walk away. Plus, you will be glad to know the hotel offers a shuttle service to/from Skopje Airport, which is 17 kilometers from the hotel and can be arranged before arrival.
Inex Gorica Hotel
Inex Gorica is a unique hotel on Lake Ohrid, which was opened over 50 years ago. It is located directly on Lake Ohrid, on the road to Sv. Naum Monastery, just 4 kilometers from Ohrid Town and 12 kilometers from Ohrid Airport. Hotel Gorica is a 5-star hotel located in the most beautiful part of the Ohrid coast, surrounded by pine forest.
It is fitted with 125 double rooms, an aperitif bar, a wellness center, a restaurant with many national dishes, a conference room, and a seminar room with a beautiful terrace.
Inex Gorica Hotel is one of the finest places to stay on Lake Ohrid and is not too far from all of the town's action.
The Hunter's Lodge Kamnik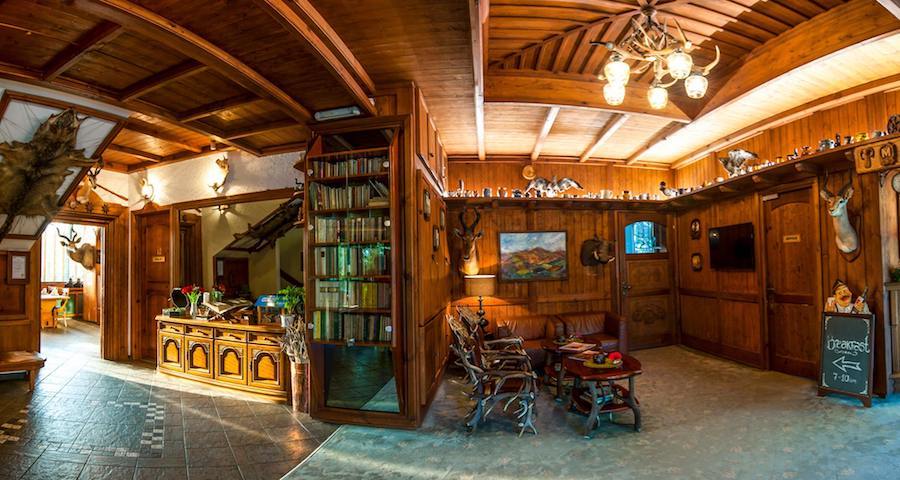 Hunter's Lodge Kamnik is located at the city's entrance on your way from the airport – just 10 minutes by car from the city center. It offers all the amenities with fully furnished rooms and free Wi-Fi.
The specifically decorated rustic restaurant serves wild game specialties (hence the lodge's name) with more than 150 different international wines. You can enjoy a discount at the restaurant during your stay, which is a big bonus, trust us.
There is an indoor shooting range with five shooting galleries and automatic targets and a laser training gallery with a laser gun. There is also a private hunting area 100 kilometers from Skopje, where you can hunt wild boars, deer, and other wildlife. Transportation can be arranged with the lodge.
If you are a hunter, this stay seems like a no-brainer – especially if you are on holiday to explore what Macedonia has to offer to the sport. For those who are not hunting enthusiasts, you will find most guests in the lodge also have no experience in hunting and enjoy getting first-hand experience at the shooting ranges.
Queen's Hotel – Zebra Center
Queen's Hotel Zebra Center offers a sunny terrace and a restaurant only 700 meters from the city center and 2 kilometers from the foot of Vodno Mountain. All rooms are air-conditioned and have Wi-Fi and an LCD cable TV. Free public parking is available on site.
All rooms at the Queen's Hotel have a minibar, and some also have a living room with a sofa bed. Not only that, but the hotel offers a shuttle service to and from the hotel.
Queen's Hotel is part of the Zebra center, where you will find a supermarket, restaurant, pharmacy, and various shops. Everything you could need on your holiday will be right at your doorstep (almost literally).
TCC Grand Plaza Hotel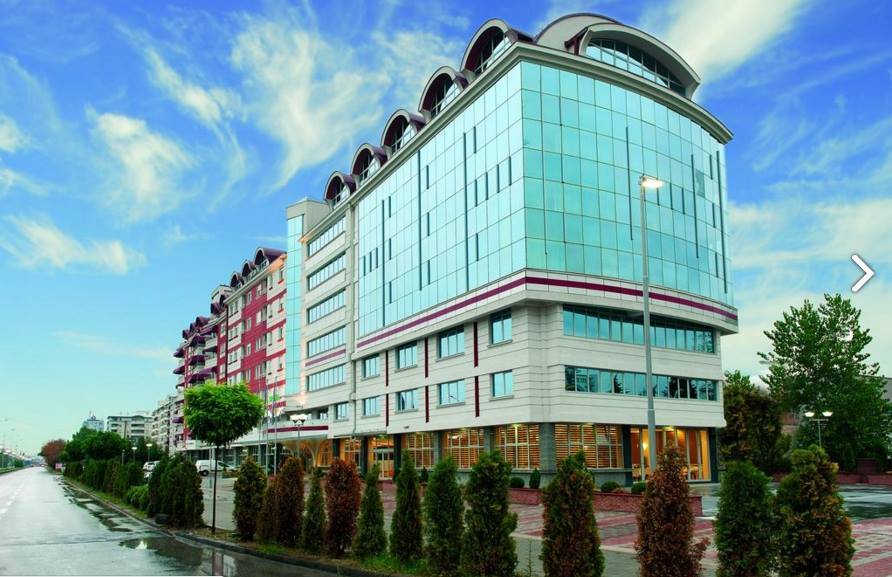 The TCC Grand Plaza Hotel is a family-run, air-conditioned hotel with a minibar and refrigerator in the rooms. During your stay, you can find a WiFi connection everywhere throughout the hotel. The hotel has room service, and you can take advantage of the pool and hotel restaurant, making it a popular choice for travelers in Skopje. Also, free parking is available for guests with vehicles.
The proximity of the TCC Grand Plaza to famous sights such as Skopje-Art Bridge (2.1 kilometers) and the Memorial House of Mother Teresa (2.2 kilometers) allows you to easily discover some of the most famous sights of Skopje while staying in a comfortable space like home.
For good eats, the TCC Grand Plaza has you covered. If you like Asian restaurants, the TCC Grand Plaza is located close to Sushi Co, Pecking Garden, and the Korean Tree House BBQ.
If you are looking for fun, you can visit the Church of St. Clement of Ohrid (1.8 kilometers) or the Acanthus Gallery (1.6 kilometers), which are both very popular with tourists and within walking distance to your hotel.
The TCC Grand Plaza Hotel offers the best of Skopje and will make your stay pleasant and relaxing.
Aurora Resort & Spa
The Aurora Resort & Spa complex is located at an altitude of over 1,100 meters above sea level, in eastern mountainous Macedonia, near Berovo, overlooking the lake in the picturesque and impressive canyon of the Malesh Mountains.
Surrounded by class and tranquility, the natural landscape, which guarantees an exceptional view throughout the year, works itself into the hotel's goal of being a charming, elegant eco-hotel built entirely of volcanic rock and luscious wooden accents.
It is one of the best places to stay if you are looking for a total escape into the Macedonian wilderness without being too far from a functioning city.
Alexander Square Boutique Hotel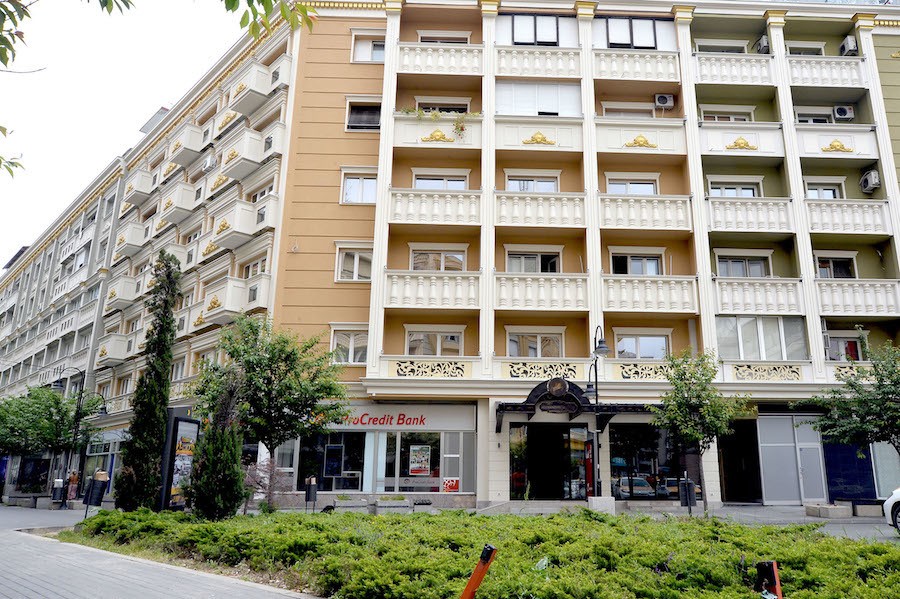 Alexander Square Boutique Hotel is located in the center of Skopje. It has a sunny terrace overlooking the entire city where guests can enjoy drinks at the bar.
All air-conditioned rooms are equipped with flat-screen satellite TVs and, also, some rooms have a seating area where you can relax. Most rooms have a private terrace or balcony where you can take in the city all to yourself.
The hotel offers a shuttle service to get around or, alternatively, you can rent a bicycle from the front desk.
Alexander Square Boutique Hotel is 200 meters from Macedonia Square and 700 meters from Kale Fortress. The nearest airport is Skopje's Alexander the Great International Airport, which is only 16 kilometers from the hotel.
Hotel Alexander II
Most people love their stay at Hotel Alexander II. You can tell by the great reviews it gets online.
Alexander Hotel II has a gym, bar, lounge, and garden in Skopje. The hotel also offers a terrace with a great viewpoint. It offers a 24-hour front desk, airport shuttle service, room service, and free Wi-Fi throughout the hotel.
The hotel has all of the amenities a traveler could ask for. Each room has a walk-in closet, flat-screen TV, and some will offer a sofa bed. A continental breakfast is served in the dining room every morning.
It is a centrally located stay within walking distance to a lot of the top attractions in Skopje. Alexander II's nearby sights include the Stone Bridge, Macedonia Square, and Kale Fortress.
Hotel Senigallia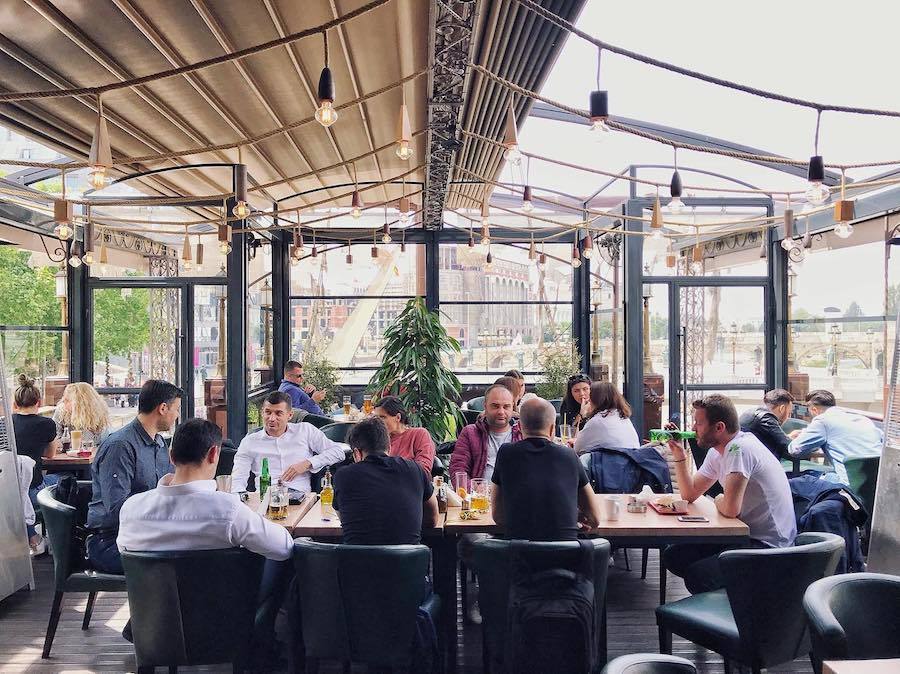 Sitting on the river Vardar, this unique hotel is built like an 18th Century trading ship, which immediately gives it an ambiance like none other in Macedonia.
The rooms are decorated in the same style to maintain authenticity in all segments. It really feels like you are aboard a ship at some points. The terrace and bar offer breathtaking views of the surroundings and riverbanks.
Its central location, like many of the hotels on this list, is excellent. However, Hotel Senigallia is particularly central to many of Skopje's most popular attractions. It is only a three-minute walk from the Stone Bridge and Macedonia Square. Kale Fortress is 600 meters from the Senigallia. The Millennium Cross cable car is 5 kilometers away. You can imagine there are even more great things to see in this booming area as well.
You can enjoy the hotel's bar and two terraces overlooking the Vardar River at any time. And at Senigallia, the private experience of guests' is also a priority. All rooms are air-conditioned and equipped with cable TV, and the hotel has a 24-hour front desk.
Gardenia Hotel & Spa
Gardenia Hotel & Spa is located in Veles, an up-and-coming city on Macedonia's tourist track. It has an outdoor pool and restaurant (full lunches and a special diet menu available), free Wi-Fi, and private parking available on site. Massages are also available for an extra cost, but they are to die for.
The main feature is its fully renovated and free wellness center with an infrared sauna, Finnish sauna, heated relaxation beds, and a heated indoor pool. You can't go wrong with a spa treatment on your vacation, especially when included in the room cost.
All rooms are air-conditioned and have a flat-screen satellite TV and a living room with a sofa bed. If you stay here, you can enjoy the garden views from all the rooms in the hotel.
You can relax in the garden and on the sun terrace of the Gardenia. There is a 24-hour front desk service, a fully functioning gym, and table tennis for entertainment.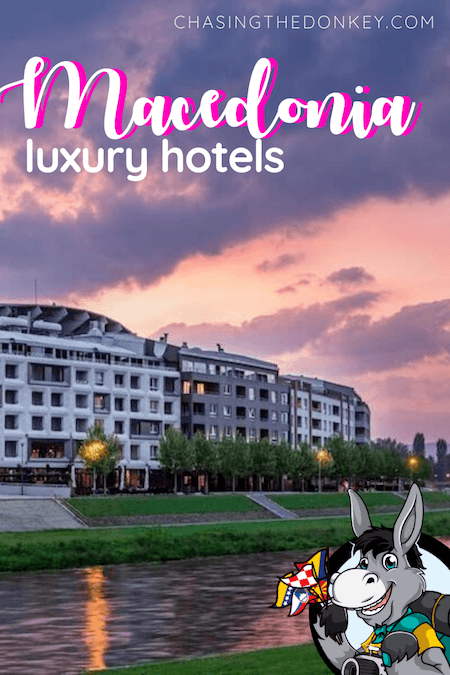 Stay Overnight In These Hotels In Macedonia On Vacation!
We have listed a plethora of options for your stay in Macedonia. Though most of the selection is based in Skopje, this country has much more to offer, as well. We encourage anyone vacationing to Macedonia to get outside of Skopje and explore all the villages and nature – like Dojran, which surrounds the capital.
These Macedonia hotels serve as an excellent base for your vacation research, and staying at any of them will result in a positive experience.
Don't be afraid to reach out to us if you have any questions about your Macedonia itinerary or any questions regarding your travels.
MORE MACEDONIA TRAVEL BLOGS
Chasing the Donkey - Balkan travel blog includes affiliate links. If you decide to make a purchase through these links, we receive a commission without any additional cost to you. We appreciate your support helping to keep this site free. Find our disclaimer & privacy policy here.