Where To Stay In Riga – Best Hotels In Riga Included!
Home to a third of Latvia's population, Riga was founded in 1201 and is now home to the world's largest collection of Art Nouveau buildings.
The Daugava River flows through Riga and empties into the Baltic Sea at the Gulf of Riga. The Medieval architecture in Old Town Vecriga and the beautiful parks are just some of the places to visit in Riga.
Here are some of the top things to do in Riga when you visit this beautiful city.
What To See In Riga
Wondering what to do in Riga? Here are our top choices for things to do when you visit Riga, Latvia.
Visit Old Town Vecriga
See over 800 buildings with Art Nouveau Architecture
Walkthrough the beautiful Bastejkalna Park to see the Freedom Monument
Be amazed by the Dome Cathedral
Visit the 13th century House of the Blackheads
View historical artifacts in the Riga History Museum
See the old 16th-century buildings in the Ethnographic Open Air Museum
Shop at Riga's UNESCO World Heritage Central Market
Look up at the 123-meter tower of St. Peter's Church
Visit the cafes and pubs at Miera Street
Guide On Where To Stay In Riga, Latvia
Already booked your flights to Riga? We've got a list of the best places to stay in Riga just for you.
Best Hotels In Riga
Hotel Bergs – Small Luxury Hotels Of The World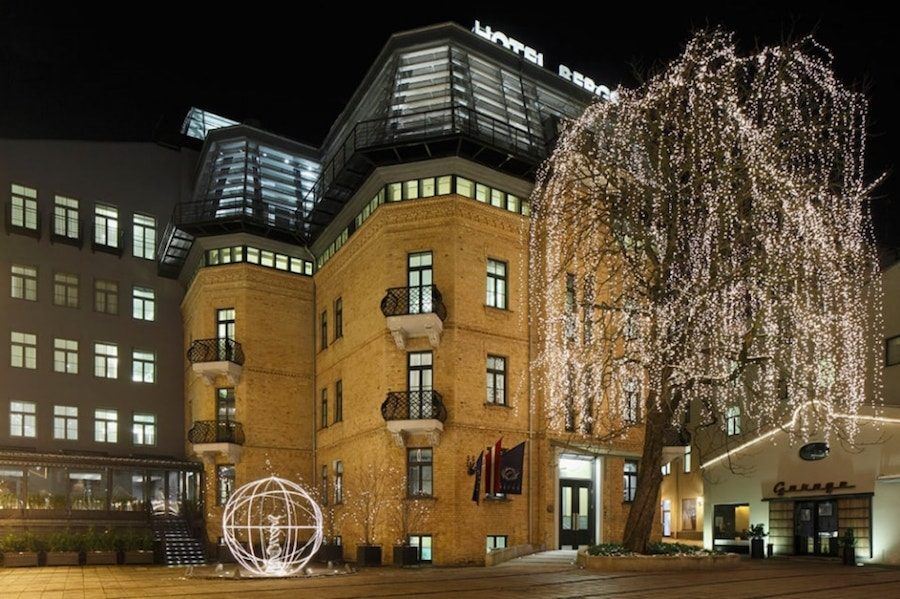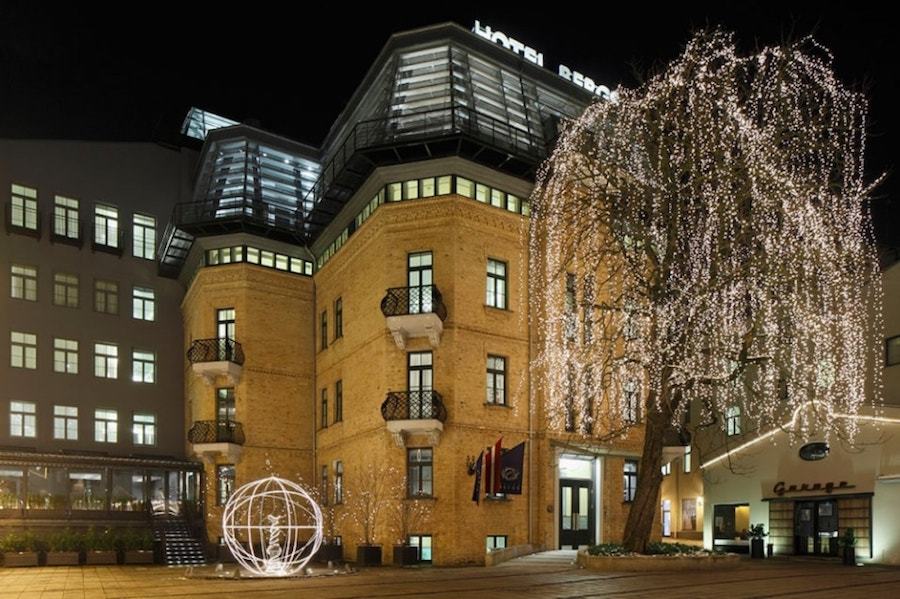 Situated just 500 meters from Vecriga in the best area to stay in Riga, Hotel Berg is elegant and features modern decor. Spacious suites include heated bathroom floors, minibars, trouser presses, iPod docks, Blu-ray players, sofas, drying racks, tea/coffee makers, refrigerators, toasters, and well-equipped kitchenettes.
The beautiful suites range from 45 m² to 75 m² in size and have views of the city. Hotel Berg is one of the best 5-star hotels in Riga to enjoy a luxurious stay.
Pullman Riga Old Town
This is one of the five-star hotels in Riga that's set in a former horse stable of Baron Munchausen and features a horse breed theme throughout this Riga accommodation. Guests at this historic Riga hotel have access to multiple restaurants, live cooking stations, and seasonal produce.
They also have access to a swimming pool and a Spa Lounge offering massages and saunas. Most tourist attractions are within walking distance, while Riga airport is 8.3 km away.
Compact rooms feature hardwood parquet flooring, tranquil rain showers, smart TVs, free WiFi, tea/coffee makers, safes, hairdryers, soundproofing, and hypoallergenic linen. All of the units are wheelchair accessible. You'll love laying your head down in the super comfy beds at this top-notch accommodation in Riga!
Grand Hotel Kempinski Riga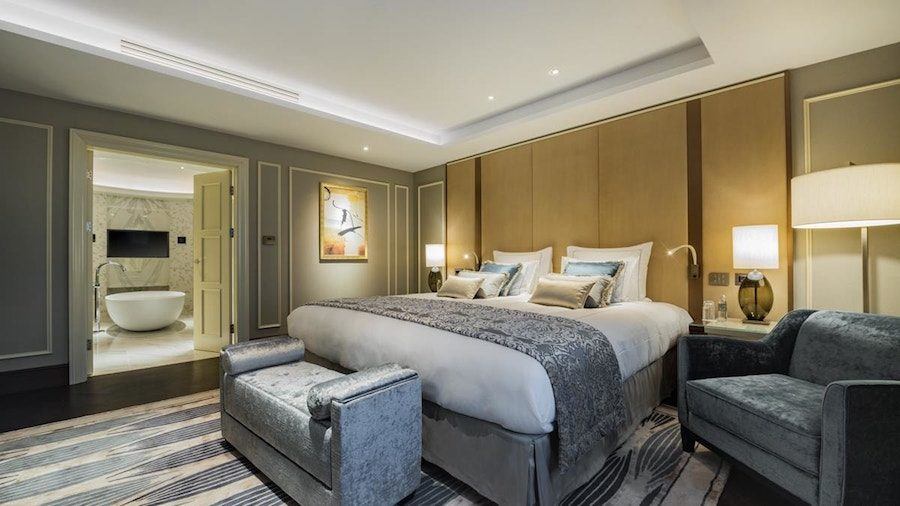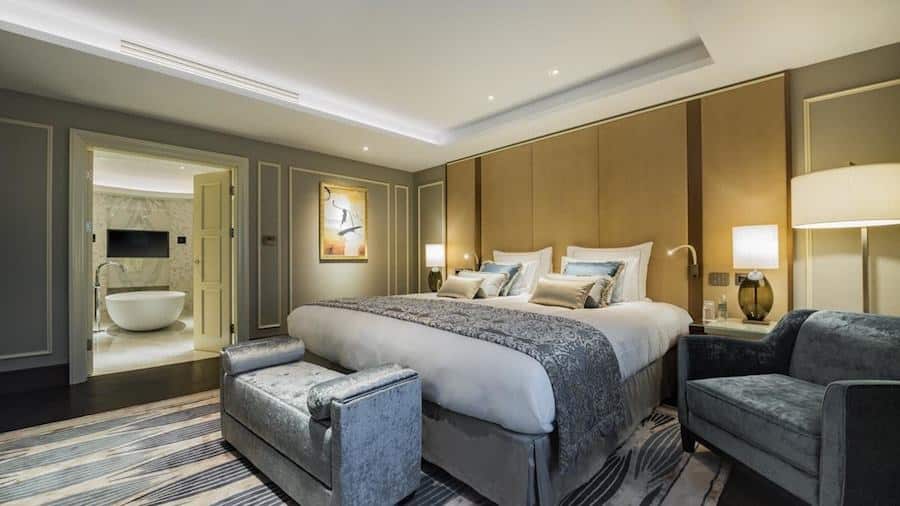 Set right in the heart of Old Town Riga, the Grand Hotel Kempinski Riga is less than 500 meters from the Latvian National Opera, Livu Square, Mikhail Chekhov Riga Russian Theatre, Freedom Monument, Riga St. John's Church, Vermanes Garden, Riga Town Hall Square, House Of Blackheads, Jauniela and the Nativity Of Christ Cathedral. It's one of the Riga 5 star hotels that are close to the river Daugava and markets and restaurants.
Guests at this Riga luxury hotel have access to a spa, sauna, swimming pools, and a host of other facilities. The rooms at this luxurious Riga hotel measure 37 m² to 45 m² while the suites range from 60 m² to 97 m².
The soundproofed rooms and suites are superbly decorated. They include all amenities, including sitting areas, minibars, tea/coffee makers, free WiFi, safes, TVs with pay-per-view channels, child safety socket covers, and more. Pick this Riga accommodation to wake up and enjoy your morning coffee with a panoramic view of the city.
Grand Poet Hotel And Spa By Semarah
If you're trying to figure out where to stay in Riga, Latvia, for comfort, convenience, and luxury, the Grand Poet Hotel, and Spa by Semarah is one of the best Riga hotels you'll find. This phenomenal 5-star hotel really is the crème de la crème as far accommodation in Riga goes.
Located across the street from Bastion Hill, the Grand Poet Hotel is in the heart of the city, within easy distance from most of its top attractions. The stunning Old Town is literally two minutes away on foot. Previous guests praise the hotel's superb location, while its amenities are world-class as well.
When you choose the Grand Poet Hotel for your stay in Riga, you get unlimited access to its gym and spa zone, which features a pool, hammam, hot tub, and sauna, as well as massage services. When it comes to eating and dining, you can relax and indulge at the hotel's café, restaurant, and/or bar.
And let's definitely not forget about the rooms either! Beautifully appointed, your room comes with a private bathroom, work desk and seating area, electric kettle, and a flat-screen TV with cable. If you want to go to all the best places to visit in Riga, this is a top-notch hotel to stay at.
Neiburgs Hotel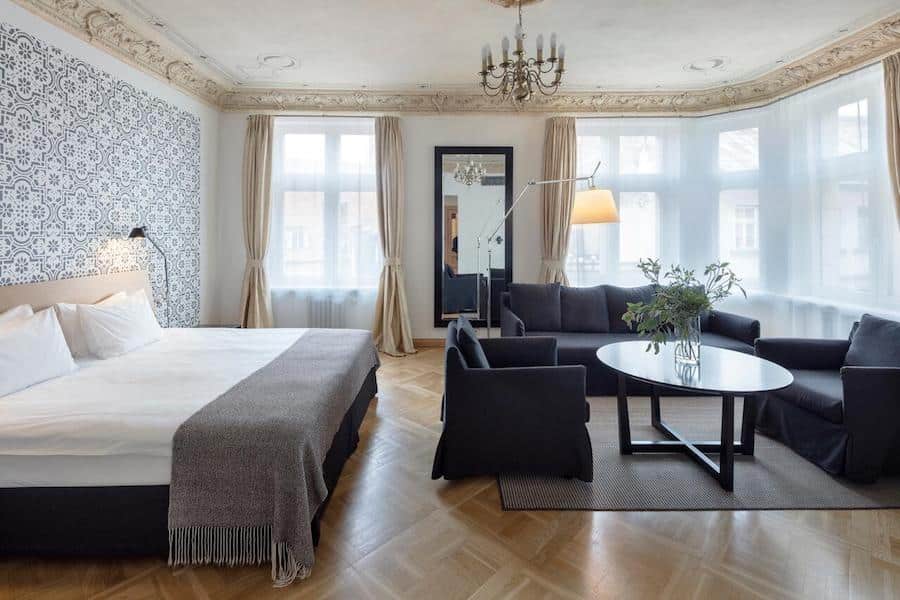 Situated in the middle of Riga's gorgeous Old Town overlooking Dome Square, the Neiburgs Hotel couldn't possibly have a better location. Anyone with family who's visiting the Latvian capital and wonders what to do in Riga with kids will find tons of fun activities and sights within minutes from this hotel.
And yes, this is, indeed, one of the best hotels in Riga for families! Accommodation is available in apartment-style rooms, which boast air-conditioning and luxurious furniture. Rooms also have complimentary WiFi, a living area, flat-screen TV, and a bathroom with bathtub and floor heating. A kitchenette allows you to whip up breakfasts and dinners yourself, save money, and spend even more quality time with the family.
However, if you don't feel like cooking every night—you're on vacation, after all—you can enjoy a buffet breakfast at the on-site restaurant, which also serves European and Baltic cuisine later in the day. Additionally, the bar at the 4-star Neiburgs Hotel in Riga is a cozy spot to kick back after a day of sightseeing. Other amenities at this excellent Riga lodging option include a small fitness center, a sauna and steam bath, and even a library with a wide array of books.
TRAVEL COMPANIES WE USE AND TRUST
Boutique Hotels In Riga
Wellton Riverside Spa Hotel
The bright, colorful interiors welcome guests to the Wellton Riverside Spa, which is the best hotel in Riga on the riverfront. Guests staying at this hotel in Riga, Latvia, have access to a bar, cigar room, cocktail and sushi bar, and a thermal spa complex with a swimming pool, bathing buckets, hot tub, cold tub, bucket, herbal saunas, Turkish baths, and cedar baths.
The lavishly done rooms overlook either the city with a view of Riga attractions or the four bridges over the River Daugava. Soundproofed rooms at this classy Riga hotel include all amenities and pay-per-view and satellite TV channels, and free WiFi. Public parking is available nearby at EUR 15 per day. Some rooms include free access to the spa.
Family rooms housing four adults are also available. Previous guests have loved the reasonably priced minbars at this luxury accommodation in Riga.
Opera Hotel And Spa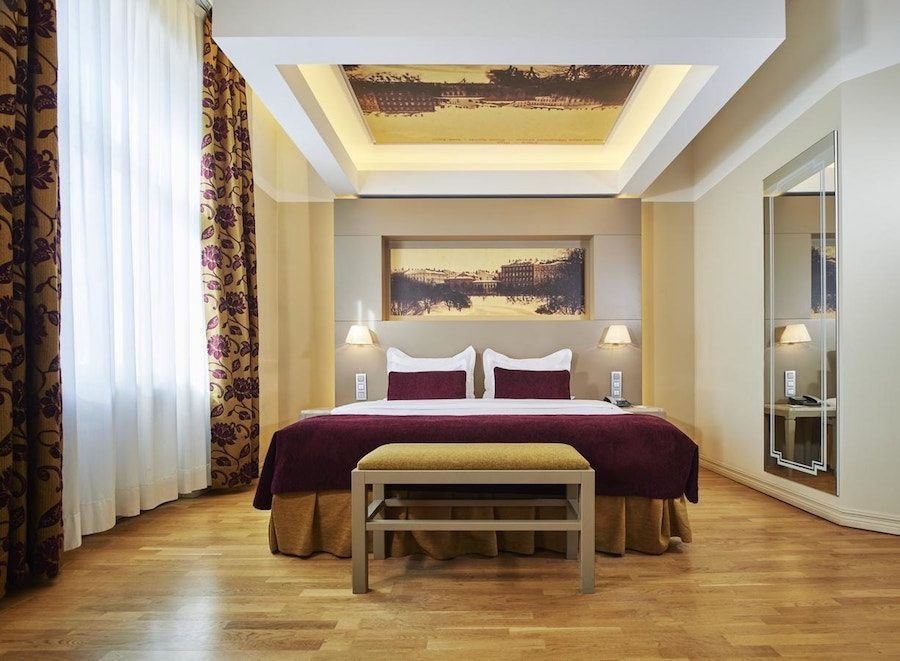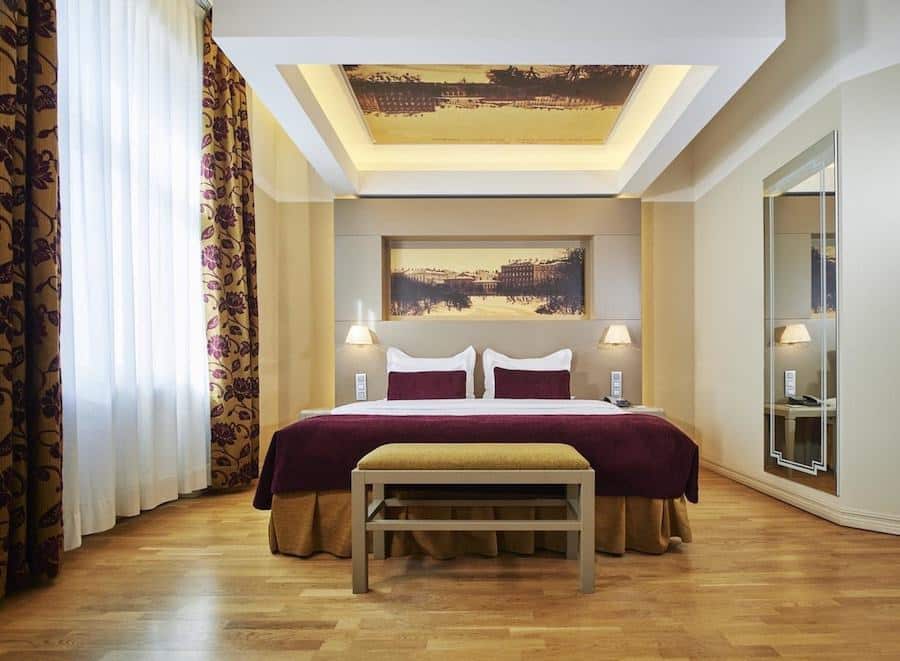 A stone's throw from Old Town Riga is one of the 4-star hotels in Riga with views overlooking Opera Park and the bridge over River Daugava. Built-in 1886 by Janis Baumanis, the famous Latvian architect, the perfectly planned washrooms and rooms leave little to be desired.
Rooms and suites include all amenities and feature designer furniture with natural fabric. Organic Latvian and international food is served at the hotel's restaurant, and the terrace is open for dining in summer. Guests also have access to the plunge pool and can pay for access to the spa with saunas and steam room, Hammans, and Rasul clay therapy.
Some of the rooms include morning access to the spa. If you're looking for luxury hotels in Riga with easy access to the Riga attractions, the Opera Hotel, Riga is a perfect choice!
Boutique Hotel Monte Kristo
Hotel Monte Kristo is the best place to stay in Riga, right in the heart of Old Town and within walking distance of all the major attractions. Rustic shades and hardwood furniture decorate this old-world cheap hotel in Riga city center.
Rooms feature cable TV, minibars, free WiFi, hairdryers, electric kettles, safety deposit boxes, desks, air conditioning, and heating. Junior suites feature spa baths or jacuzzis, while suites feature in-room saunas. After a busy day out, rushing from one attraction to the other, the in-room sauna is the perfect way to wind down with your partner.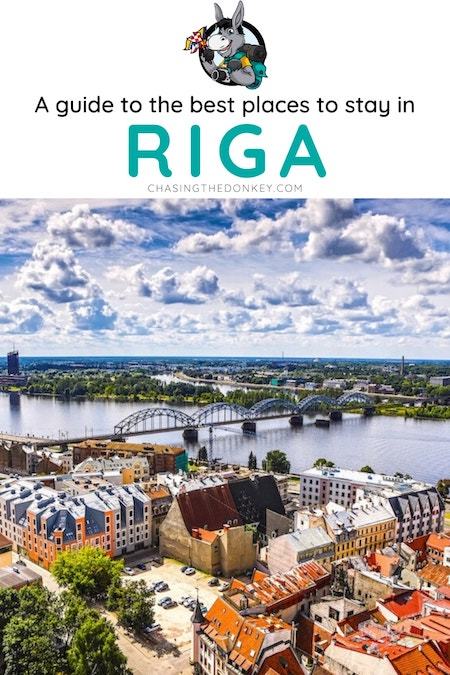 Cheap Accommodation In Riga
Airport Hotel Mara
This Riga airport hotel is right next to the airport and a short drive from Old Town Riga. Jurmula beaches are 10 km away, while Daugau River is 6 km away.
Rooms at the hotel range from compact well-set rooms to large spacious family rooms that can house five people. They feature flat-screen TVs, desks, armchairs, telephones, free WiFi, mosquito nets, tea/coffee-making equipment, and refrigerators. Some of the rooms also have well-equipped kitchenettes. This cheap hotel in Riga, Latvia, also offers a limited after-hours menu, which is perfect for those catching flights.
Augustine Hotel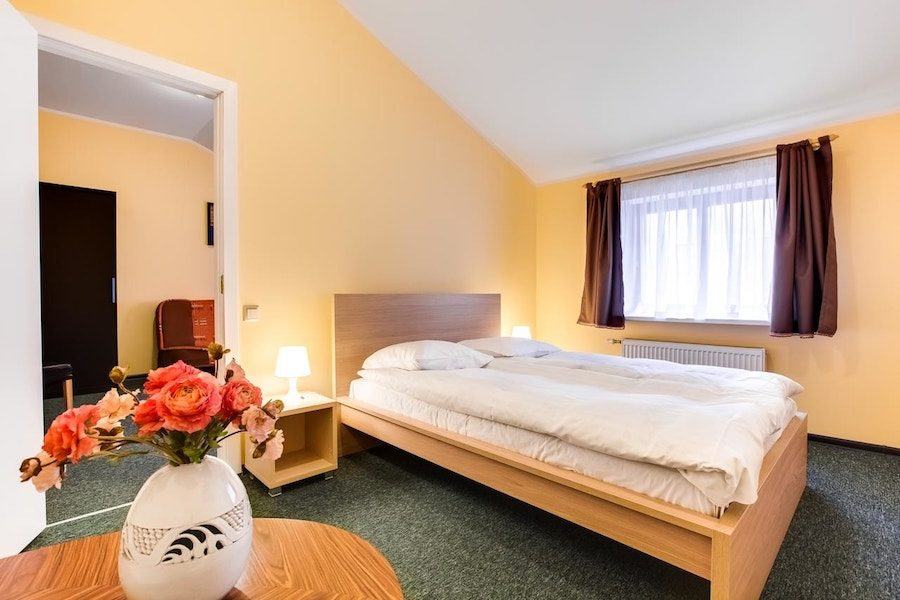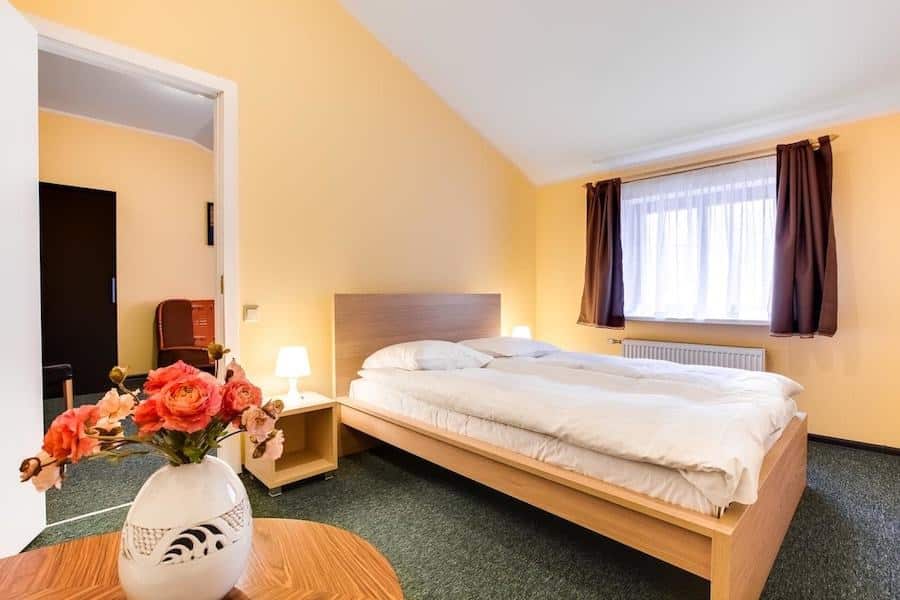 If you're looking for a bed and breakfast in Riga that's affordable and close to the places to visit in Riga, the Augustine Hotel is a great choice. The family-run hotel is situated in a historical wooden building about 2.5 km from Old Town Riga.
Restaurants and markets are within walking distance. Apart from regular rooms, large spacious family rooms are available that can sleep four guests. Rooms include all amenities, including an electric cord in the bathroom, shower chairs, ironing facilities, seating areas, mosquito nets, and free WiFi.
Family rooms include electric kettles and kitchenware, while standard rooms do not.
The hotel's garden is a great place to relax during your holidays in Riga, while the Finnish sauna in the cellar is available on request. Guests can make use of the self-catering kitchen upon request at no extra cost.
Rixwell Hotel Konventa Seta
This is one of the cheap hotels in Riga Old Town that feel like a home away from home. The Rixwell Hotel Konventa Seta is within walking distance of the best things to do in Riga, while the best restaurants in Riga, Latvia, are a stone's throw away.
Formerly a convent, the bright and beautiful buildings of the hotel cheerily welcomes guests to its warm heated interiors. Classic furniture designs and colorful linen make every room a joy to stay in on your Riga holidays.
Rooms feature parquet floors, wooden furniture, satellite TVs, free WiFi, minibars, and heating. Suites and duplexes also include a well-equipped kitchenette. Pets are allowed at a charge, and free luggage storage facilities are available. This is one of the cheap hotels in Riga you'll not want to leave!
Cheap Hostels In Riga
Amber Rooms Hostel, Riga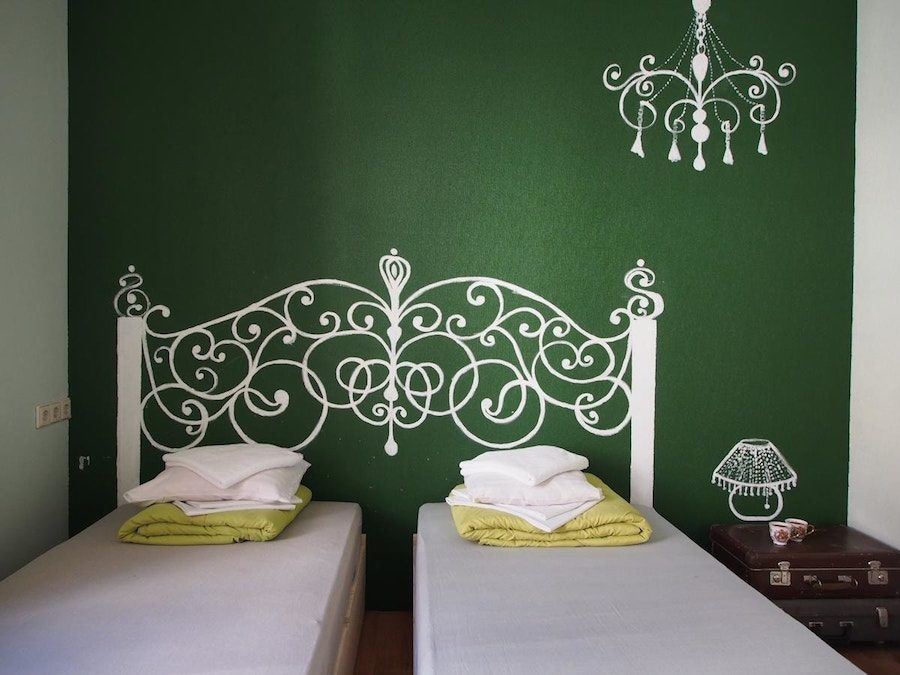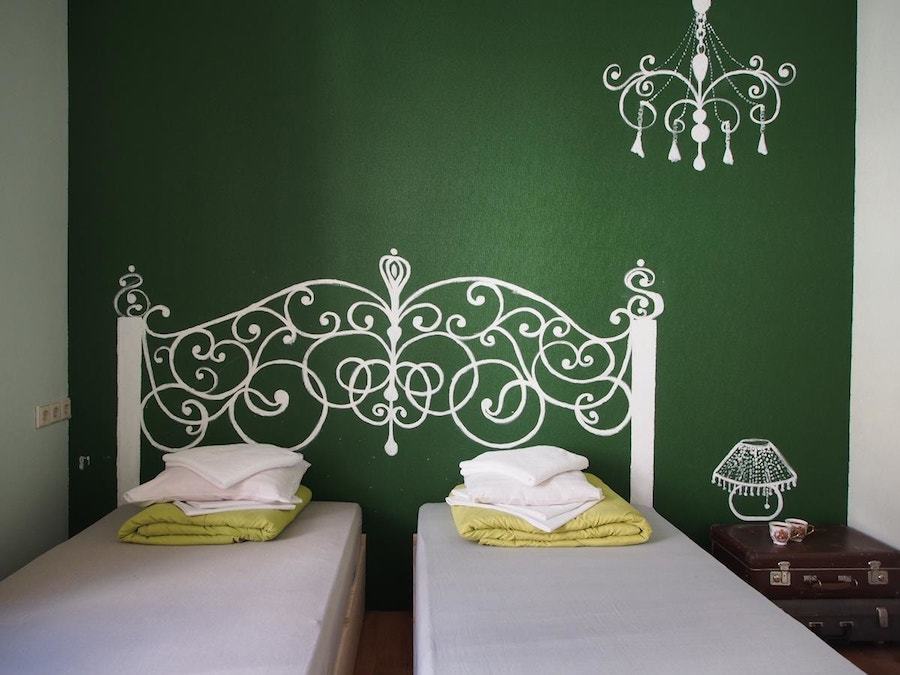 The Amber Rooms are a central hostel in Riga within walking distance of the top things to do in Riga and the Riga restaurants. Guests have options of 2-bed rooms, 4-bed rooms, and 6-bed dorms. All rooms have shared bathrooms and free WiFi.
The common kitchen at this cheap hostel in Latvia includes a toaster, oven, electric kettle, and microwave. Pets are allowed at an extra charge. If you want easy access to the Riga attractions without having to shell out too much for transport, this is one of the best places to stay in Riga!
Liberty Airy Hostel, Riga
Situated on the main street in Old Town, close to the best things to do in Riga, the Liberty Airy is one of the nicest hostels in Riga, Latvia. Riga restaurants, markets, and attractions are within walking distance.
Guests can choose from 2-bed, 4-bed, 6-bed, 8-bed, or 10-bed rooms. Rooms include free WiFi, soundproofing, heating, air conditioning, seating areas, hypoallergenic linen, shared bathrooms, and access to a shared kitchen.
Some rooms have private bathrooms. Pets are allowed at an extra charge. This is not a party hostel in Riga, but the staff can arrange for movie nights or bar crawls at an additional charge. You'll enjoy your stay at this central hostel in Riga.
Private Accommodation In Riga
Ars Vivendi Rezidence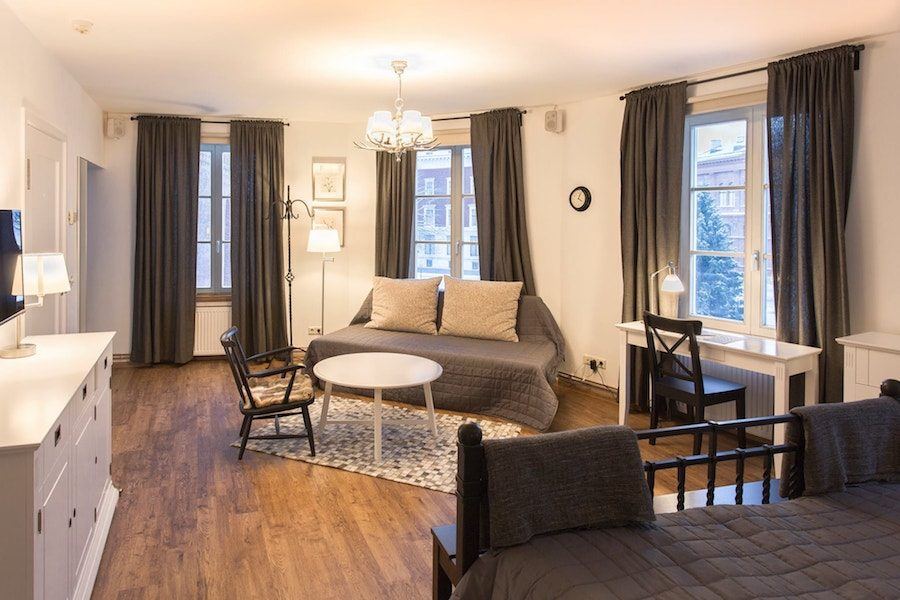 This classic 42 m² private accommodation in Riga has beautiful large windows with a view of the Old Town main square and Dome Cathedral. The room is fully furnished and includes free WiFi, heating, air conditioning, seating and dining areas, clothes racks, flatscreen TVs with satellite and cable channels, and safes.
The kitchenette includes a toaster, refrigerator, stovetop, kettle, and coffee machine. Guests can also enjoy Breakfast at Restaurant Neiburgs, 30 meters away. Riga Techincal University, Arsenals Exhibition Hall, Art Museum Riga Bourse, Jauniela, Riga Dome Cathedral, Small Guild, House Of Blackheads, Bastejkalna Parks, Latvian National Opera are within walking distance.
The best Riga restaurants are also within walking distance. For absolute luxury in the heart of Riga, choose this well-furnished apartment.
Aparthotel Autosole
Located opposite a landscaped park in Riga, Latvia, these Riga apartments consist of studios and 2-bedroom apartments from 20 m² to 72 m². Elegant Italian furnishings decorate this 1900s building that was renovated in 2007.
Riga City Centre and Old Town are 10-minutes away and can be easily reached using public transport. You can choose from minimally decorated to luxuriously decorated studios or apartments, but they all include all the necessary amenities, a well-equipped kitchenette, and free WiFi. The beautiful colors of the larger Riga apartments make you feel right at home!
Park Inn by Radisson Residence Riga Barona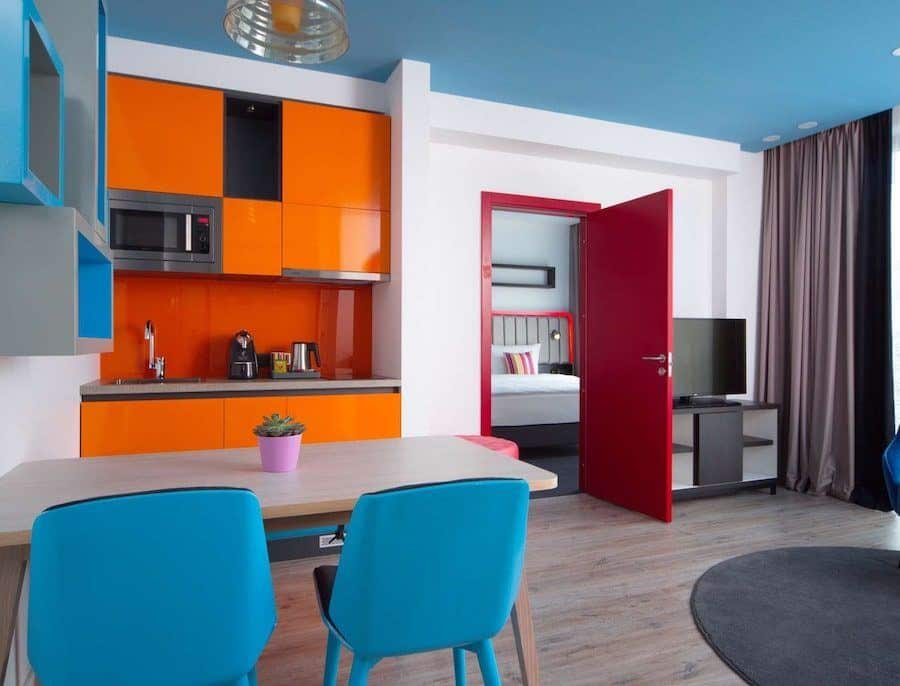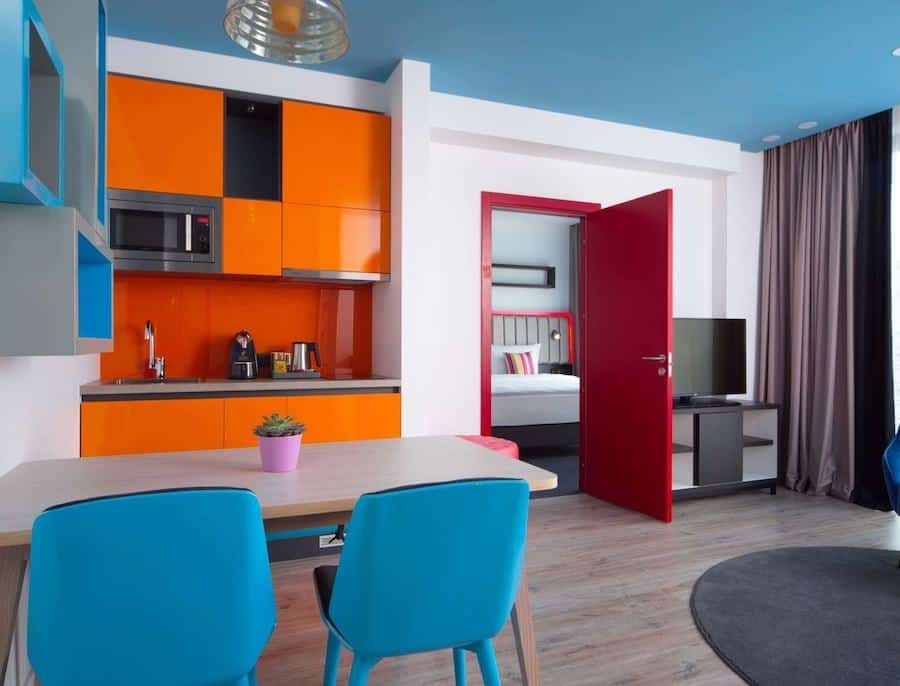 Park Hotel Riga has some of the most tastefully decorated self-catering accommodation in Riga. Centrally located, this Riga accommodation is within walking distance of Nativity of Christ Cathedral and Vermanes Garden and close to the best restaurants in Riga, Latvia.
The spacious studios and apartments feature marble flooring, fully equipped kitchenettes, seating areas, and dining tables. Amenities include flatscreen TVs, telephones, air conditioning, heating, soundproofing, wardrobes, and more. The 2-bedroom serviced apartments can sleep up to five guests. Ask for a room with a terrace or balcony so that you can look out at the city while enjoying your morning coffee.
So that's our list of the best places to stay in Riga on your holiday. Have a great time, and come back and let us know how it went!
MORE BALKAN & EUROPEAN ACCOMMODATION TRAVEL BLOGS
Chasing the Donkey - Balkan travel blog includes affiliate links. If you decide to make a purchase through these links, we receive a commission without any additional cost to you. We appreciate your support helping to keep this site free. Find our disclaimer & privacy policy here.