Some posts contain compensated links. Please read this disclaimer for more info.
Beaches In Slovenia To Keep You Cool This Summer
Located in Central Europe, Slovenia is a predominantly landlocked country, mostly known for its ski resorts, mountains, and lakes. However, western Slovenia does have a short coastline known as the Slovenian Riviera. And some beautiful beaches dot that 46-kilometer stretch of coastline in the Gulf of Trieste.
As the Slovenian Riviera enjoys a sub-Mediterranean climate, it is worth considering this little-known beach getaway paradise as a holiday destination. Slovenia is not a well-known beach holiday destination hotspot like its neighbor Croatia, but it is a perfect place to enjoy some peace and quiet while relaxing and sunbathing in the sun.
As the Slovenian Riviera is only 46 kilometers long, we suggest hiring a car to get around and see it all.
Best Beaches In Portorož
Portorož Beach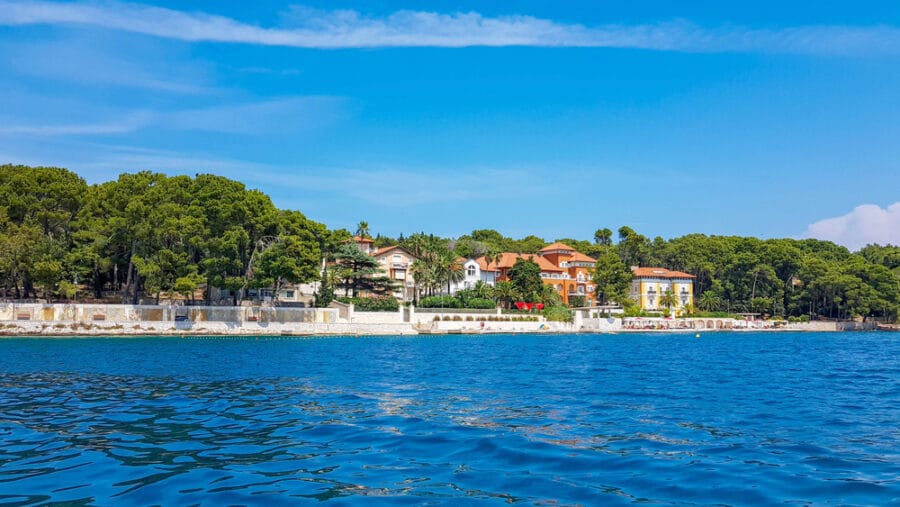 Being Slovenia's most popular beach destination, Portoroz Beach is awash with luxury seaside resorts, including shops, restaurants serving a vast range of cuisines, and an abundance of accommodation options. If you are looking for a lively atmosphere, Portoroz Beach is the place to be.
The combination of white sandy beach, deep blue waters of the Adriatic Sea, and cloudless skies makes it the perfect place to relax and unwind.
Best Beaches In Strunjan
Mesečev Zaliv Beach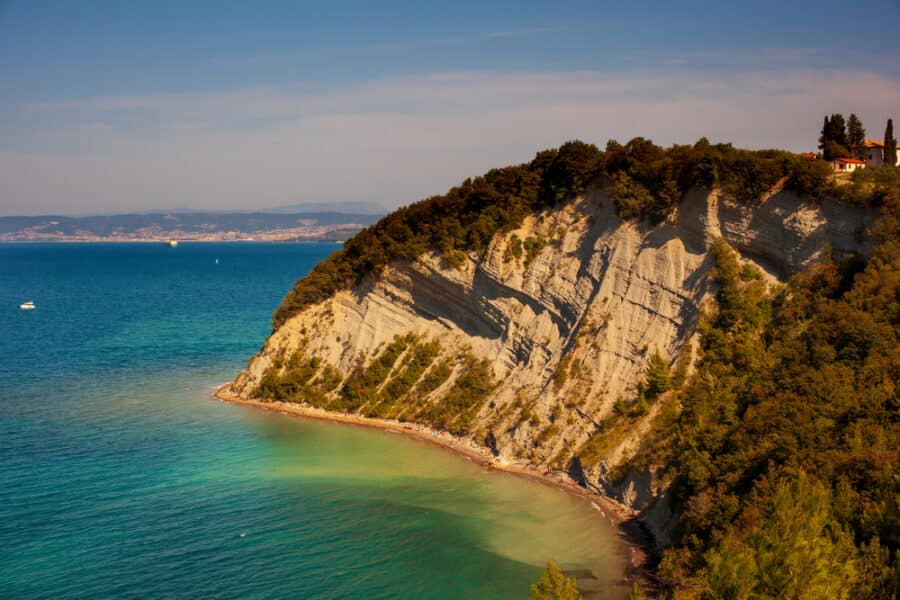 Also known as Moon Bay or the Bay of the Cross, this gem of a beach is found within the Strunjan Nature Park. Due to its location within the park, the pebbled beach is only accessible by foot, but those willing to take the journey will not be disappointed. Clear waters, untouched nature, majestic cliffs towering over the waters, and beautiful sunsets are just a few of the wonders you can expect. It is perfect for those looking for a peaceful seaside afternoon.
Bele Skale Beach
This beach is found in part of the protected area of the Strunjan Landscape Park. The vibe of the beach could be classified as "wild" with the sound of waves crashing, driftwood along the shoreline, and a distant view of the town – truly an escape in nature.
The beach is accessed by a walking trail or by boat and boasts beautiful cliffs, crystal waters, and easy entrance into the sea and is a favorite of nudists and bookworms.
Best Beaches In Izola
Izola Beach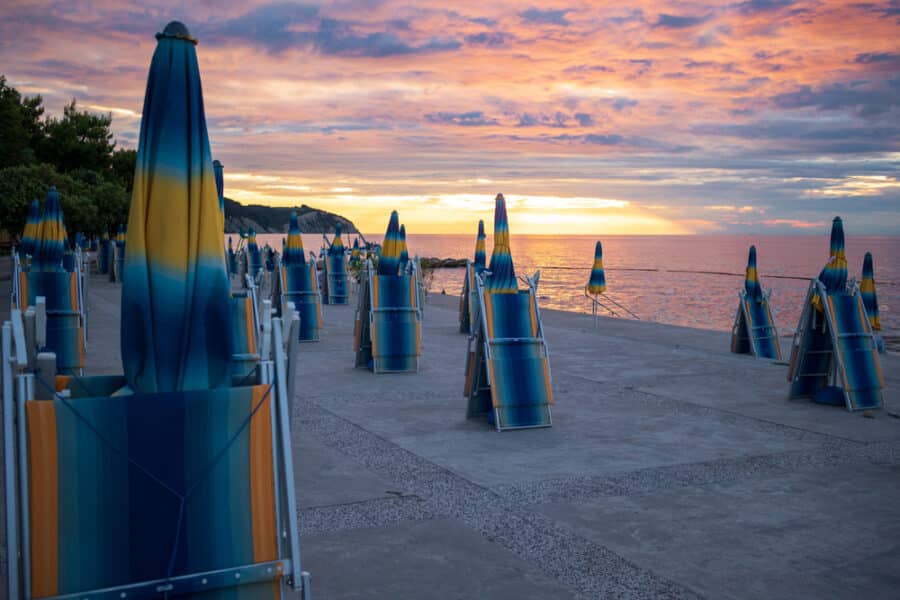 Izola is a small fishing and wine-making town with a romantic touch. This bustling town lies on the southwestern shore of the Gulf of Trieste.
The extensive history of this quaint town has resulted in a wealth of architecture, monuments, and culture. Beyond the town is Isola Beach, lined with cafés, restaurants, and shops. From the beach, you can witness stunning sunsets and peacefully watch the fisherman hull in their catches.
Svetilnik Beach
With lifeguards, restaurants, playgrounds, and loads of waterfront activities, Svetlink Beach in Izola is a favorite of locals and tourists alike. The long pebble beach is easily accessible from the parking lot, and the beach itself is only 0.3km from the city center.
Windsurfing and kiteboarding are particularly popular along this stretch of coastline. The waters are clean, and there is ample space to sunbathe along the grass, wooden dock, or concrete.
Simonovzaliv Beach
Also known as San Simon, this beach is the most popular in Izola. The beach is a beautiful choice for families and active water sport enthusiasts alike. The beach is surrounded by pine trees and acacias that provide a natural shade, and the option to rent sun loungers with umbrellas is also available.
Highlights of the beach include a sandy bay, a waterslide, the ruins of a Roman villa, a snack/ice cream shop, a water sports center, and lifeguard patrols.
Best Beaches In Koper
Mestna Beach
A medieval town with an abundance of exciting history, Koper is the largest coastal town in Slovenia, accompanied by Mestna Beach. Being so close to the Italian border, there is an exciting mix of Italian and Slovenian culture.
Once you're done exploring the town, you can unwind on Mestna Beach, a classic pebbly Mediterranean beach. In the summer months, Mestna Beach is the perfect place to watch a beautiful sunset.
Koper Beach
Another option for taking a dip in Koper is in the port along the promenade at the Koper City Beach. While small, it's easy to find, in a convenient location, and offers easy swimming with the absence of strong waves. Lifeguards are on duty, and visitors have access to showers and restrooms.
Children can play in the covered sandbox or swing at the playground, and older swimmers can enjoy the offshore raft for jumping and diving.
Being along the promenade, this is a favorite area for walking and for hiring boats for various activities such as diving, fishing, and water skiing. Many shops and restaurants line the promenade, making it a great area to spend the day.
Best Beaches In Piran
Piran Beach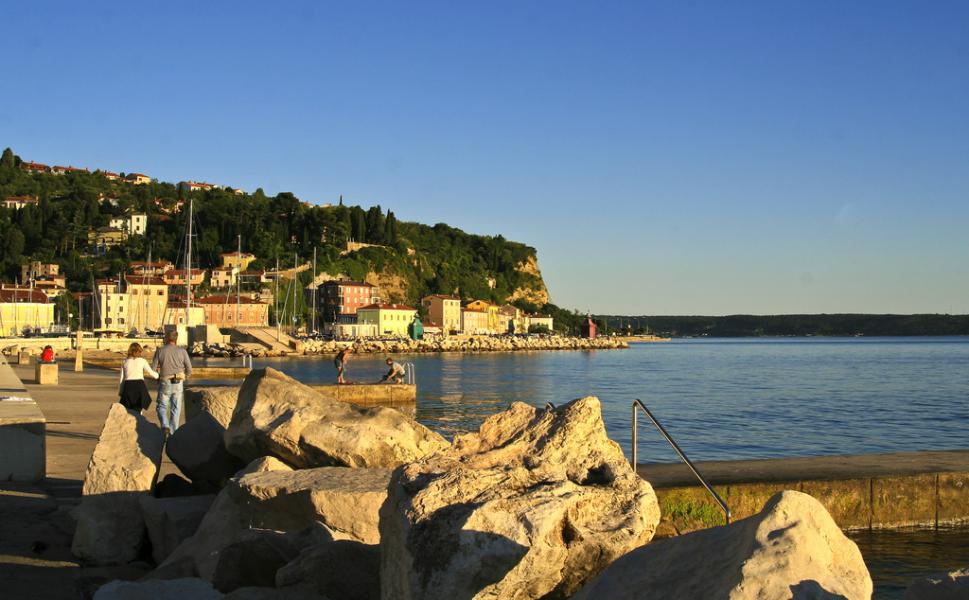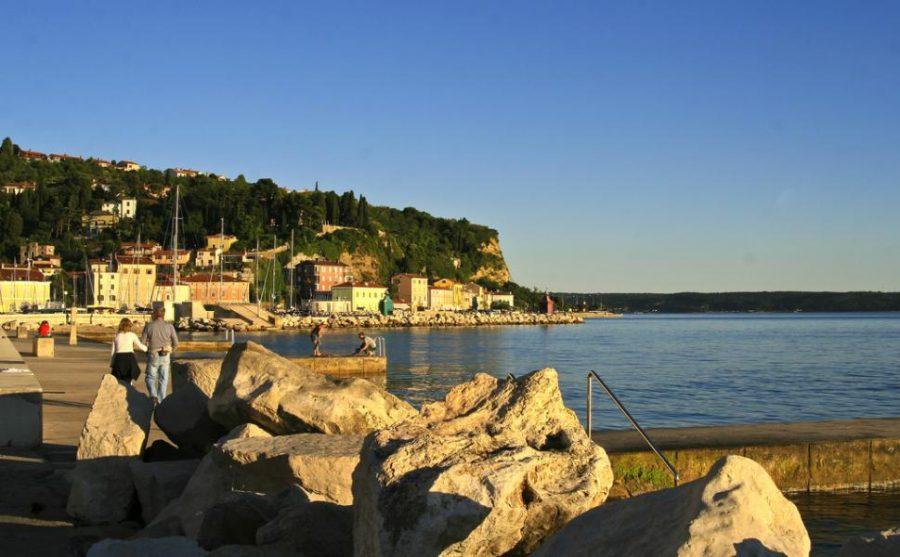 Piran is not your conventional beach. Instead of sand, the coast is paved with smooth concrete, complete with various facilities and jetties stretching out into the Adriatic Sea. Stairwells mark the end of the jetties, descending into the water for easy access. Austrian and Venetian architecture can be viewed on the hills surrounding this beautiful cove.
Now, all there's left to do is picking a beach, grab your car, and exploring the beaches in Slovenia!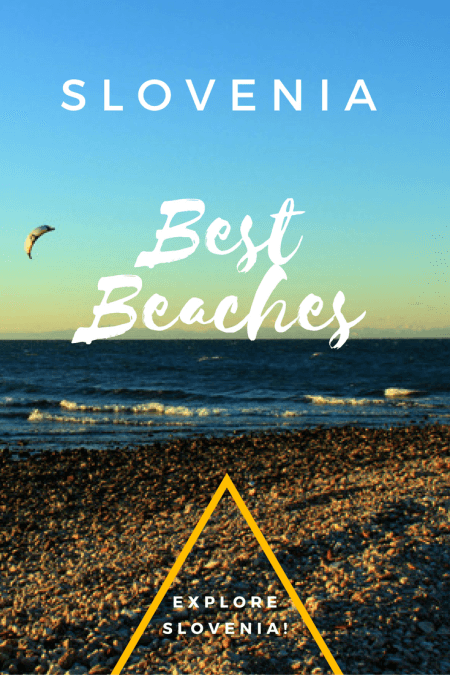 Which beach in Slovenia will you start with first?
MORE SLOVENIA TRAVEL BLOGS
Share