Some posts contain compensated links. Please read this disclaimer for more info.

Where To Stay On The Bosphorus Strait (Best Bosphorus Strait Hotels Included!) For 2022
Many visitors to Istanbul like to stay in the areas close to the Bosphorus Strait. Favored for their stunning views over the sea and the relaxed waterside vibe, areas like Galata and Karaköy offer plenty of dining, cultural and shopping experiences of their own. Some people also opt for accommodation in Beşiktaş further up the coast. Here, resort-style hotels have spacious grounds for swimming pools and gardens. This area is also ideal for those seeking hotels in Istanbul with a sea view, as the panoramas from here are magnificent.
The area by the Bosphorus is a top pick for those who enjoy delving into the culture, as there are plenty of museums in the district. The area also has a laid-back vibe, with lovely waterfront eateries and shop-lined streets leading inland. Those staying in other regions like Sultanahmet, Taksim, or Beşiktaş often head to the waterfront to sample the fantastic range of bistros by the Bosphorous Strait. Not surprisingly, many specialize in seafood, and this district is also a good bet for anyone who wants to try Turkish cuisine. In the evening, seeing the city lights reflected in the water can be a magical experience. Likewise, breakfast with a Bosphorus view can be equally memorable.
Karaköy rivals Taksim as one of the most happening places in Istanbul – especially after dark. Right on by the Bosporus Strait, it was formerly an important port. Over the last decade, this waterside district has evolved into a vibrant area packed with lively bistros, bars, and stylish stores over the last decade. Karaköy is viewed as one of the coolest neighborhoods in Istanbul and is home to some boutique Bosphorus view hotel options. Galata borders Karaköy and also has some hotels overlooking the Golden Horn, a quieter stretch of water just off the central Strait.
If you're looking for ten luxury hotels on the Bosphorus in Istanbul, Turkey, read on – although we include properties in all price ranges. There's even a hostel listed. For those who love the water, these are undoubtedly the Istanbul hotels with the best views.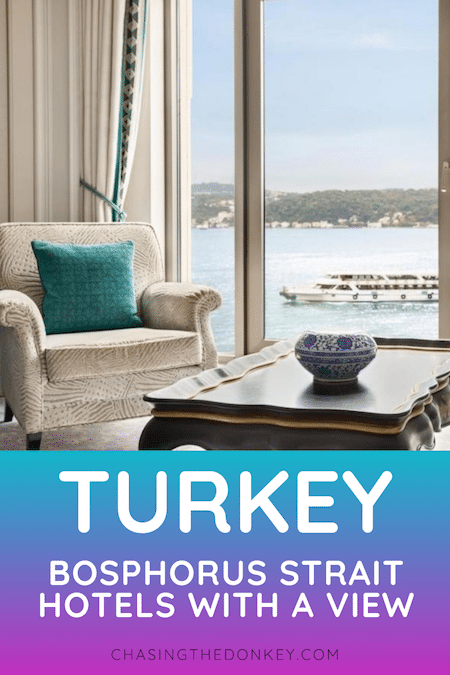 The Best Places To Stay On The Bosphorus Strait
Karaköy
Doruk Palas Hotel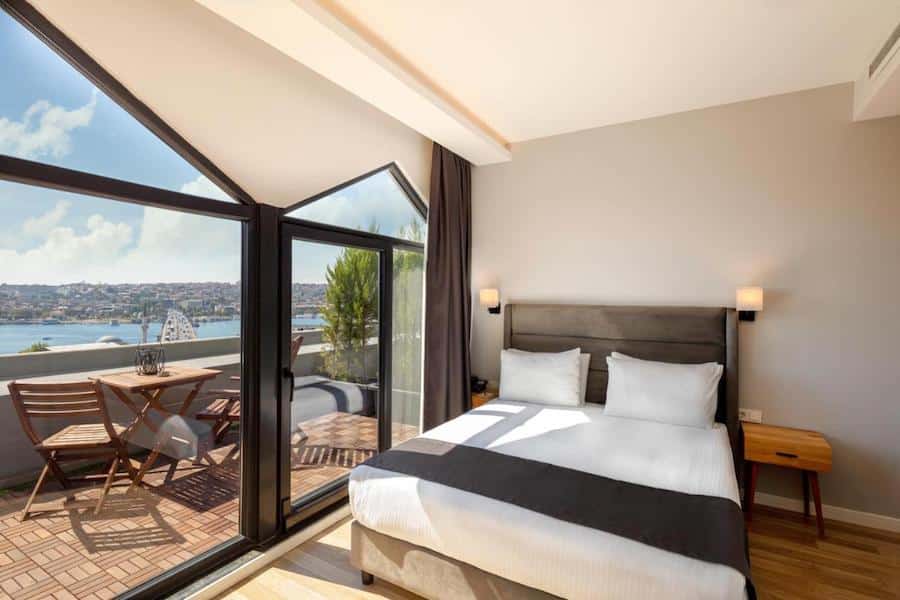 Around 600 meters from the Galata Tower is the Doruk Palas Hotel, where guests really do say they've been made to feel like one of the family. Its position close to the Golden Horn means that many of the double and family rooms here have stunning views over the water. A restaurant with a terrace also makes this one of the best Bosphorus view hotels in Istanbul for dining. The hotel also offers free WiFi, 24-hour reception, flatscreen TVs, and air conditioning and serves a buffet breakfast each day.
Ada Karaköy Hotel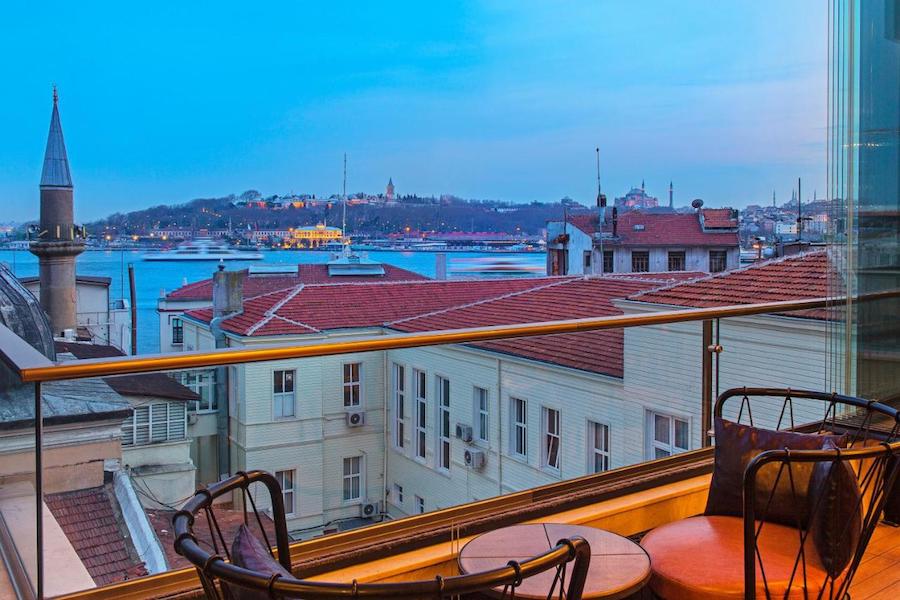 The Ada Karaköy Hotel is under 150 meters from the Karaköy Ferry Port and offers waterside views. An ideal choice for those looking for Bosphorus view hotels in Istanbul, this property offers air-conditioned double, twin, or triple rooms. All are soundproofed for a peaceful sleep and are decorated in a bright, light style. The hotel offers free WiFi, the option of breakfast on the terrace, and 24-hour reception.
Sherry Suites Karaköy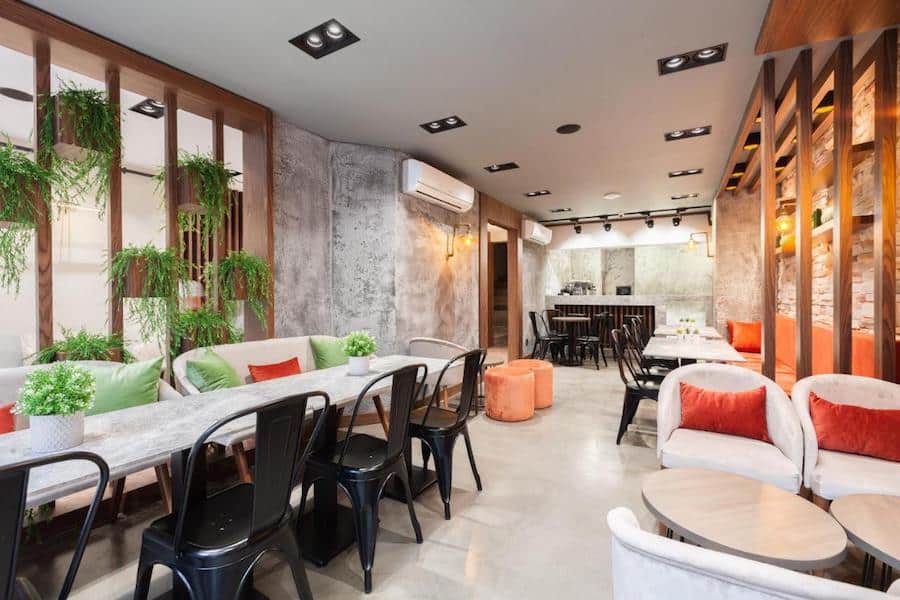 Located right by the point where the Golden Horn departs the Strait, the Sherry Suites are a rather special place to stay for those wanting hotels on the Bosphorus with a view. In fact, a range of sea views rooms is available, from doubles to family rooms and apartments for four or five. As it's just a mile from the center of Taksim, this property is also suitable for anyone searching for the best hotels in Istanbul near Taksim square. It has a 24-hour reception, a tour desk, air conditioning, flatscreen TVs, and free WiFi and serves a continental or à la carte breakfast.
The Bank Hotel Istanbul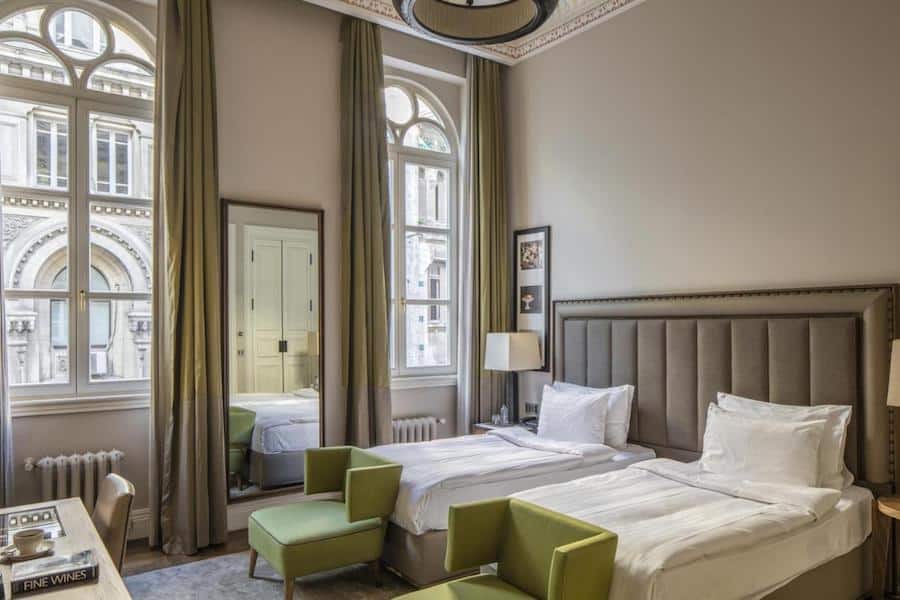 The Bank Hotel Istanbul is located on the edge of Karaköy, close to the water. If you're seeking hotels near the Bosphorus in Istanbul, this one is a great pick. It is a luxury 5-star hotel in Istanbul near the Bosphorus and makes an excellent base for discovering Beyoğlu, Taksim, and Sultanahmet. Art galleries including the Elipsis, Istanbul Modern, Istanbul 74, and Gallery Mana are easily accessible on foot. All rooms have an iPod dock, rainfall shower, and work desk, while the property has a restaurant offering fabulous views. There is also a gym, library, spa, and gardens.
Nabu Hotel Karaköy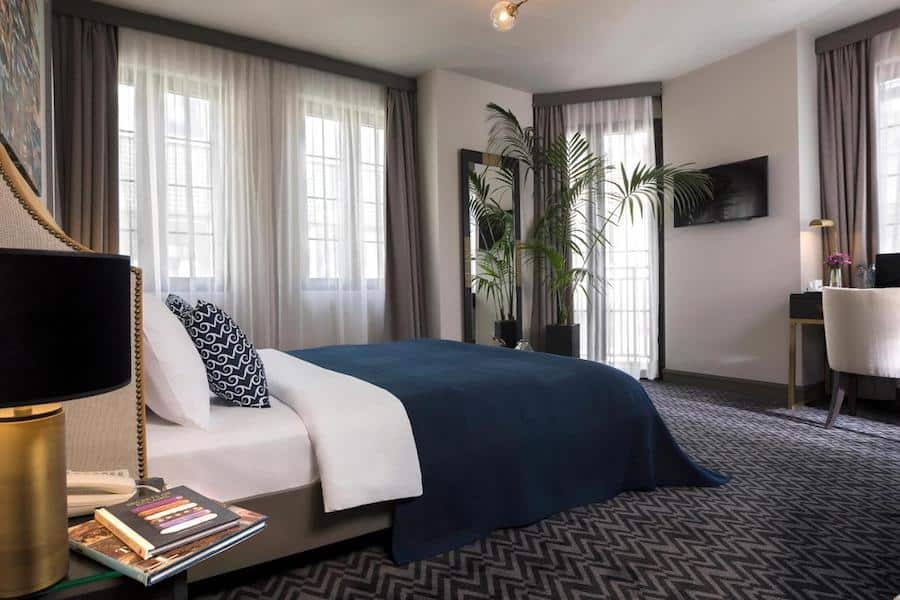 Around 500 meters from the Galata Tower is the Nabu Hotel in Karaköy, situated just one street back from the water. Among Bosphorus luxury hotels, this one is more contemporary in style, and rooms feature sleek, clean lines and white linen contrasting with the dark tones in the soft furnishings and flooring. Many have a balcony or terrace, and there is also a junior suite and penthouse.
Hush Hostel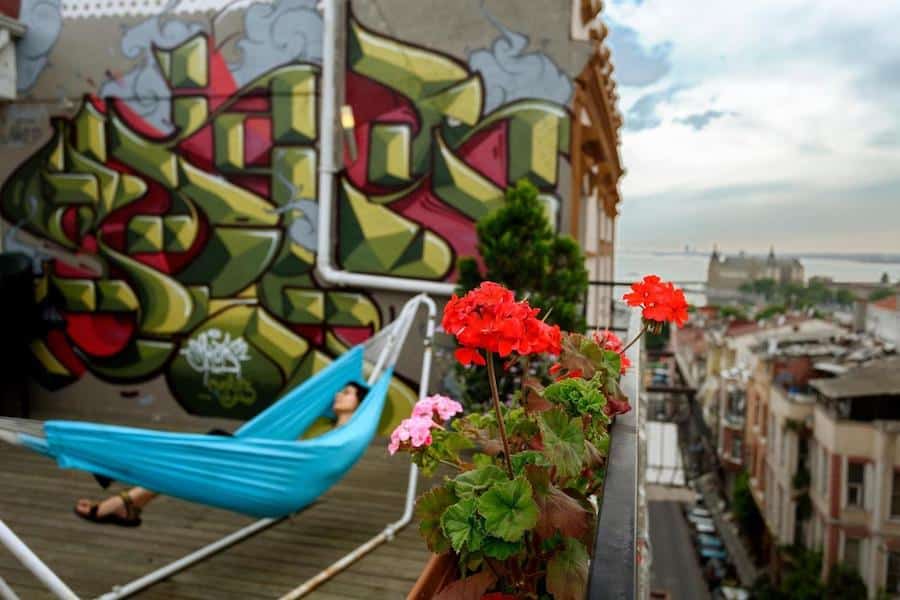 You don't have to have endless funds to enjoy those Bosphorous views. Hush Hostel is positioned on the 'other,' Anatolian side of Istanbul – and there are views over the water from its rooftop terrace. It also has a garden. The central part of town can be accessed in just 20 minutes via the nearby Kadiköy ferry service. A common area with musical instruments and a TV and shared kitchen make this a sociable place to stay. Accommodation can be booked in singles or doubles with private or shared bathrooms or in a range of dorms.
Galata
Bankerhan Hotel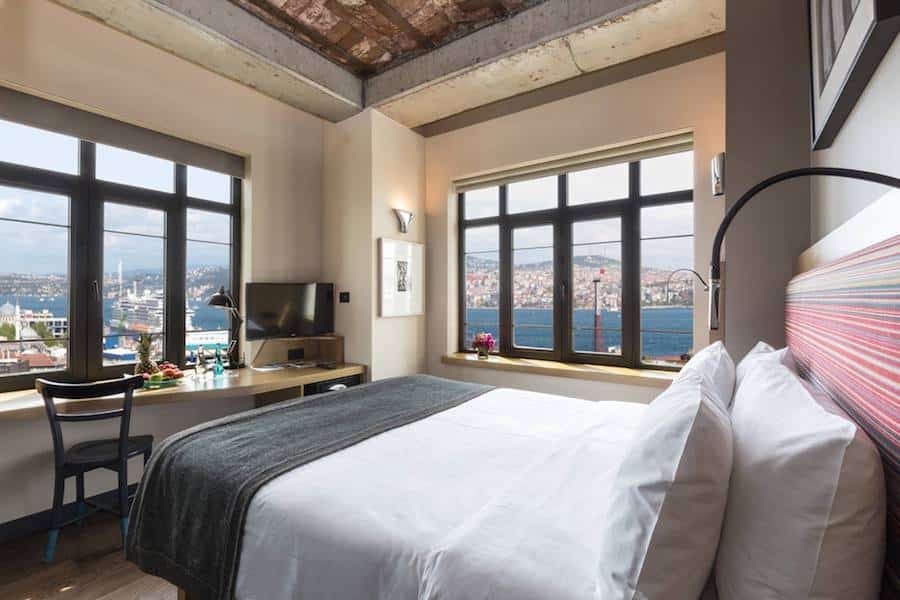 The Bankerhan Hotel is located close to where Karaköy and Galata meet, just 300 meters from the tram station. A mix of city and sea view rooms in various styles are available – from standard singles, doubles, and twins to Japanese-style doubles or executive rooms with private terraces. Accommodation is comfortable and stylish, with flatscreen cable TV, air conditioning, and WiFi. The hotel has a restaurant, 24 hours front desk and concierge, and breakfast is served each morning.
Art Nouveau Pera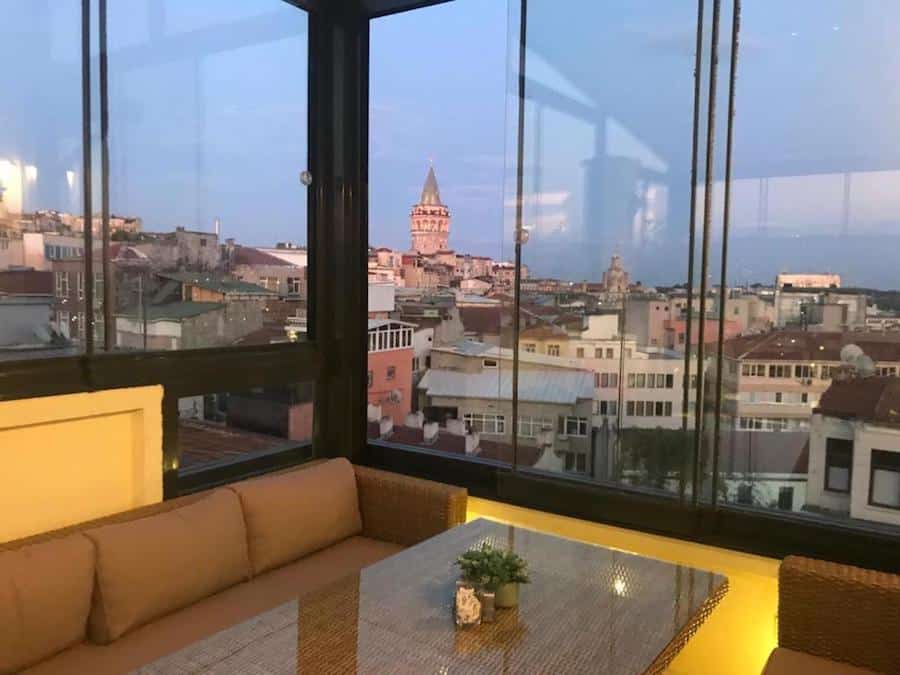 The Art Nouveau Pera hotel offers sea view accommodation as single, double, or family rooms for up to four guests. There is also a Turkish bath, sauna, and hot tub at the property. This hotel is about 300 meters from the Galata Tower, and rooms have features like paneled walls and parquet flooring. Air conditioning, flatscreen satellite TV, free WiFi, and a mini-fridge are in all rooms. Some of the marble bathrooms have a hot tub or spa bath.
Beşiktaş
Shangri-La Bosphorus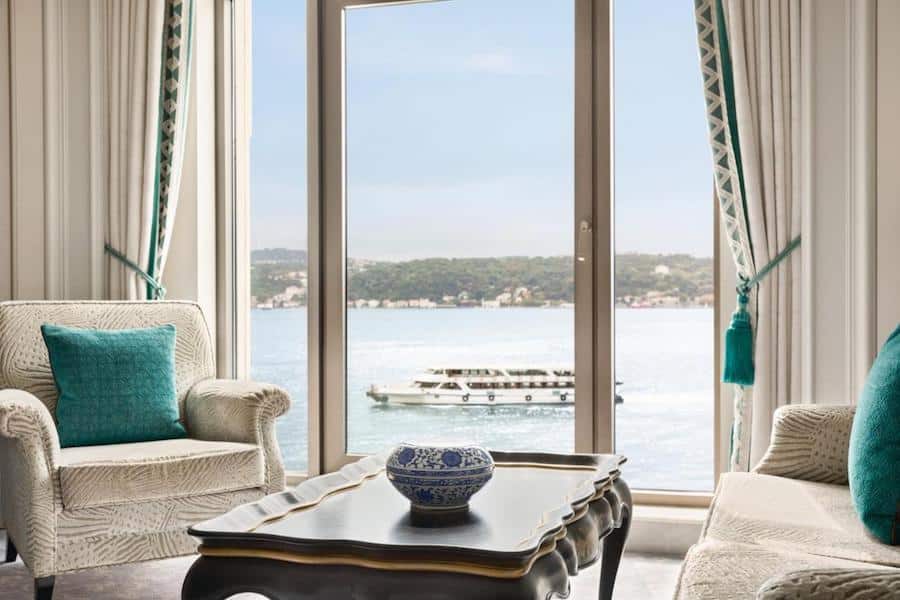 If you want to find a Bosphorus view restaurant in Istanbul, you'll be spoilt for choice at the Shangri-La Bosphorus. It has three eateries plus a spa and indoor swimming pool. Inside, there are marble bathrooms with Bvlgari toiletries and underfloor heating, iPod docks, high-speed internet, and flatscreen TVs. Room decor is contemporary, with Asian touches reflecting the exotic location. Suites have two outdoor terraces each, plus an indoor seating area. This is a fabulous five-star plus hotel and spa in Istanbul on the Bosphorus with steam rooms, a Turkish bath, sauna, and hot tub.
Four Seasons Hotel Istanbul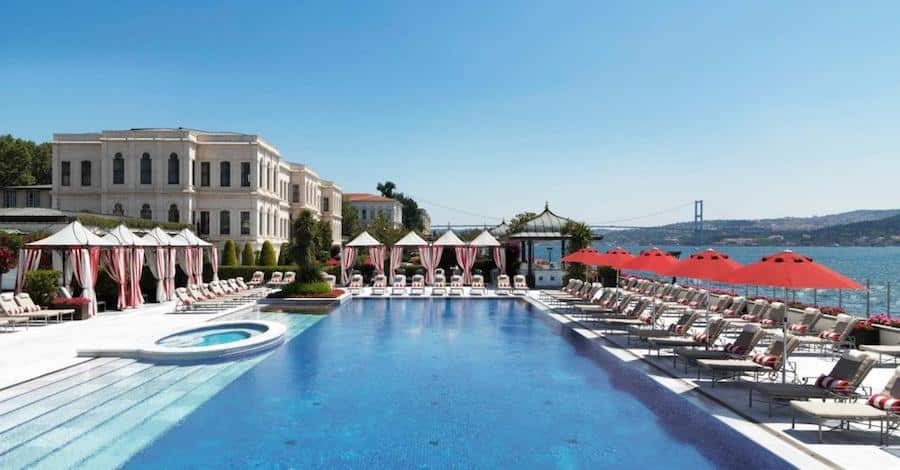 Why look for hotels in Istanbul at Taksim Square facing the Bosphorus when you could base yourself a little further out? The hotels in Beşiktaş offer so much luxury – as well as those glittering sea views. The Four Seasons Hotel Istanbul is a classic example, located in a former Ottoman Palace, no less. This seafront five-star property has a spa, gym, indoor and outdoor pools, and gardens with sun loungers. There are several bars and restaurants, including Aqua Restaurant, which boasts a terrace overlooking the Bosphorus. Vibrant Besiktas Square is under five minutes walk from the property.
Accommodation options by the Bosphorus Strait in Istanbul are varied and exciting, as you can see. Whether you prefer five-star resort facilities, a smart central city hotel, or a more basic stay with everything you need, the views over the Strait alone make it well worth visiting Turkey's largest city.
Where will you stay on the Bosphorus Strait?