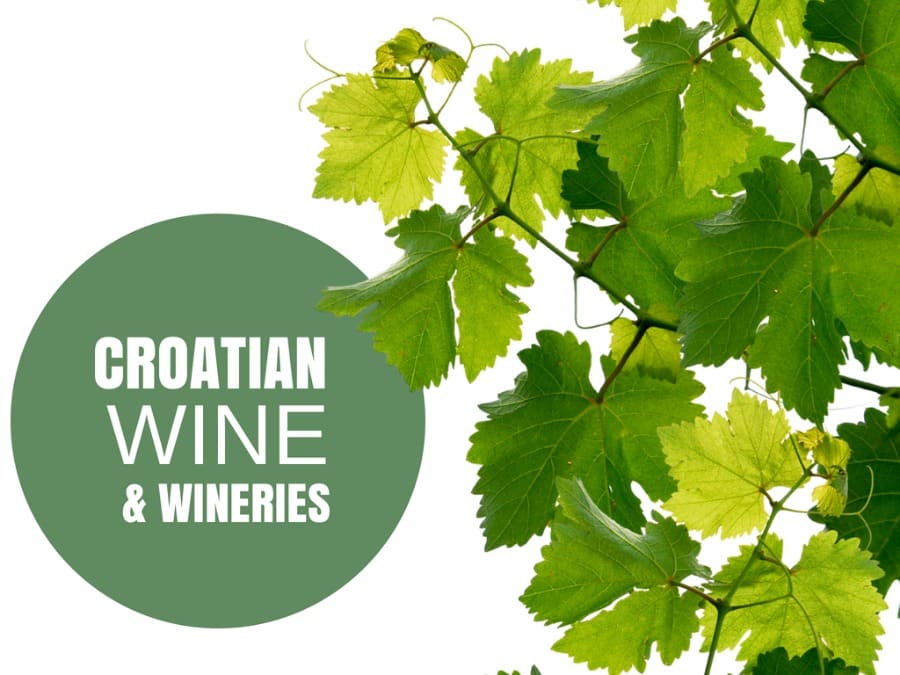 Croatian Wine: These wineries in Croatia are waiting for you
Voted in at number five of the Best Wine Region to Visit by the USA Today readers, we suggest these 20 wineries in Croatia are waiting to serve you Croatian wine.
1. 

Stina winery
The Stina winery is located in Bol on Brač Island, and dates back to 1903. In the renovated winery the white Vugava and Pošip, the red Plavac Mali, and also the rosé, Stina Opol is produced with great success. The most renowned Stina wine is a red wine made from Plavac Mali grape. The name of the winery ('stina') refers in Dalmatian dialect to the main characteristics of the region, the Brač stone.
What is most peculiar about this Croatian wine is its award-winning label, which was also inspired by Brač stone, and consists of only the winery's name embossed on a white background. Read more about this fascinating winery here from our visit.
Open each evening
website | facebook | Riva 16, Bol Town | +385 (0) 21 306 220
2. BIBICh winery
The BIBICh winery is located very close to Skradin, on the coast in North Dalmatia. This region is known for its famous Babić grape. The Bibić family started making wine more than a hundred years ago, with the winery founded in 1906.
Under Alen Bibić, the current owner of the winery, two thirds of their wines are sold in the USA. The BIBICh winery achieved international success with its wines, especially with the white Debit, the white blend R5 Riserva, and the red blend R6 Riserva. They make a wide variety of Croatian wines mainly from debit, babic, plavina and lasin grapes native to the region.
We shouldn't forget the traditional dessert wine of Dalmatia, the Prošek either; according to rumours, one of Eva Longoria's favourite wines is Bibić's dessert wine, called Ambra.
Visit by appointment only
Plastovo, Skradin | website | facebook
3. Miloš winery
The Miloš winery on the Peljesac peninsula in Dalmatia focuses on the autochthonous grape variety, Plavac mali. The winery has 15 hectares of vineyards on the slopes of the Prapratno, on Peljesac, just next to Ponikve village.
The owner, Frano Miloš and his children make a wide variety of wine, from dry or semi-dry, through to semi – sweet to dessert wines. The most noteworthy of them are the Plavac 2009 or the Stagnum 2006, which has achieved 92 points at the International Wine Challenge Library Collection. The Miloš winery also makes rosé and even a red sweet wine, the Stagnum dessert 2007.
Open daily 8am to 8pm
website |Ponikve 15, 20230 Ston |385 (0) 20 753 098
4. Kozlović in Istria
The Kozlović winery, situated in Istria north west of Croatia, is run by one of the oldest Croatian wine families. They use local grape varieties for their award-winning wines, like Malvasia, Teran and Momjan Muskat. They do it so successfully that they can be proud of awards like the Decanter and the Royal Wine Challenge, to name a few.
The Kozlović winery success lies mainly in how they combine the traditional wine production with modern techniques. Their most important wine, the Malvasia contributes 65% to their entire wine production. The Kozlović wines such as Valle 2012, Malvazija 2012, Teran 2012, Muškat Momjanski 2012 can't be found in bigger supermarkets, as the Kozlović winery  prefer quality over quantity.
Visit from 10 AM to 7 PM, except Sunday and holiday
website | facebook  | Vale 78, Momjan, 52460 Buje +385 (0) 992 779 177
5. Saint Hills winery on Peljesac
Saint Hills winery, established by Ernest Tolj in 2006, has three vineyards in Croatia. The newest of which is found in Dingač on the coast on the Peljesac peninsula, southern Dalmatia. This Croatian winery uses indigenous varieties with the help of the French oenologist, Michel Rolland.
The most important wines they produce are a Malvasia Istriana and Chardonnay blend, a red  from Plavac Mali and Saints Hills 2008 Dingač, and finally the white "Nevina". The Saints Hills Dingač is aged in barrel for almost two years. In addition to Croatia and Serbia, their products are distributed in the United Kingdom and the United States. 
Visit from 11am to 5pm, by appointment
website |facebook | ph: +385 (0) 15 508 050
6. Korta Katarina winery
The Korta Katarina winery is found in Orebic, near Peljesac in Southern Croatia with its villa called "Rivijera Orebic". They use the Plavac Mali grape to produce one of their premium quality and award-winning wines, the KK Plavac Mali 2007.  The winery's golden-greenish white wine, the KK Posip 2008 has won a vast amount of national and international awards, as well.  The Reuben's Reserve Plavac Mali 2006, Korta Katarina's third Premium Quality Wine, is produced by aging Plavac Mali in French oak barrel and then the bottle for an equal amount of time. The winery, which introduced its first vintage in 2006, offers various tours, cultural programs and culinary events for their visitors.
Visit by appointment only
website | facebook | "Riviera Orebic" Bana J. Jelacica 3 20250 Orebic, Croatia |+385 (0) 20 713 817 
7. Krauthaker winery
Krauthaker winery is found at the southern slopes of Krndija Mountain. Although it is a white wine making territory within the Slavonian region, they have 38 different grape varieties growing. The local specialty, the Graševina (Welschriesling) is what the majority of their wines are made from, however they also produce wines from other varieties, such as, Sauvignon, Chardonnay, Pinot Gris, Zelenac, Merlot or Pinot Noir.
Many of Krauthaker's wines have won awards, such as the gold medals awarded to them in Bordeaux or London. The winery has an exceptional tasting room. 
Visit by appointment only| website | facebook |Ivana Jambrovica 6, 34340 Kutjevo |e-mail |+385 (0) 24 315 000
8. Boškinac winery
The Boškinac hotel, restaurant and winery is located on the Island of Pag, which is one of the biggest islands in Dalmatia. Although the winery was built only a few years ago, they have already received awards for the Boškinac 2006, Boškinac 2007 and Boškinac 2009.
 The winery also has a great wine tasting room. The winery's most famous wine is the Gegić, a dry white wine made of the grape variety of the same name, which is native only to the Island of Pag and its surroundings. Besides this, Boškinac produces cuvee's, both red (Boškinac Cuvee) and white (Boškinac Grande Cuvée) and another white wine, called OCU, blended only from local varieties.
Be sure to pair a Boškinac wine with the world famous cheese Paški sir also made exclusively on Pag.
Visit by appointment only
website | facebook | Novaljsko Poljebb, 53291 Novalja |e-mail | +385 (0) 53 663 500
9. Matošević winery
The Matošević winery is located in the small village of Krunčići, Istria.  The winery's most famous wines are the Malvasia and the Chardonnay, but the Grimalda Red, a blend made from Merlot and Teran is also worth mentioning.
One version of Malvasia, the Malvasia Istarska, which is native to Istria, is used for their wines, like the Alba, Alba Barique, Alba Antiqua. One of their peculiarities is that they age their white wines in acacia wood, instead of the more common oak barrel. The owner, Ivica Matošević is also the president of the Vinistra the Association of Istrian winegrowers and winemakers.
Visit between 9 a.m. to 4 p.m
website | facebook | Krunčići 2, 52448 Sv. Lovreč | contact | +385 (0) 52 448 558
10. Galić winery
The Galić winery makes its famous wines in the Kutjevo valley, which is often regarded as the wine capital of the continental Croatia. It produces wine from different grape varieties, but the graševina, a superior quality dry white wine is a must to try. It shows the pure characteristics of Graševina and, as it is said, the essence of the Kutjevo region. They also make semi-sweet white wine, called graševina kasna berba and chardonnay, as well as red sauvignon and even rosé.
You may want to become a member of their wine club, to receive nice discounts and enjoy other valuable benefits.
Visit by appointment only
website |facebook | Lukač bb, 34335 Vetovo | +385 (0) 934 440 850
11. Bodren winery
The Bodren winery is located on the hills of Hrvatsko Zagorje, in a region north of Zagreb. The winery is most famous for their ice-harvested wines. They've been awarded six Gold, eight Silver and six Bronze medals during the last five years at the Decanter World Wine Awards held in London.
More recently in the International Wine Challenge 2014, regarded by many as the world's most influential wine competition, Bodren Icewine 2011 won a Gold Medal, along with other prestigious prizes. Besides this widely appreciated wine, the Bodren winery's famous wines include Chardonnay, Riesling and Pinot Gris. 
Visit by appointment only
website | facebook | Rusnica 64, 49231 Hum na Sutli |+ 385 (0) 49 340 466
12. Tomić winery
On the Island of Hvar, more precisely, in the town of Jelsa in Dalmatia you can find the Tomić winery. They produce an enormous amount wine, more than 130,000 bottles a year. 
The Tomić winery produces wine from Plavac Mali and Plavac Veliki for the red varieties, and Pošip, Bogdanuša, Maraština and Prč for their white wines. You can also find Cabernet Sauvignon, Cabernet Franc, Merlot, Yellow Muscat or Drnekušica in their repertoire. They also produce  Prošek which is a local, sweet desert wine made from dried grapes. If you visit the winery, it's very likely that the owner himself, Sebastijan Tomić or his father, Andro Tomić, the famous oenologist will be your guide.
Visit by appointment only
website | facebook |Jelsa, Island Hvar | + 385 (0) 49 340 466
13. Katunar winery
The Katunar is a family winery, situated on the island of Krk. The small winery produces Kurykta Nigra, Žlahtina Katunar and Katunar Barrique, Chardonnay Katunar, and even sparkling wine Porin and Biser Mora. Their wines are primarily produced from debit and a sparkling wine made of a debit blend.
Žlahtina is a local grape variety, which is indigenous to Vrbnik. Despite being a family-run business owned by the brothers Anton and Ivan Katunar, the Katunar winery has also earned a name beyond the borders of Croatia. 
Visit by appointment only
website | facebook  | Sv. Nedilja bb, 51 516 Vrbnik | + 385 (0) 51 857 393
14. Grgić Hills winery
The Grgić Hills winery is located close to Trstenik, on the Peljesac peninsula, in Southern Dalmatia. It was established in 1996 by Miljenko "Mike" Grgich and his daughter, Violet Grgich.
They make Croatia's most famous varietals, Plavac Mali and Pošip. Mike Grgich uses the same methods and techniques as in his American winery in California. The Grgić's Plavac Mali and Pošip is a little more expensive than others', but the majority of the most important and famous restaurants put these Croatia wines on their wine list. The winery is attentive to ecological sustainability, and uses no artificial fertilizers, pesticides or herbicides and harnesses solar power.
Open from 10am to 5pm
website | facebook | Trstenik, Poluotok Peljesac |+385 (0) 20 748 090
15. Tomac winery
Tomac winery, owned by Tomislav Tomac, is located close to Jastrebarsko. The family has a 200 year history in wine making. The most famous wines they produce are a riesling and chardonnay.
The winery is well-known for its still wines fermented and aged in clay amphora's. This method oxidizes the wine very uniquely. Their most famous wine, the Riesling '09 is fermented and aged in a clay amphora for 6 months, before an 18-month period in oak barrels and an additional year of bottle aging. No surprise that this wine was awarded the "Best White Wine of Croatia" in 2012. Tomac's sparkling wines are also considered to be of very-high quality.
Visit by appointment only
website |Donja Reka 5, 10450 Jastrebarsko, Croatia | +385 (0) 1 6282 617
16. Roxanich winery
The Roxanich winery is located in a small village, Kosinožići, close to Porec, western Istria. Two of their most important wines are the Ines u bijelom and SuperIstrian. The former is a white blend of Verduzzo, Pinot Gris, Pinot Blanc, Sauvignon Blanc and a few others, the latter is a red made from Merlot, Cabernet Sauvignon and Gamay.
After skin maceration (lasting up to 174 days), three years of barrel-ageing takes place. This method results in the orange character of this Croatian wines. Roxanich has achieved many national and international awards, for example their Merlot and Cabernet Sauvignon won gold medals at Bergamo Palamonti in 2009.
Visit by appointment only
website | twitter |Kosinožići 26, Nova Vas, Croatia | +385 (0) 91 6170 700
17. Coronica winery
Coronica winery was founded in 1992 by Moreno Coronica, and uses the indigenous Malvazija and red Teran for its classical-style wines. The winery is located in the village of Koreniki, not far from Umag, a coastal city in Istria. The winery has 75 acres of vineyards in the rust-coloured 'Terra Rossa' (meaning red earth in Italian). 
Three-quarters of the wine made by them is Malvazija, with one-quarter red Merlot and Teran, which is often called Terrano (in Italian). In addition to the native wines, Coronica produces a blend called Grabar, made of Merlot and Cabernet Sauvignon. 
Visit by appointment only
website |Koreniki 86, 52470 Umag-Umago | +385 (0) 52 730 357
18. Trapan winery
The Trapan winery is situated in the small village of Šišan on the Istrian peninsula, close to Pula. Since their start in 2005, the Trapan winery has been producing many different wines, like Malvasia and internationally renowned red wines, such as Teran, Cabernet Sauvignon or Syrah. The Trapan is especially proud of its red blend, called Nigra Virgo
Revolution, made of cabernet sauvignon, merlot, syrah and teran. Their other famous wine, named Che, is a rosé sparkling wine, which is considered to be revolutionary in the Trapan winery. At Bruno Trapan's Wine Station, you can have a taste of these wines in a remarkable atmosphere. 
Open 9am to 4pm, by appointment only
website |facebook |Giordano Dobran 63, Sisan, 52100 Pula |+385 (0) 98 244 457
19. Kabola Winery
The Kabola Winery is in Momjan, in the north-western part of Istria, not far from Buje, in a territory so much resembling Tuscany. Probably the most peculiar wine of the winery, the Malvasia Amphora is aged in terra cotta amphora buried in the ground. Its Momjan Muscat is similarly unique, which is produced from an indigenous grape variety of the area. You can taste the winery's white Malvasija, Pisak, red Teran, Cabernet Sauvignon, Merlot or its  rosé in its wood-beamed tasting room. English-speaking staff, a small wine museum and a wine shop are at the visitors' disposal. In addition to wines, Kabola also makes olive oil.
Open 10:00 – 18:00 Mon to Sat
website | facebook | Kanedolo 90, 52462 Momjan, Istria | +385  (0) 52 779 208
20. Bolfan winery
The Bolfan winery, located in the village of Hrascina, in the region of Zagorje-Međimurje, makes its wines with a completely natural method of vine nurturing. The most well-known and award-winning wines of Bolfan are the dry or semi-dry Riesling, the dry Sauvignon and the dry, red Pinot Gris, but they produce Yellow Muscat and Pinot Noir, as well. Along with many silver and bronze awards, the Bolfan winery won a Gold medal with its Rajnski Rizling 2008 in the Muvina International Wine Contest, held in Slovakia in 2010. The winery welcomes their guests with a wine tasting room, a seminar hall, a restaurant and a souvenir shop.
Varied working hours check website for details
website | facebook | Gornjaki 56, 49283 Hraščina, Croatia |+385 (0)49 458 287
21.  Vuglec Breg
On our first evening in Marija Bistrica at Bluesun Hotel Kaj, we decided to dine in the hotel restaurant. The waiter kindly asked us if we would like an Aperitif and he recommended a glass of local sparkling wine called Baronial. Being supporters of all things local we gave it a try, and discovered it was fantastic. I have to admit that I haven't tried many Croatian Sparkling wines but this was really impressive! The Waiter advised us that this sparkling was from a local producer called Vuglec Breg. We loved that sparking so much it inspired us to go and track down Vuglec Breg and visit the winery first hand.
Perched on top of a hill in a town called Skarecivo, in Krapina sits Vuglec Breg. The winery overlooks their 4 hectare vineyard which is absolutely stunning. We decide to take a seat on the balcony and stay for lunch. We start our meal with a glass of the Baronial which again is outstanding. It's produced using the tradition champagne method, fermented and matured in the bottle. The wine is a blend of Chardonnay with a little Grasevina and is refreshing with a fruity aroma.
In between sipping on my sparkling and waiting for lunch I take the baby donkey and we go and play with the miniature horses they have on the property. I've never seen a miniature horse up close and personnel, I found them very cute and friendly but the Baby Donkey was suspicious and wouldn't get to close.
Our lunch arrives and we start with some famous Zagorje soup and frogs legs followed by roast goose. Mrs CtD has a glass of the Sauvignon Blanc and I go for the Pasion cuvee which is a blend of Frankovka, Pinot Noir and Cabernet Sauvignon. This red blend was paired delightfully with the roast goose.
During lunch we get talking with the waiter and we tell him about trying the sparkling in a restaurant and making our way to buy some of the sparkling and he kindly invites us to go and visit their wine cellar so he can show us around and let us sample the wines we have not yet tried. He was so happy that we showed an interest in his product. These are the things I love about Croatia.
Needless to say I bought a dozen bottles of wine to share with the family back in Dalmatia.
Want even more Croatian wine?
Then check out these other top wineries.
Suhapunta | Zlatanotok | Sladic | Ilocki | Kutjevo
Is there a winery you know of that we should consider adding to the list? Have you been to any of these wineries in Croatia?