Looking for an exciting and off-the-beaten-path destination in Croatia? Look no further than Sipan Island! Otok Šipan, as we know it here in Croatia, this hidden gem boasts stunning natural beauty, rich history, delicious cuisine, and a laid-back island lifestyle that will capture your heart.
Whether you're a beach lover, history buff, or foodie, there are many reasons why the Island of Sipan should be on your travel bucket list.
In this blog post, we'll share with you compelling reasons why you must visit and what to see and do on the enchanting island paradise of Šipan! Are you ready to discover the magic of Sipan Island?
Reasons To Visit The Island Of Šipan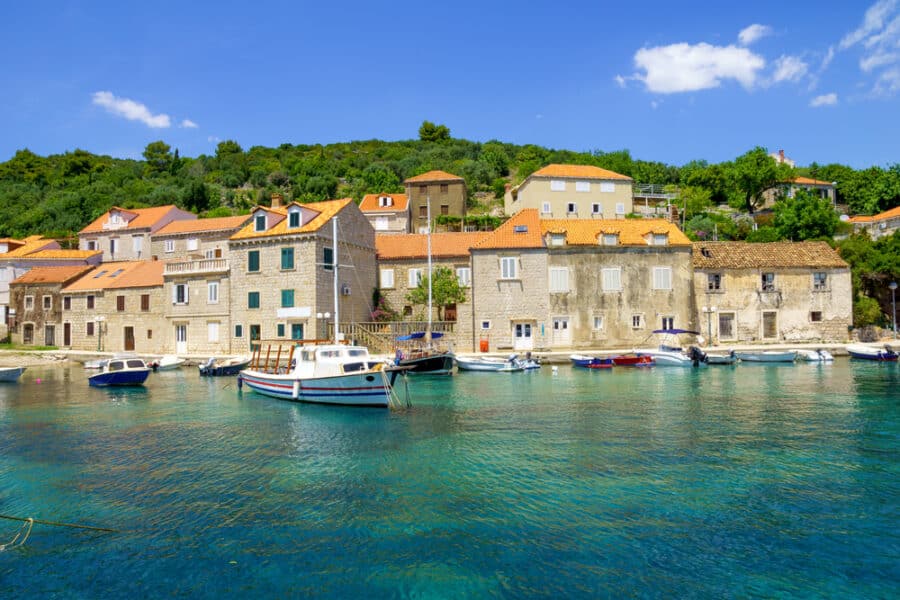 Without question, the main reason has to be the friendly locals. There are few places in the world where you will find locals as friendly and welcoming as those on Sipan Island. Whether you're looking for directions, advice on where to eat, or want to have a chat, the people of Sipan will go out of their way to help you.
This is one of the many reasons why Sipan Island is such a special place; here are a few others;
Sipan Island is home to some of the most beautiful beaches in Croatia
The island is low-key, making it a perfect place for total relaxation
Sipan Island island off Dubrovnik , making it easy to reach
The island is home to many delicious restaurants
Sipan Island has activities for all ages and budgets
There are just two towns on the island of Sipan, they are Suđurađ and Šipanska Luka, which are connected by road
TRAVEL COMPANIES WE USE AND TRUST
Things To Do On Sipan Island – Otok Sipan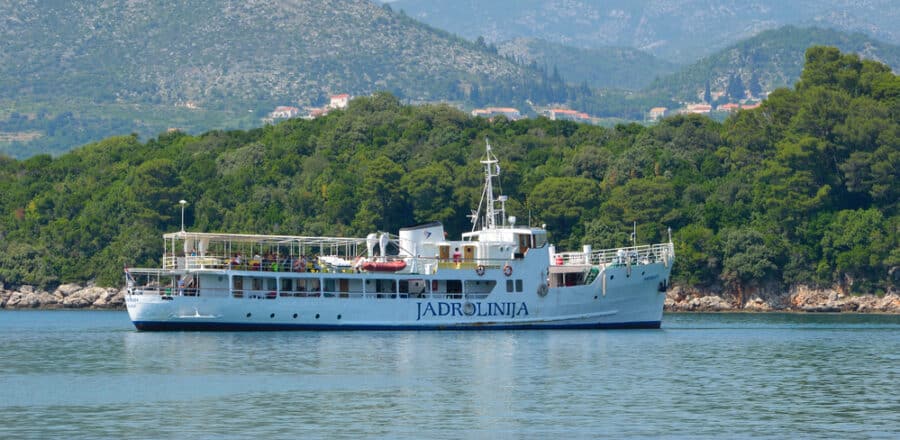 Šipan Island is a small yet stunningly beautiful island located off the coast of Croatia, the largest island on the Elaphiti Islands (or the Elaphites). This small archipelago is home to just 850 inhabitants on the islands of Koločep, Šipan, Lopud, and Jakljan.
The island is home to crystal-clear waters, gentle waves, sandy beaches, and lush vegetation – including so many olive trees. Locals will boast that they have the largest number of olive trees per inhabitant in the world.
You can enjoy plenty of activities, such as swimming, sunbathing, windsurfing, kayaking, and more. The island also has several restaurants and cafes, making it the perfect place to relax and enjoy the incredible views.
Historic Sites and Monuments
Sipan Island is home to several historic sites and monuments, making it a must-visit destination for history buffs. Highlights include as many as 30 – some say 43 churches, many of which are in ruins dating back hundreds of years.
Castle of Stijepovic Skocibuha: built in the 16th century, the castle is located in the town of Sipanska Luka and is one of the most well-preserved castles on the island
Church of St. Mary, Polyptych of the Assumption of the Virgin Mary: this church is a single-nave stone structure built in the 14th century
Knežev dvor Rectors palace: the historical Duke's Palace dating
Scenic Views and Natural Attractions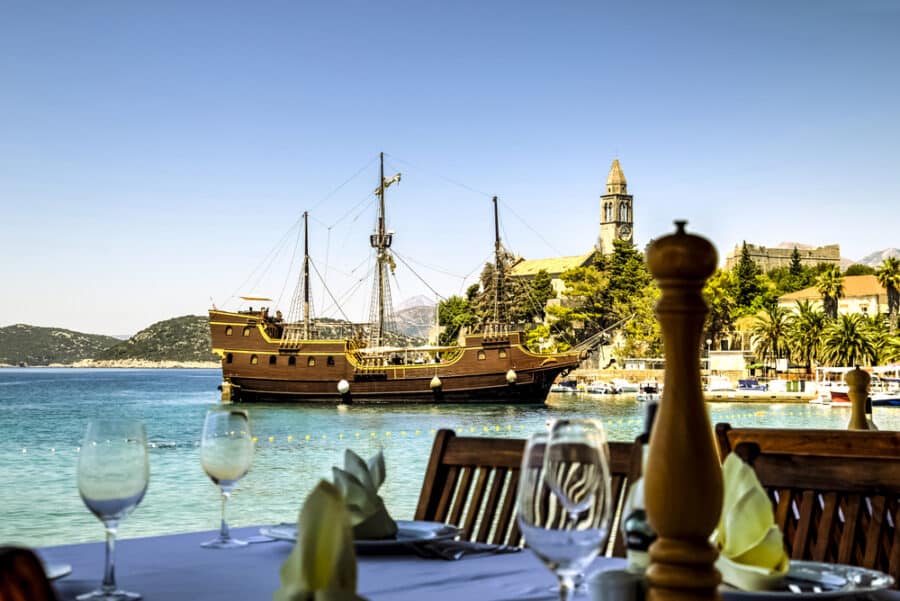 Sipan Island is a must-visit destination for anyone looking to experience the natural beauty of Croatia. The island is home to numerous scenic views and natural attractions, making it the perfect place to relax and recharge.
Some of the best views on c, 243 meters up at Velji Vrh! But to hike or walk to the top is only for those in excellent physical condition. You won't get lost, as the routes are well-marked and quaint, with many passing through picturesque vineyards and olive groves.
Delicious Šipan Cuisine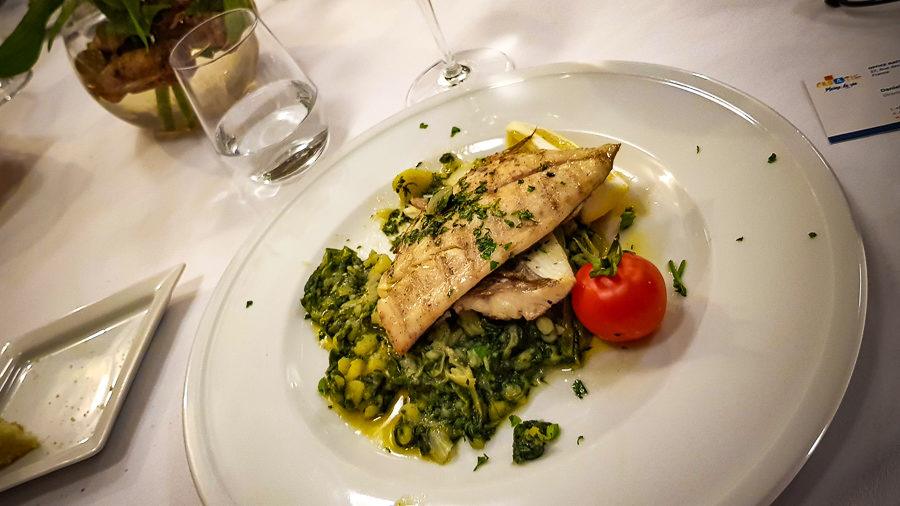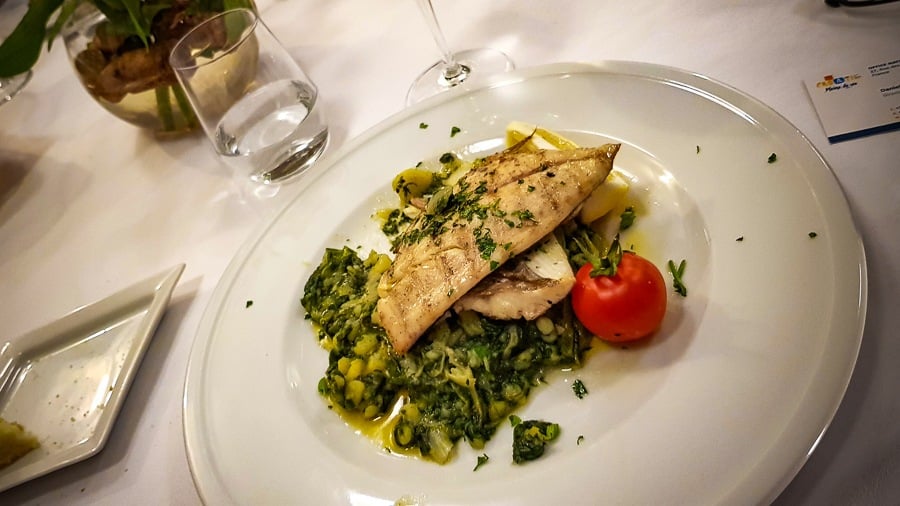 Sipan Island is home to some of the YUMMIEST cuisine in Croatia. The island's chefs focus on using fresh, local ingredients to create delicious and healthy dishes. Visitors to Sipan Island will have the opportunity to try a variety of traditional Croatian dishes and some fusion dishes that incorporate elements of other cuisines. No matter your taste, you're sure to find something you like on Sipan Island.
To get started, head to Restaurant BOWA (Best Of What's Around) and choose fresh seafood lathered with local olive oil and served with homegrown sides.
Activities For All Ages
The island is a popular tourist destination for its beautiful beaches, clear waters, and summer nightlife. There are plenty of activities for visitors of all ages to enjoy on Šipan.
Families
Families with young children will appreciate the many kid-friendly activities available on the island. Several playgrounds and parks are scattered throughout Sipan, perfect for a day of exploring and playing. For a more educational experience, families can visit the Sipanska Luka Archaeological Museum, which exhibits the island's history and culture.
Teens and young adults
Teens and young adults will find plenty to keep them occupied as well. Numerous beach bars and clubs stay open late into the night, perfect for dancing and socializing.
Active travelers
Active travelers can take advantage of the island's many hiking and biking trails. And there are also several boat tours available that offer stunning views of the Adriatic coastline.
Kayakers will love exploring the islands of both Lopud and Sipan by kayak and or by biking in small group tours.
Thrill seekers
Thrill seekers will love the ATV island tour.
Foodies
Foodies will delight in the olive oil and wine tastings
No matter your age, you're sure to find plenty of activities to enjoy while visiting Sipan Island in Croatia!
Planning Your Trip To Sipan Island
Here are tips for planning your trip to Sipan Island:
Decide when you want to go: Šipan Island is busiest in the summer months, but if you're looking for a more relaxed experience, aim for shoulder season (May-June or September-October). Keep in mind that some businesses on the island close down during the off-season
Book your transportation and accommodation in advance: this will help you avoid any last-minute hassles and ensure that you get the best rates – and not miss out
If you want to stay at a hotel, book as soon as you have your dates: this is due to the fact that there are only two hotels on the island (Hotel Sipan & Hotel Bozica). Do not worry, though; there are dozens of smaller apartments on the island to rest your head
Be sure to book your ferry ahead of time: book your tickets below
Wrap Up On The Island of Šipan
Sipan Island is an outstanding destination for any traveler to Croatia. Its stunning beaches, bars, and fascinating historical sites offer something for everyone. Whether you're looking for an idyllic escape or an exciting adventure, Sipan Island has it all! So what are you waiting for? Pack your bags and head to this beautiful paradise – you won't regret it!