Croatian Easter Recipe: Šunka U Kruhu (Ham In Bread)
Šunka u kruhu, or ham in bread in English is an inevitable classic of the Croatian Easter table in many homes in continental Croatia. With traditional Easter dyed eggs, scallions, and horseradish sauce, it will surely find its place at the holiday table this year as well.
Ham in bread is a specialty that I have not prepared for Easter so far because in the east of Croatia where I grew up it is customary to prepare a cooked ham for Easter breakfast which is served with homemade bread, boiled eggs, spring onions, and horseradish.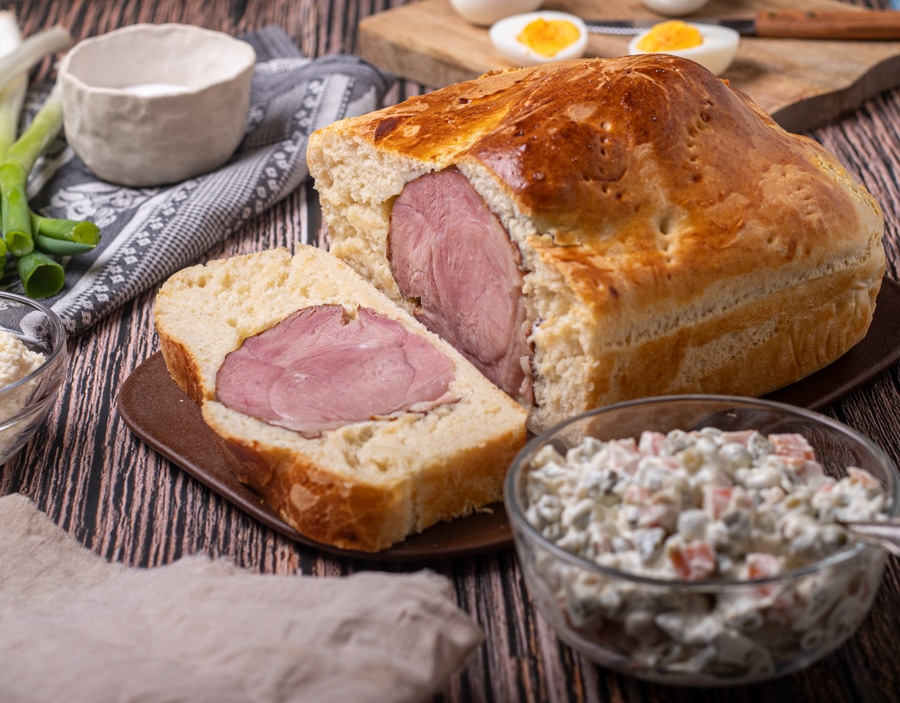 Essentially, ham in bread is a delicacy that doesn't require too much skill, so even though I was afraid it wouldn't turn out ok since I've never made it before, after preparing and baking it I realized that it's really simple.
Ham in bread is a great option for Easter breakfast and because with this 2 in 1 move you get bread at the same time, which absorbs the smells and tastes of ham during baking and is especially fine and juicy, and ham that is also especially juicy.
For this recipe, a smaller piece of ham will suit you best, simply because it will bake faster and nicer if the piece is smaller (ham of approx. 1-1.50 kg). Further, the ham must be cooked before baking, and the golden rule for cooking ham is to cook it for as long as it is heavy, so if we have 1 kg of ham, it is cooked for 1 hour.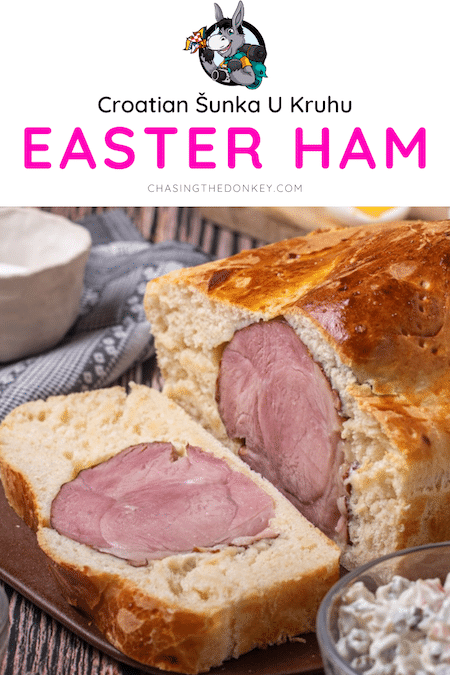 In essence, you could prepare ham in bread without pre-cooking, which means that the ham in bread would have to bake much longer, but then you would first use a lot more electricity for the oven, and secondly, it could result in a fairly heavily baked bread crust, especially if you do not have much experience in baking bread.
So, with a few tips and with just a little willpower, I believe that you will already be able to bake the perfect ham in bread this Easter.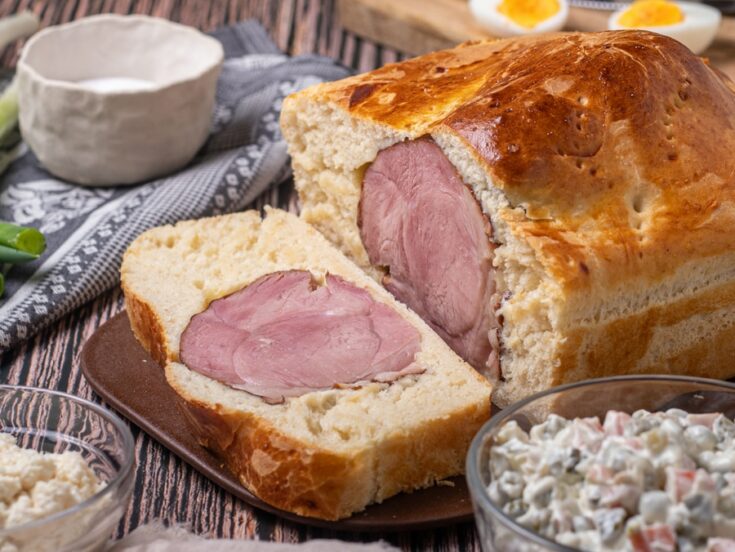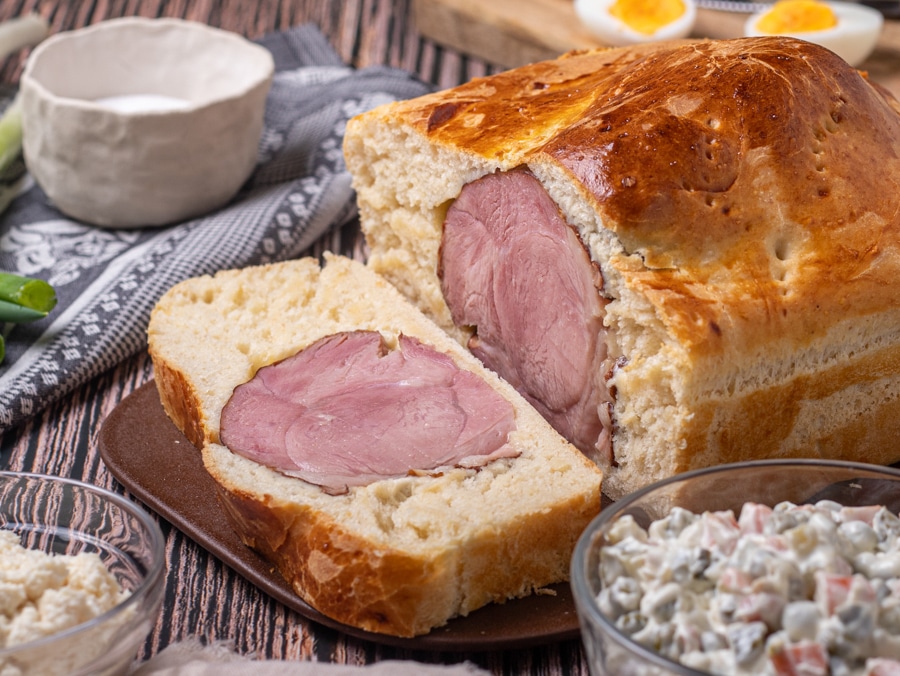 Šunka U Kruhu (Ham In Bread)
Here is how to make sunka u kruhu (ham in bread), an Easter dish popular in parts of Croatia.
Ingredients
1.5 kg (3.3 pounds) piece of cooked or baked ham
600 gram of all-purpose flour (1.3 pounds)
25 grams fresh yeast cube or 1 pack dried yeast (7g)
2 teaspoons salt
1 tablespoon sugar
400 ml of warm milk (1.7 cups)
150 ml of oil (1/2 cup)
1 egg for coating
Instructions
The ham should be first cooked if you have one that is not already cooked. Cook the ham in a large pot so that the whole ham is covered with water. Once the water has boiled, cook the piece as long as the ham is heavy. Eg 1 kilo of ham needs to cook for 1 hour. Turn off the flame and leave the ham to cool in the water in which it was cooked. That way, the ham will retain its juiciness. Once the ham has cooled completely, take it out of the water, drain and dry well with a towel
For bread, first of all, heat the milk in a pot. Prepare and mix all the dry ingredients in a larger bowl and add in the yeast and some of the warm milk. Let the yeast rise for about 10 minutes
Once the yeast has risen add the oil and the rest of the warm milk and knead the leavened dough. Be prepared for the
fact that you have to knead the bread with a strong effort for at least 10 minutes because this is the only way to make it light and soft after baking.
Flour the kneaded dough on all sides and leave covered in a warm place to rise and double in volume. It takes about 30-45 minutes
Now, coat the cooled and dried ham well on all sides with a beaten egg. This is important so that the ham sticks nicely to the dough and so that it does not separate from the bread after baking! The ham that separates from the bread after baking is hard to cut and definitely doesn't look nice and tidy on a tray.Transfer the raised dough to a floured work surface or on the parchment paper, roll it out into a rectangle about 2 cm thick. in the middle of the rolled dough, place the cooked ham, which you have previously coated well on all sides with a beaten egg
Wrap the ham in the dough over all sides so that it is completely wrapped and at the same time push the dough with your palms to the ham as much as you can. Make sure that the dough is at the bottom of the ham so that it does not dissolve during baking
Place the ham in the dough in a baking pot covered with baking paper of dimensions only slightly larger than the ham itself to keep its shape during baking. If you do not, the ham in the dough will spread all over the tin, and you end up with an irregular and flattened shape, which we don't want
Pierce the dough with a fork all over, and coat in the rest of the egg wash
Bake the ham in a preheated oven set to 180ºC (350°F) for 20 minutes. After that, the ham in bread should be nicely baked.
Take it out, cover it with aluminum foil or a lid and continue baking for a further 35 minutes and just before the end of baking, take out the ham again, remove the lid/foil and bake it a little longer, so that the bread forms a nice golden crust
Cool the baked ham in bread wrapped in a kitchen cloth so that the crust does not harden too much. Serve the ham cut into slices with boiled eggs, spring onions, and horseradish sauce or French salad