Western Macedonia is a gorgeous land full of unfathomable mountains, lakes with crystal-clear waters, and lovely towns with quaint houses.
This region of Greece is famous for its rich heritage and colorful culture. And Western Macedonia is the ideal destination for anyone wanting an authentic experience immersing in the Greek culture. So, if you are looking for a new place to discover this year, you're at the right place!
So, grab your camera and pack your suitcase for an authentic adventure! This guide will help you learn about Western Macedonia's must-see destinations and attractions.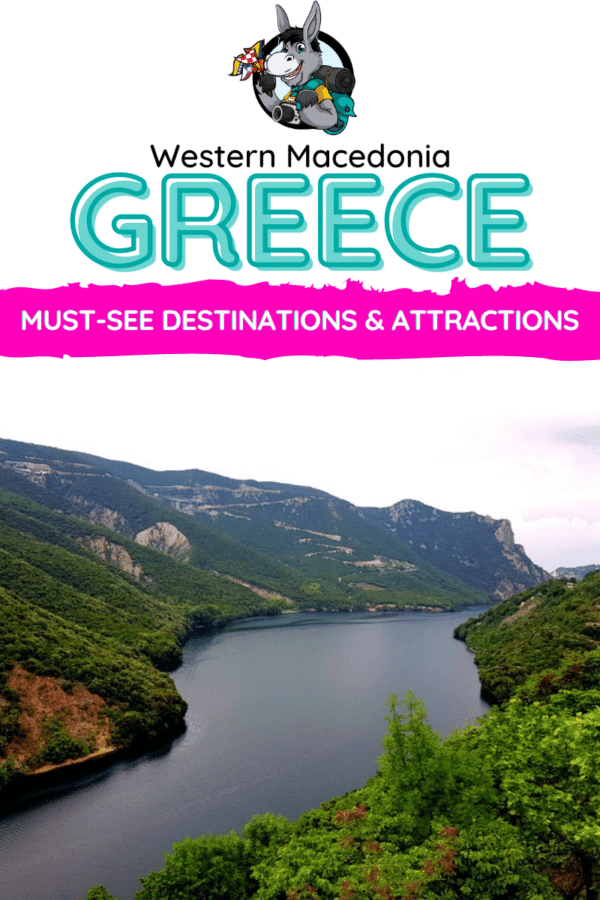 A Brief Introduction To Western Macedonia, Greece
Western Macedonia is a historical region in modern-day Greece; it borders Albania to the west, North Macedonia to the north, and famous Epirus and Thessaly to the south.
In ancient times, the region was part and the capital of the Kingdom of Macedon, which gave its name to the area. Alexander the Great, one of the most renowned leaders of the ancient world, was among the most prominent kings of Macedon; under his reign, the kingdom extended all the way to Persia and India.
After the Romans conquered the region, Western Macedonia became a key trading center, which it retained under the following Byzantine administration. Despite the fact that Ottoman control had a significant impact on the region's culture, Western Macedonia played an essential part in the Greek War of Independence.
Today, the region is a thriving commercial center and a popular tourist destination. While the historic cities of Kastoria, Grevena, and Florina offer visitors a glimpse into the medieval history of Greece, the spectacular scenery surrounding the region provides a picturesque getaway, far away from cities' clutter.
How To Get To Western Macedonia
You can effortlessly get to Western Macedonia by various modes of transportation. The following are the most prominent ways to get to the region:
By air: Getting to Western Macedonia by air is relatively easy. Thankfully, the region has a well-developed infrastructure and features a few airports. Kozani State Airport is one of the main airports in the area, with international flights from some European and Asian destinations. Nevertheless, since Kozani airport has limited flights, most tourists prefer Thessaloniki International Airport, which is accessible from almost every European country
By land: Considering Western Macedonia is landlocked, reaching the area by land isn't difficult. Also, Western Macedonia has a well-developed infrastructure with major highways and roads, making it easier to access from European countries. If you're coming from the north, you can take a Balkan tour, as the region shares a border with North Macedonia and Albania. There are also bus routes to Western Macedonia from various neighboring countries. And visitors from the east can enjoy the gorgeous nature of the regions of Macedonia and Thrace
By sea: Since Western Macedonia is landlocked, you cannot directly access the region by sea. Still, you can travel to Thessaloniki, Igoumenitsa, or other nearby ports and then take a bus or plane to Western Macedonia
Main Attractions To See In Western Macedonia
The region is packed with sights; here are the top things to do in Western Macedonia, Greece, to get you started.
Pearl Of Three Countries: Prespa National Park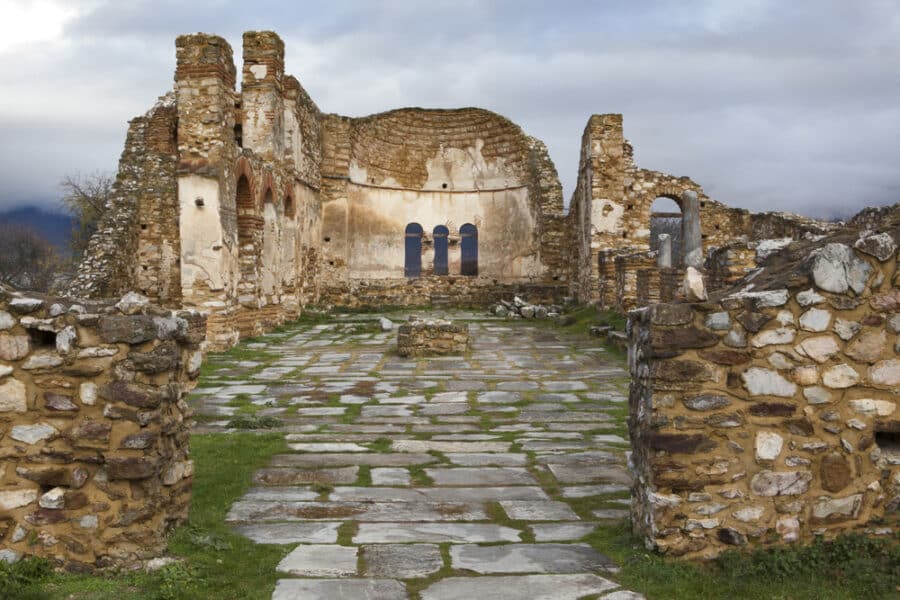 Prespa National Park, extending to southeastern Albania, southern Macedonia, and northwestern Greece, is a transboundary protected area in the Balkans. The park has a lush nature with verdant greenery covering its plains and hills.
The park features two lakes: the Great Prespa Lake, extending to roughly 260 kilometers, and the Little Prespa Lake, with a surface area of 47 kilometers. The lakes are separated by an isthmus and connected by a small canal. While the Great Prespa Lake is divided between Greece, North Macedonia, and Albania, the majority of the Little Prespa Lake is within Greece.
Prespa National Park is pristine and rarely crowded since it's not as popular as other destinations in the area. Nevertheless, Prespa Lake is a designated Important Bird Area, which makes the park an ideal destination for nature lovers and birdwatching. Besides, the park has picturesque scenery that allows a tranquil getaway from tiring urban life.
Historical City Of Kastoria

Kastoria is a historic city located in the heart of Western Macedonia. From Ottoman-era architectural wonders to ancient monuments, the city has much to offer its visitors.
Kastoria has long been a center for the fur trade; its name is assumed to derive from the Greek word for beaver, kastóri. Although European beaver is now extinct in the area, mink fur has taken its place.
The city is also a prominent tourist destination with its religious sites, museums, bridges, and famous attractions, such as Dragon's Lair; the historical cave offers an adventurous journey to the city's depths. Down there, you can take plenty of instagrammable pics and enjoy the extraordinary beauty of dark and wet caverns.
Spectacular Mountain Villages Of Western Macedonia
Most villagers in Western Macedonia have a healthy and happy life, surrounded by majestic scenery with lush greenery and unfathomable mountains, crystal-clear lakes, and harmony. Greek villages are known for their exceptional architecture and stunning scenery.
Nevertheless, the mountainous region of Western Macedonia is home to the most spectacular towns in the entire country. The harsh living conditions in the rugged mountains forced the settlers to use unique architectural techniques and designs to make living easier. Nevertheless, don't think of living in a mountain village as a challenging thing.
If you want to visit one of Western Macedonia's mountain villages, don't forget to taste the local cuisine and snap plenty of photos; it will undoubtedly be the experience of a lifetime.
Nymfaio, The Capital Of Silversmithing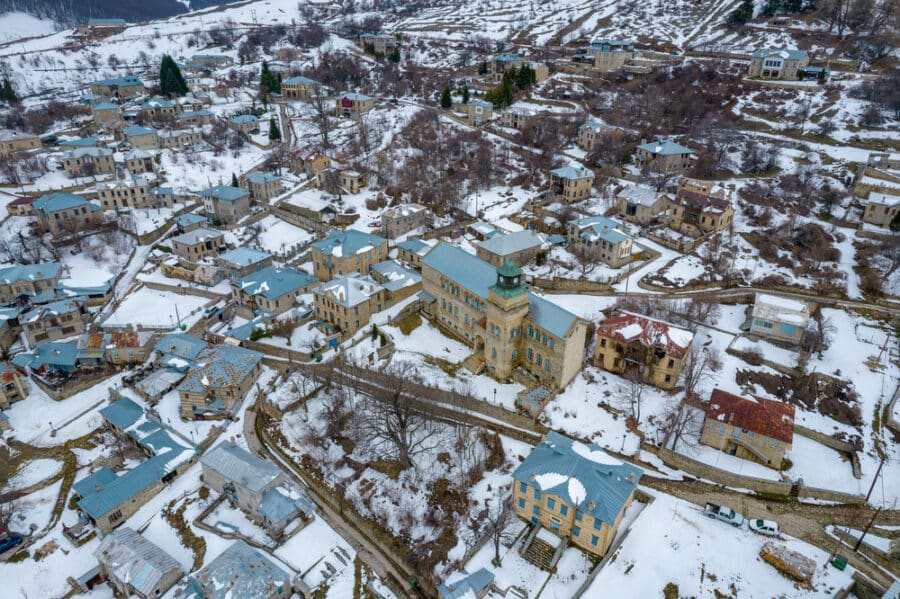 Regarding mountain villages, you should include Nymfaio in your itinerary. The village, famed for its silversmithing industry and local warriors, is a pretty town with a rich history in Western Macedonia. Founded by Vlach travelers in the 14th century, Nymfaio quickly became known for its skillful smiths.
The town of Nymfaio features many museums where visitors can see religious silverware, jewelry, and gold artifacts made by the town's master artisans. Besides its cultural riches, Nymfaio has a wealth of architectural and natural beauty. Visitors can bask in the picturesque scenery from the village's old houses or wander through the scenic streets.
There is also an environmental protection center run by the Greek ecological organization Environmental Centre ARCTUROS; at the center, visitors can see rescued bears and wolves that are too weak to survive by themselves.
Wineries In West Macedonia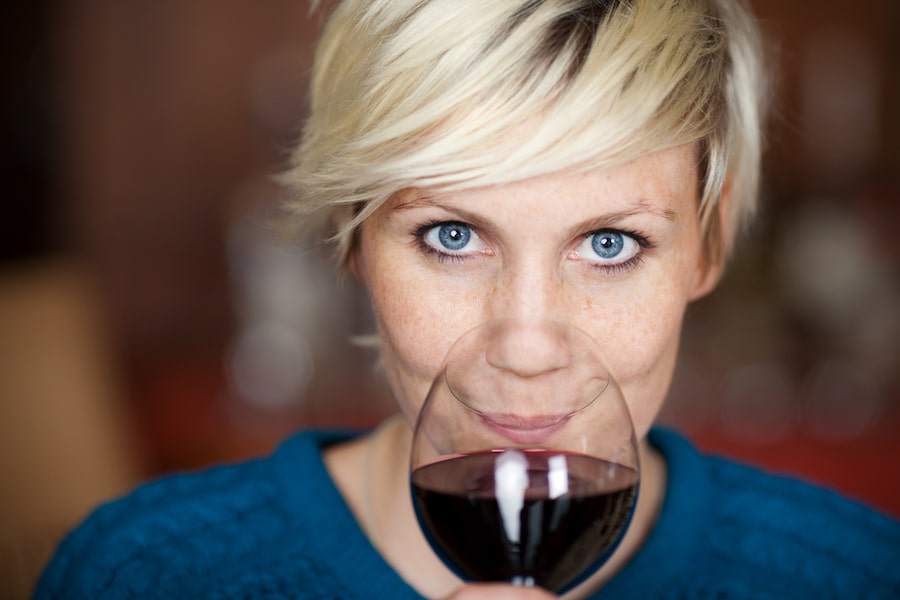 If you feel like a good wine, the wineries of Western Macedonia should be on your itinerary. Since winemaking has been a prominent trade in Greece, it's easy to taste local wines with unique flavors in every part of the country. Nevertheless, wineries in Western Macedonia are particularly famous for visitors who want to enjoy the local products. If you are a gastro-tourist, a wine lover, or just someone who likes tasting authentic wine, you should visit some of the local wineries in the area.
Here is a list of famous Western Macedonian wineries:
Vaeni Naoussa

Ktima Kir-Yianni

Alpha Estate
Dalamara Winery
Gerovassiliou Winery
The Portitsa Gorge, A Natural Wonder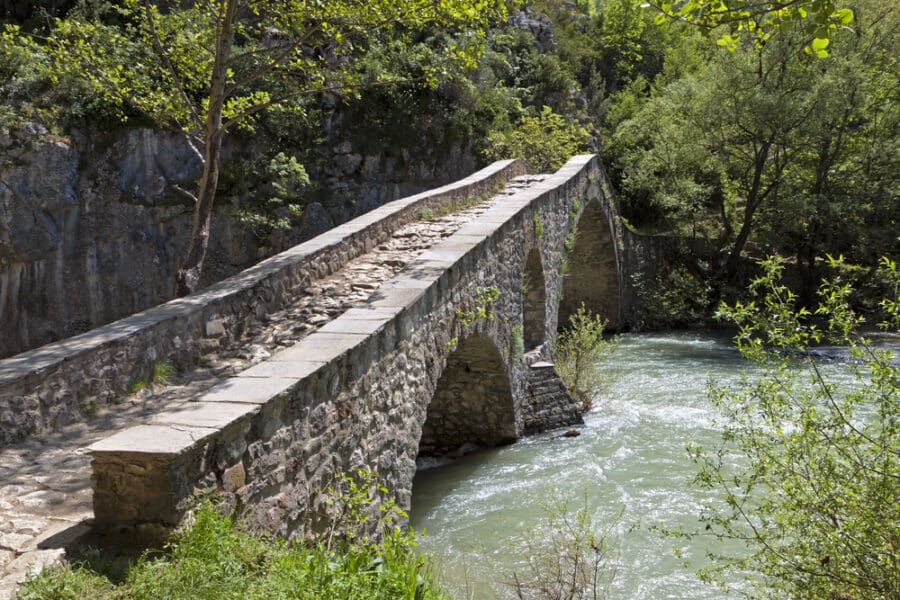 Portitsa Gorge, a hidden gem in the Western Macedonian mountains, is a breathtaking natural wonder that every nature lover should see. The narrow gorge, characterized by towering cliffs, luxuriant vegetation, and crystal-clear streams, was carved by River Portitsa over thousands of years.
If you like hiking, take the trail through the gorge. During your journey to the canyon's depths, you can see natural formations, unique rocks, small waterfalls, turquoise pools, and deep caves. Even though the trail might be difficult at times, it is well worth the effort.
Aliakmonas, The Longest River In Greece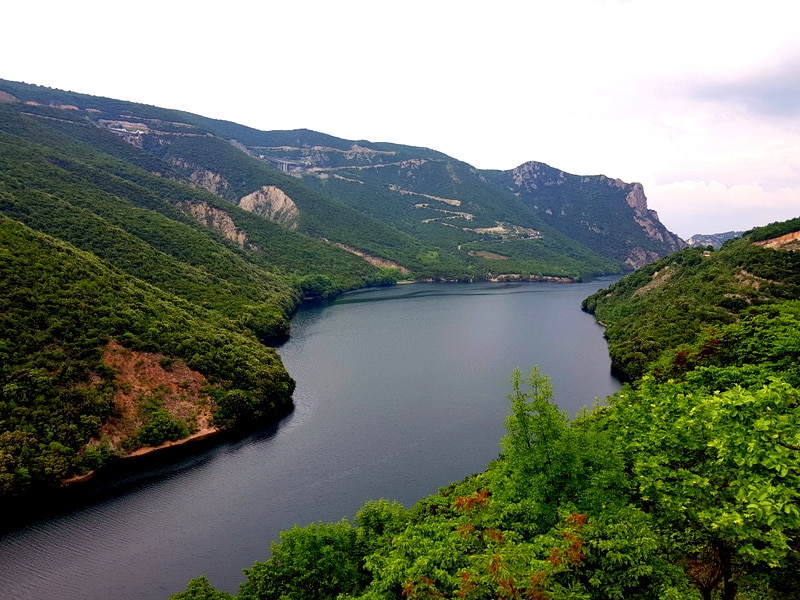 Also known as Haliacmon, Aliakmonas, with a length of 297 kilometers, is known as the longest river within the borders of Greece. The river, surrounded by a paradisiacal landscape, offers a picturesque getaway to its visitors. There are over 30 indigenous fish species in the river, some of which are endemic and cannot be found anywhere else in the world. In addition to fish, there are around 200 different kinds of birds around the river, including many migratory and some endemic ones.
So, Haliacmon is the perfect destination for basking in nature and enjoying solitude in the exceptional Greek landscape.
Now that you have your guide to Western Macedonia, we hope you enjoy your vacation in Greece.