Some posts contain compensated links. Please read this disclaimer for more info.
Learning Croatian is damn hard.
There I said it.
So what now? Nothing, it must be learned. And so that's what I have been doing for the past few months. Last time I told you that I was learning the Croatian alphabet & now can I just say, that I am just a wee bit proud of myself? Really, is that okay to say? I know I should be all modest – but to heck with it, I am proud gosh dang it.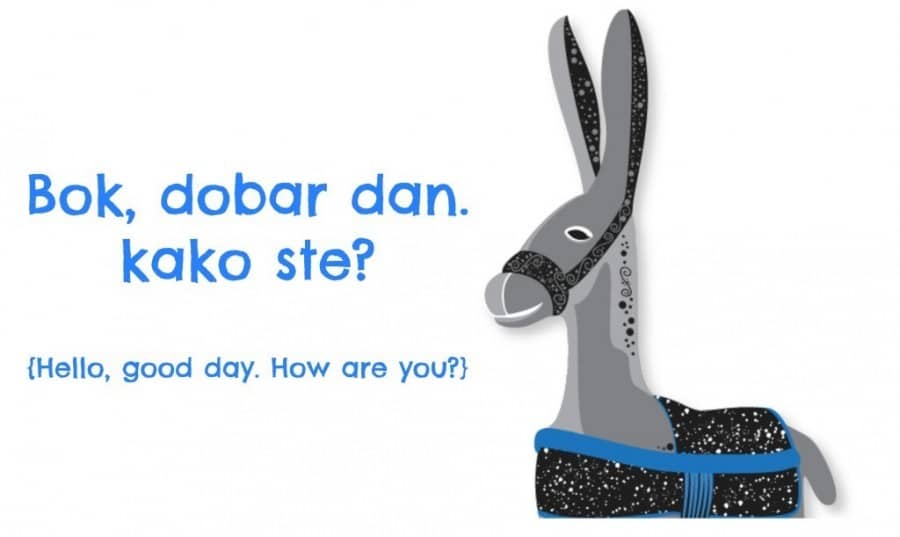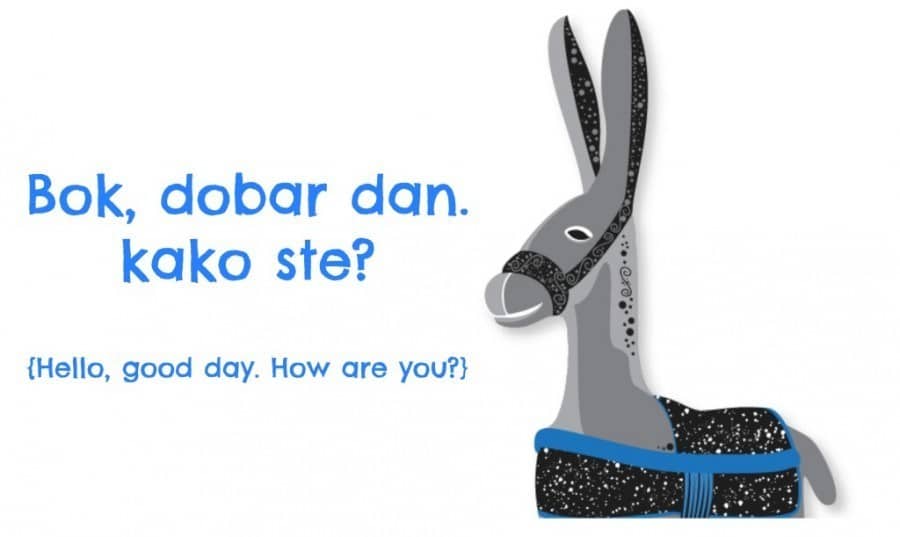 I am proud that I manage to make it to class twice per week (okay, I have missed some, but that is always the baby donkey fault)
I'm proud that I have not given up trying
I am so very chuffed with myself that I can now count past 10, all the way up into the thousands. I still do mix up numbers 4 & 6 which irks me.
I'm thrilled that when at the shops a few weeks ago that sales lady actually said 'oh sorry, I thought you were Croatian'. She said what? Don't laugh, it's true. This is what happened.
Scene: I am at the counter of Zara (the clothing store). I have a bunch of clothes in my hand and am waiting to be served.
Sales clerk: Dobar dan, izvolite
Me: Dobar dan, kako ste?
Sales clerk: dobro hvala, a vi?
Me: ja sam isto dobro, hvala
Sales clerk: Još nešto?
Me: Ne, hvala. To je sve
Sales clerk: Novac ili kartica
Me: Kartica
Sales clerk: Blahhhhh, bahhhh, gobodly gook, said super fast & furious…..
Me: (silence with a matching blank stare)
I was….. thinking, thinking…….thinking – damn, what did she just say? I was wracking my brain, flipping the pages of my note pad in my mind, trying to recall what my teacher (Mateja) has taught me. Nothing, I had nothing.
The sales clerk looked worried. Maybe she thought I would pass out or something…
Me: (holding up my white flag of surrender) Oprostite ja ne razumijem. Could you please repeat that in English?
Sales clerk: Oh sorry, I thought you were Croatian. I asked if you would like one of these (pointing to a perfume) for 1/2 price.
Me: (Head dangling in shame) No thank you.
She thought I was a local. My inner heart sang… llllaaaa lalalalala laaaaaa!!!
The clerk, rung up the transaction, handed me my bag and I left. I was going so well, and then BOOM smashed back to reality. I still can't communicate with the locals. Bugger.
And there you have it. It's not exactly proof, but I swear it happened. I failed, but I also won. I am proud. yay, go me.
Looks like I can't quit my lessons anytime soon. But, you know what that's okay, because I am really enjoying them. Honest.  Mateja makes it so comfortable, so making mistakes is okay. She says the right things to encourage me and because my classes are 1:1, we plod along at my pace. My pace includes some chit chat, talking politics, holidays and girly things. For me it's perfect.

Use Google translate. It's a complete hoot when you try complex paragraphs, but it gives you the gist. I use it to read the  Croatian online news. I can identify key words and it helps me reinforce what I already know.
Talk to yourself. Don't do it in public though – that could be awkward. I say things in my head and outloud as I use them or see them. Eg: I pour milk and I say mlijeko. I open the door, I say in my head vrata, and so on.
Have a baby. Or perhaps borrow one. I talk to the baby donkey in both languages, in the same way I repeat the Croatian words to myself, I say to him both the English and Croatian word or sentence. It's such good practice and it also makes me think about what words are 'missing' in my vocabulary. There are loads, but I slowly ask or pick them up in conversation and each week I surprise myself with new words I know.
Listen. I just listen, listen and listen to other peoples conversations. My goal when I listen is to see how many words I can identify and what the topic is about. Sometimes I'll smile to myself when I know. It makes me really proud of myself.
What language have you tried to learn?  Leave me a comment below if you have any ave any tips on how to help learn Croatian. I'd love to hear from you.
Share