Privacy & disclaimers →
Quick And Easy Bulgarian Moussaka Recipe
My Greek friend makes her moussaka with eggplant, and it comes served with a huge layer of béchamel sauce – and it tastes great…but I find that Bulgarian moussaka, which is made with diced potatoes and topped with yogurt, is both easier to make and lighter to digest.
Bulgarian moussaka is made with more than 1/2 of the ingredients that you probably already have in your fridge and pantry. Plus, Bulgarian moussaka is great to eat in the summertime.
My kids love minced meat dishes, so when we were on our week-long Bulgarian road trip, they ate it a few times, and I made sure to bring the tasty Bulgarian spice "chubritsa", known in English as "summer savory" home with us, so I could learn how to make this easy peasy Bulgarian moussaka. But do not worry, if you do not have chubritsa, or can't get it at your local European market, you can instead use oregano.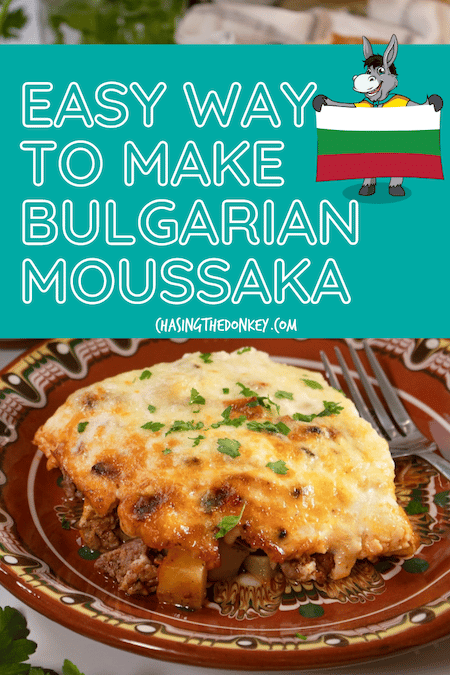 So, tell me, are you ready to try Bulgarian potato and meat moussaka?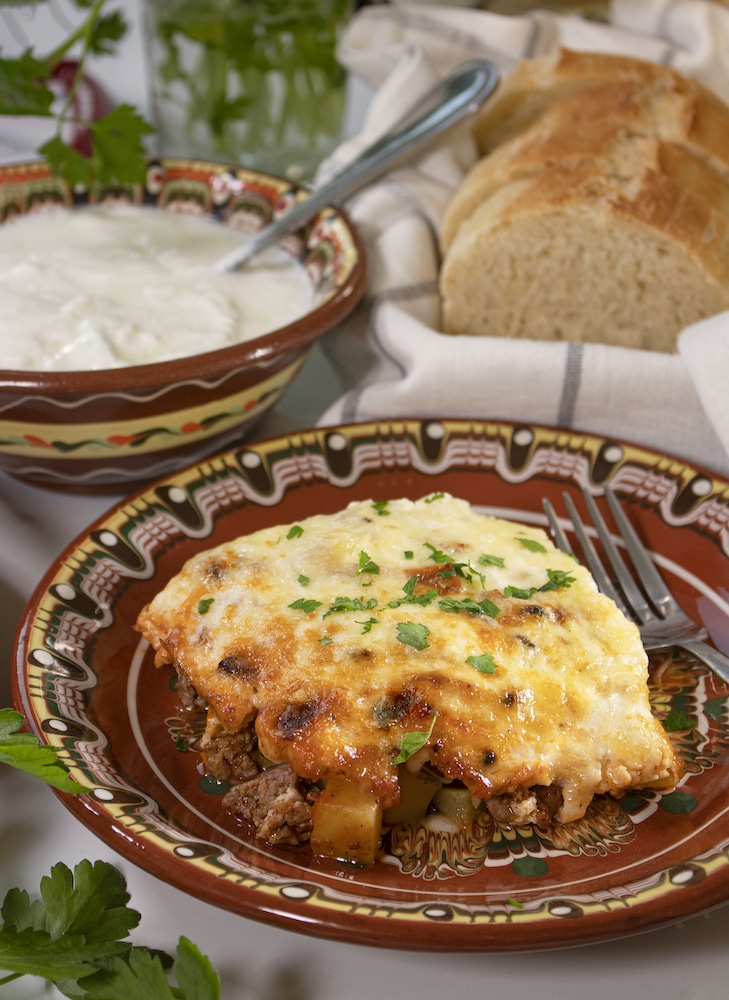 Easy Bulgarian Moussaka Recipe
Here is how to make Bulgarian meat and potatoes moussaka. Topped with yogurt this version of moussaka is easy to make!
Ingredients
Filling
700 g of potatoes - diced into small cubes
500 g of ground meat - beef, pork, or a mix of both
100 ml passata (or you can use around 150 g fresh diced tomatoes)
1 small onion - diced
2-3 tbsp of sunflower oil
Salt
Black pepper
1 tbsp chubritsa (traditional Bulgarian spice) or dried oregano
Topping
400 g of Greek yogurt (plus extra for serving if you wish)
1 egg - room temperature
A tbsp all-purpose-flour
50 g of yellow cheese
Instructions
Preheat the oven to 200 °C
Fry the ground meat in a tablespoon (or more if needed) in oil on medium heat; add salt and pepper to taste
When the meat is cooked, add the onion and tomato paste and stir through
Place the diced potatoes in an oven-proof dish (we used one that was 22cm x 22cm)
Add the meat and spices to the potatoes and mix to combine
Pour warm water over the combination up to the level of the mixture
Bake at 200 °C for 40 min
In a bowl, mix the egg, yogurt, and flour, then pour over the meat at potatoes
Sprinkle the grated cheese on top and bake for 7-10 more minutes
Serve with fresh chopped parsley.
Notes
I love to eat this with a tablespoon of yogurt on top.
If you do not eat it all at once, pop it in the refrigerator for around three days