We may earn commission from affiliate links →
Croatia Family Adventure Holidays: Perfect For Teenagers
Written by David, a family man who shares his family adventure holiday in Croatia
"David we need to do something different next summer with the kids!" 'Different' – I look up from the Sunday papers casually, trying my best not to show my wife 'Wendy', that the alarm bells were already ringing. She continued – "I've read about these family activity holidays and they look fun to try. Why don't we find one to join?" I gave the imaginary salute 'yes sir!' agreeing it sounded like fun (I was lying) and asked the internet for help.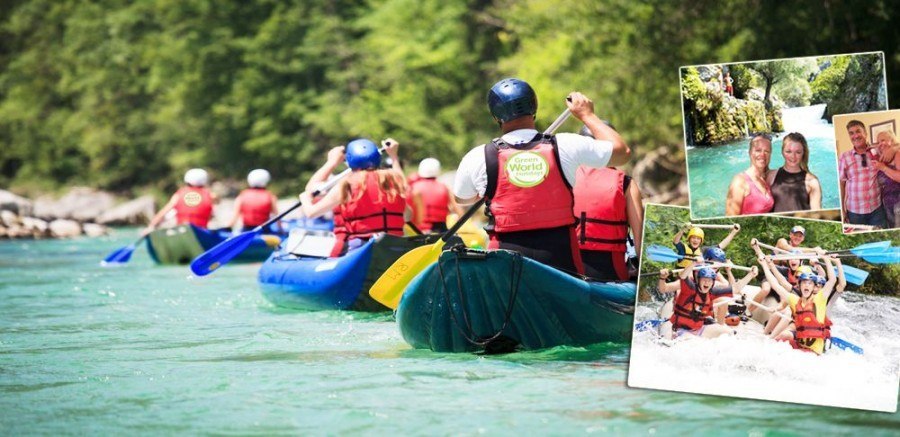 Eight months on, our family passports stamped with Croatia, this is my reports from the frontline:
I'm immersed to the waist in a pool of warm water, watching a magnificent waterfall crash into the Cetina canyon. The water is falling at roughly one full bath tub per second from a height of 150 metres, and the naked sounds of nature's power are filling my ears.
5 metres behind me, my two teenage daughters are swimming and splashing into the rock pools. I can hear them laughing and screaming as they plunge again and again, from an advantageous jump spot. Wendy 'surprisingly' was lost for words. The Gubavica waterfall had her in its intended trance. I never thought at age 51 that I'd be venturing through such an elaborate and miraculous natural landscape. I was sorrowful that this was our last day in Croatia.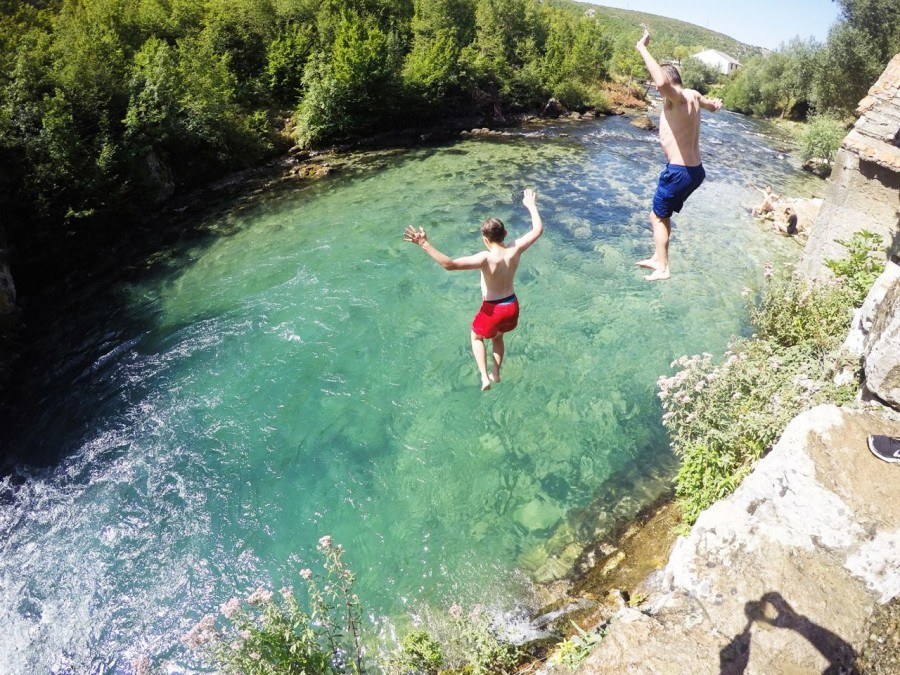 A week earlier, the family had arrived in Split in high spirits. Even my daughters, having been denied their trip to Ibiza, were excited about the prospect of a dedicated teenager adventure holiday. As we stepped out of the terminal with our guide 'Nina', we were greeted under the canopy of a blue sky and warm sunshine. Welcome to Croatia.
For my daughters Louise (age 15) and Izzy (age 17), the transfer was uneventful, preferring to study their Tweets. But for myself and Wendy, we very much enjoyed listening to Nina and watching the Dalmatian countryside reveal itself as we drove to the Green World Holidays adventure base.
The hotel, in fact, boasts an impressive surrounding, family owned, rich in history and offered a blue coastline. Positioned next to the Adriatic Sea, we soon found ourselves relaxing under the rhythmical beat of the waves. Our rooms combined a modern and fresh design, with satellite TV and air conditioning, and we both had a private balcony – which was a beautiful surprise. I remember thinking 'it's these kinds of family adventure holidays I could get used too!'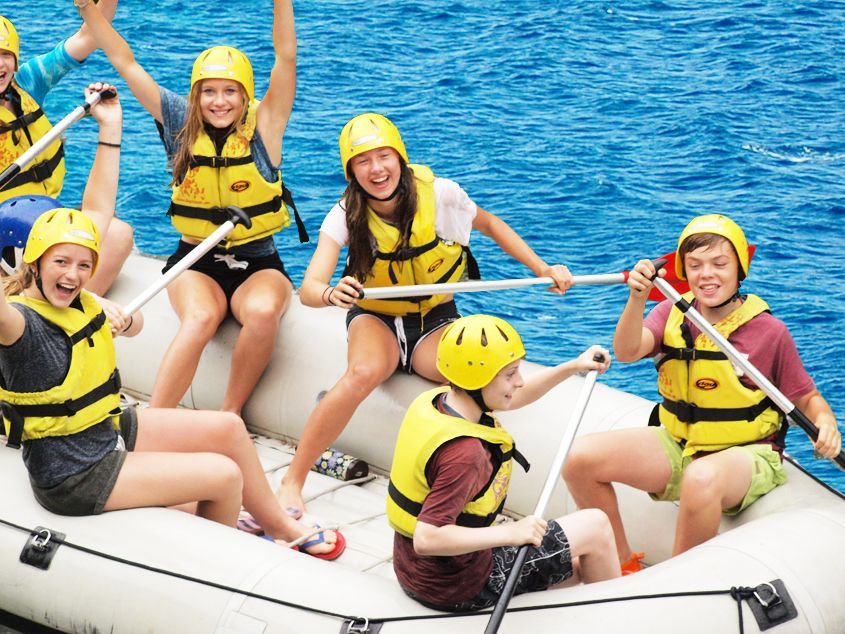 The outside terrace was another highlight, a great space for breakfasts and dinners. It also turned out to be the perfect position to meet & greet the other newly arriving families. To the surprise of Izzy & Louise, who apparently hadn't been fully listening to myself or mum – that we were going to be joined by three other families, all with similarly aged teenagers. Funnily, by the end of the week, it was the parents that were more grateful to the age matching than the kids.
Every evening, we were briefed for the following day's adventure. What to wear, what to bring, what to expect! The majority of the time involved a wetsuit or swimwear. Our guides and instructors were simply 'amazing'. Super patient, super fun and always engaging the kids.
Every day the newly formed tribe of families would be in another pristine location, laughing, joking and taking action selfies. This is a family adventure holiday of many personalities, challenging but with the right balance of relaxation. It can go from seaside bliss to free-flowing rapids.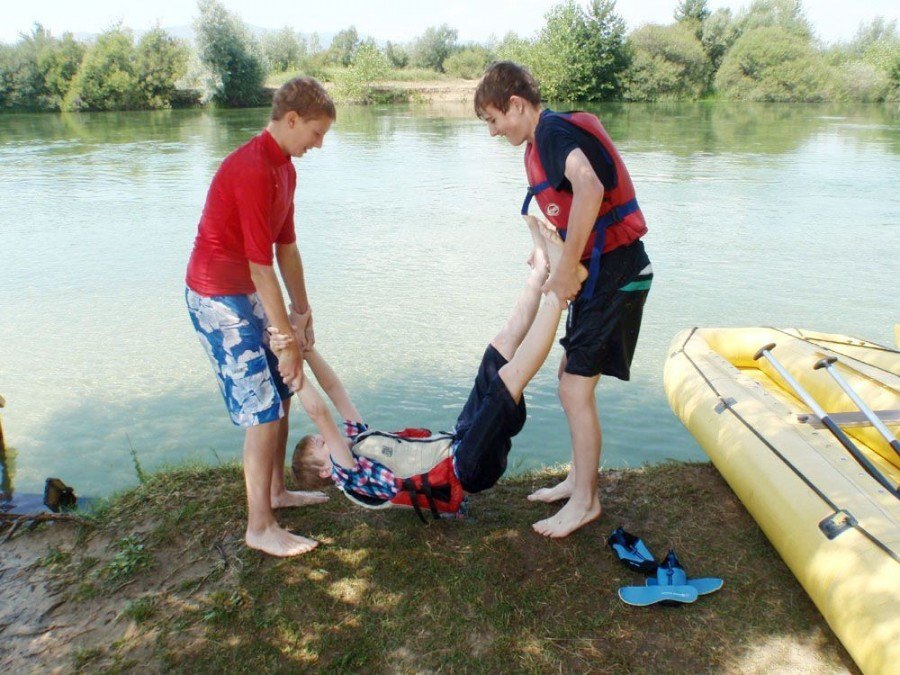 There was certainly no fear of starvation, during our frontline adventures. Active holidays in Croatia require great food, and luckily for us, the Green World Holidays hosts served delicious local foods at breakfast and evening dinners. Alongside the other parents I soon realised that every sip of local wine we consumed was saving us money, and sustaining that idyllic sense of holiday well-being.
During our stay, we discovered two UNESCO old towns – Trogir & Split, took on grade 3 river rapids, swam in the sea, cycled the countryside, relaxed on a beach and met some wonderful families of very similar backgrounds.
Did I find one of the best family activity holidays in Croatia? Undoubtedly, we did! This multisport week is perfect for families looking for fun, with the right balance of personal time to chill out. My daughters when their guards were down avowed that – teenager activity holidays are positively 'epic'.
When you're on vacation, you might like to get your teens reading one of these books designed to inspire!
Will you be visiting Croatia in winter? Here's one of our favorite family winter activities during the holiday season.

Want To See More Family Adventure Holidays In Croatia- Perfect For Teenagers??
Book or find out more with Green World Holidays who design unique adventures for families that appreciate nature, sports, food, and culture. They are committed to creating authentic travel experiences; guests discover pristine environments while enjoying breathtaking activities. From camel rides and husky dogs to white water rafting and sea kayaking, nature is their playground. Meet like-minded families and book dedicated weekly teenager departures.
Find the perfect family itinerary at Facebook | Twitter | YouTube
Share