A former poor wine-making town in rural Herzegovina, Medjugorje has become a major Catholic pilgrimage destination since, in 1981, the Virgin Mary allegedly appeared to six local children. Medjugorje hoax or truth? You decide.
Nowadays, the town, located just southwest of Mostar and near the border with Croatia, is a bustling tourist hotspot. And even though the Catholic Church hasn't officially acknowledged the apparition's legitimacy, it continues to be a popular pilgrim's destination. Pope Francis announced in February of 2017 that he plans to send a Bishop to the Medjugorje shrine to gain "deeper knowledge" of the pastoral needs of millions of Catholics drawn there by reports of apparitions of the Virgin Mary.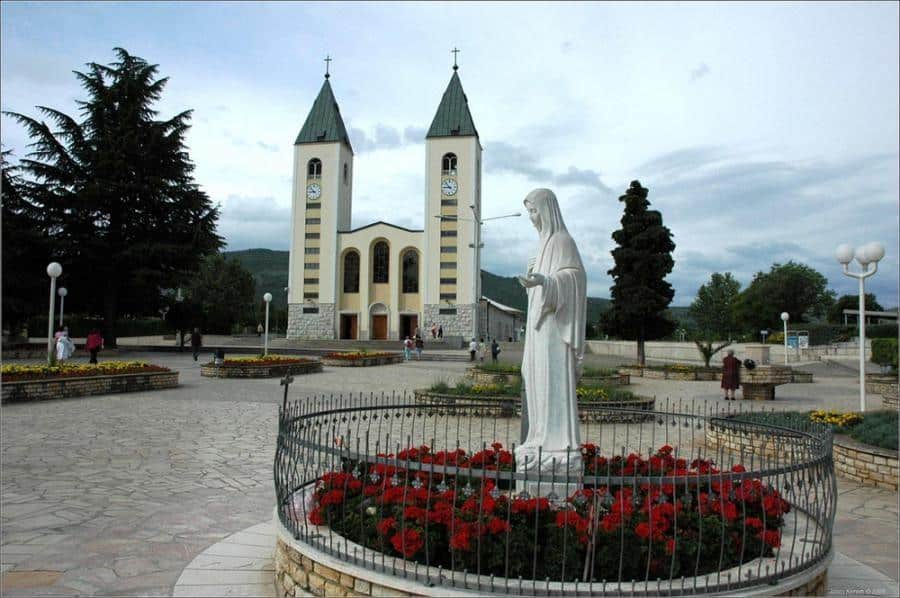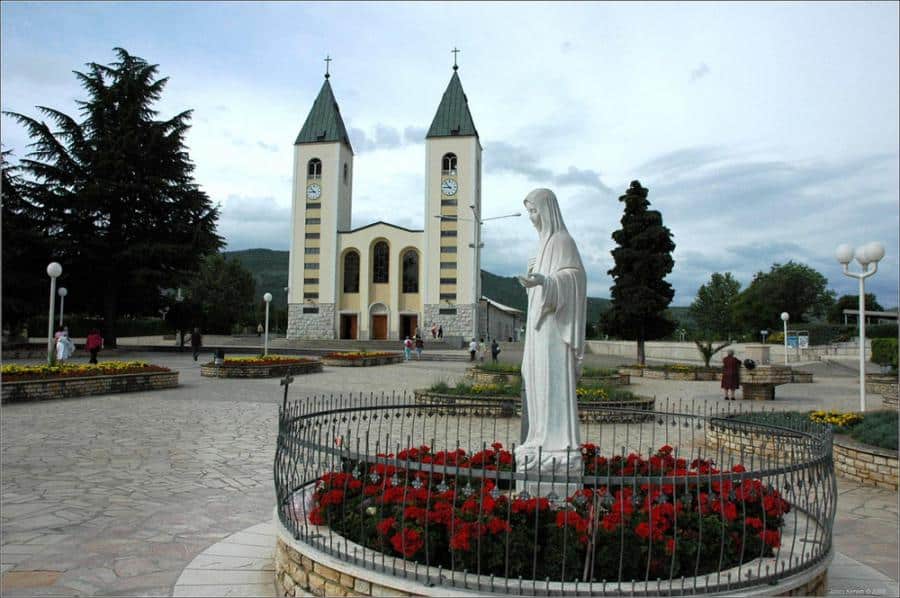 The local Roman Catholic parish encompasses five towns and villages. Besides Medjugorje, there is Vionica, Miletina, Bijakovići and Šurmanci.
The Virgin Mary – Medjugorje Hoax Or Truth?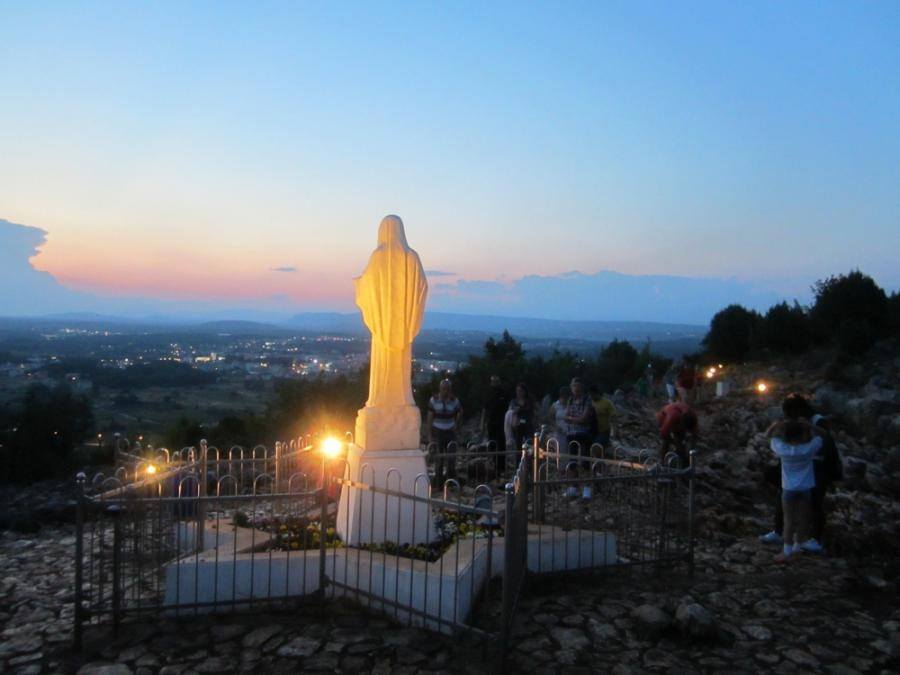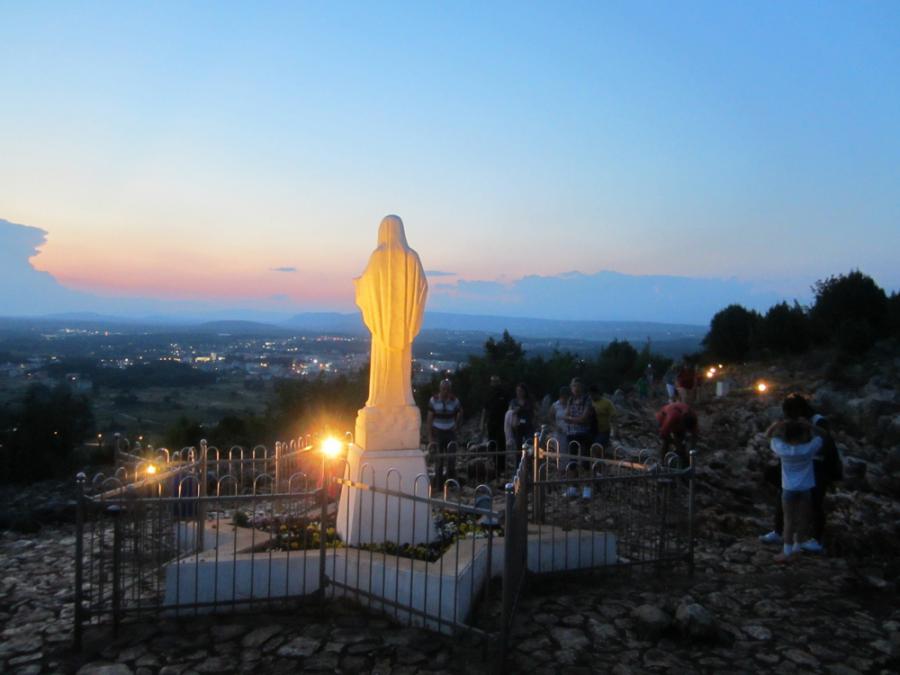 The first apparition of the Virgin Mary was reported on June 24, 1981, by two local children—Ivanka Ivanković and Mirjana Dragicevic. The next day, they and four other children—Ivan Dragicevic, Vicka Ivanković, Marija Pavlović, and Jakov Colo—reported another vision. Some of those six children, now adults, claim still to receive visits by the Virgin Mary almost every day.
The Virgin Mary is said to have first appeared to the children on a hill called Crnica in the village of Podbrdo. The vision was alleged to be a white-shaped person holding a child in her arms.
Our Lady of Medjugorje, as the apparition is called, is said to bring messages to the six people, who are called "visionaries," to whom she appeared. These messages, including "nine secrets," have found a following among many Catholics from all over the world.
Since the first apparition became known, Medjugorje has quickly grown into one of the most popular Catholic pilgrim sites in Europe. Even though Rome hasn't yet acknowledged the apparitions, more than a million people visit the town each year, making it the third most important apparition site in Europe. There's definitely some real and honest faith involved, but there's also an undeniable commercial side to it, as is the case with many of these locations.
The local Bishop of Mostar-Duvno, His Excellency Ratko Peric, has once again firmly stated the obvious: Medjugorje's apparitions are a hoax. Hefwhat goes further, saying they were a form of manipulation from the fake visionaries and priests who benefit from the duped throngs of Catholics visiting
the site
. His predecessor, His Excellency Pavao Žanic, also condemned the financial boondoggle of Medjugorje as false.
According to
Jutarnji
, Bishop Peric said: "Considering everything that this diocesan chancery has so far researched and studied, including the first seven days of alleged apparitions, we can say: there have been no apparitions of Our Lady in Medjugorje."
What do you think, hoax or truth?
TRAVEL COMPANIES WE USE AND TRUST
Things To Do In Medjugorje
While believers will bask in the area's religious significance and can attend masses, regular tourists will find few places of beauty in Medjugorje. If you're a non-believer and simply want to check out this major pilgrim's destination, you won't need much more than one to two hours to do so. There are several highlights, though, which you shouldn't skip when you're there.
St. James' Church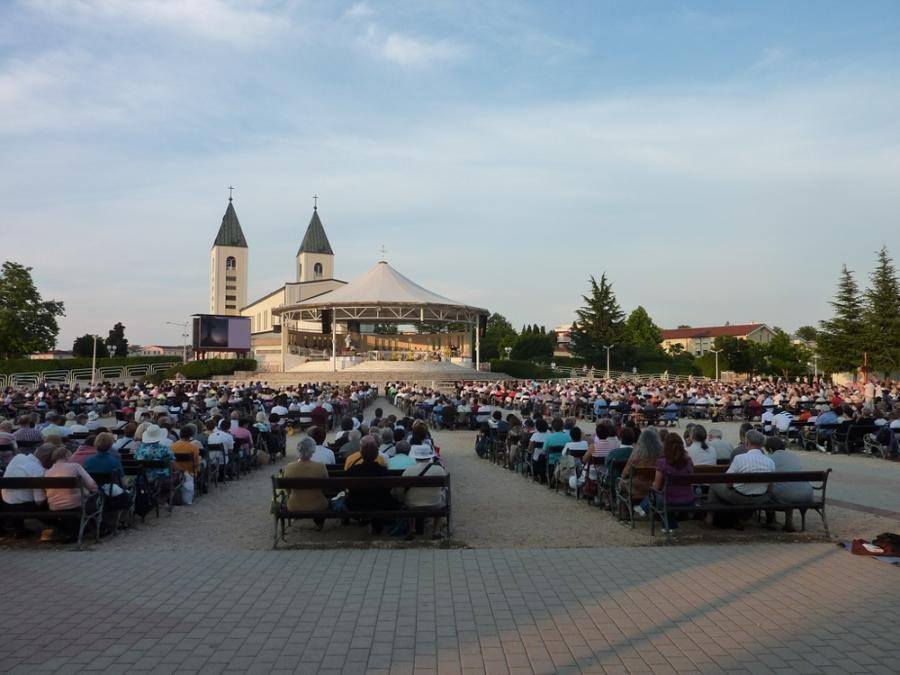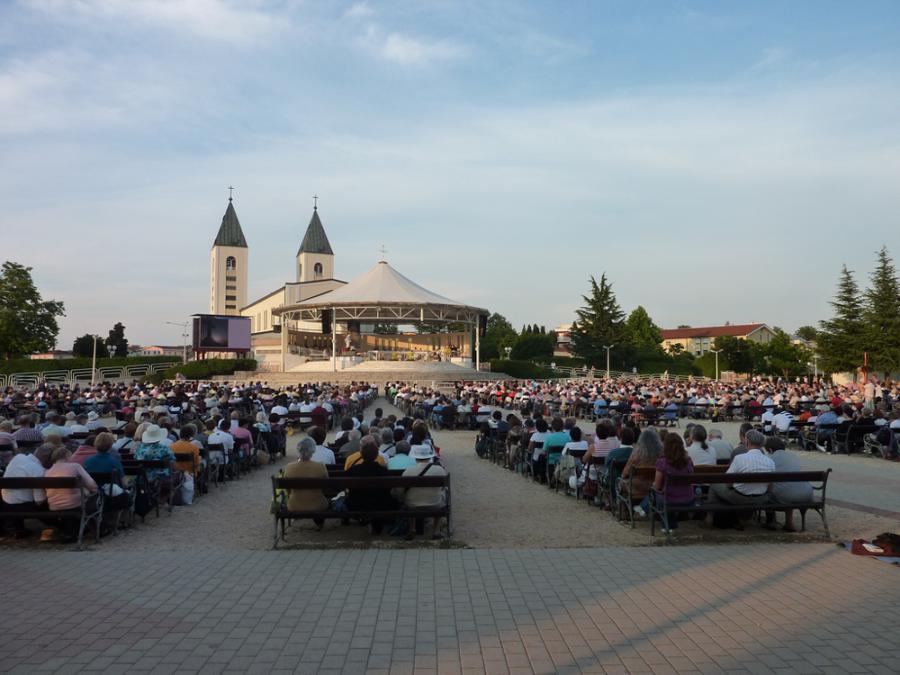 The centerpiece of the town of Medjugorje is the striking two-towered St. James' Church. This is the heart of the Roman Catholic parish. At the church's entrance, you can see the statue of Our Lady, welcoming everyone to the area and offering them guidance on their way to Christ.
Behind the church, in a garden, stands the Resurrected Saviour statue, a contemporary sculpture depicting Jesus in a crucified position, yet without a cross. This figure is reached along a pathway behind the St. James' Church, known as the Via Domini. Latin for Way of the Lord consists of five magnificent mosaics displaying the Luminous Mysteries of the Rosary.
Apparition Hill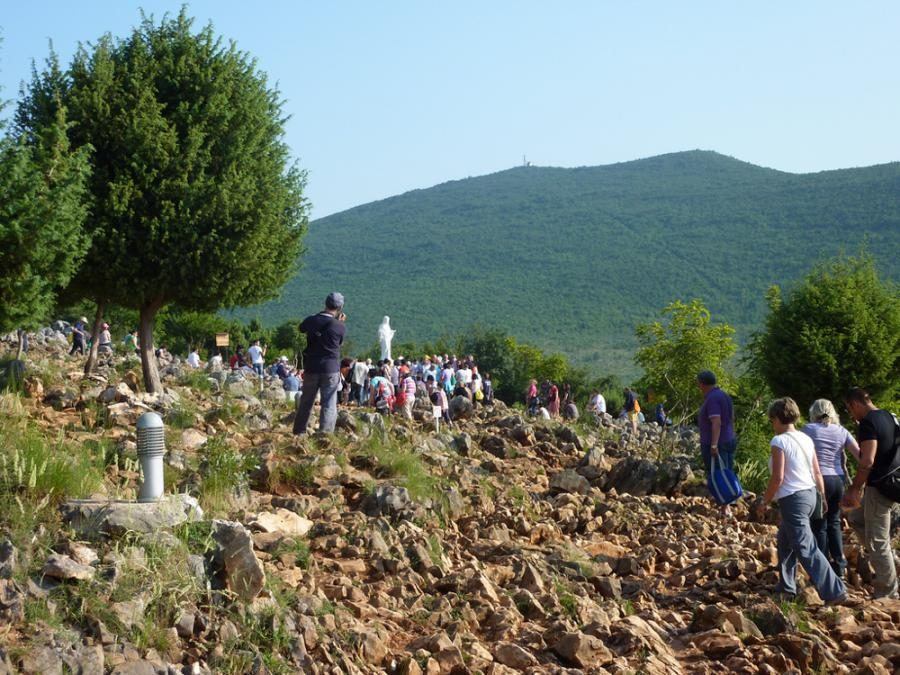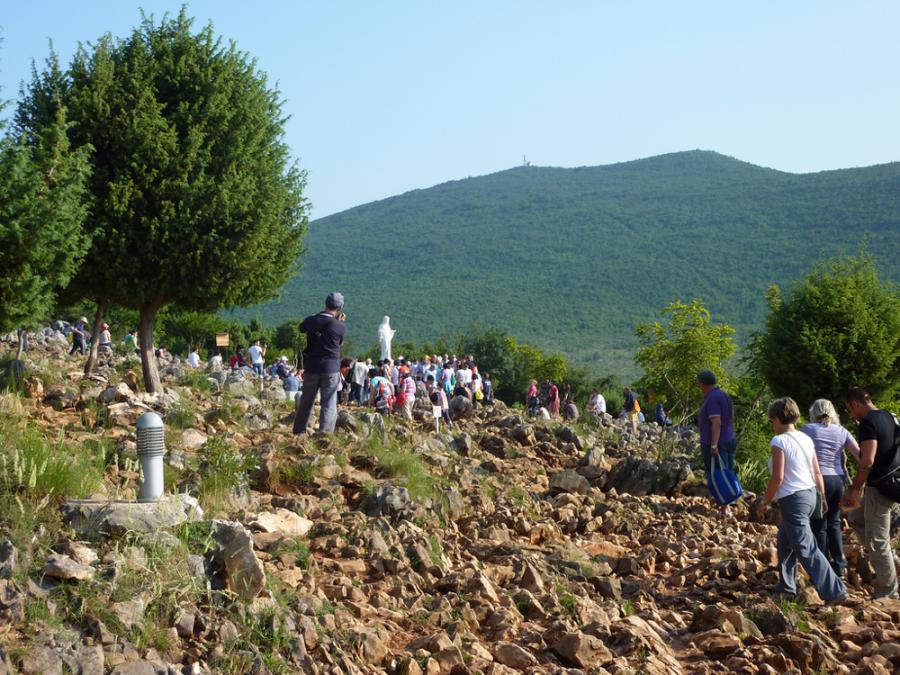 Brdo Ukazanja, or Apparition Hill, lies in nearby Podbrdo village. This is the very spot where Our Lady appeared to those six children in 1981. Since that first apparition, hundreds of thousands of people, in their own way, have encountered Our Lady while climbing the hill.
A steep and rocky path leads to the top, on the way passing fifteen bronze reliefs that depict the Joyful, the Sorrowful, and Glorious Mysteries of the Rosary. At the top, you'll see a statue of Our Lady.
Blue Cross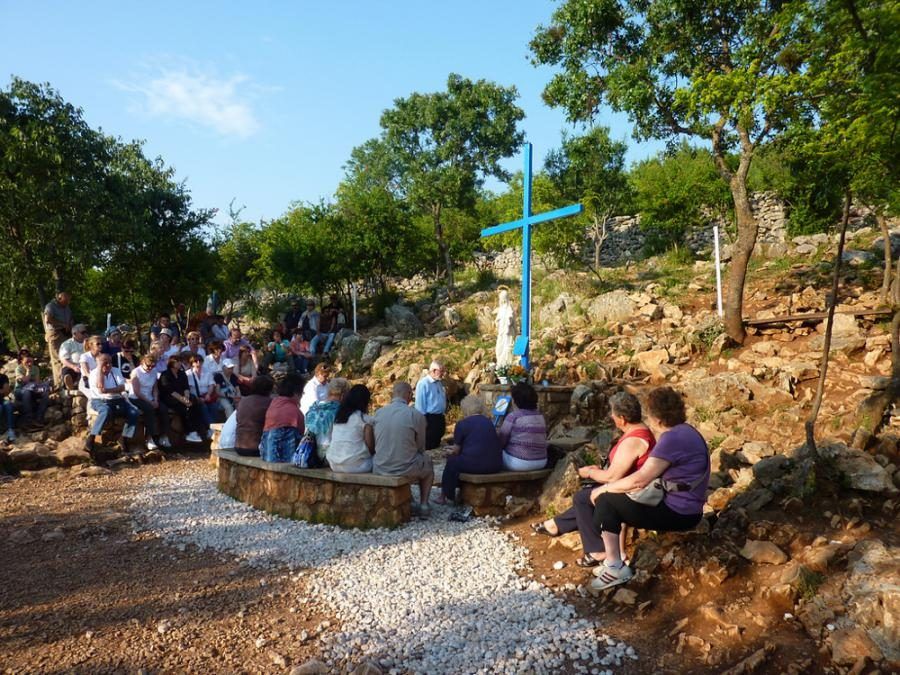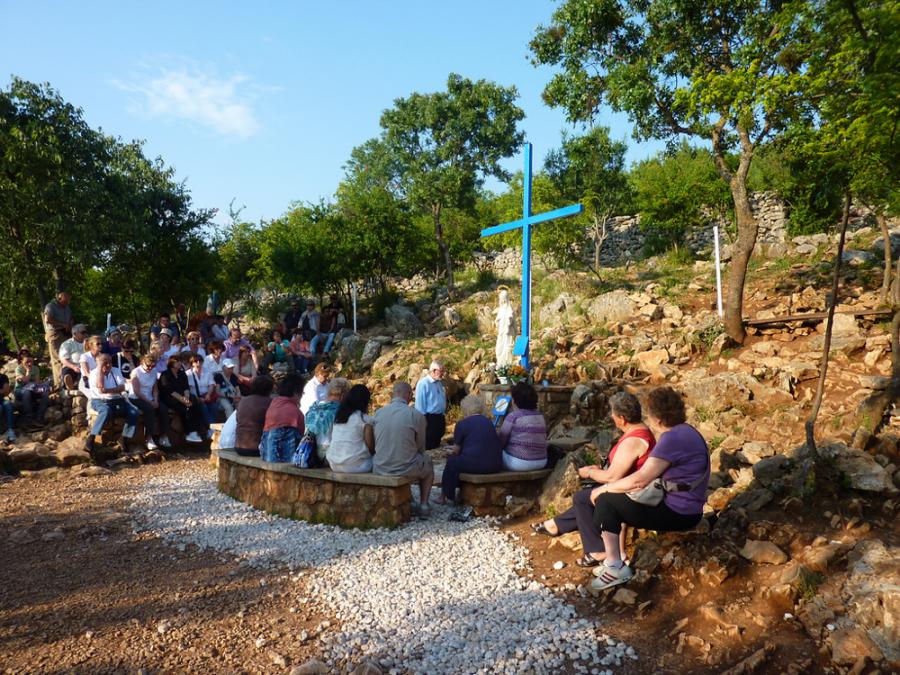 The Blue Cross stands at the base of Apparition Hill and marks the spot where Our Lady appeared to the children when they were hiding from the Communist police. The visionary Mirjana claims that she still "meets" with Our Lady at this very spot on the 2nd day of every month.
Cross Mountain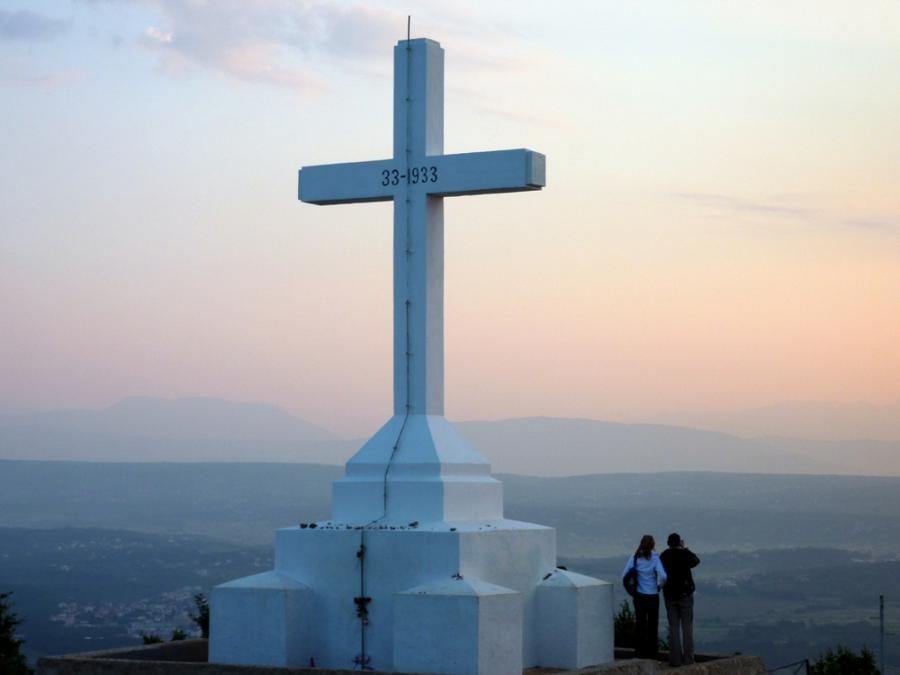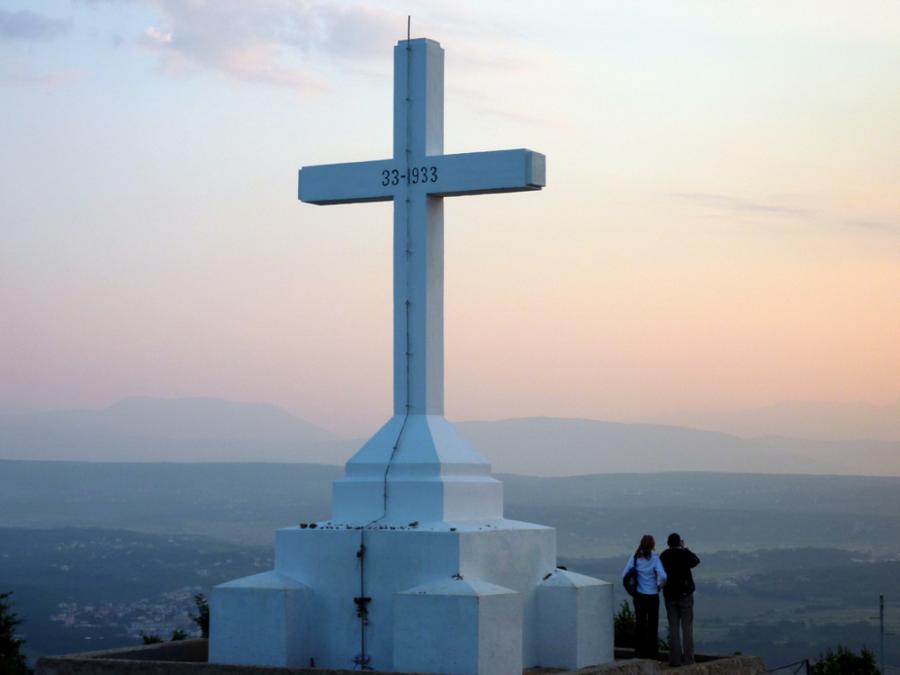 Cross Mountain, known as Krizevac, is crowned with an 8.56-meter-high concrete cross. On the way up, you will pass the way of the Cross stations, popular spots to reflect on the passions of Jesus. The mountain also offers fantastic views of Medjugorje down below.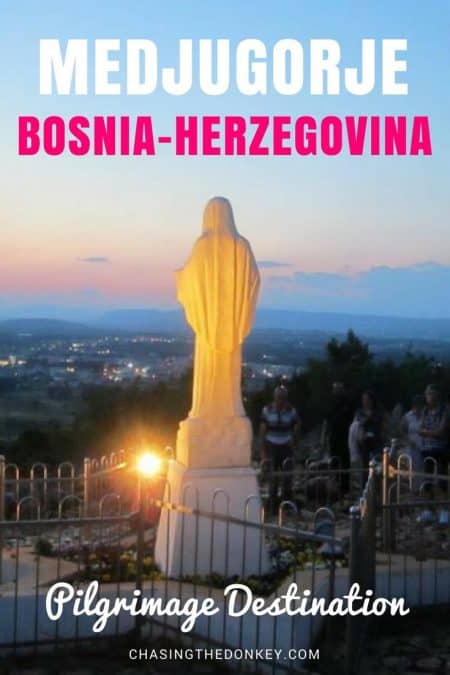 How To Get To Medjugorje, Bosnia, And Herzegovina

Because of its popularity, Medjugorje is easily reached by many major cities in the region, including Sarajevo, Dubrovnik, Split, and Zadar.
There are both train and bus connections to Medjugorje if you don't mind traveling with the masses; however, consider traveling by private transfer for a stress-free and very comfortable journey. With four, eight, and sixteen-seater vehicles, they can accommodate everyone in your group, pick you up from the airport or your accommodation, and you are on your way. You can also take an overnight train or bus from many European cities to reach Medjugorje in Bosnia & Herzegovina all year round.
Medjugorje Bosnia And Herzegovina Hotels
Casa Verde –
3-Star Hotel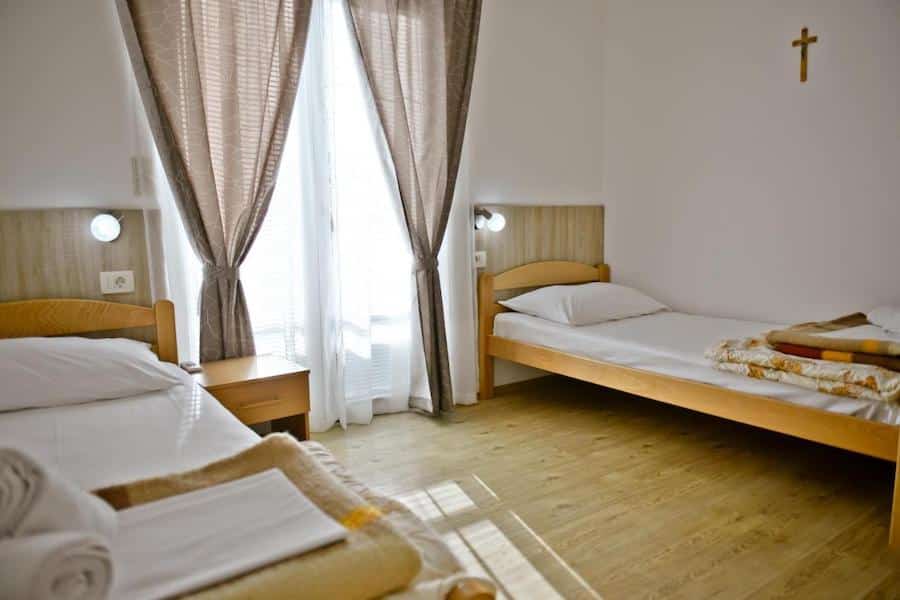 This hotel is located just 450 meters from St. Jacob's Church. En-suite rooms come with a seating area, hardwood floors, air conditioning, and free Wi-Fi.
.
Hotel Luna –
4-Star Hotel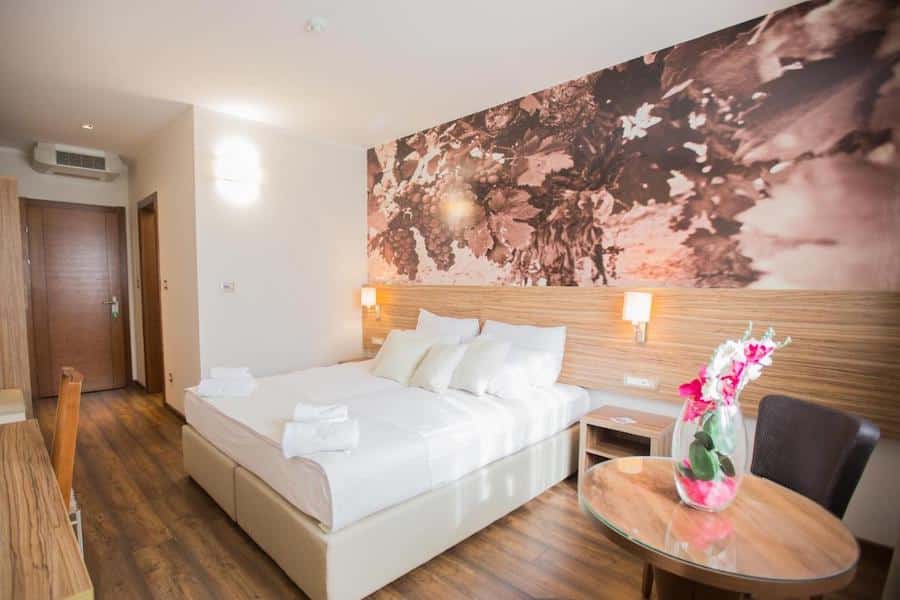 Located in the center of Međjugorje, Hotel Luna, which opened in 2012, is a short 250 meters from St. James Church.
.
So tell us, is a pilgrimage to Medjugorje calling your name?