Written by travel writer and nomadic lifestyler, Sarah, following five weeks in Split.
We believe in striving for a balance in life, which among other things, includes doing activities to stay fit and healthy both at home and away. We know from experience that it's not always easy to stick to a routine when traveling, and often it can be used as an excuse to throw healthy habits out the window. That's why we always look for ways to sneak some exercise – or even medical and dental tourism – into your vacation without losing that holiday feeling. Believe it or not, having fun and staying fit can actually play well together, and ultimately the combination will send you home feeling more rested and invigorated than if you just laid on the beach all day.
During our recent stay in Split, we found that this beautiful city on the Dalmatian Coast offers an abundance of active options. The best part is that many of them are fun and include enjoying the sights and getting out into nature, so you don't feel like you're missing out on anything by taking the time to exercise.
If you are lucky enough to spend some time in the lovely city of Split and want to stay fit and active, here is our list of favorite activities to burn off any excess calories taken in while dining in Split.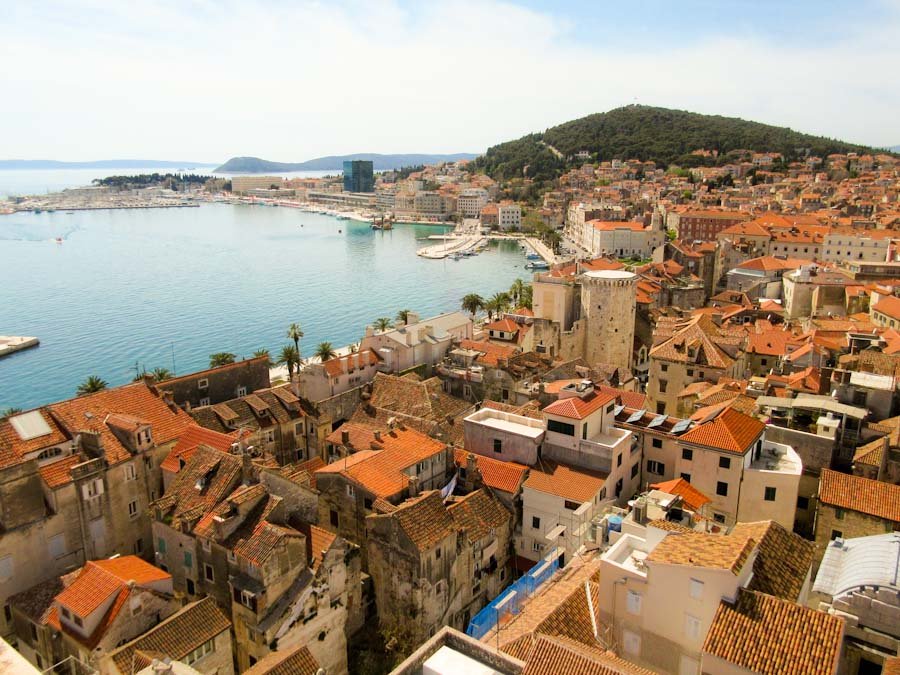 TRAVEL COMPANIES WE USE AND TRUST
Marjan Park
This beautiful park sits on the edge of the old town on the western banks of the Split peninsula. It is on a hill covered with Mediterranean pine trees and is full of trails, stunning vistas, beaches, and old stone churches. It is also a haven for nature and fitness enthusiasts. You really could just use Marjan Park for all of your exercise needs.
Hiking & Trail Running
The numerous trails throughout the park make for a great hike, and you can vary the time, distance, and difficulty by planning your route using a map of the park.
Stair climbing
Much of the park sits atop a hill, so if a good leg and butt workout are what you're after, you can walk, jog or run up the numerous stairs within the green space. To top it off, you will be rewarded with a spectacular view of Split and the Adriatic when you reach the summit.
Strength Training
You can find various machines and equipment for strength training within the park using your own body weight within the park. The best way to get and stay fit is to use a combination of cardio and muscle strengthening exercises, and both are easy to do in Marjan Park.
Rock Climbing
Rock climbing is a fun and effective way to stay fit and active, and Marjan Park is a favorite spot for climbers of all levels. Some of the cliffs around the park have pre-set rock climbing routes, so if you have the gear, you can easily get a good few hours of climbing in. Once again, you'll be rewarded with stunning vistas, and you can also scale up to old hermitage churches.
Suspension Straps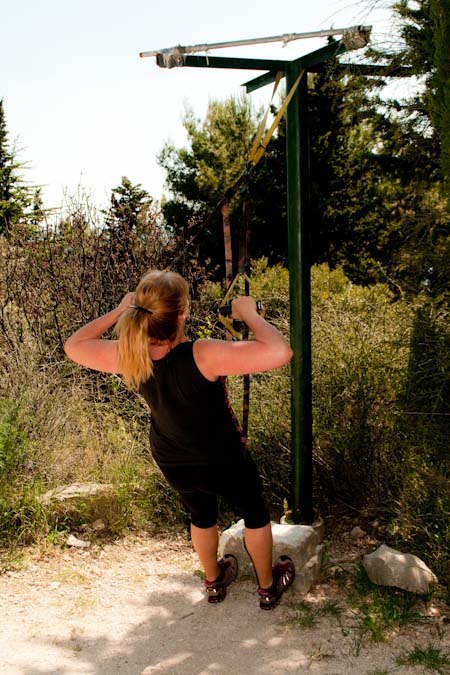 You may know them as the well-marketed TRX system, but there are various brands you can purchase, or you can easily make your own. They are perfect for traveling as they're lightweight and easy to pack. All you need is something to fix them to, such as a door, tree, or fence, and you have a full gym at your disposal. Marjan Park has plenty of spots to hook them up.
Yoga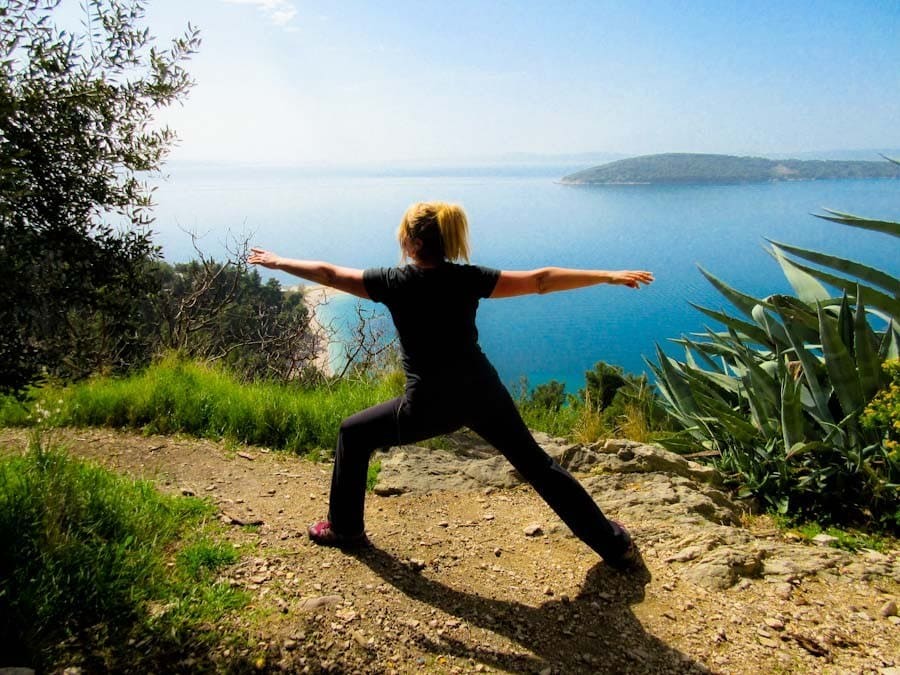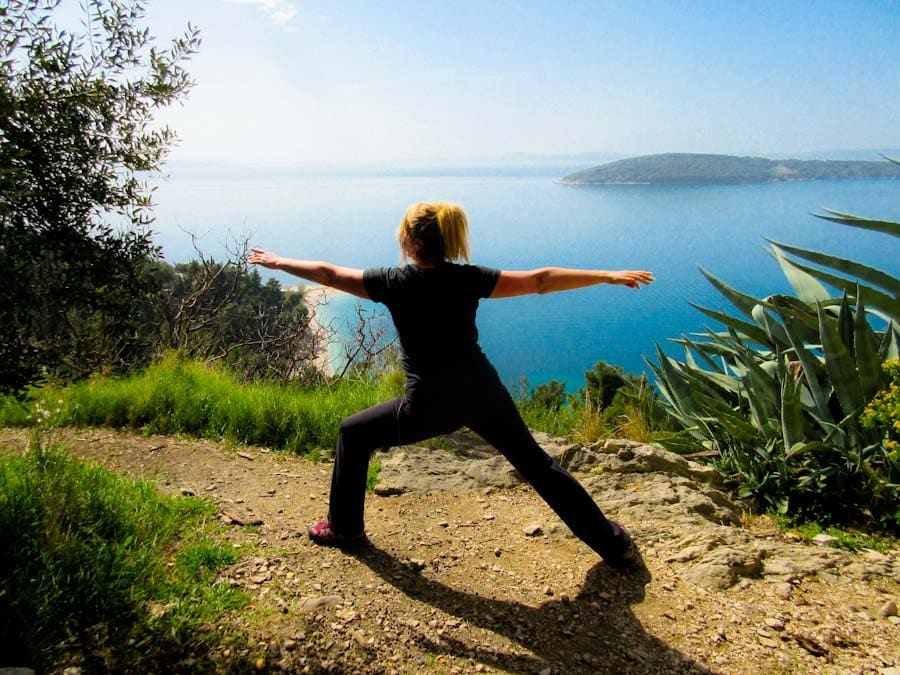 Yoga is an excellent exercise for stress relief, toning, strengthening, and maintaining strength and flexibility, and Marjan Park has several beautiful spots to practice. There are several lovely beaches within the park and some quiet, shaded areas with inspiring views of the sea. Here is a guide on buying a great travel yoga mat.
Split Waterfront
Split has miles of coastal paths, including the modern waterfront Riva, perfect for walking, jogging, or cycling. Along the way, you can stop at the various beaches and parks for a few pushups and situps to balance your workout. Of course, you could also stop for a refreshing drink or dip in the ocean.
Split Beaches
The many beaches around Split are good for more than just suntanning. In the warmer months, swimming is a great option, and you can swim for as long as you want along the calm coastal waters. If you want to add a bit of strength training, it's easy to find some rocks along the pebbly shores to use as hand weights.
Water sports
As well as being a fun way to see Split from the water, kayaking is also a great upper body and cardio exercise. You can join a tour or rent your own kayak by the hour or day.
Gym
There are numerous fitness facilities around Split, but the best one that we found for temporary visitors is the gym at the Marjan Taekwondo Club.
It is a large, bright, well-maintained facility with everything you need for a full-body workout. The best part is that you don't need to buy a membership or sign a contract as they offer punch cards of 5 or 10 sessions at a very reasonable price.
So you see, whether you are in Split for three days or three months, there are plenty of great options for exercise that don't have to hinder your holiday enjoyment one bit. If anything, they add to it. The combination of the stunning views of the Adriatic, the fresh sea, and pine-scented air, plus the mind and body benefits of exercise, and you will certainly feel inspired and rejuvenated.