Elderflower Cordial Recipe (Bazga)
Elderflower cordial is a homemade juice made from elderflowers, popular in the continental part of Croatia. Iva, a new Croatian friend of mine, shares this recipe with you. She also has an excellent site for looking up pet-friendly places in Croatia.
Here is what you'll need to make the Croatian elderflower cordial recipe: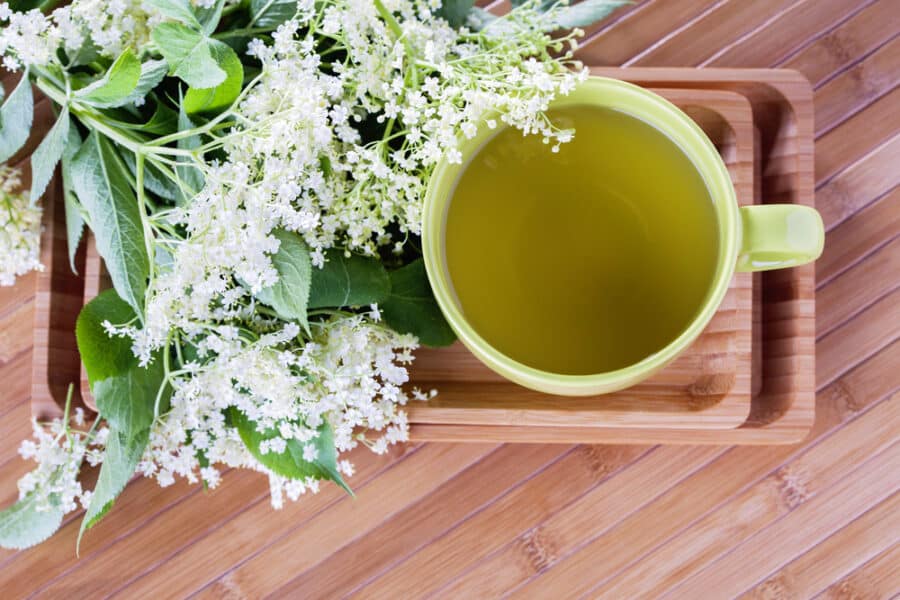 1 liter of water
15-20 elderflowers
65-70 grams of sugar
Half a lemon
About a teaspoon (around 5 grams) of acetic acid
You'll need to find an elder flower tree that is in bloom (or buy the flowers from your local market). Of course, the part of the tree you need is the flowers and, specifically, their fragrant and wonderfully intense pollen.
TRAVEL COMPANIES WE USE AND TRUST
Before You Start Making The Elderflower Cordial, You Should…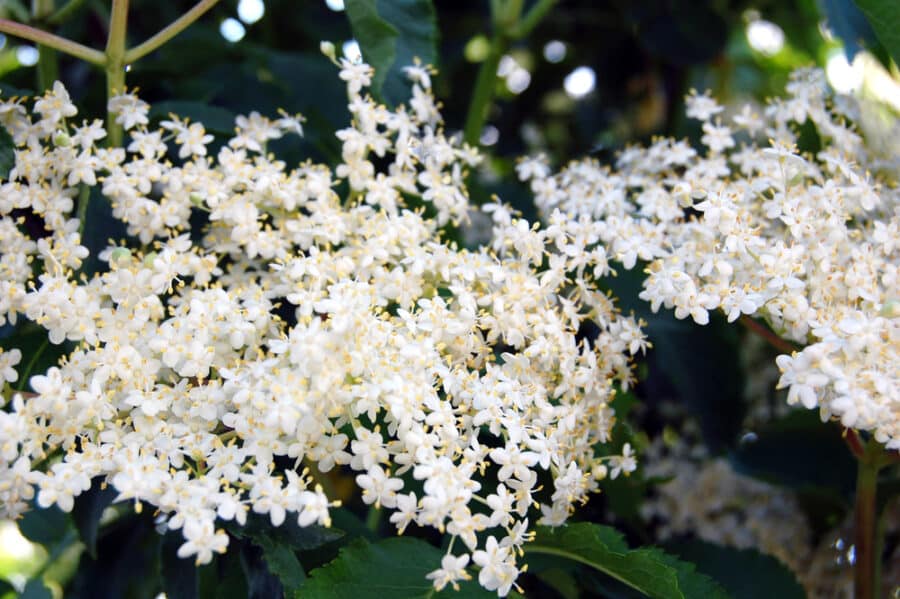 Not attempt to climb the elder tree. It's not really a tree, it's a large bush (at least the kind that grows in Croatia), it's very fragile, and it would not be able to hold your weight as you climb
When you gather the elderflowers, wear clothing that will protect you against being stung from the stinging urtica that grows around the best elderflowers
As you require the essence of the flower to make good cordial, it is not recommended to wash or rinse the flowers before using them
Don't gather the flowers after the rain. Wait for a few days, at least until it's had 2-3 sunny days and the elderflower has started smelling wonderfully again.
Once you've collected the flowers, the first thing you need to do is make sugar syrup. That is relatively easy: put the sugar into the water on medium heat on the stove and stir until it dissolves. Leave it to boil. You should have something looking like this when it's done: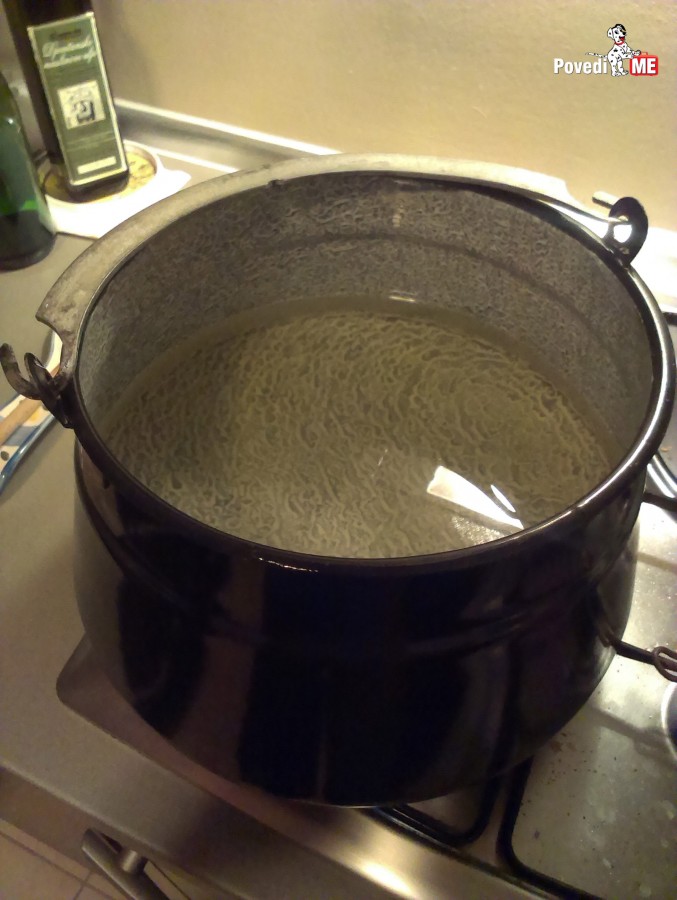 Once you've boiled sugar and water, allow it to cool down before you put the flowers in!
Let it cool to room temperature. While it's cooling, you can zest a lemon and then slice it and add it into the warm syrup because the lemon really makes the syrup taste better (and, in my opinion, so does the zest).
When it's all nice and cool, add all of the flowers (remove as many green stalks & leaves as possible), add as much of the yellow pollen that's fallen off the flowers and mix. Allow it to sit.
You can let it infuse for up to 24 hours, mixing it as often as you like. You will begin to notice some signs of oxidation, i.e., the flowers will start to darken where they've been in contact with the air. Then it's definitely time to drain the flowers from the liquid!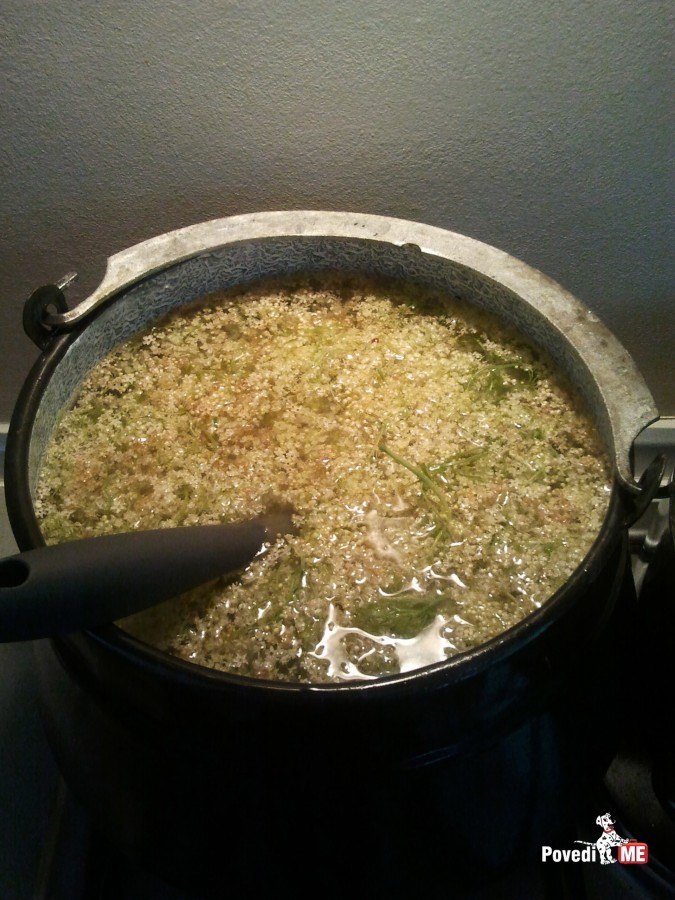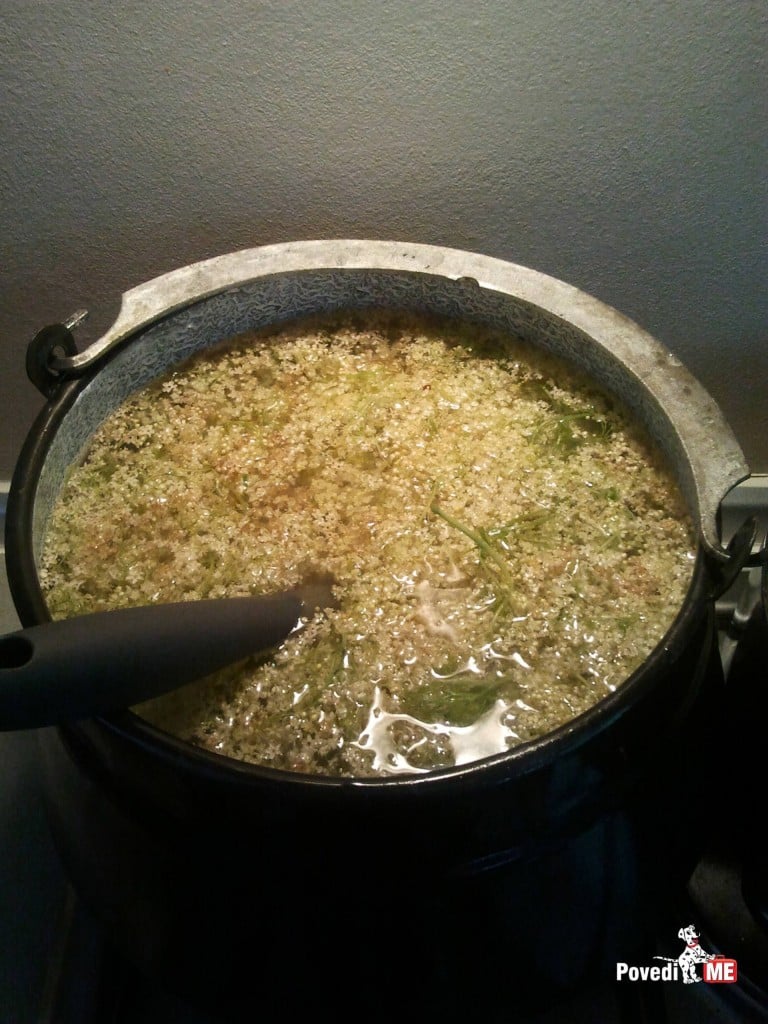 You'll need a few things for draining, most notably a bit of cheesecloth and another pair of hands to help. We drain the now-elderflower-infused syrup directly into the bottles, using a funnel, a sieve, and a piece of cloth.
Once you're done, make sure you squeeze all of the juice and taste out of the flowers with your hands, and squeeze the lemons as well to make sure that they've given all they've got.
In the end, add the citric acid. Make a few trials of the citric acid quantity if you'd like it more or less acidic to see what works best for you.
If you plan to keep the elderflower cordial for a long time, you'll need to add in a preservative at this point. Although it's very sweet, it can go bad if kept for a long time. However, it's not very likely that it will be left unnoticed for a long time! You can also refrigerate it to keep it from spoiling, even freeze it if you want to keep it for months to come.
How To Serve Elderflower Cordial
Keep in mind that you dilute that with water before drinking, usually one part syrup to 5 or 6 parts water. It's also very, very good when some sparkling water is added, and you can also spice it up with vodka, gin, or even rakija (hey, we are in Croatia, we have rakija with everything!) Enjoy!
Have you ever made or drunk elderflower cordial?