Are you wondering if you should visit Skopelos or Skiathos? Then this guide is for you! We share detailed information to help you weigh up Skiathos vs. Skopelos and show what each island offers and who should (and should not) visit.
Choosing between Greek islands is not an easy choice. They're all unique in their own ways, but they have one thing in common – beauty.
You might have seen the movie Mamma Mia and have wondered where that stunningly beautiful island is. Well, it's in the Sporades island chain, and it's called Skopelos. But what about neighboring Skiathos, its more well-known friend?
Let's pit each Skiathos and Skopelos against each other and see which one you should base yourself on for your sunshine holiday.
Skiathos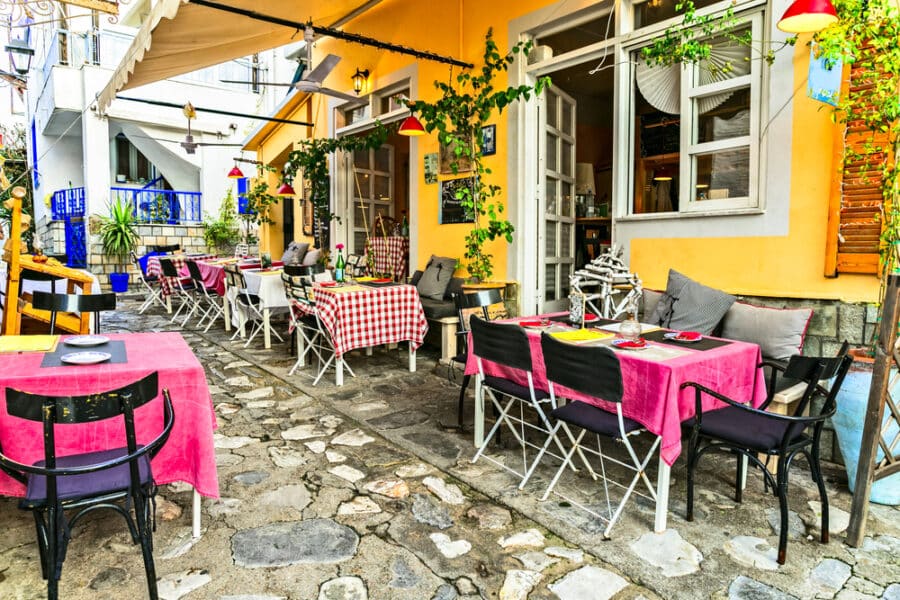 Skiathos is a beautiful island, and it is the most populous one in the Sporades chain. However, Skopelos is larger in terms of land mass. Because it has more people living on it, it also has more people visiting it, so Skiathos is a more crowded island and therefore has more touristic facilities on hand.
It is possible to fly to Skiathos from several large European cities during the summer months. However, you can also take the ferry from the mainland to the island's large port.
Why You Should Visit Skiathos Vs. Skopelos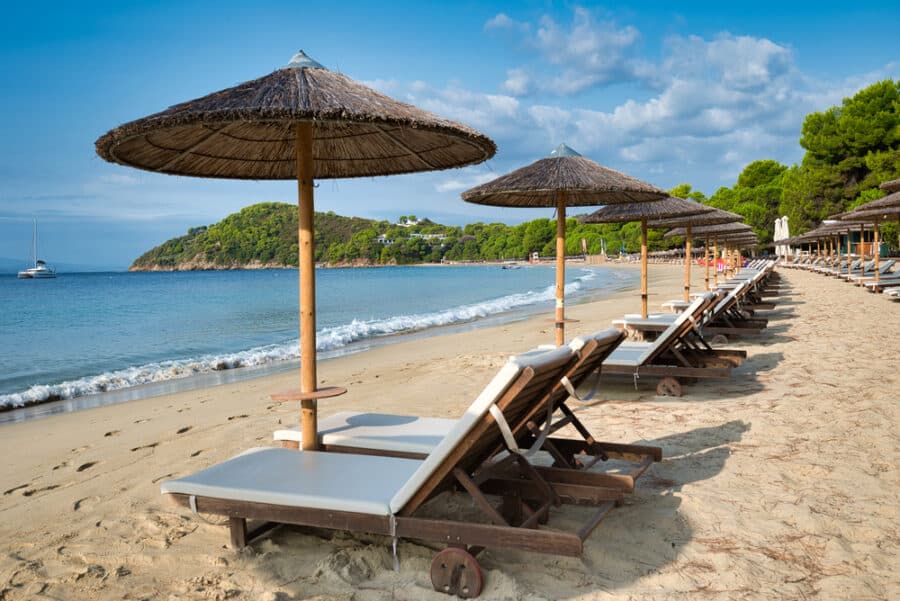 When you're weighing up Skiathos vs. Skopelos, there are a few things that you should consider; here is what I think you should know:
Skiathos Town is the island's only town and the largest in the whole island chain. Skiathos Town is very lively and has everything you could possibly need during your holiday, including great nightlife
The Old Town is pedestrianized and offers amazing views over the whole island
Skiathos Town has some important historic sites to visit, including the Venetian fortress of Bourtzi, Papadiamantis Museum, The Cathedral of The Three Hierarchs, and Agios Nikolaos Church
Skiathos' beaches are all sandy, and the island is home to some of the best in Greece. Koukounaries is the liveliest and largest beach, with fantastic nightlife
Banana Beach is an excellent choice for those who want a little noise but not too much. It is also ideal for sunset lovers
Why You Shouldn't Visit Skiathos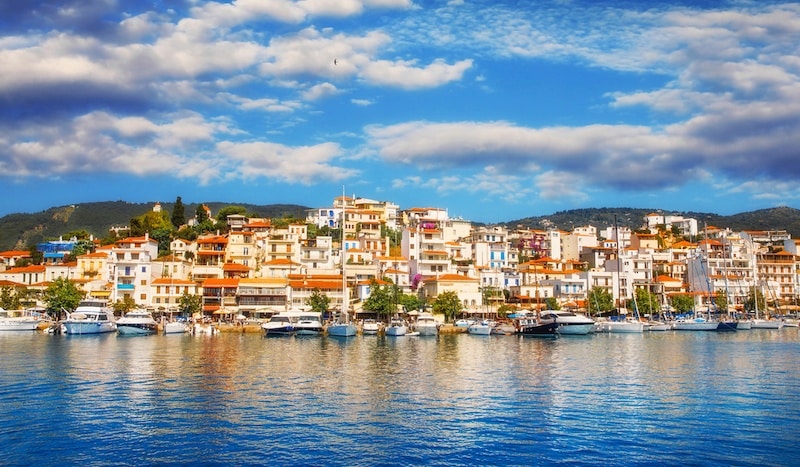 I love this island, but my goal is to help you to decide on either Skopelos or Skiathos and so these few reasons may help you choose;
Skiathos is more crowded, which may not be something you want
There are no hiking trails on Skiathos
Skiathos is mainly geared towards tourism, which may or may not be your right choice. It is also extremely quiet during the winter months as a result
TRAVEL COMPANIES WE USE AND TRUST
Skopelos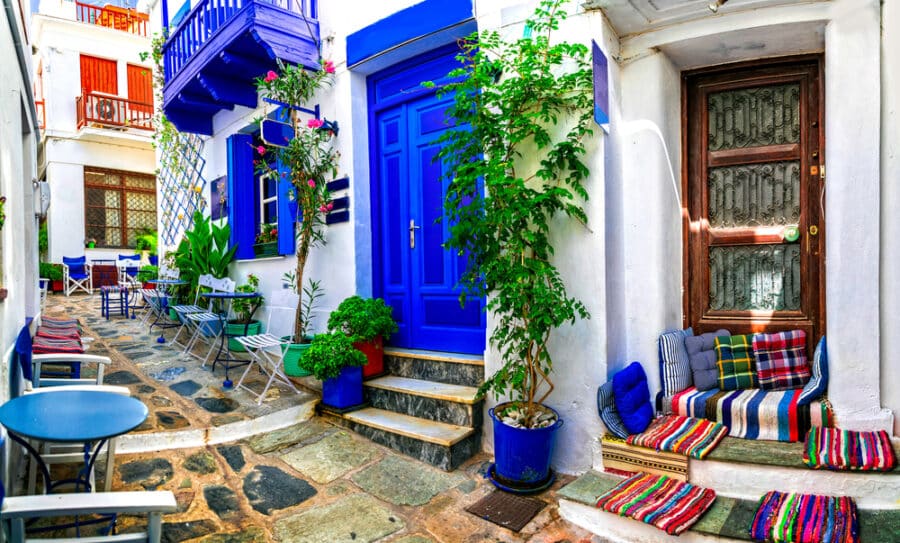 If you've ever watched the Mamma Mia movie, you'll have seen Skopelos yourself. And that means you'll know it's pretty beautiful!
Skopelos is the largest of the Sporades islands, but it is very laid back and quiet. Despite its size, fewer people live on this island, giving it a more authentic and chilled out vibe.
Tourism on Skopelos used to be relatively low; however, since Mamma Mia came out, tourism has gone through the roof! Of course, the island's beauty has much to do with that.
You cannot fly to Skopelos, which is one of the downsides, but it could also be a plus point as it's more remote and relaxed. Instead, you'll need to take a ferry from the mainland or from Skiathos, although your journey shouldn't take more than 2 hours at most.
Why You Should Visit Skopelos Vs. Skiathos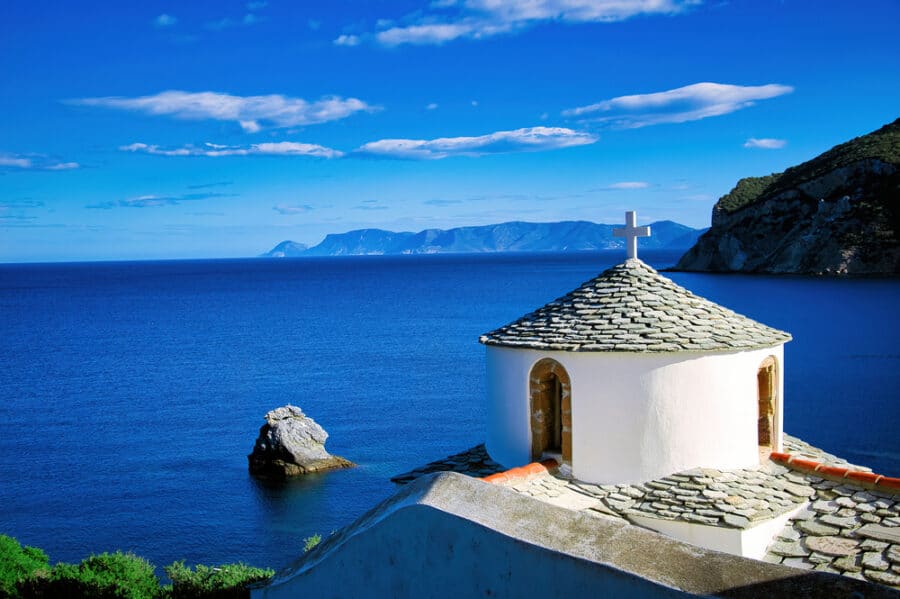 When you're weighing up Skopelos vs. Skiathos, there are a few things that you should consider; here is what I think you should know:
Skopelos is naturally beautiful, with vivid blue sea and bright green pine forests covering the majority of it
Skopelos Town is the capital of the island and has plenty of shopping opportunities and dining choices
You'll also find plenty of interesting and historic architecture to check out, including the Venetian Fortress, Vakratsa House Museum, Folklore Museum, and the Church of the Virgin Mary
It's easy to walk around Skopelos Town as it's wholly pedestrianized
Milia Beach and Panormos Beach are both popular choices for chilled-out days by the sea, and both offer several bars and restaurants for your comfort and entertainment
Stafilos Beach is the most famous beach on the island and definitely worth a visit
Skopelos is a great island for hiking, with several routes for all abilities. You'll see old monasteries on many of the routes, with the Skopelos and Palouki Mountain route and the Loutraki and Kilma route both great choices
Why You Shouldn't Visit Skopelos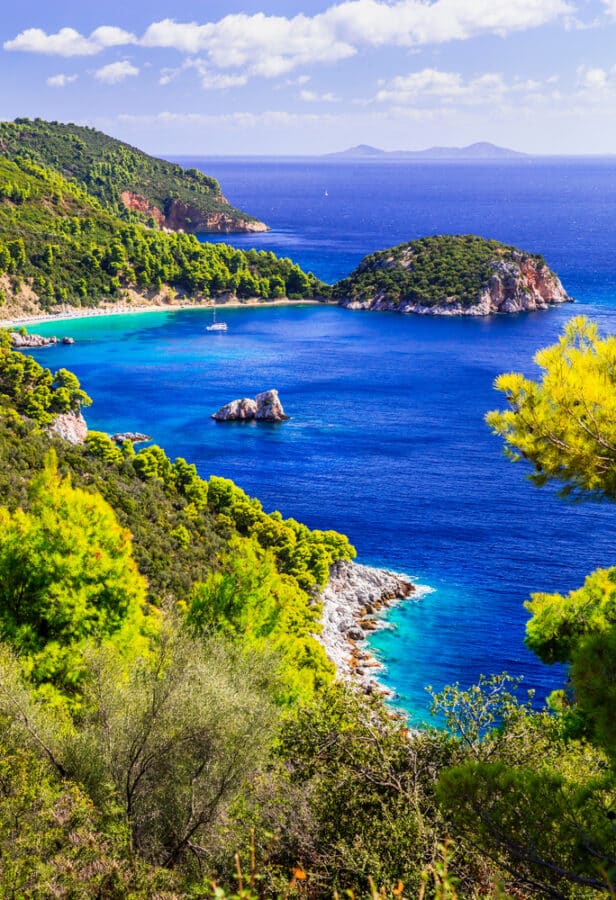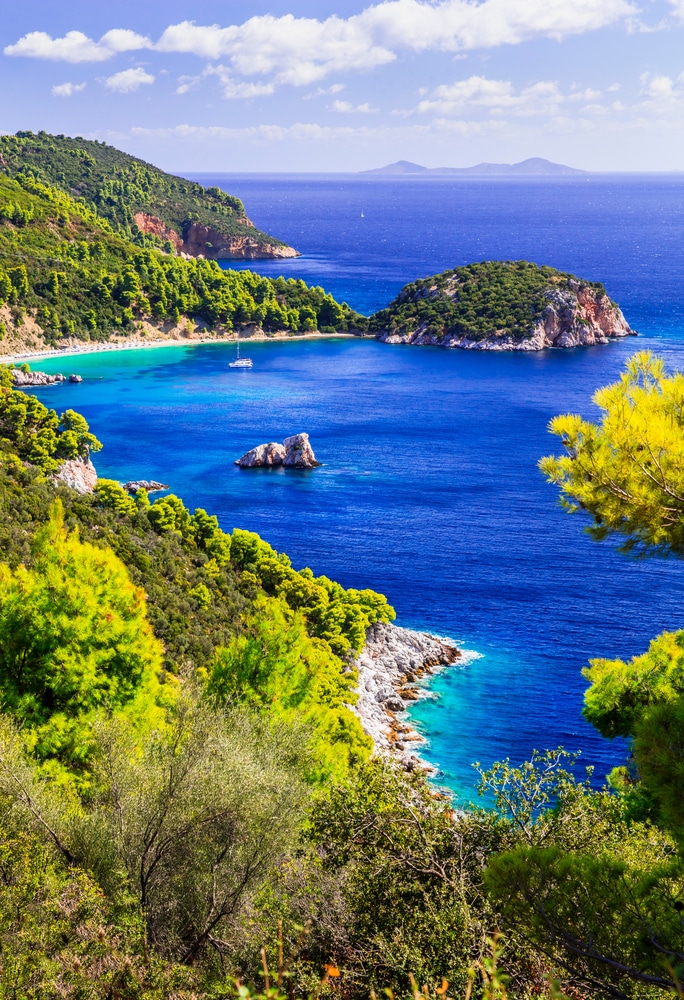 There really is no reason not to go, but continuing with the ways to decide between Skiathos or Skopelos, here are some final reasons that may help you decide:
You can't fly to Skopelos. You would have to take a ferry from the mainland or from Skiathos
Skopelos doesn't have sandy beaches; its beaches are fine pebble
If you're looking for vibrant nightlife, you'll probably be disappointed. The nightlife on Skopelos is more low-key
So which will it be? Who won our Skiathos or Skopelos showdown?