Some posts contain compensated links. Please read this disclaimer for more info.
CabinZero: Lightweight Cabin Luggage Review
If you've been scouring the internet for cabin luggage, then you will probably have come across countless choices, and that huge range will probably have had you reaching for the wine, trying to whittle down your decision! Am I right?
The bottom line is that there are so many choices out there, and most of them are not worth the cash – trust me, I have made a few bad purchases over the years. But, how do you figure out which lightweight carry on luggage option is not only worth the money – but also light and good looking (I mean, who wants to carry about an ugly bag?)
It's hard!
You could go for big brands – but then you could just pay for the name. You could go with the cheapest – but then it's the old adage "you get what you pay for." So how do you choose? What about buying a lightweight carry on bag that is designed by a traveler?
Enter these guys – CabinZero.
Who is CabinZero?
CabinZero is a luggage company, but what makes them different from the hundreds of others you've seen online?
CabinZero was started in 1993 by a fellow traveler, and that's what makes them different. Actual travel experience, From traveling, they got to learn what worked, what didn't, what to do, and what to avoid. This company has developed several different types of luggage; all carry on in size.
The Benefits Of Taking Carry On Luggage Only
Why take carry on? Well, for one, because it costs less. Low-cost airlines charge for checked-in luggage, and if you can manage to pack smartly and just pack carry on, you save cash. So, this is where the name came from – less hassle, no need for cabin luggage, CabinZero!
The other benefit is that you don't have to wait for the luggage at the conveyor belt…no more waiting and waiting, fingers crossed praying that your bag makes it safely.
Because you are not waiting for or your case at the carousel, you're free to head off and explore straight away – or just be first in line for the bus or taxi.
You don't have to drag a large suitcase around; just whack the backpack on.
When you are exploring, having a large suitcase, or even a small one, is not conducive to moving very quickly or very efficiently in crowded areas.
You can use it for day trips like we did when we hiked Plitvice Lakes last month – so the bag is 2-in-1!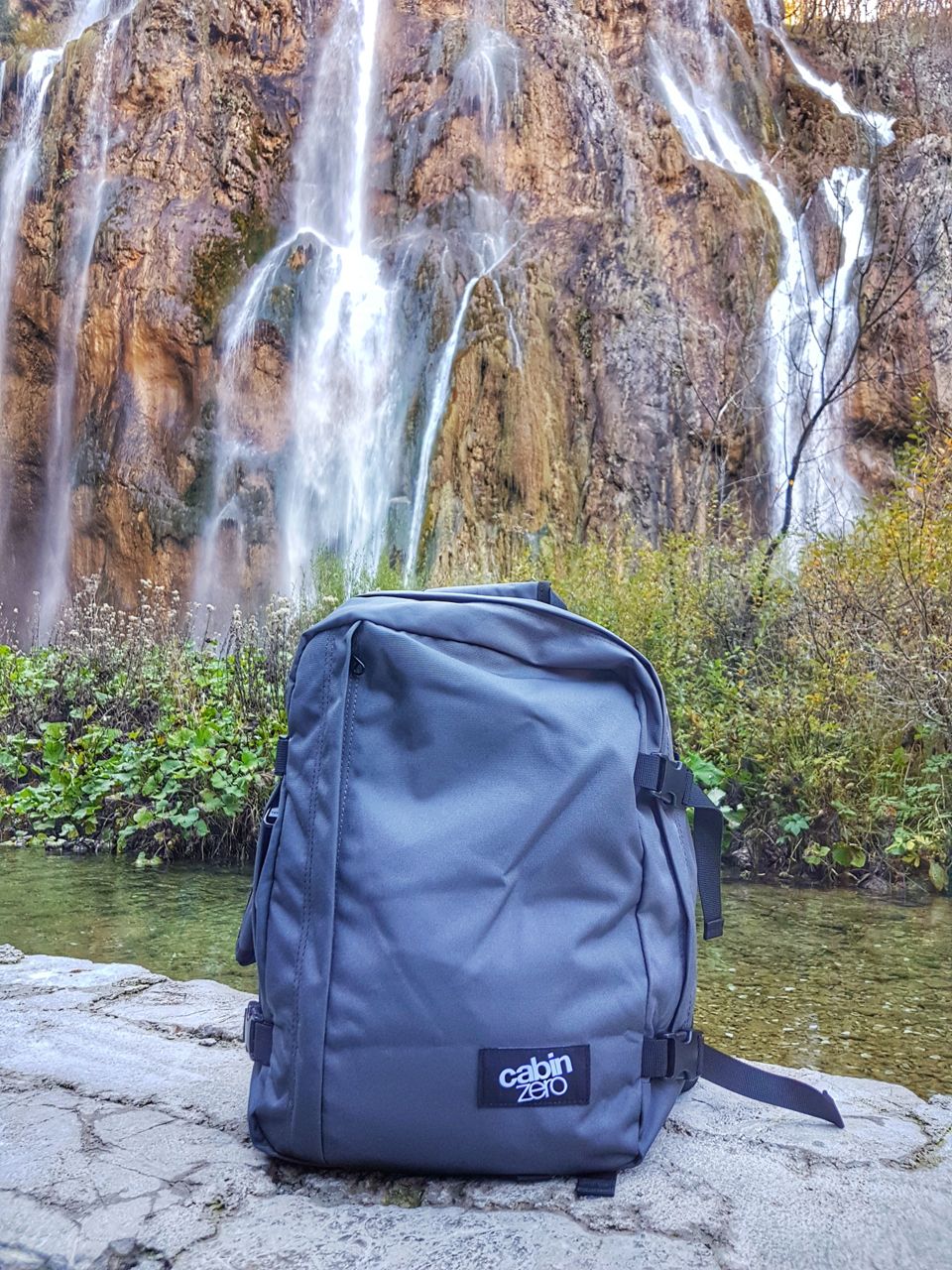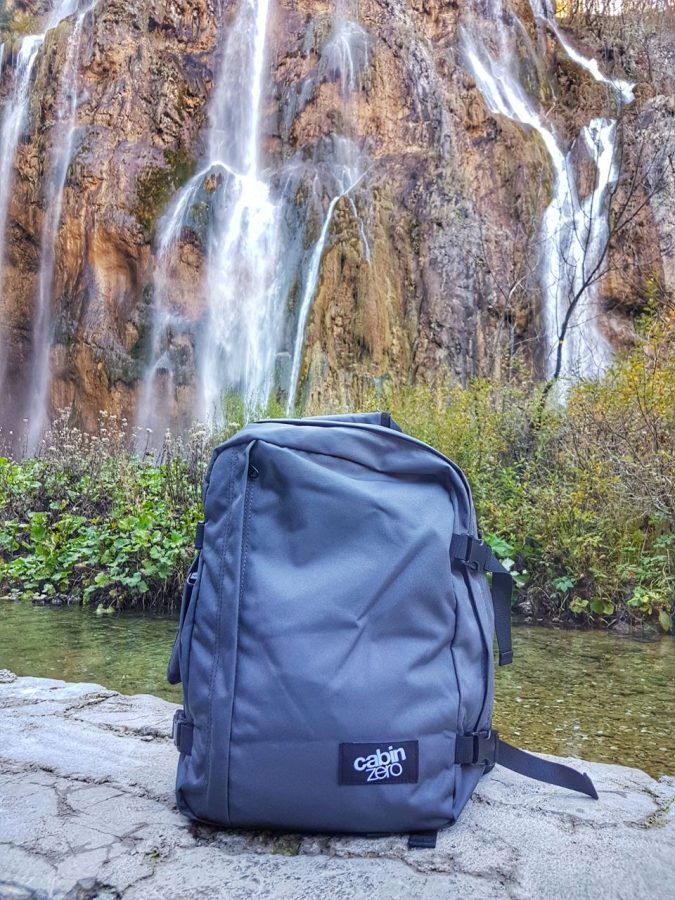 Having a carry on backpack is just so much easier!
Airline Approved Carry on Bag
Of course, within all of this, you need to choose a bag which is airline approved. Why? Because that means you're not going to have any sizing problems. You know that you have to make sure your hand luggage fits into a particular size gauge at the airport, and if your bag is airline approved, that means that basically, you can take it on board with no issues – instant peace of mind.
Quality Carry on Luggage
Every piece of CabinZero luggage is tested rigorously. They have a dedicated mission statement to help travelers the world over, not simply to throw out luggage onto the market and make cash. When you buy a bag from here, you are getting quality, but you also get durability.
We took two bags from CabinZero to test out (thanks, guys). One for the Little Donkey and a second for myself.
CabinZero Small Cabin Bag – 28l
This is the Little Donkey's bag just cause it is smaller and fits all of his toys, snacks, and changes of clothes, etc. If you're looking for
If you're looking for a color choice, you're in the right place here! This particular 28L cabin bag is available in black, red, navy, yellow, gray, royal blue, and urban camo, which means you can easily dress up your luggage however you want! Of course, it's not all about appearance, but it does help.
This is a small and compact bag with more than enough room for a short trip, with space for everything you need to pack in without missing anything out. Ultra-light and airline approved (with BA, EasyJet, Lufthansa, Ryanair). This bag has side compression straps to keep everything in place and avoid bulk, while also having top and side handles so that you can grab it quickly, without issues. The oversized straps on the shoulders are padded for comfort, with built in air mesh, to avoid that sweaty back problem that occasionally arises! Inside, you will find one large front pocket and two zip mesh pockets inside. The main compartment has a lockable zipper for total security. Another plus point is that, as with most CabinZero products, this bag comes with a built-in global luggage tracker, so no lost luggage problems!
Size: 28L
Dimensions: 39 x 29.5 x 20cm
Weight: 600g
Warranty: 10 years standard, BUT if you give them a 'like' on Facebook, you can upgrade to 25 years
Material: Outer made of waterproof polyester, inner made of a polyester lining.
USE PROMO CODE CZSARAHJANE FOR A 10% DISCOUNT
CabinZero Military Collection – 44l
This is mine. Damn, it holds a lot!
Sometimes you need a slightly larger bag, perhaps for a longer trip, for example… or for extra shoes. If that's the case, then this particular CabinZero product is ideal and carries a large 44L, which is going to fit in everything you could ever possibly need, like my travel iron and all my long haul flight essentials. Of course, cabin size means you don't have to worry about paying for checked-in luggage, and this bag is airline approved, specifically with BA, Camo, EasyJet, Green, and Lufthansa. Like my travel iron and all my long haul flight essentials. Of course, cabin size means you don't have to worry about paying for checked-in luggage, and this bag is airline approved, specifically with BA, Camo, EasyJet, Green, and Lufthansa.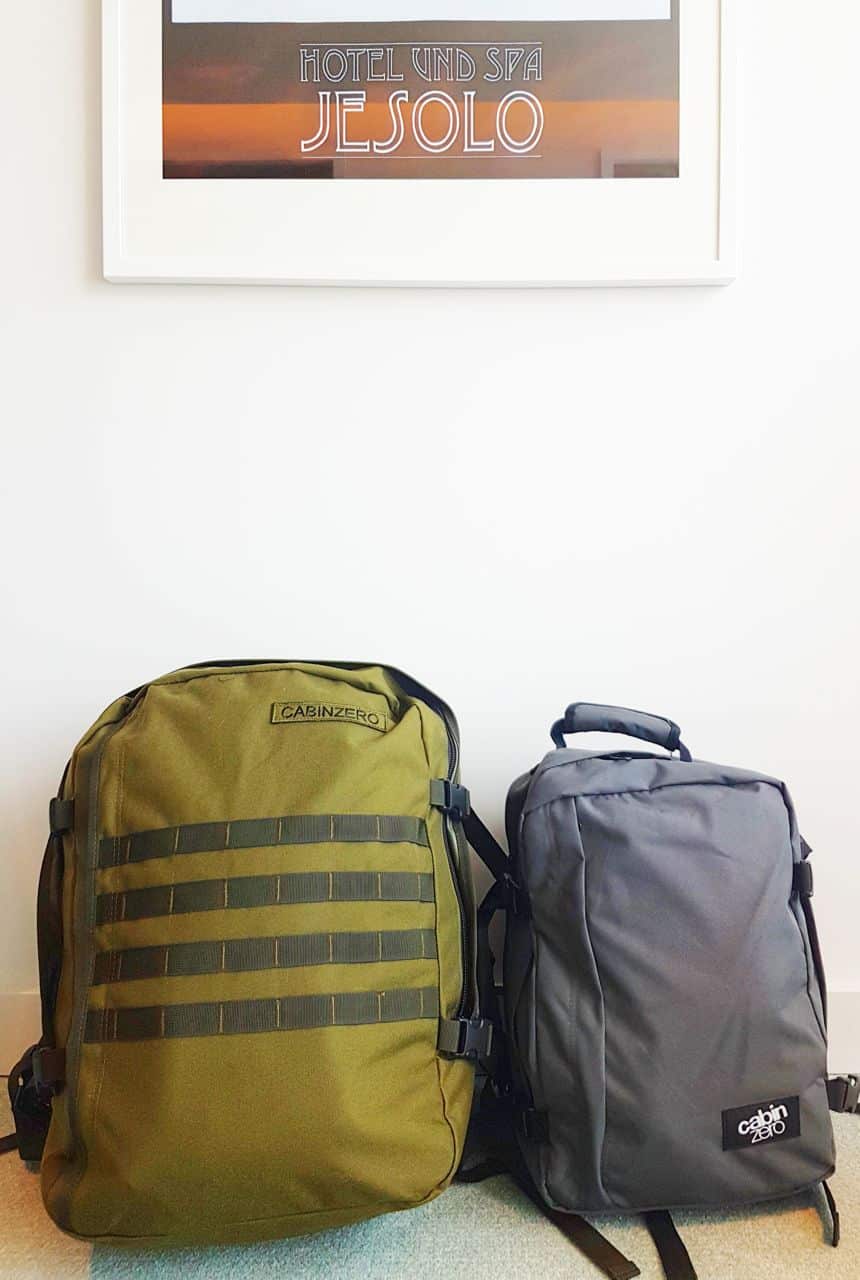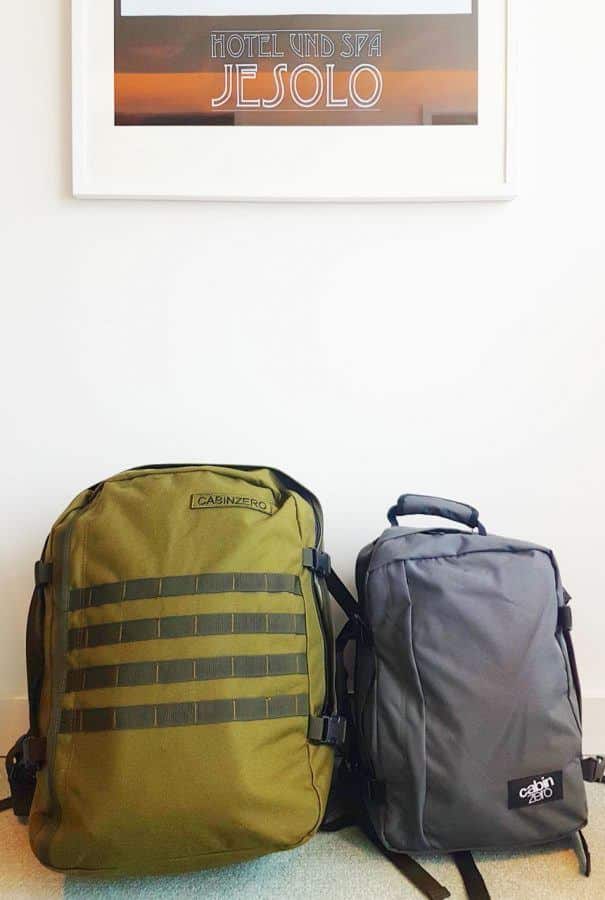 You can choose between three military-style colors, such as desert sand, military black, and military green. The whole design is basically for travelers who demand more from their baggage and those who are likely to put their luggage to the test. This is a durable and sturdy bag as a result and can be used for mountain hiking and challenging backpacking expeditions.
The back and straps are all air mesh designed, so this cuts down on discomfort during long trips or hot conditions, and the large top grab handle makes it easy to take hold of the bag quickly. Regarding pockets, the large front zipper pocket is big enough for clothing and shoes, etc.
Inside has zipper and mesh pockets. There is a sternum and waist strap for ease and comfort in carrying. There is also an accessory pocket inside, made of mesh, for small items you don't want to lose within your main compartment.
Size: 44L
Dimensions: 55 x 40 x 20cm
Weight: 950g
Warranty: 10 years as standard, but with most products, if you give them a 'like' on Facebook, they will upgrade you to 25 years currently
Material: Military standard nylon. The outer is waterproof nylon, and the inside is polyester.
USE PROMO CODE CZSARAHJANE FOR A 10% DISCOUNT
Is the carry on bag mystery now resolved for you? Hopefully, drama and mystery over which cabin bag to choose for your next travel adventure should be directly solved, or at least be a hell of a lot clearer!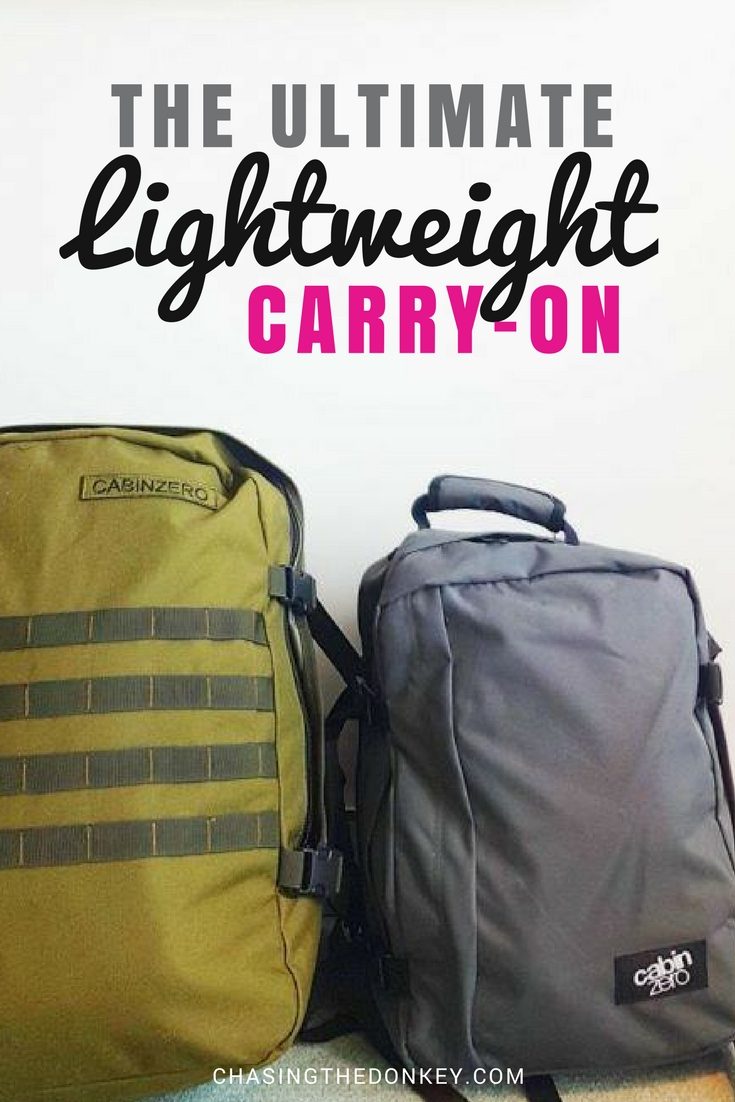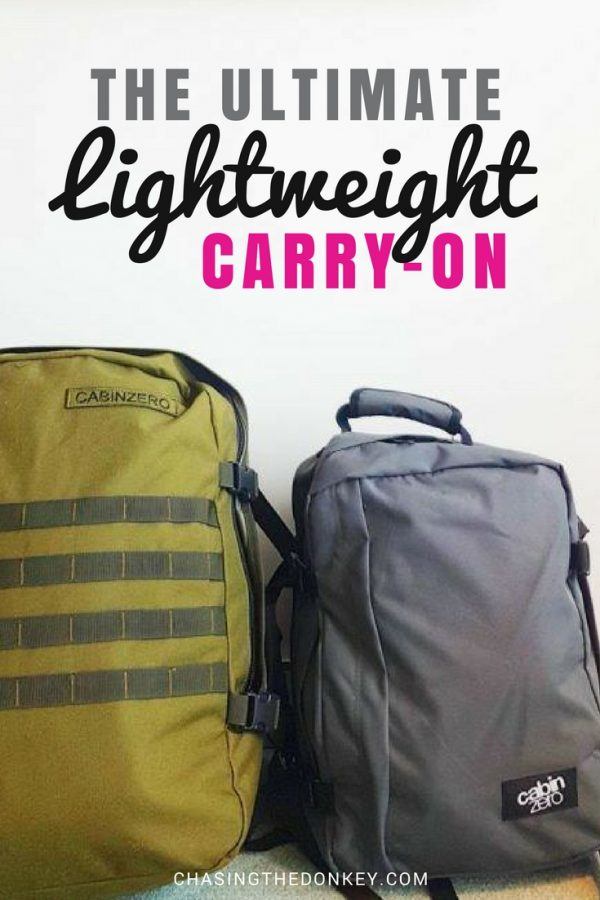 Share