Some posts contain compensated links. Please read this disclaimer for more info.

Best Travel Backpack For Women In 2022
When you're traveling to the four corners of the planet, it's important to have the kit to last you for the duration, especially to have the right backpack. If you have substandard equipment, e.g., a flimsy suitcase, it will fall apart when it is in transit. If you have a low carry-on bag, the strap will probably break while getting from A to B.
One of the most essential pieces of equipment for a long-distance traveler is a backpack. It's vital to get a top-class backpack because this is literally what is holding together your entire trip! For that reason, it's essential to do research and check reviews before you make a purchase, and also to decide on a budget and stick to it.
Best Backpack For Women Comparison Chart 2022
We took a look at the best backpacks for female travelers, compared the features and price, and made this easy-to-use table to help you review and decide what is the best ladies' backpack for traveling for you. Click on any heading to sort the table accordingly.
Setout Backpack – Made For Women
2022 Top Choice Backpack Winner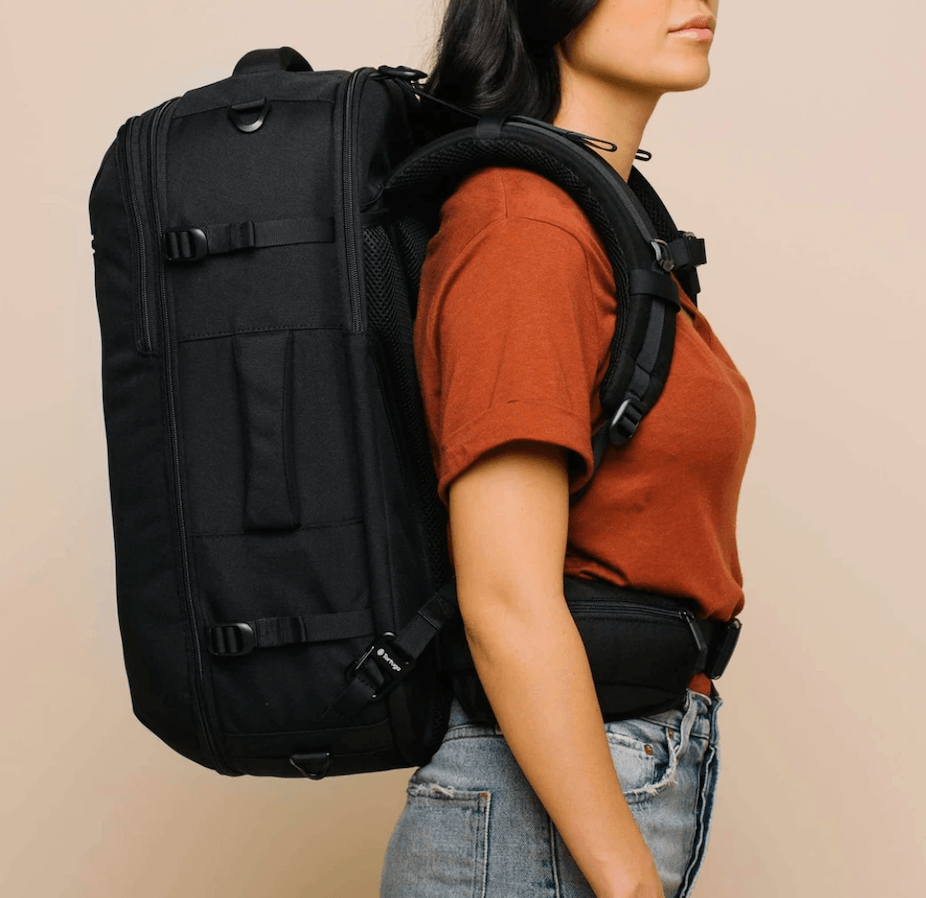 Without a doubt, one of the best women's backpacks around at the moment, this is one you need on your wish list. The guys at Tortuga sent me one to try, and I am totally IN LOVE!
It's stylish and very spacious, this backpack can carry 45 liters (around a week of clothes + extras), so you can take whatever you need without worrying about how much space you have. The other plus point? Open up the backpack, and inside it's laid out just like a suitcase, so no more annoyances when half of your clothes and belongings end up at the bottom top of the backpack, screwed up and messy. Perfect for using travel cubes (which I also love).
You're basically getting the organization of a suitcase with the case of carrying a backpack, and it seriously looks the part too. If you want a smaller option, this back is available in a 35-liter size, too, with several compartments for organizing everything you could possibly need!
The bag accommodates my 17″ Macbook + charger and all my accessories.
45 Liter Size: 22 x 14 x 9"
45 Liter Weight: 3.8 lbs
or
35 Liter Size: 21.5 x 13.5 x 7.5"
35 Liter Weight: 3.6 lbs
Best Travel Backpack For Women Feature: Made with a women's body in mind. The padded straps sit in all the right places for total comfort.
Deuter ACT Lite 35+10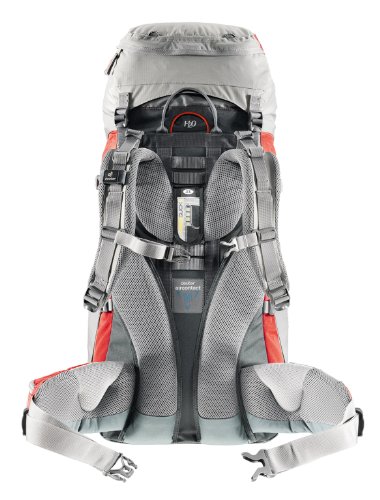 This ladies travel backpack is ideal for those longer journeys, e.g., a real backpacking expedition! Available in two different colors, including an attractive green and an orange choice, there is a cute flower on the front, which gives it a little extra style and makes it easy to spot your backpack if you check it in or put it down someplace.
Deuter is a big named brand, and this bag comes with the Deuter Aircontact System, which keeps your things organized, safe, and secure also. There is a massive lid pocket, a pocket on the inside for your valuables, and a zippered pocket on the hip belt. This bag is spacious, can hold 35 and 10L, and weighs just 3lb 8oz, making it one of the more lightweight bags on the market.
Size: 6x23x12"
Weight: 3lb 8oz
Best Travel Backpack For Women Feature: Plenty of compartments to keep your belongings organized
Osprey Sirrus 50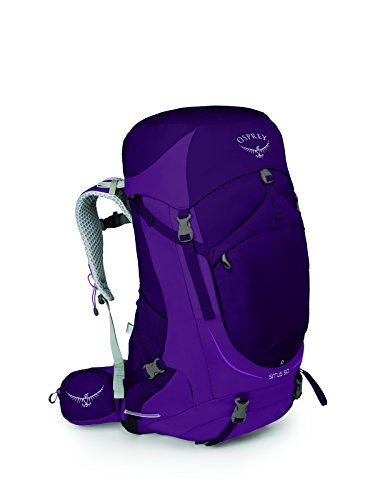 This is a stylish bag, which comes in four different color options, including light blue, black, purple, and orchid. The bag is designed specifically for women and is shaped to fit the unique shape of a woman's body ergonomically. The bag is also made of 210D nylon crosshatch material and has dual stretch mesh pockets on the sides.
There is a front panel pocket for storage and a trekking pole attachment for those hiking trips. To keep your things safe, there is also a rain cover that fits directly over the backpack.
Size – 27x13x14."
Weight – 3.8lb
Best Women's Travel Backpack Feature: Extras, including rain cover and trekking pole attachment
High Sierra Women's Explorer 50 Internal Frame Pack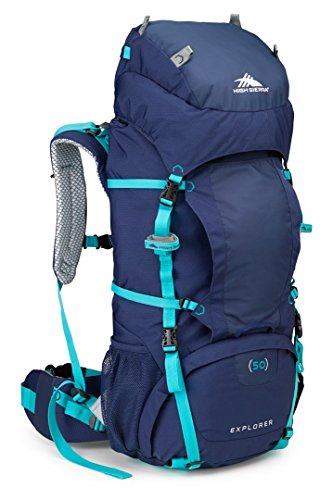 This large backpack is ideal for longer trips and comes in three different color options, including navy, pink, and patterned pink. The price is a little lower than some other bags of the same size and quality, which is a plus point, and it loads in the top, with a drawstring closure and a top lid, which adjusts.
The aluminum bar frame keeps everything in place and upright, and overall the bag is designed to fit a woman's body much better than other unisex bags. The back panel has Airflow channels, which help to keep you cooler while you're carrying your belongings around.
Size – 8x29x14."
Weight – 4.5lb
Best Female Backpack For Traveling Feature: Airflow channels in the back to keep you cool whilst traveling
Osprey Women's Aura AG 50 Backpack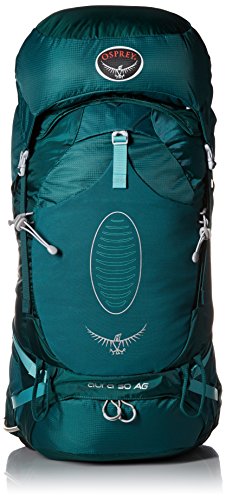 Osprey is a big named brand, and perhaps that reflects in the slightly higher price tag for this particular backpack. Having said that, it is a very high-quality product, and it is designed specifically for women. The bag comes in three different colors and is made of Nylon for strength and durability.
This is a top-loading women's bag with a large main compartment, and the top lid section is removable if you want to head out for a day trip. There is a stowed trekking pole attachment, as well as side mesh pockets, which stretch and zippered hip belt pockets, giving you plenty of room to store your belongings safely.
Size – 13x30x14."
Weight – 4.2lb
Best Travel Backpack For Women Feature: Many zippered compartments to store your belongings
Kelty Catalyst 46 Backpack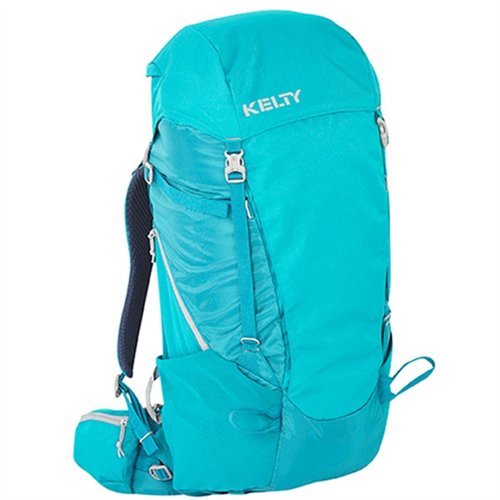 This large and lightweight travel backpack for women is ideal for weekends away, and hiking trips, and the attractive green color is certainly appealing! The bag closes with a drawstring at the top and has several compartments for your belongings while also being easy to access. There are outside stretch pockets, as well as a sleeping bag compartment at the side.
The bag opens via a top-loading mechanism. The bag is made with Perfect-FIT suspension, which means that the bag molds to your body shape and makes it easy to carry for more extended periods of time.
Size – 29x12x12."
Weight – 3.8lb
Best Women's Weekend Backpack Feature: Perfect-FIT suspension means that the bag moulds to the body of whoever is wearing it
Black Diamond Elixir 45L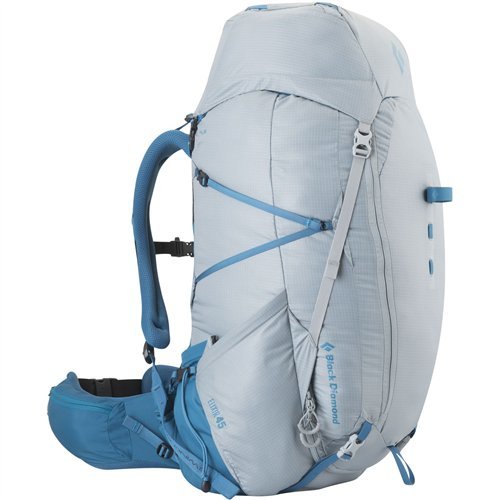 This bag is large and attractive, available in two different color options, including a darker option and a lighter option. The bag is lower priced compared to many others on the market, which is a major plus point, and it is ideal for women on the go. The bag has ReACTIV suspension with Swing Arm straps on the shoulders for total comfort, as well as an open-air back panel, which helps with ventilation while moving around.
There is a large zippered pocket to store a sleeping bag and front pockets, and side pockets. The hip belt also has a pocket for small items that you need to access quickly. On top of this, there is a retractable trekking pole loop, sleeping pad straps, and it is also compatible with hydration systems.
Size – 26x16x7."
Weight – 3.3lb
Best Travel Backpack Feature: Comfort is high with this bag, because of the suspension features, the open air back panel and the padded shoulder straps
Timbuk2 Aviator Travel Backpack (28.5L)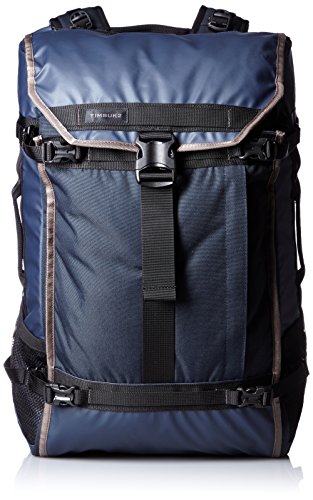 This bag is available in six different muted colors, which means both men and women can use it on the go. Having said that, it is an excellent choice for women because of the ease of travel and the comfort levels the bag has. The bag is made of a mixture of polyethylene foam, vinyl, and acetate, making it durable and highly comfortable when traveling.
There is a large interior pocket, an interior slip pocket, two internal zip pockets, and six pockets on the outside for smaller items that you need to access quickly. The top flap keeps the main compartment even safer, and this also lays flat with a buckle so that you can be sure your belongings are totally safe from potential pickpockets.
Regarding comfort, the bag has an adjustable strap and also a removable sternum strap, which helps to balance out the weight more evenly. This bag is ideal for carry-on luggage.
Size – 9.4x22x13.4."
Weight – 9.5lb
Best Carry-On Backpack For Women Feature: Can be used to take on planes as a carry-on.
Kelty Redwing 44 L Backpack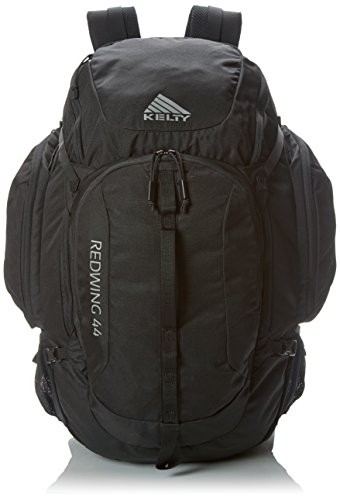 This bag is ideal for weekend trips or short hikes, and it is compact enough to carry with total comfort at the same time. You can choose between two different colors, and while this bag is not designed specifically for women, it is effortless to carry, which is what has put it in this category.
The front of the bag opens with a U-shaped zipper, and the back section has AirFlow technology, which keeps you cool while carrying the bag in warmer temperatures. This front-loading backpack for women also has LightBeam single aluminum to add extra shape and stability to the design, and it is also hydration compatible.
Size – 22x15x12."
Weight – 3lb 3oz
Best 40L Women's Backpack For Travel Feature: Compact design and easy to carry
Doleesune 42L Internal Frame Pack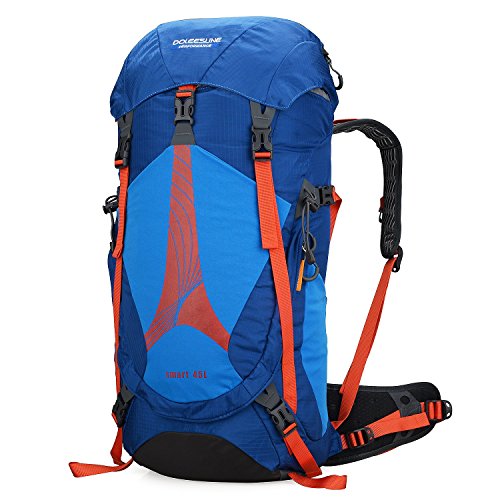 This backpack is brilliant and attractive while also being designed specifically for women. The bag is made of sturdy and durable nylon and has a ventilated back section, which helps to keep you cool on the go.
The bag features the Powerful Bear Breathable System, which avoids that annoying and embarrassing 'sweaty back' problem that can sometimes occur while traveling. This is a top-loading bag that has a drawstring closing section, and the top lid also adjusts.
Size – 24.4×13.4×9.4."
Weight – 4.2lb
Best Travel Backpack Feature: Keeps you cool whilst carrying it, thanks to the ventilated back section
Osprey Packs Women's Tempest 40 Backpack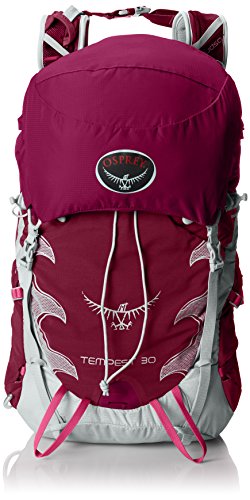 This is another Osprey choice, which is very high quality and has the major plus point of being super-lightweight, making it easier to carry without causing problems or strains. The hip belt helps distribute the weight much more evenly, and the padded and adjustable shoulder straps add to the comfort levels. Made of strong nylon, this bag has a large interior compartment and five zipped pockets on the outside.
Size – 10x26x10."
Weight – 1.6lb
Best Women's Lightweight Travel Backpack Feature: Very lightweight, which makes it much easier to carry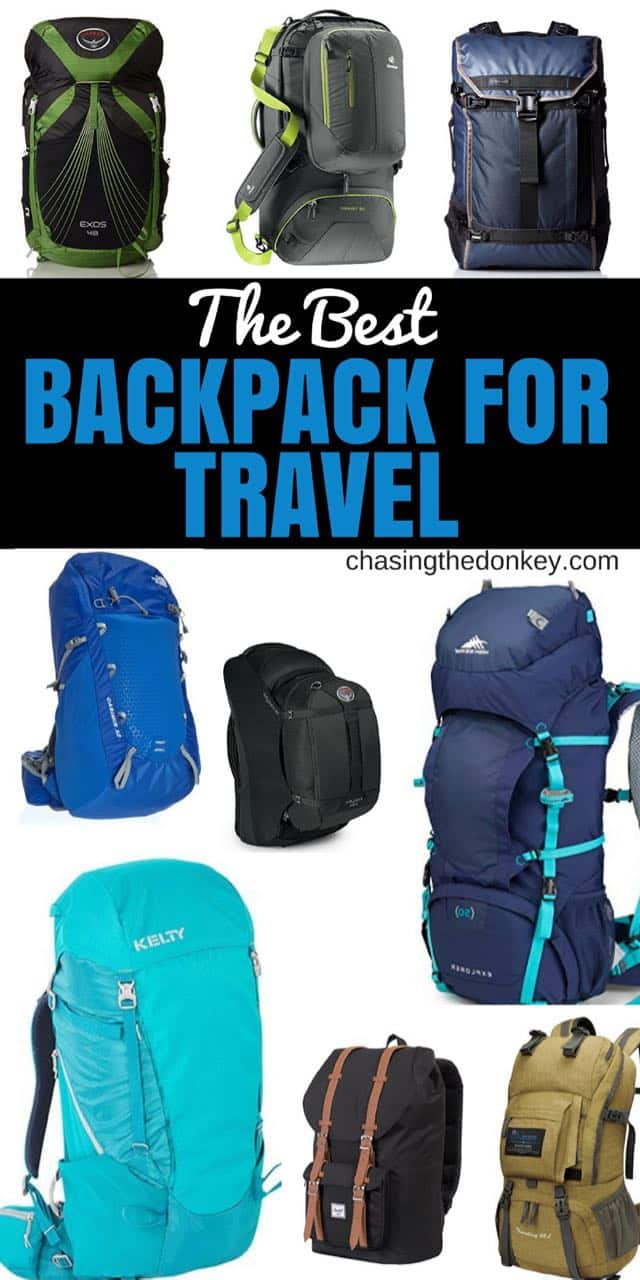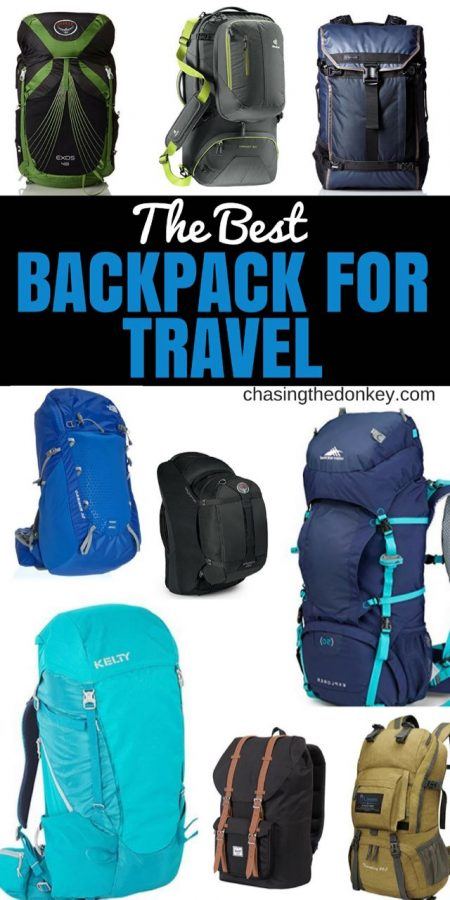 Kelty Redwing 50 Pack Black

For those in need of a serious travel backpack, Kelty has made one heck of a 50L bag in its popular Redwing line. The pack is incredibly spacious, holding enough gear for staying out in the wilderness or backpacking through Europe for multiple days. With a lightweight frame, lots of features for assisting with air-flow, and amazingly comfortable AirMesh shoulder, waist belt, and lumbar straps, the bag is designed for longs days of use.
With lots of zippers, compartments, and hybrid loading features, the organization is attainable, and re-packing the bag is easy. Mr. Chasing the Donkey and I agree: this pack is an incredible value for the size and function it offers, making it one of the best travel backpacks.
What Is A Travel Daypack, And Why Do You Need One?
A travel daypack is a smaller version of a hiking backpack, a bag that lets you take the items you're going to need for your day out and about without it being too large, too heavy, or is simply too much for the task at hand.
A travel daypack is ideal for shorter trips and could even be used for an overnight trip if necessary. Many larger backpacks have an incorporated daypack, which gives you more cost-effectiveness for your purchase. These literally look like what you would typically have known as a 'rucksack,' but daypacks are very highly durable.
How to Choose The Best Backpack For Travel
Size
How big you want the bag depends on how long you're going away and what you want to take. If you are only going for the day or maybe two days, then a daypack may be sufficient; if you're going for much longer, a bigger capacity bag will be required.
Top Loading Vs. Front Loading
How do you want to access your things? This could be down to personal preference, but it also depends on how big the bag is. Most large capacity bags are top-loading because this is safer when opening the bag. Nothing falls out; sideloading is ideal if you want to pack easy to reach items in the middle of your main compartment because this will give you overall access.
Backpack Frame
Larger packs tend to have aluminum frames inside, to keep them upright and sturdy. If these bags don't have a frame, they will simply collapse, and all your belongings will be mixed up and possibly damaged. If you are going for a large capacity backpack, look for one with an aluminum frame.
Material
Most backpacks are made of nylon or polyester. Still, it's always a good idea to look for tougher versions of these materials, especially nylon, as these will give you more durability and protection for your bag.
Hip Belt
A hip belt will help you carry the bag, so if you're opting for a larger capacity, again, this is ideal. The weight will be distributed evenly across your body, rather than being all in one place, which cuts down on aches and pains you may experience the day after carrying it.
Straps
Are there straps inside to hold everything in place? Are there extra straps on the outside to help you carry it? Are there straps to attach anything else, e.g., a hiking pole or a sleeping pad?
Compartments
Obviously, all bags will have a large main compartment, but does the bag have other ones, e.g., on the outside? More compartments mean more room to organize your belongings, rather than having everything packed into one place.
Numinous Packs GlobePacs Anti-Theft Travel Daypack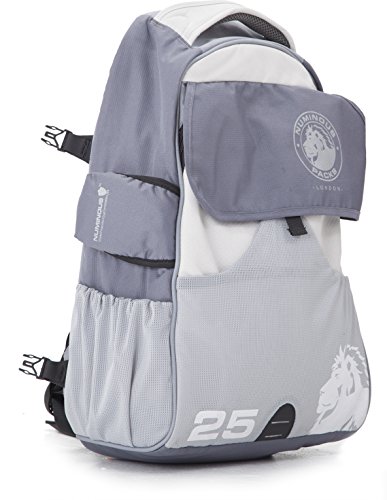 This daypack is made of anti-slash fabric, which keeps your belongings safe and sound. There is an integrated and retractable cable lock, which means that the bag can be secured to any other object which doesn't move for even more peace of mind. The zippers are also anti-puncture, so they can't be opened without you wanting them to be! The bag comes with TSA-approved zipper locks, and the bag is comfortable to carry, with lumbar support and padded shoulder straps.
Size – 5.9×17.7×11.8."
Weight – 2lb
Best Travel Daypack Feature: The many anti-theft features
Osprey Tempest 20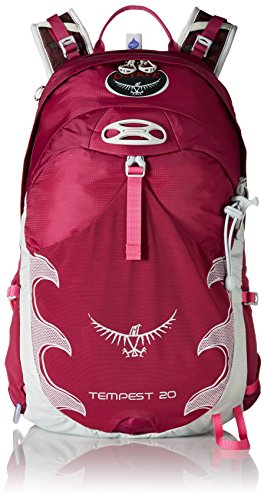 Available in six different colors, this daypack is ideal for hiking or weekends away and is also a very supportive pack. It's also one of the best carry-on backpacks for a woman.
We know that Osprey is a great name in the luggage world, and this is a unisex option, even though it could possibly be more geared towards women slightly. This is a lightweight bag that has a harness, hip-belt, and it also comes in different sizes to give a custom fit. The large main compartment is more than large enough for everything you will need, and there are also five exterior pockets for anything else you may need.
Size – 11x18x11."
Weight – 1.4lb
Best Travel Daypack Feature: Comes in different sizes for a custom fit
Mountaintop 40 Liter Hiking Backpack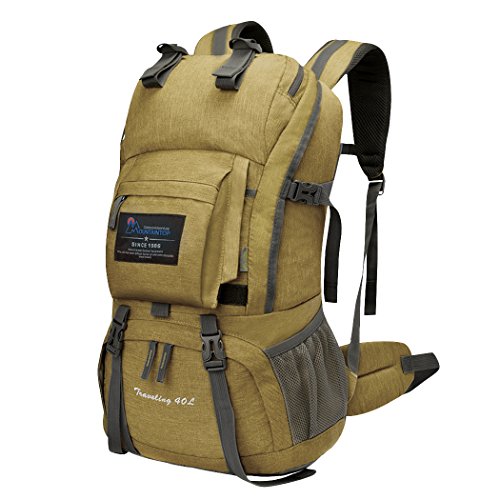 Available in 10 different colors and styles, this backpack is large enough for everything you need for a hiking trip, perhaps a long day or two, but lightweight enough to carry it without stress or strain. The straps are adjustable, and the pack features six straps, which can be used to tie up a sleeping bag, hammock, or tripod.
The bag has strong and thick padding on the shoulders and on the hip belt, and there are two padded areas on the back to offer extra cushioning while also allowing air to flow across your back. There is one large main compartment, two front pockets, a hidden pouch, and two mesh pockets.
Size – 21.7×13.8×9.8."
Weight – 2.1lb
Best Daypack Feature: Padded back section to allow air to flow and give you extra comfort
The North Face Jester Backpack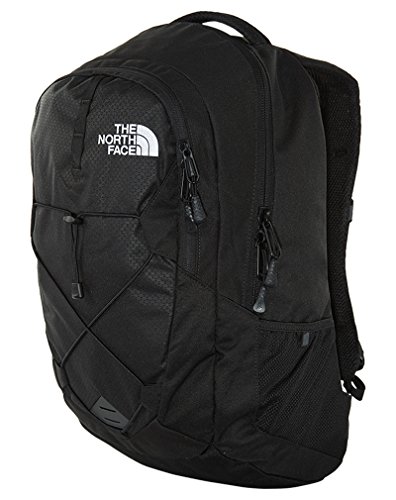 Again, we are dealing with a massive brand name here, and North Face is famous for its outdoor equipment and quality. This should give you peace of mind. This particular backpack is ideal for venturing off for the day and is available in several different colors and designs, so there is certainly something there for you.
The bag is made of strong polyester, and there is also a padded laptop sleeve inside the main section, which can house a laptop up to 15". Inside the main compartment, you will also find a zippered pocket and pen pockets also. To keep the bag sturdy and secure, there are molded and padded shoulder straps, as well as a padded air mesh back panel, which helps you stay cool while on the go. There is also a 360-degree reflective bike-light loop and water bottle taps for hydration.
Size – 22x15x5."
Weight – 1.7lb
Best Women's Travel Daypack Feature: There is room for a 15" laptop
Osprey Men's Waypoint 80 Travel Backpack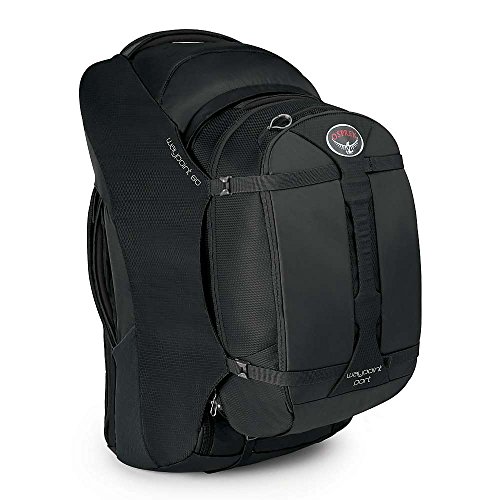 This back is two separate bags combined, which gives you extra flexibility for your travel needs. Available in two different colors, the bag is very strong and durable and is designed to distribute weight evenly to cut down on aches and pains when carrying. There is a zip-off, foam padded harness, and a fixed hip-belt that connects to the mainframe, and the harness can be slid up or down to fit your body properly.
There is also a dual lockable zippered front section, which gives you access to the main compartment without opening up the entire bag for something you need. Overall, this is a great bag with high flexibility.
Size – 24x16x13."
Weight – 5.7lb
Best Daypack For Women Feature: Adjustable fit for real comfort
Herschel Supply Co. Little America Backpack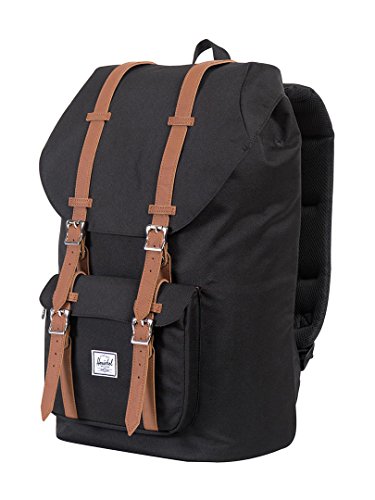 If you're looking for a bag that will seriously look the part and have envious looks coming your way, this is it! The bag is padded and fleece-lined and can also accommodate a laptop up to 15" in size. The bag closes with magnetic straps and then two metal clips. The front pocket also has a hidden zipper and a clip for your keys.
The shoulder straps are padded and contoured for comfort, and there is also back padding with air mesh technology to keep you cool throughout your journey. This backpack is also available in countless different colors and patterns so that you can choose a personalized look.
Size – 19.3x11x6.3."
Weight – 2.3lb
Best Daypack Feature: Very stylish appearance, which makes it stand out
Osprey Packs Daylite Plus Backpack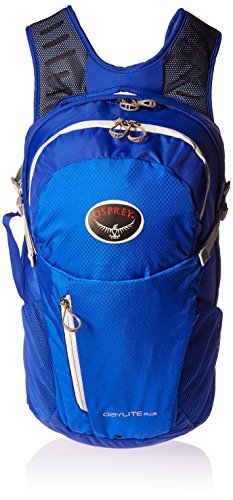 Available in six different bright color options, this daypack is ideal for both men and women on the go. The bag is made of very strong and durable material, namely Nylon Double Diamond Ripstop, and the main compartment has a large panel for access, so you don't have to rummage around for something in vain! Two side pockets stretch, so you can easily fit a water bottle in them, and there is room for a tablet or laptop inside. The back section is meshed and has the technology to allow air to circulate freely.
Size: 10x10x18"
Weight: 1.19lb
Best Daypack Feature: Large range of colors available
Travel Backpacks For Women – What Should You Look For?
When purchasing a backpack specifically for women, there are a few extra features you need to look at. The first one is how it looks, the second is how organized the bag's interior is, and the third is how you carry it. A travel backpack designed for women will need to mold to the contours of a woman's body and be ergonomically designed for a woman's frame. To sum it up:
Design
The color and style need to be attractive as you'll be lugging it about for years to come.
Number Of Pockets/Organizational Features
Inside the main compartment, there should be organizational features, i.e., several compartments and zip pockets.
Ergonomic Design
Obviously, a woman's body differs from a man's, which means to carry a bag for an extended period, the bag needs to be fit to the curves of a female. These are often contoured differently from THE bags, which are unisex or specifically designed for men.
Padded Shoulder Pads
When carrying the bag for extended periods, the strain can be put on the shoulders and neck. Padded shoulder pads help minimize this. Most bags have this as standard, but it's something to check before purchasing.
Lumbar Support/Waist Belt
Larger backpacks often have lumbar support or a waist belt, which helps balance the weight across the body, rather than keeping it in one place and causing strains.
Best Backpacks For Travel For Women Reviews 2022
Before you read the below reviews, you should know how to choose the correct travel daypack to make sure you get the best travel backpack for women that suits your travel style.
What To Look For When Purchasing An Anti Theft Backpack For Travel
Choose the right anti theft bag can be overwhelming – mostly cause of the options. Here we will help you narrow down what to look for in each backpack.
Security
Does the backpack have any particular security features, e.g., RFID blocking technology? This keeps your passport and credit cards safe by preventing any chance of identity theft. This is something you should certainly think about looking at when you make a purchase. Is the backpack specifically designed for security, e.g., anti theft? Or is it a regular backpack?
Features
Again, does it have RFID technology? Does it have hidden pockets? Does it have any additional features which make it stand out? Many backpacks that are explicitly anti-theft have the RFID feature, but they could also have super-strong zips, as well small compartments are hidden inside the bag to keep your super-valuable items safe.
Design
This is about the structural design of the backpack. What size do you need? If you're not heading off a massive adventure, then a large backpacking bag will be too big for you; similarly, if you are going somewhere for a longer time, you don't want to opt for a bag that's too small. It would help if you looked at how many pockets and compartments are included, and you also need to know how easy the pockets are to access. How do you carry the bag? Does it have lumbar support? Does it have padded shoulders? Comfort is equally important.
Durability
This is important if you're crossing difficult terrains or if you're going out in the rain a lot – you don't want your belongings to get soggy! You also need to know that the straps are reinforced and aren't going to break when you pack the bag to its maximum. Reviews are what you need here, as well as checking about where the reinforcement parts are.
Style
Everyone wants a bag that looks the part, so finding one which is attractive is important!
Functionality
Some backpacks convert into a day pack for when you head out for a day hike or similar events. This is useful because it means you don't have to carry a massive backpack with you when you're only heading out of the hostel/camp for a few hours.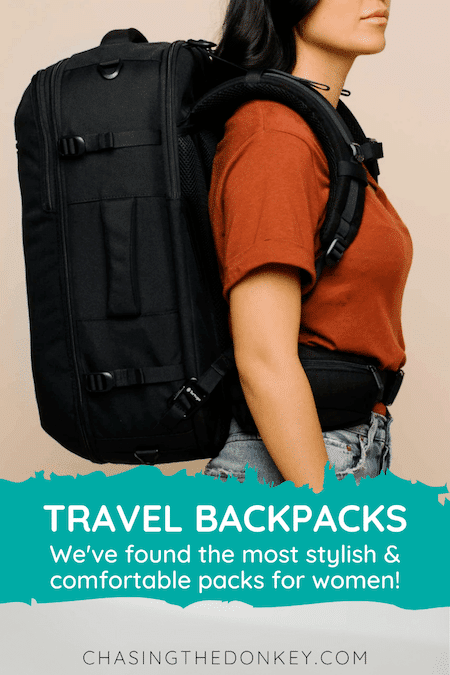 The Best Anti Theft Backpacks For Travel Comparison Chart
We took a look at a huge range of anti theft bags and compared the features & price, and made this easy-to-use table to help you review and decide what anti theft backpack will suit you best. Click on any heading to sort the table accordingly.
We also have a lot of packing and travel products tips, including the following.