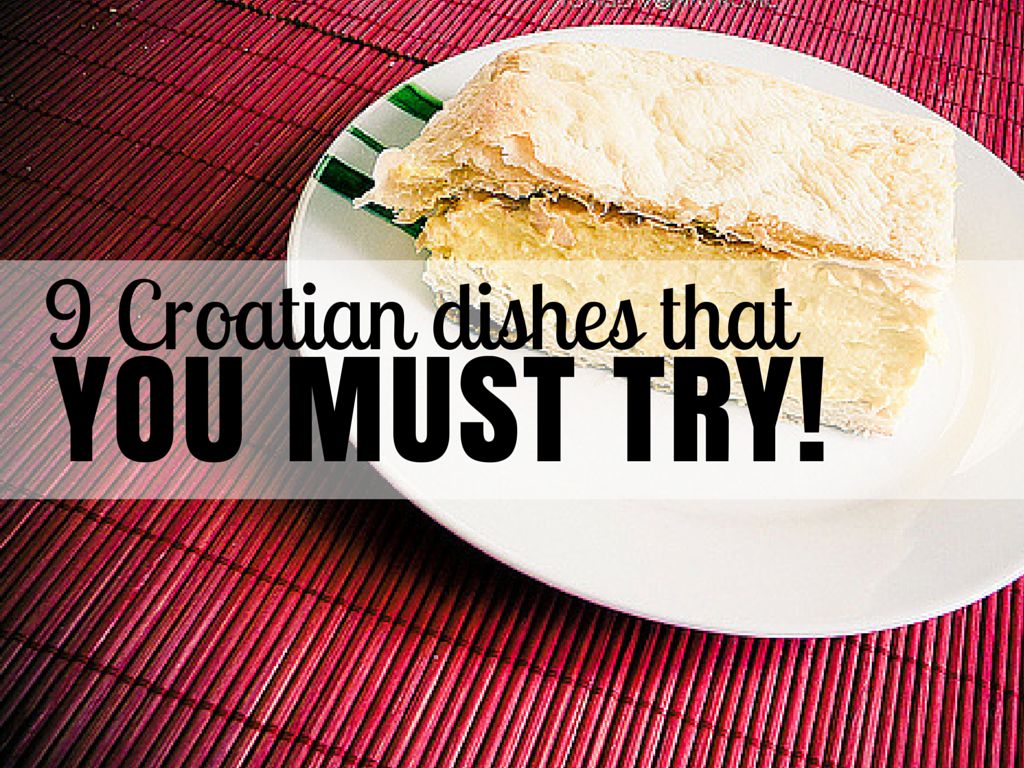 Get This Croatian Food in Your Belly NOW!
Croatia and food, they're a match made in heaven. I often get asked what is typical Croatian food? The answer to this question depends on what Croatian region you are from. Dalmatian's may answer the question with Crni Rizot, someone from Slavonia would answer fish paprikash. Each region has its own traditional Croatian food and claim that its the best. To me, the best Croatian food is all the Croatian food my mum makes! Tell me you don't think your mama's cooking is the best.

Whilst the culinary scene in Croatia is changing, it's a slow moving machine, and, for the most part, it's not venturing too far from its roots. You won't find any molecular gastronomy served up on some bizarre plate where the portion is so small you're wondering whether a Burger King stop is required after the meal. Instead, be prepared to eat up big, and very well, when you land in the 28th state of the European Union. Traditional Croatian food varies greatly from region to region and Croatians are passionate about their local cuisine. In fact within a region those Croatian recipes vary from town to town. For example when you order your Brodet, don't expect it to be the same as the preferred Croatian seafood in Brodet varies from town to town.

There are so many different types of Croatian traditional food for you to try next time you visit, so we've narrowed down the list and given you some of our personal favourites. Feel free to leave your suggestions for more in the comments.
White Truffle

Not the milk chocolate kind. I'm talking the White Truffle fungus that sets you back more than a thousand dollars per kilo. Lucky they do not weigh very much, but you'll still need to bring your cheque book if you plan to buy one big enough to feed the family. Found in Istria, Northern Croatia, a truffle is something so very unique, in taste and aroma. This is a really popular Croatian food because of the star of the show, the truffle. The most delicious way to enjoy a white truffle is to have it shaved over freshly made Istrian Fuzi, coated in a butter and cream sauce.
Grilled Sardines
Croatian Seafood is glorious. The Adriatic is so clean, which means the fish are healthy and delicious. Those of us that live in the coastal areas love grilled Sardines. We live in Dalmatia and to me this is typical Croatian food. We eat them at least weekly at this time of year! These delightful little fish need nothing more than a little olive oil and salt a few minutes on the grill and the fillets peel straight off the bone. All you need to grill Sardines is to make a fire, wait till dies down till you are left with embers, throw the grill on and then the Sardines. It's that simple. They are one of the best finger foods as you just pinch the fillet and it peels right off the bone. Don't forget to wash these down with a glass of wine from Croatia.
Peka / Čripnje
Croatian cooking is at it's very best with what is known as Under the lid. It's a literal translation for what we here in Croatia call ispod čripnje or ispod peke, depending on which part of Croatia you live. This is something that I would call a Croatian national food, as they prepare it all over Croatia.

Ispod peke essentially is food that is cooked under extreme heat, using a terracotta or steel lid that is in somewhat of a bell shape, and burning wood embers are placed on the peke.  Ispod peke is a great way of cooking as you can feed lots of mouths, you can fit so much into it and it's really easy to prepare.
What goes do you cook under the Peka I hear you ask? The only consistent thing is potatoes. You can cook any meat, fish or poultry. My personal favourite is Octopus. The best part is the potatoes suck up all the meat juices from whatever it is you're cooking and the taste is amazing! In fact sometimes the potatoes are the better than the meat! This is Croatian cuisine at its best.
Kulen
Is a traditional cured pork product from Slavonia in Croatia's East. Making it involves mincing up cuts of pork and lots of belly fat, seasoning it with salt and various spices some of which include paprika and garlic and then stuffing it into a part of the pig's large intestine. Then the its smoked and dried. This stuff is delicious when in Croatia make sure you visit one of the many markets like Dolac in Zagreb or Deli's and ask for Kulen. Don't forget to wash it down with some Croatian wine, like Plavac Mali.
Sarma
Sarma, are little cabbage rolls, and they are a bit on the nose, but don't let that put you off. They are absolutely delish! My Uncle, who, by the way, is the expert on all things Sarma related, made a huge batch for a function with all our Aussie friends once and it was an absolute HIT! To this day, they all ask us about it. He has his own Croatian sarma recipe and still won't reveal all his little secrets as to what makes them so good. Sarma are typically cooked in the cooler months and are pickled cabbage leaves which are filled with meat, rice and some herbs and spices. Like all Croatian food, there are variations on the Sarma recipe based upon your region.
Brodet
This is an amazing Croatian seafood stew which will get your taste buds dancing. Brodet is a fish stew which is typically made with Scorpian Fish and a mix of other species like Conger Eel. You can even use shellfish, crustaceans or my favourite, cuttlefish. The more variety the better. Brodet is made with a tomato, onion and garlic base, but like everything in Croatia the rest of this dish varies slightly from town to town. Brodet is normally served with polenta. When you pour the brodet all over the creamy polenta you will not be disappointed.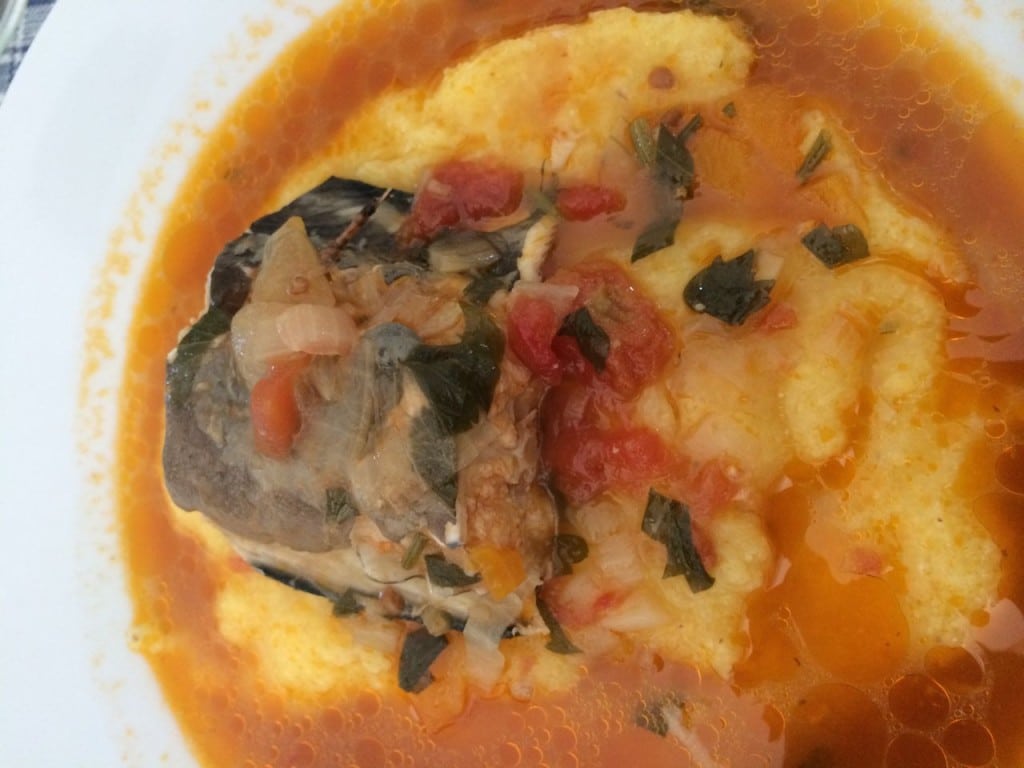 I have a Kraš on you.
Croatia has fantastic, and very affordable candy, much of it made by the company  Kraš. When in Croatia, take a wander down the confectionery isle of your local supermarket. Exported all around the world, you'll see the crispy Napolitanke biscuits for which they are famous. You'll also want to try some of their lesser known candy, like the hard-boiled candy of '505'. Don't be tempted to bite down on one though, as you may find yourself at the dentist. Our favourites are…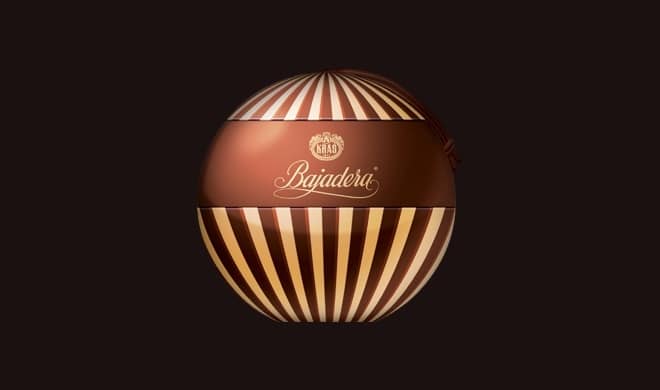 Štrukli
Zagorski Štrukli is a popular traditional Croatian dish served in households across Hrvatsko Zagorje and Zagreb regions and is composed of dough and various types of filling which can be either cooked or baked. Our favourite are cheese!

Kremšnita
Hungry or not you need to order (and maybe learn to make) Kremsnita as dessert. Or at least head into a Pekara (bakery) and buy a slice. The custardy goodness of a slice of Kremsnita or also known as Krempita is far too amazing not to try. My guess is you'll be addicted as I am.
Gablec or Marenda
Not really a must try Croatian food but more of a must try Croatian food experience. Kind of like brunch, Marenda on the coast or Gablec in other parts of Croatia originates from the agricultural roots of the country. Farmers would be up very early to kick off their days and found that they would be rather peckish at around 10:00am. This was too soon for lunch, and far too late to eat breakfast and so Marenda was born. Now you'll find many Konoba's (small family run restaurants) offering Gablec or Marenda. Often it's just a blackboard with the daily options, such as stuffed peppers or my favourite tripice (a tripe stew). Always fresh, and always seasonal you're sure to have a great local dining experience.

Other national Croatian food that we eat often, and can't live without are:

If you have a suggestion for a must-try Croatian food, let us know in the comments. 
Here Are Our Tasty Croatian Food Recipes


Main photo credit: Tomislav Mavrovic
Ready to Pin!