Some posts contain compensated links. Please read this disclaimer for more info.
Donkimir's BiggestBaddest Pinterest Tips
Who the f*ck is Donkimir? Is that what I just heard you say? Well my friend, please meet Donkmir. The star of this blog.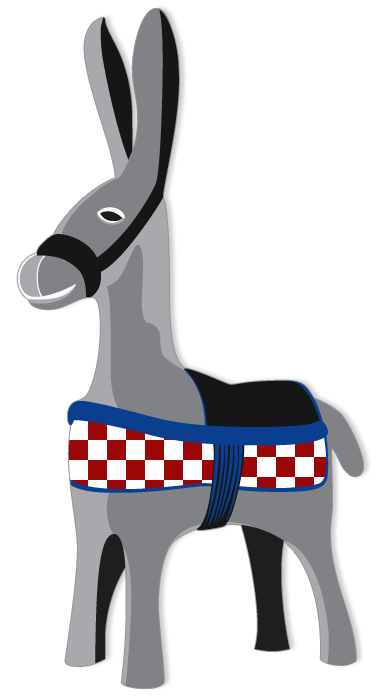 He was born a few years ago, thanks to Monika, a blog reader who named him in a competition we ran..
Most recently Donkimir ticked over into six figures for monthly viewers. Massive really, considering Croatia is such a small, rather undiscovered country. Lots of this was thanks to Pinterest!

Let's chat about Pinterest – the #1 social media referrer to this blog – and how you can copy what Donkimir and I do.
NOTE: I will share links to products and services I use, some of which are affiliate links. Which means if you click on the link and sign up, I will receive – at no extra cost to you – an affiliate commission. I only recommend products or services I use personally and contributed to my Donkimir's success. Any money we make goes back into keeping this travel blog free and fun!
Pinterest Guide to Success
If I had a dollar for every time, someone said, "you are always online, how do you do it?". Well, people, I am not really awake at 4 am like it appears. But you know who is awake 24/7? Social media automated tools. They never sleep. Ever.
I do confess, I have an alarm that goes off hourly to remind me to get on social media during strategic periods – I manage social media for more than myself, so I feel its a part of my work day. But that's a bit insane for just one blog so don't do that – instead here is how you can drive hits to your blog using Pinterest and a fab automation tool.
Ohhh Pinterest, How I Heart You
I Pin and (kind of) forget, and watch the page views roll in each month. It takes around THREE MONTHS of solid pinning to really see any page views roll in, but once they do – they do not stop.
I've learned a lot over the last few years on Pinterest. The biggest and best thing is that your hard work stays on Pinterest – unlike a tweet or a status update, the Pin never goes away. It may drop down the search page results, but it's there.
I use Pinterest as a search tool – after Google of course, but I now check both when I want to find the answers to all my problems, and I am not alone Pinterest is growing in use as a search tool.
Is Using Pinterest For Your Blog Worth it?
Hell to the yes!!! Did you know:
Pinterest 101
Before I show you the tool to kick your Pinterest efforts into high gear, let's do some housecleaning. Here are some suggested Pinterest tips – and a list of what we do.
Clean up your boards
Make sure they have an appeal from the get go.
Give your main boards an eye-catching cover
Create a 'Best of You' board and make sure this is the FIRST board on row #1. Pin your very best Pins here often.
Ensure your best and most popular boards are on the first two rows – no one looks past the first 3-4 rows
Arrange your boards in a way that tells a story – keep travels ones together, the food ones together and so on
Be sure that if you have seasonal boards, make sure they are on the top rows during the key pinning periods – which is two months before the season/event.
Find out what your audience are pinning
Even though it may not fit within your ideal niche – go and look at what Pinterest tells you about the interests of your audience.
You'll find them in the analytics section here. Then, pick interests that are not too far from your niche or brand and create a few boards to match those likes. Eg: I added a casual outfits board to my travel blog Pinterest account.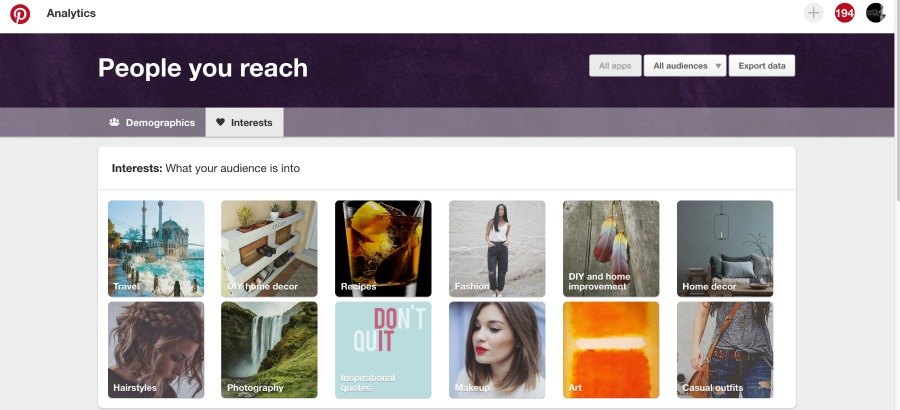 Create a keyword friendly profile and boards
Be clear and distinct in your profile description about what people can find on the boards and what you pin. Use keywords that users are likely to type into the search bar. Add keywords to your:
profile name
profile description
board titles and
board descriptions
Also, don't forget to make sure the category is on each board – this will help boards be shown more.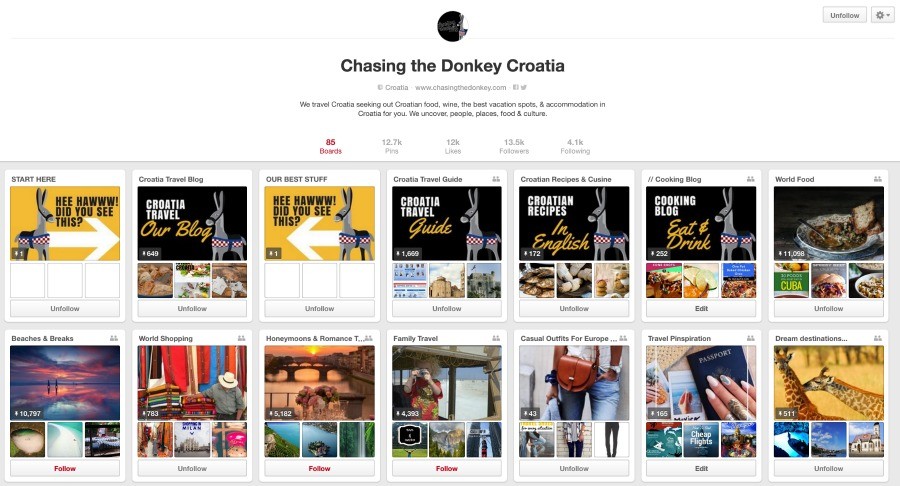 Get Rich
Rich Pins that is. That bold black text showing the title of the page shows you are verified, and helps your Pin stand out. Rich Pins are pins that include extra information right on the Pin itself.
There are six types of Rich Pins: app, movie, recipe, article, product, and place.
Use article Rich Pins if you mainly blog. When you create an article pin, the headline is automatically shown.
Use product Rich Pins if you sell something. The product name and pricing information will be pulled into Pinterest automatically.
HOW: To get started, you'll need to ready your website with meta tag information. If you use the Yoast Plugin, this part is easy. If you don't, and you're not technical, you'll need to get your web developer to help. Step-by-step instructions are here.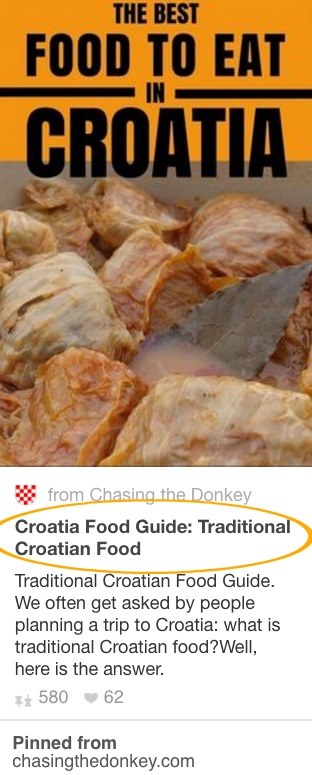 Add a call to action
Add suggestions like click here, learn more and other welcoming lines in your Pin description to encourage Pinners to not just Pin, but to also click over to your page.
Fill your boards with only the best content
Der, what a silly instruction. I know it's obvious, but after years of pinning, I still see almost empty boards and pins so ugly my eyes sting for hours. Even though you need to fill up your boards, be selective.
Don't be too picky, though – you do need to Pin not only your own Pins – but others too. Now, many people will tell you to pin the 80/20 rule. Hmmmm, I disagree, I don't and won't unless I see pins worth pinning in my niche. Mine is much closer to 40/60. Where as for my clients who have broader niches, I do stick to the 80/20 rule on most days – but not always if quality Pins are not there.
Make your personal boards secret
Doing a home reno or personal travel planning? Hide those pins and keep them secret. Keep your boards on topic to interests listed in your analytics. Secret boards can be switched on if you change your mind later.
Create eye-catching Pins that stand out
I now have a Stockunlimted stock photography account – great photos are essential! I also with permission use photos from Croatian photographers (thanks guys!). Be sure to make pins that stand out:
Use catchy text overlays
Make sure the text on the Pin can be read easily on mobile
Use the correct size – always portrait, never landscape

Crop your existing photos if needed
Pins in the feed with be 238 pixels wide and when you click on a pin it will expand to 735 wide.
My suggested ideal size is 735 wide and 1102 tall, if you don't like that size it's recommended that you use an image that is 2:3 and 1.3:5 (with the minimum recommended width being 600 pixels).

Don't use the exact same templates everyone else is using, if people copy you – switch it up!
Here is a great post on how to create great Pinterest-worthy images from a graphic designer.
3 Sites to Edit and Create Images
There are stacks of free online sites to help you create Pinterest ready graphics. Are you looking for graphic design website that you don't have to be a designer to use? Yay, you're in luck. There are lots of great sites out there to choose from. Here are 3 sites to edit and create images:
Canva
This site offers a lot of cool photo effects, including filters, blurs, photo frames, and more. There are also a lot of things Canva can help you do with your photos. You can create designs and use templates to build cards, flyers, posters, wallpapers, gift certificates, postcards, menu covers, photo collages, and more! While you can share some of your designs digitally, others can be printed and mailed.
PicMonkey
This is another great graphic design site to check out. It provides some basic tools to help you crop, resize, and rotate your photos. PicMonkey also allows you to retouch your photos also allows you to retouch your photos, create background textures and add overlays, photo effects, and more! The site also offers a collage maker. Your collages can be used as Facebook cover photos, birthday cards, wedding invitations, and more!
BeFunky
This photo site allows you to edit and touch-up photos. With BeFunky's photo editor, you can add cool effects, text, frames, overlays, and so much more to your pictures. The site also allows you to make custom graphic designs and collages.
These are just a few of the many sites to edit and create images. Even if you have no experience with graphic design, these sites all make it easy to create cool pictures and custom designs.
If you can't make Pins that look good – pay someone to do it for you. You can find people to make them for you from around $3-$5 each.
Create multiple pins for each post
One design may not get any traction as it's not appealing to your audience. One pin may get lost in a sea of pins that day – so, create multiple pins with different looks and pin them over a few months.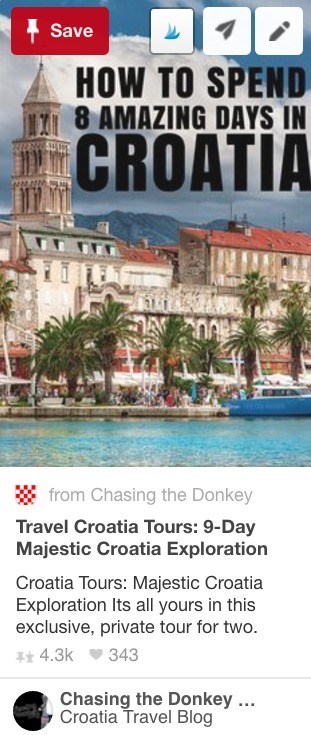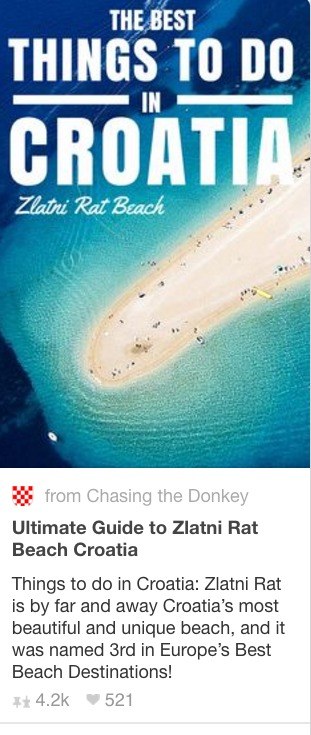 Pin consistently
After you've got pins ready, it's vital to pin them to your own – very well organized boards. How many times you should pin is a guess really, not even Pinterest will say (I know I spoke with them last year).
I'd say aim for at least 5 but go upwards to 30 a day. If you have lots of boards I suggest you use an automation tool to save time and pin at the right times – keep reading I'll show you how.
Add 'Pin it' buttons to your website
Make it easy for people. You can either install one of the gazillion social sharing plugins or add a Pin It Button direct from Pinterest here. They have a range of colours and sizes to choose from. Or, do like I have, and have both options.
Add Pinterest ready pins to your posts
I am greedy, and want Repins in Pinterest and from blog readers, so I suggest you add your Pin to the blog post – and say "Ready to Pin" or "Save to Pinterest' or similar to encourage people to Pin direct from the page.
Verify your site
Doing this is easy. Go to your analytics area, and add in the code provided by Pinterest to your head section of your website. Once installed, you can see what people are pinning from your site.
Add your URL
Weirdly Pinterest still allows you to add a Pin without adding the URL. It can be easy to forget – so make sure each Pin links to the specific URL. You'll know you forgot if it says 'uploaded by user.
Schedule Pins
Screw pinning at 3 am. And 3 am may just be when your audience is online – instead, use an automation tool to do it for you.
HOW: Use Tailwind to pin. It has loads of other benefits.

Pin Smarter With Tailwind
Once you are done with the 101 steps above, get Tailwind – and use it to the max.
This automation tool is the bomb. Seriously, sign up to a free plan, try it, and if you love it as much as me, you'll happily pay each month.
I started Pinning with it around March 2015, I used a free account before signing up to a paid plan. Then I got hooked on the progress, and upped the ante around two months later – the rest is history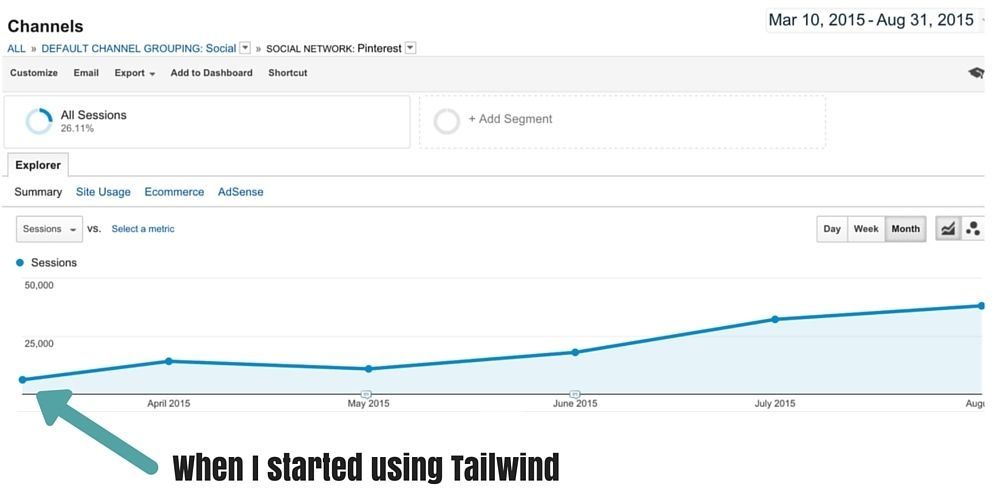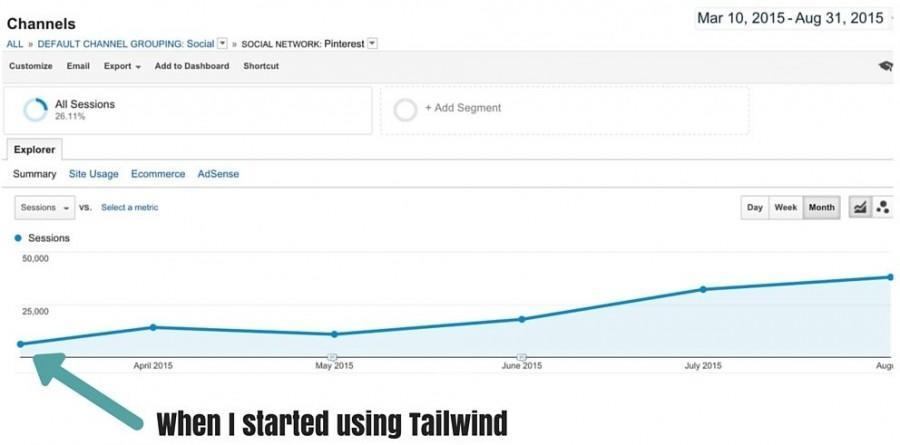 What Can Tailwind do?
Group board analytics
Schedule Pins
Bulk load pins
Tell you the keys times to Pin
Set up board lists
Pin at intervals decided by you down to the minute
Shows you the best-performing pins
Build a tribe and save time finding Pins
Chrome, Firefox or Safari extension to Pin faster
1. Group Board Analytics
How many group boards are you in? If none, eek, sign up to some now. You can find ones in your niche two ways:
Use PinGroupie – a free service
Go to the Pinterest profile of your competitors, people you aspire to be like or brands that mesh with yours and see what group boards they are on – and ask to join. TIP: I find sending a direct message more effective than just leaving a comment on a pin.
Group boards will give you added exposure – just make sure you find ones that fit your niche. Some boards have hundreds of thousands of followers, others just a few thousand. Don't worry too much about the number of followers, but do look at the pins, make sure they have re-pins. There is zero point adding Pins to a group board if no one is Pinning them.
Back to Tailwind – once you have been on Tailwind for a little while, you can use the Tailwind analytics to see which group boards are not worth your time – or which ones you should pin to more often.
HOW: On the first page of the weekly dashboard, you can see the top three boards (in this case my best ones are all my own boards),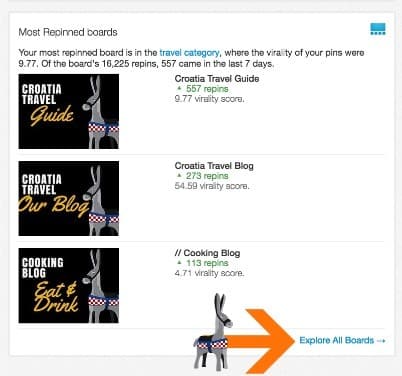 Then, you can click 'Explore All Boards' and you can see all of the boards you are on, and sort by a stack of options, like how many repins a board gets – I use this as an indicator as to what boards I remove myself and my clients from.
I also look at the number of followers boards have gained in the last seven days – if that grew a lot in the last week, I look to pin more to that board, so new followers see my pins.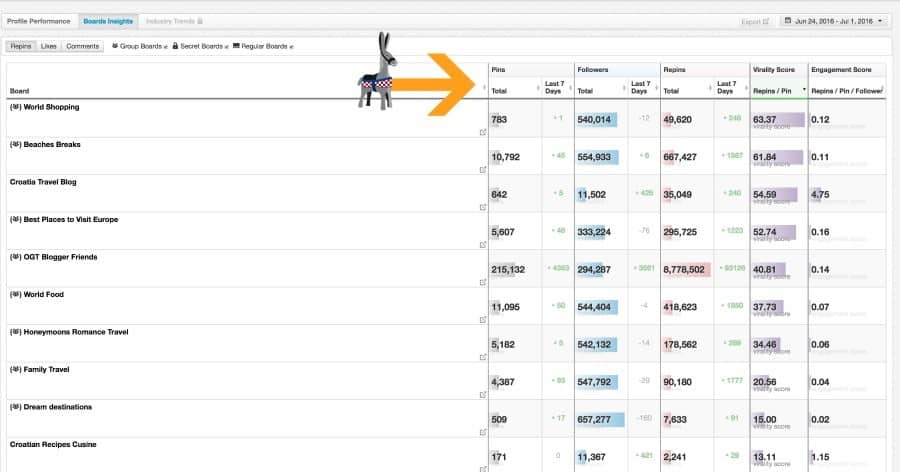 2. Schedule Pins
Tailwind has loads of features and analytics to help you use Pinterest to drive traffic to your website – but, the best part of this app is that I am able to schedule all my repins across several group boards with just a few clicks.
It is super easy to use, and it means that when I add a new pin to Pinterest after publishing a post, I can quickly schedule it to dozens of boards over the course of several months.
I love Pinterest, but even if I committed to Pinning daily, I'd miss out on the main time slots for my Australian & American audiences while I sleep as I am based in Europe – so while I am sleeping, Tailwind is pinning, and I see the page views when I wake up. Yay!
HOW: Once you have uploaded a pin, added your descriptions and chosen your board, you can click 'add to queue now', and it will go into your list of Pins to be posted (see point four on choosing key times)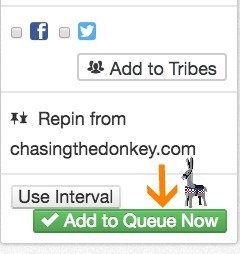 3. Bulk Load Pins
I don't create Pins one-by-one. Instead, I load them in bulk weekly. I have one set day a week for each client and monthly for myself. By using the bulk uploader tool you can add the creative all at once – but still, choose individual descriptions, boards, and times. This saves ooh-so-much time.
4. Let Tailwind Find Keys Times to Pin
Let the app determine when it's best to Pin. Tailwind has a Weekly Pinning Schedule, and in it, you can make a few quick clicks to decide how many times a day you wish to pin and the app will suggest to you the best times to pin – right down to the minute. Over time it will suggest more times, you can accept them, or choose to ignore them.
Tailwind will help you look less spammy by spreading out your pins across any time period – rather than them all showing up in the feed all at once.
I am wary on Pinning on 100% automation, so I also Pin manually daily – or at least a few times a week. Equally, I delete old scheduled time slots and choose new ones every few weeks. This is probably overkill; I just worry about appearing like a robot to the Pinterest algorithm.
HOW: Go to 'your schedule', and click on 'Add Timeslot' if you wish to specify your own time – the time will then turn gray.
If you want to select the time the app deems best – click on the time in white – like the 5:18 AM example below – the timeslot will then turn green and become active (if not just leave it, and nothing will happen)
The two colors allow you to know which ones are your timeslots vs. the Tailwind timeslots. Then, go and select as many as you like!
Once you have picked your times, it's set forever – or until you add or delete times. It will take you 10 mins or less to set this up.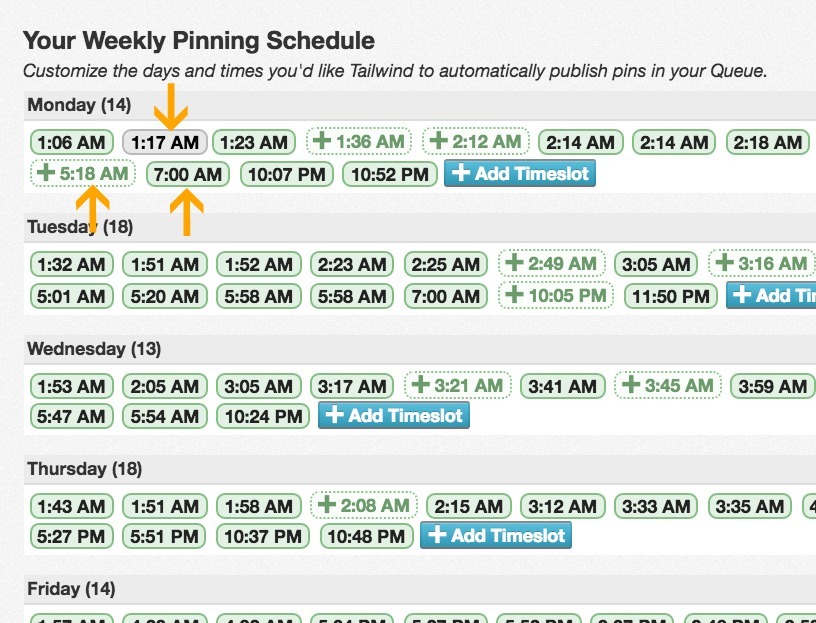 5. Board Lists
One MASSIVE advantage of Tailwind is to set up 'Board Lists'. These bad boys let you choose dozens of boards to pin to with just one click. No, really just one click.
HOW: First of all you need to take 15 minutes to set them up, once they are set up you can add or remove boards at any time (and you should).
Once in your board list menu, you can click 'create a new list' then you simply:
Give the board an obvious, easy to recall name
Select the boards you wish to add from a drop down list
Add as many or as few boards that fit the board type
Here is one board list example for one the accounts I manage – other accounts have 20 or 50 boards on each list.
Don't add boards to the list that do not 100% fit – there is zero point adding a pin to a board if it does not suit. It won't be repinned. Remember, part of the Pinterest algorithm is that your pins are popular; that is, they are being repinned, receiving comments and likes.

BONUS TIP: I regularly go through these and add and delete boards – I decide which boards to pin based on the analytics as described in step #1.
I have zero proof from Pinterest, but I am convinced that you can't 100% automate Pinterest and have success – after speaking with other bloggers, they agree. Some saw massive drops in traffic after automating 100% of their efforts.
6. Pin at Intervals to Multiple Boards
Once you've created the pin, loaded it up – then with Tailwind you can add the Pin at various intervals to all of the relevant boards (make sure you have already set up the board lists to save you clicking each board one-by-one).
You can choose to Pin in any interval you wish – an hour, a day, all the way up to every 90 days.
Here is where you should select your own boards AND the relevant group boards. This is another massive time saver – and gets more eyes on your pins outside of your followers.
7. Pin Inspector
Find your best-performing pins using the Tailwind Pin Inspector – and when you find them, you can repin them again to one or many boards or tribes (see next point) with just a few clicks.
Repinning your old pins means you don't need to create new ones, and because you've joined new group boards (if you have not, you really should) you can add them to those boards you missed last time you Pinned.
8. Build a Tribe
This is still in Alpha testing, but you can join in the tribe fun by being invited to a Tribe – I have a cooking tribe and also a travel tribe – if you want to join one send me a private message on Pinterest with your email address and say which one suits you.
A tribe is where you can submit your Pins to be repinned by fellow pinners. Each tribe has its own rules – usually, the rule is for every pin you submit, you need to repin another. Simple!
The best part of this feature is to save time finding Pins that are in your niche, and from sites, you trust the content from.
HOW: Just as easy as every other step, except you just tick the box 'Add to Tribes', and select which tribes the pin is suitable for.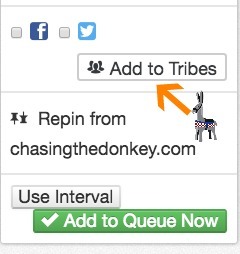 Each tribe has stats – you can see how many repins you have had from fellow tribe members. You can also see the reach (see 5.1 million below) your pins are getting – to see which tribes are worth being a member of.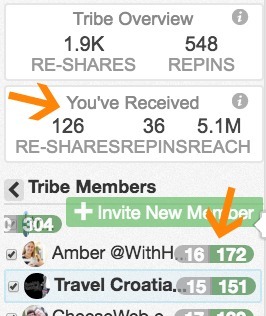 9. Browser Extension
The Tailwind Publisher extension makes it easy to schedule and publish content to Pinterest. You can find and Pin multiple images from any website via the toolbar button. It also shows a "Schedule" button when hovering over large images on any page – which as you guessed it, saves you time scheduling pins.
HOW: Get the free extension here. Then, open the page, and click the Tailwind extension. It will open up a page like this. It will show all of the photos you can select.
Select the ones you want to pin (remember don't pin landscape)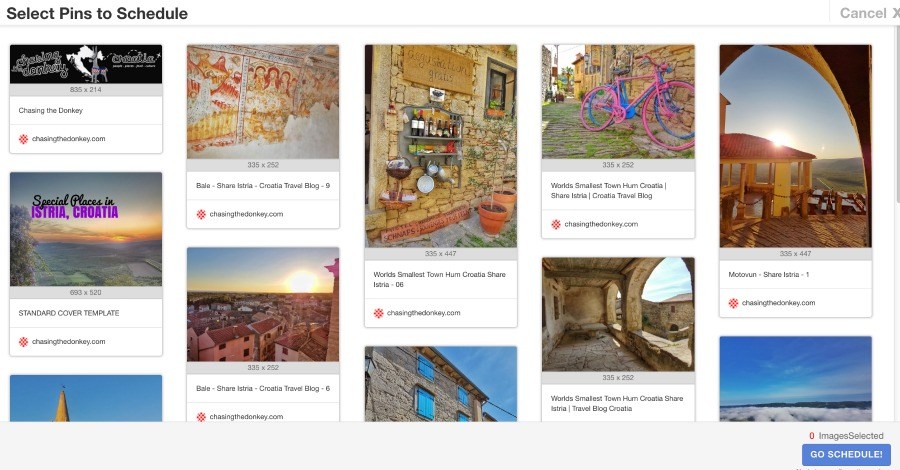 Then you can add descriptions, choose boards (use your board lists), add to tribes, queue them or manually select exact times you wish.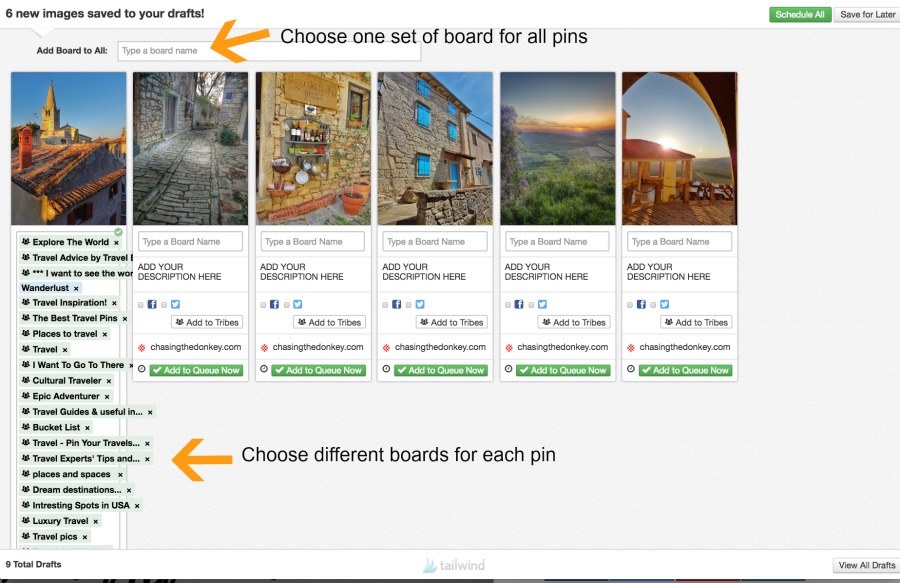 Other Pinterest Tips
It's not just all Tailwind – I also have a set list of Pinterest related activities and performance checks I do.
Video
There is no need to limit yourself to images – I do as I am not a vlogger, and neither are any of my clients – Pinterest doesn't restrict you to pin just images. You can also pin videos from Vimeo and Youtube
Descriptions
The image is key, but the description still is important. Descriptions help with click-throughs (remember to add a call to action). As well as adding keywords, make the description around 150-300 characters – Pinterest allows 500, but I have concluded after testing, that that's too many.
Manual Pinning Activities
So, as I have already mentioned several times – don't 100% automate. It is, after all, a social network. The manual pinning does not have to take up a lot of time – I have the app on my phone, and I do it when I am waiting in lines or before I go to sleep. I also comment & like pins manually.
I don't waste time commenting on just any old pin, I only comment on popular pins. Why? Just to get more exposure for my accounts – if the Pin does not have thousands of likes and Repins, I don't comment (see below in the what did not work section for more details)
I also set aside time to go and find new pins to schedule – so at this time I manually pin. It really takes almost no time at all. The new Pinterest feed shows you relevant pins, and often many can be found waiting for you there.
I also have a list of Pinners I like set in my bookmarks, and hit the bookmarks and repin from them with just a few clicks.
Mass Planner
I played around with a few things on Mass Planner, and I am far from an expert in this area. I am testing now, so once I have some proof of what works I'll update this section.
That said, the following is very easy to set up in Mass Planner – and though it's $10 a month – you can manage more than just Pinterest with it. I currently use Mass Planner to:
Auto-like. Set to like pins with keywords related to my niche
Auto-follow. Set to like boards related with keywords related to my niche
Find viral pins. You can find viral pins (pins with thousands of repins and likes) based on your keywords, and have them repinned to a board. Once Mass Planner finds these, I decide which ones are worth scheduling to multiple boards. This way you grow your boards with high-quality images and as an added bonus be seen by other pinners that may follow & Repin from you.
I know other bloggers who:
Auto-repin. This is not something I like to do from other people's boards to my own boards. After testing, it was too hit and miss. There are too many ugly and wrong size pins on Pinterest for my liking. I am very fussy about what I pin. Though you can set this feature up to autopin from your own boards to group boards. But, as I use Tailwind to schedule, I do not want to have two automated tools running at one time. If you do – I'd love to hear how it works for you.
HOW: Join Mass Planner here – you get a 5 day free trial period and then, membership is $9.99 a month (even less if you sign up for six months)
Use Google Analytics
Numbers are everything. I don't do anything on my blog now without first checking analytics (well, okay almost anything) – Google Analytics (GA) tells you which EXACT PINS are bringing you traffic. Find out which ones – analyze why and repeat the success. Look for:
Style of pin – recreate more that look like it
Board it was pinned on – Pin to that board more often – or ask to join the board
Move the Pin – If it's on a group board, move to your own board. I do this just in case that group board gets deleted one day. Small chance, but I am not risking that traffic.
HOW: In your Google Analytics account go to Acquisition >>> Referrals >>> Pinterest. Look at the 'Sessions' column to detect high-performing pins.
Get Serious About Pin Creative
Once you've got all of the basics, and scheduling down, think about the data behind a pin. Curalate found out that:
The most repinned images have multiple colors: Images with multiple dominant colors have more than 3x more repins per image than images with one color.
Very light and very dark images are not repinned as often.
Red images get more repins than blue images.
Red, orange and brown pins receive 2x as many repins than blue images.
Images that contain less than 30 percent background (e.g. whitespace) are repinned the most.
Brand images without faces receive 23 percent more repins. (Why so many bloggers insist on showing their face is a mystery to me)
Convert to a Business Account
Looking at GA is great, but to get the full effect of your analytics, you need to have a business account. It is free and gives you so many great juicy details about;
What is being pinned
Impressions
Viewers
Engagement
Last 30 day, pins, clicks, and likes
HOW: Details on how to convert can be found here.
What to Pin?
Of course your own Pins, but what else? Find Pins with keywords related to your niche. To find out which keywords people are using when they search, all you have to do is type words related to your industry in the search box – popular suggestions automatically pop up. Eg: When I type in the word bathroom, autosuggestions like bathroom ideas, bathroom decor and bathroom storage show up.
Use Pinterest to help you, I regularly go to the popular tab and Repin from here – and also get ideas on Pin designs
I have a few travel clients, and I look for Pins that fit these categories:
How to save/go/see/find guides
Infographics
Listicles
Packing tips
Travel gear and hacks
Itineraries
Photography
Quotes
Most pinned categories:
Food & Drink
DIY & Crafts
Home Decor
Holidays & Events
Most browsed categories:
Food & Drink
DIY & Crafts
Home Decor
Want to Reach Men?
Most popular Pinterest categories for men:
Food & Drink
Technology
DIY/Crafts
Humor
Gardening
What Did Not Work & What You Should Stop
Leaving Pinterest in the hand of a VA in India. God damn, what a disaster that was. Bad, bad, bad. It was cheap, but I saw so many things go wrong – too many to list. I still see stuff that I delete. Only trust leaving your Pinterest efforts to someone who knows what they are doing – ask to see their own board and stats as proof they know what is what! It's one of the reasons I started offering the service to others.
Deleting Pins with no or lownumber of pins. Waste of time. Sigh. Pinterest confirmed (I spoke with them last year on a conference call) that it serves no purpose to do this – and now that Repin numbers are now aggregated it's even more stupid to waste time to do this.
Automated comments. Oh man, this sucked big time. I tried so many ways to do this via Mass Planner, and nothing worked, I found comments on my own pins and too many repetitive comments. That trial failed for me. I have turned this off for all clients now. If you have any tips on how to automate that – let me know!
Hashtags. Not only is it ugly, Pinterest tells you n0t to do this. I stopped a long time ago, but I still see hashtags being added. Stop doing it right now.
Pinning threads. I tried several, across several niches. They don't work. You end up pinning the ugliest Pins and are stuck with Pins that do not suit your brand – all in the hopes everyone else Repins your Pin – they don't. Instead, use that time to find group boards, add the group boards to your board lists and automate it. Much better use of time.
100% automation. When I quit blogging last year (that lasted just a few months) I left Pinterest on automation. I saw a drop in traffic. It also coincided with the time of year fewer people are Pinning about Croatia, but the drop was so dramatic it seemed to me that it was part of the reason.
As I also mentioned, other bloggers have also told me that 100% automation saw them take big dives in traffic from Pinterest.
Summary
Complete the Pinterest 101 housekeeping
Create unique and attractive looking pins
Have multiple designs for each post
Be consistent
Be social
Use an automated apps like Tailwind & Mass Planner in conjunction with manual activities
Join group boards and leave underperforming boards
Remember, it takes time – at least three months – to grow a Pinterest account. Good news is that you'll see small wins within a month.
For example, I took on a Pinterest account for a client at the end of May, – it had been inactive for a year+. I spent a few hours the first two weeks merging boards, creating covers and rewording board names etc. And then, I started pinning on the last week of May. Here are the results 4 weeks later.


If you love the idea of growing with Tailwind like us, I'd be so grateful if you'd sign up using this link.
.
Something to add? Tips you'd like to share? Want to ask a question? Hit me up in the comments below. Happy Pinning!
Share