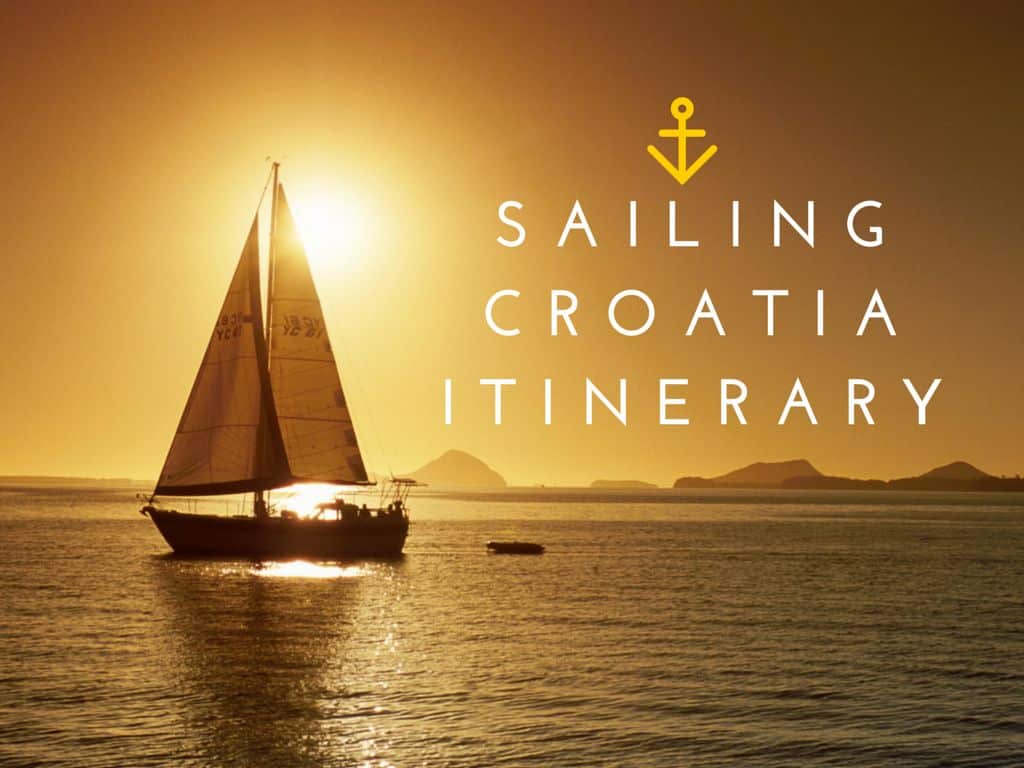 Sailing Croatia: 7-day itinerary from Split
We're looking at sailing Croatia options for this summer. So many route choices.  So little time. When chartering a vessel in Croatia, you are usually required to book the vessel for a week.  Seven glorious days sailing the Adriatic Coast. Bliss. But first, you have to choose where to go. Here is one of the many options that we've been considering.
Seven days departing & returning  to Split.
Suited to those who want to avoid the partying and clubs and instead enjoy the cultural sites. 
Sailing Croatia day 1 – Split – Šolta
Maslinica is the only settlement on the island of Šolta's western coast. Known for it's mini-archipelago of seven isles, it's the perfect place to dive and fish.
Sailing Croatia day 2: Šolta – Zlarin
Continue diving and fishing on the mostly uninhabited island of Zlarin, located in the Šibenik archipelago.
Sailing Croatia day 3: Zlarin – Skradin
Skradin is a city with a historical city located close to the famous Krka National Park, popular for it's waterfalls.
Sailing Croatia day 4: Skradin – Šibenik – Tribunj
Head to Šibenik, where you'll find the UNESCO-listed Cathedral of St. James in Šibenik. The Cathedral is a magnificent example of a blend of architectural heritage from northern Italy, Tuscany, and Dalmatia. The most significant of architectural Renaissance monuments in Croatia, the Cathedral of St. James stands majestically over its many visitors. Tribunj is a town 15km from Šibenik, known for its summer donkey race. Be there as people race stubborn donkeys, and also enjoy the quiet beach near the town of Sovje.
Sailing Croatia day 5: Tribunj – Primošten
Pull up anchor in one of the 400 berths at the Kremik marina, said to be one of the safest places to anchor in the Adriatic and enjoy the azure sea – and perhaps a few glasses of wine. Primošten is filled with stone houses and would make a great place to spend the day wandering the cobblestone streets.
Sailing Croatia day 6: Primošten – Trogir
Trogir is a city-museum, the castle, and the tower, surrounded by stone walls, contain the old core of Trogir. Home to one of the best structures of medieval architecture in Europe, it boasts the best-preserved Roman-Gothic complex in Central Europe. Enrolled as a UNESCO World Heritage Site in 1997 due to its unparalleled beauty and cultural value.

Sailing Croatia day 7: Trogir – Uvala Krknjaši (Veli Drvenik) – Split
Veli Drvenik is an island in the Split Riviera, close to Trogir where you'll find the Uvala Krknjaši cove. There is a small resort in the bay which offers accommodation and fabulous kayaking options.
How does this Sailing Croatia itinerary sound to you?