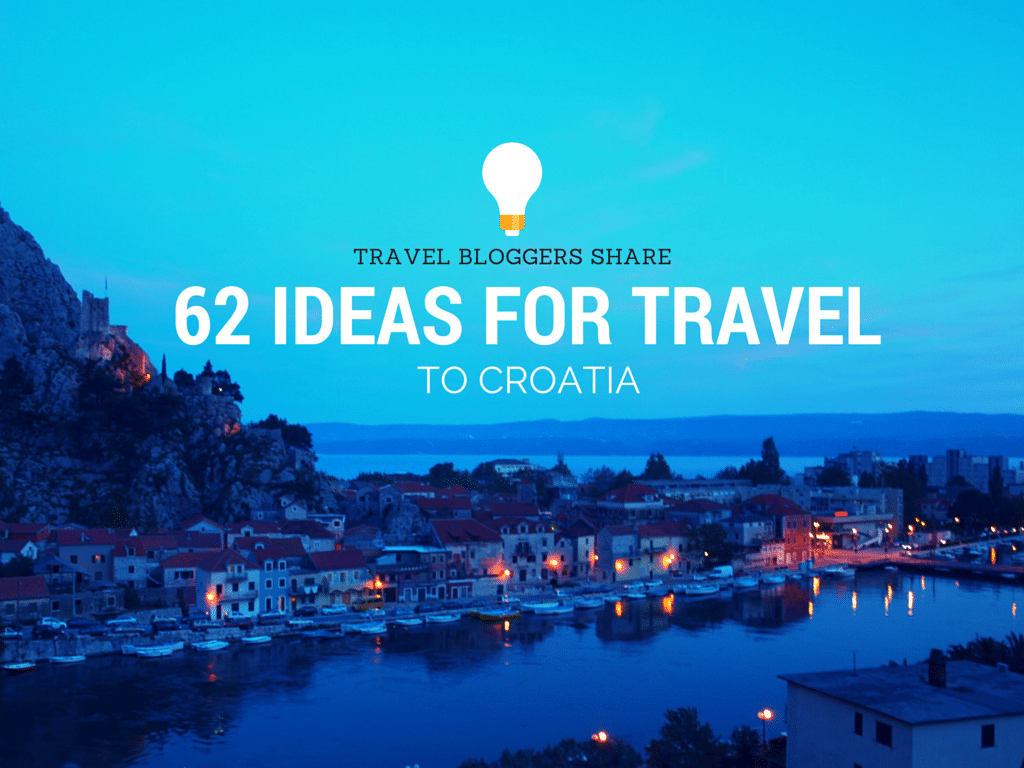 Croatia Travel Blog: 62 Inspirational Stories For Travel to Croatia
We have lots of ideas to inspire you to travel to Croatia – well, at least we think so. Our Croatia travel blog lists what to see in Croatia, things to eat while you're wandering the cobblestone streets, it has accommodation suggestions while you and your family are here soaking up the sun beside the azure Adriatic Sea, and we've even shared stories about Croatian Culture. In fact our most popular post is a list of best things to do in Croatia but, we don't want you to take just our word for it. So here we share stories from a fabulous bunch of travel bloggers that will have you packing your bags to travel to Croatia.
Ideas that will make you pack your bags and travel to Croatia:
Everything Everywhere has beautiful pictures of the 7 UNESCO World Heritage sites in Croatia to inspire. If the photos are not enough to help you decide where to go in Croatia, then you can read all about the 7 UNESCO sites here.
Santa-Fe Travelers has great suggestions for Zagreb in winter, especially over the festive Christmas period and into New Years Eve known as Advent u Zagrebu, which we enjoyed and recommended highly.
The Planet D suggests you kayak to a deserted island from Rab. The post is full of beautiful pictures and praise for the hospitality, courtesy, and personal touches that the family run business provides for travelers looking to explore the sea.
Walking On Travels has a resource for vacation rental sites worldwide, including some in Croatia. She travels with her family, so each resource has her reason for why they are good for families to work with. If you are inspired to bring your little ones with you, we can recommend loads of things to see in Croatia with kids.
True Nomads calls Dubrovnik paradise. No kidding, we all know that! When his bus from Montenegro came around that last turn, and he laid eyes on this magnificent walled city he fell in love. If you want to enjoy Dubrovnik, we have some great hotel suggestions in the UNESCO-listed town. 
Matt from Landlopers suggests 42 reasons he loves Croatia. From tasting cheese from the Island of Pag to hiking and climbing the cliffs in Paklenica National Park to exploring the castles in the Croatian countryside.
Travel Croatia Now offers 5 off the beaten path ideas for travellers coming to Croatia who want to avoid tourists. Suggested activities are included for each of these locations: Vela Luka (and other nearby islands of Croatia), Peljesac Peninsula, Lika & Gorski Kotar (Inland), explore the lesser-known Croatian islands (Lastovo, Bisevo, Uglijan) as well as road-tripping through Slavonija.
GoNOMAD suggests renting a private island in Croatia. They chose Prisnjak Lighthouse Island and the group staying in the lighthouse said it was nothing fancy or state of the art, but the luxury of feeling isolated in the sun and sand was worth every penny.
Twenty-Something Travel suggests travelling to five Islands of Croatia. Her picks are Korčula, Bisevo, Mljet, Brač, and (top destination) Hvar. Private yacht charter Croatia is suggested as the ultimate way to hit the best of Croatia in one trip.
Dream Euro Trip places Hvar Island as one of the top places to see in Croatia – and added it to  his top 13 cities in Europe to go clubbing guide. He highlights beach parties at Carpe Diem Beach and Hula-Hula (best beach bar in Hvar where you can drink and watch the sun set over Adriatic). Get ah-may-zing advice from Total-Hvar for the latest party updates.
A Luxury Travel Blog lists the best kept secret cafes in Croatia along with the cities to find them and what to see in Croatia once there. This blogger used to blog about the best restaurants in the world but is now switching it up with coffee culture. Some Croatian coffee history is also given. We can help you pick the best coffee (or tea) to suit your tastes with this Coffee in Croatia guide.
Celiac Travel writes about how to experience Croatia while being a Celiac. Although hesitant at first, she found it was easy to eat in Croatia while avoiding gluten products and restaurants were more than willing to work with her dietary restrictions.
The Travel Bite has some tasty recommendations for what to eat in Croatia (along with what to do in Croatia). And, if you want to try to make some of it yourself? Here are some easy-to-make Croatian recipes from us.
A Taste of a Travel Blog has 7-fun-filled weeks of suggestions to keep you busy, and stuffing your mouth full of tasty treats.
Travel Tales of Life has a humorous look out of the window of the hotel window at Diocletian's Palace ringed with ancient tombs. Gorgeous photos and a brief history lesson show you one of the most interesting locations to see when visiting Croatia. I always see this palace as a great start to a honeymoon in Croatia.
Travels with Tricia has an awesome post with awesome photos of this couple's experience with friends eating and drinking 400 meters above Split. The emphasis is on homegrown, home-cooked food in Croatia and eating with locals. We could not agree more! You may want to start planning what to eat in Croatia before you come – there is so much to choose from.
Wanderlust spent just 275 pounds and saw Croatia. From Split's Diocletian's Palace to jumping a catamaran to Vis to see the Blue Grotto to heading to Zagreb by coach. She wandered the Dolac Markets and old town, visited Mirogoj Cemetery and enjoyed eating tasty burek. Great ideas to see the country on a budget. Our friend Andrea has an affordable apartment right in the heart of the action.
My Wanderlust says that Zagreb is a hidden gem in Europe. Saying that it is one of the most underrated cities that deserves so much more attention, and here she shares a photo walk through the street art scene in Zagreb.
Pack me to suggests a day in Zagreb to wander around the beautiful capital of Croatia. Here is a Croatia travel guide for what you can explore and do in 6 hours. While you are exploring, don't forget to look out for the colorful pimp my pumps about town.
Nomadic Samuel has 5 European places you might have missed and highlights Zagreb as one of the places to see in Croatia. He says it's worth venturing in from the coastal regions of Croatia due to the Zagreb's quirkiness, beauty and the most beautiful cemetery in Europe.
Like Croatia suggests you visit a town in the center of Lonjsko Polje National Park at the right time of year and you will see the village full of storks. This area is home to other species like the Short Toed Snake Eagle and the Grey Heron. Educational guides and tours of Croatia are available, even when the birds are gone.
Wine Travel Guides describes a wine tour through Istria with some history of the region, vineyards/wine producers to visit, accommodations to stay in and restaurants to dine in. A foodie and wine lovers holiday.
The Blonde Abroad says that if you are a globe-trotting gourmand, then you should look no further than Istria.
A Luxury Travel Blog says that Dalmatia makes the cut for one of the 7 best places in the world to drink wine. With each island bringing it's own flavor to the wine, island hopping along the coast is the author's favorite Croatian pastime. Here are 20 more ideas on Croatian wineries to add to your vacation bucket list.
GoNOMAD were in Northern Croatia and shared this list of the top 10 wine destinations. They also have things to see in Croatia, architecture, dishes to try, and most importantly, vineyards to visit.
As The Bird Flies offers mostly photographs of the sleepy town of Novigrad in Istria. This blogger "grudgingly" shares of her lovely, quiet, and non-touristy weekend escape in the hopes it remains just as quiet upon a return trip. 
Fathom Way To Go has a more in depth post about the little villages and big cities in Istria, along with accommodation options, restaurants, sites and more. Complete with information for olive tours of Croatia, truffle hunting and ultimate nature destinations along with ideas of what this traveler wished she had done.
Green Global Travel added Cres to their 10-Eco Friendly Islands for the World Travel Bucket List. The short article lists highlights to be Eurasian griffon vultures, the freshwater Lake Vrana (legend tells a castle is buried beneath), hiking trails, forests and bottle nose dolphins.
A Luxury Travel Blog shows you the Slavonia Music Festival. Each year, the area celebrates for four days. The celebration is to honour the harvest of the region's grapes. Culture is celebrated with dance, costumes and music, and while there, be sure to check out the Baroque castles and try the famous dish known as fish paprikash.
Also on the A Luxury Travel Blog is Zadar. Described as a city with the charm of Florence with equally excellent food, wine, and cafe culture but with a lower price tag. This piece focuses on things to do in Zadar on a long weekend.
Travel Mama highlights what to do in Zadar with kids (calling Croatia one of the best vacation spots with children) – Old Town, Church of St. Donat, Sea Organ, Greetings to the Sun, visiting Preko, eating octopus salad and gelato.
Never Ending Footsteps is another traveler who agrees with Alfred Hitchcock, that Zadar has the most beautiful sunsets in the world. Not much text to this blog post, but some stunning sunset pics.
A Luxury Travel Blog lists cycling Hvar Island as one of the top 5 cycling rides for the author. Meals of grilled octopus and Adriatic fish along with stunning scenery helped make this one of the most beautiful rides they experienced. For more cycling adventures, hints and tips, check out Cycling Hvar and Cycling in Croatia.
Urban Travel Blog raves about Croatia in September, both the beauty and the fact it is a tourist free month. A 3 week cycling trip (averaging about 50km per day) took this traveler all over the Dalmatian coast and this post discusses the route and sites seen along the way.
Wanderlust Travel Magazine ranks Hvar in the top 8 amazing lavender fields in the world. Locals produce lavender oil the traditional way. When you get there, you can whip up your very own lavender cocktail.
Adventure for the Unadventurous has a Croatia travel guide for seeing the waterfalls and canyons of Rastoke (still technically part of the Plitvice Lakes but 45 minutes north of the main lakes). With far fewer tourists, you will experience more alone time enjoying the waterfalls, canyon, and fresh fish at Petro's. 
Escape Images has some very cool photography of this couple's day at Plitvice Lakes. Photos include some deeper woods shots in the misty rain and tons of vibrant green mosses, lakes and fun umbrellas!
Green Global Travel have a travellers tale about just how beautiful (but also busy) Plitvice is. These two chose route H of the eight courses available and share with you some of their joys and frustrations.
The Life Nomadic experienced camping in the area of Plitvice Lakes National Park. They were blown away at the campground and found the experience added a great deal to their already fantastic time in Croatia.
Adventurous Kate compares Krka National Park to Plitvice, giving an excellent recommendation on why seeing Krka National Park in some cases can be even better than Plitvice. She says it

's not a mistake to opt for Krka. 

Nomad Minority has some good travel advice on how to get to the breathtaking UNESCO site of Plitvice Lakes National Park.
A Luxury Travel Blog suggests Hotel Osejava in Makarska as one of this blogger's most cyclist friendly luxury hotels in the world (along with a few others in Spain, Italy, Canada, USA, Austria, and Netherlands). Located between ocean and pine forests, Hotel Osejava is an excellent base for a cycling holiday in Croatia as it is near some of the best cycling roads in the world. Now who would not want to try one of the best hotels in Croatia?
A Little Adrift was a

 little disappointed that Krka does not allow for offroad hiking (must stick to the boardwalk), but this group was still delighted in the beauty of the falls and a more laid back day than originally planned. Beautiful pictures of the park were captured, even when the weather was slightly rainy.

Our Adventures In Croatia went 

deep water soloing – an extreme sport that has become more popular in Dalmatia. They detail information on the sport along with local climbing agencies/boat prices for trying it out.

As The Bird Flies fell in love with the ocean, saying, "

I learned that the sea is unapologetically wild, and in that is as much risk as there is beauty."

Croatia changed her, teaching her she could make friends, find a place to do absolutely nothing, and conquer her fear of seasickness.
Brendan's Adventures shares his ideas of renting an apartment in Dubrovnik instead of sleeping at a hotel. The biggest highlight for the author felt like he lived in the city.
Globalmouse, who travels with her three children in tow, visited Dubrovnik and spent a day exploring the city and now is determined to return for a longer visit. Just have one day, but don't have kids with you? Well, here is a guide to Dubrovnik for the day that you may like.
Hippie in Heels tells of her round-about way to get to Dubrovnik and how she opted to stay in a private apartment (negotiated at the bus stop). She also highlights restaurant Mea Culpa, walking the city walls and free walking tours, cable car rides, museums and Copacabana beach.
Stop Having  a Boring Life suggests you head south of the Dalmatian coast to the region of Konavle, here you'll find a climate perfect for producing pleasurable and potent wines.
Walking On Travels highlights how you can road trip to Croatia as well as two other countries in 3 days with kids. One day was spent in Rovinj – eating pizza and fish, boat watching, self-guided tour of the church, poking around at the local market and playing at the playground. Short and sweet.
GoNOMAD dines on oysters at Restuarant Fjord on Croatia's Lim Bay and then explores the cultivating of oysters in Mali Ston, traveling to a "small forest in the sea" with a local.
Anneklien's Solo Travels and Adventures shares highlights of her road trip adventure. She visited the old town of Zadar, Śibenik and Split wandering around and admiring the old buildings.

Plum Deluxe

says that when it comes to Croatia, they believe the cliched hype about the glittering blue bays, postcard perfect Adriatic architecture and friendly, bustling night-life.  It's also a great destination for affordable luxury hotels and cuisine.  Take this tour of 7 top spots across Croatia.

A minority Nomad says that a trip to Croatia is not complete without a visit to the Elaphite Islands of Croatia.
A Luxury Travel Blog does not have many words in this blog post, but the author captured a beautiful picture of a sunset in Tisno (north of popular destinations of Brač and Hvar). I wanted to add it to the list because people forget there is beauty in areas of Croatia besides the famous tourist hot spots! Other less known places deserve some credit too, just like Marija Bistrica.
Our Adventure in Croatia suggests that Vis is a picturesque town to bike in and has easy and accessible bike rental. This post has pictures/information about the biking experience along with locals to contact to set up activities while in the town.
A Little Adrift has a page dedicated to Croatia travel – places she visited, best hotels in Croatia, restaurants, and general tips. It was rainy during most of her travels, so the actual blog posts aren't about the sun and warmth of Croatia, but they do highlight was she did in the rain to still enjoy her adventure.
Our Adventure in Croatia went on a sailing holiday, and these bloggers found their way to a sleepy island. Without many tourists, they enjoyed the local vineyards and wines along with the charming, laid back feel to the isle. Little else to do here but drink vino and enjoy the crystal waters and pebble beach! Need sailing tips? Look no further than our guide to sailing to get you started.
Nomadic Matt suggests a Busabout 7 day sailing tour from Split to Split, saying it's a well-organized experience and a cheaper sailing option in Croatia. Travelers spend time in Hvar, Mljet, Dubrovnik, Korcula, Makarska, Omis and Split, and activities are geared for the solo traveler or couples/friends looking to meet other travelers and party. Costs for such a trip have been documented by Sammi at Wanderlust'n to give you an idea how much you need. 
Adventurous Kate says that Pučišća on the island of Brač is a must see in Croatia, is the single most beautiful village she had ever seen.
Sweet Chili took part in the 38th regatta of wooden sailing boats in a village on Lošinj Island, ate at the Manora Hotel, off-roaded to the top of Ososcica mountain, and enjoyed a natural beauty scrub using mostly ingredients from the island.
Last, but not least is from The Blonde Abroad, with a post about Yacht week. If you don't want to rush out and buy a pair of boat shoes after this, you're mad!
What are your suggestions for people who are looking to travel to Croatia?
Our Ideas For Things To Do In Croatia
Are you traveling to Croatia? Great, we've got a stack of suggestion – here are just a few:
A Massive List of Things to do in Croatia
Photo Credit Davor Strenja
Need Help? Ask us.
Ready to Pin!