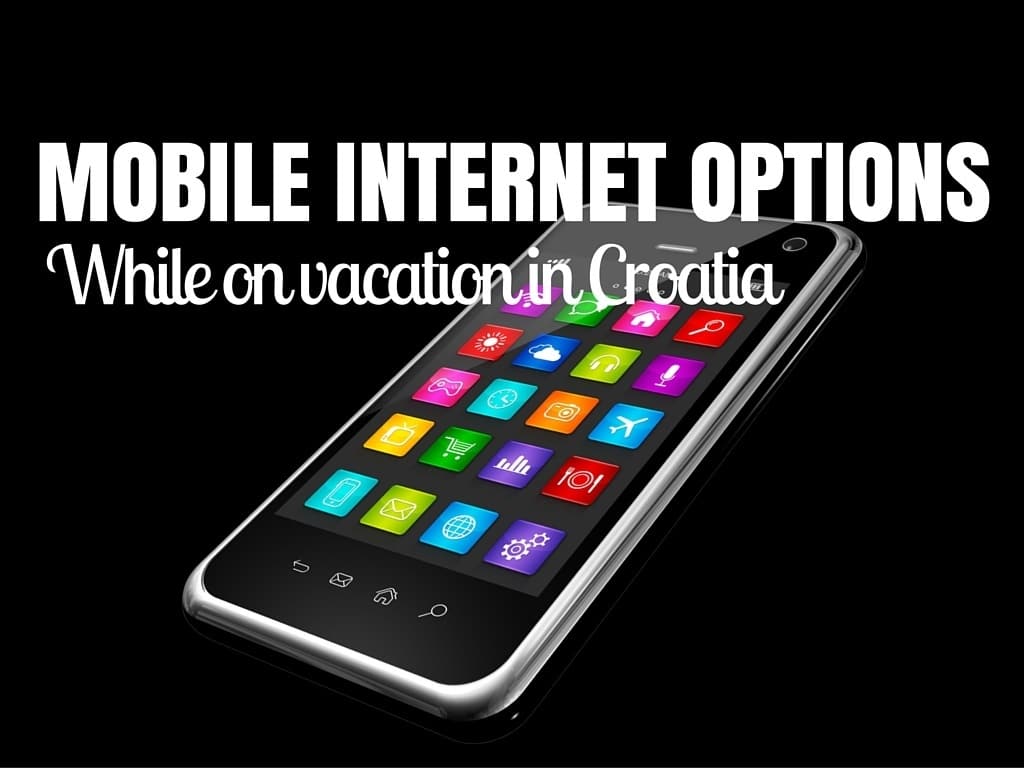 Best Way to Get Unlimited Mobile Internet in Croatia
Is it just me who hates being unplugged while on vacation? I want to share holiday snaps on Instagram – look here I am, come say hi.  I also like to look up ferry times and restaurant reviews as I go – carrying about a massive guidebook is not my style. So, I always use my roaming mobile internet and end up with massive phone bills or I try to connect to free WiFi when I travel, which as you know is not always easy to find.
What do you do for mobile internet when you travel? Where can I get WiFi while visiting Croatia?
These are two questions I have been asked in the past, and I just shrugged my shoulders as it was all too hard to figure out. But, thankfully someone helped me gather this info to share with you.
If you are like me and can't be bothered reading all the way to the end – just skip to the part about RoamFree Ninja – they have a device that can be delivered for free to any location you like in Croatia (or any place in Europe). All you have to do is open the box, switch on the device and you are good to start roaming.
This pocket WiFi is a small device that is actually a mobile router that gives you access to your own WiFi mobile internet network for use for up to TEN DEVICES, including smartphones and laptops. That'll make the teenagers on holiday happy!
Best of all – traffic is unlimited
Comparing Mobile Internet Options in Croatia
If you are more like Mr. Chasing the Donkey and need proof here are the other options so you can compare why RoamFree Ninja is the best option for your holiday to Croatia against Croatia's top four mobile internet providers.
In the short overview of each below, we have focused on the prepaid internet options in Croatia, as it would be a very long holiday indeed if a tourist wanted to sign the standard two-year contract…are we right?
RoamFree Ninja Croatia
RoamFree Ninja is the most efficient option if you want to be fully comfortable and not have to worry about traffic volumes.
You rent their pocket-size mobile WiFi hotspot online and get it delivered with SIM card included. Traffic is unlimited – the first 21 GB a day comes at full 3g speed and then it is downgraded to EDGE.
The advantage is that you get to keep your sim card in your phone while connecting to the internet via external WiFi hotspot, so you can keep your WhatsApp or Viber conversations going and stay available on your phone number.
Up to 10 devices can connect to the internet simultaneously, so it is perfect for groups and families.
Rates are fixed per day:
3-14 days – €8.95 per day

15- 45 days -€7.95 per day

45+ days -€6.25 per day
Shipping is free both ways.
We have used Roamfree Ninja a few times now including on a 7-day cruise and it's really easy to use. If you are not sure that you need WiFi, here are  six perks of travelling with RoamFree Ninja Mobile WiFi
1. The device is so small it fits in your pocket, which means it's light and easy to carry it with you anywhere.
2 It works as a router which means up to 10 devices can connect to it – which is even more affordable since you can share it with your travel mates.
3. It provides unlimited internet access – so no more worrying how many Mb's have you spent, how much more will it cost and so on. Now you can carelessly watch a video on Youtube, check and update your social media or use Google Maps.
4. It's so simple to use – just turn it on, find the network on your desktop or mobile device, enter the password and you are ready to go! No complicated processes, going to telecom shops, talking to clerks who often don't know your language… you get the device that is all set and ready to use.
5. You don't have to go find it, it comes to you – during the booking process you tell us where you want your device delivered and it waits for you at the destination.
6. You no longer have to chase WiFi in hotels and cafe bars. You have your WiFi always with you.
Check out the lastest news, deals and review on RoamFree Ninja here.
Book or Learn More Here
Compare Other Vendors
Tele2 Croatia
Tele2 have a new offer this year called Cheapest Surf & Call. You can buy the package when you pick up your SIM card. You have to have an extra device if you want your regular phone to be active.
What you get in this package:
10kn included on the bill

3GB of DATA

1000min for local calls

after activation package lasts for 30 days
If you spend your 3GB data, you can activate additional package by sending SMS.
Additional data package lasts for 30 days and are:
100MB for 10kn

250MB for 25kn

500MB for 35kn

1GB for 50kn

3GB for 95kn
VIP Croatia
VIP has different options depending on whether want a USB stick for your laptop or SIM cards for your smartphone
USB stick prepaid internet offer:
Daily offer. You pay 10kn for daily 1GB of DATA at full speed, after which your speed is cut to a frustrating 64kbits
– the new package gets activated after you start surfing the next day, and an additional 10kn is charged on your data SIM, giving you an extra 1GB of data at full speed
Broadband offer:
– after you activate this offer you are charged by data transfer:
– 1,02kn/MB
– minimal unit of measure is 10kB
Also, there are three options:
– S (small) you get 200MB included for 15kn
– M (medium) 1GB included for 50kn
– L (large) 2GB for 70kn
SIM card offers:
Zakon!
– activation is 50kn, and it lasts for one month
– 1500MB of data
– 1500min of local calls
– minimal unit of measure is 100kB
miniZakon
– activation 30kn for one month
– 300MB of data
– 300min local calls
– minimal unit of measure is 100kB
additional DATA is:
– 100MB for 10kn
– 500MB for 35kn
– 1GB for 50kn
T-Com Croatia
They have a Mobile NET offer, a SIM card with the price per MB depending on the amount you charge your card. If you don't charge your SIM, the price is 1MB/1kn. After you buy the SIM for 20kn, you get 20kn included on the SIM.
– if you charge your SIM with 27.50kn you get 1MB for 0,50kn
– if you charge it with 55kn, you get 1MB for 0,10kn
– 110kn 1MB/0,08kn
-220kn 1MB/0,05kn
There is also option for daily Internet data transfer
After you activate it, you get unlimited data that day, but only the first 1GB is at full speed.
USB stick offer
– one time 448kn for the device
– 20kn included on the data SIM
Now that you know all of your options which sounds like the best mobile internet deal for you?
Want Ideas For Things To Do In Croatia?
If you are traveling to Croatia, we've got a stack of suggestions. Here are just a few:
A Massive List of Things to do in Croatia
Pin it for later!